This is an homage to all the dreamers out there who've wanted to eat a big slab of cookie dough and call it a meal.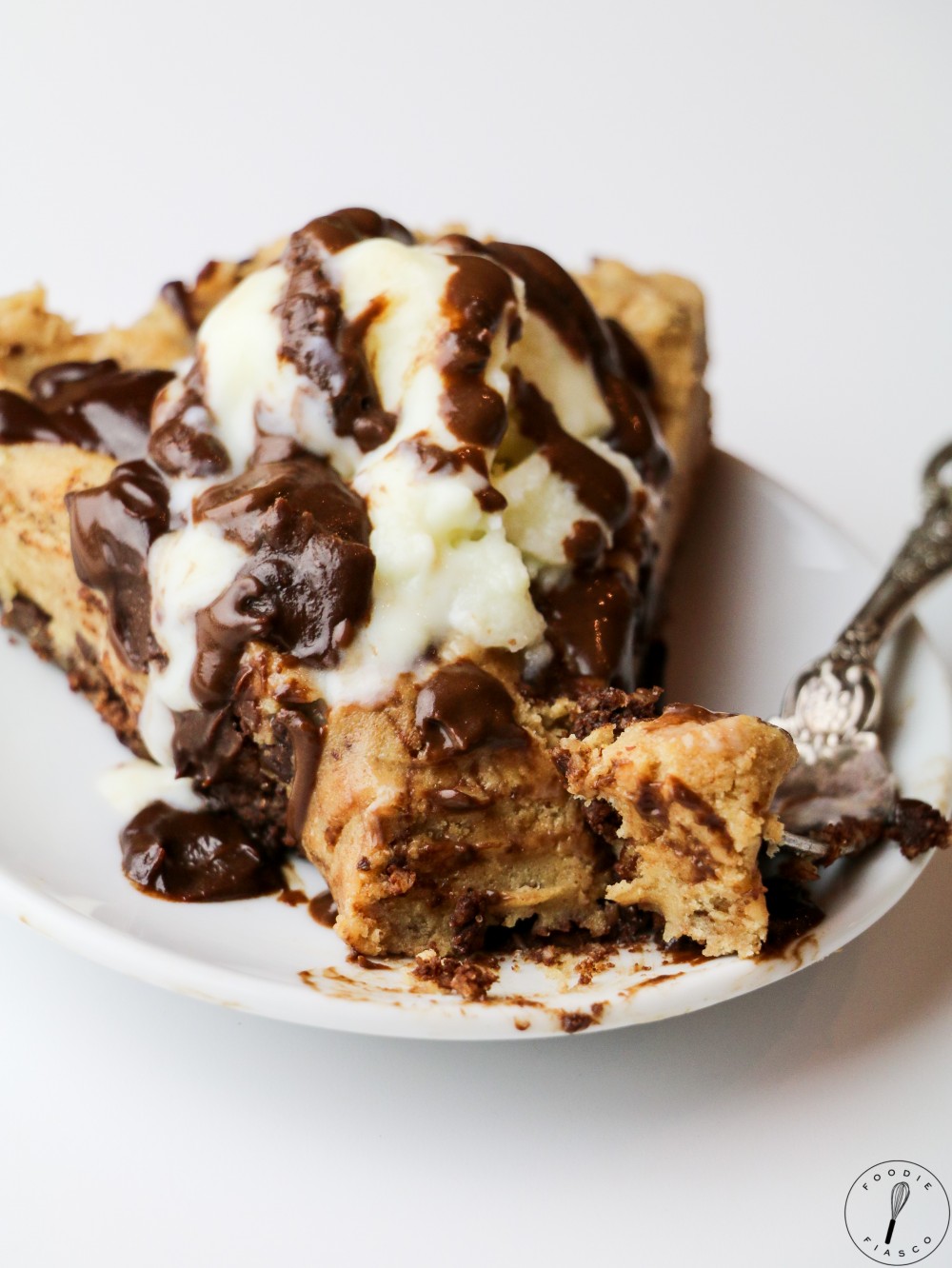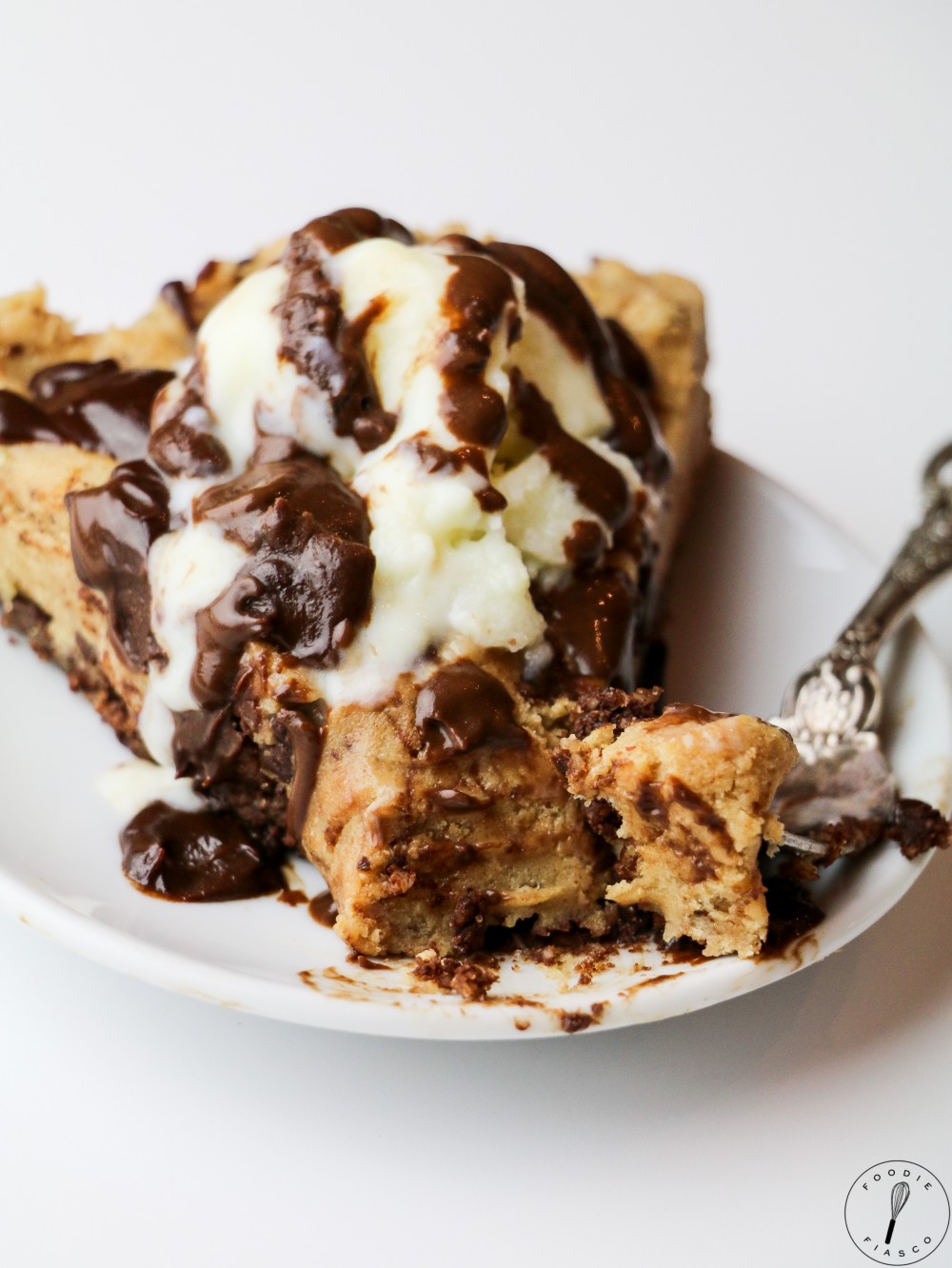 This one's for you. Because I consider it my job to make sure every dreamer has her day.
Dare I go as far to say this is good for you? Each slice is only 138 calories and 3g of carbs but also packs 10g of protein. So dare I do.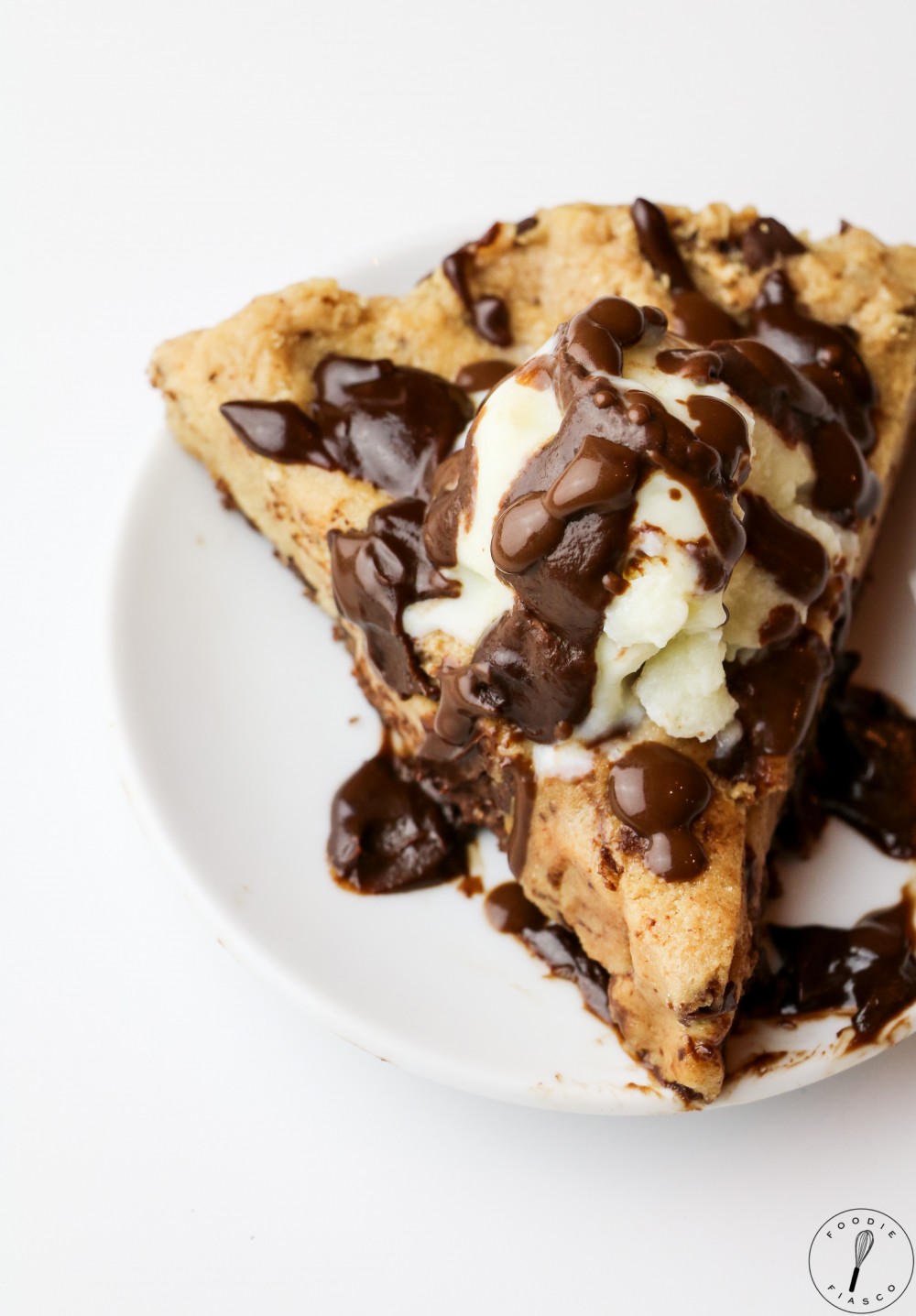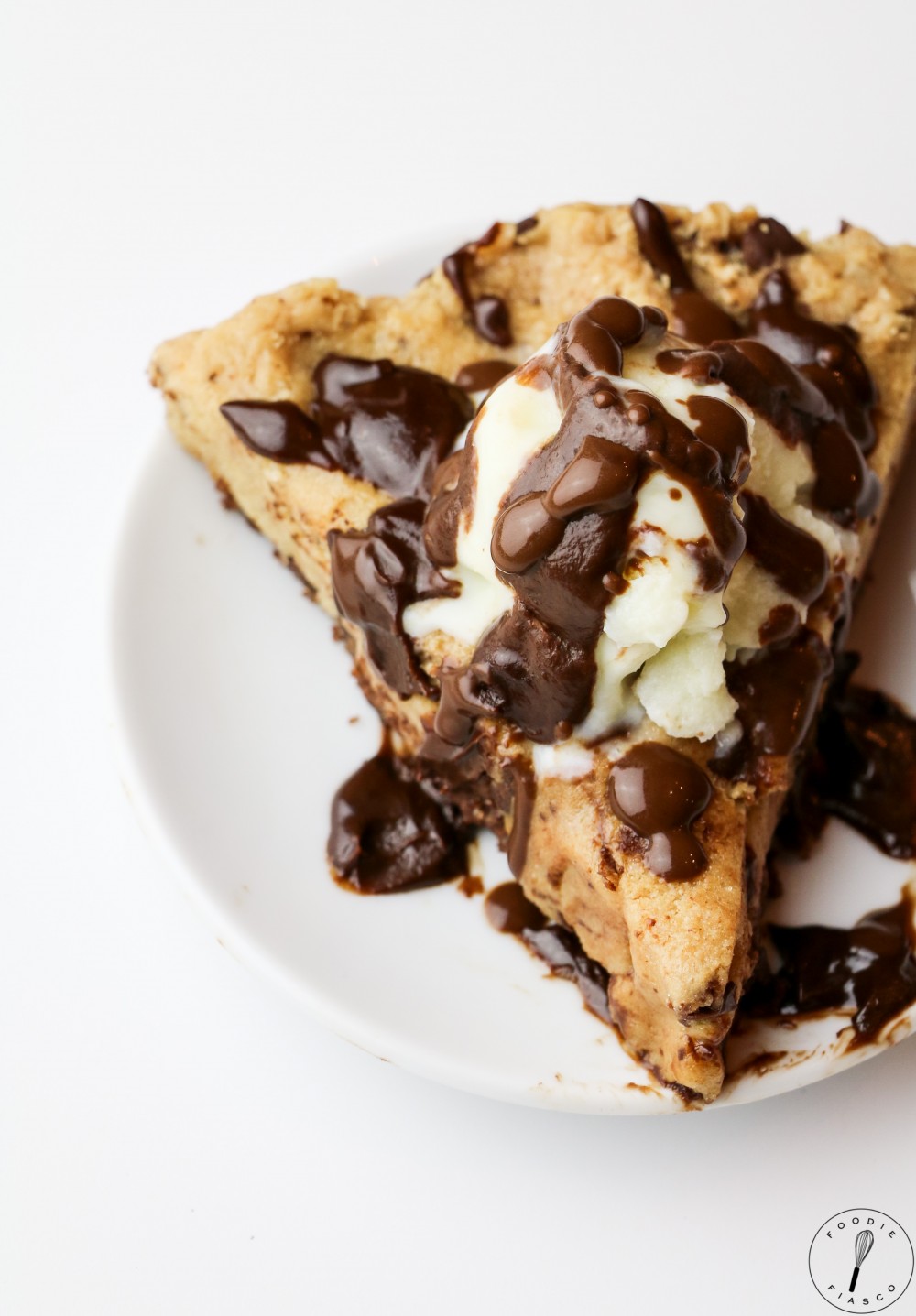 Normally, a recipe this decadent published in January would come with obligatory self-deprecating jokes about secretly hoarding a delicious indulgence because it would obviously crush any sane resolution.
But truth be told, this cookie dough pie, ice cream and chocolate and all, falls right in line with the vow ("which I'll actually follow this time!") to better your health and happiness this year.
Eating this for a new year's resolution? Where do I sign up??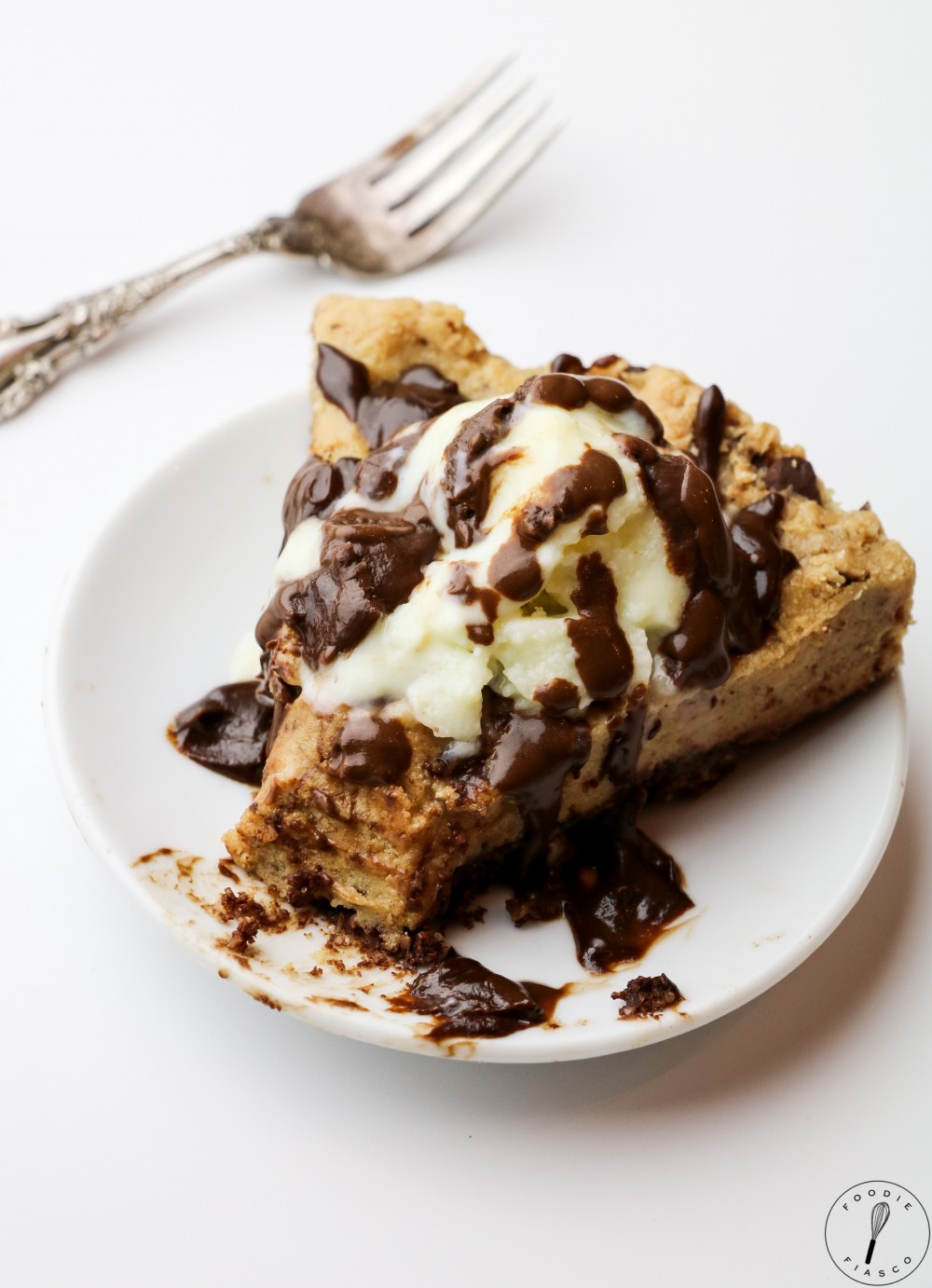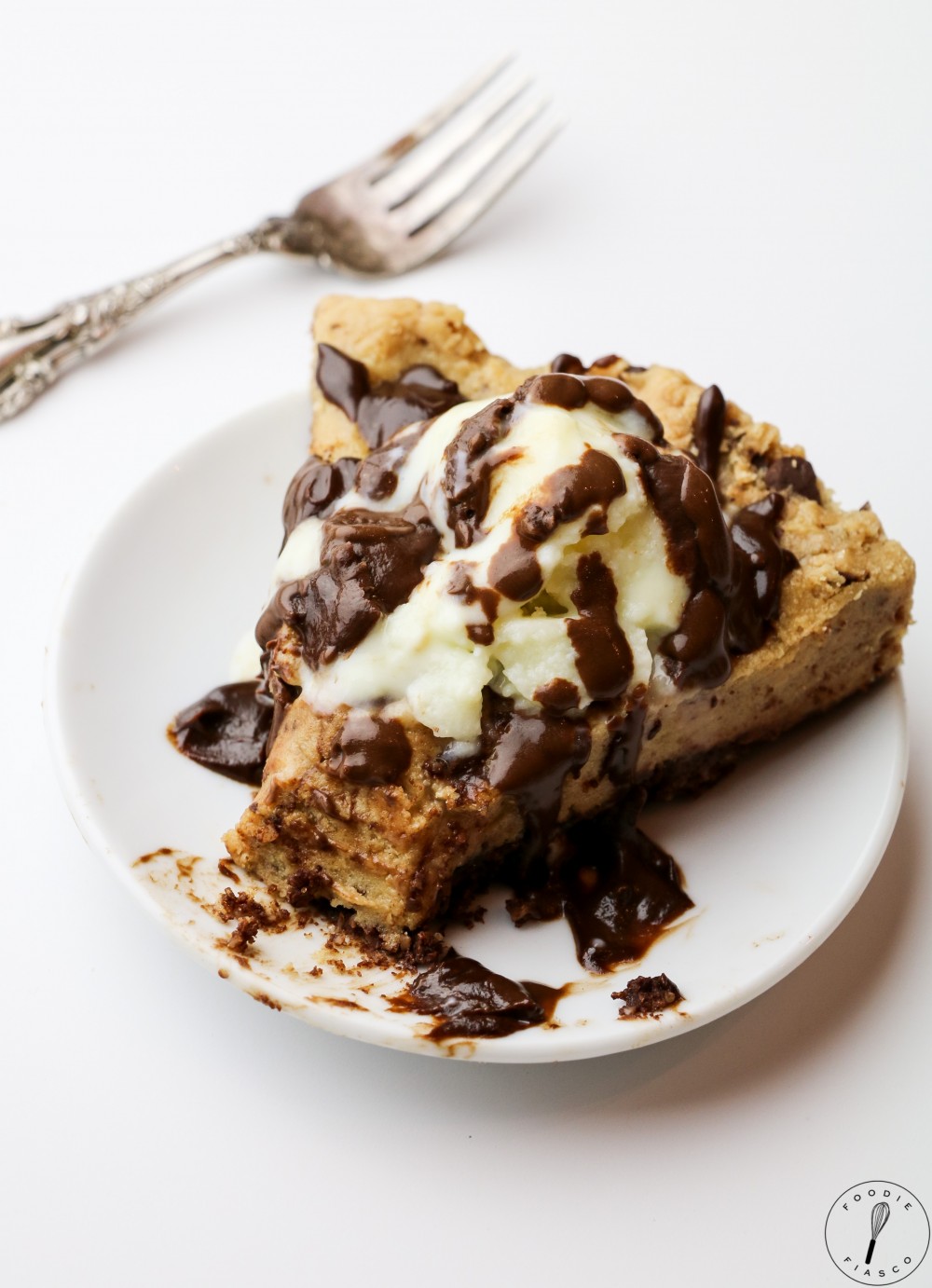 Since one of my major resolutions is saving money and tracking my budget, I've been on the lookout for how to best stock Foodie Fiasco HQ's kitchen without completely draining Foodie Fiasco HQ's wallet.
Because I run a health food blog that accommodates different diets (vegan, gluten free, etc), my recipe development process requires regularly buying alternative ingredients that are almost always more costly than their traditional counterparts. And I'm frustrated by the needless markups that most 'health food only' grocery stores think they can get away with. So when WhiteWave reached out asking me to scope out their health food section, I was excited to find the ingredients I need in a store that has super reasonable prices.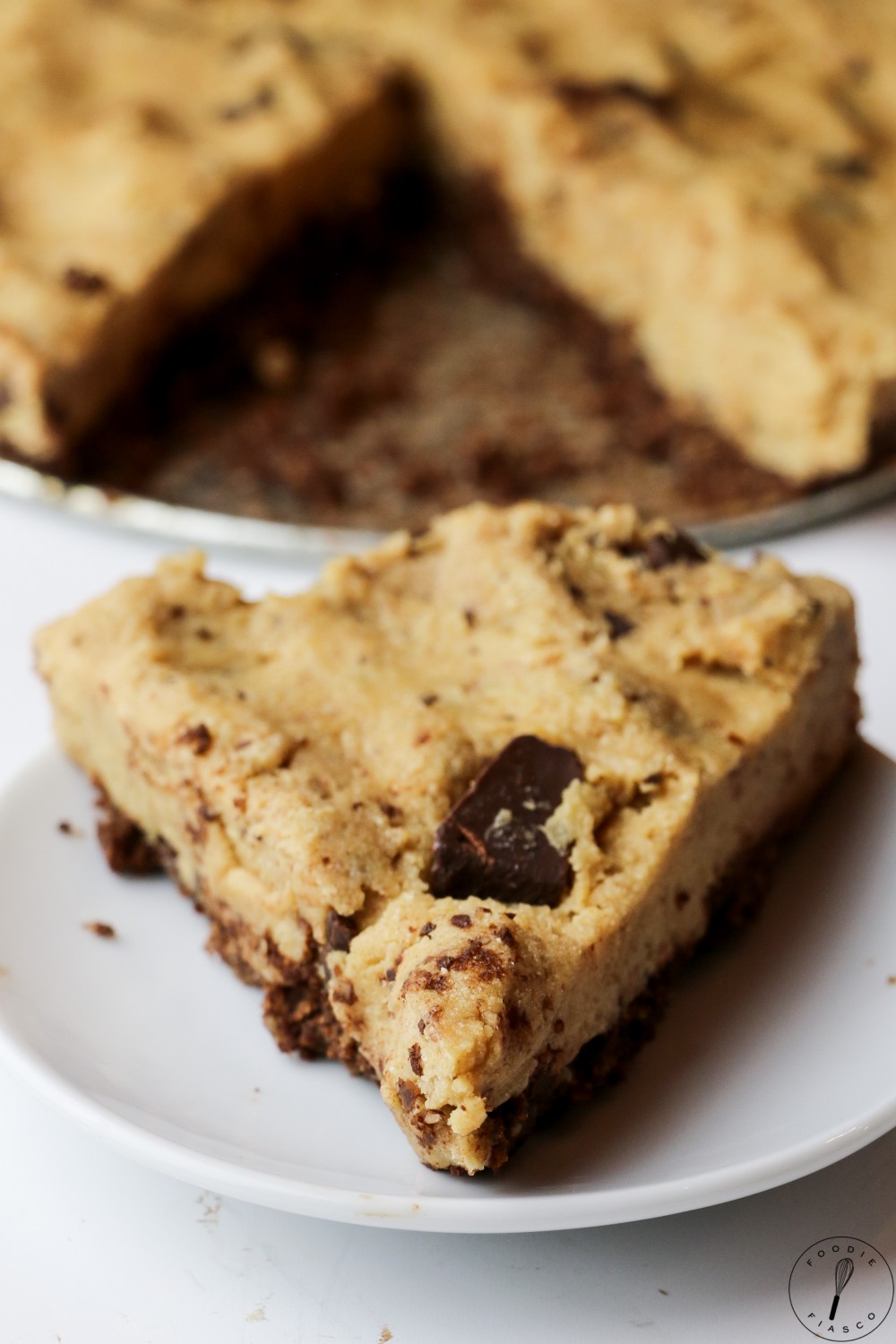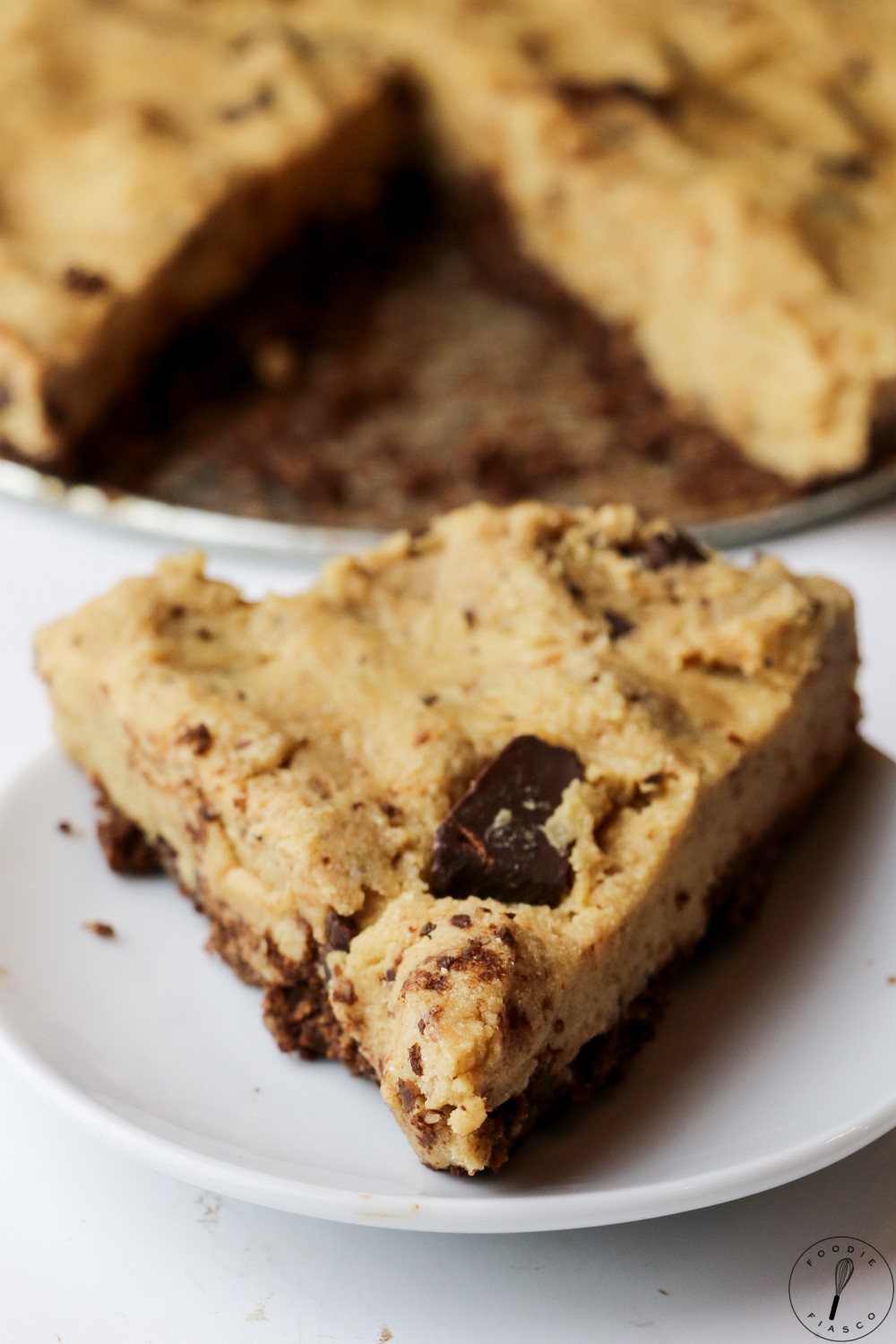 I take my grocery shopping very seriously, so I enlisted my friend Kat, my favorite newly-minted vegan, to help put WhiteWave's Natural Foods Department to the test. (Ralphs is my local store here in SoCal, but you can find the one in your area here.)
Long story short, our visit was a huge success. Everything was really easy to find and the selection and prices were great. We picked up two of my all-time favorite products, so I'll gush about them briefly.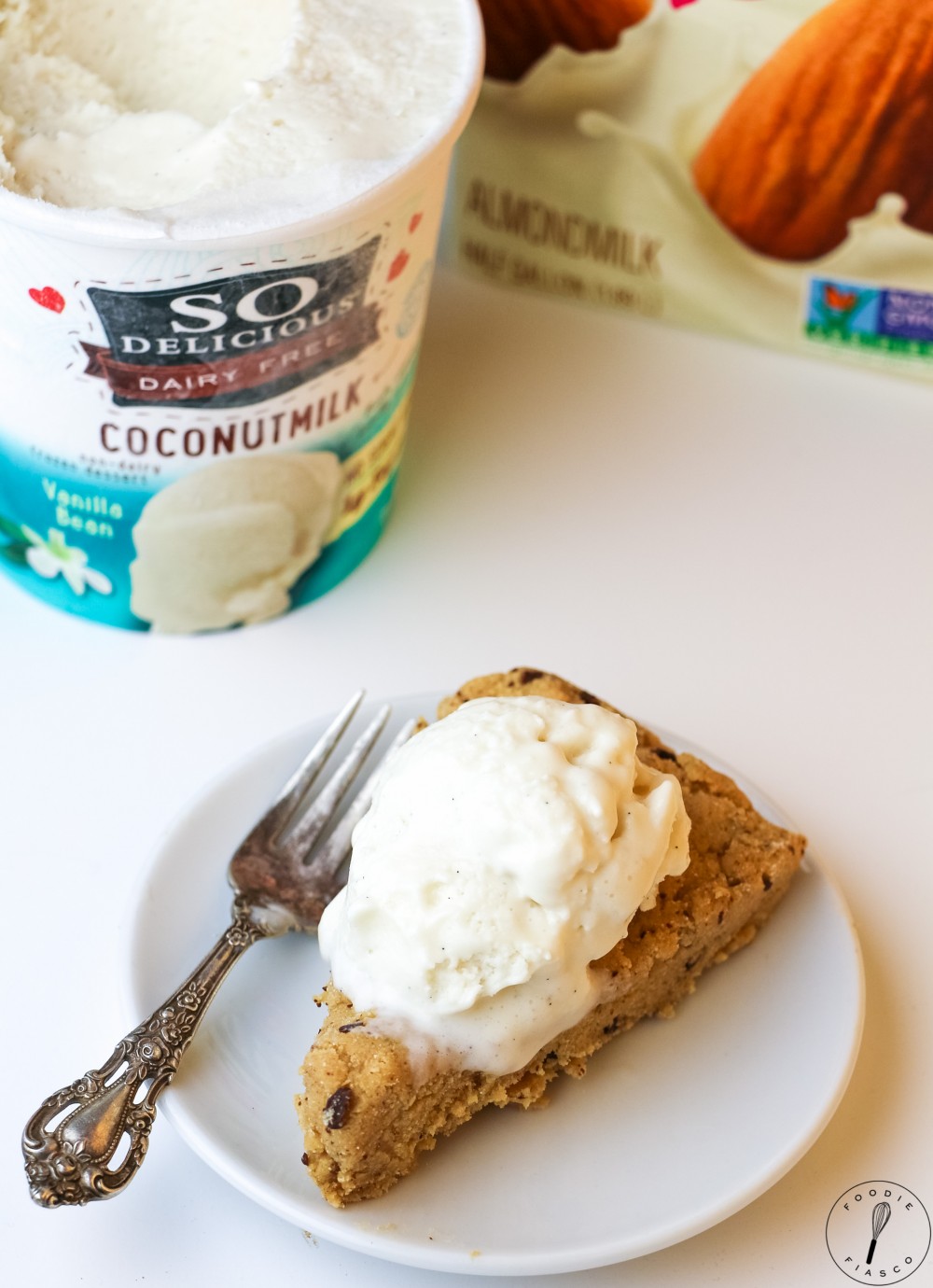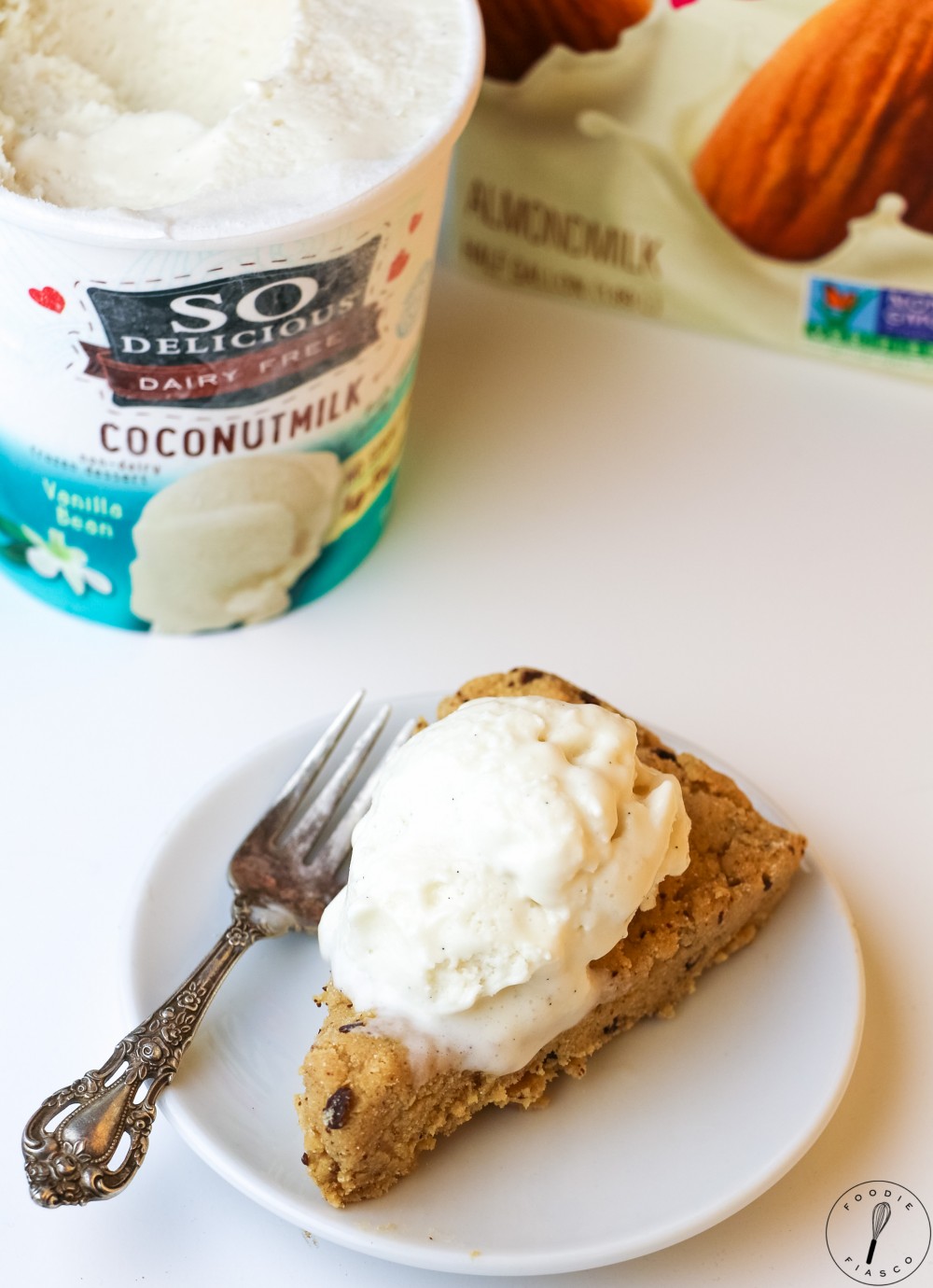 First up we have Silk unsweetened vanilla almond milk, which I've professed my love for multiple times.
And on the off chance you need even more reasons to use your favorite silky smooth (haha) almond milk, I've curated quite the collection over the years of recipes with almond milk for you to peruse. 177, to be exact.
So that would make this almond milk recipe #178. You might want to stock up.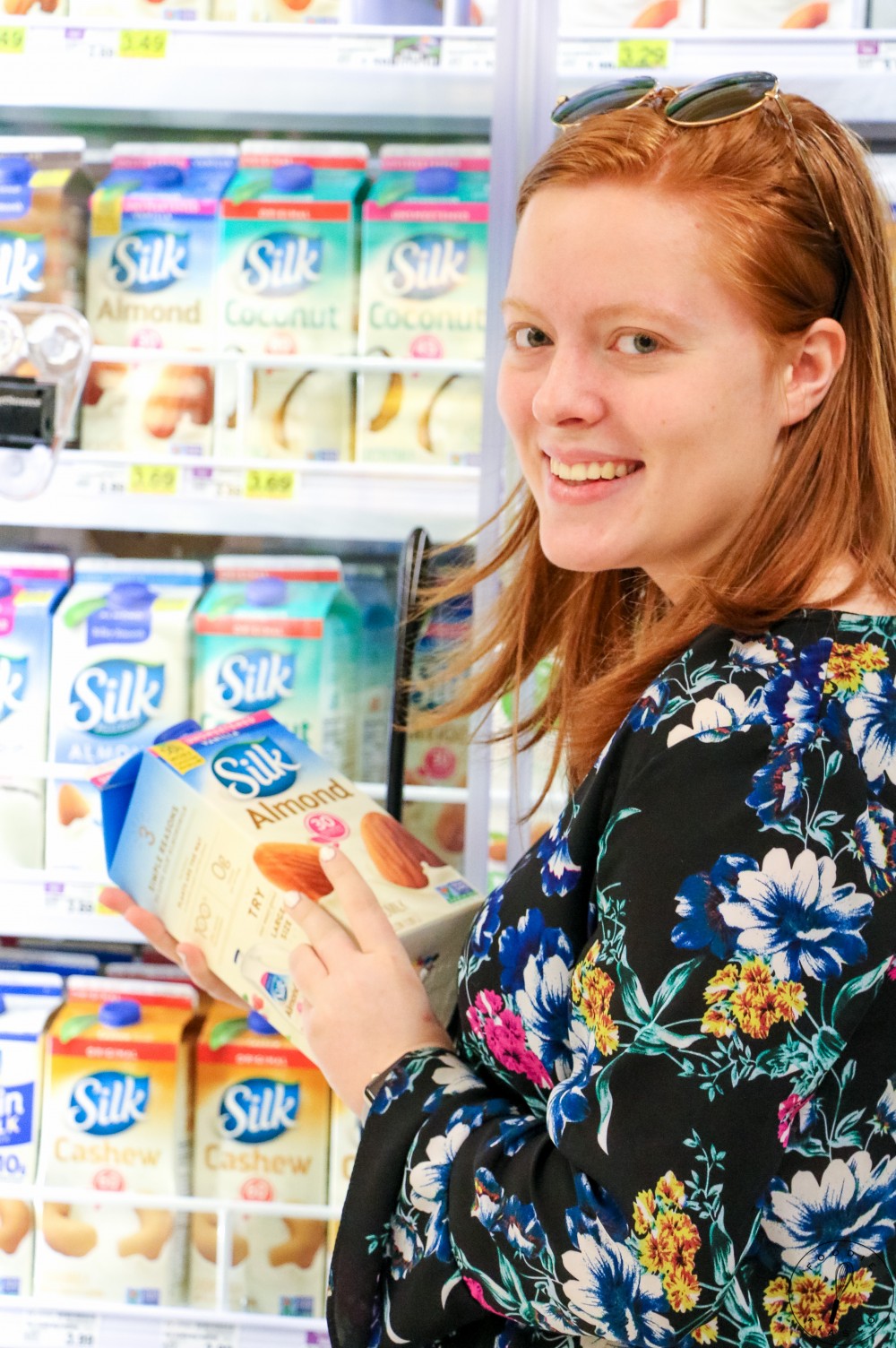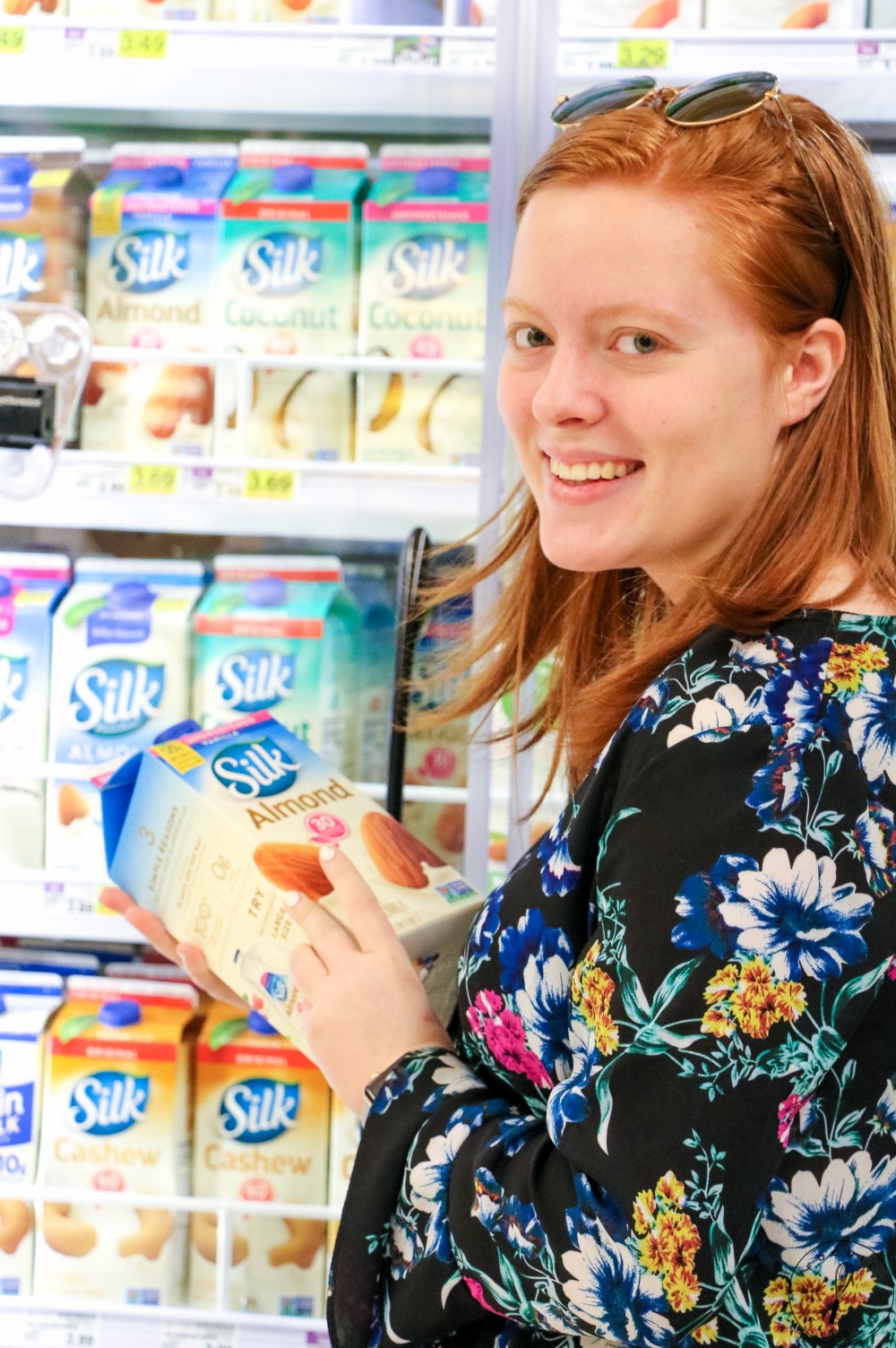 Next on the vegan-friendly superstar lineup, we have So Delicious.. I'm both a vanilla ice cream and coconut milk fiend, so the no sugar added vanilla bean is a longtime favorite for me.
I also used it in my Healthy Nutella Brownie shoot because this stuff is as photogenic as it is delicious. And it's pretty darn photogenic.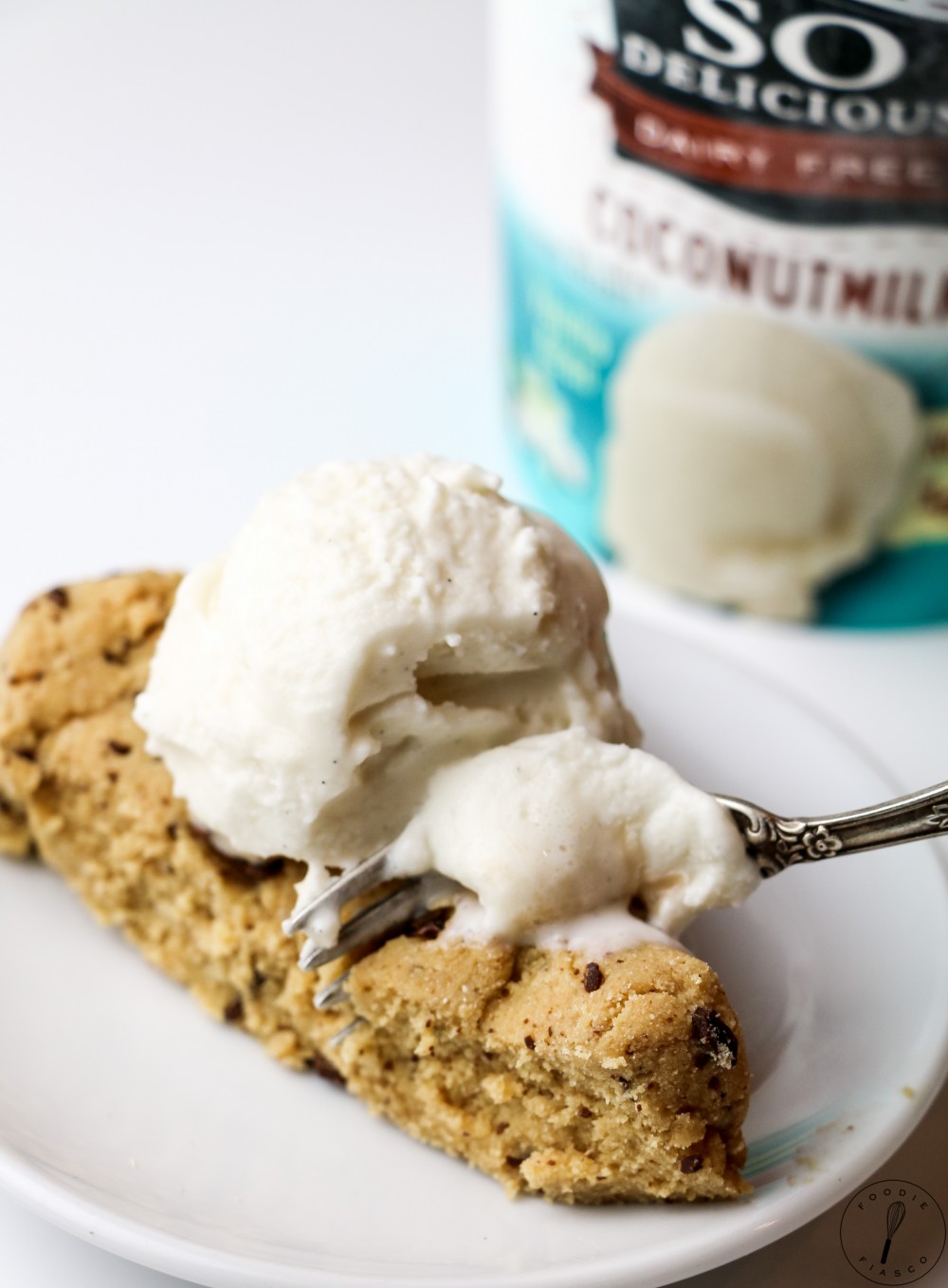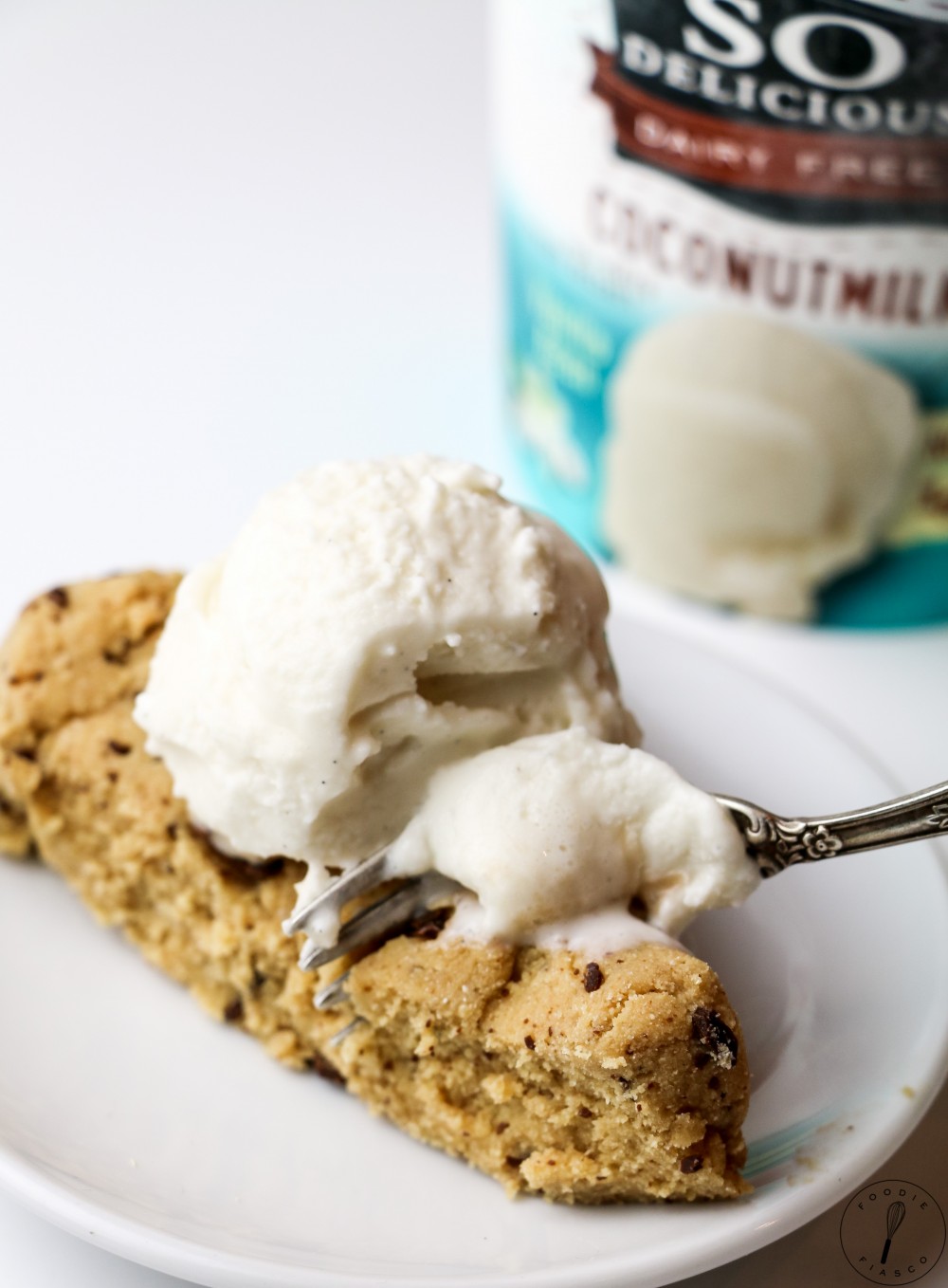 Since Kat had never had it before, it was fun to watch how psyched she was to find such a creamy dairy-free alternative to ice cream.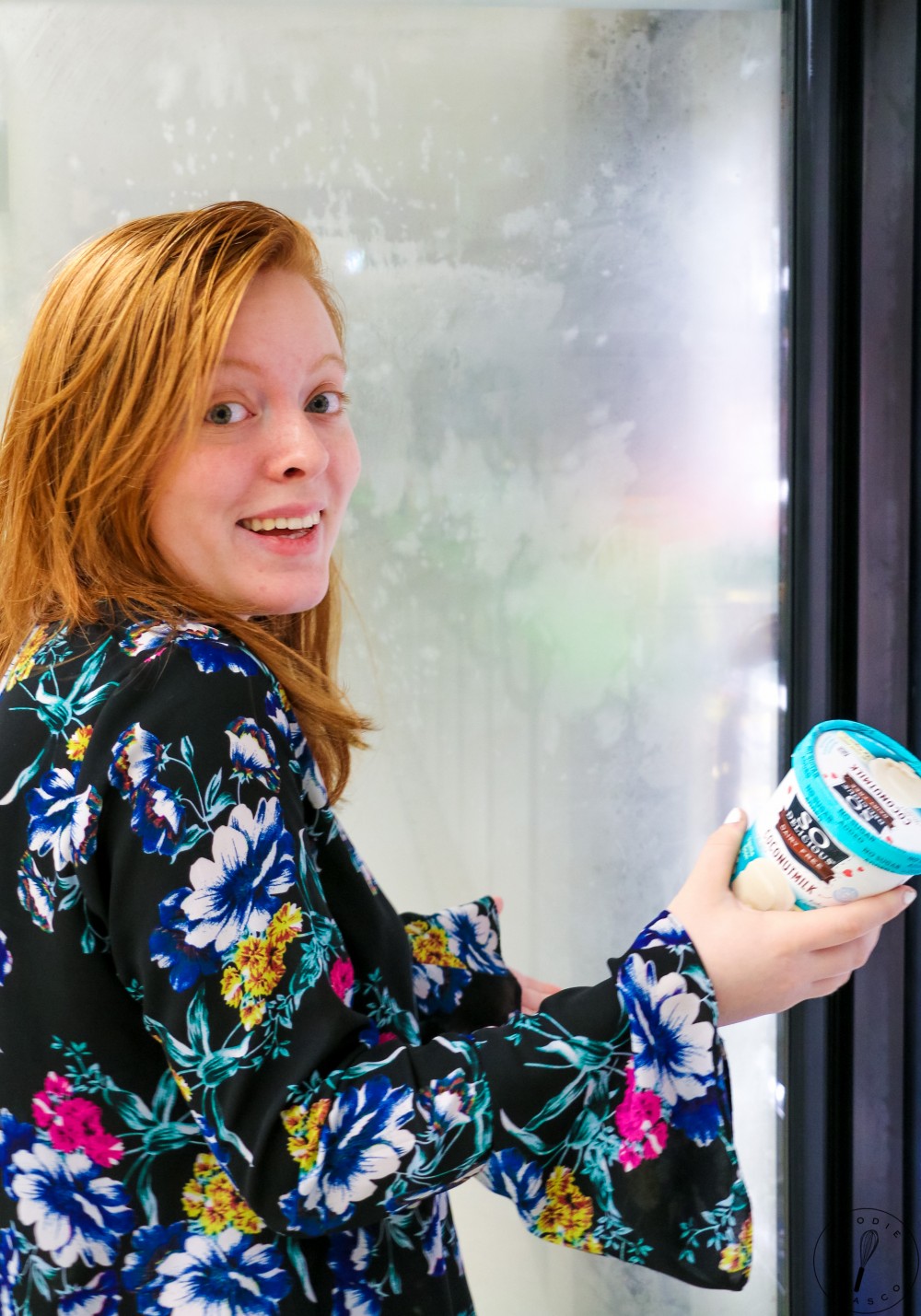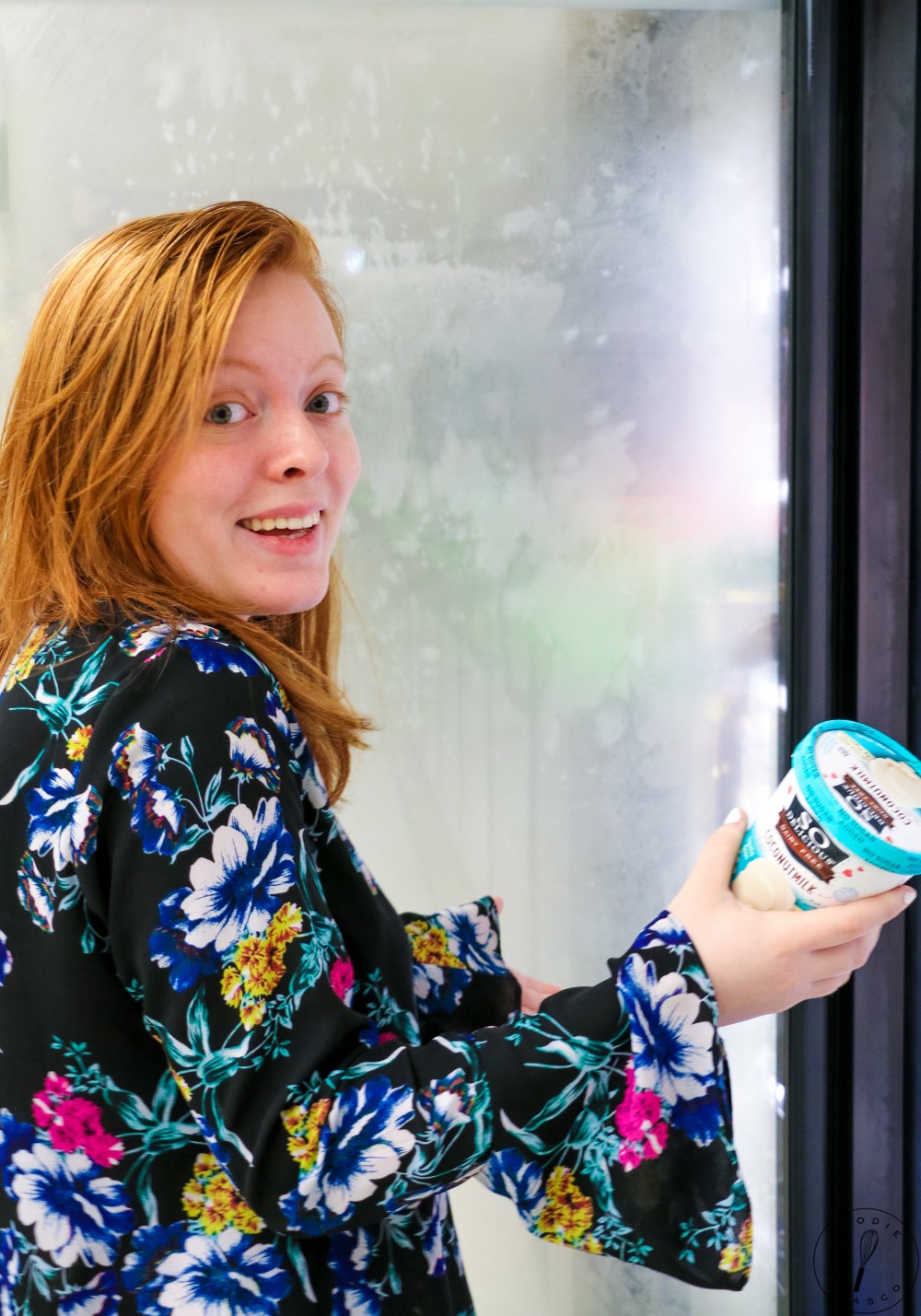 Now let's talk pie! Here are a few things to keep in mind.
I calculated the calories assuming each slice was 1/12 of the pie. This is pretty decadent stuff so 1/12 was perfect for me. But if you need more cookie dough and need to have it like, yesterday (which is more than understandable), feel free to make bigger slices and re-calculate the calories accordingly, if the nutritional stats are important to you.
If you want to use a chocolate topping like I did in the photos, just follow the directions for the melted chocolate coating from my almond joy truffles and drizzle over the pie before serving.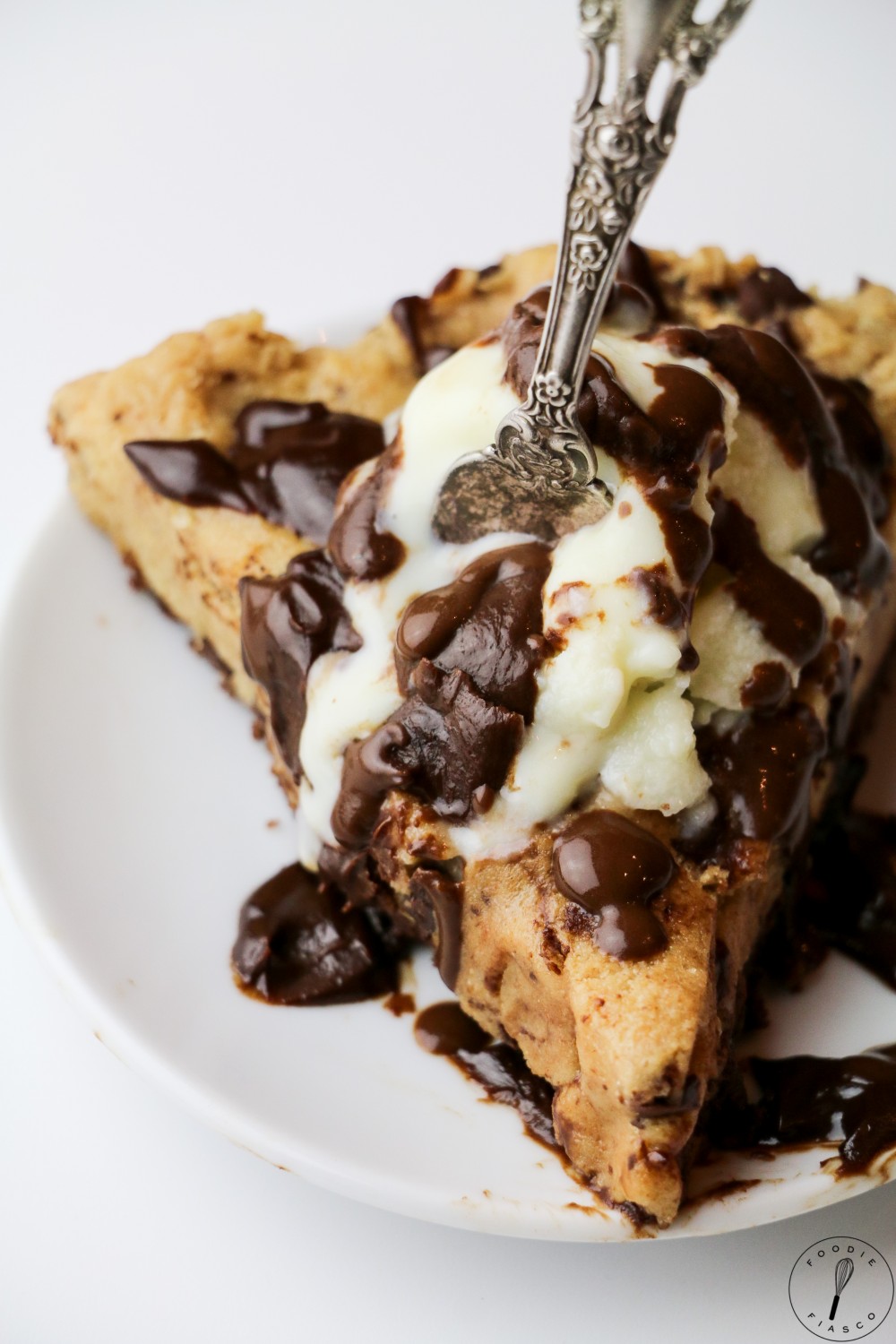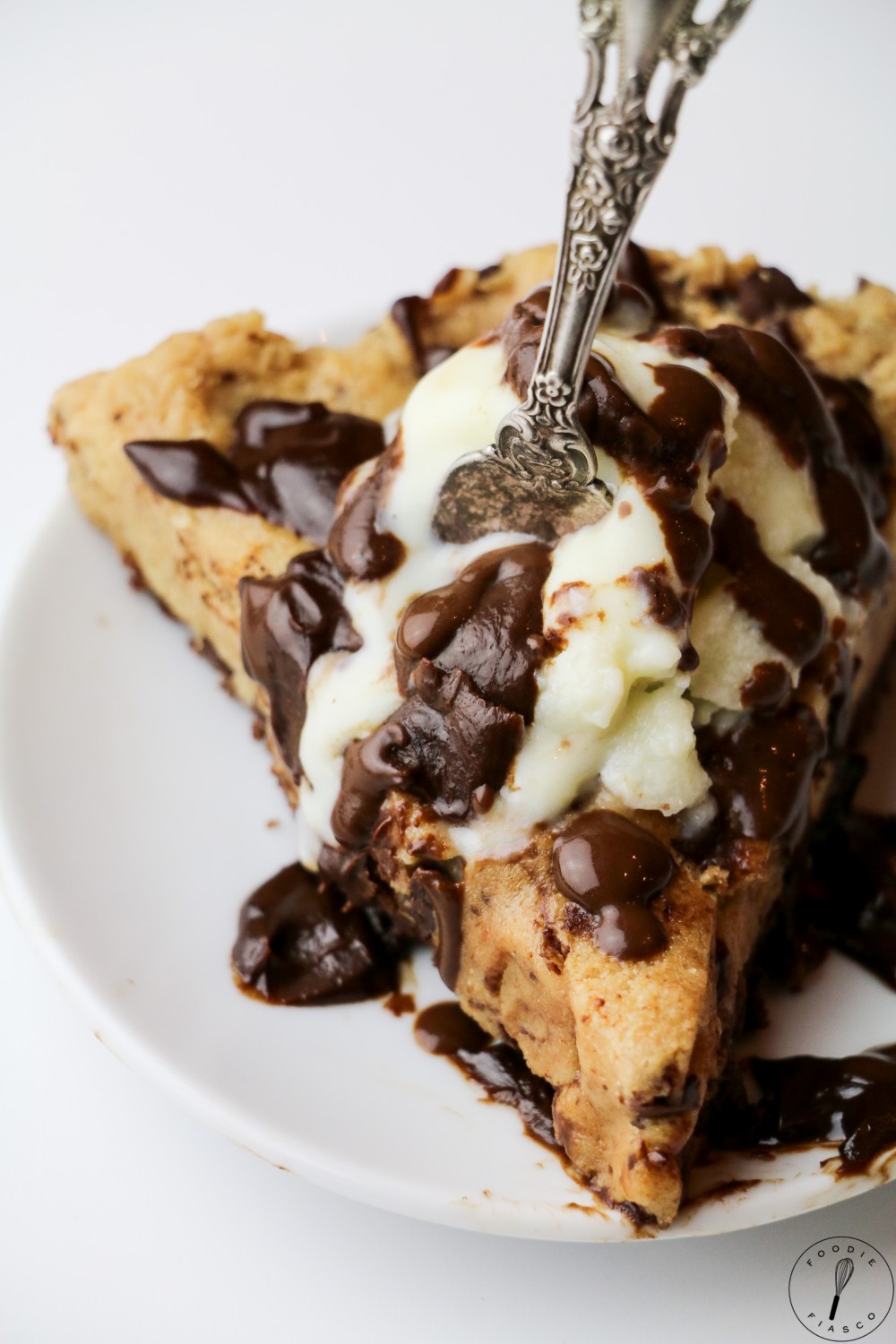 In case you I haven't sold you on this pie yet, let me show you how easy it is to make!
For the crust, you simply stir the ingredients together and press it into a springform pan. I stole the idea from my beloved no bake cheesecake, and it works beautifully here. And if you're not a crust lover, feel free to just leave it out!
No springform? No problem! You can just use a regular cake or pie pan, but know that the first slice will be a little hard to get out.
The filling is also impossibly easy, and comes together in about 3 minutes in the food processor. Just press it in the pan on top of the crust…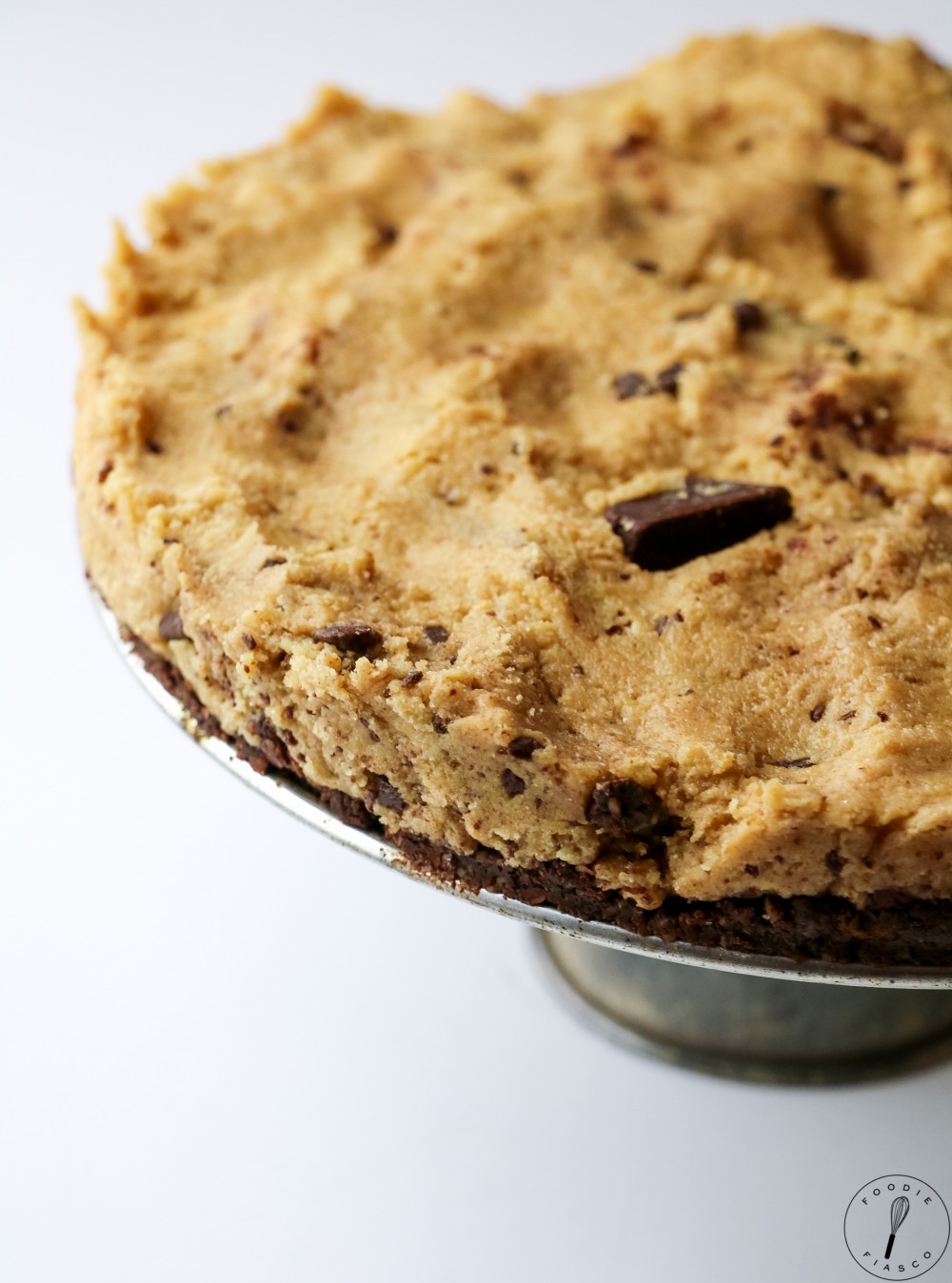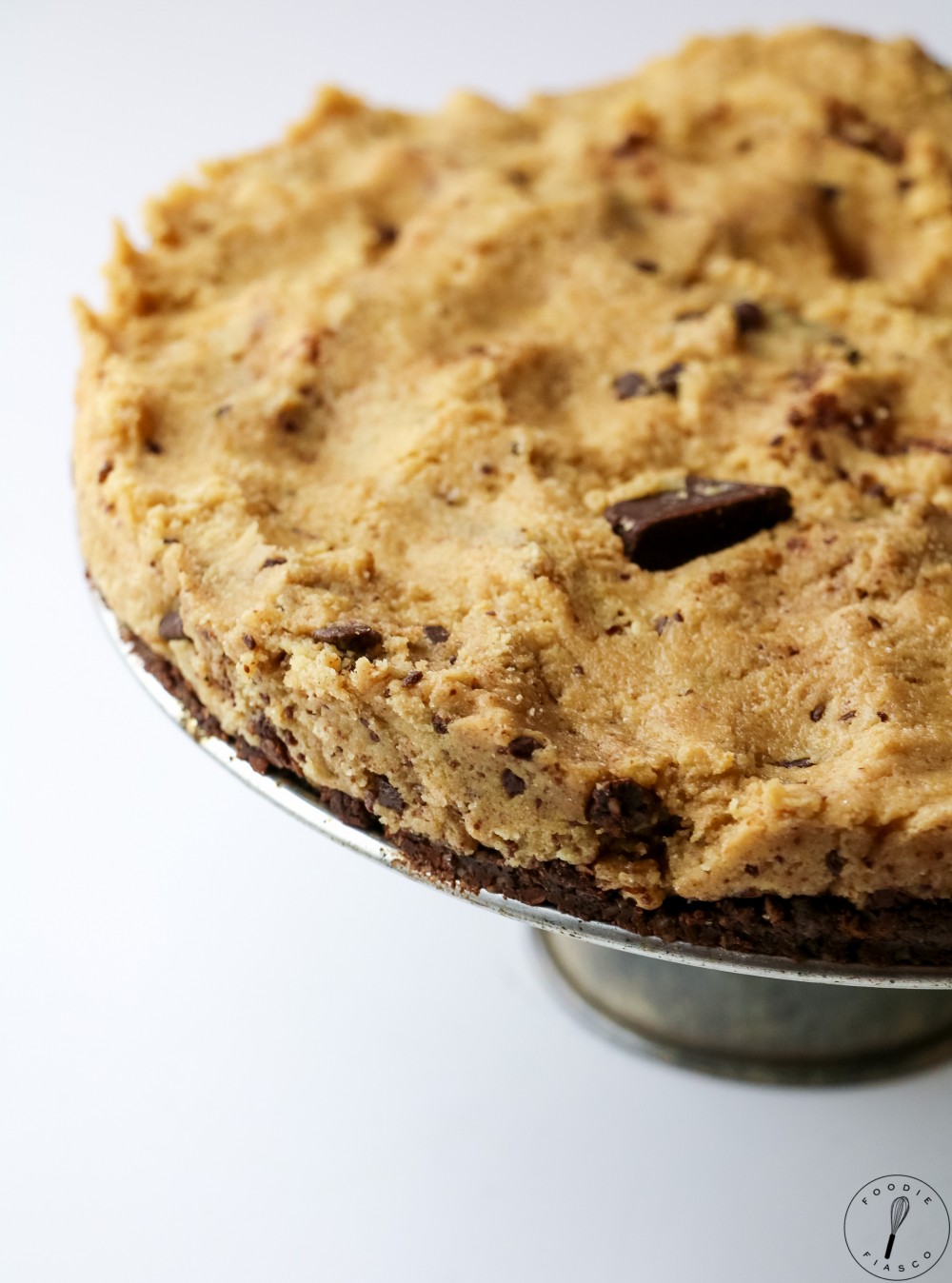 …cut into (generous) slices…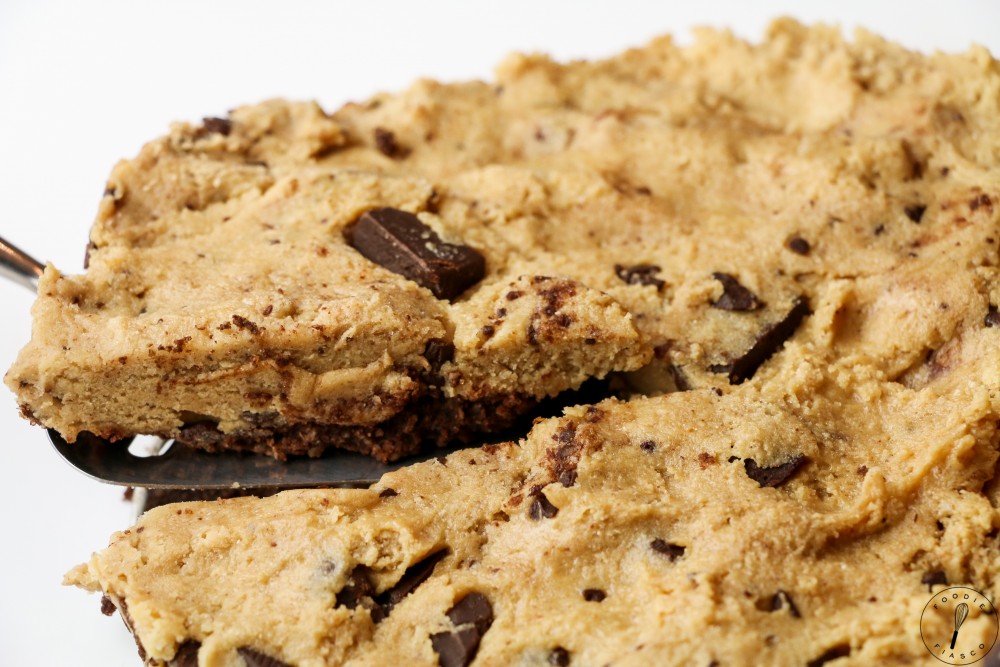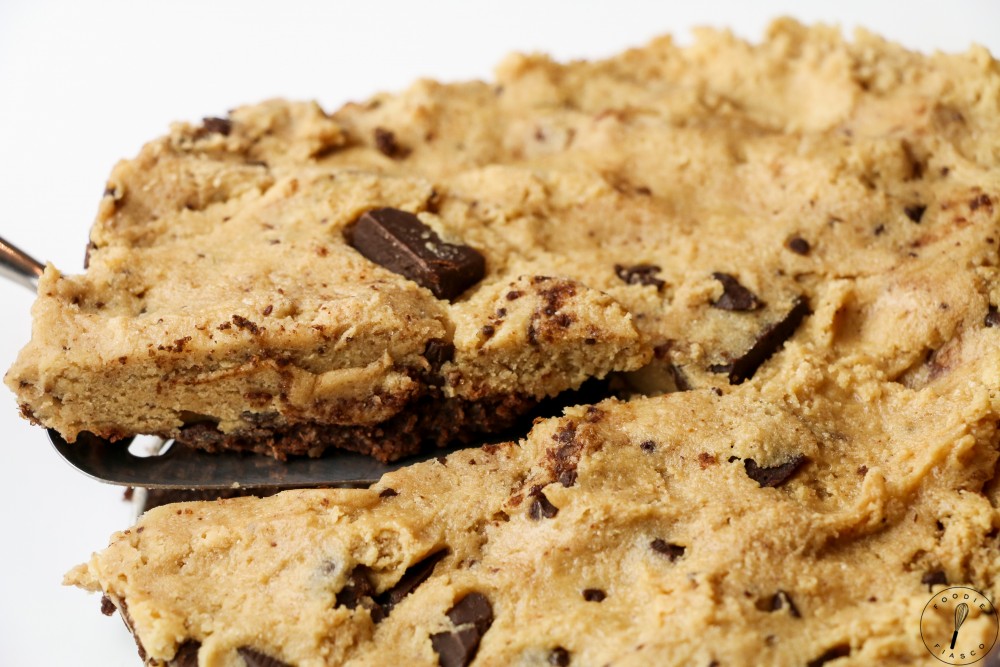 …and top shamelessly with (dairy free!) ice cream and chocolate.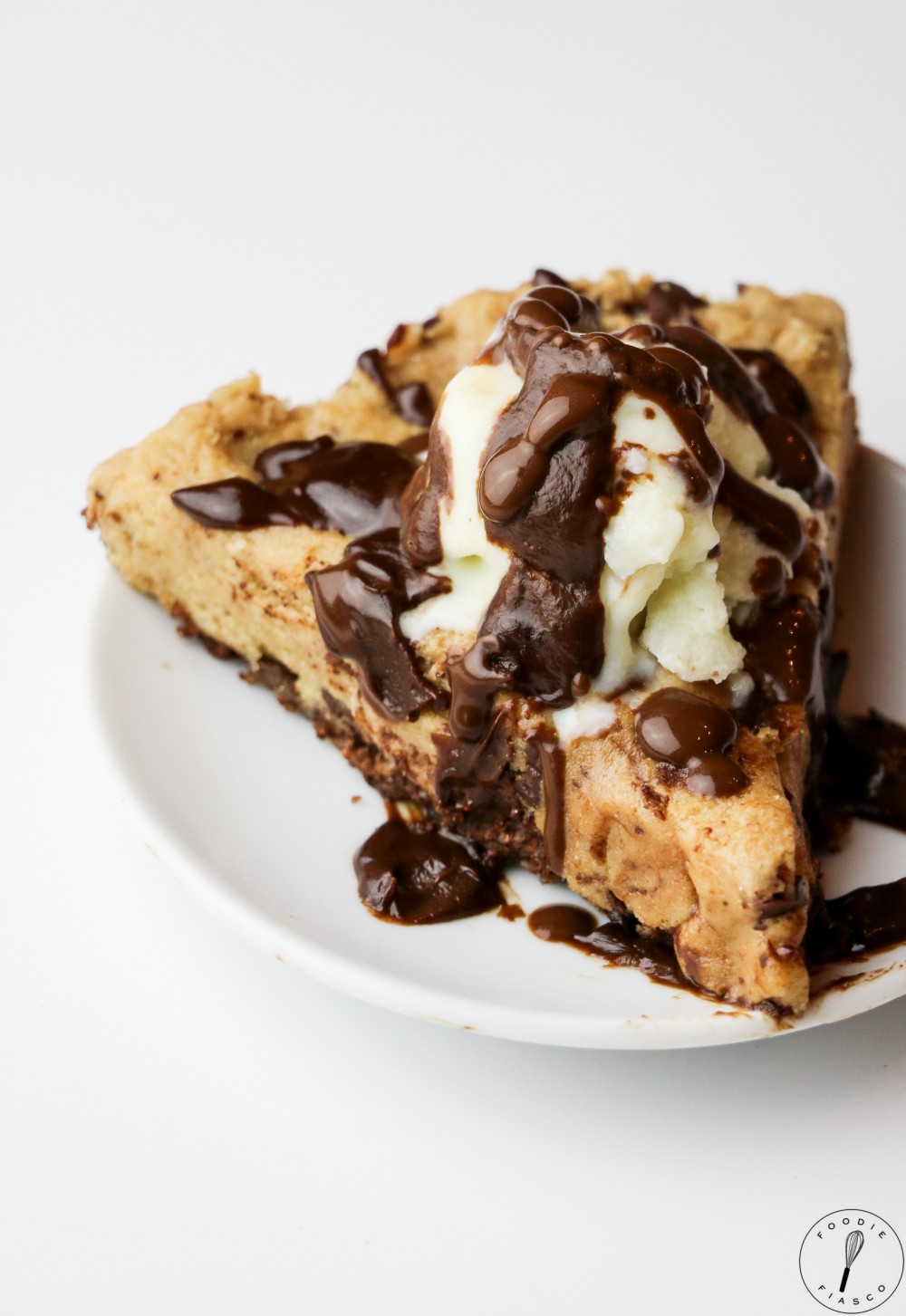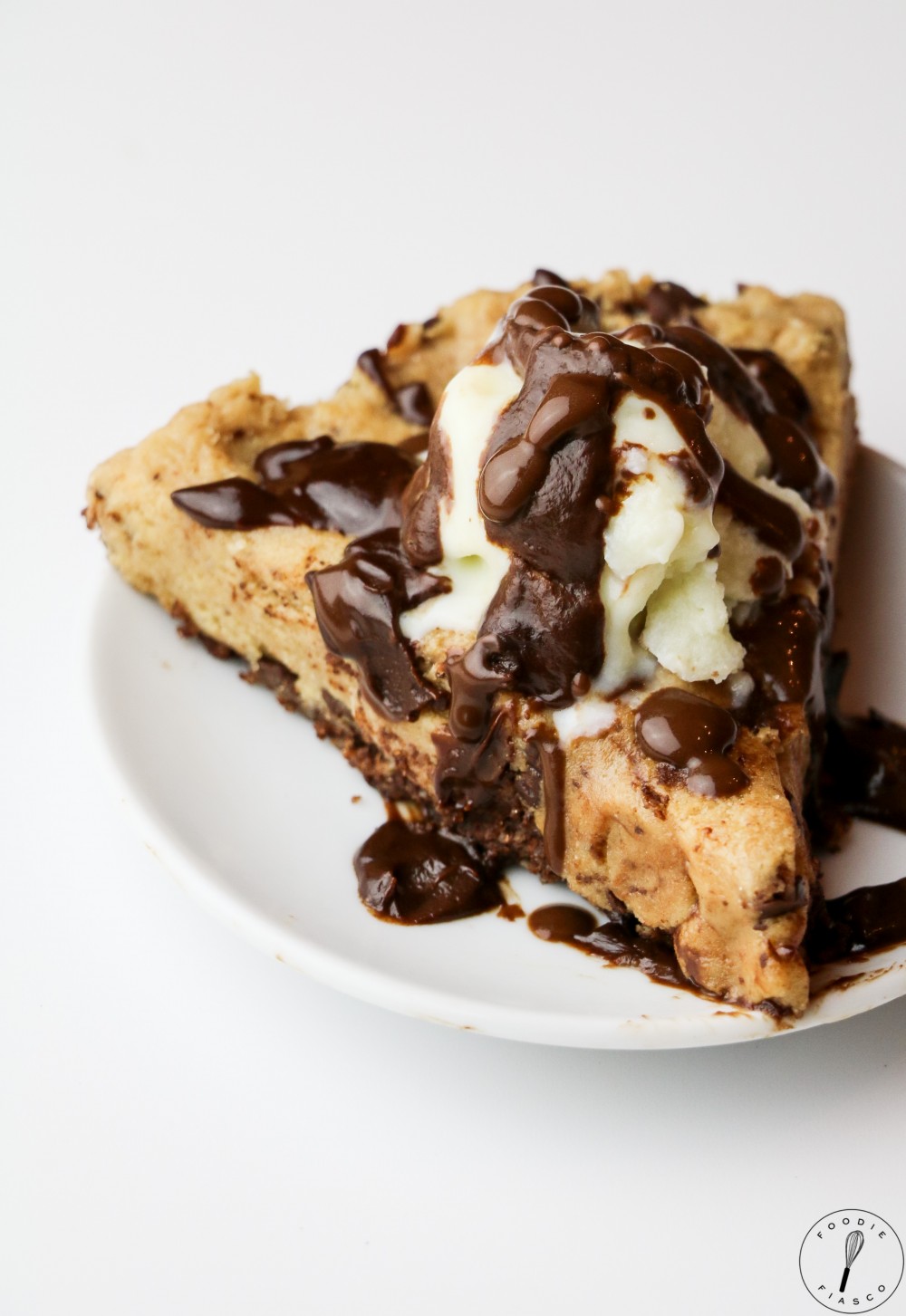 Nutritional Breakdown
Calories
1/2 cup almond meal (280) + 2 tablespoons almond butter (180) + 2 tablespoons erythritol (0) + 1/2 cup peanut butter (720) + 1 cup vanilla protein powder (300) + 6 tablespoons erythritol (0) + 1/4 cup coconut flour (80) + 3 squares dark chocolate (100) / 12 = 138 calories per slice
Net Carbs
1/2 cup almond meal (2g) + 2 tablespoons almond butter (4g) + 2 tablespoons erythritol (0g) + 1/2 cup peanut butter (16g) + 1 cup vanilla protein powder (9g) + 6 tablespoons erythritol (0) + 1/4 cup coconut flour (9g) + 3 squares dark chocolate (1g) / 12 = 3g net carbs per slice
Protein
1/2 cup almond meal (10g) + 2 tablespoons almond butter (8g) + 2 tablespoons erythritol (0g) + 1/2 cup peanut butter (32g) + 1 cup vanilla protein powder (66g) + 6 tablespoons erythritol (0g) + 1/4 cup coconut flour (6g) + 3 squares dark chocolate (1g) / 12 = 10g protein per slice
Healthy Cookie Dough Pie
Ingredients
For crust:
½ cup almond meal
2 tablespoons almond butter
2 tablespoons erythritol
¼ teaspoon almond extract
1 tablespoon Silk Unsweetened Vanilla Almond Milk
For cookie dough:
½ cup peanut butter
1 cup vanilla protein powder
6 tablespoons erythritol
¼ cup coconut flour
Silk Unsweetened Vanilla Almond Milk, as needed
3 squares dark chocolate, chopped
So Delicious No Sugar Added Vanilla Bean, for topping
Instructions
In a medium bowl, combine the almond meal, almond butter, erythritol, and almond extract and knead together with your fingers to make sure the almond meal is as well incorporated into the almond butter as possible. Add in the almond milk if needed. Press the mixture into a 9-inch springform pan and set aside.
In a food processor, combine peanut butter, protein powder, and erythritol and process until completely combined and crumbly. Because protein powders vary so much in texture and ability to hold liquid, add in almond milk one tablespoon at a time, processing thoroughly between each addition and stopping once there is enough liquid so that all the dry ingredients are incorporated.
Add in coconut flour and process. Again, add almond milk in one tablespoon at a time (if needed) and stop once the dough forms a ball. Add in the chopped dark chocolate and pulse to combine. Press the dough over the crust in the springform pan. Cut into slices and devour.
Nutrition Information
Serving size:
1 slice (1/12 recipe)
Calories:
138
Net Carbs:
3 grams
Protein:
10 grams
More of my favorite ways to use the beloved unsweetened almond milk from Silk:
Low Calorie Crustless Pumpkin Pie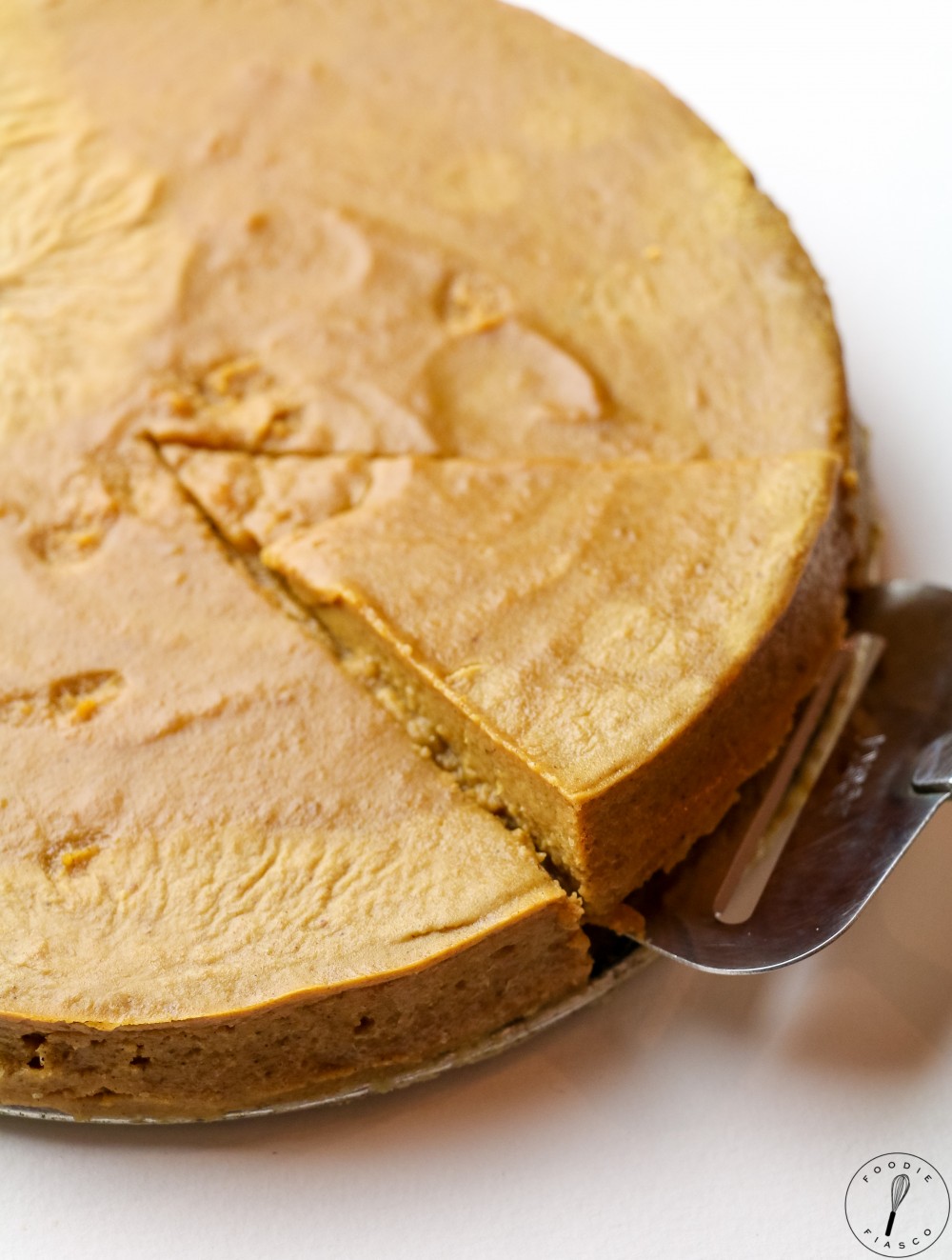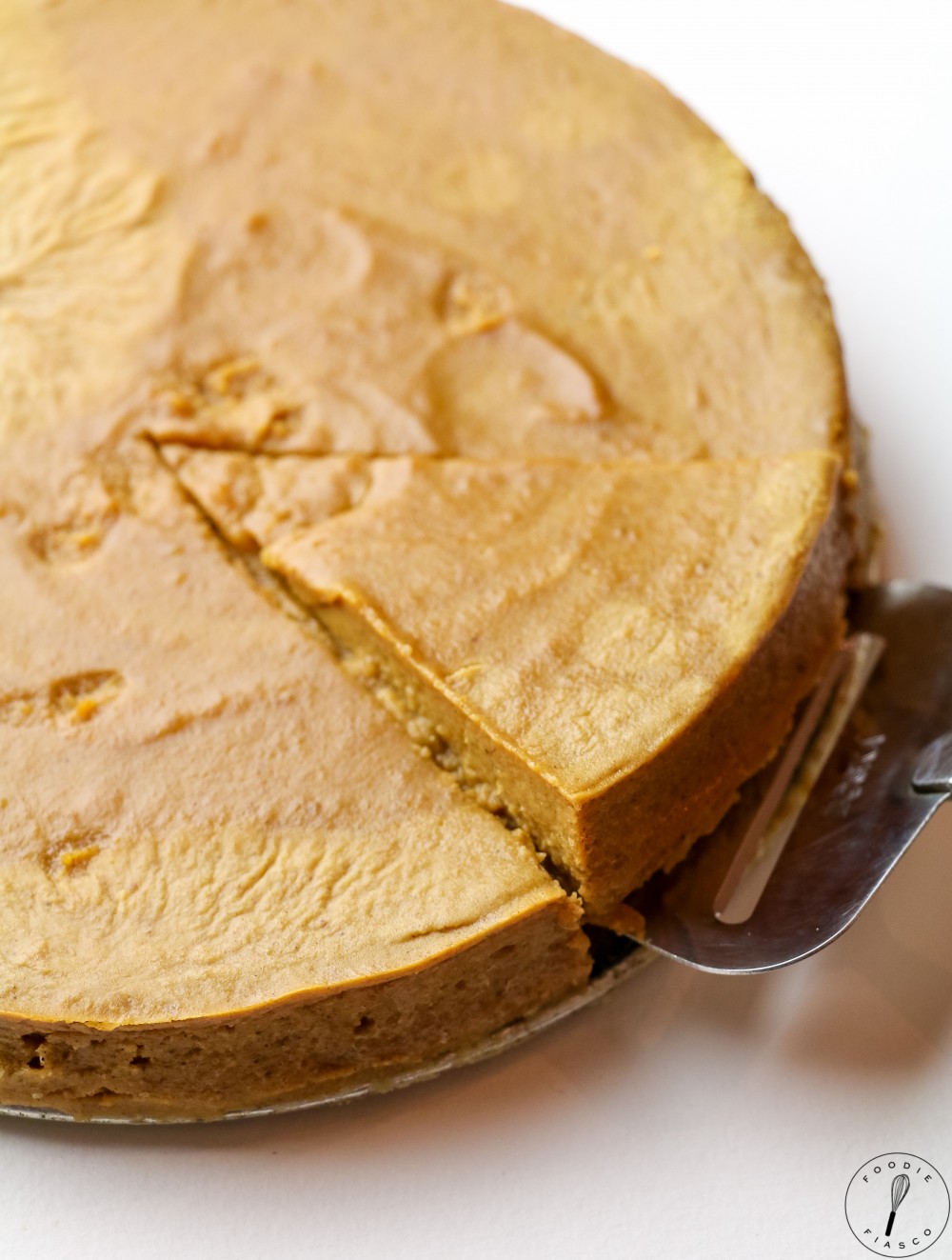 Cheesy Avocado Creamed Spinach Bake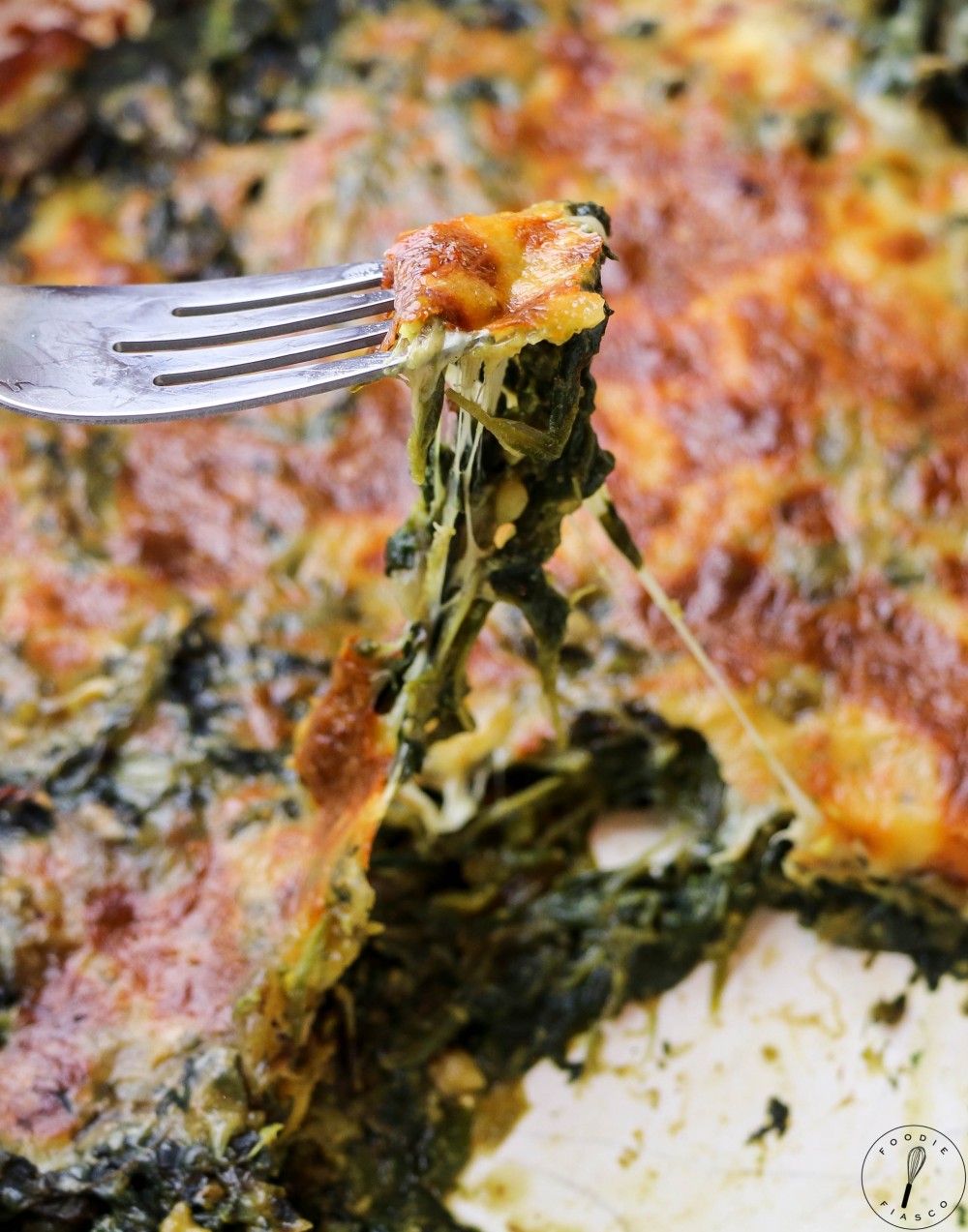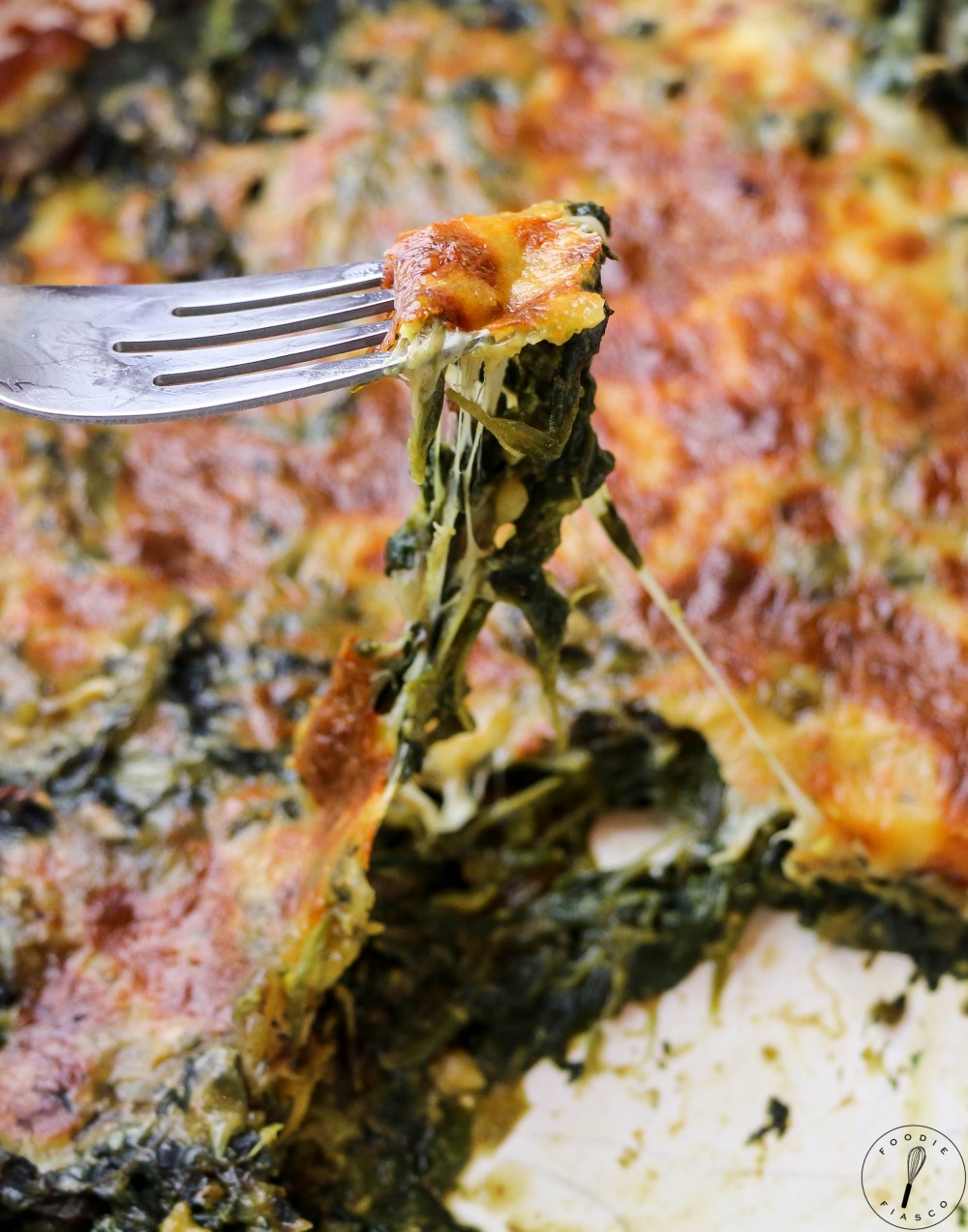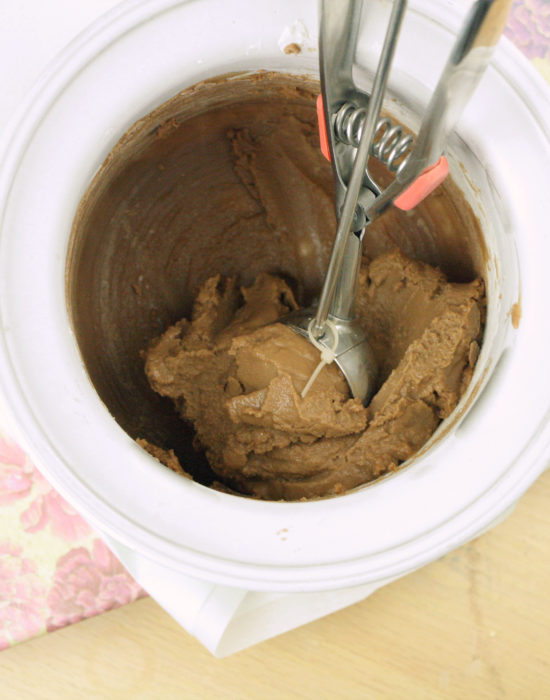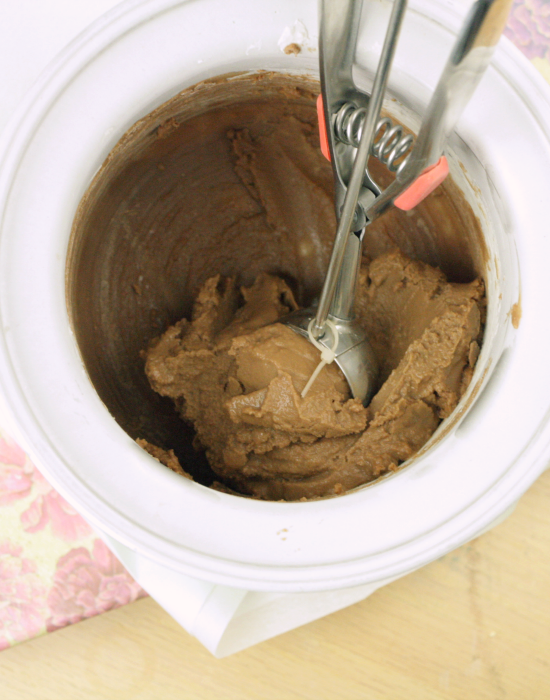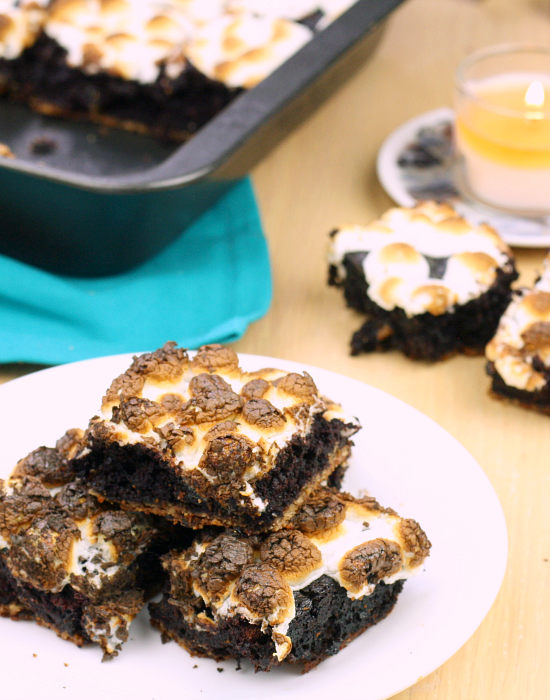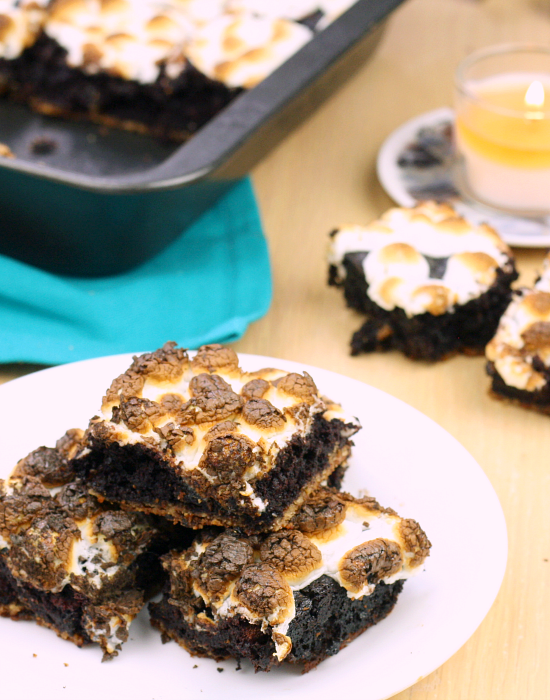 a

This is a sponsored conversation written by me on behalf of WhiteWave Foods. The opinions and text are all mine.Comments submitted may be displayed on other websites owned by the sponsoring brand. Thank you for helping me keep the lights on around here!