This is straight cake batter that is loaded with sprinkles and covered with chocolate.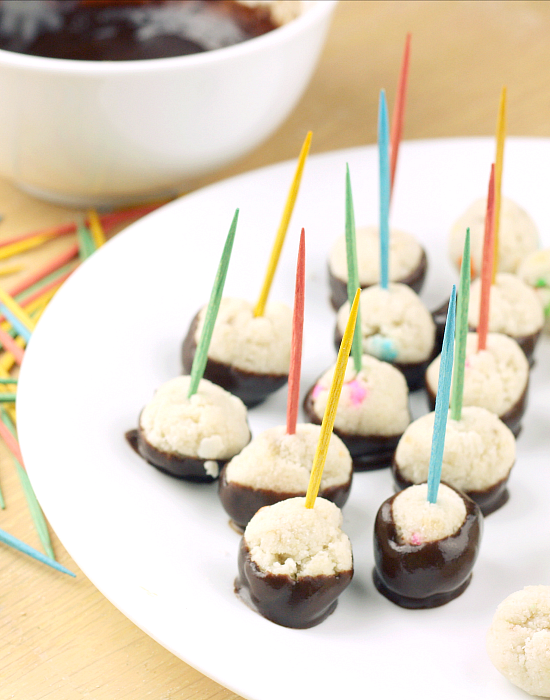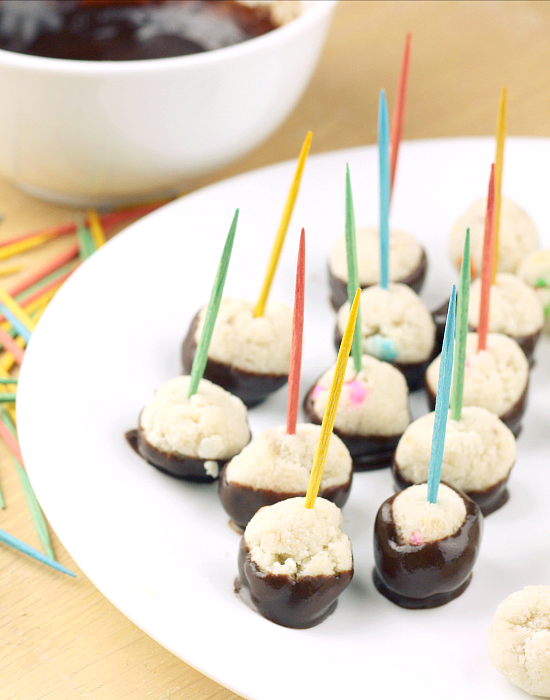 These truffles inspired me! I've always believed sprinkles can do magical things.
So I did something interesting this weekend. I dug myself into the hole of interminable math and therefore concluded that the logical reaction would be to go to a women's empowerment event at my school instead of doing any if it. There was love, support, and estrogen oozing out of the walls. Take that, logarithms.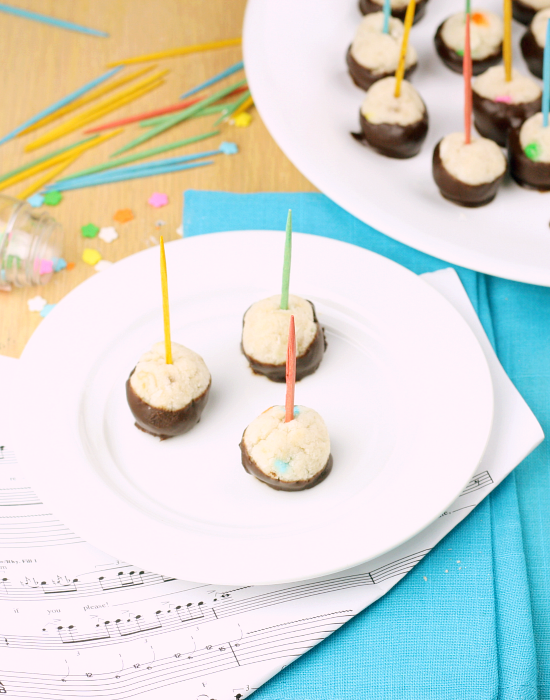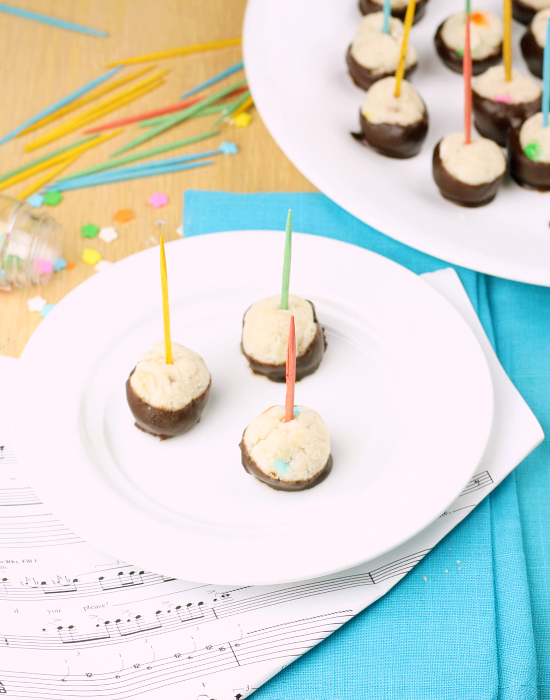 During the event, there was an opportunity to go up to the mic to share your story in front of the few hundred people in the audience. My dear friend broke the silence of the room, gave a moving speech, and I proceeded to bombard her with a bear hug as soon as she finished. (I love you, Rachel!)
Now the next part is not so clear. I'm not quite sure what possessed me to go up to the mic and speak. Perhaps it is my irrevocable love of talking.
Err. Hi. My name is Kelly and I have the best mom in the world. I lost a bunch weight in middle school and then I started a blog but then my mom got cancer so now we take on the world together and then I went to the best school in the world and met amazing people whom I cherish and then my mom got cancer again and my hands are orange because I eat too many carrots.
And I talked about how I do a lot of cooking and dishes now (Cascade is great, by the way) in the interest of the two of us not starving to death or living on takeout. Whichever is worse on your system. Of course, I also talked about how I make cake batter truffles for you wonderful citizens of the internet and by some miracle I've reached a few million people in the process.
Naturally, I grossly underestimated the amount of people I knew in the room. It's easy to make a speech in front of a few thousand strangers, but ten people you'll have to deal with come Monday? Nope. I'll just take my cake batter truffles and go home please and thank you.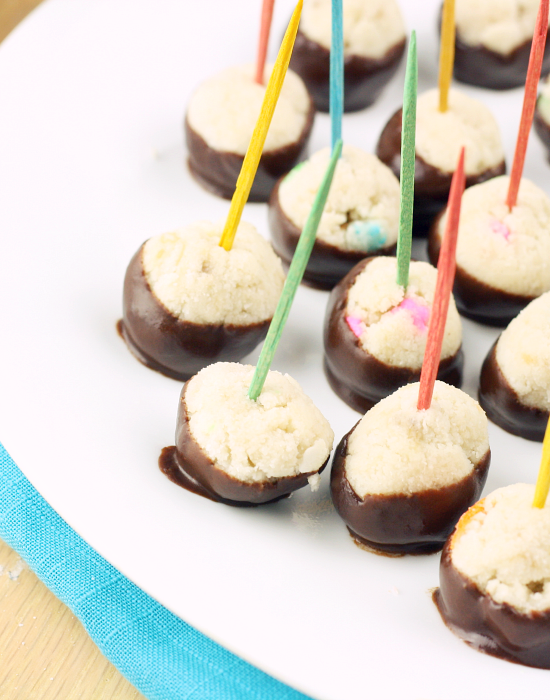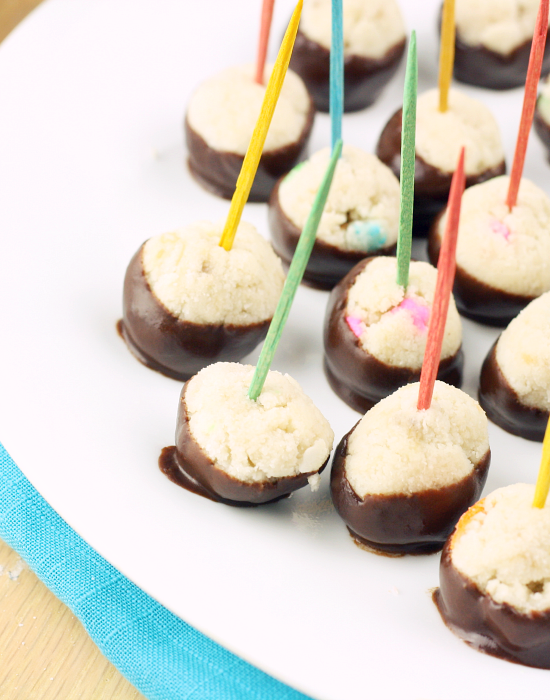 So to conclude this exercise in personal growth/public mortification, I was asked to say why I am that girl. That girl who's in the dream team with the best mom in the whole wide world and stays up much too late doing precalc and talking to her blogger friend in Singapore and uses run-ons for emphasis without apology and is eternally grateful for God and her incredible school and friends and air she breaths and who knows she can never pay any of it back completely but makes cake batter truffles anyway because she'll never stop trying and she loves you and thinks cake batter covered in chocolate is a gift from heaven.
I am that girl because I show up, dress up, and never ever give up.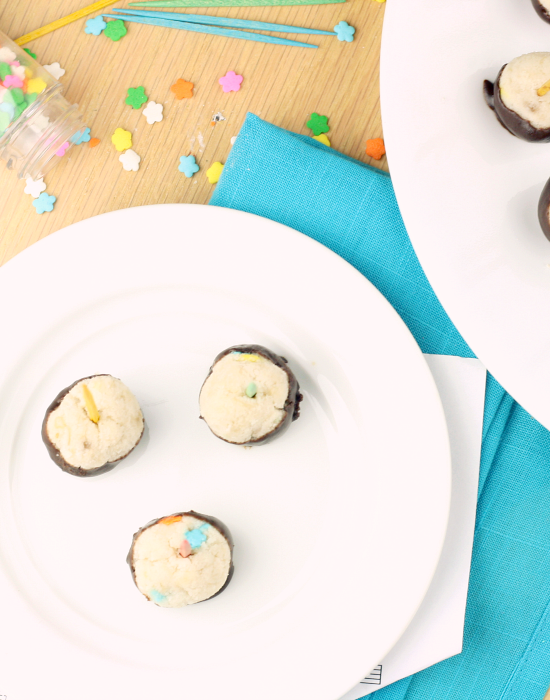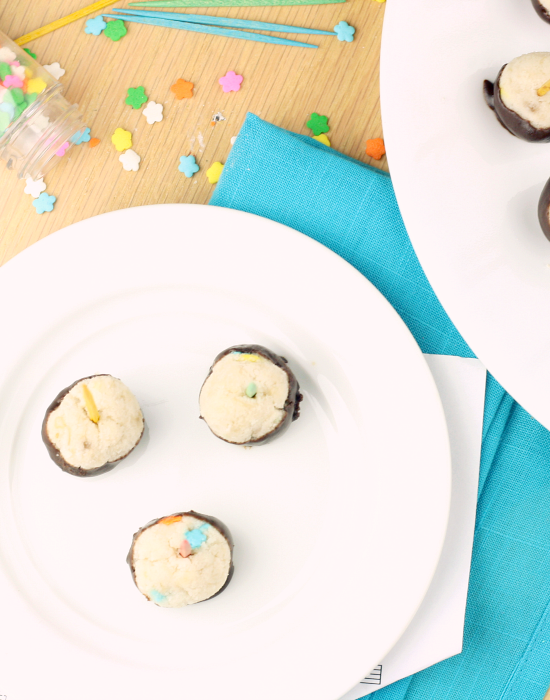 I'm done being sappy now. Let's talk truffle.
As for my favorite version… dare I say I prefer the grain free one? It's such a close call as I adore them both, but the grain free one is based on my cookie dough recipe and heaven knows you really can't go wrong with cookie dough. But either way, you're getting cake batter packed with sprinkles and covered in chocolate.
This is a good day.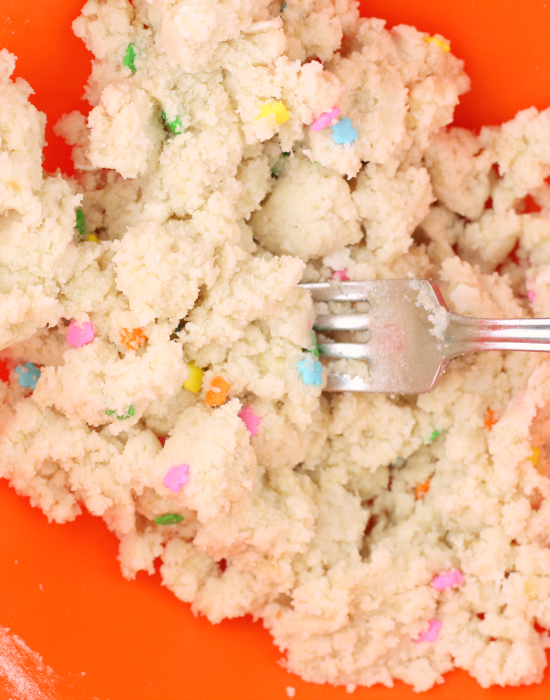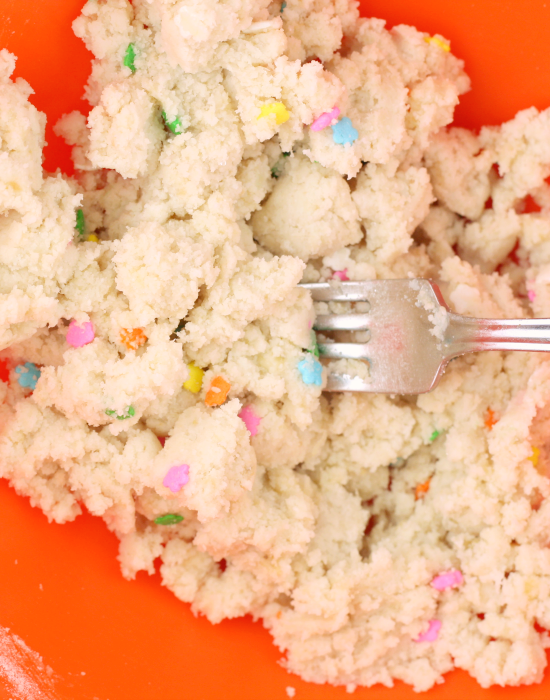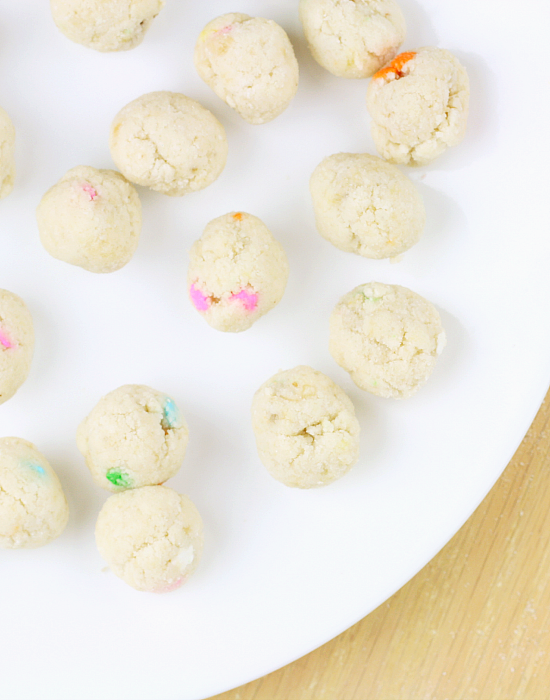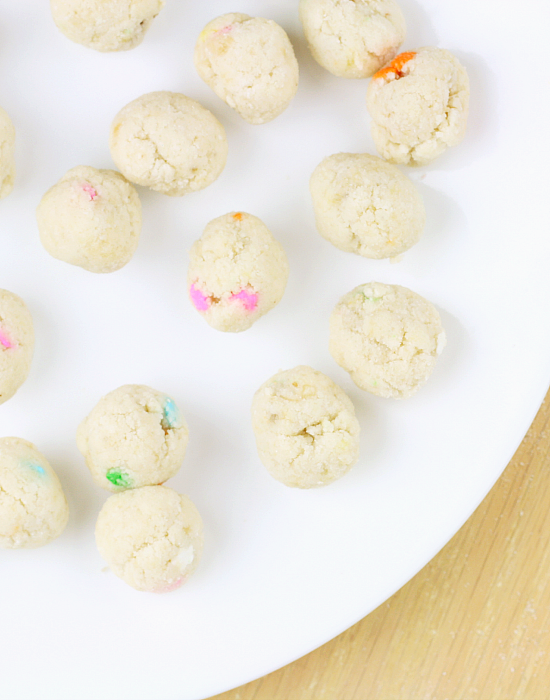 Try to artfully compose your chocolate dipping setup. Colorful toothpicks contribute additional artful fanciness.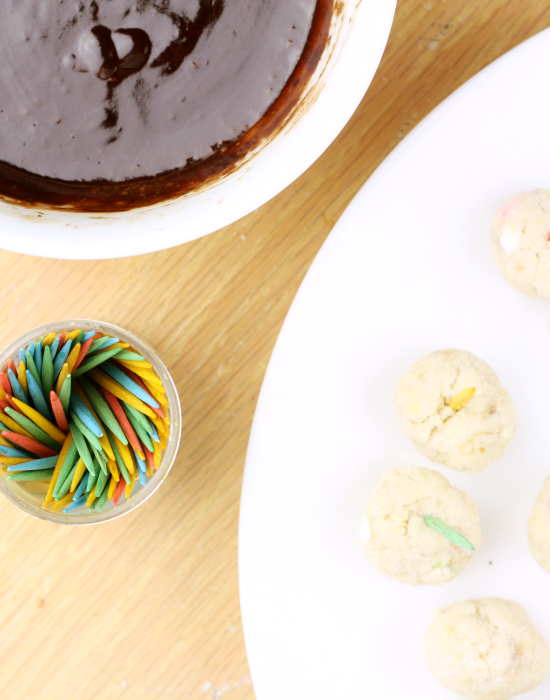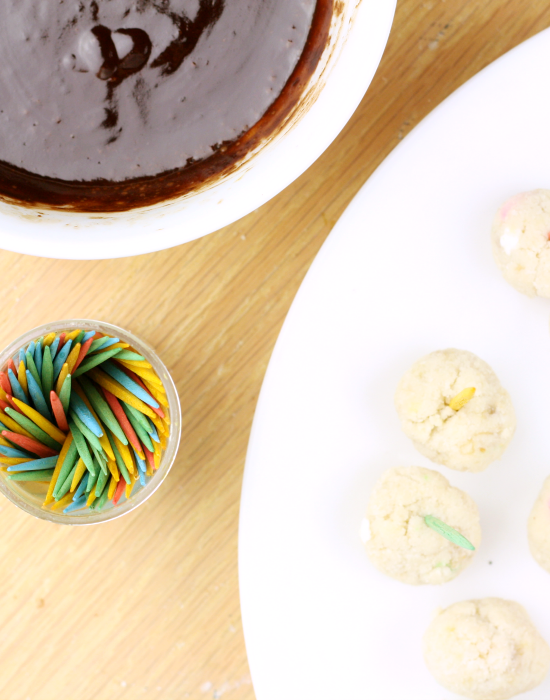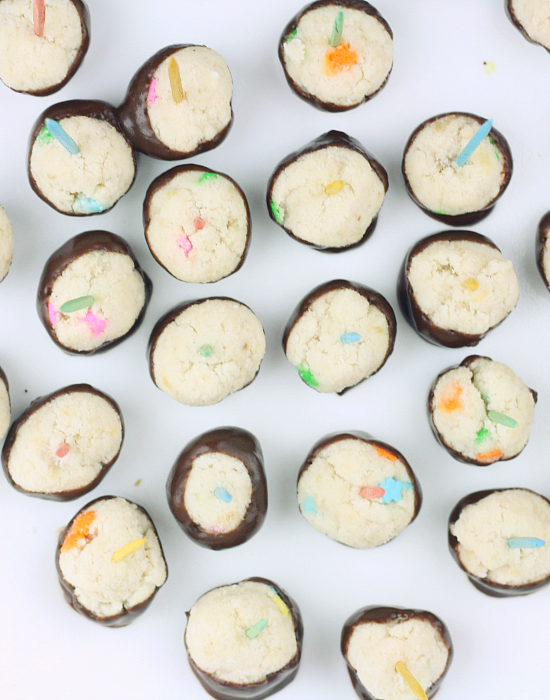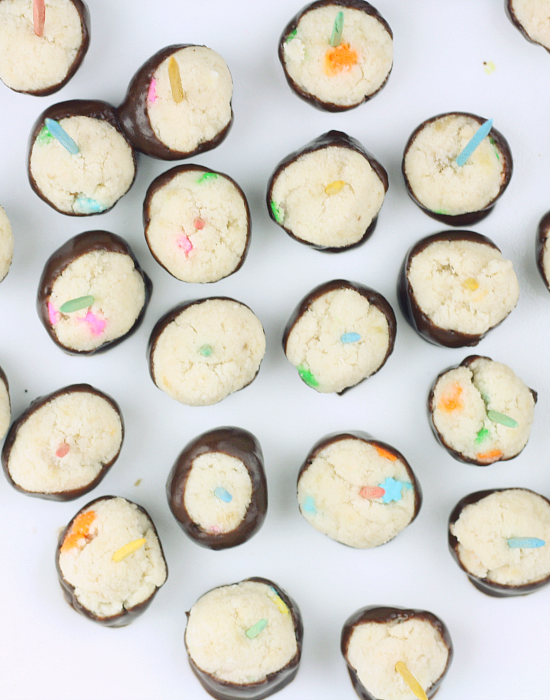 Eh, I made it this far in a cake batter truffle photoshoot without eating.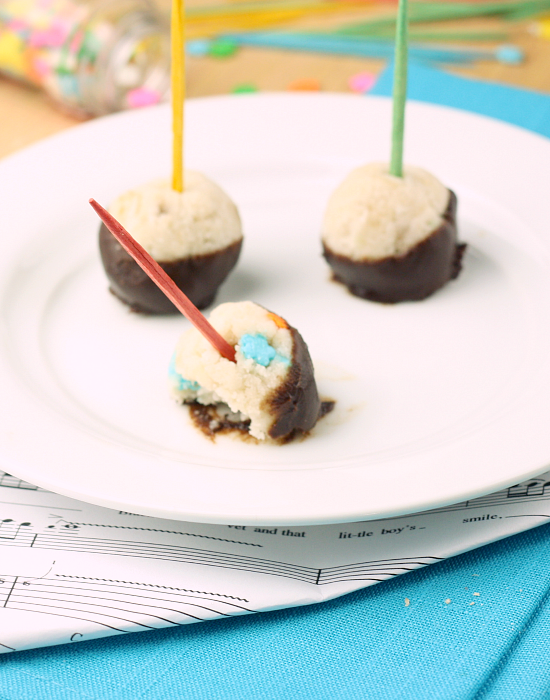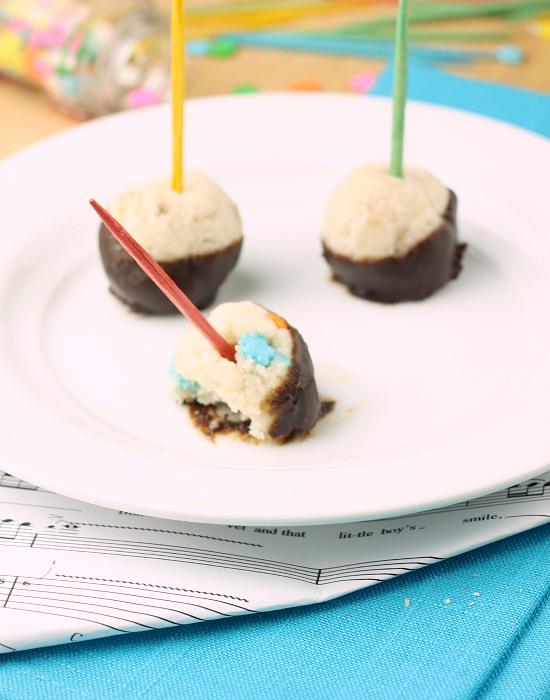 Please note: The following recipe is NOT gluten or grain free, so please click for the recipe that is.
Yield: 2 1/2 dozen truffles
Healthy Cake Batter Truffles
10 minPrep Time:
10 minTotal Time:
Ingredients
1 ounce dark chocolate, roughly chopped
2 tablespoons almond milk
1 1/4 cups white whole wheat flour
3/4 cup erythritol or sugar
1/2 teaspoon baking soda (I know we're not baking them- it's for the flavor!)
1/2 teaspoon salt
1/3 cup unsweetened applesauce or mashed banana
1 tablespoon vanilla extract
1 teaspoon distilled white or apple cider vinegar
1-4 tablespoons almond milk, as needed
2 tablespoons sprinkles
Instructions
In a large bowl, combine the flour, erythritol or sugar, baking soda, and salt. Add in the applesauce or mashed banana, vanilla extract, and vinegar and stir until completely combined. Stir in the almond milk 1 TABLESPOON AT A TIME and stop when all the flour has been incorporated. Stir in sprinkles. Scoop the dough onto a plate using a 1/2 tablespoon measure, roll into balls, and freeze until firm, about 2 hours.
Combine the dark chocolate with 2 tablespoons of almond milk in a small bowl. Microwave for 1 minute and stir. If the mixture is too thin, continue to microwave in 15 second intervals until thickened. You can alternately do this in a pot on the stove. Chill until ready to use.
Fetch the frozen truffles from the freezer. Using a fork or toothpick, dip each truffle into the melted chocolate mixture and place back on the plate. Freeze again until completely firm and the chocolate is solid. Transfer to a tupperware container for long term storage (but they didn't last too long in our house...mmm). Devour.
Notes
Nutritional information calculated with erythritol or applesauce.
7.8.1.2
325
https://www.foodiefiasco.com/healthy-cake-batter-truffles/
Nutrition
Do you have public speaking stories?
Please do share! Or not! It's all good. I also love stories about sprinkles.