This may be my new favorite recipe.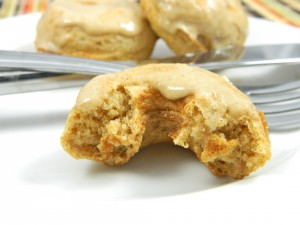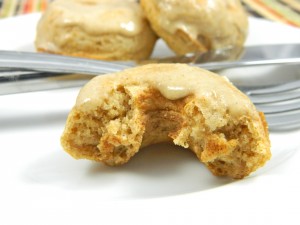 Not just on my blog, but anywhere.  I kid you not.
I can't tell you how happy it made me went you all liked my original Krispy Kreme recipe! So when a lovely reader named Kathy told me she scaled down the recipe to one serving and still loved it, I was inspired. Thanks, Kathy!
But I had a challenge to face. Most single serving recipes' potions sizes are so small. Seriously 200+ calories for one donut?!? This recipe makes four whole delicious donuts. (I ate the fourth one before I snapped these pics. Oops.)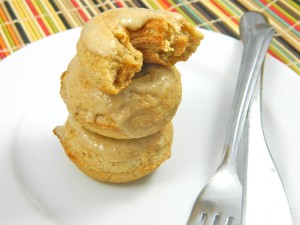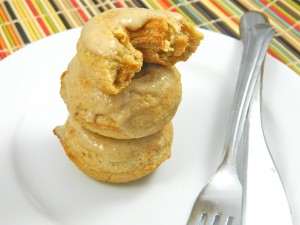 Krispy Kremes just aren't healthy, and a lot single serving recipes aren't either. So I had to get creative.
I scaled the recipe into the least strange measurements I could, mixed everything together, crossed my fingers, and fired up my donut maker.
I had no idea they would turn out this good. I almost cried tears of healthy donut induced joy.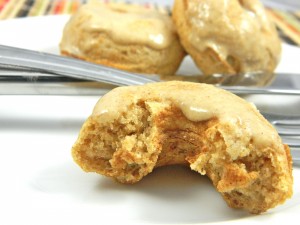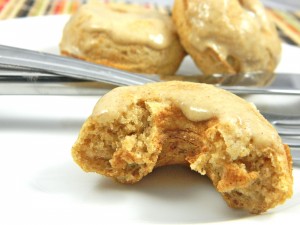 And now you can, too!
Please don't email be admonishing me for picking a corny name. "All for one?" What is this? A pep rally?
Think about it. Sometimes you have to pick quantity over quality, or vice versa, but you don't have to here.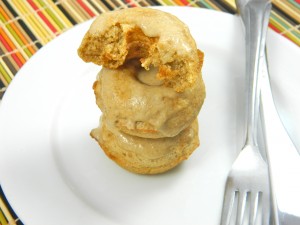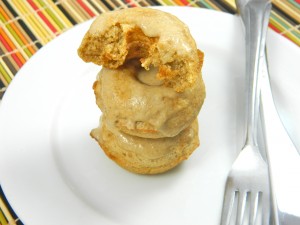 You really can have it all.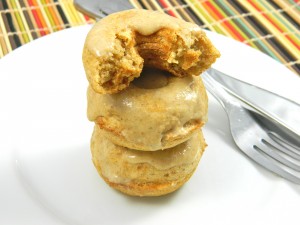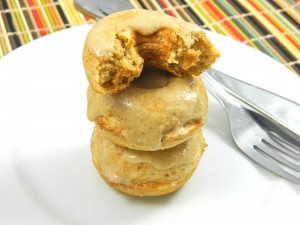 And it's all just for you.
nutritional Comparison:
Serving size: 4 donuts
Calories: 800
Fat: 48g
vs
All for One SIngle Serving Krispy Kreme Donuts
Serving Size: 4 donuts
Calories: 160
Fat: 0g
All for One Single Serving Krispy Kreme  Glazed Donuts
Yes, you get FOUR WHOLE AMAZINGLY DELICIOUS DONUTS FOR 160 CALORIES and ITS ALL FOR YOU!!! I apologize for the large font, but I need to convince you to make these. You need them in you life. (And really, who doesn't?)
Ingredients
1/4c all-purpose or white whole wheat flour (Maybe regular whole wheat would work, but I'm not sure.)
1.5T sugar (I used brown, and I'm experimenting with a sugar-free version)
heaping 1/4t baking powder
heaping 1/4t Ener-g egg replacer
pinch salt
pinch cinnamon
1/8t apple cider vinegar
1/8t vanilla
2.5T unsweetened almond milk (I bet other milks would work, too)
Directions
Preheat your donut maker or oven to 350F.
Combine flour, sugar, baking powder, Ener-g egg replacer, salt and cinnamon in a small dish (I used a mug). Add in apple cider vinegar, vanilla, and almond milk until combined but not over stirred.
Spray your donut maker, donut pan, or muffin tin with nonstick spray. Make sure not to skip this!
Scoop batter into you donut maker and cook for 5 minutes or until a toothpick comes out mostly clean. OR scoop batter into a donut pan and cook for 8-11 or until a toothpick comes out mostly clean. (Note: this will make four donuts in a mini donut pan, or two donuts in a full-sized donut pan.) I'm pretty sure you'd need to cook it for a similar time in a muffin pan, but I'm not sure.
Make sure you have at least some leftover batter. While your donuts are cooking, thin out the remaining batter to your desired consistency with almond milk. Once the donuts are done, let them cool and spread on the icing.
Don't be confused my babbling recipe; these are ridiculously simple.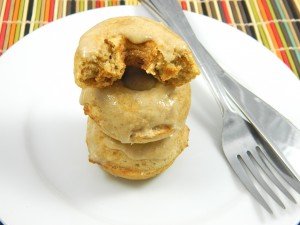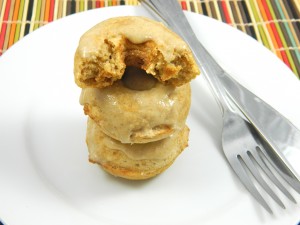 All for one… all for you…
Enjoy!
-Kelly M.