Because oatmeal is so passé.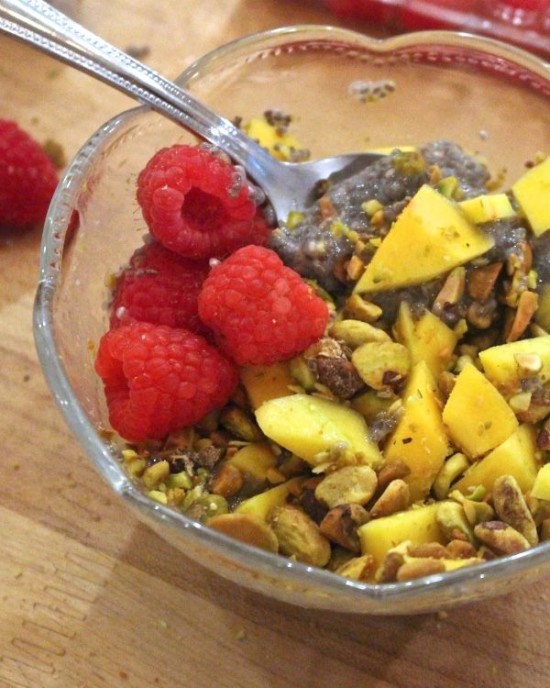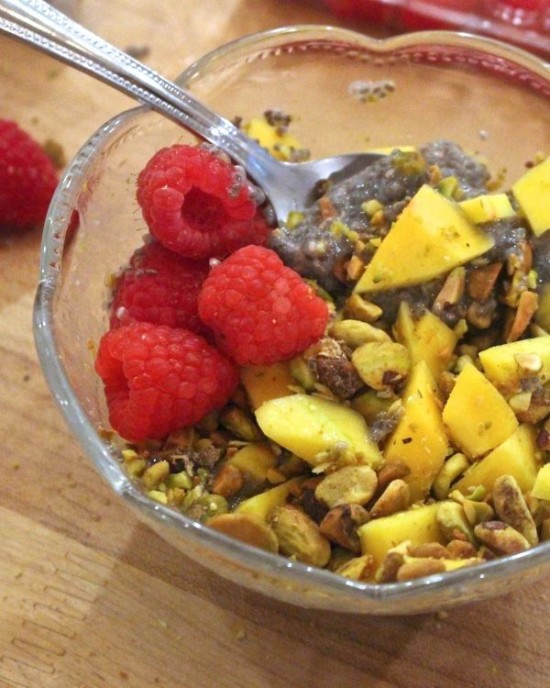 I don't know about you, but I don't enjoy the repercussions of a fishy Omega-3 supplement.
Still, I do want to get the many health benefits that these Alpha Linolenic Acids are known for– namely cardiovascular and memory boosts. Thus, a little while ago, in a valiant effort to consume the Omega-3's, I turned to the lauded chia seed, a superfood that has been increasingly popular in health stores today.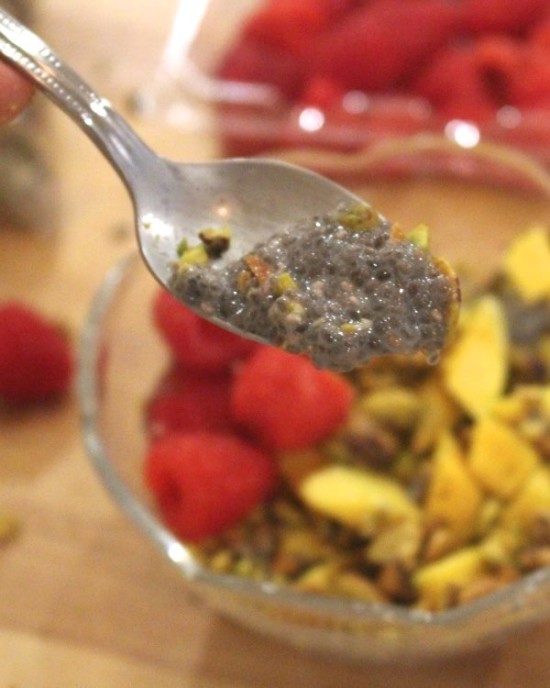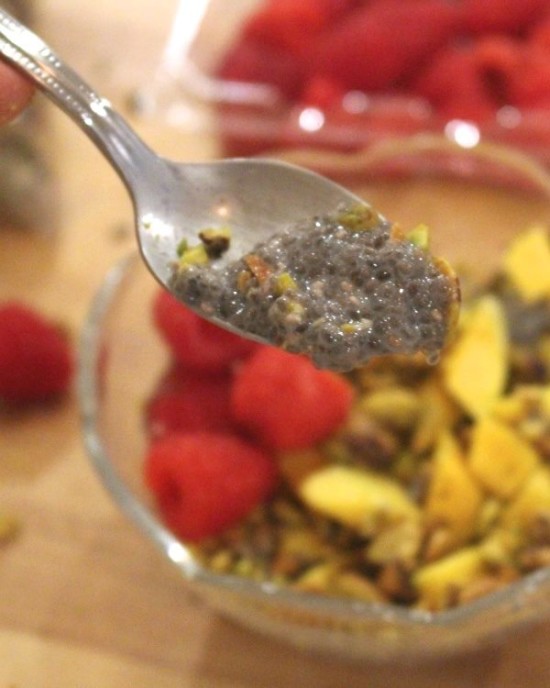 High in protein and fiber, chia seeds are often used in breakfast foods. However, it wasn't until recently that I used them to make a breakfast pudding, which has now become a staple in my morning routine.
These already exotic feeling seeds are only taken to the next level with the addition of cardamom, pistachios, and raspberries, providing your taste buds with a delightful punch of eastern flavor.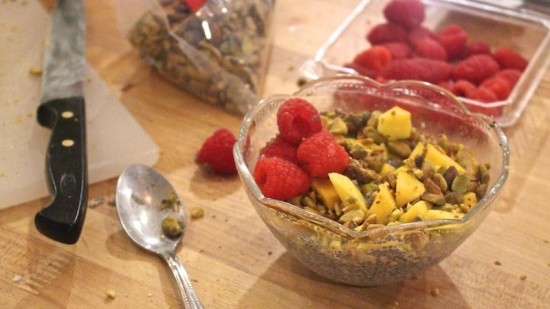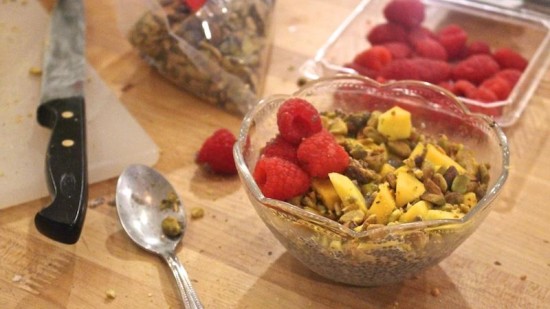 This scrumptious recipe is a true sensory transportation.
Seriously, it's magical in such a way that your mind and taste buds will journey far to New Delhi, whilst your body simply remains plopped in front of a breakfast table!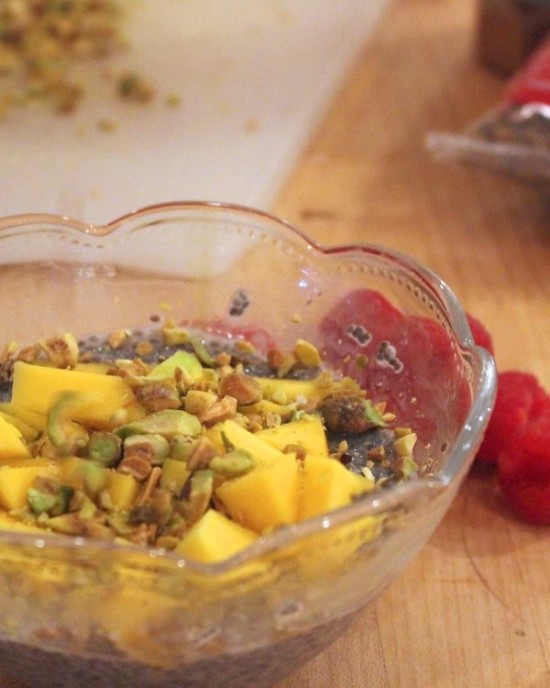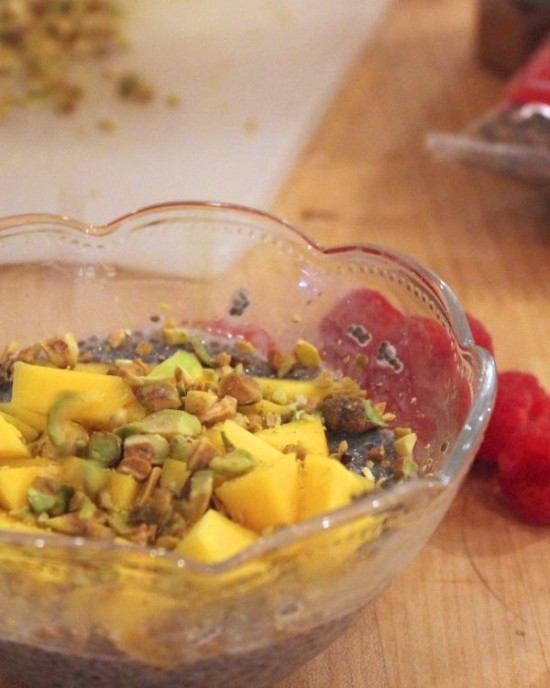 "Mango Lassi" Chia Breakfast Pudding
This is a simple yet exotic no-cook breakfast, perfect for a hot day.
Ingredients
3 tablespoons chia seeds
½ cup of almond milk
4 drops of liquid stevia
? teaspoon of ground cardamom
? cup of chopped mango
14 shelled and chopped pistachios
raspberries, to garnish
Instructions
Prepare the pudding the evening before, by combining the chia seeds, almond milk, liquid stevia and cardamom. Place in refrigerator and allow to sit overnight. You will notice that the chia seeds swell with the addition of the liquid.
The next morning, remove pudding from fridge, and give it a stir. Divide between two bowls.
Arrange the mango, pistachios, and raspberries atop the puddings.
Voilà, now enjoy your fibrous feast!
Nutrition Information
Serving size:
½ recipe
Calories:
140
Fat:
9 grams
Net Carbs:
4.5 grams
Protein:
5 grams