Peeeeeeeooople.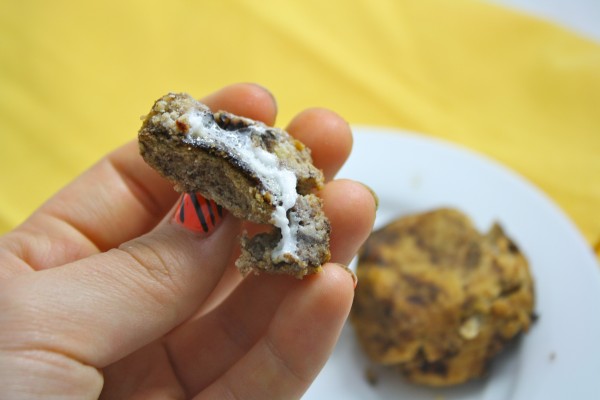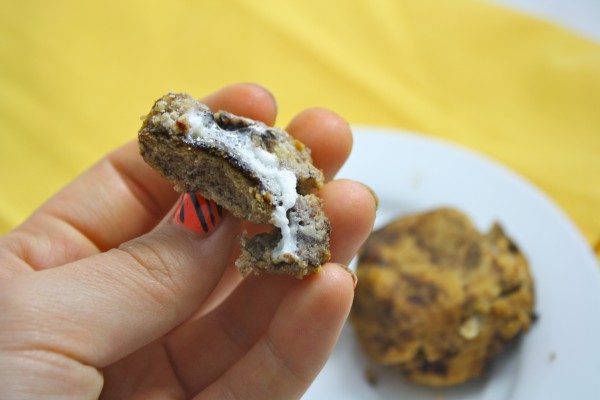 Now do I know how to make a Tuesday look better, or what? (If you answered "or what", then just assume that was a rhetorical question and keep it to yourself. Otherwise, carry on.)
So get this: I made a s'mores with my schmancy graham crackers and homemade chocolate, and then I put it inside a chocolate chip cookie.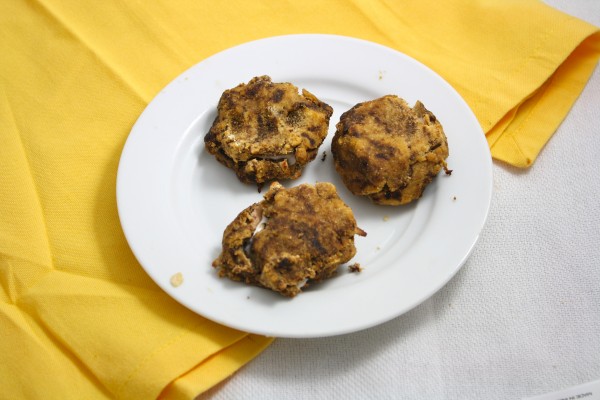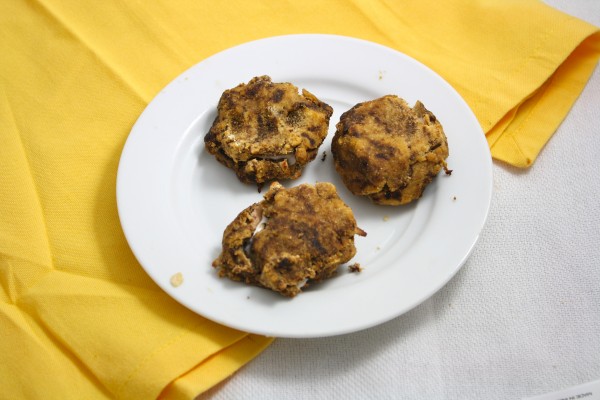 Graham crackers. Chocolate. S'mores. In a cookie. Insanity.
But let's talk marshmallows, shall we? We shall. Everyone knows they taste pretty darn fantasmagorical, but regular jet puffed marshmallows have waaaay to many unfun unpronounceable words. If I'm going to associate with an unpronounceale word, it may as well be a fun word like fantasmagorical.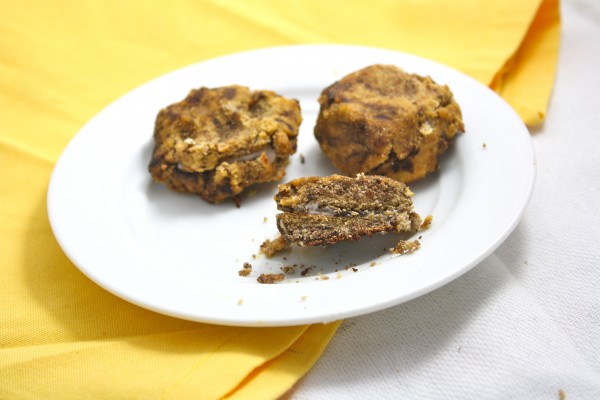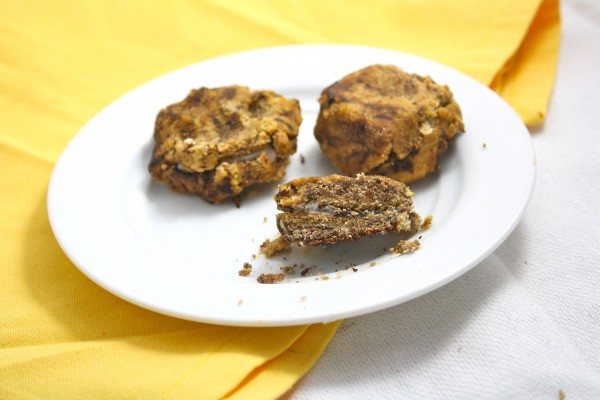 Plus, marshmallows are a far cry from being safe to for us veggie people to much on. So what is a marshmallow loving veggie person to do?
Well, some brilliant person decided us veggie people deserve non-sawdust-flavored marshmallows. BAM. Dandies was born. The only problem? Although they taste authentically fantastic, vegan marshmallows can be an absolute nightmare to track down, a package costs a fortune and a half, and they're still packed with sugar and calories.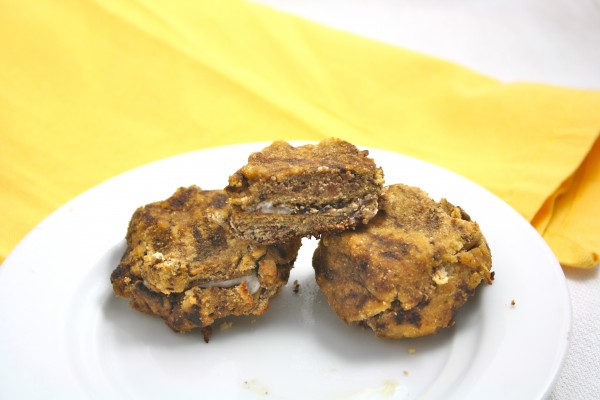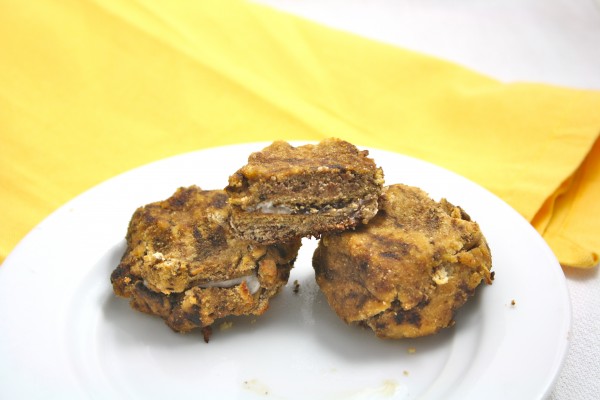 I did decide to treat myself, so I picked up some Dandies marshmallows from my local Whole  Foods, but there is another option if you don't want to go that route. But… what is it?
Banana slices!!!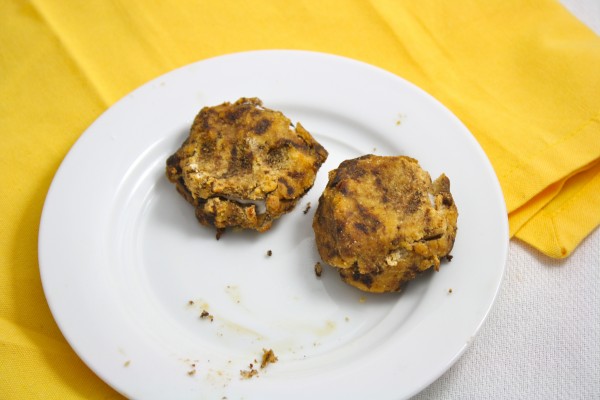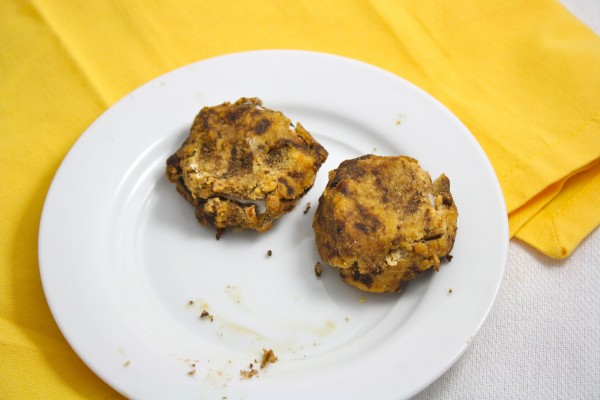 Think about it. They're basically all sugar, but it's healthy naturally occurring fruit sugar. Banana slices caramelize just like marshmallows, they're obviously cheap and easy to find, and they taste yummily bananalicious. (I'm just full of fantasmagorical words today, aren't I?) Banana slices, clearly, will not taste exactly like marshmallows, but they do lend the same effect.
As for these cookies? They are am.az.ing. Gooey and sweet and soft and chocolatey and am.az.ing. in every single way possible. I'm not sure I can explain the sheer wonder of these cookies, so I think you're going to have to take my word on this one.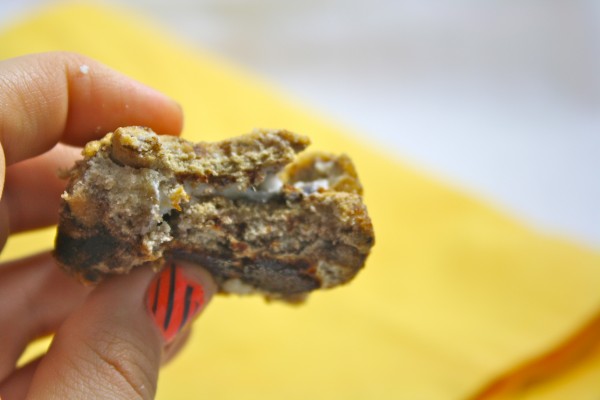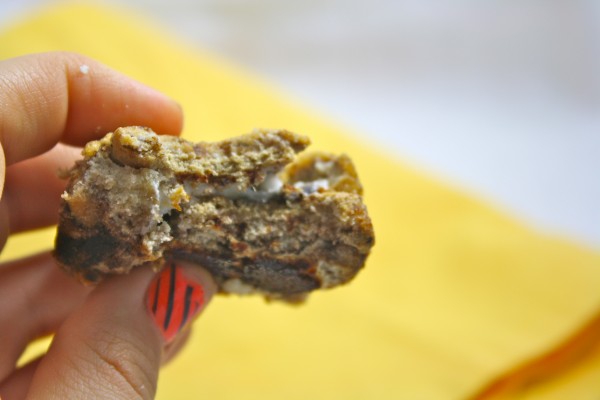 But really. Will it be that hard?
I know this may seem like a lot of effort for only three cookies, but a) this recipe is not hard at all b) these are GIANT cookies and c)  this recipe is very easily doubled or tripled as you need it. If you don't want to go the homemade route, you can use store bought chocolate and graham crackers, just know that the nutritional info will be greatly affected. 
Inspired by Picky Palate and adapted from my Oreo Stuffed Cookies
Yield: 3 large cookies
S'mores Stuffed Chocolate Chip Cookies
15 minPrep Time:
10 minCook Time:
25 minTotal Time:
Ingredients
2 vegan marshmallows (If you don't have access to these or want a sugar free option, feel free to just use banana slices instead. It still gives you the same effect.)
3 World's Healthiest Graham Crackers
1 Tablespoon carob powder (Unsweetened cocoa powder works too, but you'd need to use a lot more sweetener.)
4 Tablespoons almond milk, divided
sweetener to taste (I use a few drops of liquid stevia.)
2 Tablespoons mashed banana or applesauce (I prefer banana.)
2 Tablespoons coconut flour
1/2 teaspoon vanilla
1/4 teaspoon molasses
1/8 teaspoon baking powder
pinch salt
sweetener to taste (I used one packet of stevia.)
Instructions
Preheat oven to 350F.
Whisk together carob powder and almond milk until thoroughly combined and no clumps remain. Microwave for 45 seconds and stir. If it is thinner than a melted chocolate consistency, microwave in 15 second increments until it is thick enough. Alternately, you can cook in a pot over low heat until thickened. Sweeten to taste. Pour into a plastic container and freeze until firm.
Meanwhile, in a small bowl, mix coconut flour, baking powder, and salt. Add in mashed banana or applesauce, vanilla extract, and molasses and stir. Add in almond milk, one tablespoon at a time until you have reached the perfect "doughy" consistency and set aside.
Cut each of the graham crackers and marshmallows in half lengthwise. Put three of the marshmallow halves on three of the graham cracker halves. You must eat the fourth marshmallow half. Fetch the now firm chocolate from the freezer, and work quickly as the chocolate melts at room temperature.
Break of three 1-inch squares from the chocolate and put one on top of each of the marshmallow halves. Place the remaining graham cracker halves on top of the chocolate to form three s'mores. Break up the rest of the chocolate bar into small pieces and stir them into the cookie dough. These serve as the "chocolate chips".
Scoop a heaping tablespoon of the cookie dough on top of one of the s'mores. Using your fingers, carefully smoosh the cookie dough down the sides of the s'more until it is completely covered, adding more dough as needed. Repeat with the remaining s'mores and dough. Bake in the oven at 350F for 10-12 minutes, or until firm and let cool before scarfing them all down.
7.8.1.2
250
https://www.foodiefiasco.com/smores-stuffed-chocolate-chip-cookies/
Nutrition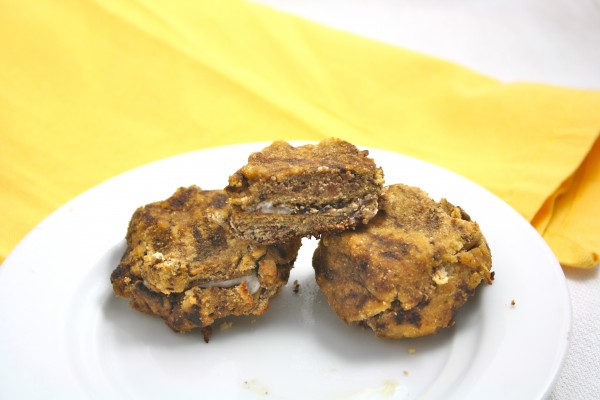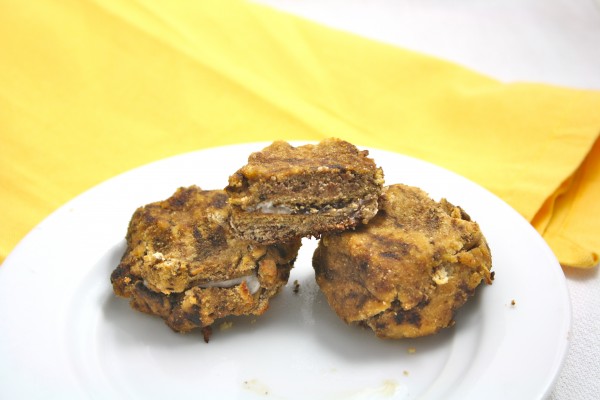 Don't let my hyperbolic directions scare you off. These babies are fun to make and even more fun to eat. Trust me on this one.
Enjoy!
-Kelly M.