Unfortunately, I cannot be blamed for this.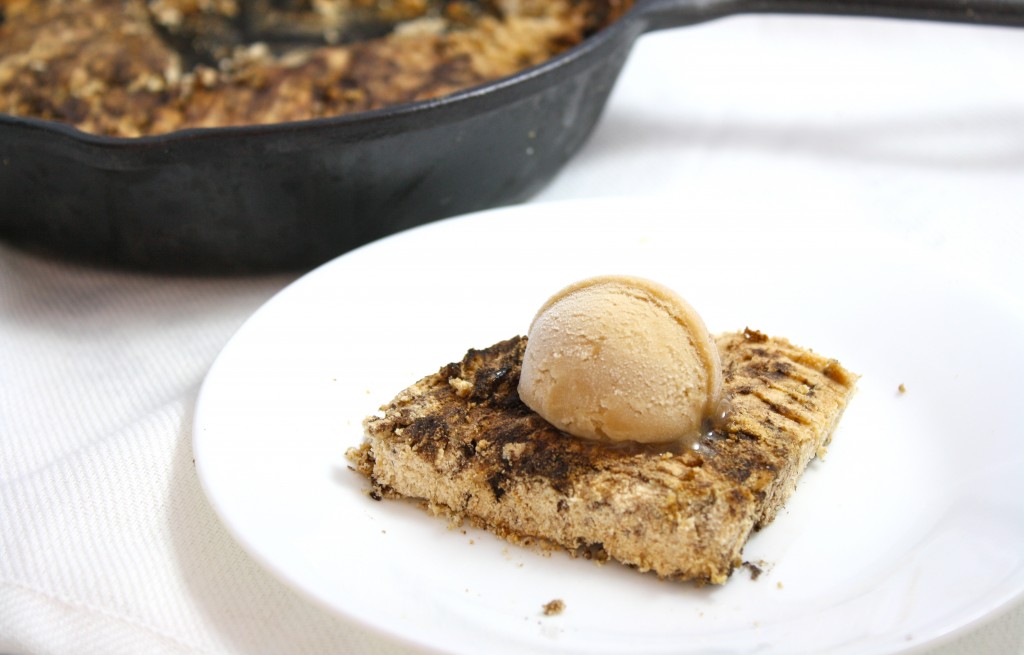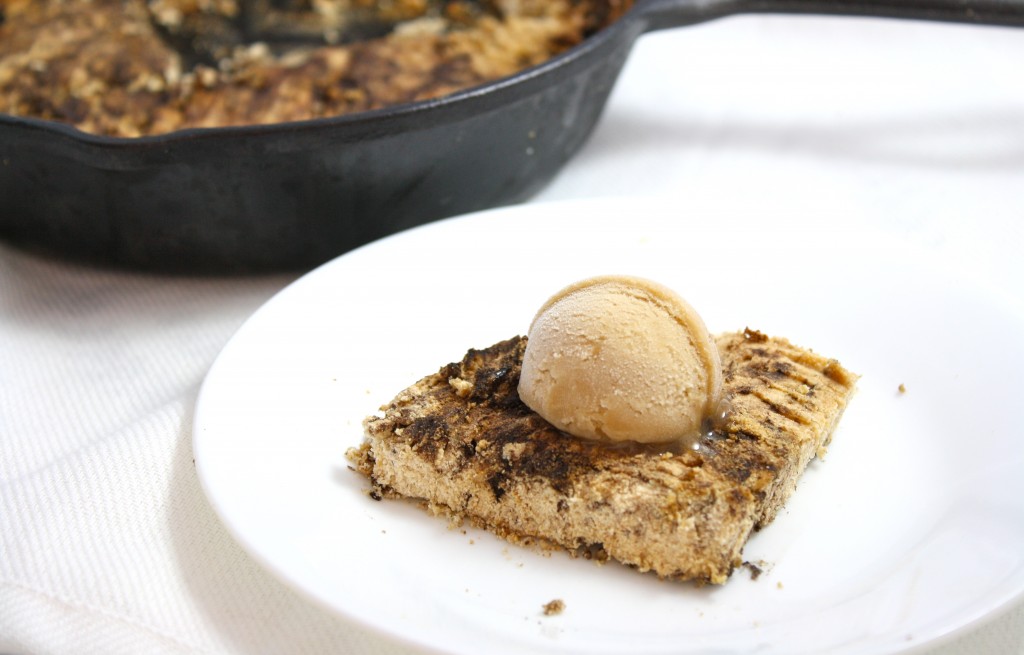 Yes, my friend, the fault for this one is on Jessica. She inspired and indirectly put me up to it. Her crazy amazing photos and swanky lingo (see I can be cool too) makes everything a bit hard to resist. This is no exception.
Once this idea had found its way in to my mind, it was not coming out. I brainstormed, googled, dreamed, cooked, ate… It was a fun process. But then again, all processes ending in giant cookies could be considered fun.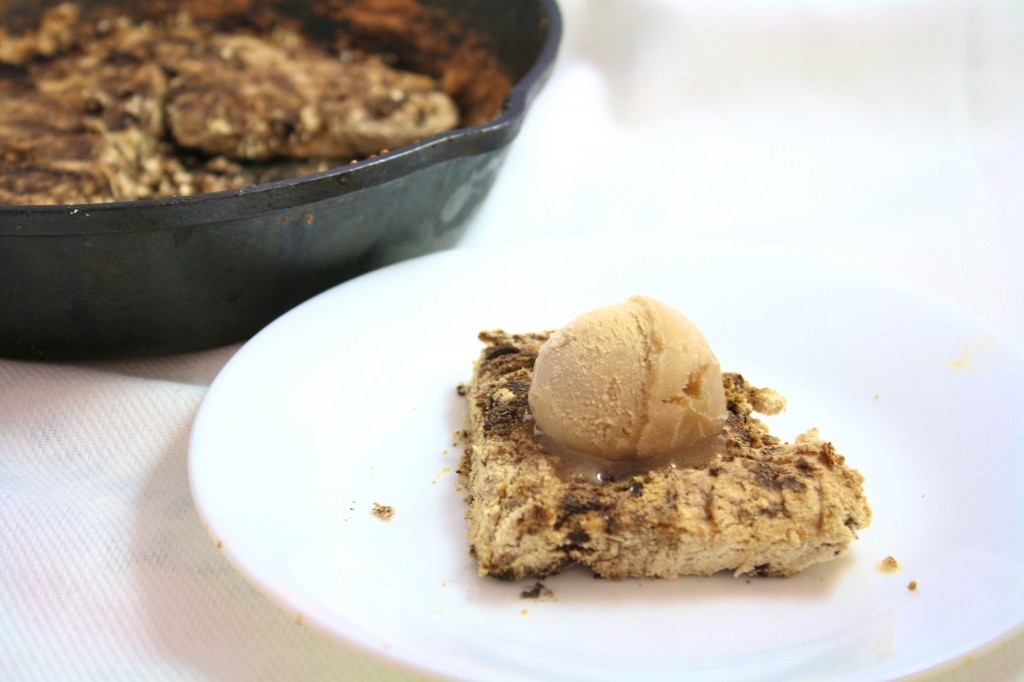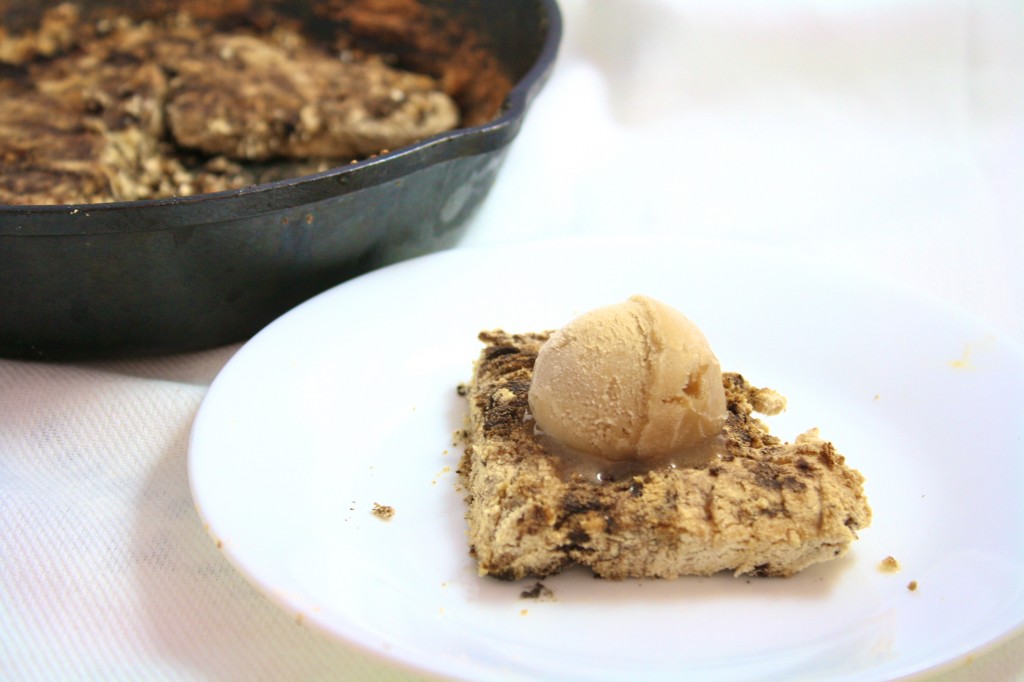 This recipe really is the personification of fun. What's more fun than a cast iron skillet, a GIANT cookie that gives you Mrs. Fields nostalgia, and a really awesome calorie count? That's what I thought. Nothing.
I actually used to be a Mrs. Fields junkie. I would go into any store I could find all excited to raid the "one day old" counter so I could have an excuse to eat a huge bag of cookies because they were cheap. Stomach aches are for the birds.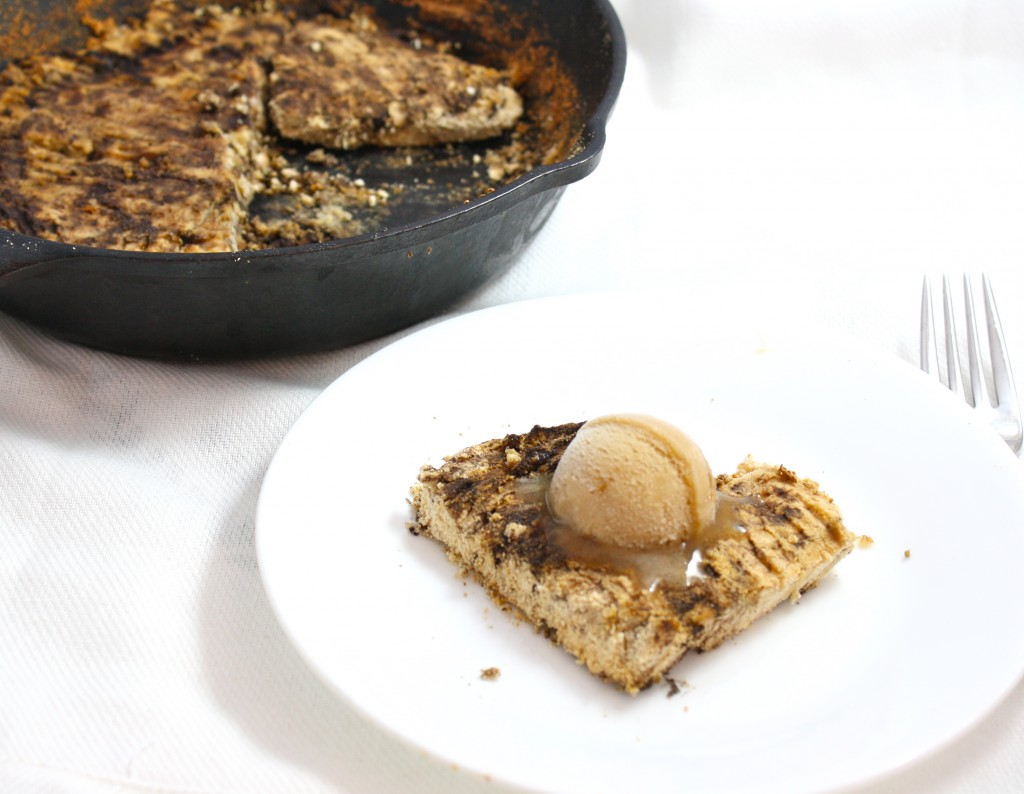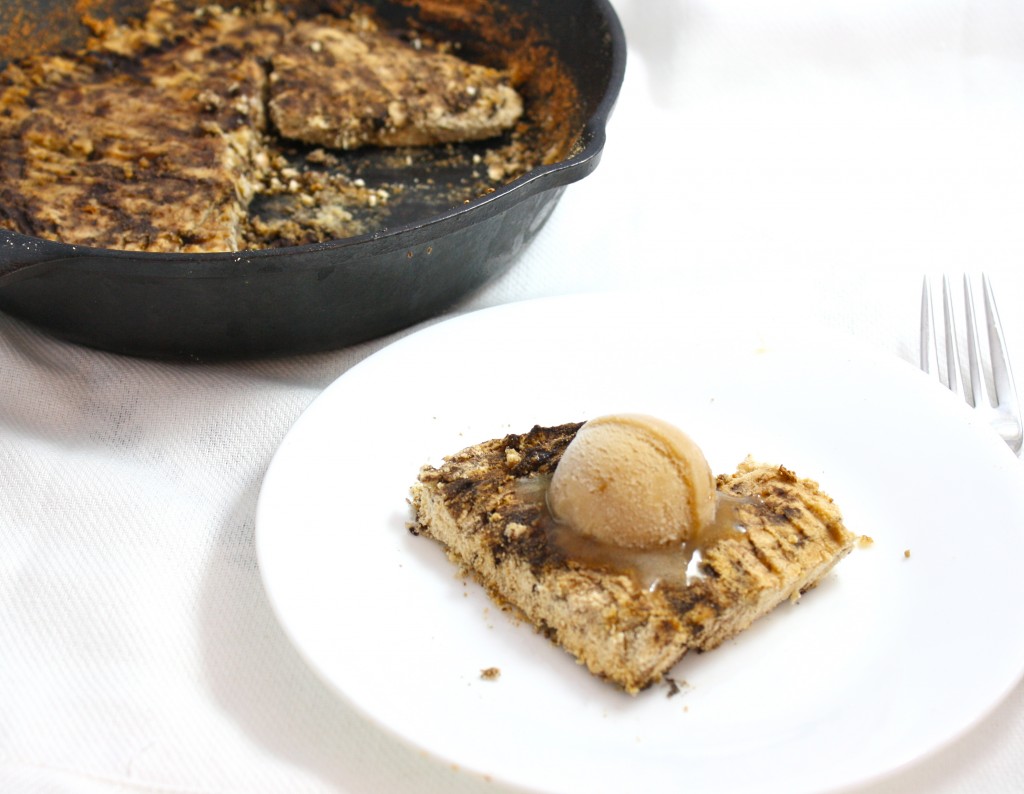 As much as I loved my old cookie bags, they held a candle not to the cookie. The big one. The huge one. It was like a cake, but exponentially better because it was a cookie. Half-baked to be exact, and I adored it.
But alas, the giant cookie turns out to be Paris in this story, and our lovely heroine Juliet (that's me!) ends up with the true Romeo: my skillet cookie.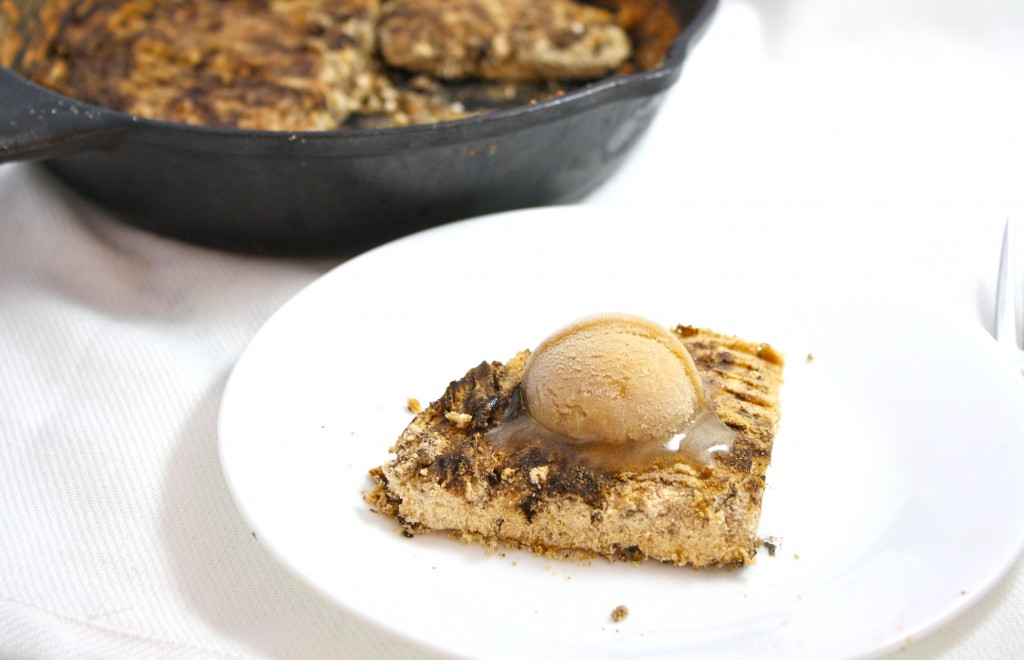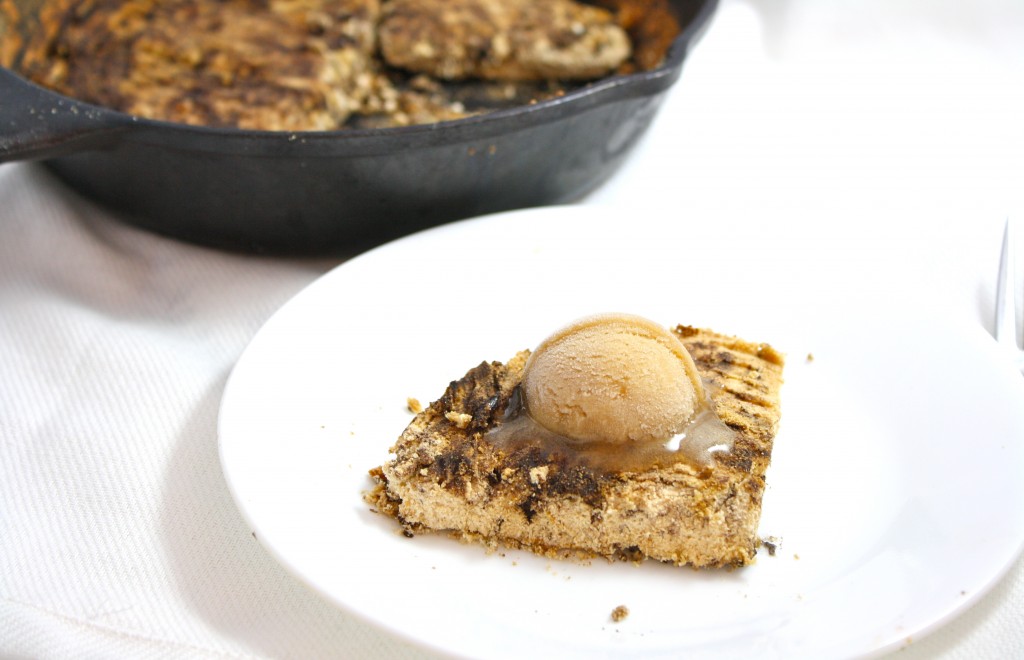 The reason my story is way better than Mr. Shakespeare's version is that mine ends by sticking a fork in it.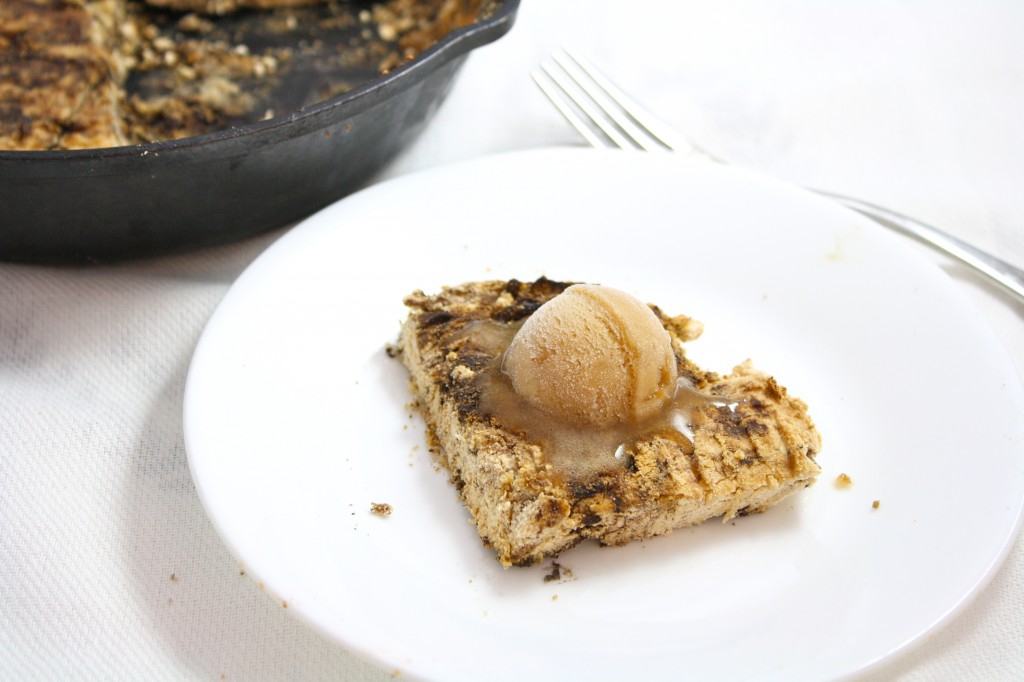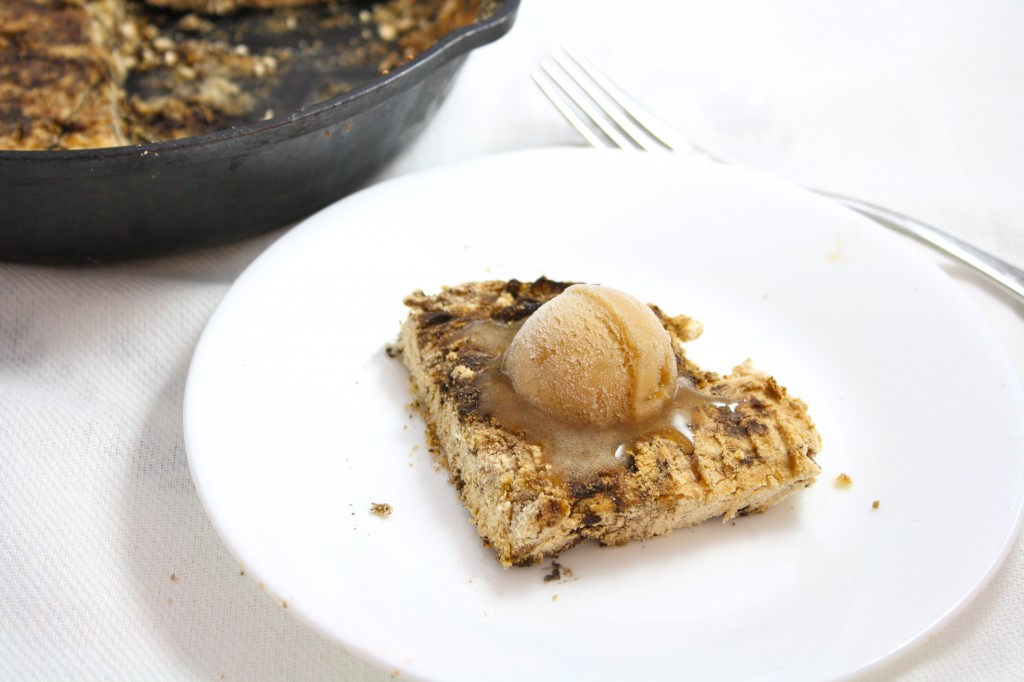 By "it" I mean the cookie. I stuck a fork in the cookie. What did you think I meant?
Chocolate Chip Skillet Cookie
Who want to scoop cookie dough, anyway? Not impatient people. This dough comes together quickly in a cast-iron skillet so you don't need to dirty a single bowl. If you don't have the time or just don't feel like making your own chocolate chips, just sub regular store-bought ones. Feel free to play around with the mix-ins if you want!
Adapted from my World's Healthiest Cookie and Healthy Homemade "Chocolate" and inspired by How Sweet Eats
Makes 1 skillet cookie (Four large servings)
Nutritional Info
Serving size: 1 large slice (1/4 of recipe)
Calories: ~63
Fat: ~2 grams
Ingredients
For cookie:
6 Tablespoon coconut flour
2 Tablespoon applesauce
1/2 banana, sliced
1/4 teaspoon salt
stevia or other sweetener, to taste (I used three packets of stevia)
1/2 teaspoon baking powder
1 teaspoon vanilla extract
1/2 teaspoon molasses
6 Tablespoons almond milk, or milk of choice
For chocolate chips: (you could sub store-bought chocolate chips)
1/4 cup carob powder
1/2 cup almond milk
sweetener to taste, optional
Directions
For chocolate chips:
In a pot, whisk together carob powder and almond milk until no clumps remain. Heat it over low heat and simmer until thick, whisking constantly. Really, I mean it. Don't stop whisking. It will burn. Add sweetener to taste, if desired.
Pour mixture into a mold (I used a plastic container and it popped out beautifully), and freeze until firm. I just left it in overnight. Once frozen, break the bar into little tiny pieces and freeze until ready to use.
For cookie:
Preheat oven to 350F.
Heat a greased cast-iron skillet over medium-high heat, add banana slices, and cook stirring occasionally until softened, caramelized, and mashed. Stir in the coconut flour, baking powder, and salt. Add in the applesauce, vanilla extract, and molasses and stir. Add in almond milk, one tablespoon at a time until fully incorporated.  Note: If the dough becomes to wet, stop adding almond milk. Fetch the chocolate chips you just made from the freezer, and stir them in. Evenly spread the cookie dough to the edges of the skillet to form a pie/cake shape. Bake in the oven at 350F for 25-30minutes, or until a toothpick comes out clean. Let cool and eat.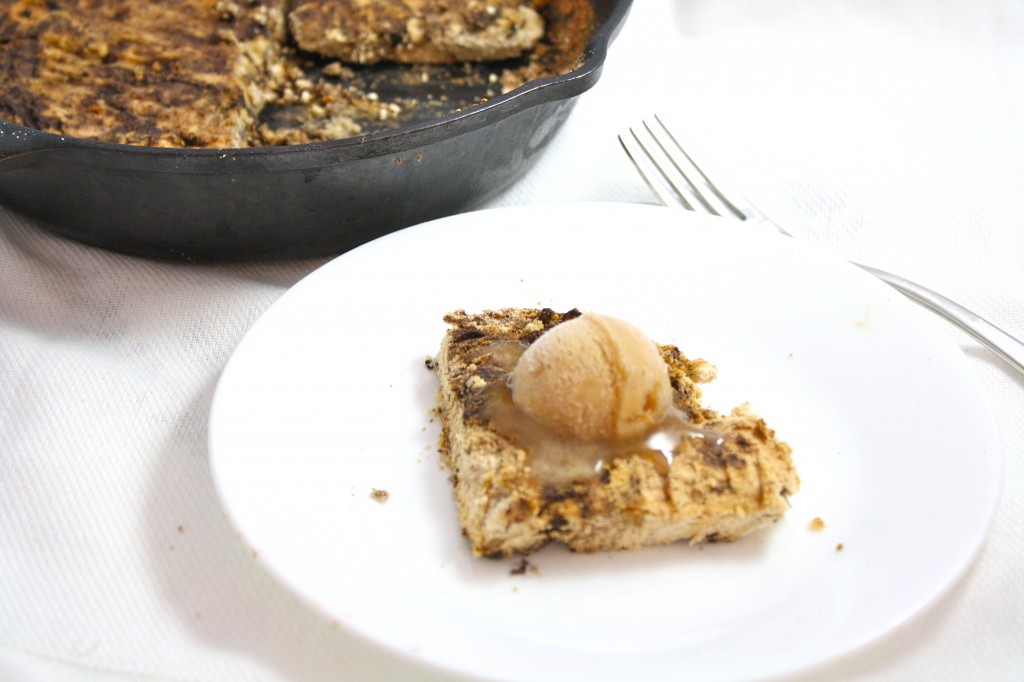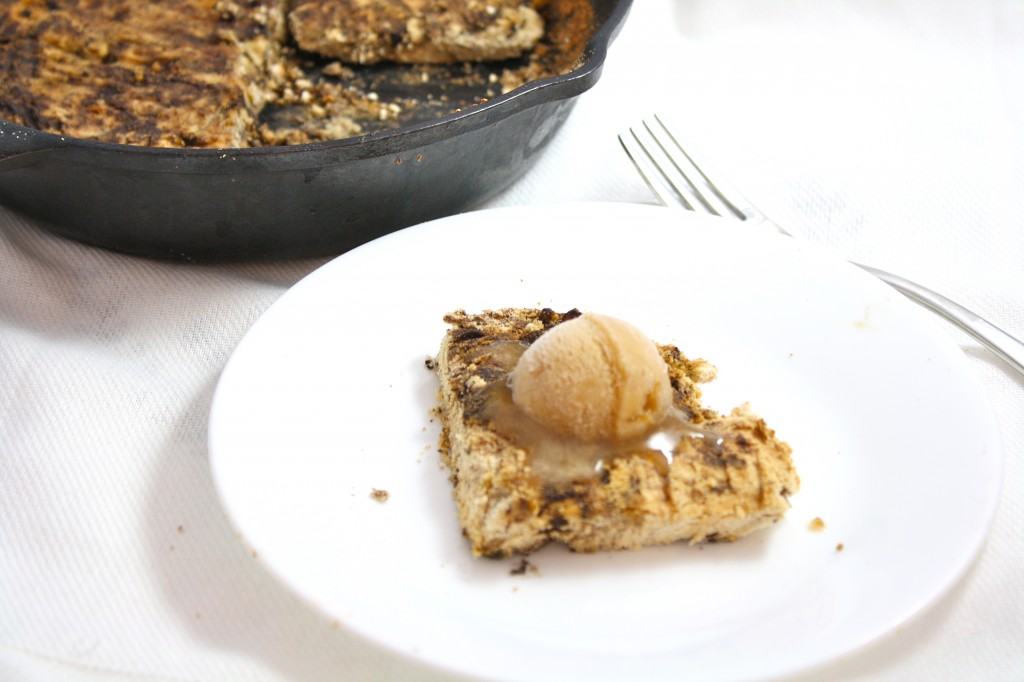 Hey, with these stats, so ahead and eat the whole thing. You've been dared.
Enjoy!
-Kelly M.