It's basically everything you could want in life.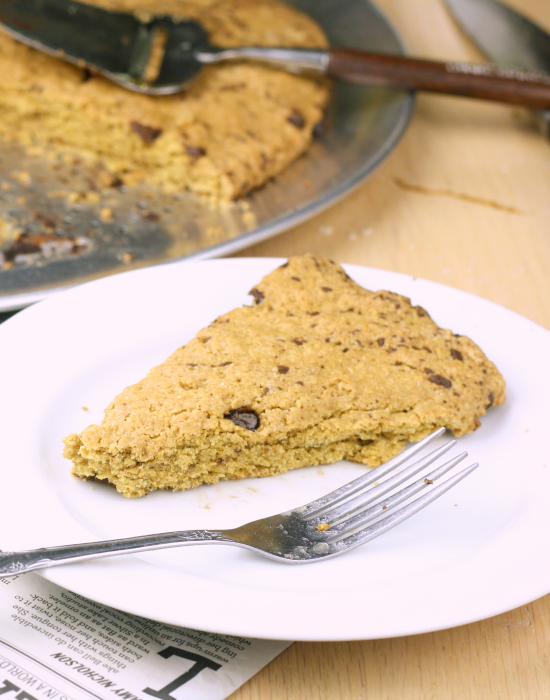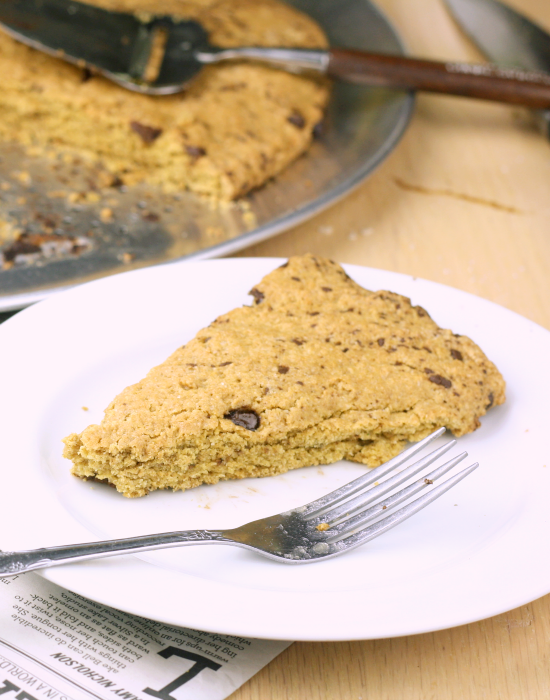 Our two most favorite things, cookies and cake, baked into rich, chocolatey perfection. It's got the size and grandeur of a cake, with the soft and chewy decadence and crisp edges of your dream cookie. It's like having her majesty Mrs. Fields right in your kitchen!
Do you remember your childhood birthday parties? Giggling kids, streamers, and Mrs. Field's cookie cake. Oh, that cake. You'd wait the whole year for that party, but the real reason was you could eat as much of the cookie cake with your friends as you wanted.
The cake was the life of the party. And now that we've grown and matured, we realize that this healthy cookie cake is the answer to world peace and global warming and everything else.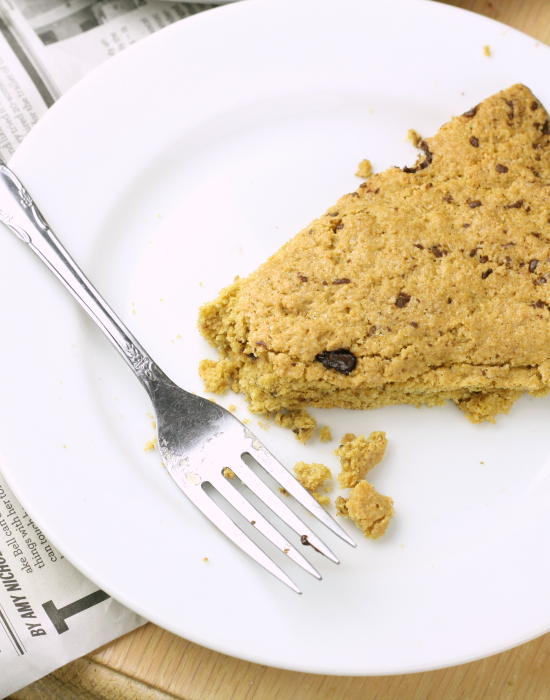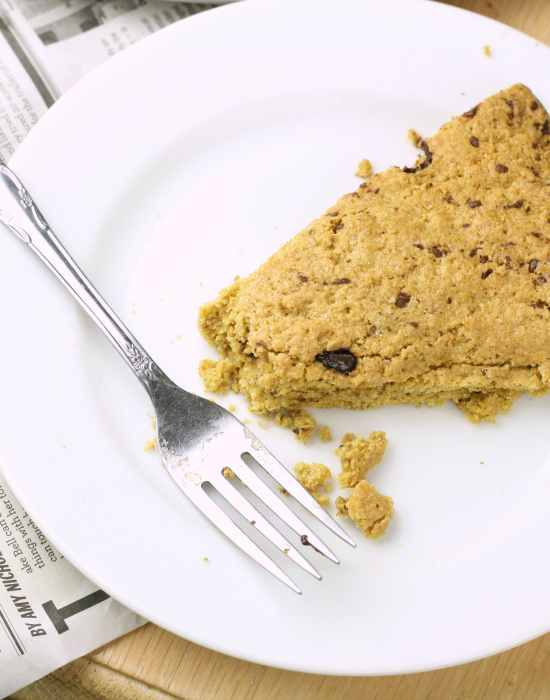 Okay, fine. I'll be realistic.
We're the life of the party. But the cookie cake was a close second.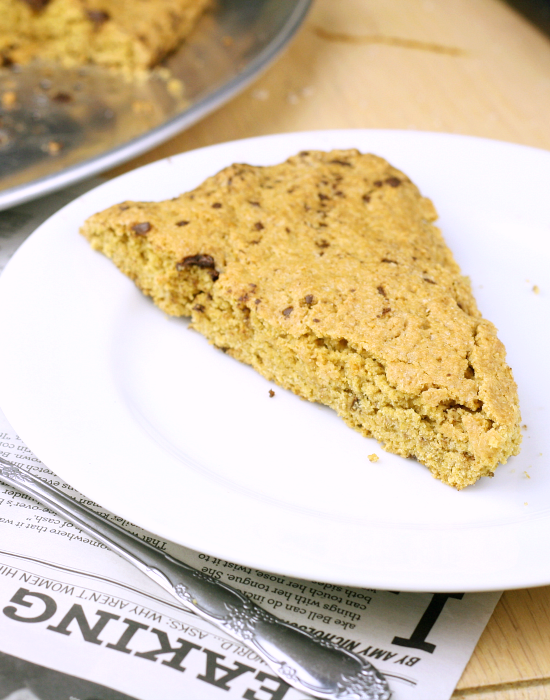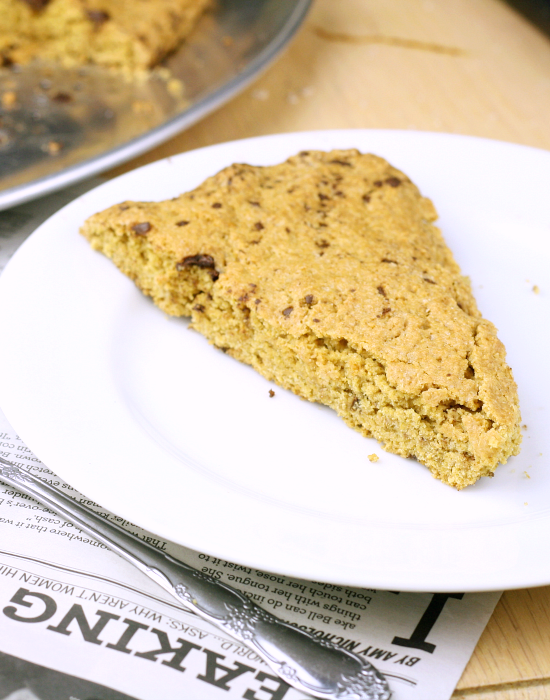 Now let's get down to the nitty gritty. Cookie + Cake = Cookie Cake = Happiness.
I know, ew.  Math. Luckily it's pretty self-explanatory. (I'm  glad that calculus class payed off.)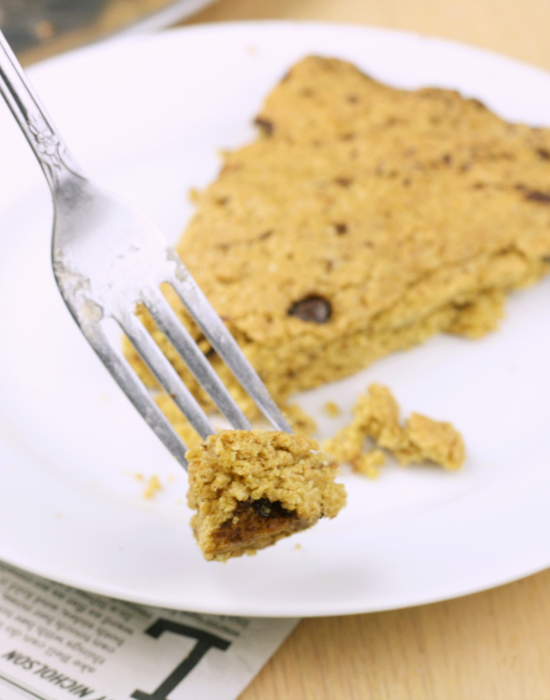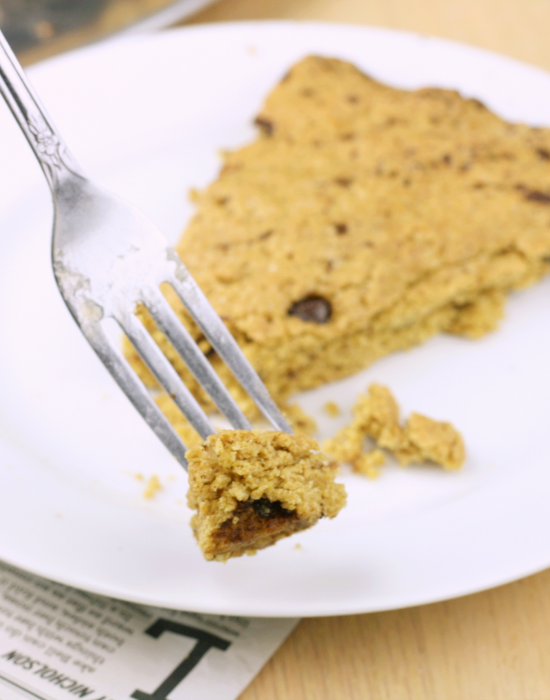 Simply make your most favorite cookie dough and squish it into a cake.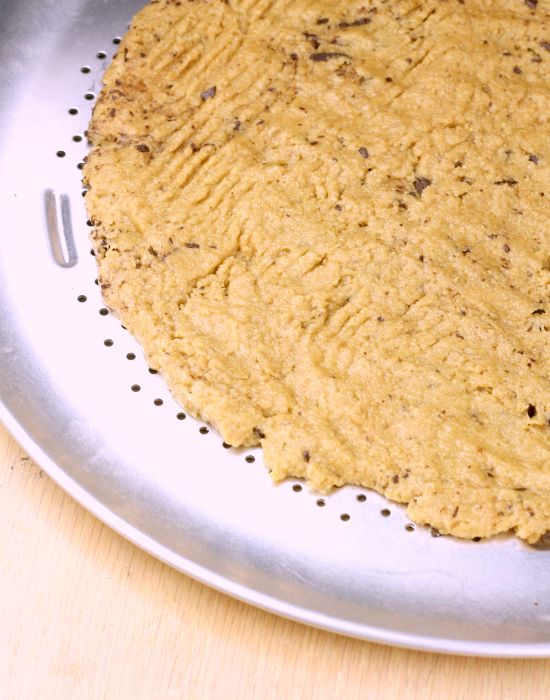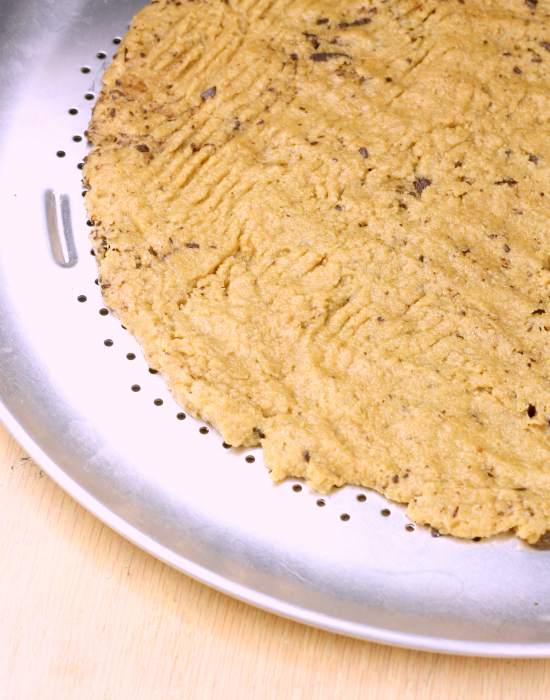 Voila! Cookie cake.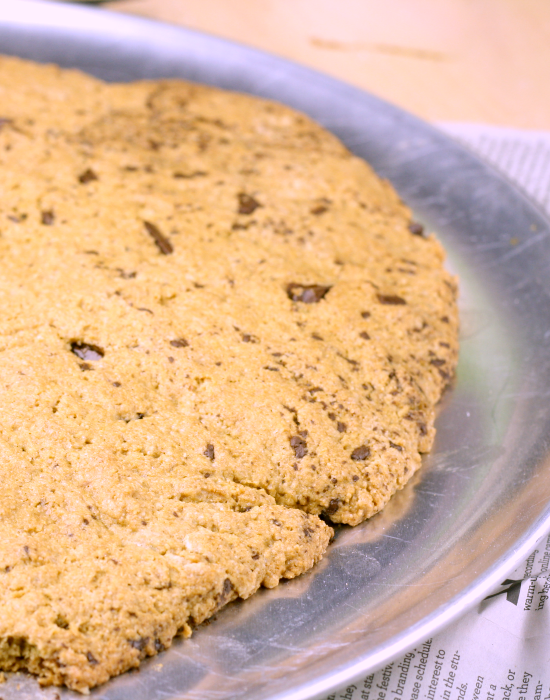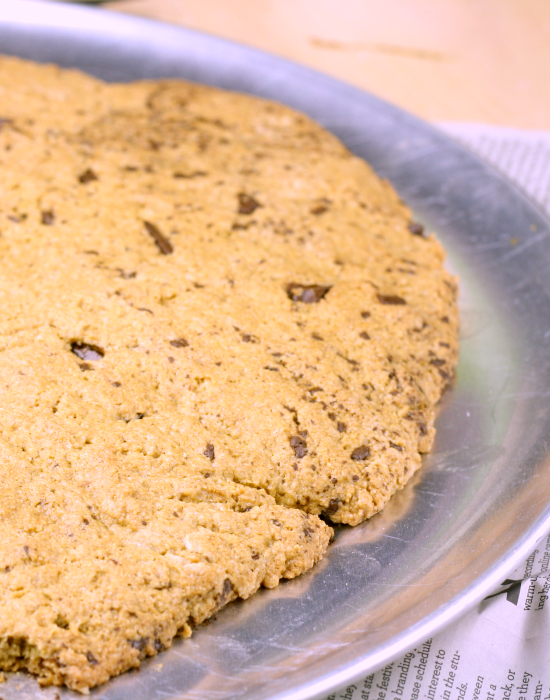 No math needed, only smiles.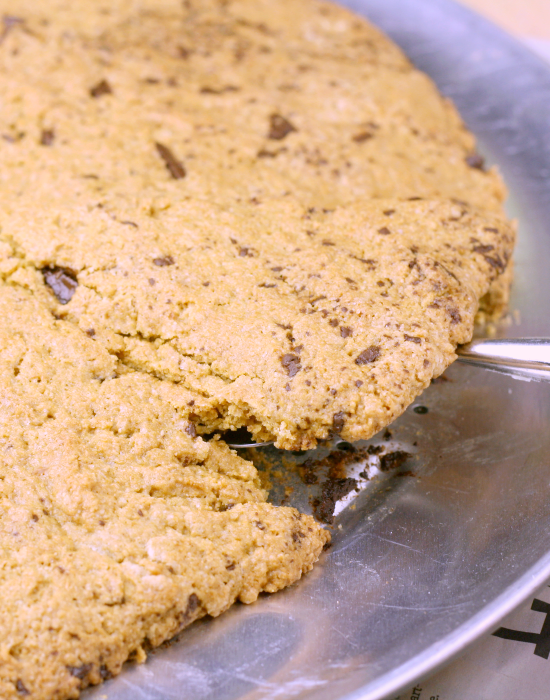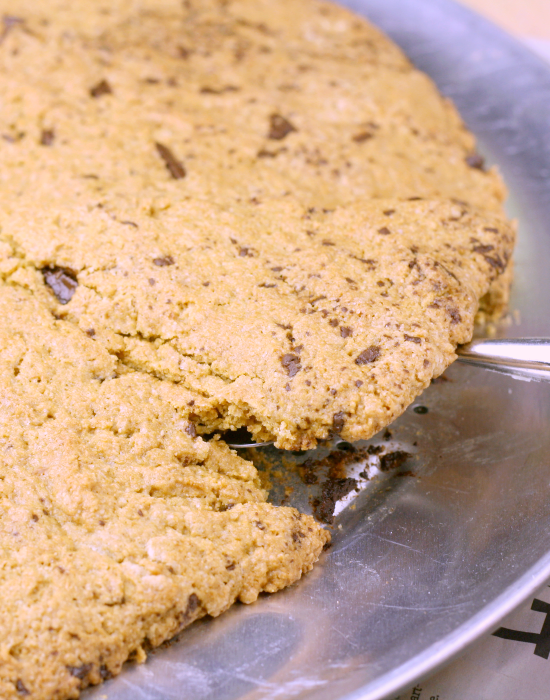 Make this cake for your next shindig and get ready to bask in the spotlight, you life of the party you. The next generation of Gatsby has arrived.
Yield: 16 slices
Healthy Cookie Cake
10 minPrep Time:
20 minCook Time:
30 minTotal Time:
Ingredients
2 1/4 cup white whole wheat flour OR 2 3/4 cup almond meal plus 1/4 cup coconut flour
1/2 teaspoon salt
1 teaspoon baking soda
1/2 cup granulated sugar or erythritol
1/2 cup brown sugar OR 1/2 cup erythritol plus 1 teaspoon of molasses
1/4 cup melted butter or Earth Balance
2 eggs or 1 tablespoon egg replacer plus ¼ cup water
1/4 cup unsweetened almond milk
chocolate chips
Instructions
Preheat oven to 350°F. Line a baking sheet (I used a large pizza pan) with parchment paper or a silicone mat and set aside.
Add the flour, salt, baking soda, cane sugar or erythritol, and the brown sugar or erythritol plus molasses into the bowl of stand mixer. Alternately, you can add the ingredients to a large mixing bowl and stir by hand. Using the paddle attachment, stir the dry ingredients on low speed. Add in the butter or Earth Balance, vanilla extract, eggs or egg replacer, and unsweetened almond milk and continue to stir until combined but not overworked. Stir in the chocolate chips by hand.
Turn the dough out onto the prepared baking pan and, using your hands, press it into a large, 1/2 inch thick circle. Bake in the oven at 350°F for about 20 minutes. Let cool before cutting into slices. Top with ice cream (optional, but not really) and devour.
Notes
To keep vegan, use egg replacer and vegan chocolate.
To keep paleo, use the almond and coconut flour version with erythritol.
Nutritional information calculated with white whole wheat flour, erythritol, Ener-g egg replacer, and no chocolate as the amount of chocolate used varies per individual.
7.8.1.2
350
https://www.foodiefiasco.com/healthy-cookie-cake/
Nutrition
Calories:
80 calories cal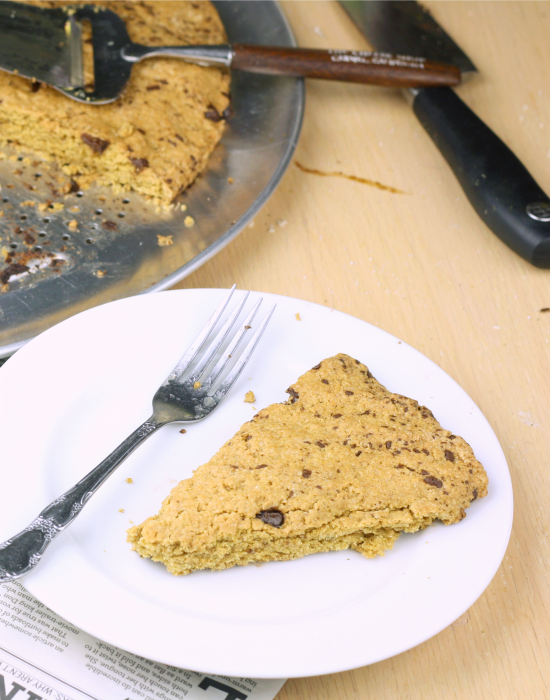 Have you ever eaten cookie cake? 
Make this, either way. I say this because I love you.