Good Lord. What's happening to me? Sun dried tomato pesto? Really? Where are the COOKIES?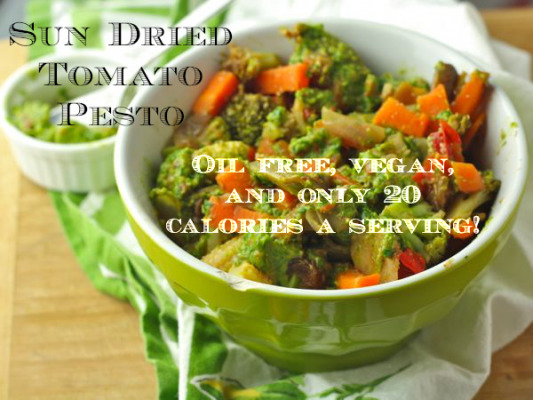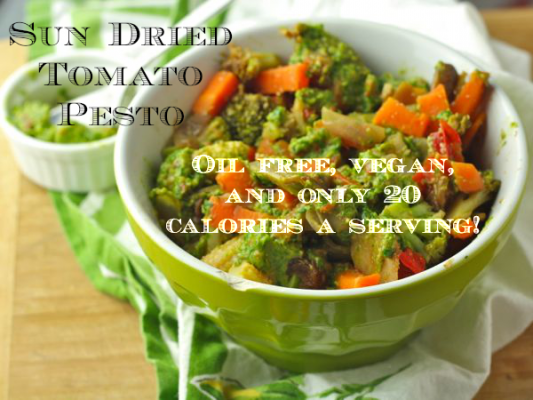 This is an excellent question, my friend, and you obviously have your priorities straight. However, I know sun dried tomato pesto is not a cupcake. Where are the cupcakes? Who am I and what I have done with cookie dough girl?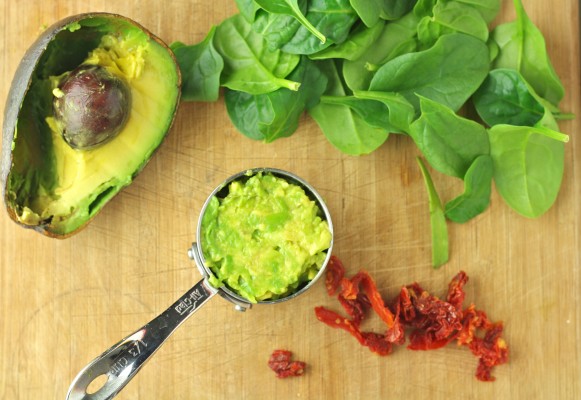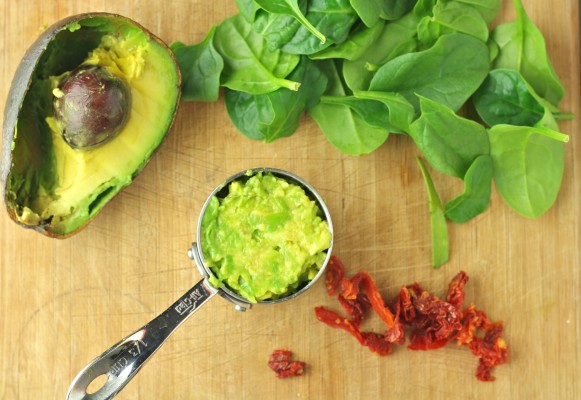 I know I'm posting 100% savory sun dried tomato pesto. After soup. Which came after more soup. (Although, in my defense, there was some caramel in between.) But you'll totally forgive me once you taste this miracle, because believe you me, short of a miracle this pesto is not.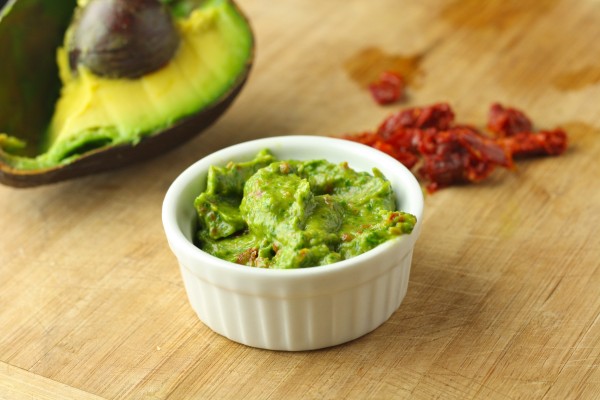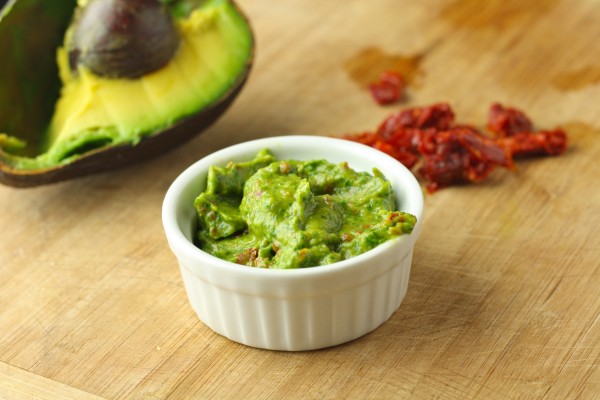 If you haven't fallen in love with sun-dried tomatoes yet, please allow me to convert you. We do need to get something straight first, though. Those scrawny tomato-like beings that come jarred drenched in oil? Yeah, those are so last season. The slim and fabulous bagged tomatoes are where it's at folks!
I make no exaggeration. I would only spend your time to yammer on about tomatoes if I was really onto something. You see, non oil packed sun-dried tomatoes are as valuable as Jack's magic beans, except they don't wind you up in some giant's lair or witch's oven in her candy house after she's fattened you up. Or something to that effect. This pesto will save you from something to that effect.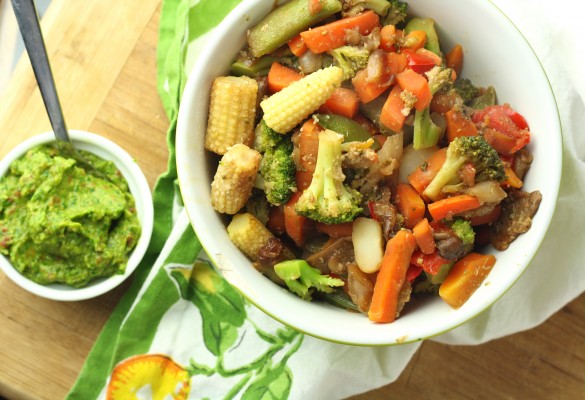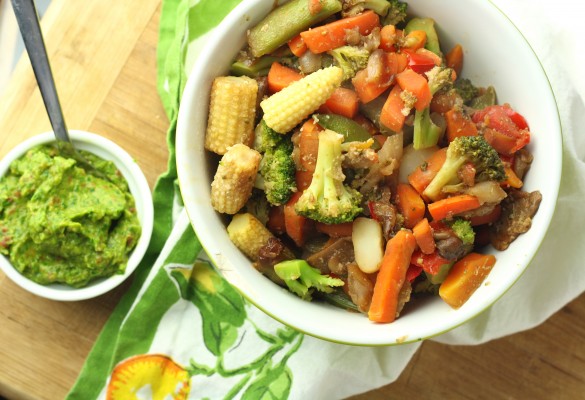 But we haven't even gotten to the uber secret part yet! I mean, I totally blew this secret a few months ago, but I'll remind you just in case you need reminding. AVOCADO MAKES THE BEST PESTO. EVER. But once you add in sun-dried tomatoes? Amazeballs. (See? I use cool jargon. For example, um,  jargon. You know what's even cooler than using cool jargon? Pointing it out. You're welcome.)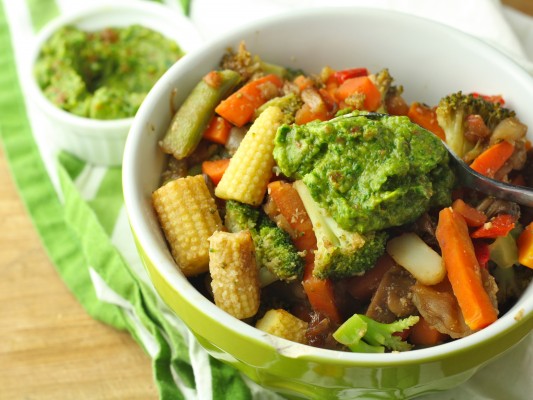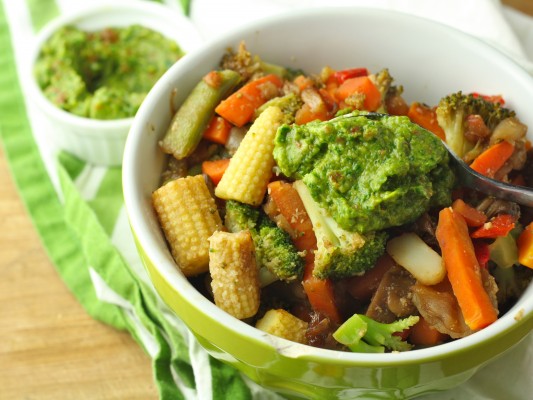 This sun-dried tomato pesto is lower fat, oil free, and ridiculously creamy. I don't know why it works but it does, and I've learned not to question such wonders. I simply take them in stride.
This will be my message of the day for you to sew on a pillow. I welcome miracles with open arms, a grateful heart, and a shiny spoon.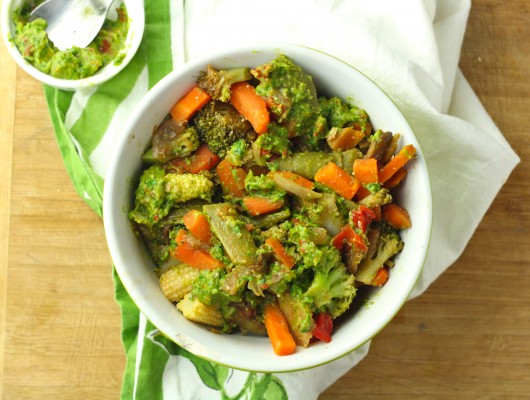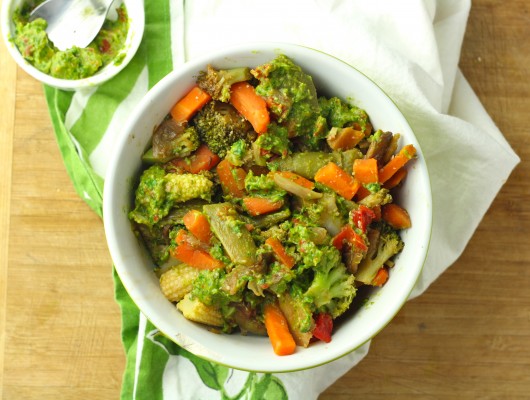 Dedicated with love to Angela. She was the one who made me fall in love with sun dried tomatoes many a day ago. I tip my hat to you Angela, your talent, and your beauty inside and out!
. 
Yield: 1/2 cup
Sun Dried Tomato Pesto (Oil Free/Vegan/Low Fat/Paleo)
5 minPrep Time:
5 minTotal Time:
Ingredients
1/3 cup mashed avocado flash
1 teaspoon minced garlic
1 Tablespoon lemon juice
1 cup tightly packed basil (I used some beautiful fresh baby spinach and it turned out fabulously.)
2 tablespoons sun dried tomatoes (not oil packed; see note below)
1-2 Tablespoons almond milk, as needed
salt and pepper, to taste
Instructions
In a food processor, puree the avocado until extra smooth. Then add in the minced garlic and lemon juice and pulse until combined. Add in the basil leaves and sun dried tomatoes and puree until thoroughly blended, then add the almond milk one tablespoon at a time until you reach that luscious pesto consistency you dream about. Salt and pepper so that your tastebuds smile and serve!
Notes
Feel free to substitute any milk for the almond milk. Use a non-nut milk to make the recipe nut free. Using non-oil packed sun-dried tomatoes is important to keep the texture of the pesto and the calorie information intact, but you may only be able to find the oil packed variety. In which case, just drain away the oil, blot with paper towels, and you're good to go! Omit salt to keep the recipe low sodium.
7.8.1.2
213
https://www.foodiefiasco.com/sun-dried-tomato-pesto/
Nutrition
I love to serve this pesto up with veggies. Or pasta. Or on a spoon. Whatever makes you taste buds smile.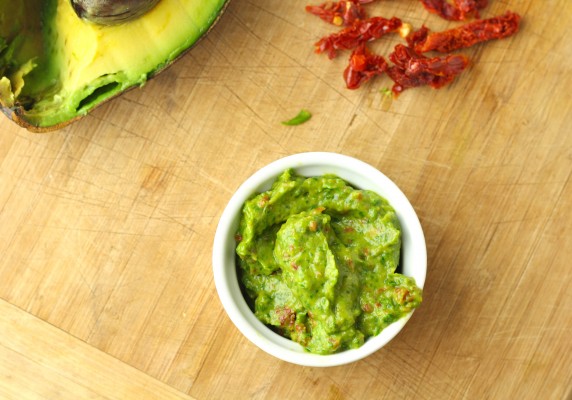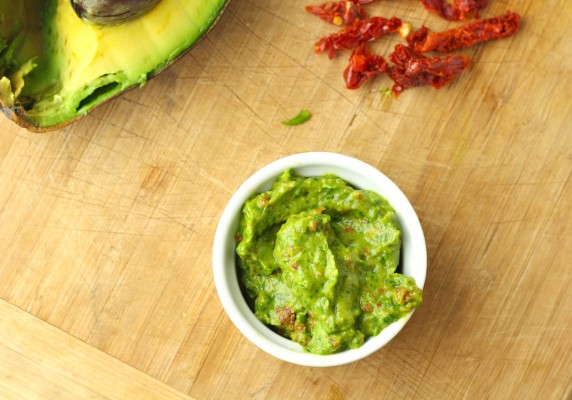 Are you a condiment type of person? Do dips and spread just make you swoon? Or are you more of a purist?
I go both ways. Sometimes I just want to eat a baby carrot with no ifs ands or buts. On the other hand, sometimes I want some veggies with my pesto. How about you?
With love and spoons always.