Words cannot do justice for this pie.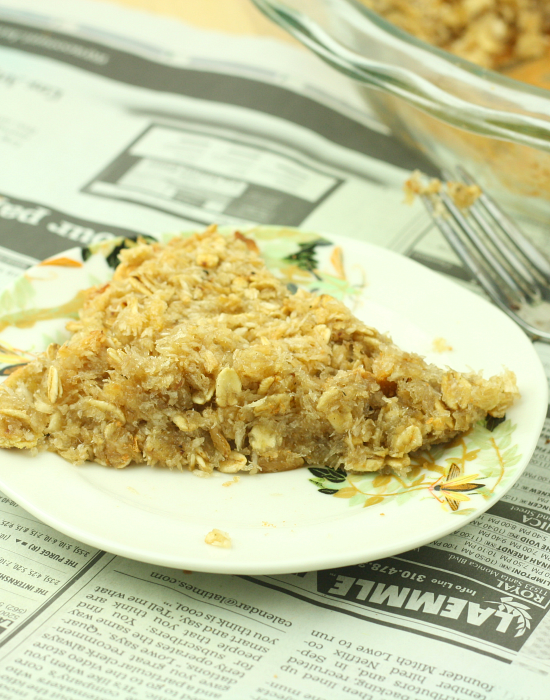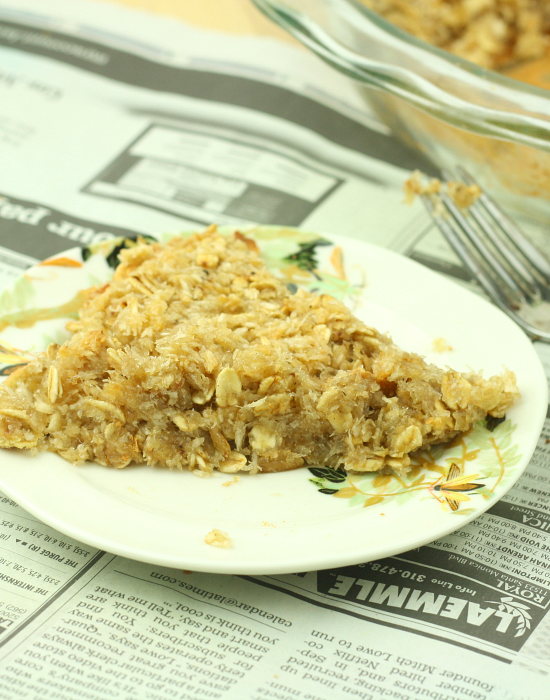 PEOPLE. I don't think you understand what a big deal this is.
In case you haven't noticed, I like to talk. A lot. Words and I are amigos. Plus, as a writer with an unnatural love for pie, describing my love for pie in detail is kinda my territory.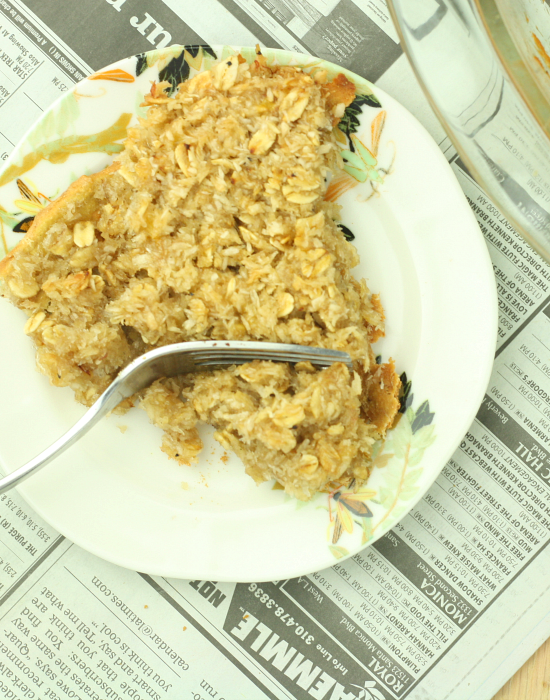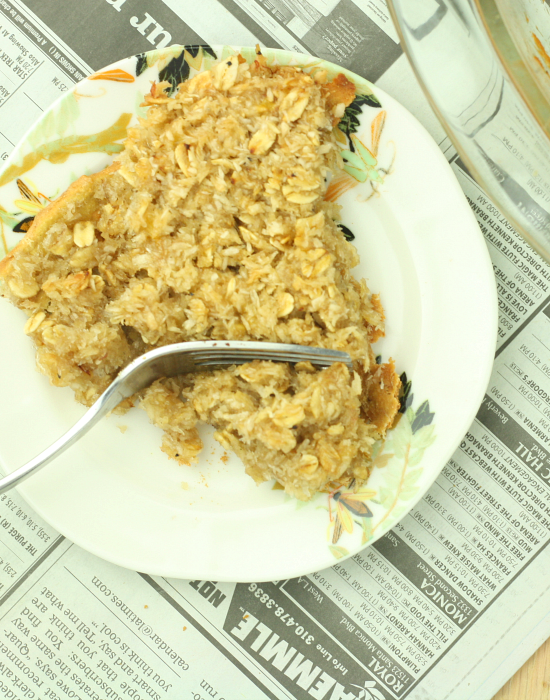 But I'm speechless. In the best way possible: with a mouth full of pie. (Yes, I'm very multi-talented. I can eat pie and type and pat my head and rub my happy belly all at the same time. If this food writing rocket surgeon thing doesn't work out, at least I know I can join the circus.)
It has just the right amount of amazing flavor to make your taste buds jump on the nearest unicorn and ride up a rainbow, but not overwhelming in the least, like if your unicorn took a wrong turn into a calculus class.
Yes, and as someone who often "accidentally" leaves her calculus textbook on the bus (but we all know it's subconsciously on purpose), I can tell you this pie is perfect. It's delicious and it's the ultimate and it's amazing and it's earth-shattering and it's angel-chorus-inducing and all those words you're not supposed to describe food with but do anyway because they're just so accurate.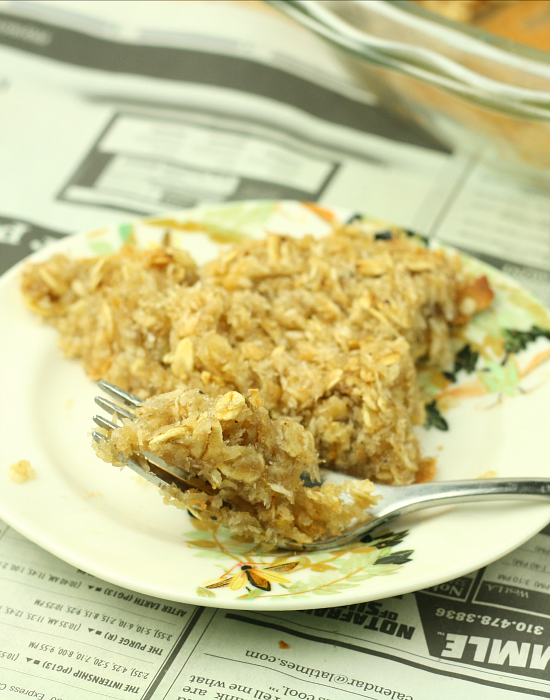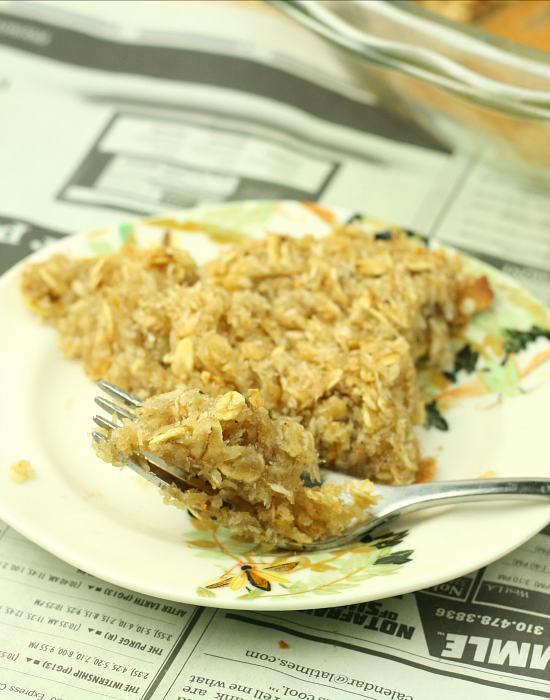 You eat this pie and are immediately surrounded by the Hallelujah chorus.
Okay, fine. I'll be completely honest.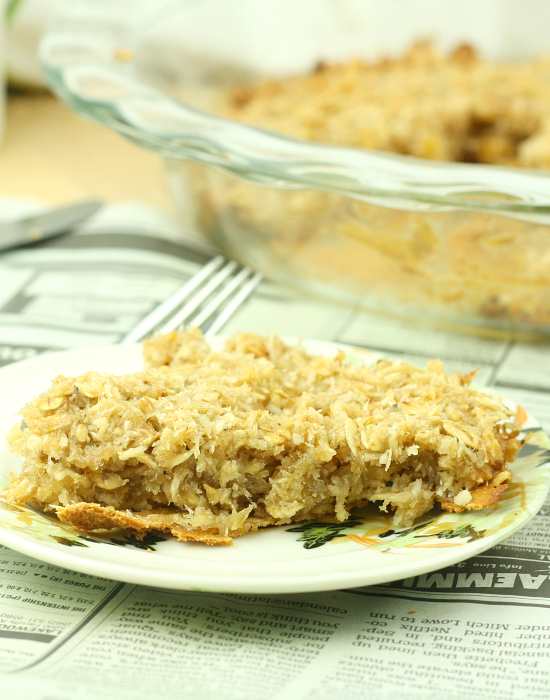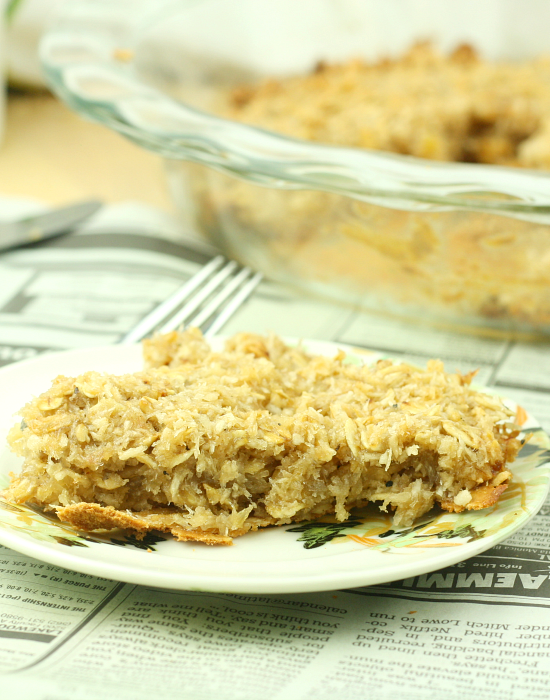 It was a precalculus textbook.
This pie is gooey with a slight chew from the oats  and delicate layers of flavor from the toasted coconut, toasted oats, and warm banana, all enrobed in caramel to complete the perfect slice. This pie is life-changing all the time always, but served warm? It's magical.
Alrighty then! It's high time for pie time. Let's do this.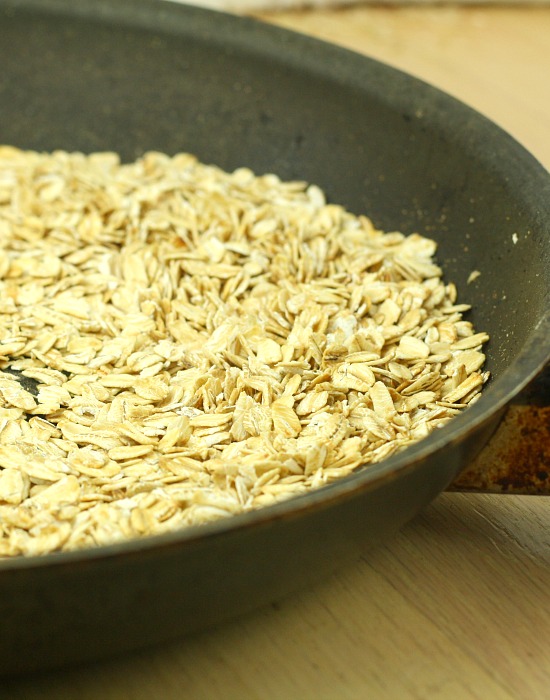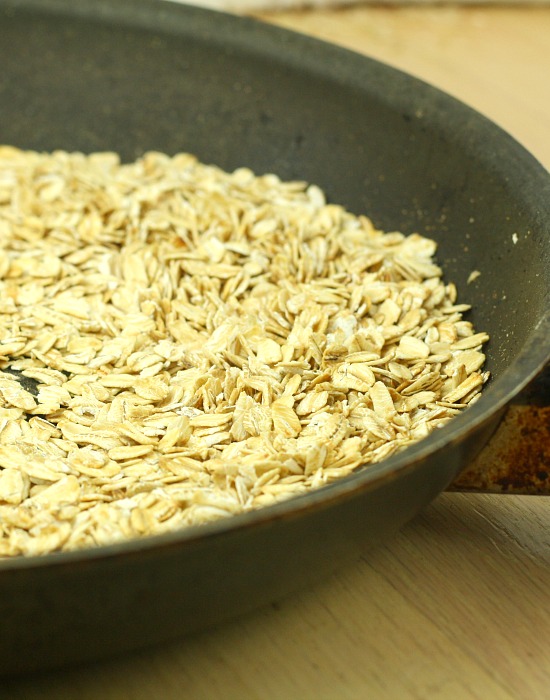 The secret to such a wonderfully flavored pie is building layers of flavor. Toating the oats brings out their natural nuttiness and adds a nice chew to the texture of the final product.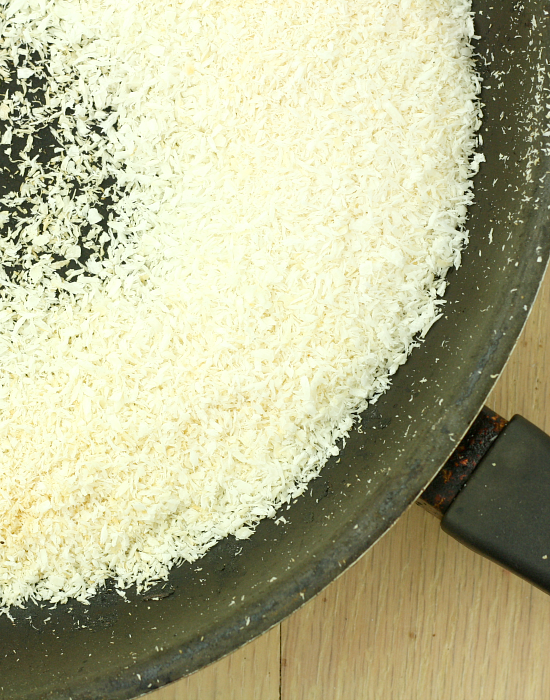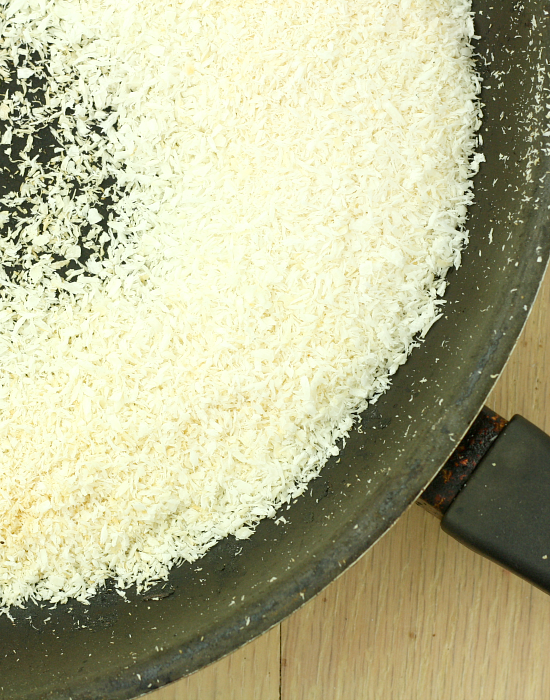 Next, we're going to toast our coconut. If you've had toasted coconut, then no description is needed. It's sensational. If you haven't, then you are making this pie. End of discussion. As your friend, I will not allow you to live in the toasted coconut-deprived dark ages any longer.
You'll also be making a simple sugar or erythritol-based caramel for the filling. It's so easy to make, and it really brings home the grand slam. (I don't watch baseball, but I assume that's why all the people cheer after "grand slam" comes on the screen?)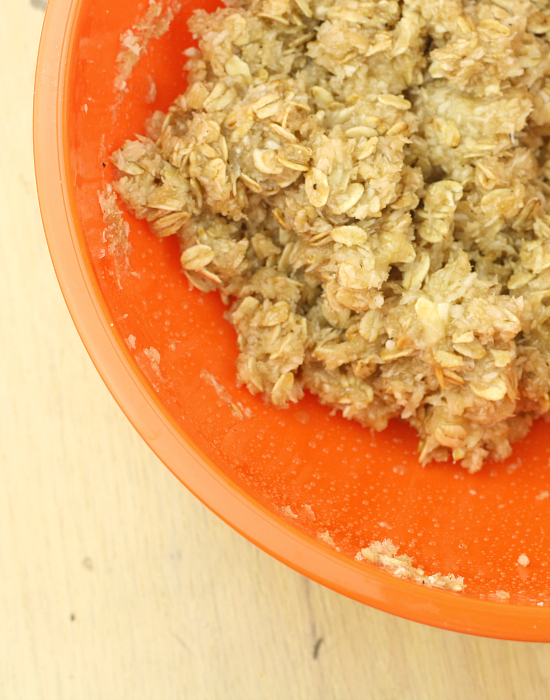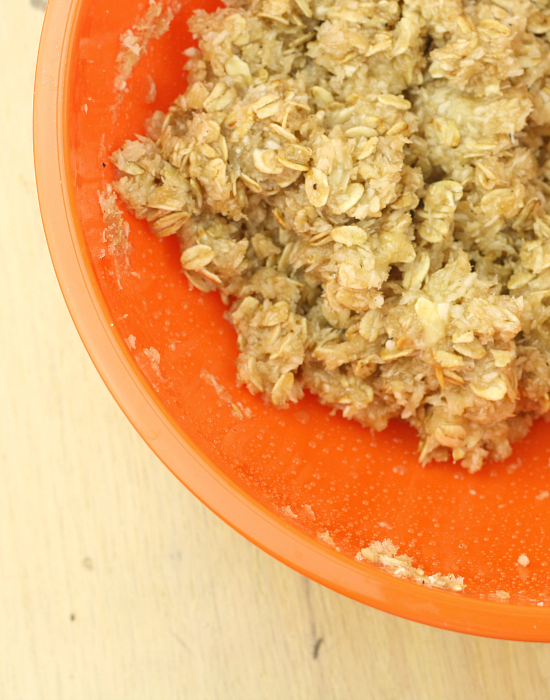 This is where it all comes together. Stir up all your wonderful filling ingredients and watch the sparks fly. (But not literally. If sparks are flying out of your pie, you may need to go eat some chocolate and lie down.)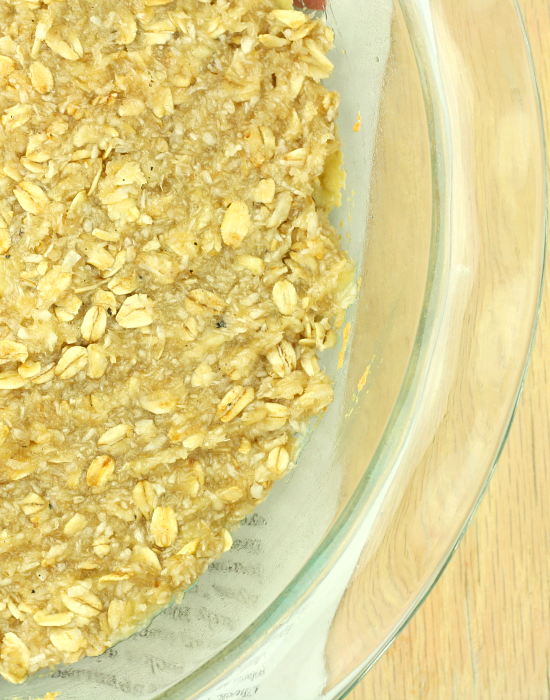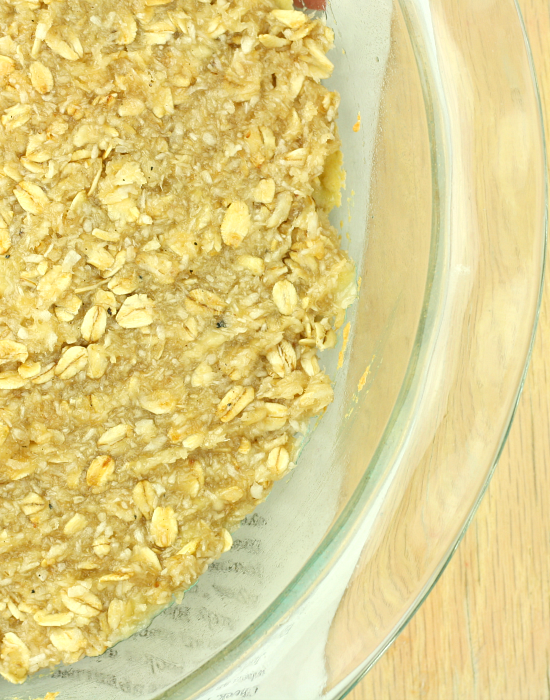 Now just spread your fantastic filling on the simple crust we made, bake, and EAT. What should the minimum serving size be? Three slices?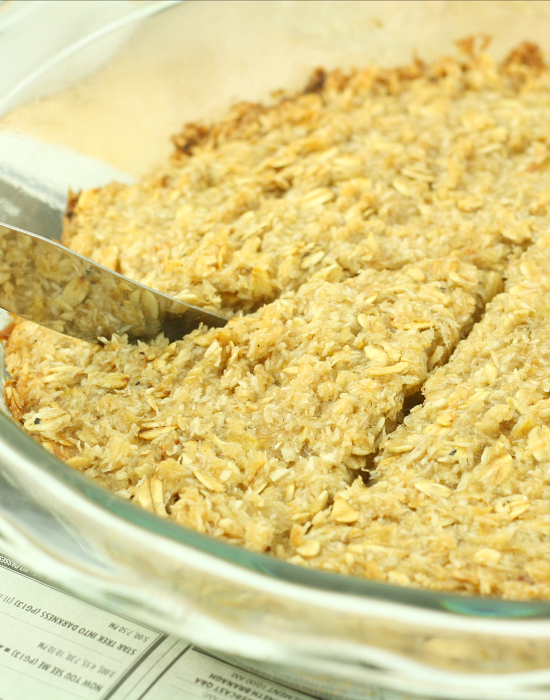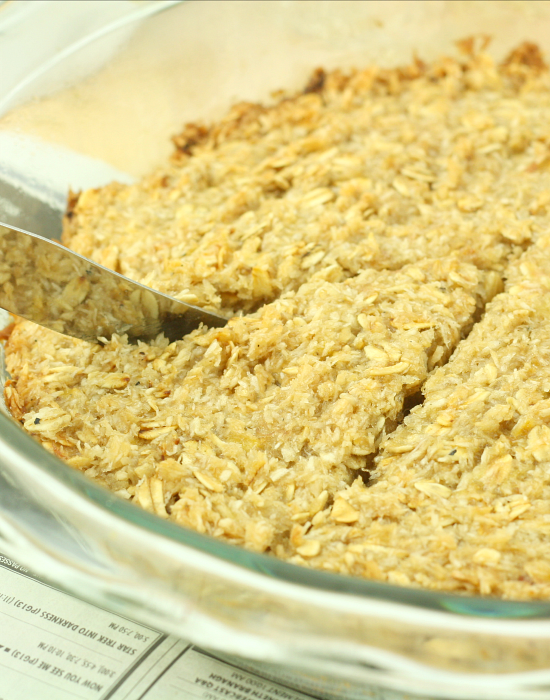 Recipe inspired by the fabulous Alisal Oatmeal Pie. Ah, memories.
Yield: 8 slices
Amazing Healthy Oatmeal Pie
15 minPrep Time:
45 minCook Time:
1 hrTotal Time:
Ingredients
For crust:

1/4 cup chickpea flour or white whole wheat flour
2 tablespoons erythritol or sugar
pinch salt
1 tablespoon unsweetened applesauce
1/4 teaspoon vanilla extract
3 tablespoons unsweetened almond milk

For filling:

3/4 cup rolled oats
1 cup shredded unsweetened coconut
1 cup erythritol, divided
1 large banana, mashed
2 eggs or 1 tablespoon Ener-g egg replacer mixed with 4 tablespoons water
1 tablespoon vanilla extract
pinch salt
Instructions
Preheat oven to 350°F. Grease or spray an 8-inch pie pan with cooking spray and set aside.
In a medium mixing bowl, combine the chickpea flour or white whole wheat flour, 2 tablespoons erythritol or sugar, pinch salt, applesauce, and 1/4 teaspoon vanilla extract. Add in the almond milk one tablespoon at a time until completely incorporated and there are no lumps remaining. No one wants lumpy crust! Spread the mixture into the prepared pie pan and bake in the oven at 350°F for about 12 minutes, or until firm. Set aside.
Meanwhile, add the oats to a large skillet. Toast the oats over medium heat, stirring often as they burn easily, until golden, about 3-5 minutes. Transfer the oats to a large mixing bowl and set aside. Now add the coconut to a large skillet. Toast the coconut over medium heat, stirring often as it burns even more easily than the oats do, until golden, about 3 minutes. Transfer the coconut to the bowl with the oats.
Add the erythritol to the skillet, and cook, stirring constantly, over medium heat until the erythritol is completely melted and the mixture is a light golden color, about 3 minutes. Transfer the mixture the mixing bowl with the oats and the coconut. (You're done with the skillet now!)
Add the mashed banana, eggs or egg replacer, vanilla and salt to the mixing bowl and stir until completely combined and uniform. You may add 1 tablespoon of your milk of choice if the mixture seems too dry. Spread the mixture onto the baked pie crust and smooth out the top with a spoon. Bake in the oven at 350°F for about 45 minutes, or until firm and slightly golden. Let cool a bit before cutting into slices. Devour.
Notes
If you want to play around with a low carb/paleo version, I would suggest subbing the oatmeal for more coconut, using unsweetened applesauce instead of the mashed banana, and using almond flour instead of the white whole wheat or chickpea flour.
Nutritional information calculated with egg replacer, reduced fat shredded coconut, and erythritol.
7.8.1.2
292
https://www.foodiefiasco.com/amazing-healthy-oatmeal-pie/
Nutrition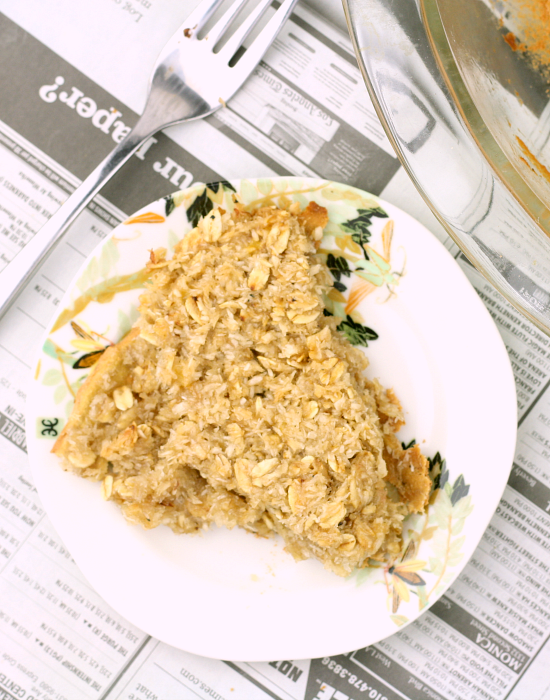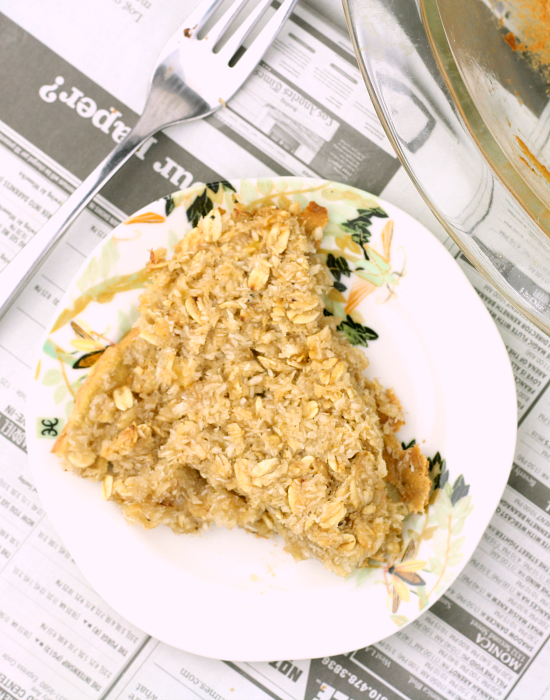 Please make this pie. Now would be ideal.
Remember, I'm saying this because I love you. You need this pie in your life.