The product review and giveaway in the following post is sponsored by FitFluential LLC on behalf of FRS. As always, all opinions and attempts of humor are completely my own.
1. Sleep is a side effect of caffeine deprival.
This is proven by the fact that a) "mid-week morsels" may sound arty and awesome (yes it does, don't deny me my delusions) but this written display of my utter fabulousness was supposed to be on Monday and b) I really want to wear a snuggie right now and c) I ALWAYS come up with a third thing when I'm listing stuff and d) I am becoming the master of the run-on sentence. Yup.
So take that, high school English department! You may have your fancy real "degrees" from actual "universities" (whatever that means), but I have food blogging buddies I love AND I live in a world where Wikipedia is indeed a reliable source. So there.
2. Can I complain briefly? Cool. Thanks.
I've pretty much had it with Rafflecopter. Don't get me wrong, I think it's a great idea. If you are a frequent blog peruser, you are probably well aware of the giveaway widget. As a lover of free stuff, I'm totally down with the giveaway part, but I just don't know about these whipper snappers' hipster "widget" nonsense.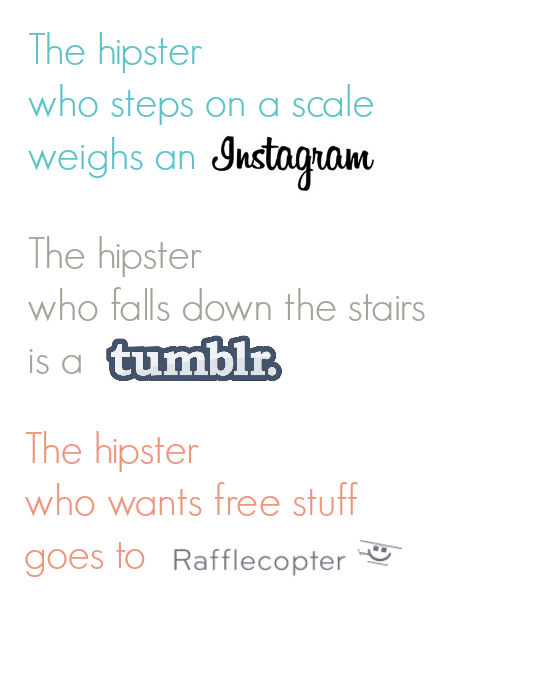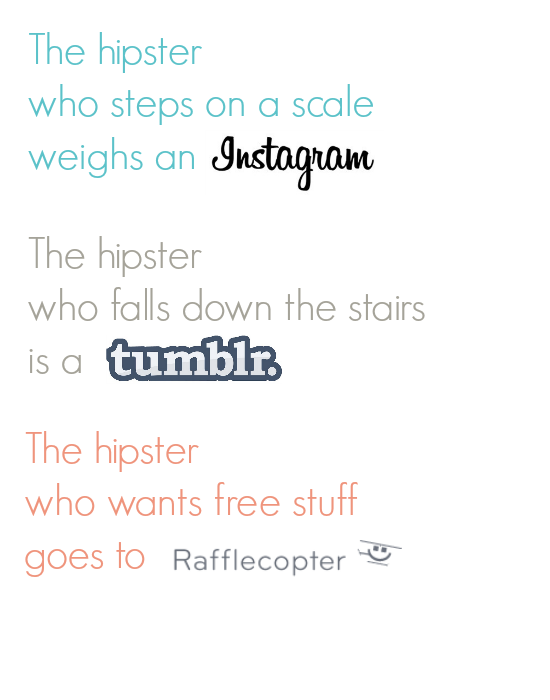 I've used it a few times for past giveaways, but I don't know if I'm feeling it. You're sitting there, ready to win some fabulous FRS, and but yet you are cruelly forced to wait as the widget takes its sweet time loading. Um, hello? DOESN'T IT REALIZE THIS IS FREE STUFF TIME?
3. Of course it doesn't. It's an inanimate virtual object. But still.
4. The version of the software that's actually worth its salt require the blogger to put up 8 bucks worth of salt a month. That's a lot of salt! (Four pounds, to be exact.)
This is much too complicated. I just want my free stuff.
5. On a somewhat but not really related note, there is good news! The iPhone 5S is out! The bad news? It's not really out (because Apple loooves causing mass false hope-induced hysteria *cough* iOS 7) and we mere mortals will not be able to get out hands on it until the iPhone 100 comes out.
6. The iPhone 100 is just a pair of nunchucks.
7. Let's talk about utopia. (No, not Josh Hutscherson as a blonde. That distopia, remember? Thank in advance for actually reading the Hunger Games as opposed to just watching a bunch of attractive people fight over Jennifer Lawrence and calling it a day.)
I'm talking about a world where we super busy folk, from the CEOs to the starving students (woo!), can get up in the morning and proceed to form coherent sentences while conversing with members of the general public. Or at least my math teacher. Especially my math teacher.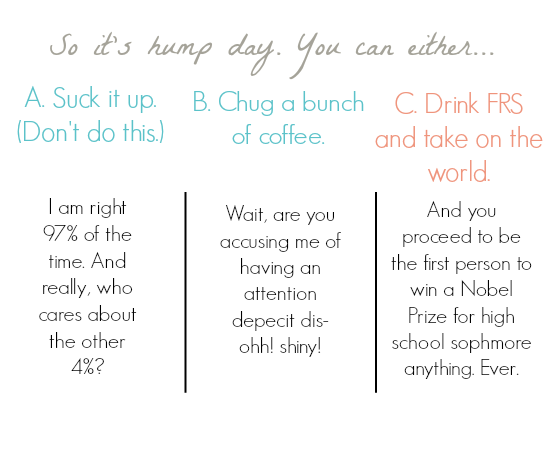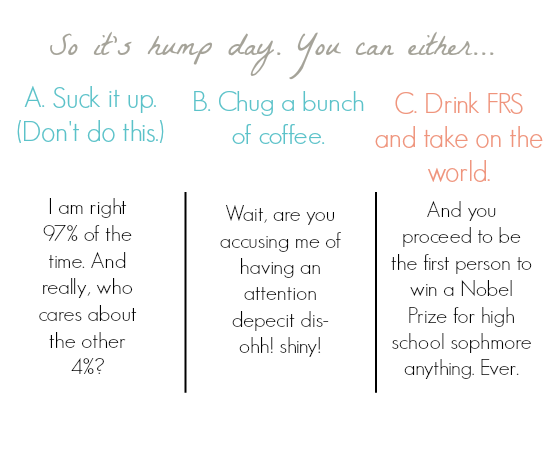 8. The verdict? Having passed an extremely vigorous round of tests including keeping a high school who must function at a very high level, well, functioning, FRS has officially earned the Foodie Fiasco stamp of approval. And that's saying something.
I want to state for the record I do NOT like the concept of most energy drinks (I would certainly not touch something as horrific as a Rockbull or a Redstar or whatever), but I must say: FRS is exceptional. The products taste great (I'm a sucker for their peach mango), and they actually keep you energized with no weird crash period like most caffeinated beverages have.
9. In case you don't know, FRS is a fabulous company that transforms the normally icky energy drink into an AMAZING package of awesome sauce. Or drink. You get it.
Their endurance drinks (they also have super yummy chews) support immunity (flu season is coming and I'm surrounded by teenagers. I'm gonna need it.) and are made with Kelly-approved ingredients like antioxidants, vitamins, and green tea extract! It's also made with this super fancy ingredient Quercetin.
Now, if you've learned anything from me, it's that an ingredient you haven't heard of is just a friend waiting to be made! Our new friend Quercetin can be found in friendly places such as blueberries, apples, and grapes.
10. OMG YOU GUYS. FRS is also having this Facebook contest where you upload a picture of your FRS-fueled natural fabulousness and BOOM. You get entered to win a bunch of free stuff (including a $300 AMEX gift card and 50 bucks worth of FRS swag)! Wee! Free stuff!
But because I think you're ALL winners, here is a coupon for FRS. You go win that Nobel prize.
11. Since I'm just a little fed up with the Raffleopter craze, I've decided to kick it old school for this giveaway. That's right, comments. It's vintage!
To enter to win A WHOLE SLEW OF FRS SWAG:
Mozy on over to the FRS website (it's pretty fabulous), and leave a comment here with which flavor(s duh) you want to try! Then I'll wave my wand and see what I can do.
Thank you so very much for participating, my friends, and happy mid-week!