The following post was sponsored by the wonderful Castello Cheese via Honest Cooking. As always, all opinions and attempts of humor are completely my own.
Cauliflower shouldn't be allowed to taste so good.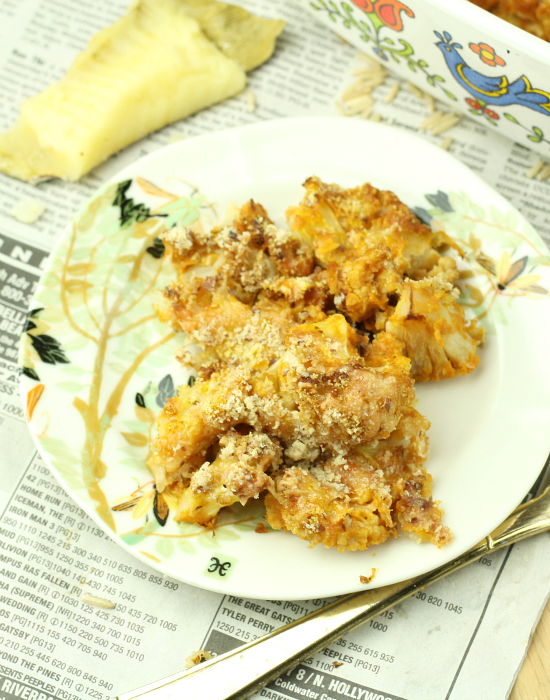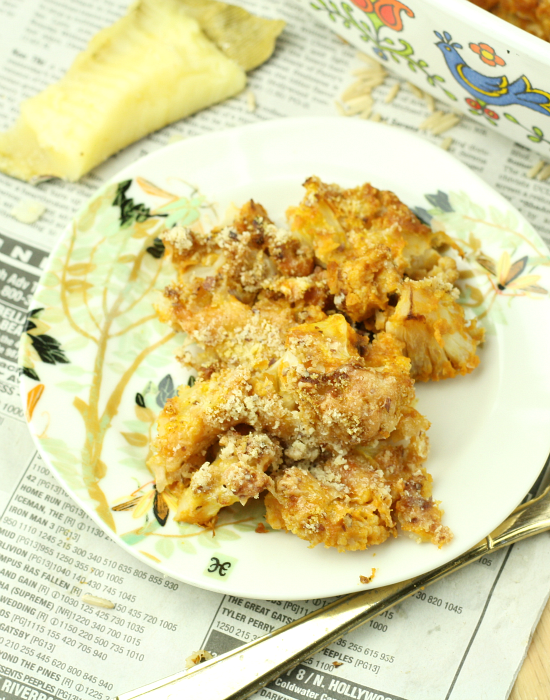 You might not think much of an albino head of brocoli, but when prepared properly, your unassuming head of cauliflower can become a garden of magic in your mouth. (See what I did there? Cauli-flower? Garden? Never mind.)
Let me break that down for you: prepared properly = smothered in cheese. Super awesome fancy pants Castello cheese, that is. That's right. Get excited.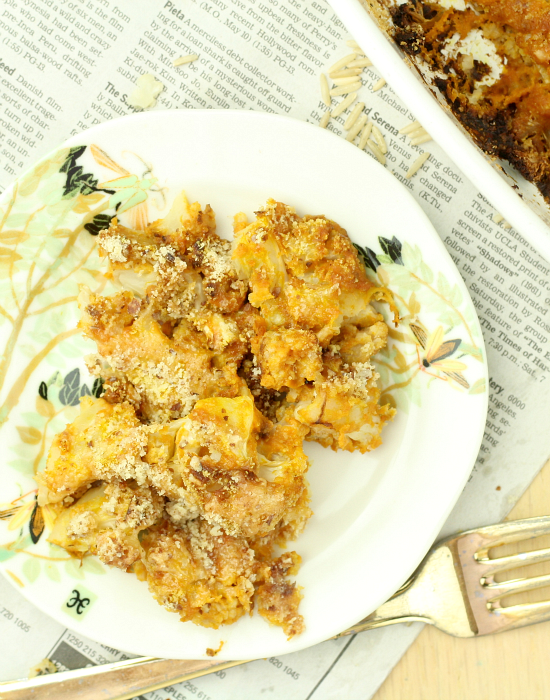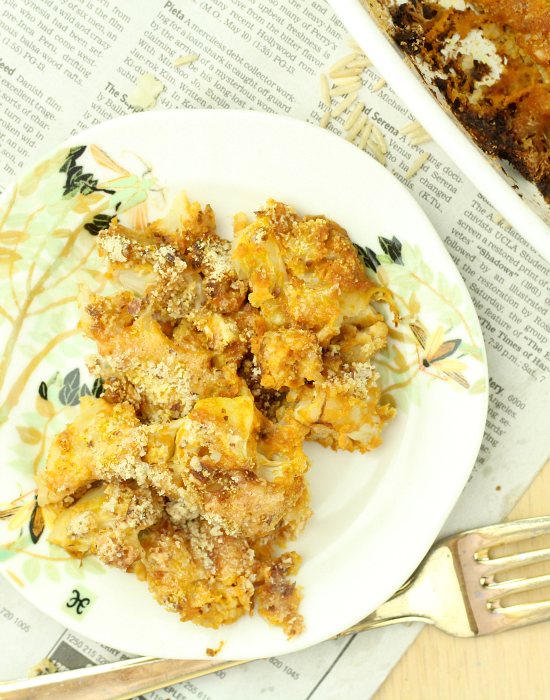 I totally believe dairy free has its time and place, and I think vegans are awesome. With that being said, I also believe cheese is like sunshine. Time to whip out your sunglasses people.
Heaven knows I watch my waistline, but a good hunk of cheese can make me weak in the knees, and there is no reason it can't be part of a sensible diet. Trust me folks, you'll be more than happy to make room for this Castello stuff.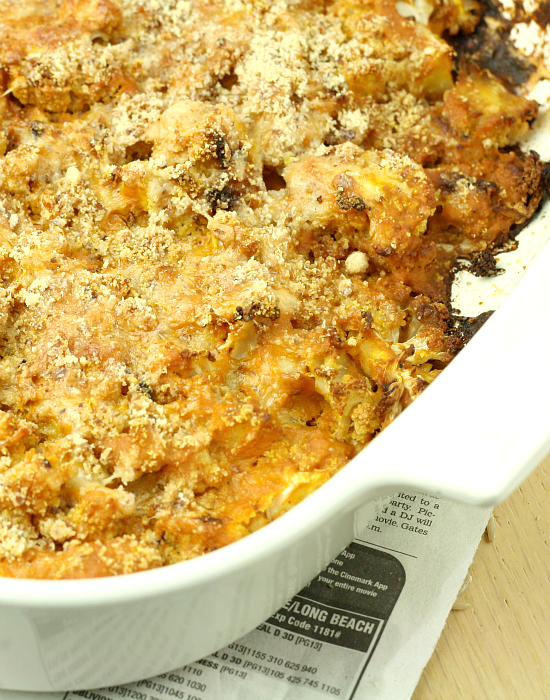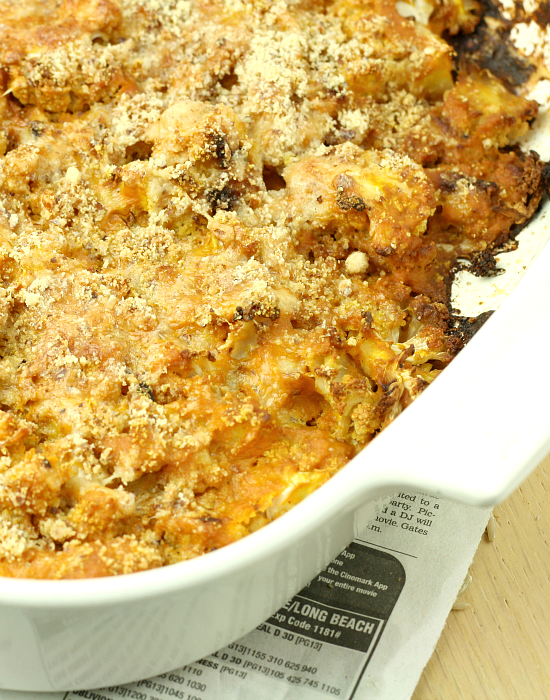 In this cauliflower-laden exhibition of cheesy goodness, I enlist two tactics to keep both the decadence and the healthiness of this dish:
1. Don't use too much cheese! I know this may be hard for us cheese enthusiasts, but when you're dealing with a cheese as flavorful as Castello's, a little goes a long way. I used their Weissbier in this dish.
2. Pumpkin. Don't knock it 'till you've tried it. It adds volume, creaminess, and a very subtle nutty flavor for nominal calories.
The Castello packages also have this nifty cheese strength key to inform you how much your cheese can bench press. Or something.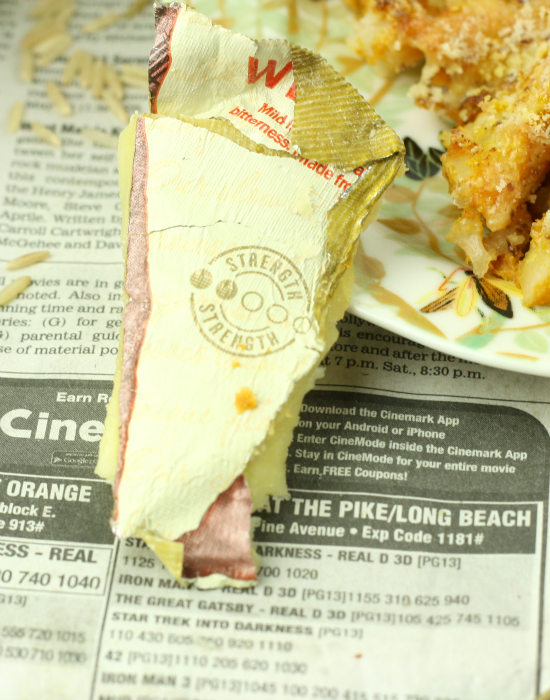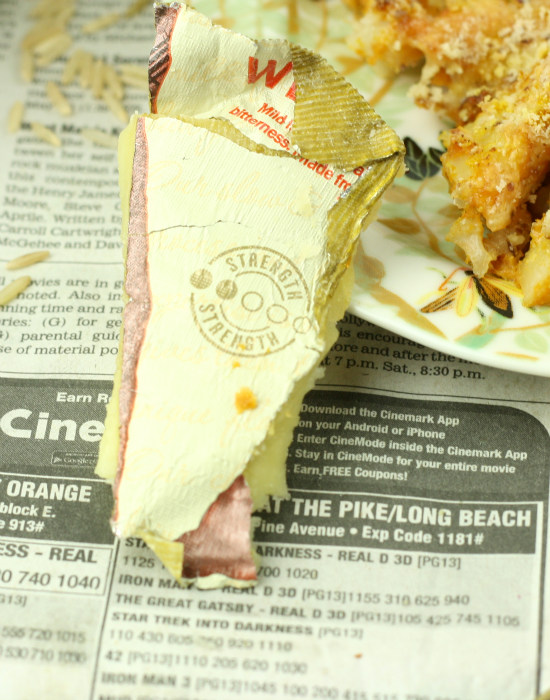 The verdict? We love this dish and this cheese at my house. It was such a huge hit that my mother and I polished of all six servings in just one sitting! Digging away at this cheesy amazingness with my mother, forks in hand, while catching up on our days was such a simple yet wonderful moment for me. Life is short, I love my mom so much, and there's nothing quite like sharing great food with her to make memories.
TIme to get to the kitchen! Let's make new moments together!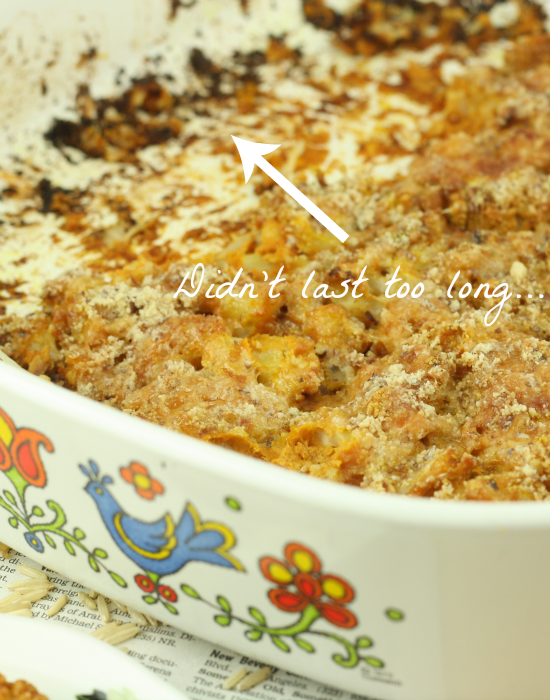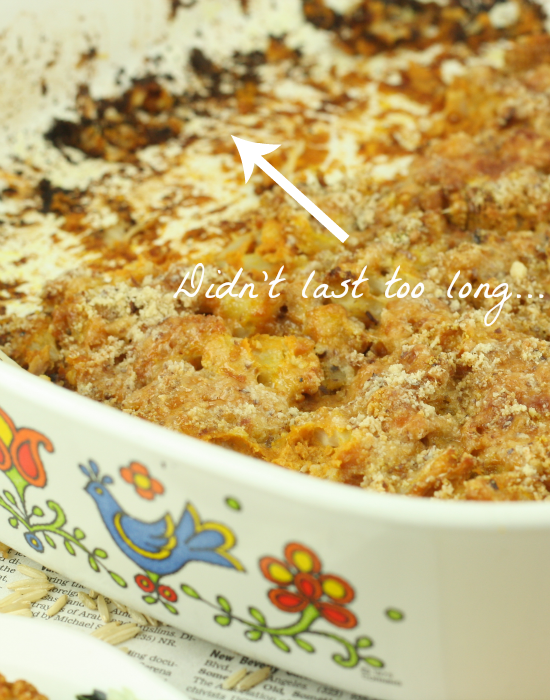 Yield: 6 servings
Sponsor Spoonful: Cauliflower Au Gratin with Castello Moments
Ingredients
1 medium large cauliflower broken into florets (about 7 cups)
3/4 cup your milk of choice (I use unsweetened almond milk)
3 1/2 ounces Castello Wessbeir cheese, grated and divided
1/2 cup canned pumpkin puree
1 teaspoon dijon mustard
salt and pepper, to taste
2 Tablespoons almond meal or panko breadcrumbs
Instructions
Preheat oven to 450 degrees Fahrenheit. Grease or spray an 8x8 baking dish with cooking spray and set aside.
Line a baking sheet with foil. Spread the cauliflower florets onto the prepared baking sheet, spray with the cooking spray of your choice (I love olive oil), sprinkle with salt and pepper, and toss. Roast in the oven at 450 degrees Fahrenheit for about 25 minutes, or until golden.
Meanwhile, add your milk of choice to a large pot. Bring the milk to a gentle boil over medium heat. Whisk in 3 ounces of the grated Castello Wessbeir cheese, the canned pumpkin puree, and the dijon mustard and cook until thickened. Salt and pepper the sauce to taste. Add in the roasted cauliflower florets and gently stir until completely combined.
Spread the cauliflower mixture into the prepared baking dish and top with the remaining 1/2 ounce cheese and the almond meal or panko breadcrumbs. Bake in the oven at 450 degrees Fahrenheit for about 25 minutes, or until golden brown. Devour.
Notes
Nutritional information calculated with unsweetened almond milk, Castello Wessbeir cheese, and panko bread crumbs.
For a vegan version, you can substitute vegan cheese. (Castello, maybe you can churn out a dairy free option?)
7.8.1.2
280
https://www.foodiefiasco.com/cauliflower-au-gratin/
Nutrition
Calories:
85 calories cal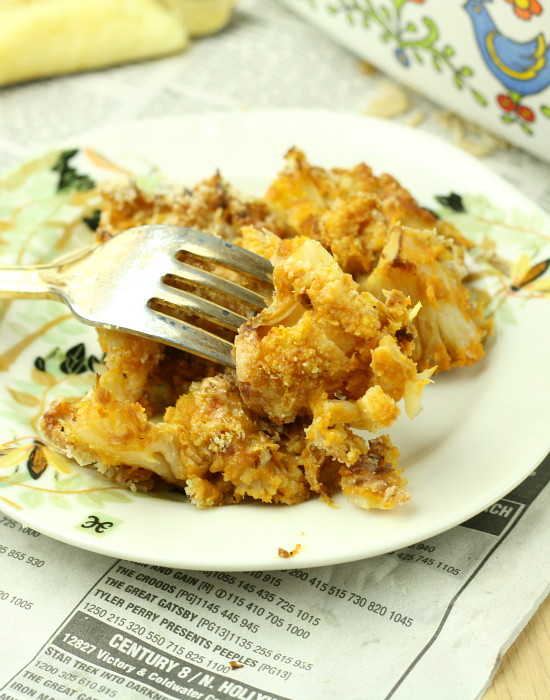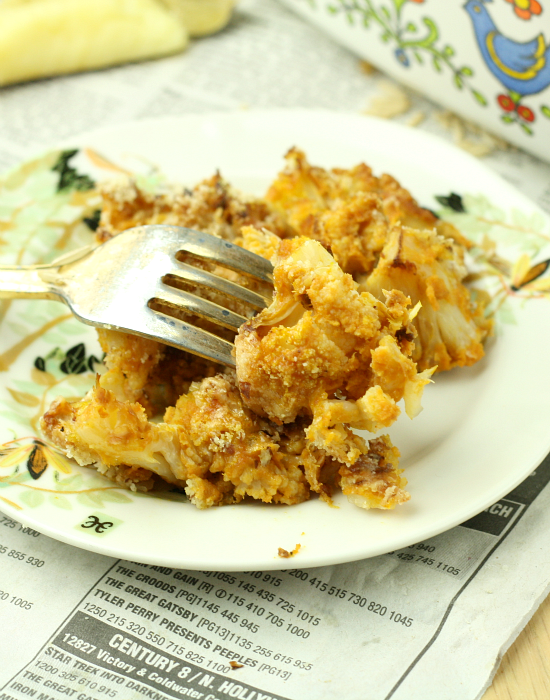 That's my moment. What's yours? How do you like your cheese? How do you prepare it? What's your favorite kind? It's cheese time!
Castello is the best. Just sayin'.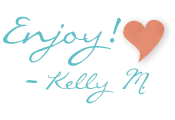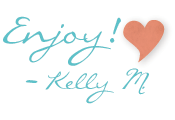 Win a Private Cheese Tasting in your own home – enter by clicking on the banner below. Castello Moments and this post is a collaboration between the blogger (that's me!) and Arla Foods USA.