Fire up your ovens people!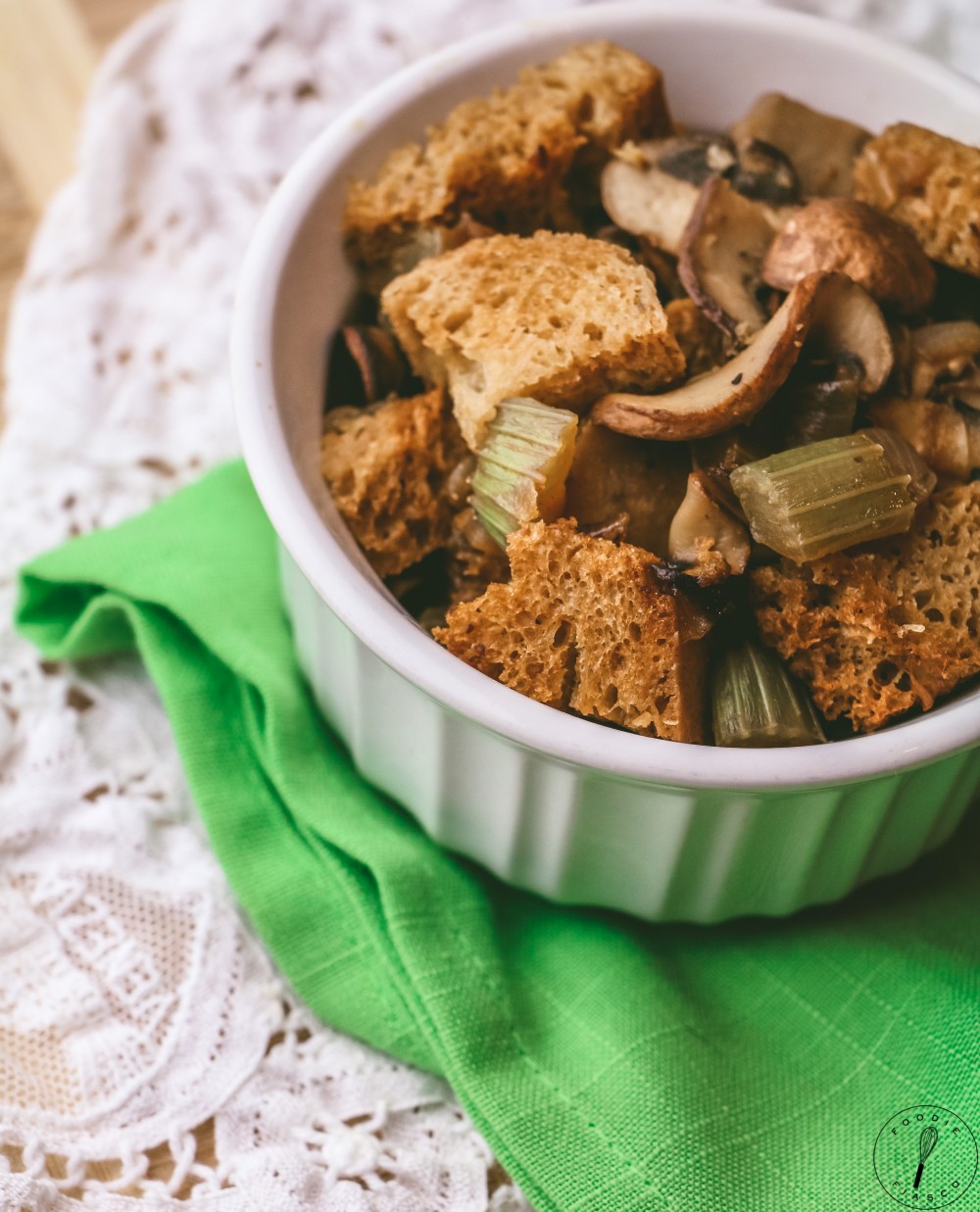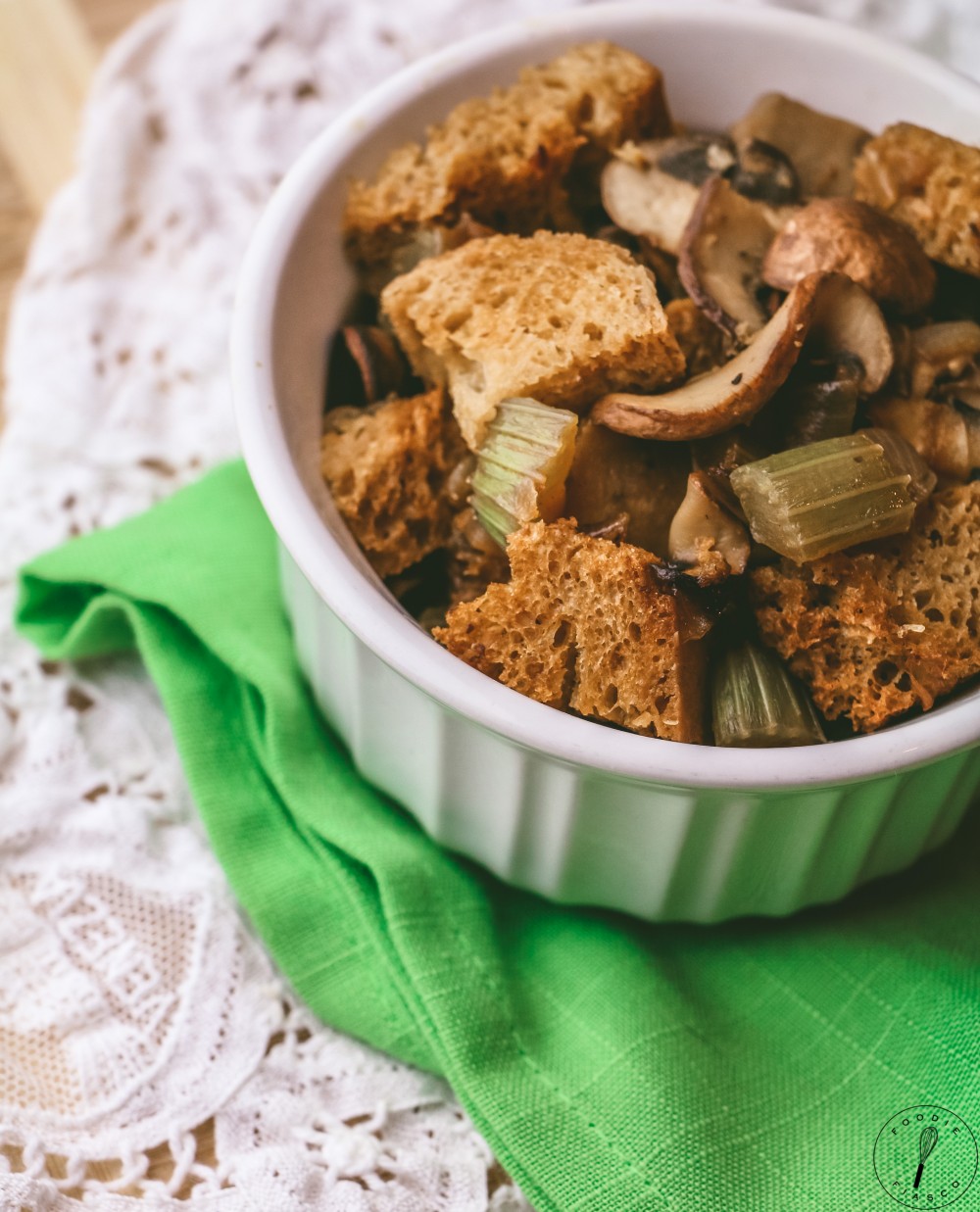 This recipe has been on my to-post list for, oh, the past three years or so. No biggie. Much better late than never. I feel bad for making this for so long without sharing it, but it's so natural at this point that I just haven't taken the time to write it down.
At 82 calories, 9g protein, and 5g net carbs, this insanely delicious stuffing more than makes up for lost time. Promise.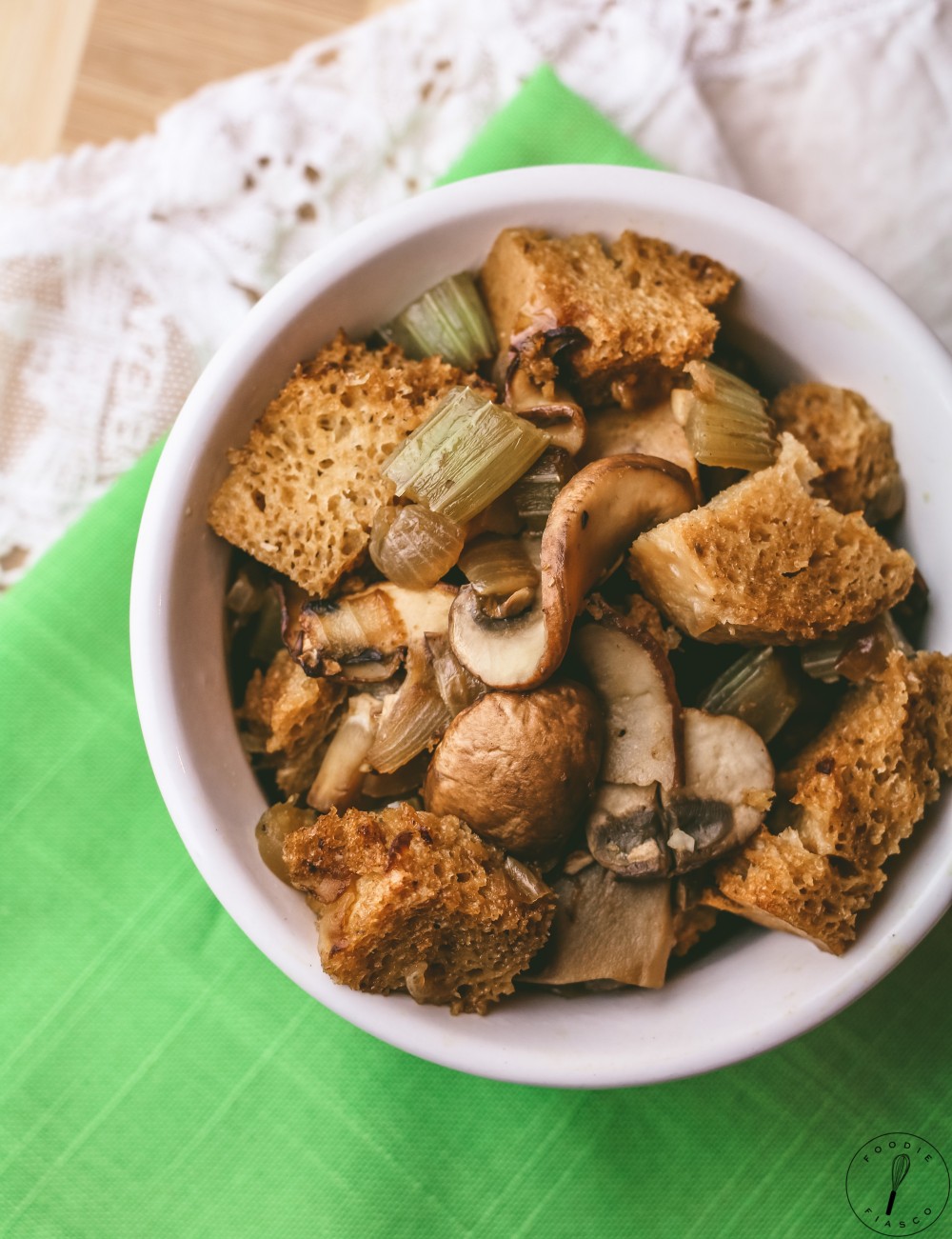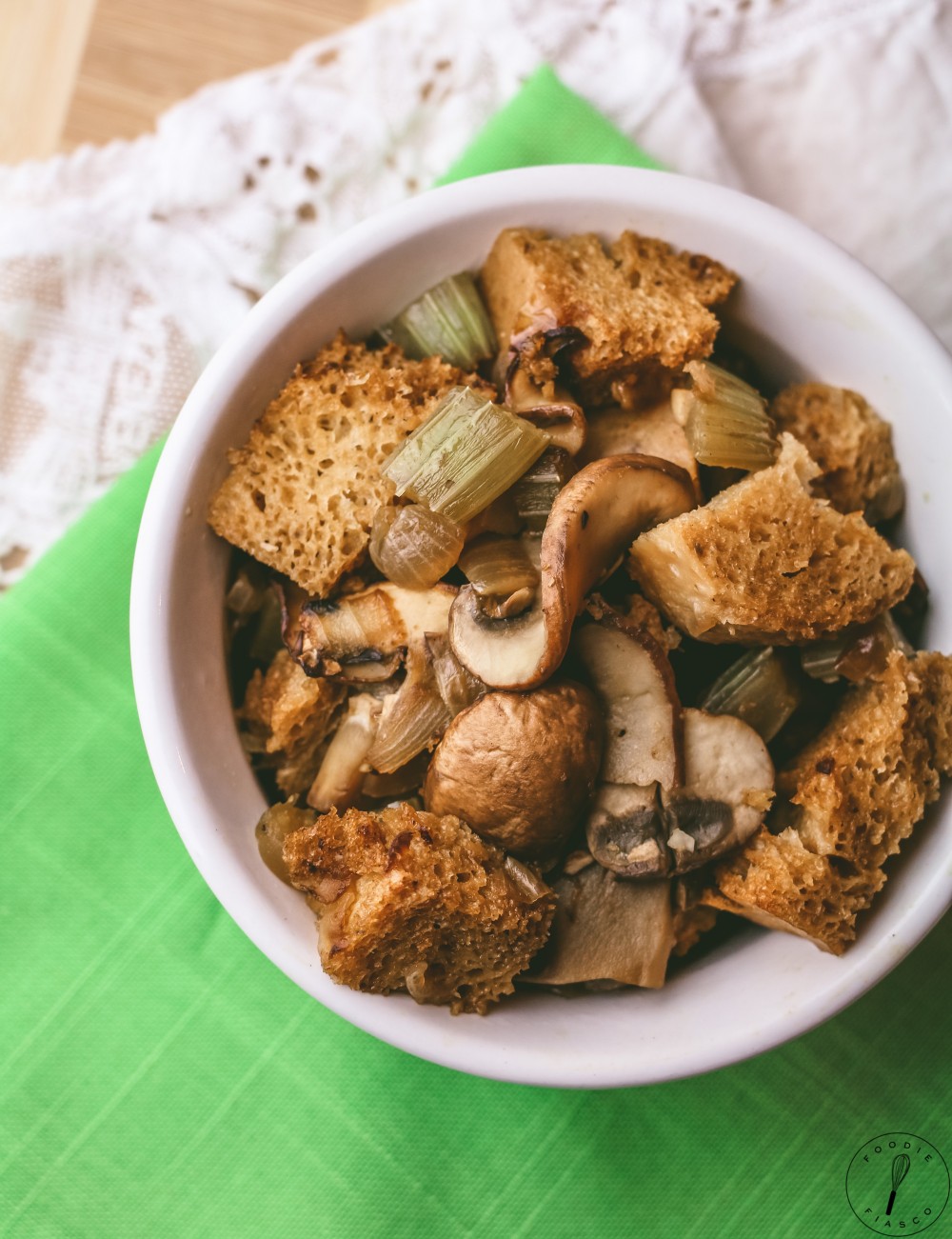 One thing that did keep me from sharing this was that I didn't have a viable low carb alternative to bread, but as soon as I found one, I knew I had to get this recipe to you ASAP.
Swimming through the treacherous sea of meatless meats that overwhelmingly taste like bandaids, there are some truly outstanding vegetarian options that give meat a run for its money. So why wouldn't the same apply to breadless bread? I was determined to find out.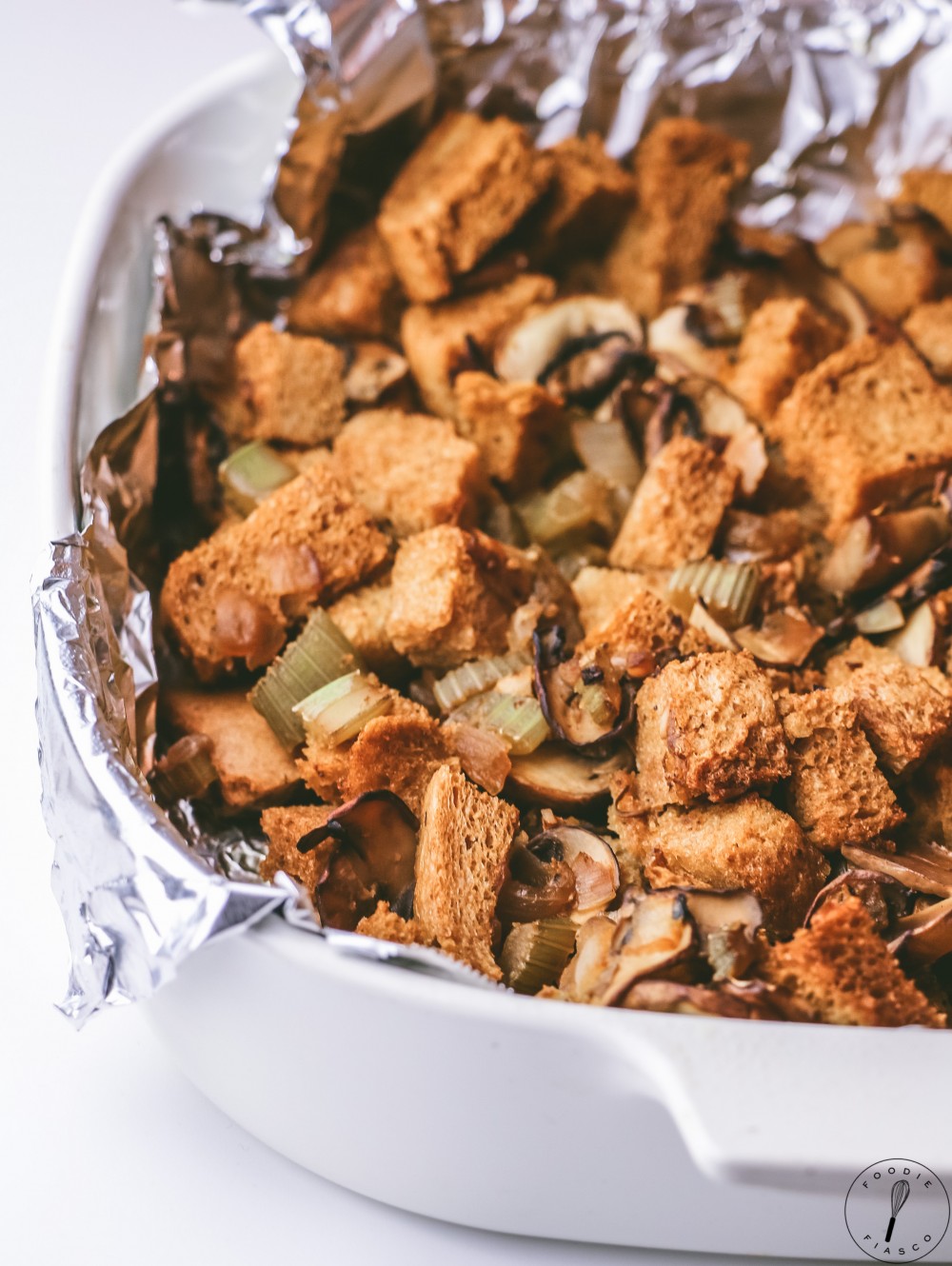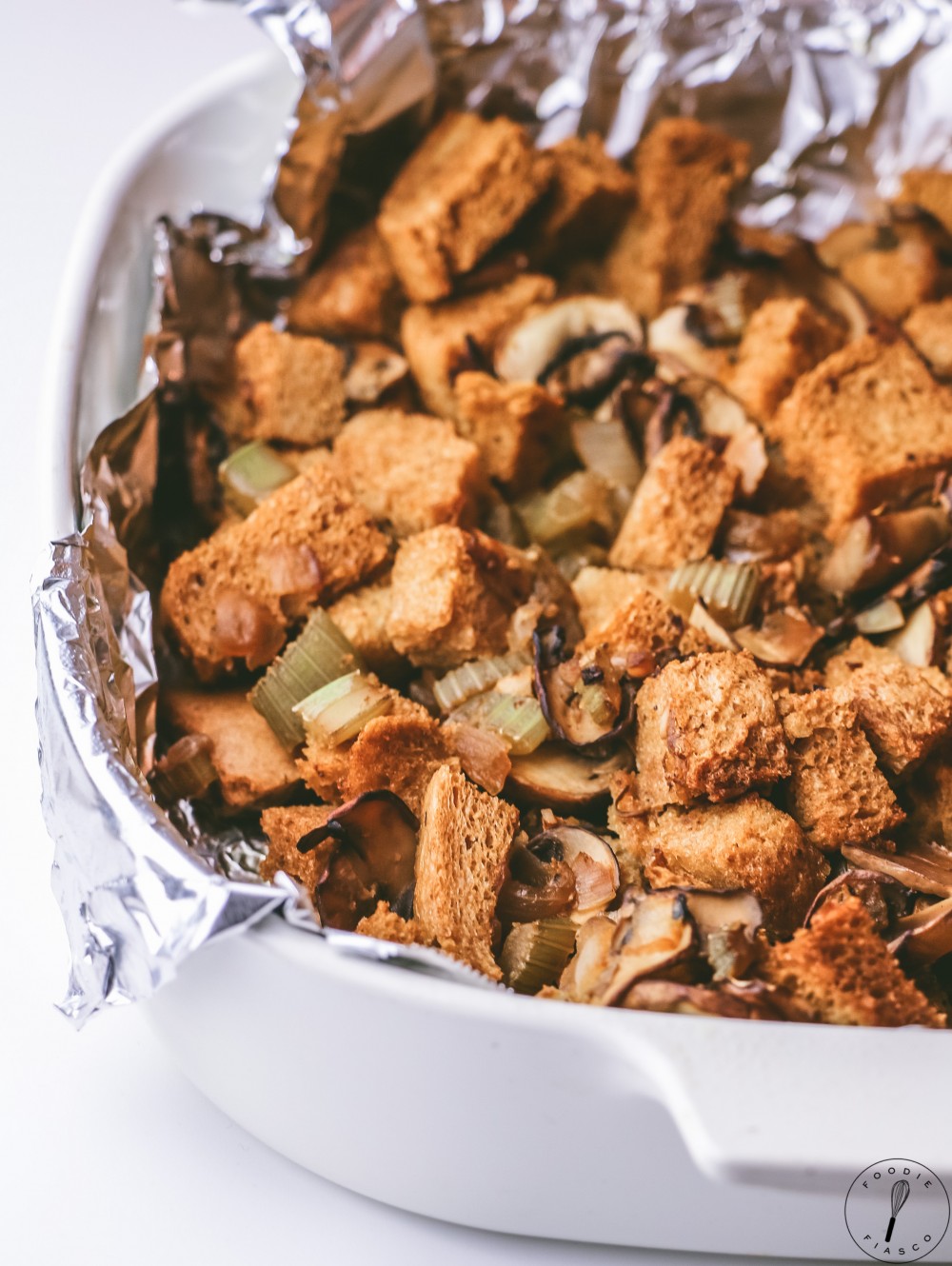 I've recently come across the aptly named Great Low Carb Bread Company, and I'm utterly head over heels for the stuff. Since I'm a long term low carber, anyone who can reunite me with my unrequited lover, avocado toast, has nothing short of my eternal gratitude. (Disclaimer: that's not an affiliate link and I'm not working with the company at all, I just want to share something I love!)
I imagined that all low carb carbs would taste unavoidably like sawdust, but I was extremely surprised and impressed with this bread. The bagels are excellent (I'm a huge fan of the everything flavor), and I use the thin sliced bread for toast. Oh, bread. How I missed you.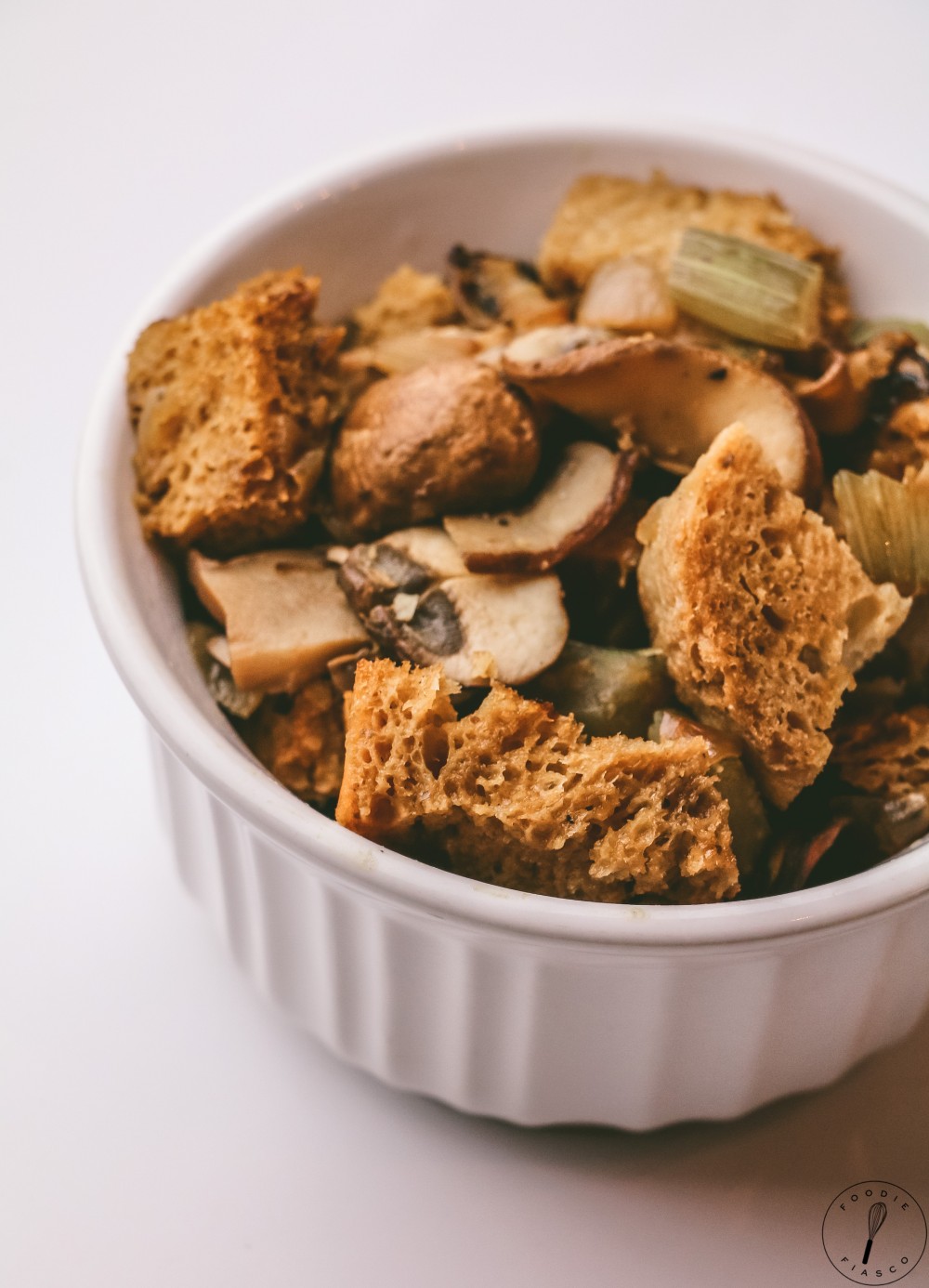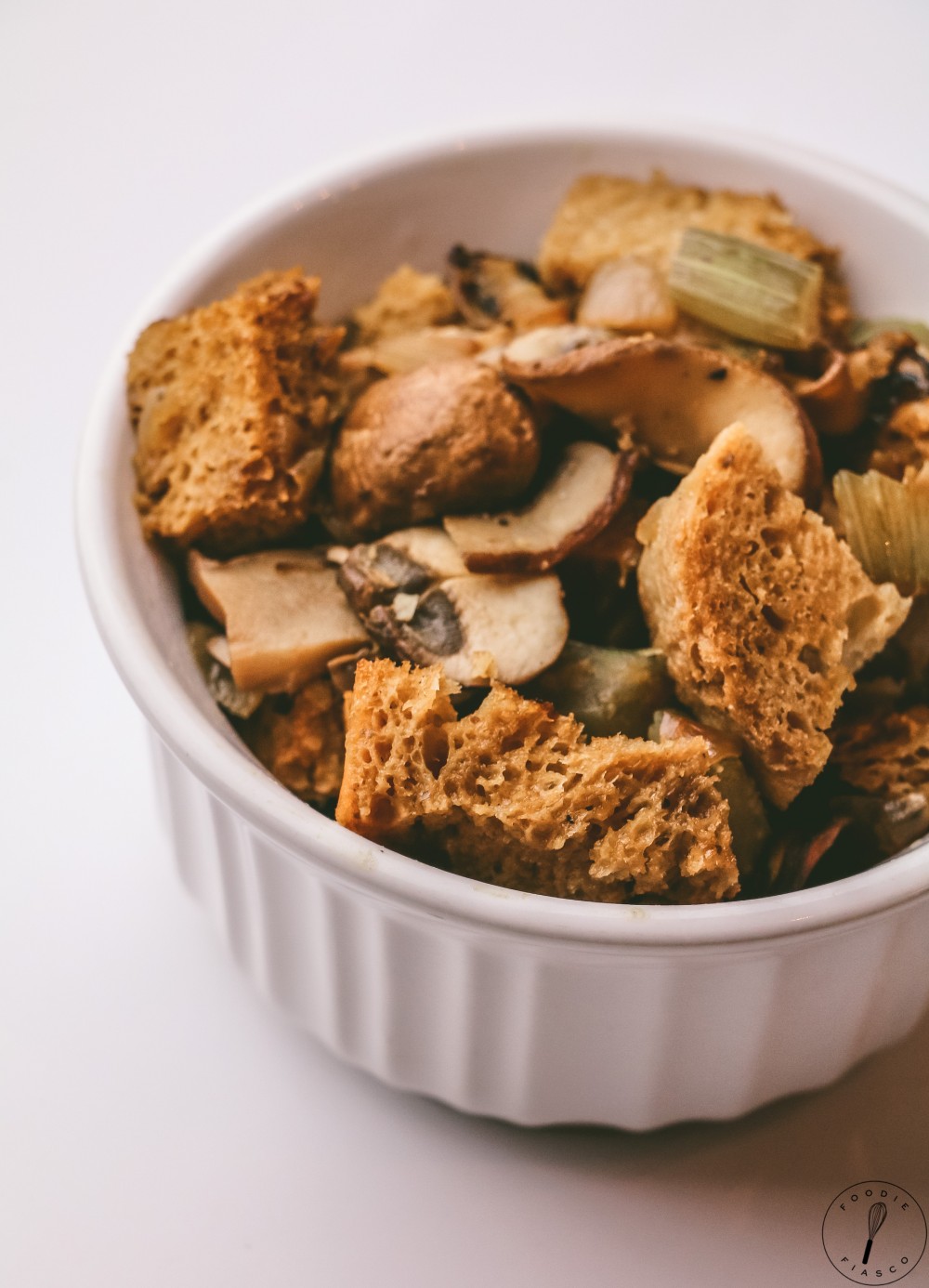 And the best part is that the thin sliced bread is only 30 calories a slice (!) and the bagels are only 65 calories each (!!!). I used the regular cut sourdough bread in this recipe and it worked beautifully.
While we're spilling (non affiliate link) product secrets, I'll spill my newly-declared-best-ever balsamic vinegar. But don't actually spill it. That would be criminal.
Definitely don't cry over spilled milk, but a few tears shed over the loss of any Olivier balsamic wouldn't be unwarranted.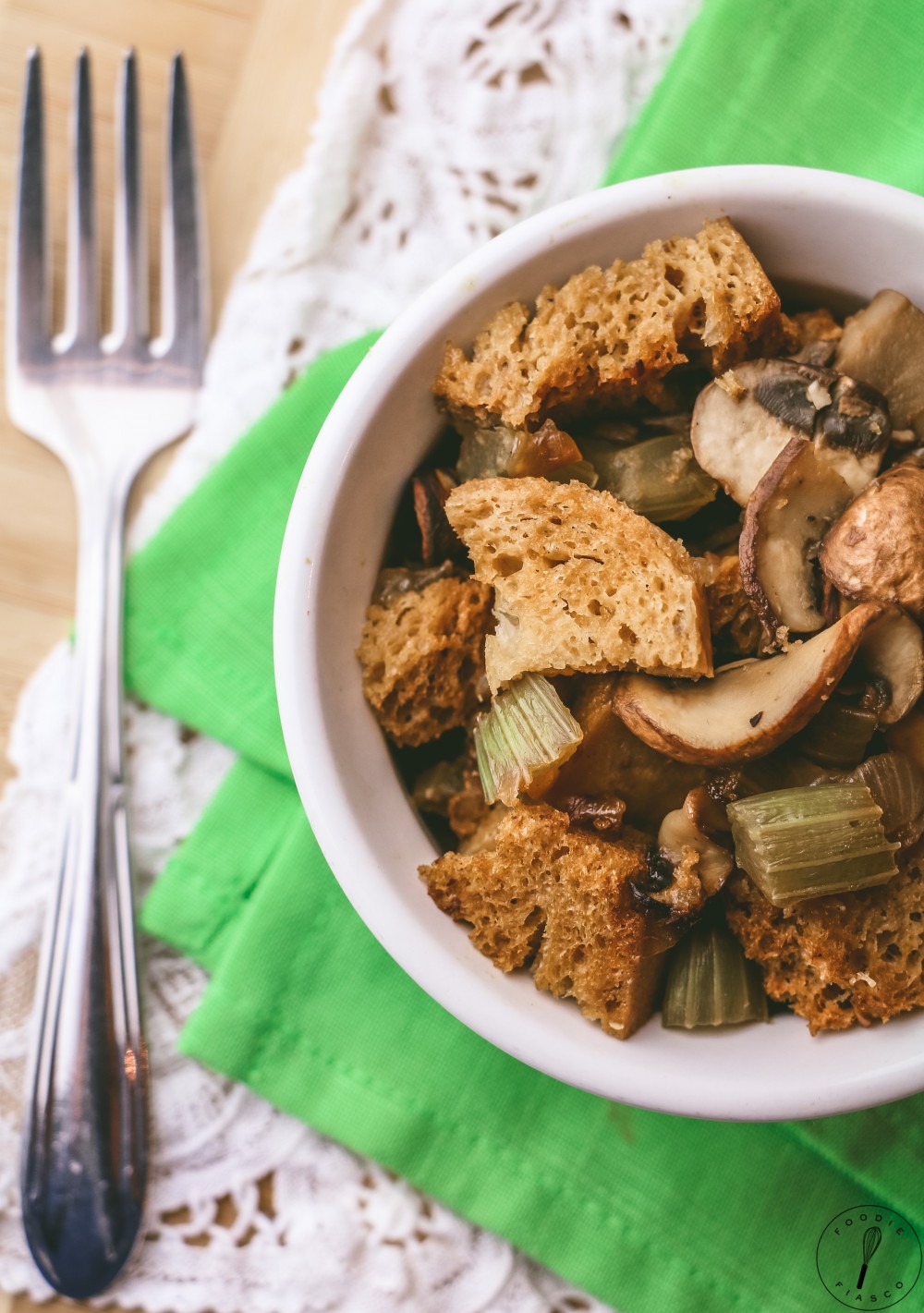 Of course, we can spill it all over the brussels sprouts we're making for holiday dinner and agree to call it an accident so we 'just have' to keep the batch ourselves. That's what holiday kinship is for, right?
These are important life lessons, folks. You're learning the only stuffing recipe you'll ever need and I'm learning that there's an s after the brussel in brussels sprouts.
What a world.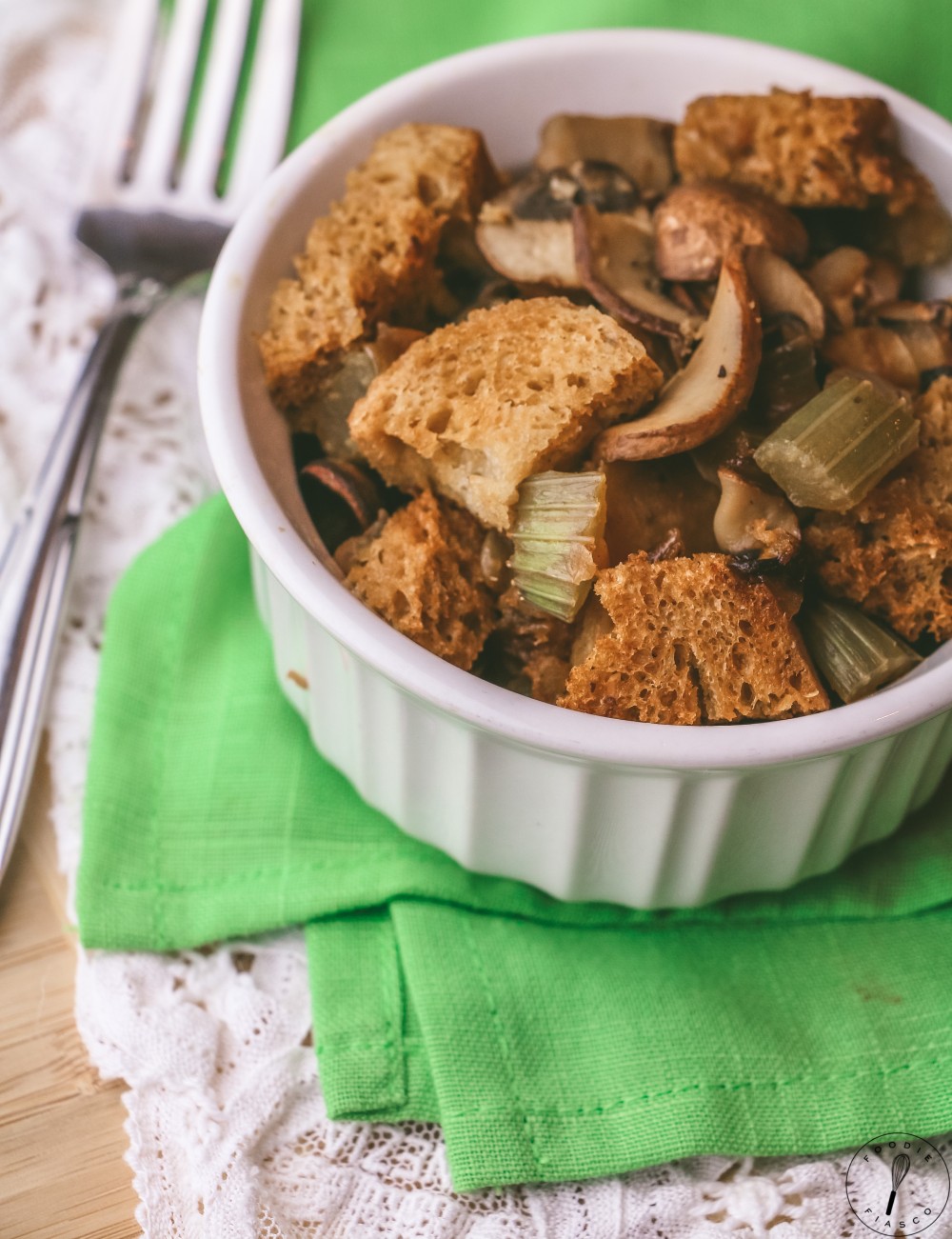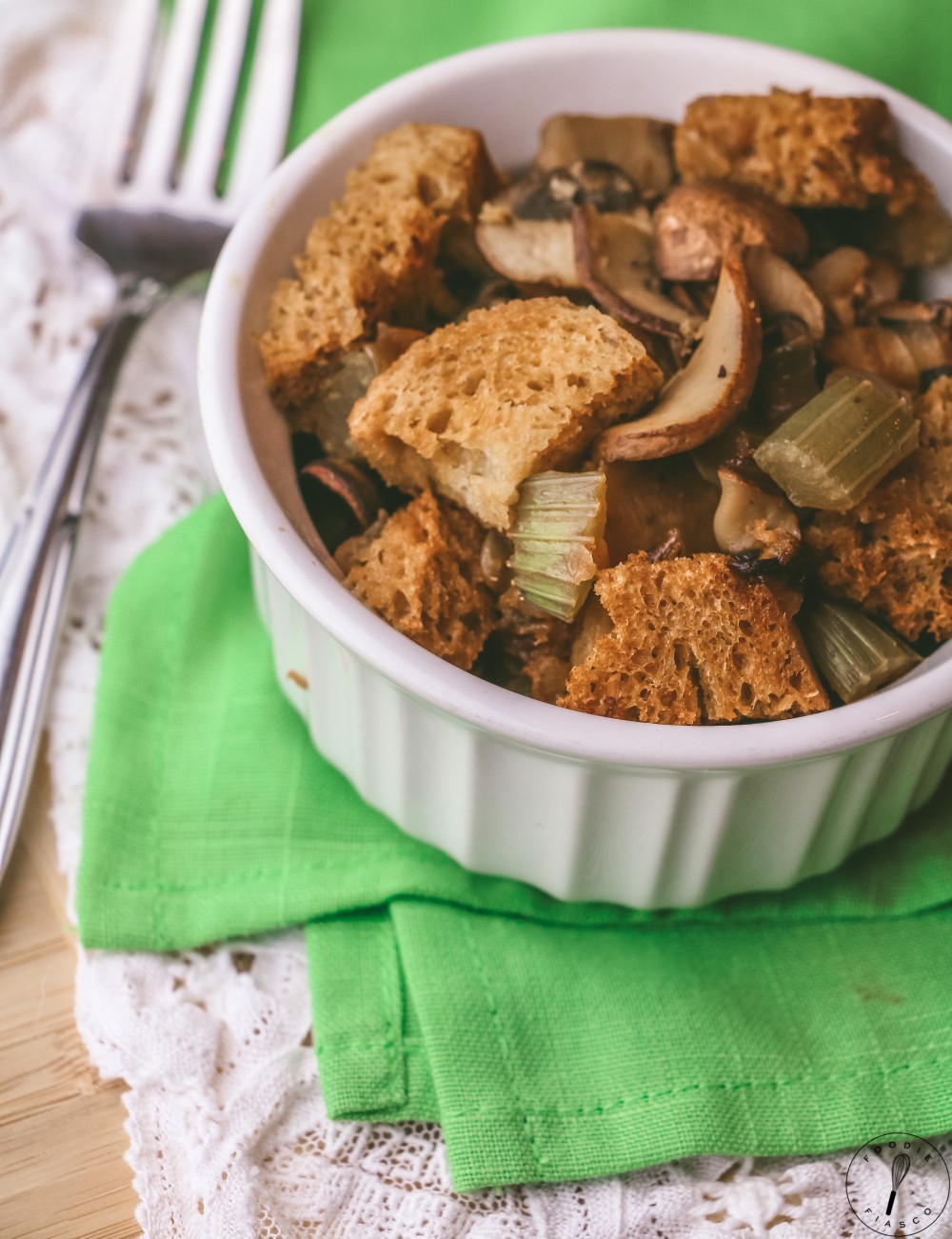 Nutritional Breakdown
Calories
6 slices low carb bread (360) + 1 onion (40) + 4 large stalks of celery (16) + 3 cloves garlic (12) + 8 ounces mushrooms (52) + 1-1/2 cups veggie broth (9) / 6 = 82 calories per serving
Net Carbs
6 slices low carb bread (6g) + 1 onion (9g) + 4 large stalks of celery (2g) + 3 cloves garlic (3g) + 8 ounces mushrooms (5g) + 1-1/2 cups veggie broth (2g) / 6 = 5g net carbs per serving
Protein
6 slices low carb bread (42g) + 1 onion (1g) + 4 large stalks of celery (0g) + 3 cloves garlic (0g) + 8 ounces mushrooms (8g) + 1-1/2 cups veggie broth (0g) / 6 = 9g protein per serving
Adapted from food.com

The World's Healthiest Stuffing
Ingredients
6 slices bread (I used low carb)
1 onion
4 large stalks of celery
3 cloves garlic, minced
8 ounces mushrooms
¼ teaspoon rosemary
1⁄4 teaspoon thyme
1⁄4 teaspoon sage
1⁄4 teaspoon parsley
salt + pepper
1-1/2 cups veggie broth
Instructions
* Preheat oven to 350°F.
* Place the slices of bread on a baking sheet and bake for about 7-10 minutes at 350°F, until the bread feels toasted, then flip and bake for another 7-10 minutes, Remove from the oven and cut the bread into small cubes.
* Heat a large greased skillet over medium heat. Add the onions and celery and sauté over medium heat, stirring occasionally, for about 5 minutes, until slightly browned. Add in the minced garlic and mushrooms and cook until the mushrooms are slightly browned and any liquid has evaporated. Add a few tablespoons of broth if the vegetables start sticking to the bottom go the pan. Stir in the rosemary, thyme, sage, parsley along with salt and pepper. Stir in the toast cubes. Add the vegetable broth and stir until completely combined.
* Bake in the oven at 350°F for about 30 minutes, until toasted on the top and thoroughly warm. Devour.
Nutrition Information
Serving size:
⅙ recipe
Calories:
82
Net Carbs:
5 grams
Protein:
9 grams
More holiday side dishes: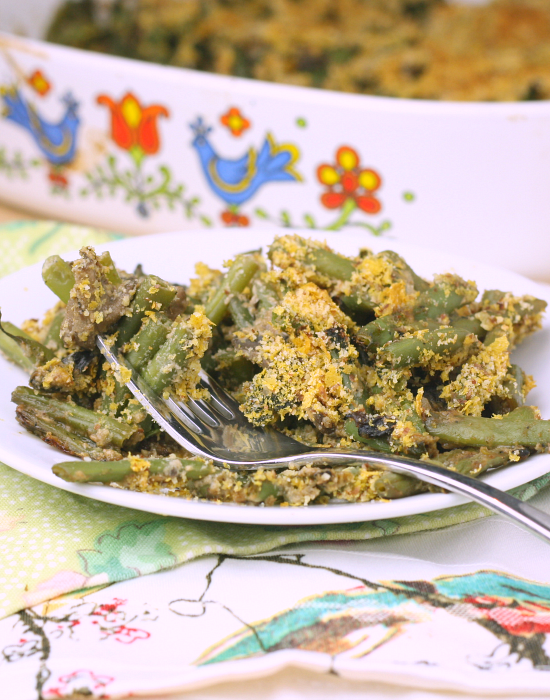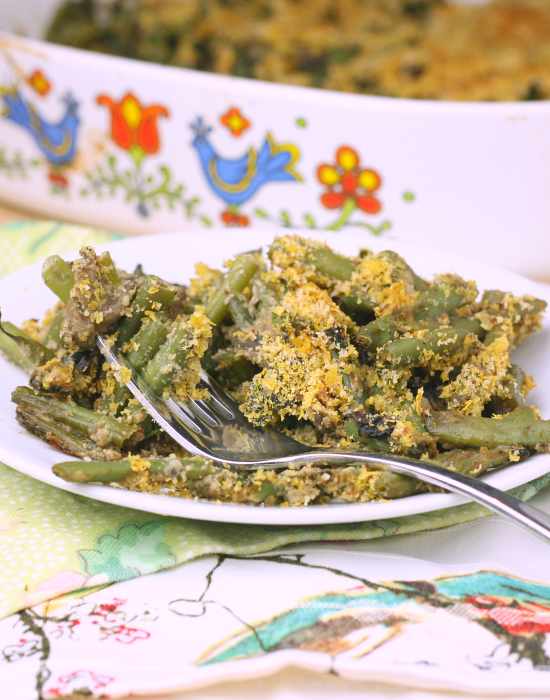 Low Carb "Sweet Potato" Casserole