Let's take a moment to salute my favorite beverage on the face of this beautiful planet.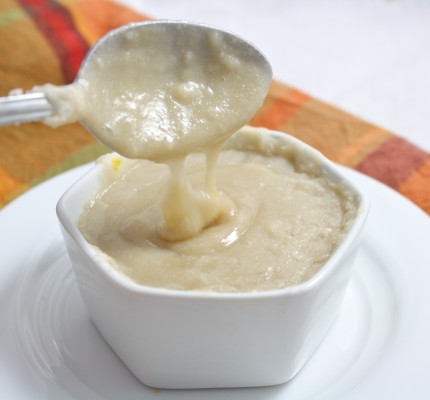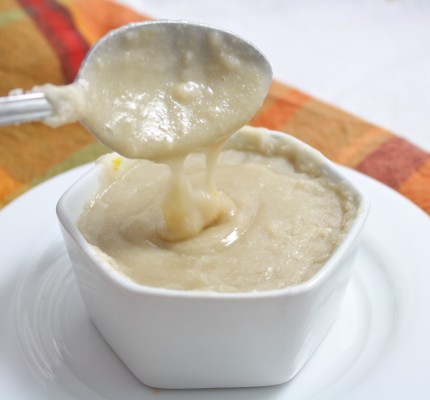 When it comes to versatility, taste, and overall fantabulousness, Unsweetened Silk Pure Almond Milk cannot be beat. I mean, there are only thirty calories a cup. THIRTY! What is this wizardry? Plus, it's just so darn creamy… I don't care how many calories are in it. I just want to drink the stuff up and never stop.
But I did make the mistake of doubting this almond milk. How stupid. I thought I couldn't make the ever-elusive homemade sweetened condensed milk with it. I thought it wouldn't hold up.
You won't believe how good it tastes to be wrong. Regular sweetened condensed milk has over a thousand calories a cup, but this recipe has only sixty calories! How would this be possible without Silk Pure Almond Milk?! It wouldn't. That's how.
This stuff is just a vat of creamy, caramel-y goodness. Feel free to eat it straight up or use it in your favorite recipes.
Just don't take a bath in it. That's bad. I can't guarantee the success of that endeavor.
Homemade Sweetened Condensed Milk
 Do you ever find yourself passing up recipes that call for sweetened condensed milk for lack of a healthy, vegan, and sugar free option? Fear not! All you need is the incredible Silk Pure Almond Milk and sugar or erythritol (for a sugar free low carb version), and you'll never miss out on the sweet, creamy goodness again!
Nutritional Comparison
Homemade Healthy Sweetened Condensed Milk (w/ Silk Pure Almond Unsweetened Vanilla)
Serving size: 1 recipe (1 cup)
Calories: 60
Homemade Healthy Sweetened Condensed Milk (w/ skim milk)
Serving size: 1 recipe (1 cup)
Calories: 172
Yield: 1 cup
Homemade Healthy Sweetened Condensed Milk
2 hrCook Time:
2 hrTotal Time:
Ingredients
2 cups Silk Pure Almond Unsweetened Original
¾ cup cane sugar or erythritol
Instructions
In a medium-sized pot, whisk together all ingredients. Bring to a boil over medium heat and reduce heat to medium low. Simmer uncovered for two hours over medium low heat, stirring occasionally to prevent the mixture from burning on the bottom. After two hours, or when the mixture has turned a slight golden color and has reduced by about half, turn off heat. It may seem thin at this point, but fear not! It will thicken up quite a bit as it cools. Cover the pot with a kitchen towel and let sit for ten minutes. Store the sweetened condensed milk covered in the refrigerator. Just as a note, mine solidified completely after a few hours in the fridge, so if this happens to you, just cook the sweetened condensed milk in the microwave for minute right before you are ready to use it.
7.8.1.2
214
https://www.foodiefiasco.com/homemade-healthy-sweetened-condensed-milk/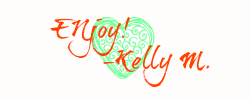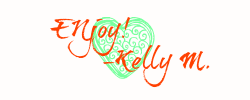 Disclaimer: I was compensated by Silk via FitFluential for the creation of this recipe. As always, my views are completely my own.