This is a recipe for liquid gold.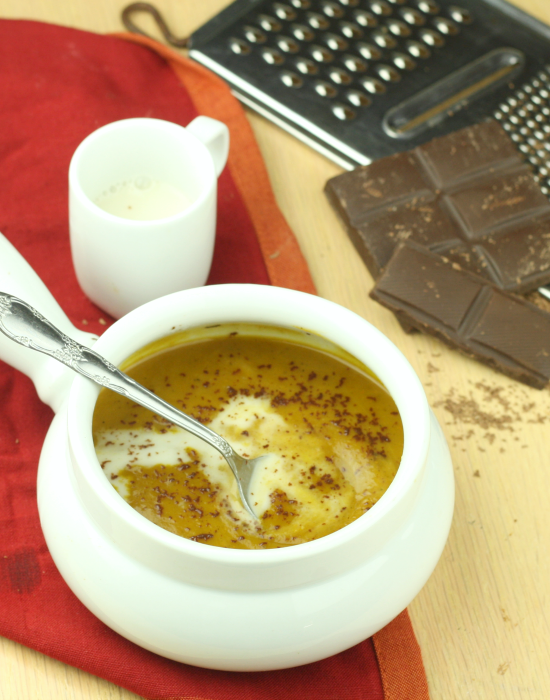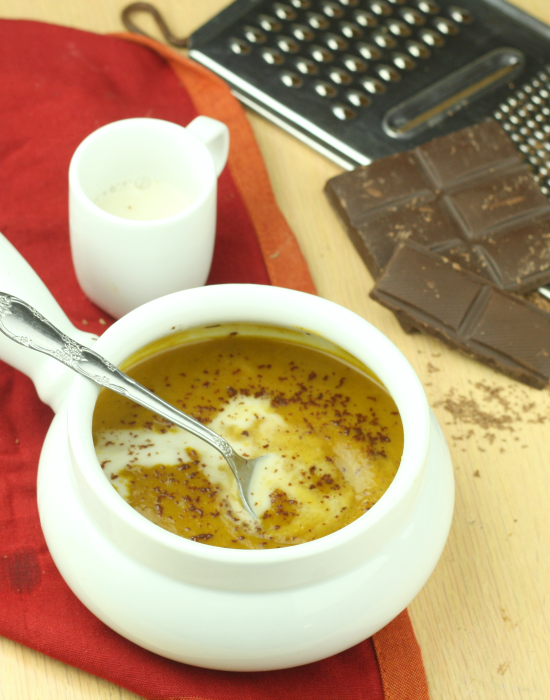 You see, this soup is actually BETTER than liquid gold. I happen to know this firsthand. I had the pleasure of trying real edible gold during my sojourn in Paris, and you know what it tasted like? Nothing. Very expensive air. And, in contrast, this soup is ridiculously creamy, slightly spicy, and perfectly sweet. It sure beats the heck out of tasteless precious metal.
We all know what's really precious here. Pumpkin. A big bowl of it. Duh.
Do you not see how rich this soup is?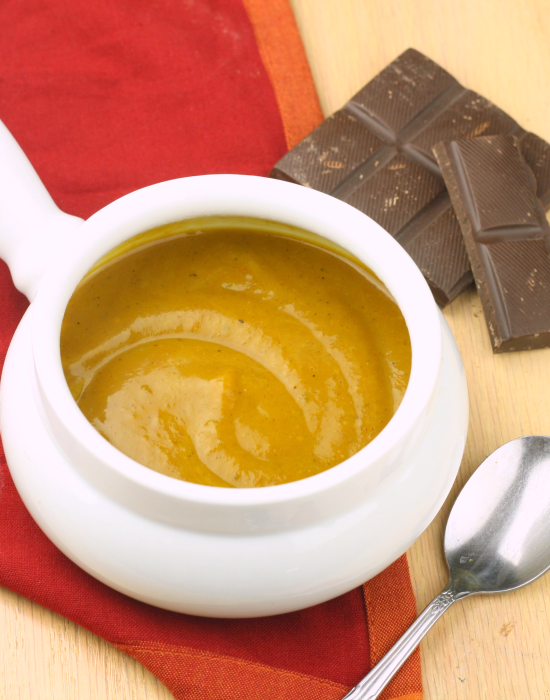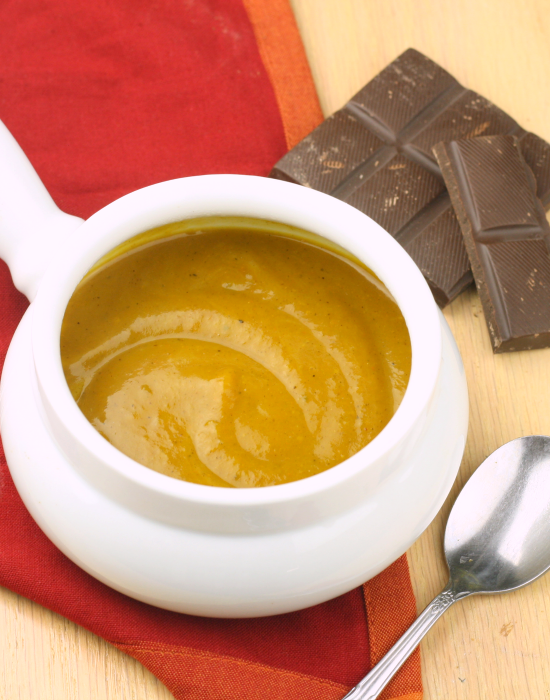 How is it only 42 calories?!? IT'S SO GOOD.
Anyway.
I'm still glad I could try the edible gold though. Everyone has to do a crazy rich person thing at least once in their life! But preferably only once or twice if they're not actually rich, otherwise they'll be much more not rich than they were when they started. But I digress. The moral of the story is that this soup is more valuable than gold.
Okay fine. Let's be realistic here.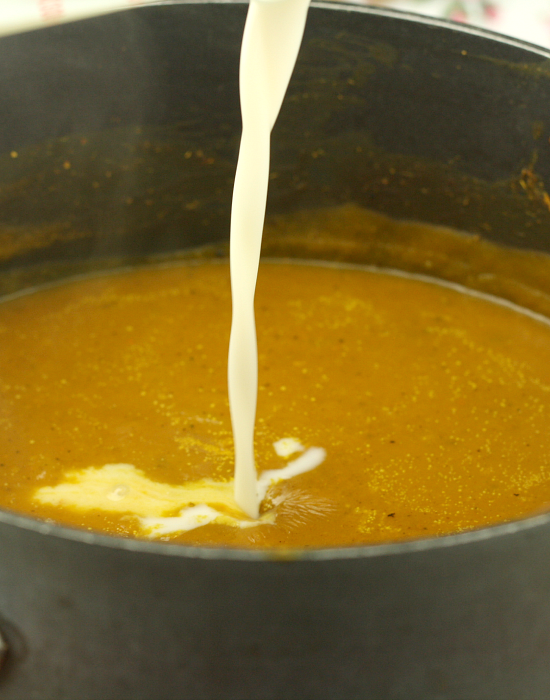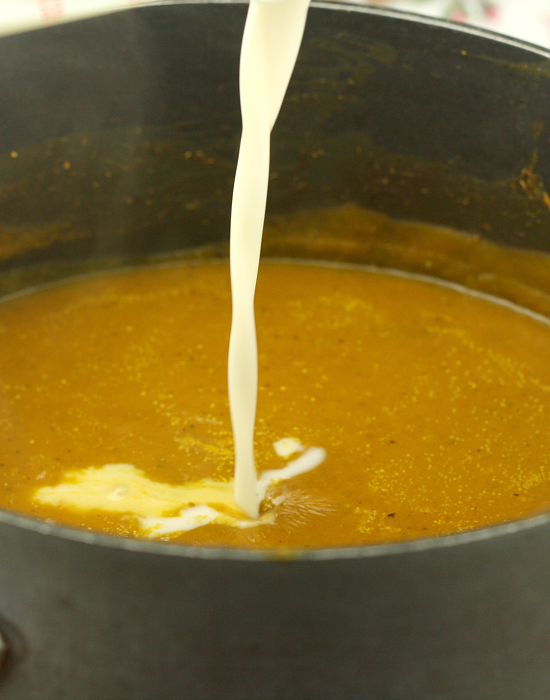 I'm never going to stop attempting action shots.
Everyone pause.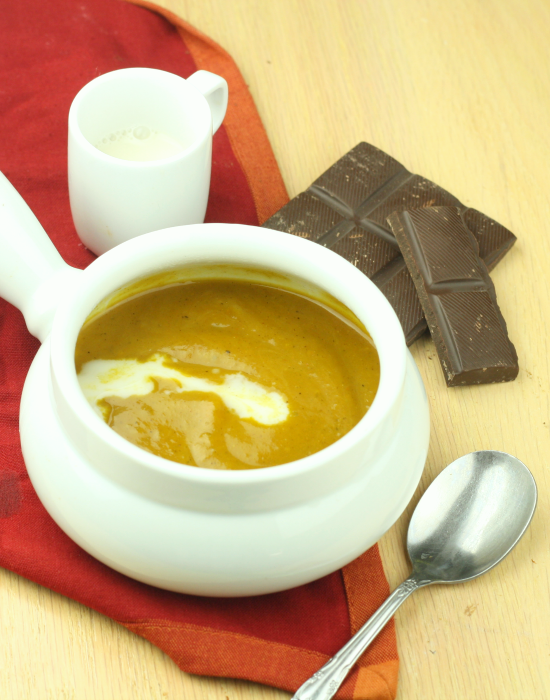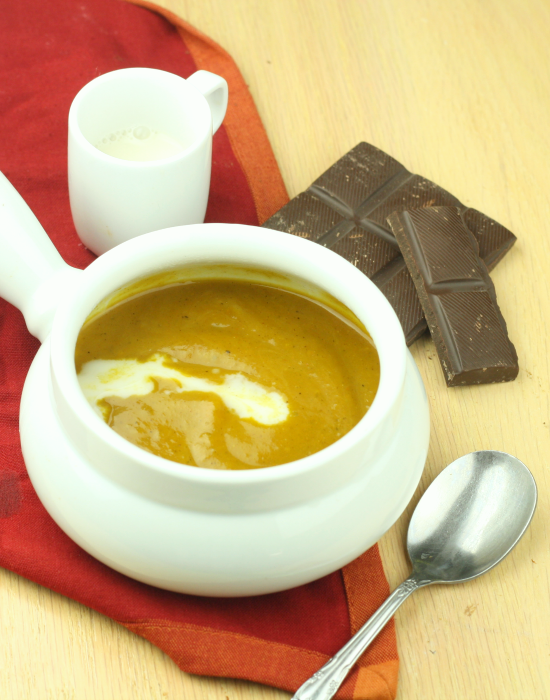 The only thing that could make this soup better is a healthy dose of chocolate. Healthy means a lot, by the way. Antioxidants! You can't argue with science. My chem teacher will have none of it.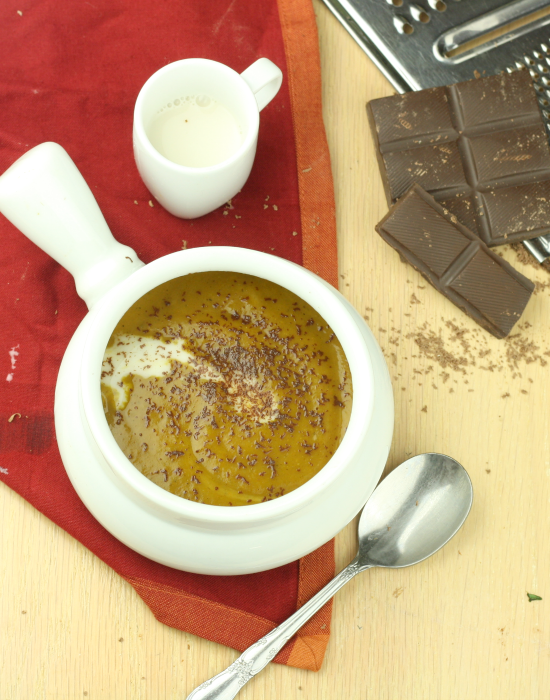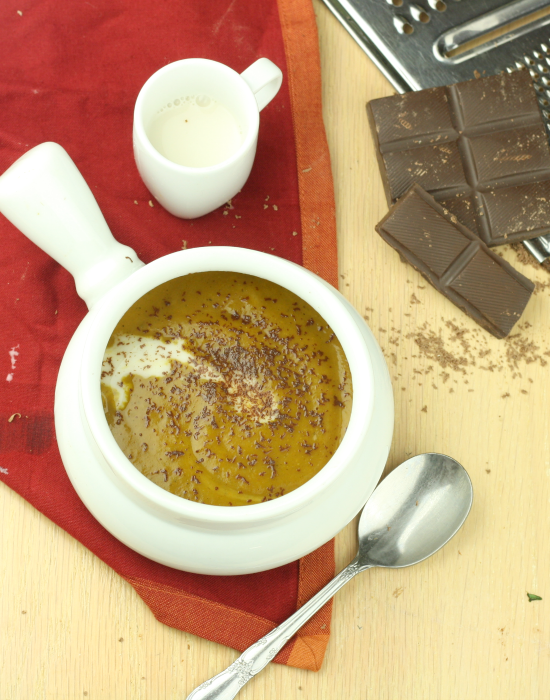 I shaved chocolate on my soup for dinner. Everything is okay now.
Remember, pumpkin is a vegetable! At least that's what I told myself when I ate all six servings in one day. (Don't give me any of this 'pumpkin is a fruit' nonsense. Science is only to be invoked when it helps our case. It's in the name of dinner. Science understands. We're all friends here.)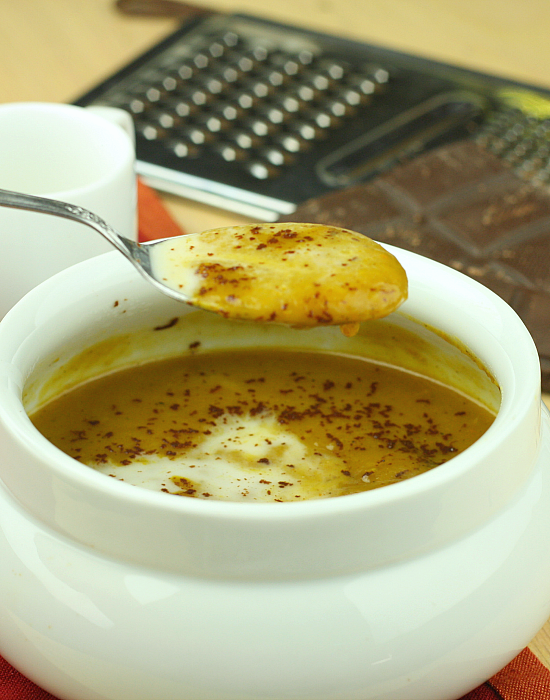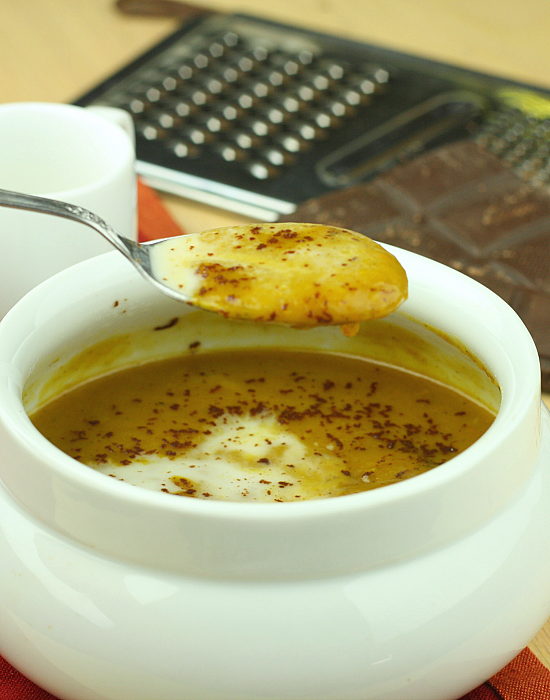 It's like fall happiness on a spoon.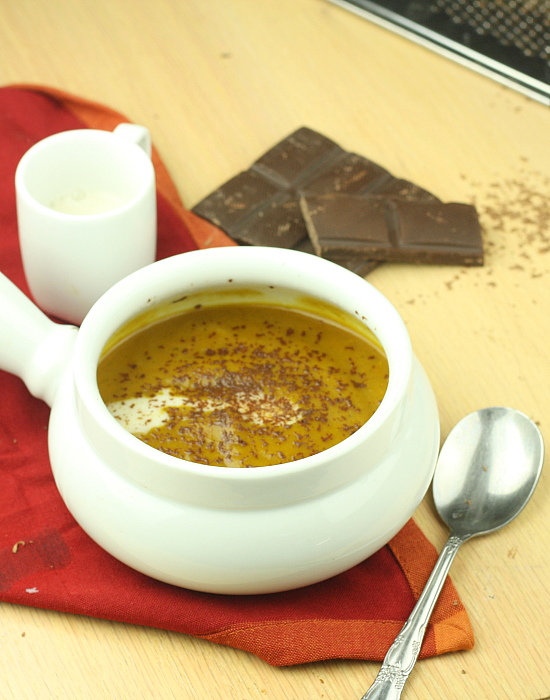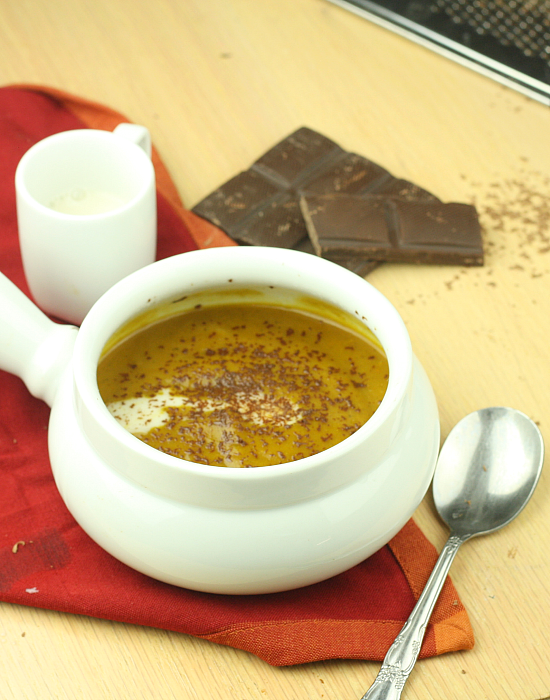 Inspired by Local Kitchen and adapted from The Daily Green
Yield: 6 generous servings
Pumpkin Soup with Shaved Dark Chocolate
10 minPrep Time:
20 minCook Time:
30 minTotal Time:
Ingredients
1 small onion, finely chopped
1/2 teaspoon minced garlic
2 teaspoons curry powder
1 teaspoon garam masala
2 (15 ounce) cans unsweetened pumpkin puree
2-3 tablespoons sweetener (eryhtritol, sugar, brown sugar, etc.)
2 cups veggie broth
1 cup unsweetened almond milk
salt and pepper, to taste
dark chocolate, to serve
Instructions
Heat a greased Dutch oven over medium high heat. Add in the finely chopped onions and cook until slightly browned, stirring occasionally, about 3-5 minutes. Add in minced garlic, curry powder, and garam masala, and cook for another minute. Stir in the pumpkin puree. Add in the sweetener, veggie broth, and almond milk and stir until combined.
Bring the soup to a boil, boil for a minute, and reduce to a simmer. Simmer for at least 20 minutes or up to an hour, keeping in mind that the soup gets richer and more flavorful the longer it cooks. Puree using an immersion blender (or puree in batches in a standard blender) and salt and pepper to taste. Divide amongst six bowls, serve with shaved dark chocolate on top, and bask in your elegance. Devour.
Notes
Nutritional information calculated with calorie free sweetener.
7.8.1.2
302
https://www.foodiefiasco.com/creamy-healthy-pumpkin-soup/
Nutrition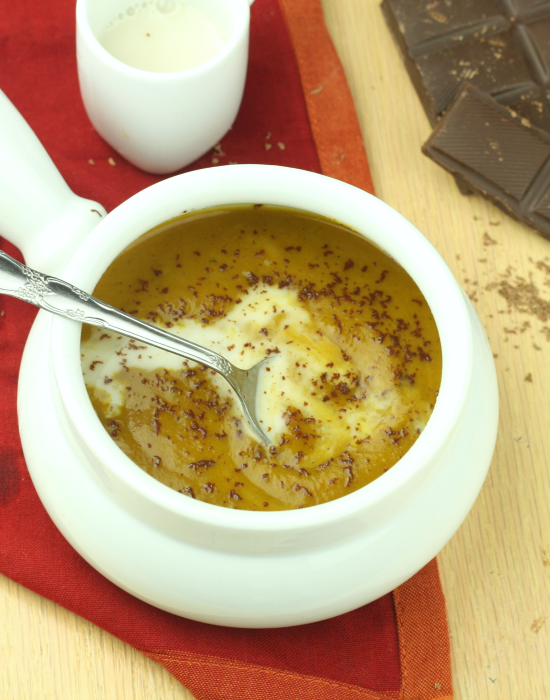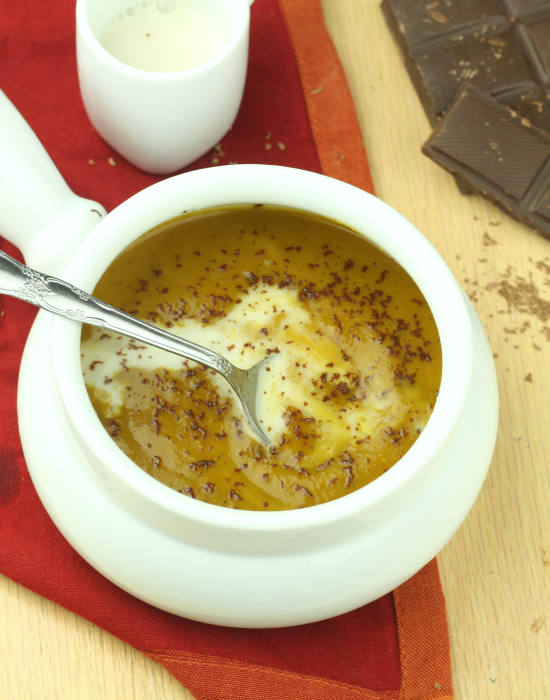 How are you enjoying fall?
I've just been eating way too much pumpkin and rocking layered outfits. I'm having a ball. How about you?