Don't give me that look.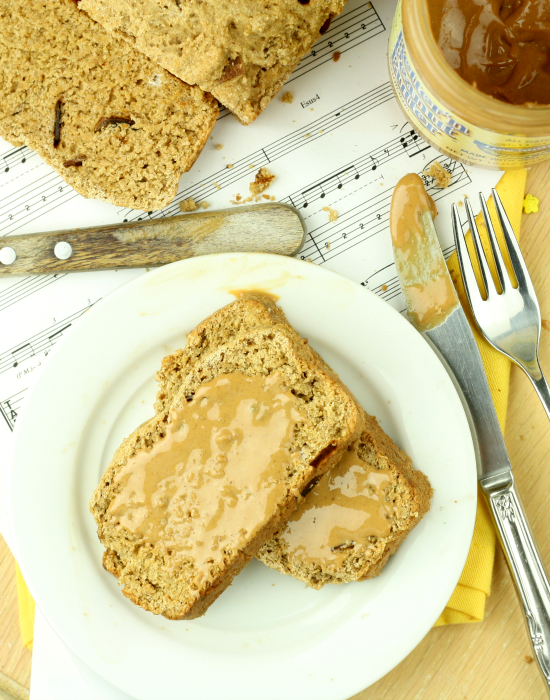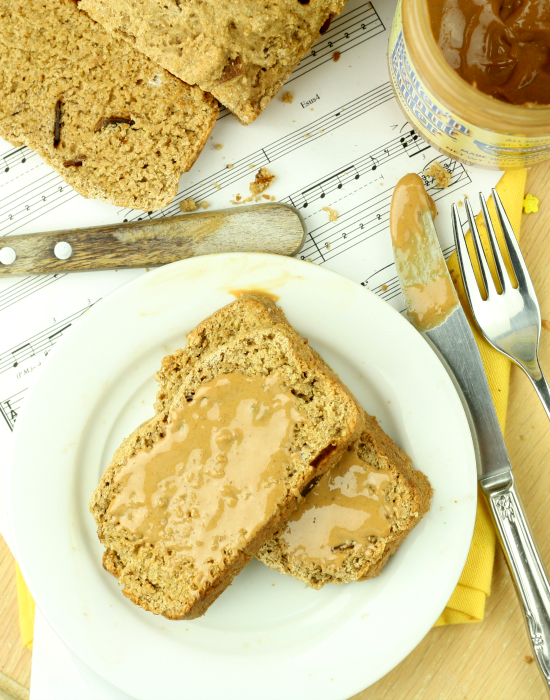 Actually, take whatever look you were going to give me, and give half of it to the brilliant Jessica. The other half goes to me and my ability/audacity to make this decadence 70 calories a slice.
I have a dream. Jessica has a dream. (I know this because food blogging and mind reading is exactly the same thing except food blogging is better because it involves food. It's like ESPN or something*.)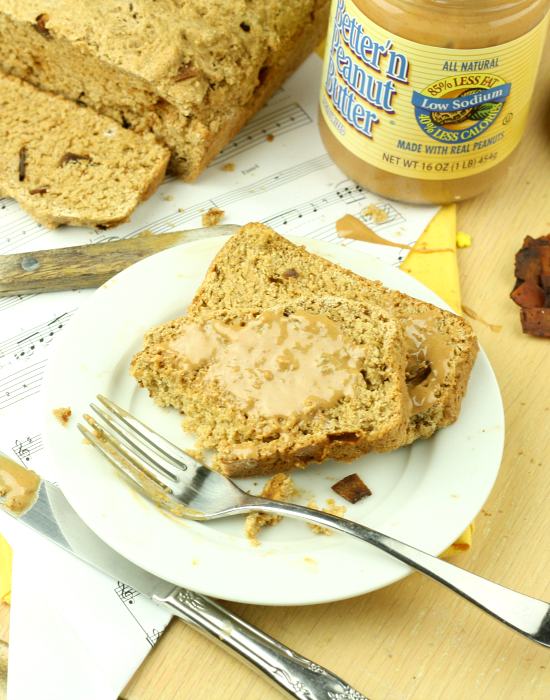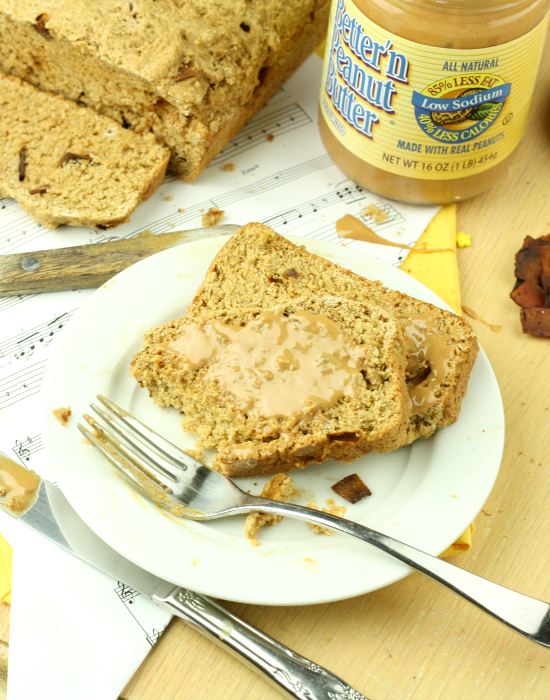 She/I had a dream where we could one day live in a world where banana bread and peanut butter and bacon can live life with liberty and pursue happiness and win. (And yes, I should be in honors history. I totally pay attention.)
*I know nothing about sports. Nothing. Actually, that's not true. I once held a football. That's it.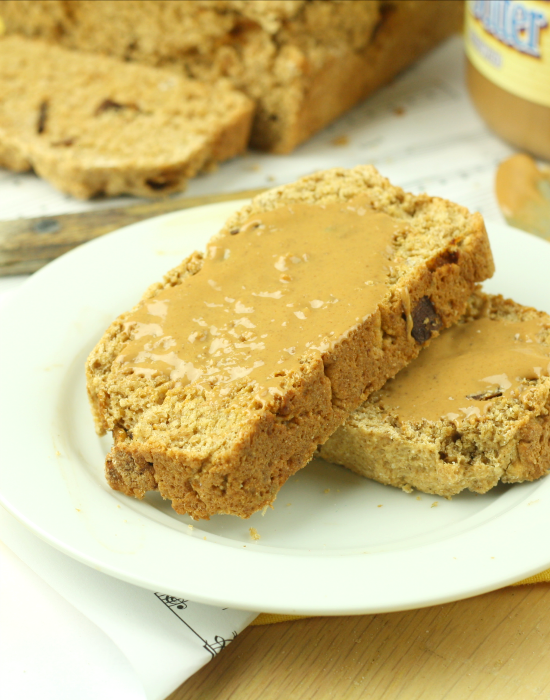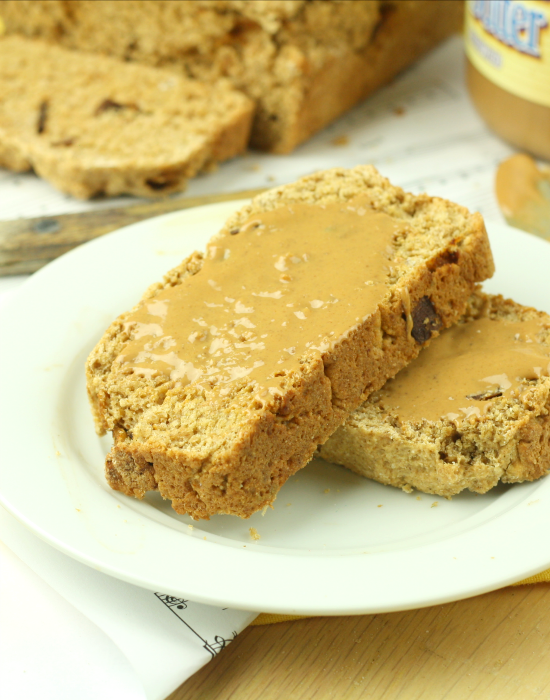 I don't know how to properly express my love for this bread. I thought about writing a full-scale musical in dedication, but Andrew Lloyd Webber was busy and Elvis Presley is dead. (Which is particularly unfortunate because bacon peanut butter banana bread is so up his ally. I almost feel like I should wear blue suede shoes while eating it. Then I promptly realized I don't own any, and buying shoes just to eat dessert seemed significantly less idiotic in my head.) Do you even need convincing to make this amazingness?
You know how I love my banana bread.
Peanut butter makes me swoon.
Bacon is, well… bacon. Especially now that we vegetarian folk can enjoy it! Vive le coconut bacon!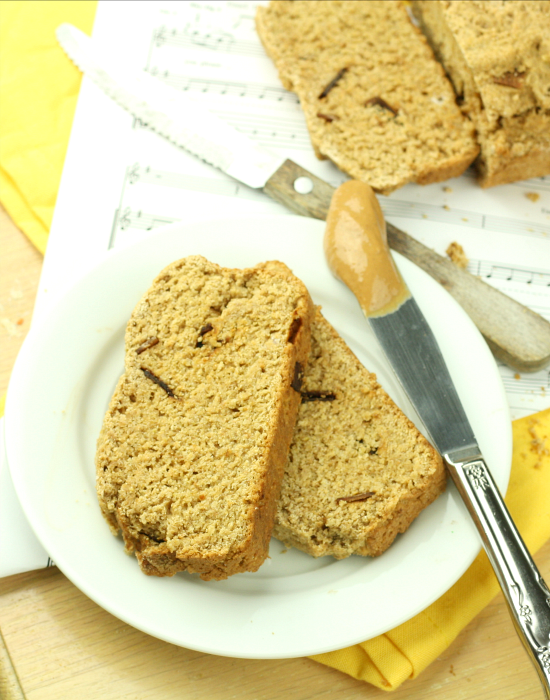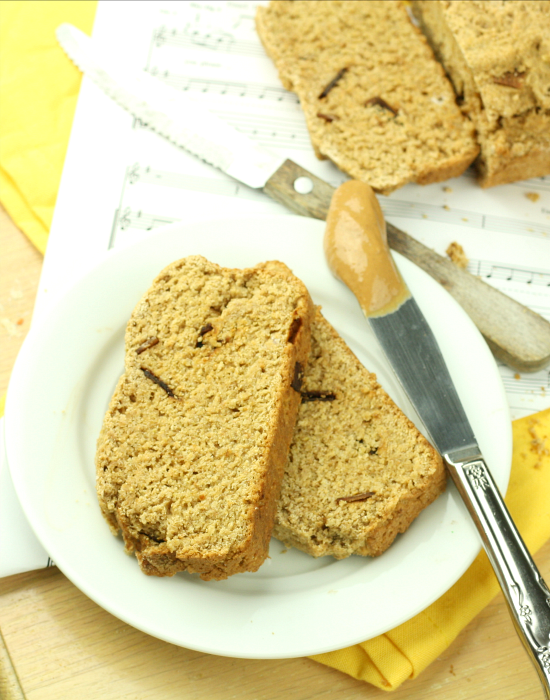 Just a word to the (meat-eating) wise, you can totally use actual bacon if that's your groove. I'd fry up as many pieces as strikes your fancy and use that instead of the coconut bacon.
How much bacon is appropriate? 3? 33? I'm really not a bacon expert. My nana says the more the merrier with bacon. Something about joint lubrication. Point is, you may want to consult the forum on this. Or my nana.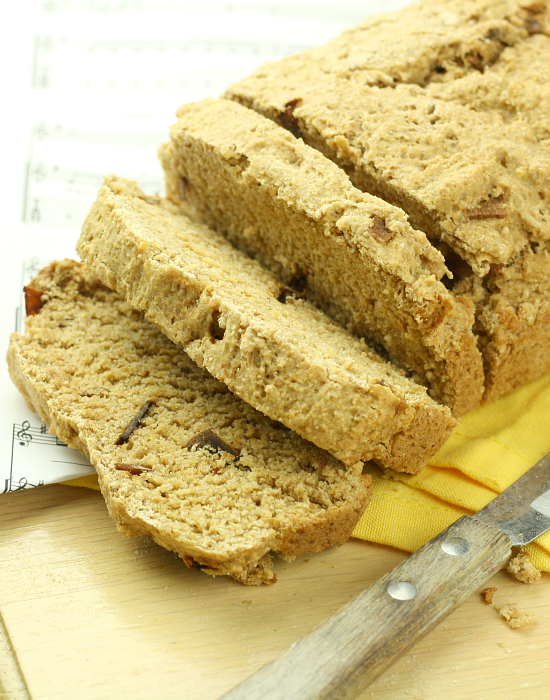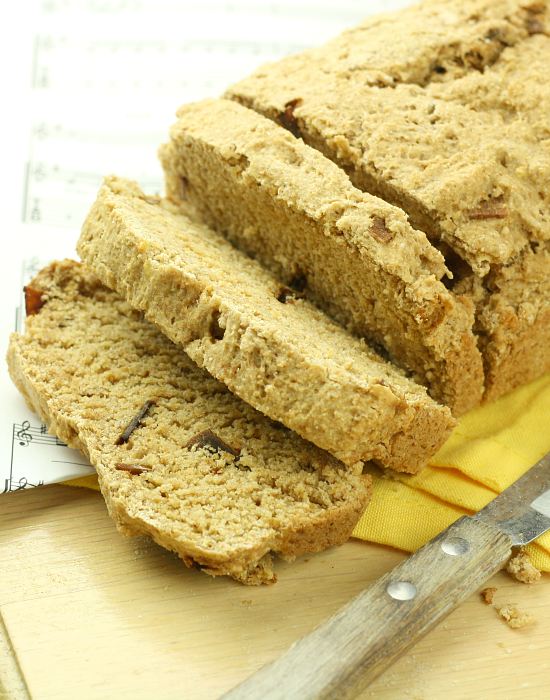 Whipping up this miracle couldn't be easier. Make your simple banana bread batter, infuse it with a healthy amount of peanut butter, and then make it rain bacon. Yup. Make it pour. It's pretty darn fabulous.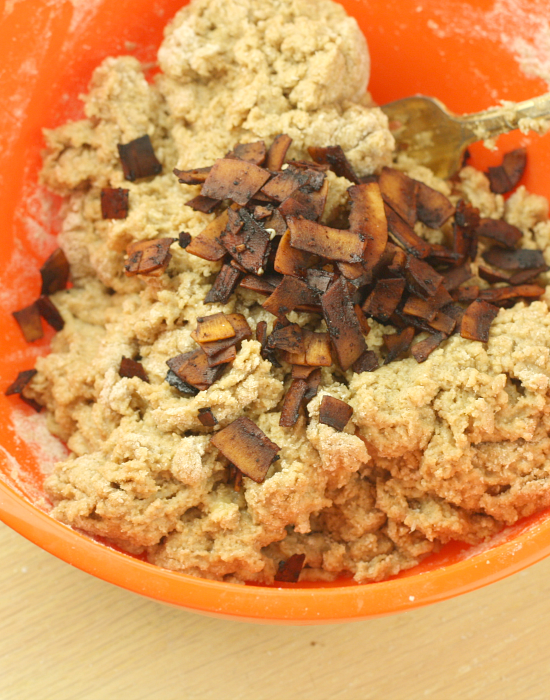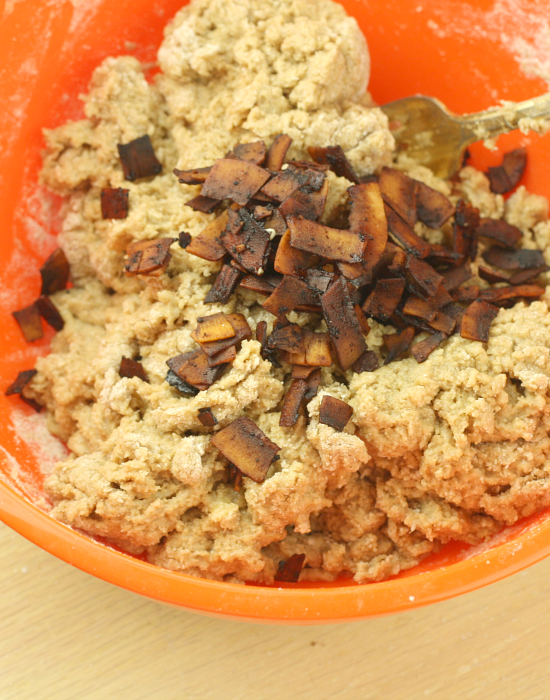 Bake it up, let it cool (yeah good luck with that), and slather on more peanut butter. It's only healthy.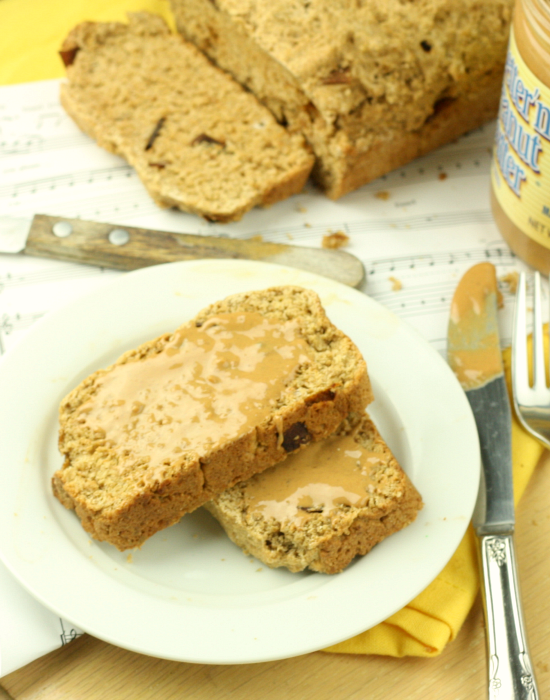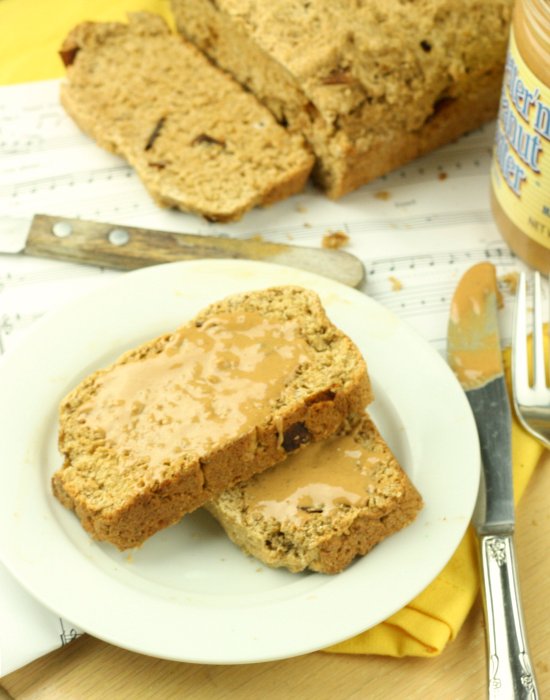 Yield: 12 slices
Healthy Bacon Peanut Butter Banana Bread
10 minPrep Time:
30 minCook Time:
40 minTotal Time:
Ingredients
1 1/2 cups white whole wheat flour OR 1 1/4 cup almond meal plus 6 Tablespoons coconut flour
1/2 cup erythritol or sugar
1 teaspoon baking powder
1/2 teaspoon baking soda
1/2 teaspoon salt
1 banana, mashed
2 eggs OR 1 tablespoon Ener-g egg replacer plus 4 tablespoons water
2 Tablespoons peanut butter
1/4 cup plus 2 tablespoons unsweetened almond milk
1/4 cup coconut bacon or about 4 pieces bacon, cooked and chopped
Instructions
Preheat oven 350°F. Spray an 8x4 loaf pan with cooking spray and set aside.
In a medium microwave safe bowl, combine the peanut butter and 2 tablespoons almond milk. Microwave for 1 minute, stir, and microwave for 30 more seconds, making sure it doesn't bubble over. Seriously. You don't want to clean that up. Let chill until ready to use.
In a large bowl, combine the white whole wheat flour, erythritol or sugar, baking powder, baking soda, and salt. Add in the mashed banana, eggs or egg replacer, the peanut butter almond mixture, and the remaining 1/4 cup almond milk. Feel free to add an additional tablespoon or so of almond milk of the batter is too dry. Stir in the "bacon."
Spoon the batter into the prepared loaf pan and bake in the oven at 350°F for 25 to 30 minutes, Or until a toothpick inserted into the center comes out clean. Let cool before cutting into slices. Devour.
Notes
If you are on a serious low carb diet, just use the almond flour/coconut flour version. Also, if you don't mind losing the banana aspect, you can sub in applesauce for the mashed banana to make it lower carb.
Nutritional information calculated with white whole wheat flour, egg replacer, erythritol, coconut vegan bacon, and Better n' peanut butter.
7.8.1.2
293
https://www.foodiefiasco.com/healthy-bacon-peanut-butter-banana-bread-2/
Nutrition
Calories:
70 calories cal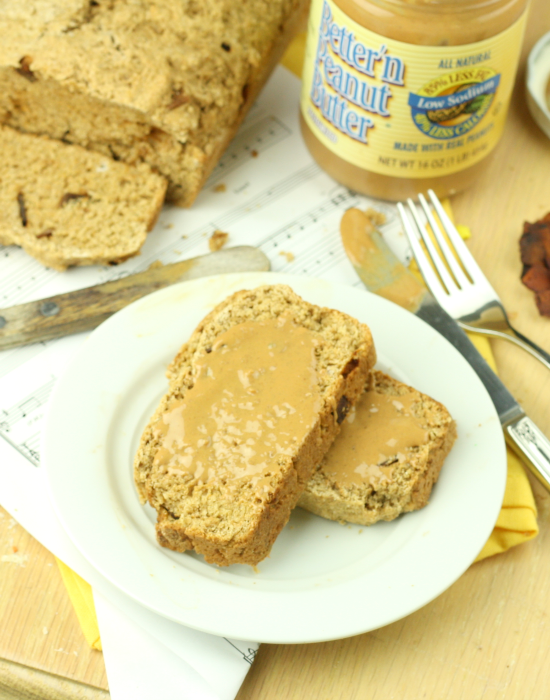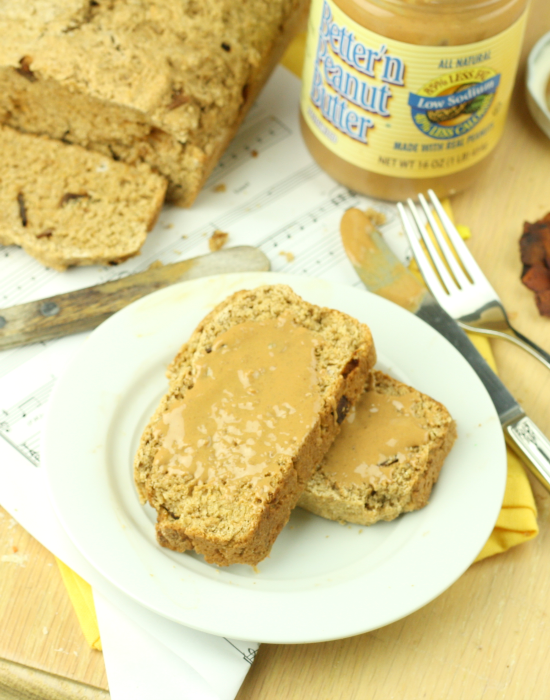 What do you think? Please make this bread.
You're going to love it. Just go with me here.