I can't express how much you need this bacon in your life.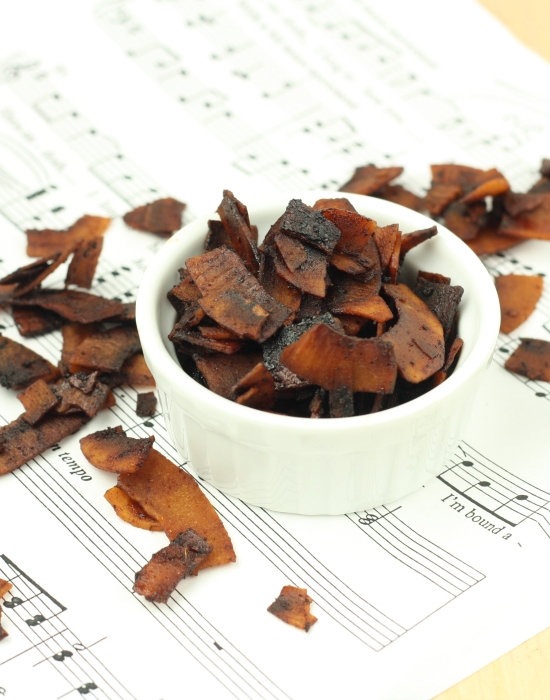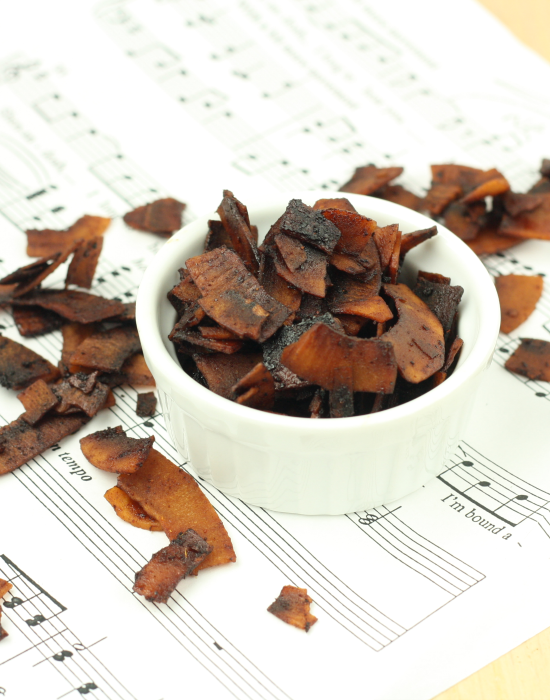 I may be a vegetarian (just celebrated my two year veggiversary!) and not know who Cody Simpson is, but I'm not completely out of it. I am no stranger to the magical powers of bacon. There was many a day where Little Kelly would sit in the corner IHOP booth (only the best of course), and happily chow down on her order of crispy bacon.  It was magical.
Nowadays scientists have "discovered" this crazy mumbo jumbo about bacon having some saturated something that makes your arteries look like the LA freeways during rush hour  your heart act like a frowny face emoticon. And what about Wilbur and Babe?
I soon bid my farewell to meat, and believed that the magic of bacon would be out of my grasp forever.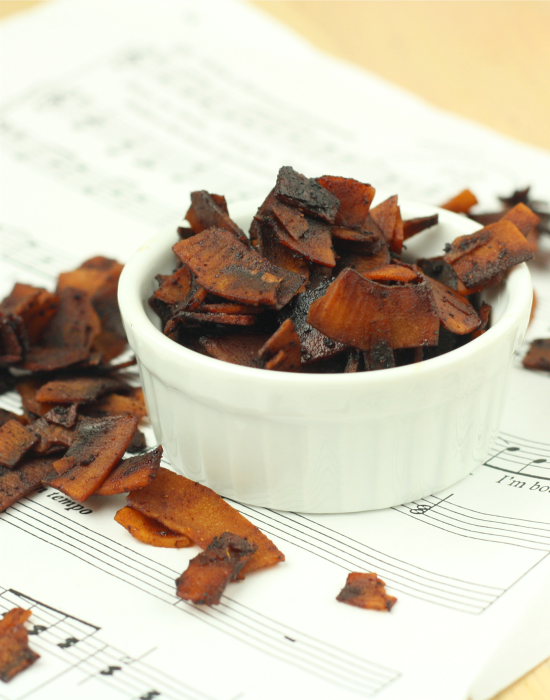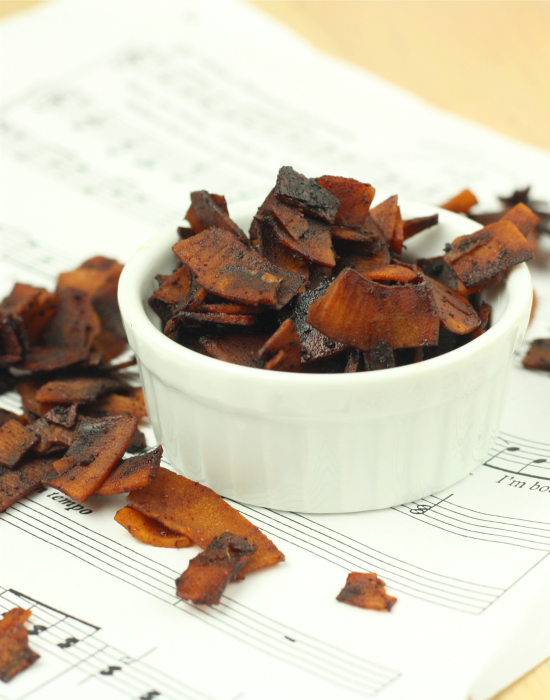 Until now.
If you have lived an extended period of time without bacon, you may have talked yourself into some state of bacon-deprived denial in which this is okay. Let me make something clear for you. It's not. Just stick with me, my heart conscious friend, and we'll be eating bacon together in the sunset in no time.
You may think the idea of making bacon out of coconut is a bit… odd. Yup. I did too. But the natural happy face heart fat content and the wonderful crispy texture is actually a dead ringer for the bacon of IHOP breakfasts past. All you need to do is dress your coconut up in a meat suit, and you're ready to roll. Just embrace your inner Lady Gaga.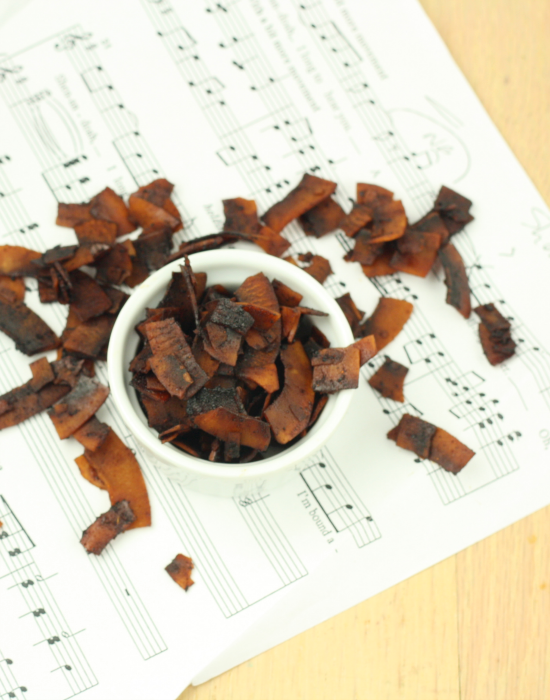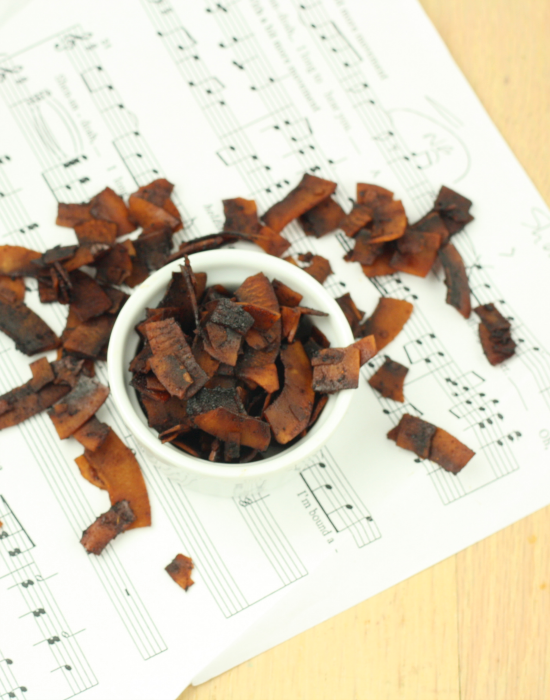 Have I ever steered you wrong? No. Of course not. And I'm not going to start.
Let's talk coconut. I recommend using unsweetened coconut that is either in flake or chip form. I used these coconut chips from Trader Joe's, and I know they are slightly sweetened, but it didn't change the outcome much at all. That being said, I do like my surroundings to be sweet.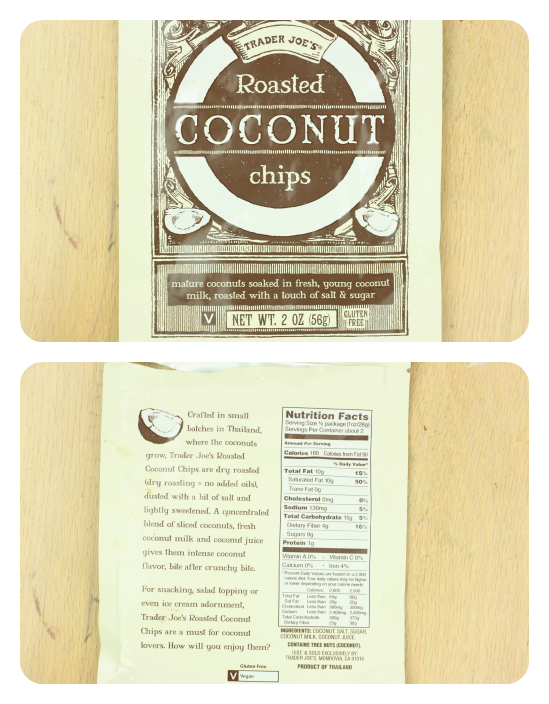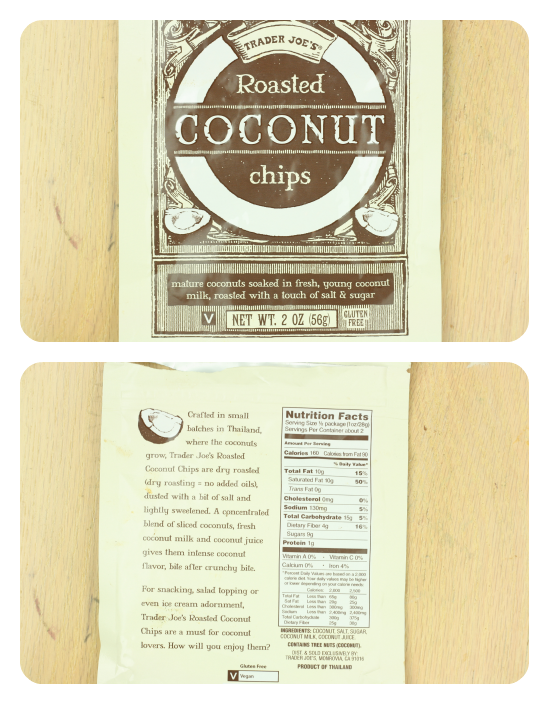 Just whip up a quick sauce with bacony ingredients, let your coconut flakes/chips get acquainted with its new home, and let it all party in the oven for 20 minutes or so. Let everything chill out for a while and voila! (I learned that in France.) VEGAN BACON!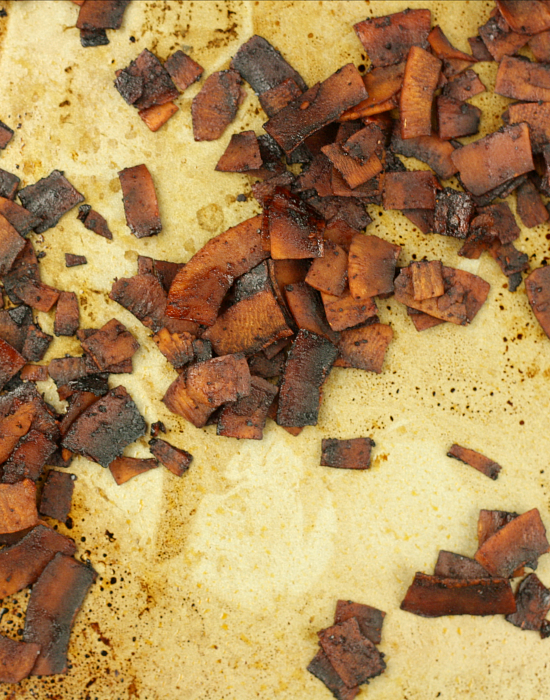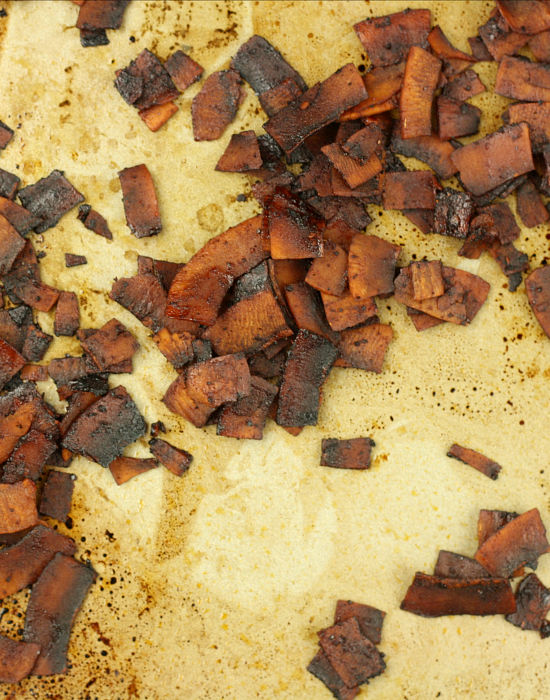 Now that you have a whole batch of homemade amazing BACON on your hands, you may find yourself wondering what to do with it. Then you realize that you have a whole bunch of BACON on yours hands and you stop wondering and start eating. Because bacon goes with everything. Eve.ry.thing.
This bacon is actually better than actual bacon (yes, better) because it is a) much much healthier and b) it works like a dream in bacon-y desserts. Has the idea of putting pork in your sweet treat weirded you out? Join the club. I want to bacon in my peanut butter banana bread as much as the next person (which is a lot), but now I can do so healthfully and less weird(ly?).
In the meantime, I sprinkled my vegan bacon on some peanut butter toast. This is a great thing my friends.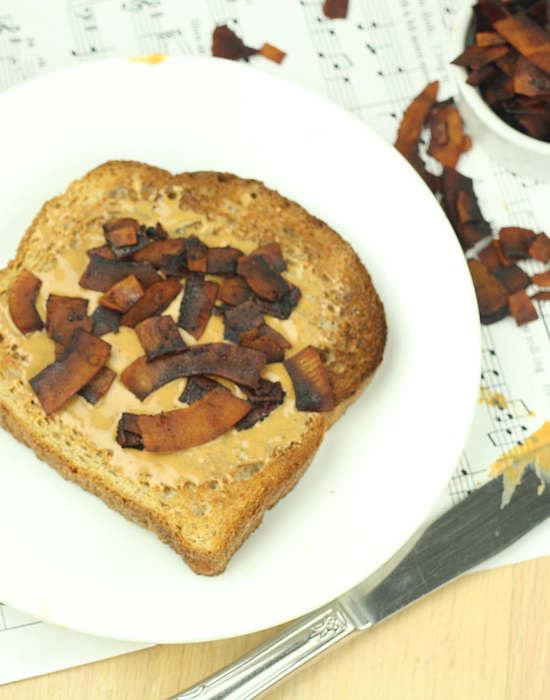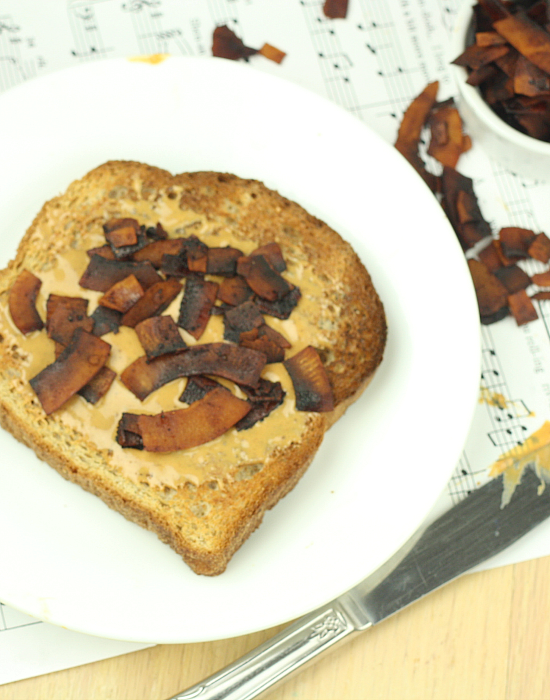 Adapted from Fettle Vegan.
Coconut Vegan Bacon
Ingredients
1 tablespoon liquid aminos
1 teaspoon soy sauce
½ teaspoon chili powder
⅛ teaspoon paprika
2 teaspoons sugar, erythritol, or maple syrup
1 cup unsweetened coconut chips or flakes
Instructions
Preheat oven to 325°F. Line a baking sheet with parchment paper or a silicone mat and set aside.
In a large bowl, stir together the liquid aminos, soy sauce, chili powder, paprika, and sugar or erythritol until completely combined. Stir in the coconut until evenly coated. Spread the coconut mixture onto the prepared baking sheet and bake in the oven at 325°F for about 25 minutes, stirring every five minutes. Let cool. Kept in an airtight container in the fridge, these should last for about two weeks. Use in place of regular bacon bits and devour.
Notes
Nutritional information calculated with erythritol and Trader Joe's coconut chips.
Nutrition Information
Serving size:
1 tablespoon
Calories:
20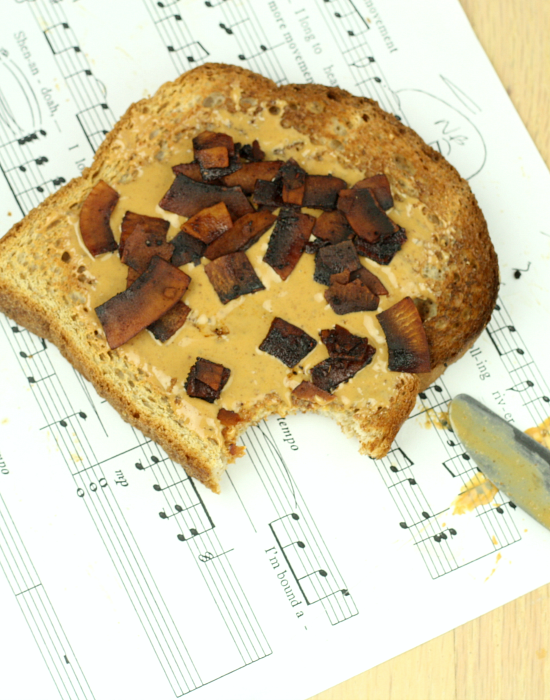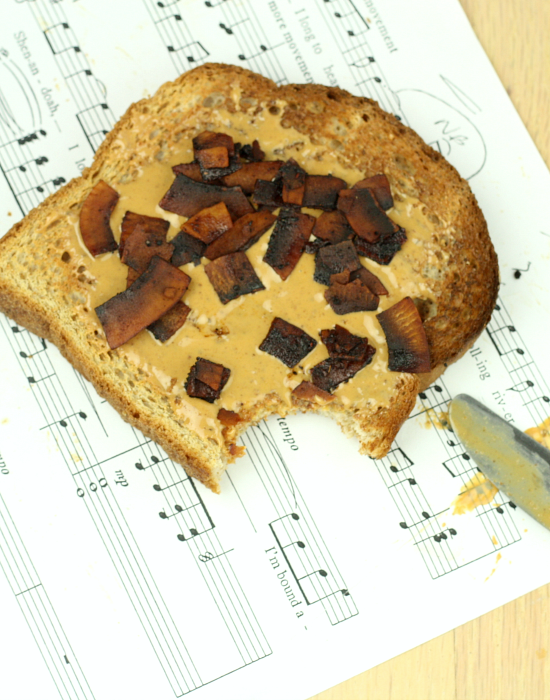 What's your favorite way to eat bacon? How would you like to see me use it?
I see peanut butter banana bacon bread in your future. Oh yes.