What can I say… I'm feeling generous.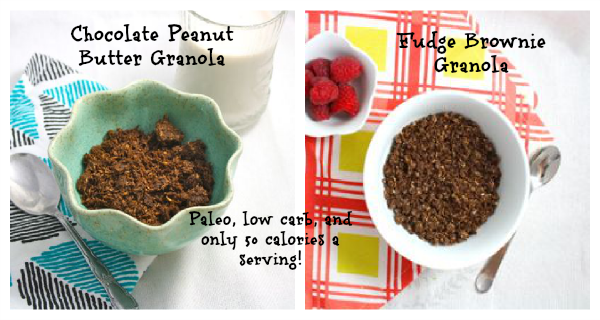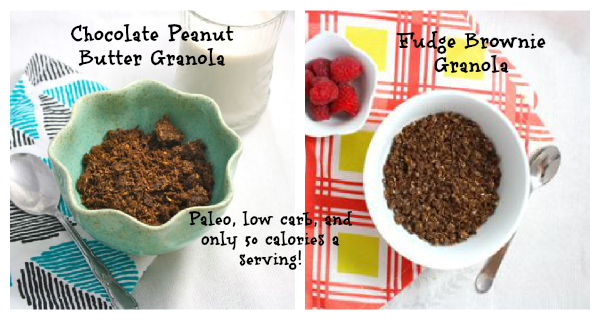 Low carb granola TWO ways. Not one, folks. Two. That's twice as much. (I threw that in for those of you who refuse to do any basic math in a silent rebellion against your tenth grade algebra teacher. I get it. I mean, I'm a ninth grader and everything, but I get it.)
You see, I like fudge brownies. I like peanut butter. I like granola. So you could imagine where I would be all over this. But I need to tell you something. Something uber super secret, 'kay? Come here. Come closer. CLOSER. Okay, you can stop.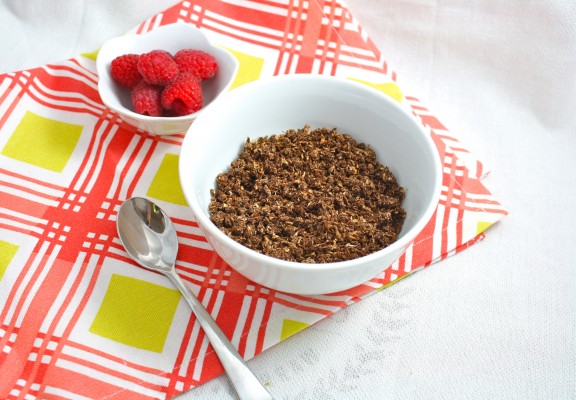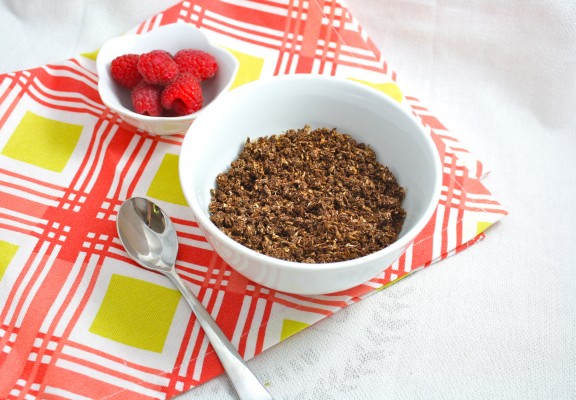 Ready?
Granola is NOT a health food. I know. Deep breaths.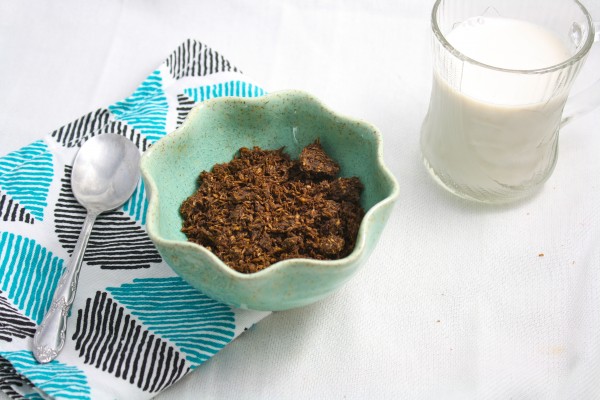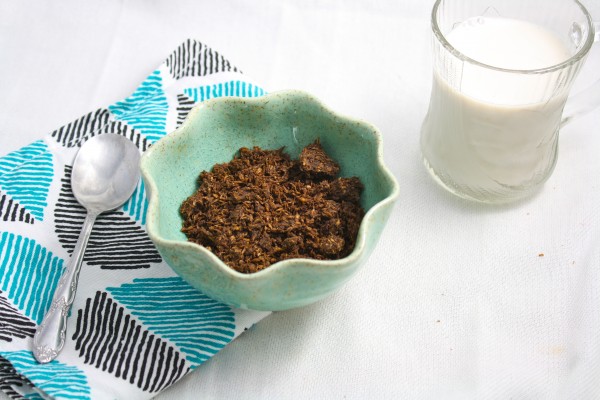 I'm speaking generally here, but as a whole, store-bought granola is a carby, sugary, fatty mess that is not necessarily to be avoided completely, but certainly not sought out as "health" food. Because it's not.
So I'm out to fix all that. With my usual unusually high expectations in mind, I knew I needed my granola to be vegan, gluten and grain free, paleo, sugar free, and low carb. Oh, and less than 150 calories per 1/2 cup. No biggie.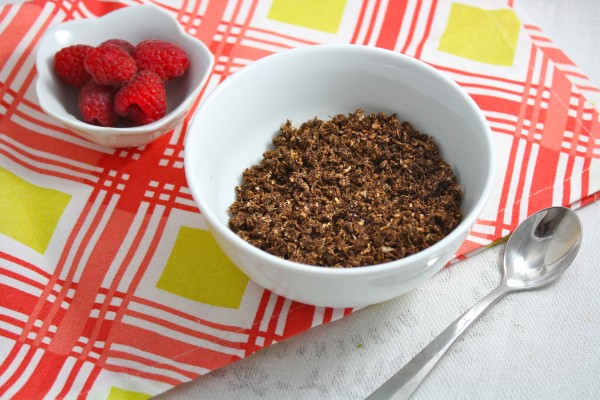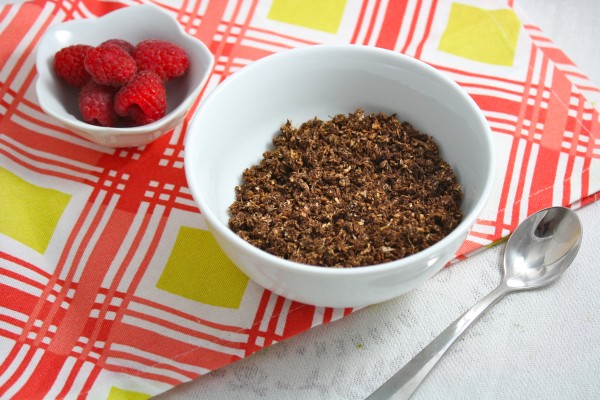 Moral of the story? After I made my first batch, I whipped up another batch in a different flavor just so I had an excuse to stand over the baking sheet and eat copious amounts of my creation without feeling weird. Don't you love a happy ending?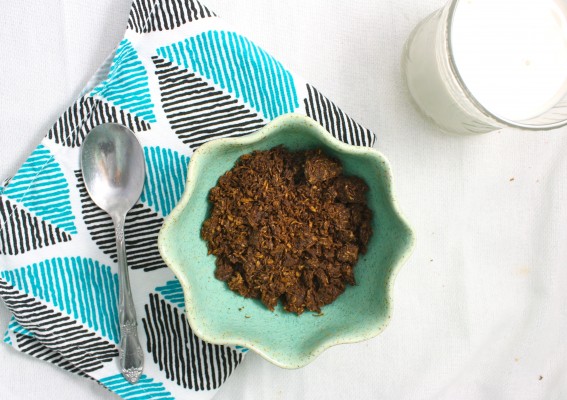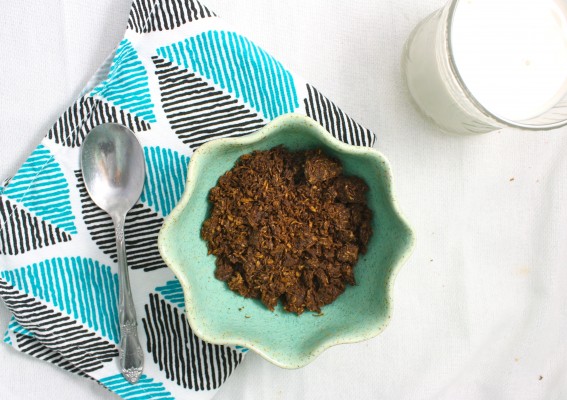 Sound good? Come live in happily ever after with me. (I mean, there's granola there!)
Yield: 2 cups
Fudge Brownie Granola (Vegan/Gluten Free/Grain Free/Paleo/Sugar Free)
10 minPrep Time:
30 minCook Time:
40 minTotal Time:
Ingredients
1 1/2 cups unsweetened shredded coconut (I used reduced fat coconut.)
1/3 cup unsweetened almond milk
1/4 cup unsweetened cocoa powder (Carob is fabulous in this, too.)
1/2 teaspoon liquid stevia (Only use 1/4 teaspoon of stevia if using carob.)
1/2 teaspoon vanilla extract
Instructions
Preheat oven to 350F.
In a pot over medium heat, whisk together almond milk and unsweetened cocoa powder. Stir in the stevia and coconut until completely combined and remove from heat. Spread coconut mixture out on a parchment or silicone mat lined baking sheet, and bake in the oven at 350F for 25-30 minutes, depending on how crunchy you like it. Stir the granola about 15-20 minutes after it has been in the oven. Check pretty frequently in the final minutes of baking to make sure it doesn't burn. Let cool completely before storing in an airtight container. (It will last longer if kept in the fridge.) Remember, the granola will harden a little bit as it cools, but not too much.
7.8.1.2
236
https://www.foodiefiasco.com/low-carb-granola-two-ways-vegangluten-freegrain-freepaleosugar-free/
Nutrition
Please click for the Chocolate Peanut Butter Granola.
Excuse me, it is totally cool to eat dessert for breakfast thankyouverymuch.