I just ate a sundae for breakfast.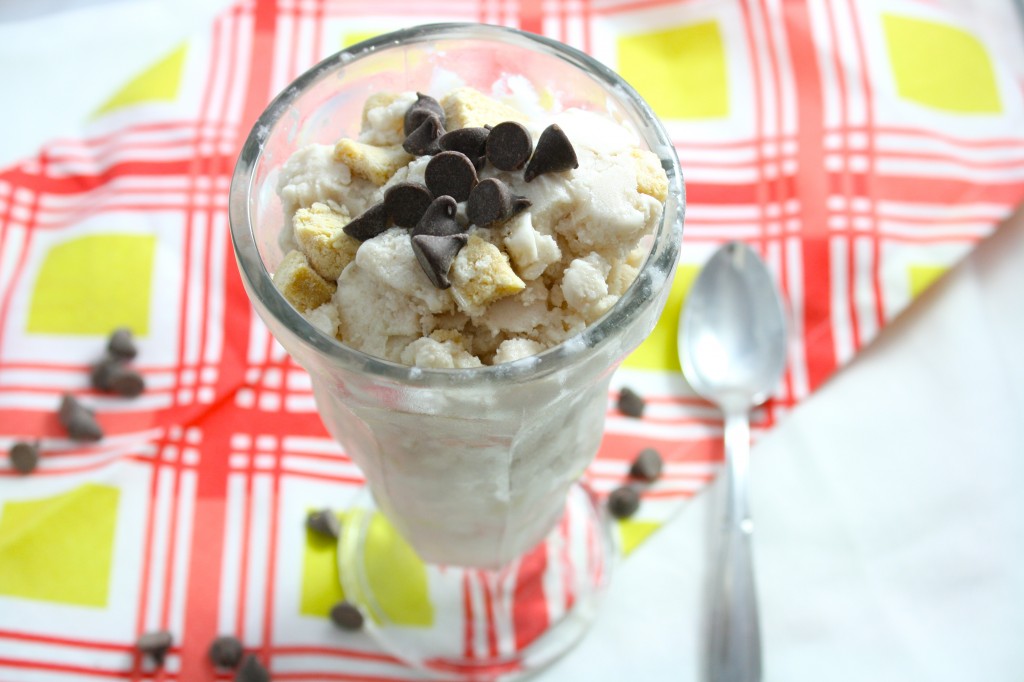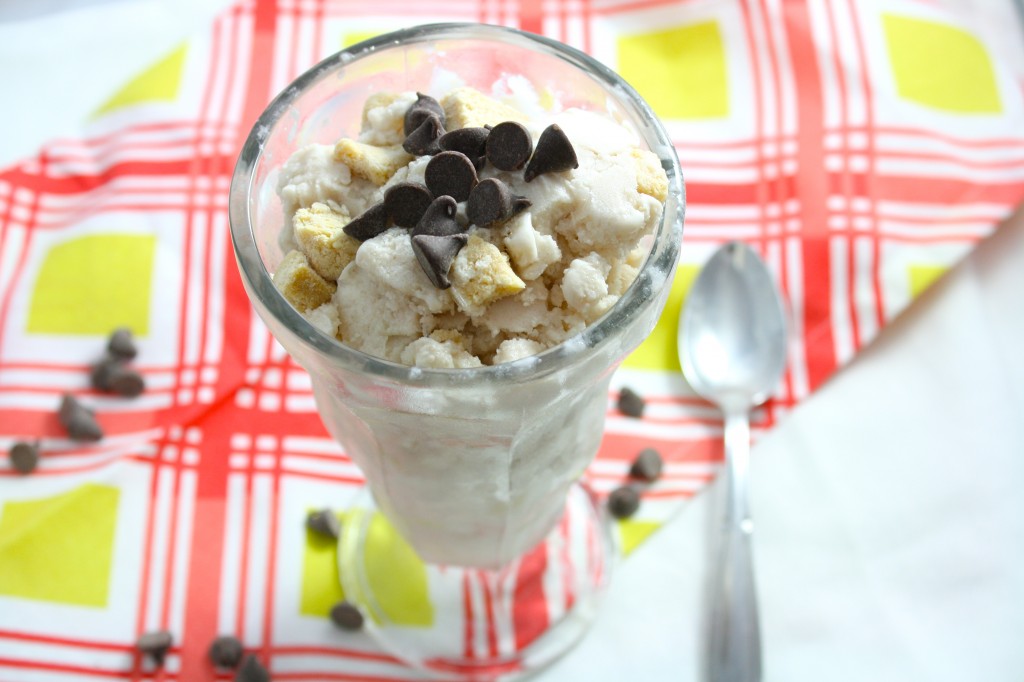 Shamelessly, I might add. Don't judge me. I had two completely legitimate reasons:
Number one: Sunday was my one year blogoversary! (I totally didn't spell that right.) It has been such a wonderful year and I am so grateful for all the amazing people (like you!) that have had the privilege to meet through Foodie Fiasco. This blog is an incredible opportunity, and I love love love blogging, creating recipes, and talking with you! I look forward to many more years filled with exciting things in store for this blog. Totally a sundae-for-breakfast worthy reason, right?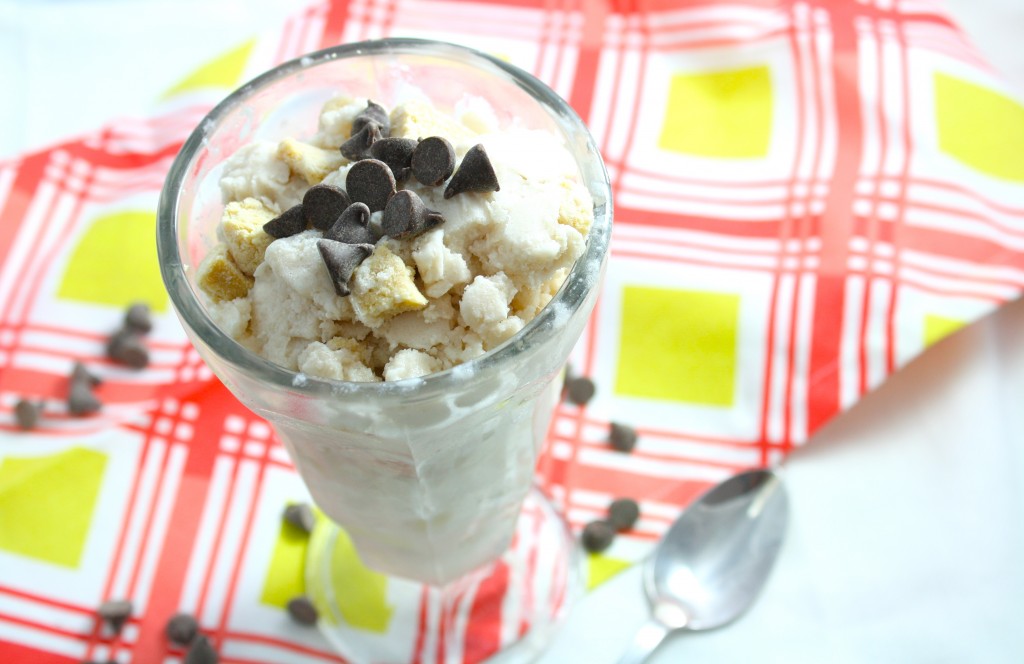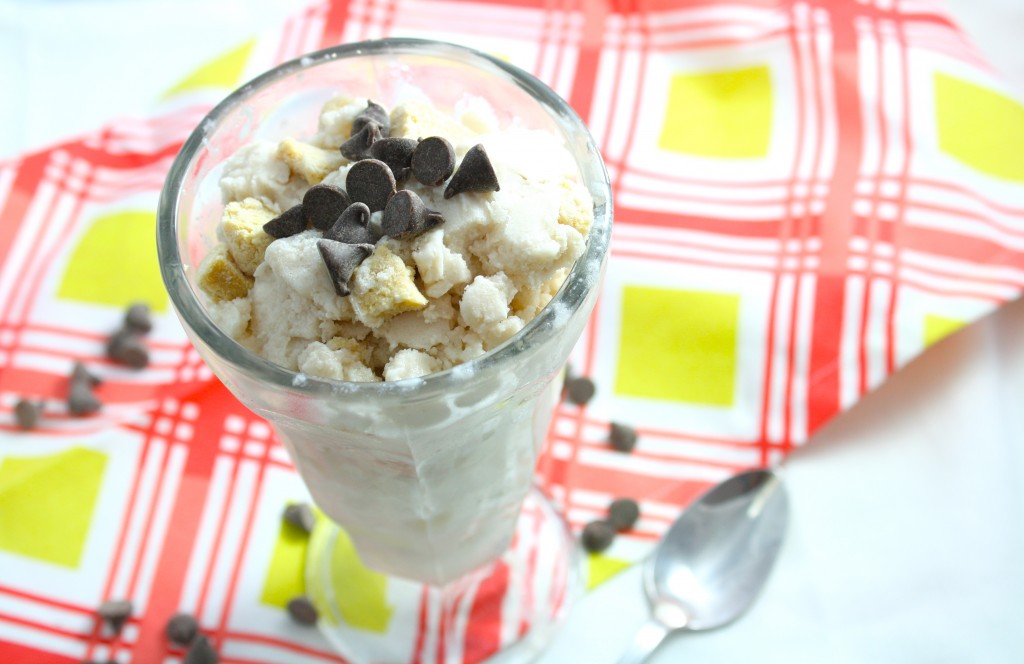 Number two: In case you didn't know, us sadly deprived LAers don't have any Dairy Queens within a reasonable radius. Not one. How I've made it this long in life as a sane individual is a mysterious feat.
But there was a glimmer of hope. Whenever I paid a visit to my lovely Nana in Pennsylvania, I would stuff myself silly with DQ. Cookie dough blizzards, of course. Cookie dough anything is undeniable.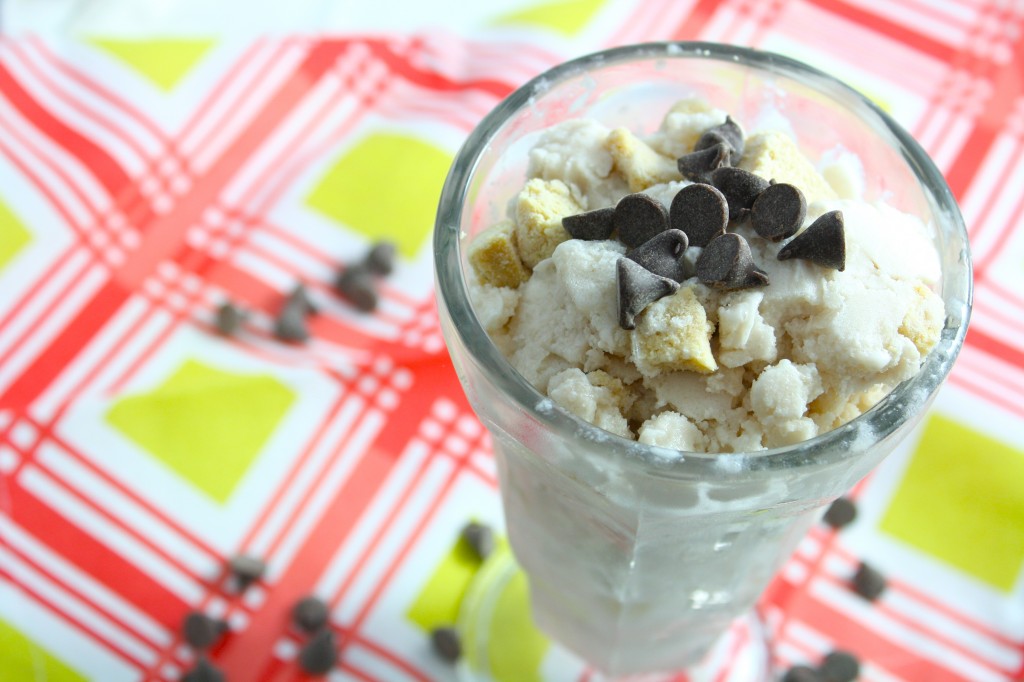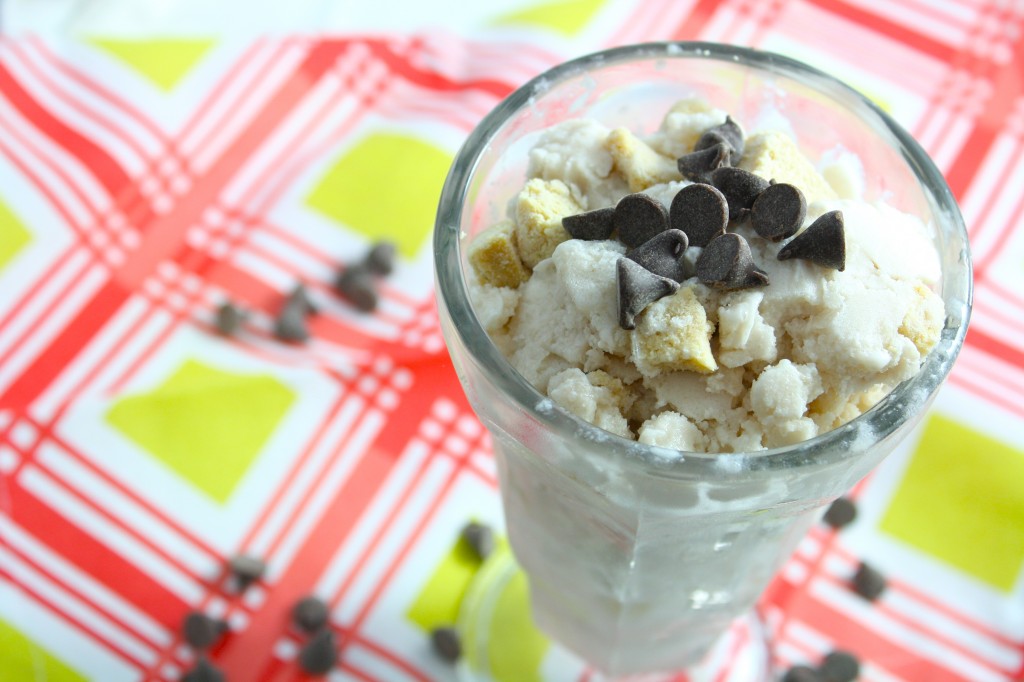 My poor mother would chauffeur me to the neighborhood DQ every other day of the trip (every day, if I was especially convincing). Despite the encroaching stomach ache, I would try to down as much of that cup of sugary glory before I waved my white napkin in defeat. Ahh, memories.
But being the matured individual I am today, I do not partake in said sugary glory. The late night DQ trips while we visit PA are awarded with sugar free fudge bars, and not oversized containers of delicious fat, sugar, and fake grossness. I'm a good girl now. I swore Blizzards off. I was done.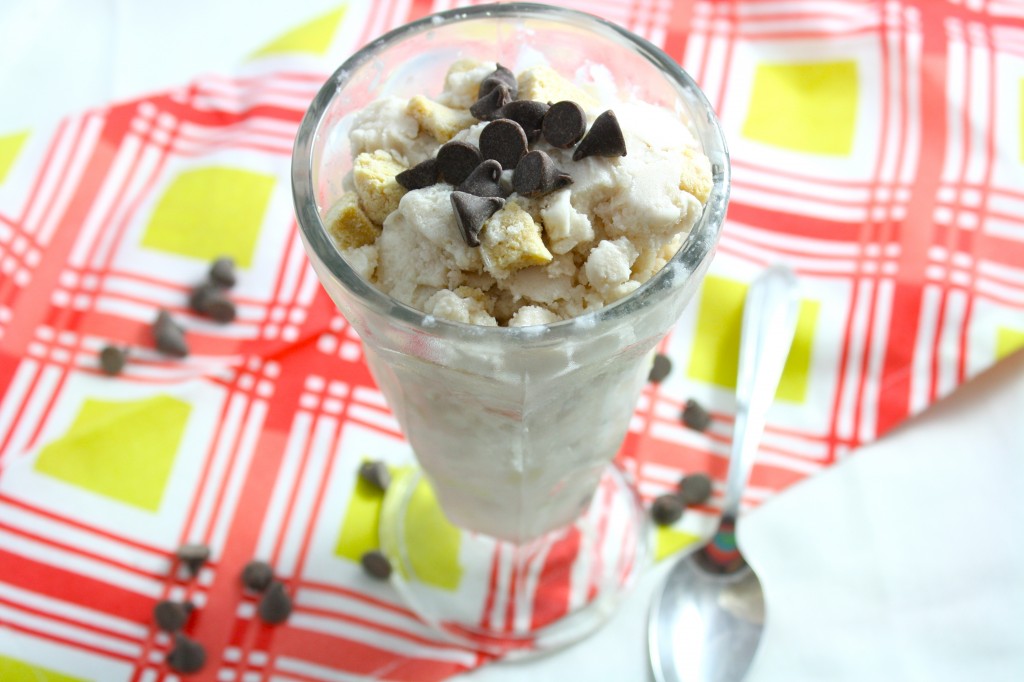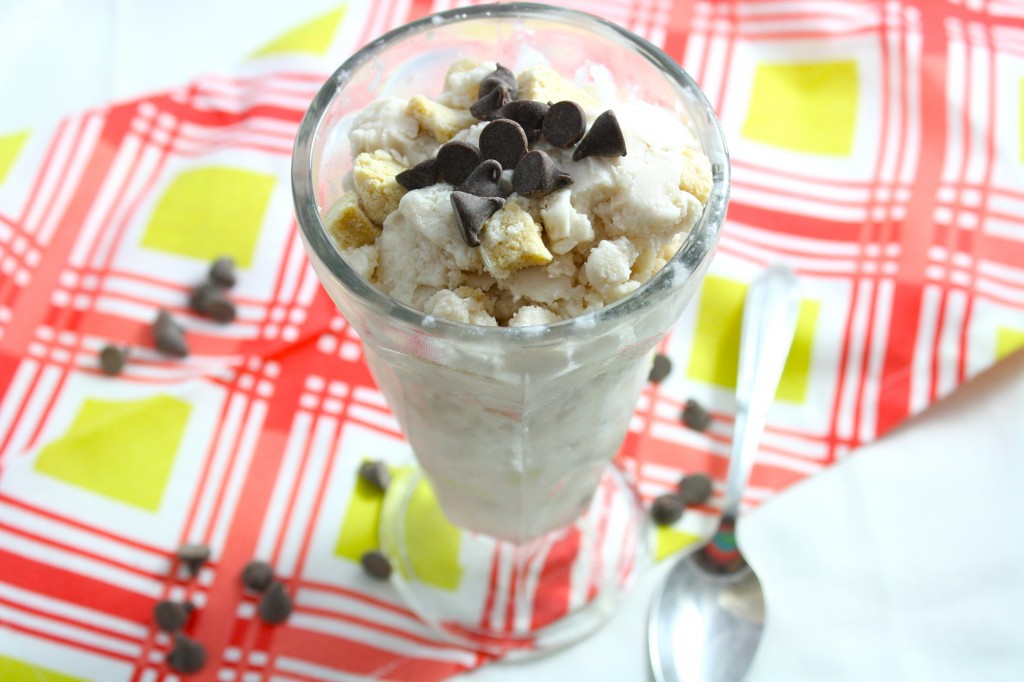 What a stupid decision! I can dig my spoon into DQ themed indulgence whenever I darn well please, thankyouverymuch. No plane ticket or size larger jeans needed! How, you might ask?
I can make them as home! I have an ice cream maker, but I thought it would be easier and would make my non-ice-cream-maker-owning friends happy if I made the ice cream in a blender (namely the Vita-mix) instead. And you know how much I love to make you happy.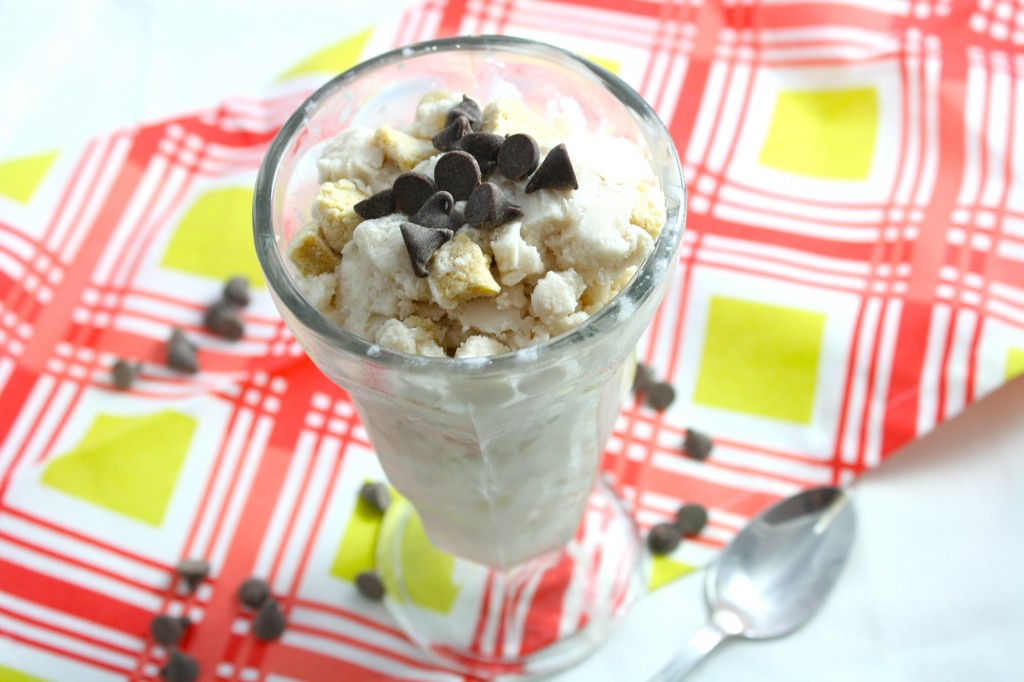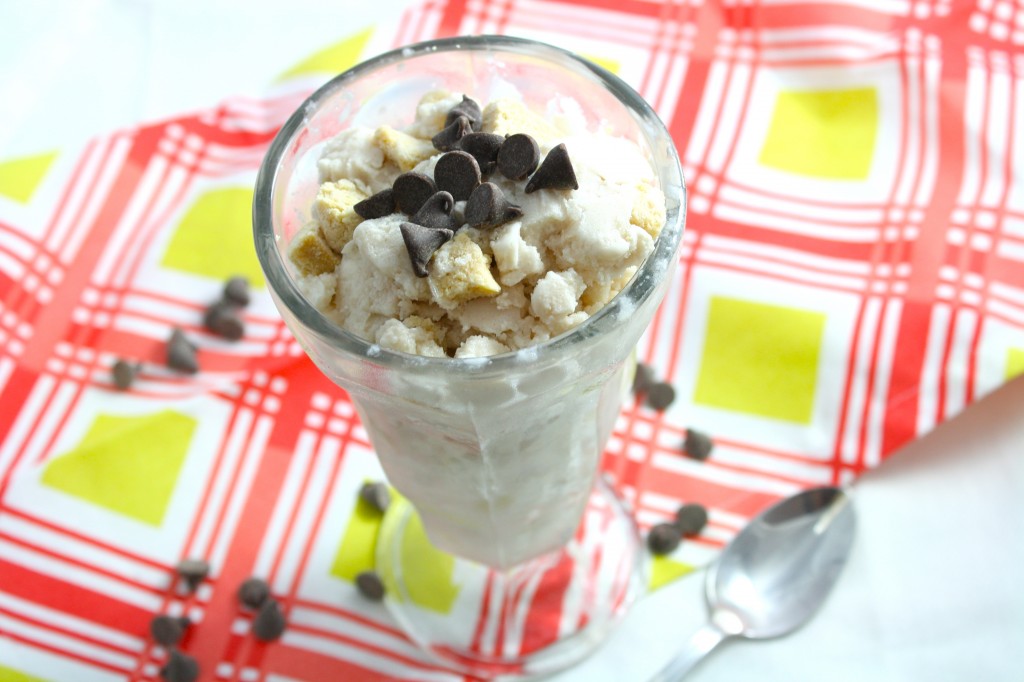 So when it comes to recreating DQ Blizzards, I knew I had to start with my beloved cookie dough, but I hope to take on more flavors soon. You can also eat this "ice cream" plain if you were so inclined.
Plus, my Blizzards are vegan, raw, gluten free, grain free, low carb, low fat, sugar free, cheap, and only 120 calories for a MASSIVE serving.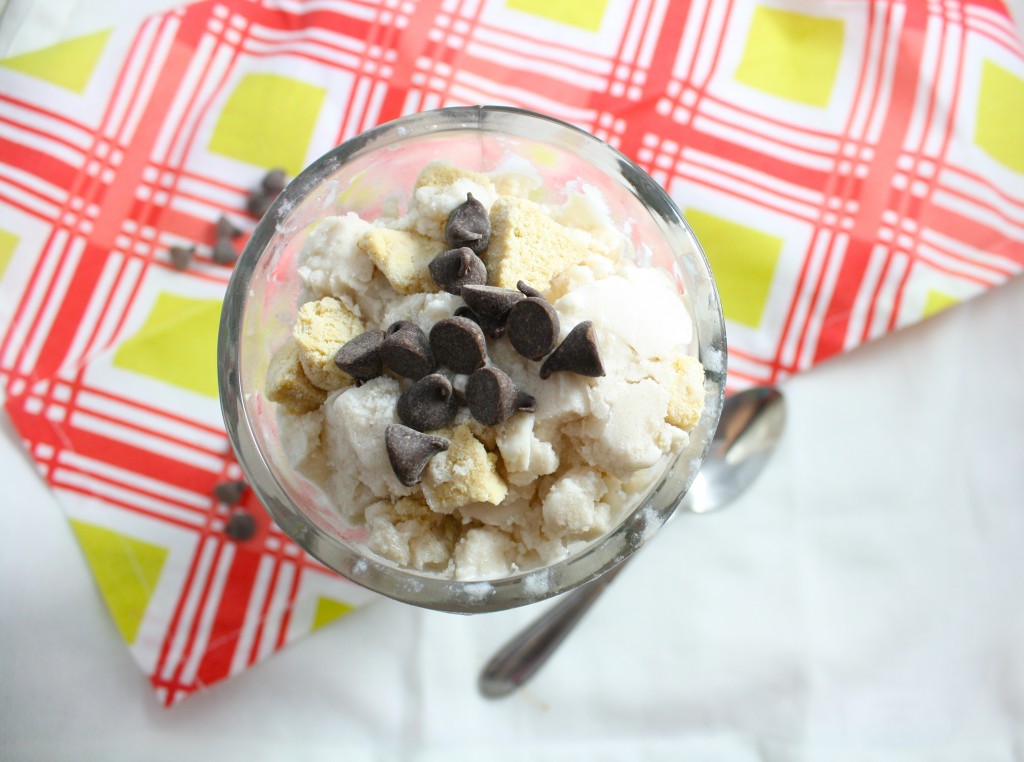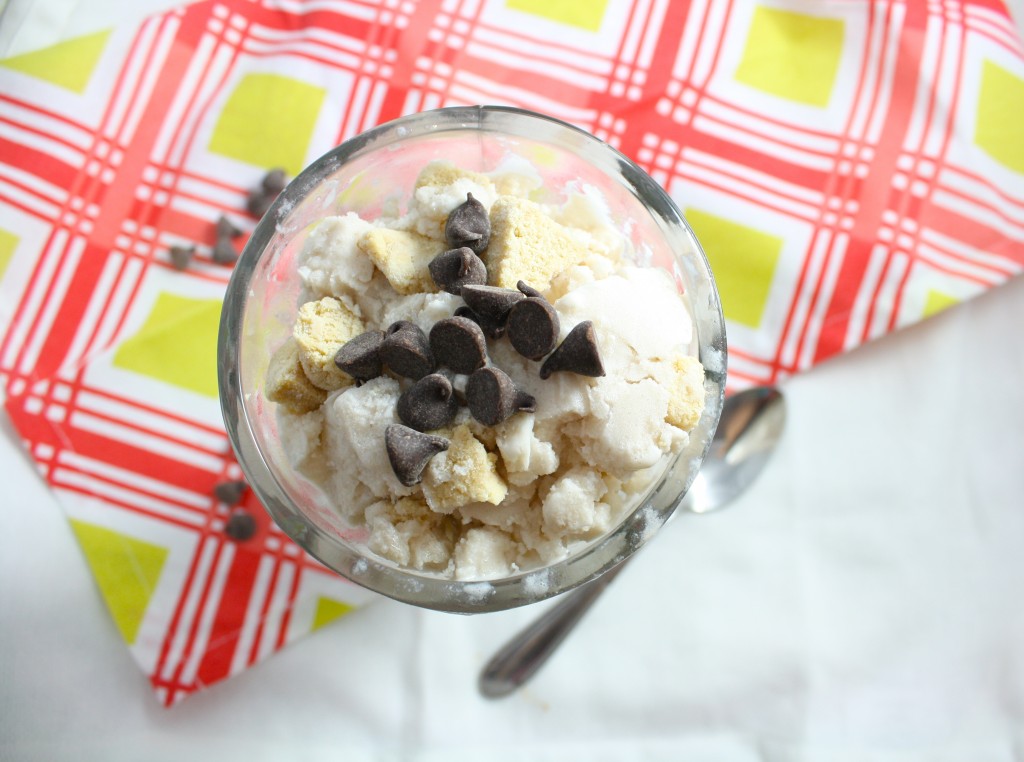 DQ, who?
Homemade DQ Cookie Dough Blizzards
This Blizzard is made up of chunks of my breakfast-friendly cookie dough and a creamy, super low calorie soft serve made in a blender. Just FYI, the soft serve is not off-white because of the vanilla extract, but it is still a very pretty color. 
Adapted from my Cookie Dough Bites for Breakfast and Chocolate Covered Katie
Makes 1 (huge!) serving
Nutritional Comparison
Dairy Queen Chocolate Chip Cookie Dough Blizzard
Calories: 720
Fat: 28 grams
vs.
Homemade DQ Cookie Dough Blizzard
(Calculated with applesauce without chocolate chips)
Calories: 120
Fat: ~5.25 grams
Ingredients
For soft serve:
1 1/2 cups almond milk
1 1/2 teaspoons vanilla extract
sweetener to taste (I used 20 drops of stevia.)
For cookie dough:
2 Tablespoons coconut flour
2 Tablespoon mashed banana or applesauce (I prefer banana. Personally, I think applesauce gives them too much of an apple-y taste. That's just me.)
pinch salt
stevia or other sweetener, to taste (I used one packet of stevia)
3 Tablespoon almond milk, or milk of choice
chocolate chips, chopped
Directions
Combine all the ingredients for the soft serve. Pour into an ice cube tray (or other plastic container) and stick it in the freezer until it is completely firmed up and frozen.
Meanwhile, In a small bowl, mix coconut flour salt. Add in mashed banana or applesauce and stir. Add in almond milk, one tablespoon at a time, until fully incorporated. Stir in chopped chocolate chips. Roll the cookie dough into a log using your hands, and cut into cute little pieces. Refrigerate or freeze until ready to use.
Once the almond milk mixture is frozen, blend in a high-powered blender (go Vita!) or food processor until it somwhat resembles powdered ice. Just don't over-blend, or it will melt. Stir in the cookie dough pieces, serve with an ice cream scoop, and enjoy!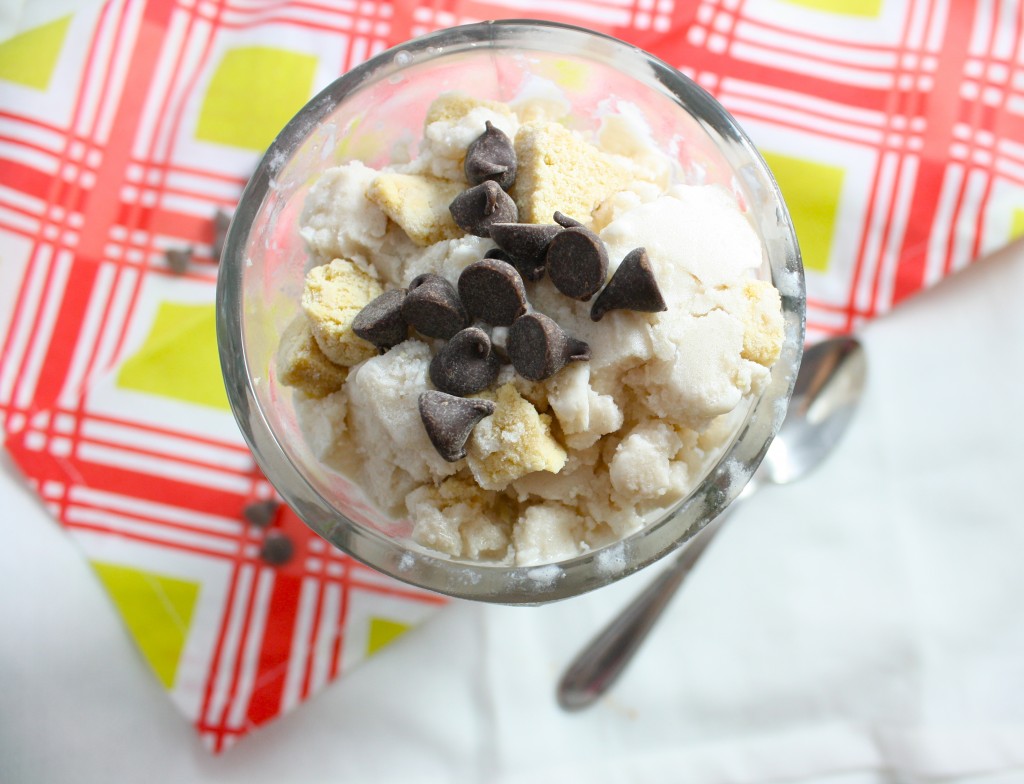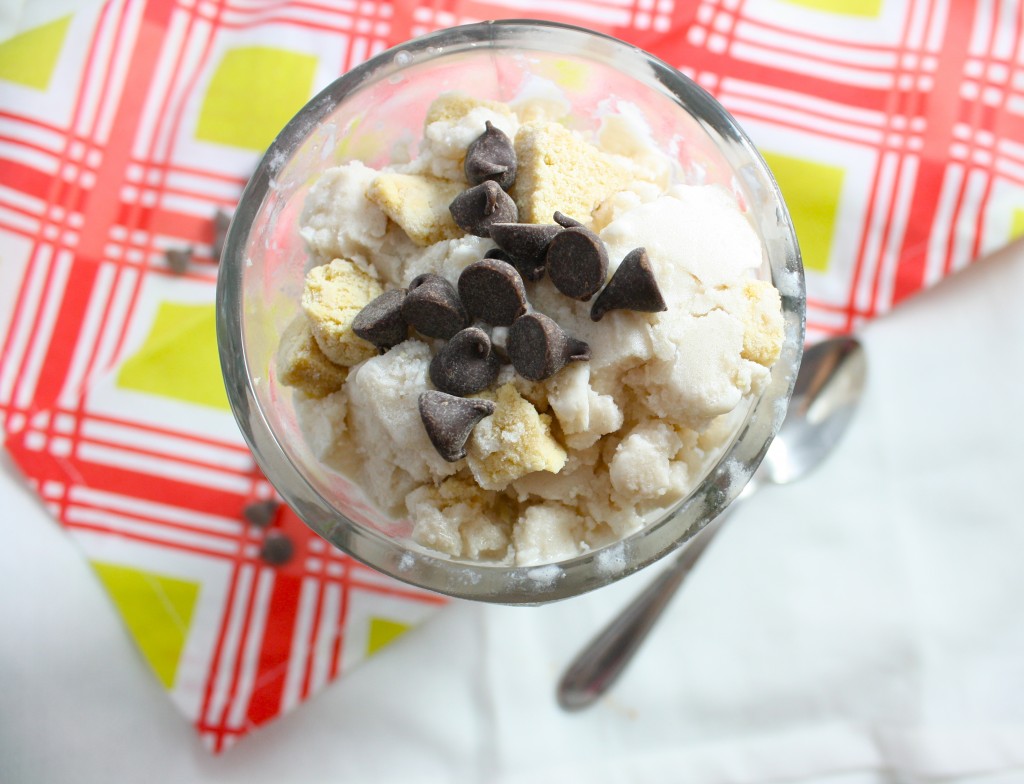 There's a Blizzard calling your name and you're still sitting here. Hmm.
Enjoy!
-Kelly M.