It's amazing how some of the most ridiculously delicious foods are the most ridiculously unphotogenic.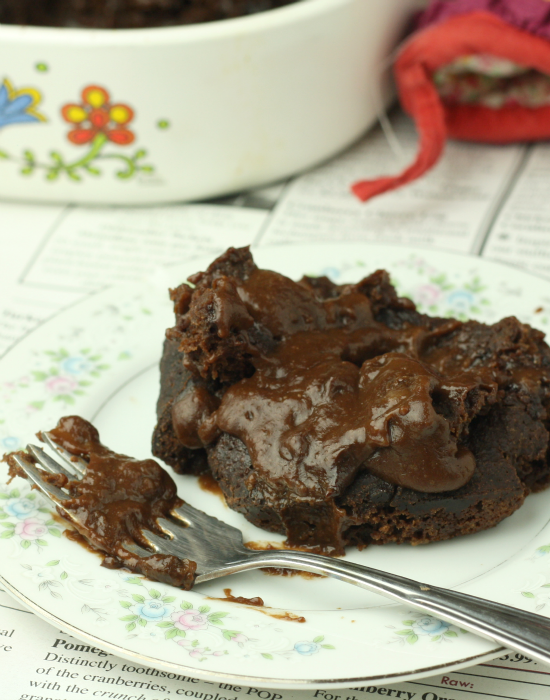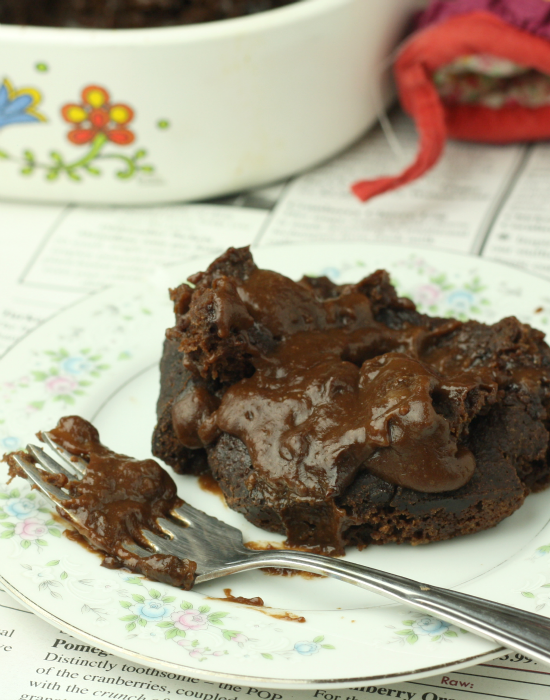 I tried. I really did.
Apparently gooey + chocolate + pudding = insanely fun to eat/not as fun to photograph. As long as you're not one of those people who have the audacity to take pictures of food before they eat it, you're fine.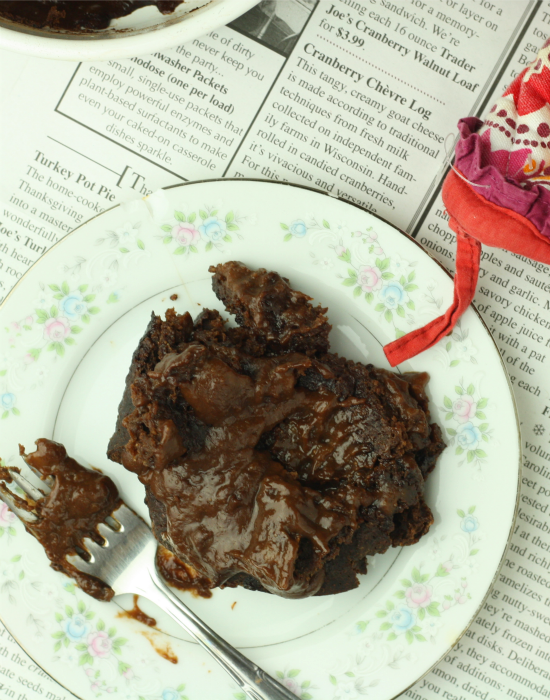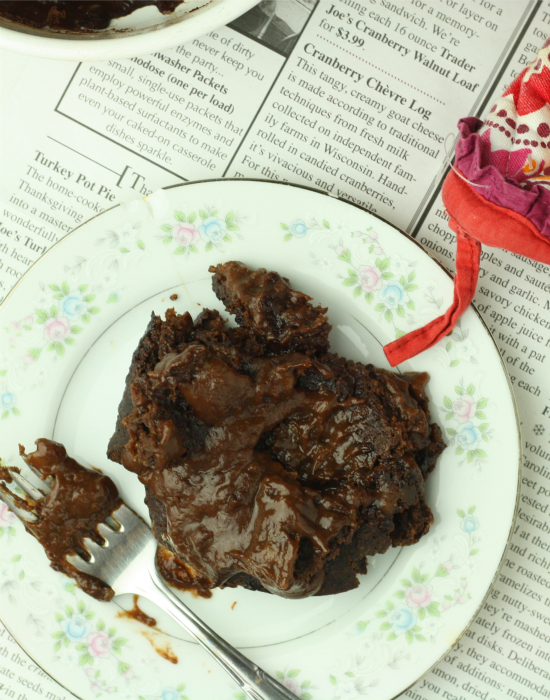 Oh. Wait.
I say this as I'm holding a camer… never mind. Let's get back to that insanely delicious part.
Once upon time there was a beautiful girl who had recently emerged from the dark ages (i.e. discovered/began hoarding the Food Network). There was this pretty blonde lady who was making a chocolate pudding cake in the magic talking television box.
Hmm. Pretty. Chocolate. Cake. This all sounds rather promising.
Now of course there was severe destruct-, I mean, some re-imagination of the recipe done by my extremely adorable 13 year old self. Cocoa powder is totally interchangeable with cocoa mix, right? Right?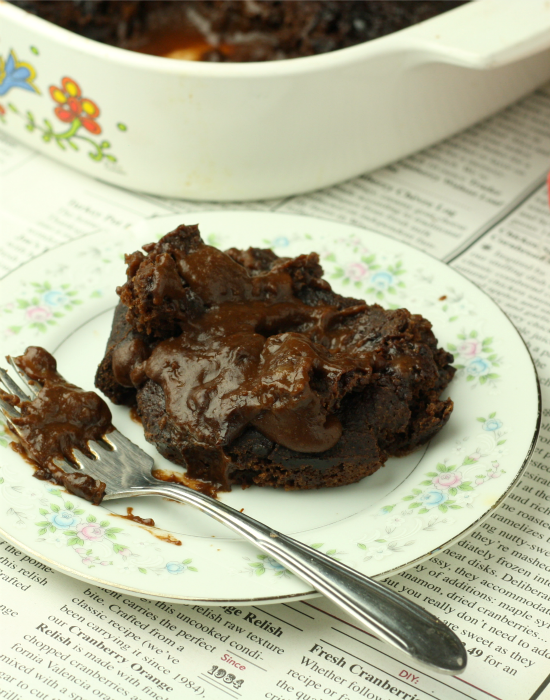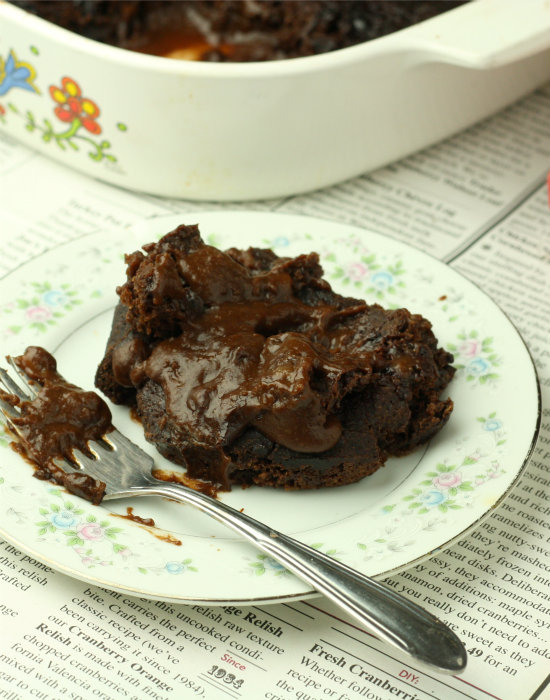 I'm sure that's a silence of affirmation. After all, I am a teenager and teenagers know everything all the time always.
Therefore when I tell you how spectacular this cake is, you have to believe me. It's sweet but not too sweet, perfectly chocolatey, with this pudding cakey texture that is simply amazing. The cake is soft yet sturdy, and, in the baking process, it manages to make its own wonderful chocolate caramel-like sauce that just oozes rainbows and smiles and unicorns.
You're on board. I can tell.
Stir together all the ingredients so they get nice and friendly.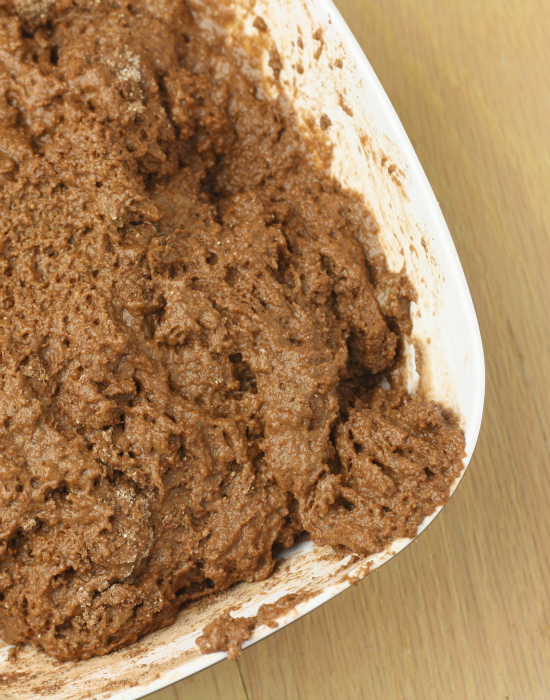 Butter up the baking dish and spread out the batter all smooth like.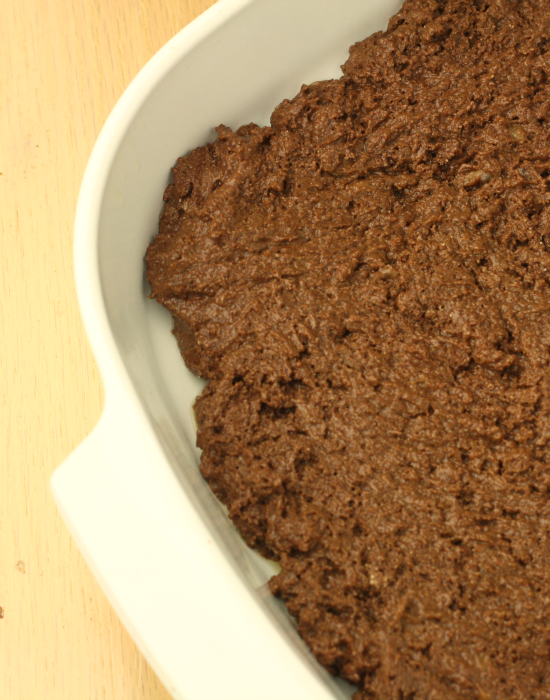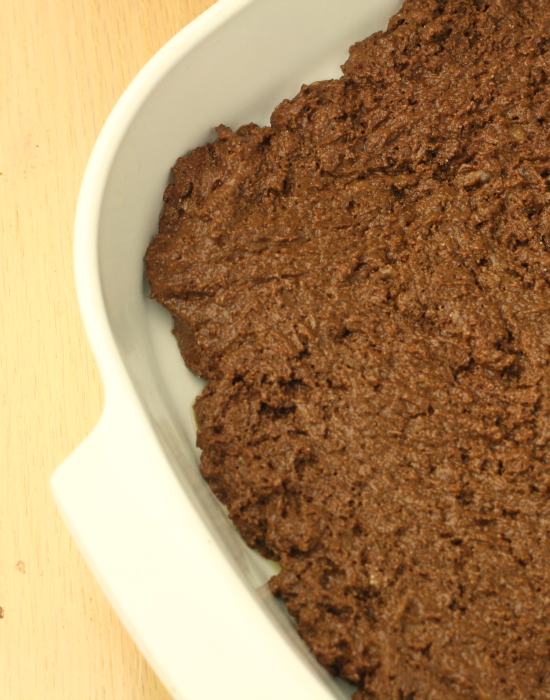 Now get your spoonfuls of sugar and mix 'em all up. Sprinkle evenly over your cake. Extra points awarded for (attempted) action shots.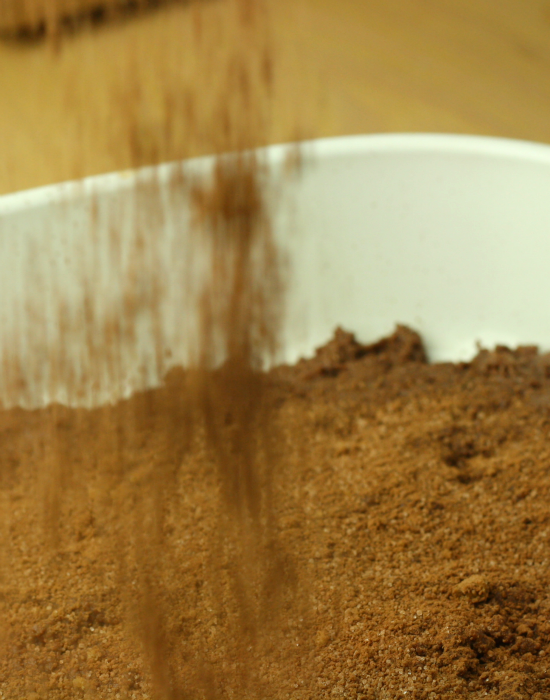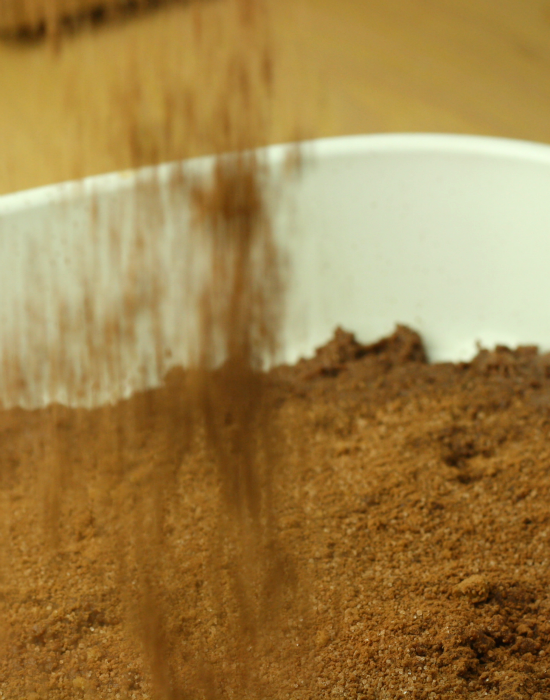 This is where we get funky. Take a vat of hot water and just dump it all over everything. I know it will look moderately swampy, but that's okay. Remember: it's always swampiest before the dawn.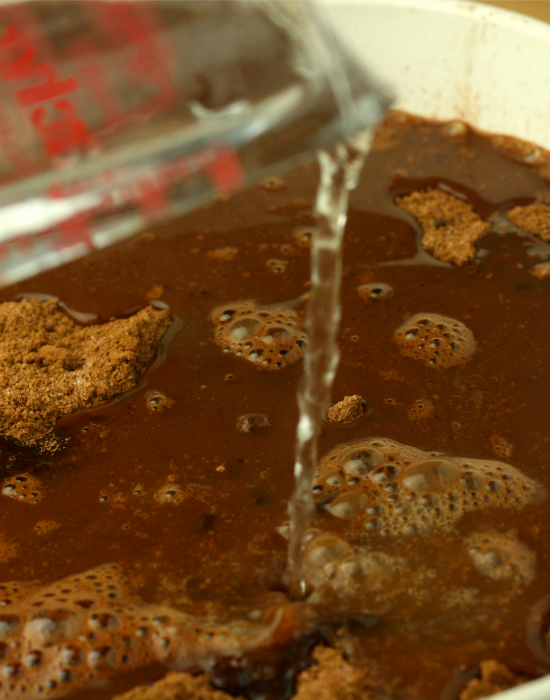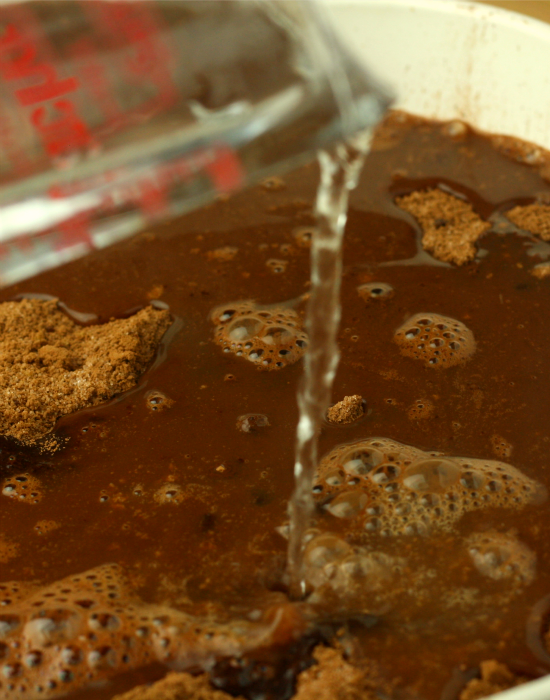 Behold the dawn. Dawn tastes like cake. Really, really awesome cake.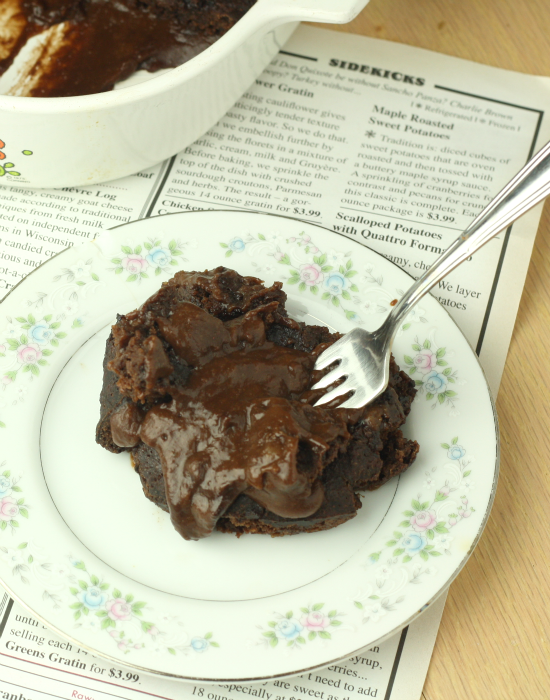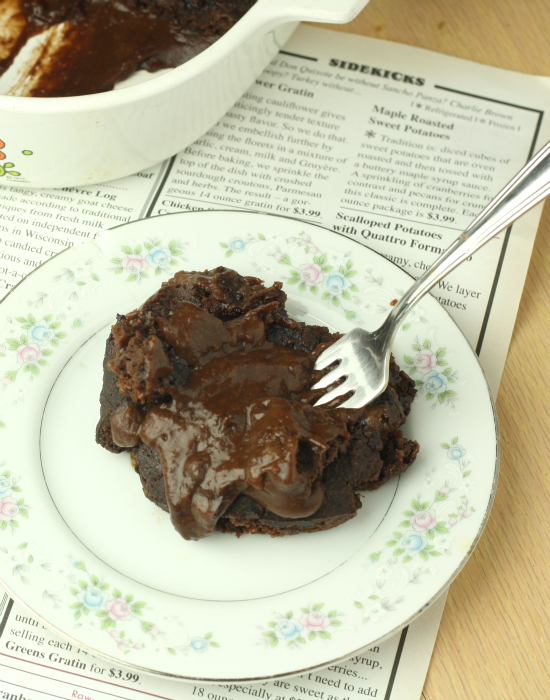 Dedicated with love to Kammie. You rock girl, and I so appraciate everything you do. Thank you very much for your kindess, your talent, and your overall amazingness.
Based on Anne Thorton's Gooey Chocolate Pudding Cake
Yield: 9 servings
Gooey Chocolate Pudding Cake (Vegan/Gluten Free/Low Calorie)
10 minPrep Time:
30 minCook Time:
40 minTotal Time:
Ingredients
For cake:

½ cup cane sugar or erythritol
1 cup white whole wheat or almond flour
¼ cup cocoa powder
2 teaspoons baking powder
¼ teaspoon sea salt
½ cup unsweetened almond milk
1/3 cup applesauce
1 1/2 teaspoons vanilla extract

For sauce:

1/3 cup cane sugar or erythritol
1/3 cup brown sugar or erythritol plus ½ teaspoon molasses
¼ cup cocoa powder
1 ¼ cups hot water
Instructions
Preheat oven to 350°F. Spray an 8x8 baking dish with cooking spray and set aside.
To make the cake, combine the cane sugar or erythritol, flour, cocoa powder, baking powder, and sea salt in a large bowl. Add in the almond milk, applesauce, and vanilla extract and stir until completely combined. Spread the mixture into the prepared baking dish and smooth out the top with an offset spatula or a spoon. Set aside.
For the sauce, combine the can sugar or erythritol, brown sugar or erythritol plus molasses, and cocoa powder in a medium bowl. Sprinkle evenly over the batter. Pour the hot water over the batter. Do not stir the water in! I know it looks weird, but it's okay. It's all going to be okay.
Bake in the oven at 350°F for about 30 minutes. It should resemble an undercooked brownie. Let cool for at least 15 minutes. When serving, spoon the sauce from the bottom of the pan over the cake. Devour.
Notes
For a paleo version, use almond flour and erythritol.
Feel free to substitute any milk for the unsweetened almond milk.
The nutritional information was calculated with white whole wheat flour and erythritol.
7.8.1.2
270
https://www.foodiefiasco.com/gooey-chocolate-pudding-cake/
Nutrition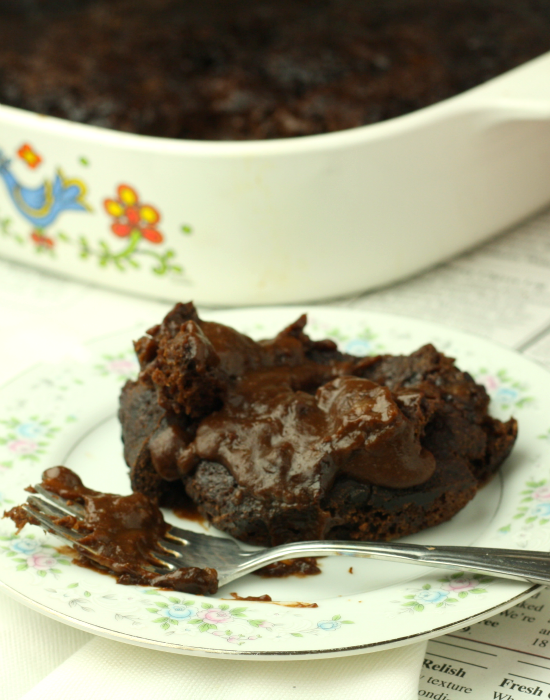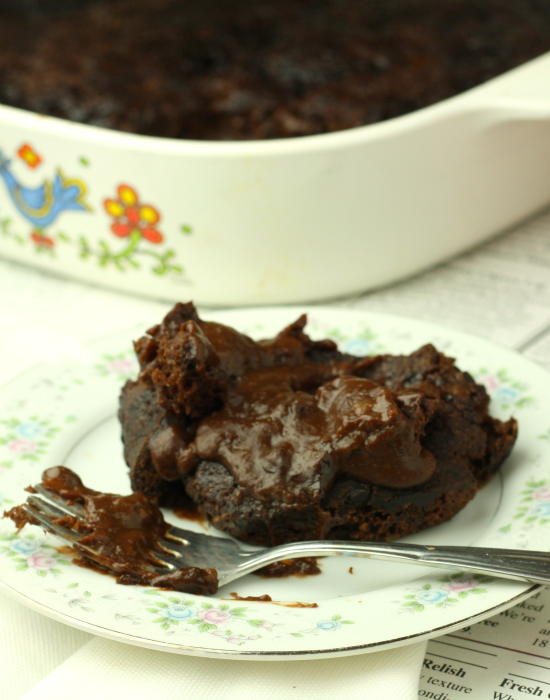 Go forth and spread the news of pudding cake!