Thank you for helping me keep the lights on! The following post is sponsored by FitFluential LLC on behalf of Lorna Jane.
Say hello to the breakfast of champions!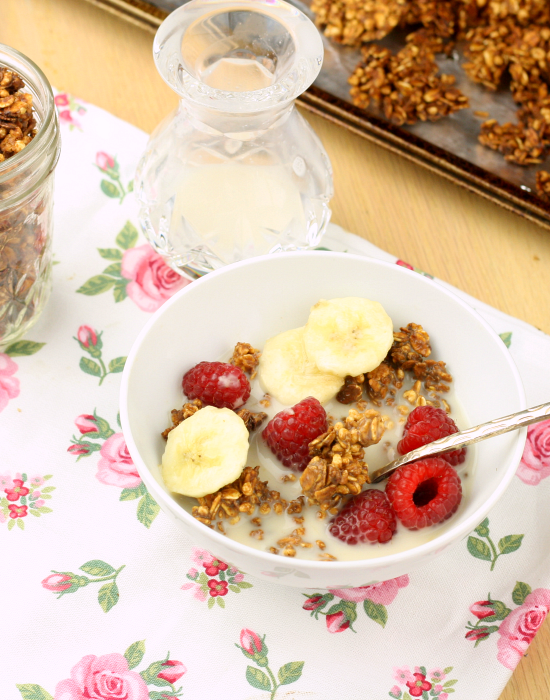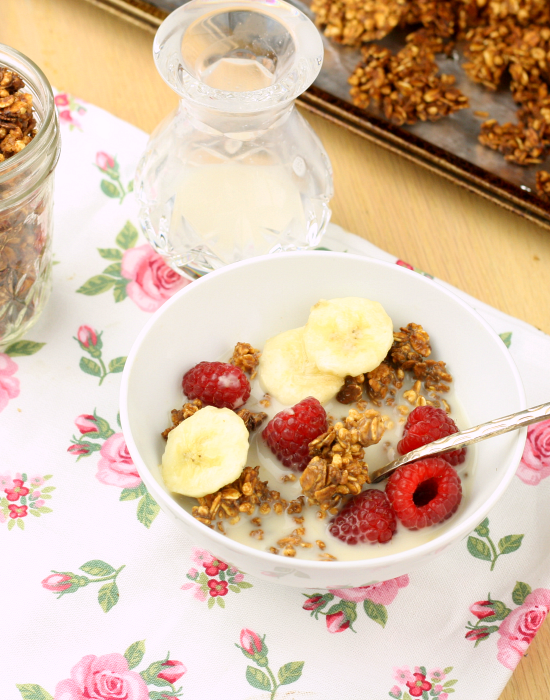 I know the whole 'new year new me' thing has been thoroughly beaten to death, but I'm really trying to feel it. Even if I drink too much coffee or post a day later than I planned, it's all about getting back on the band wagon. Show yourself some love!
Now this granola. AAH. I love it. I've been after the perfect crunchy breakfast concoction  for years, tweaking and tweaking until it's just right. And this, my friends, is juuust right.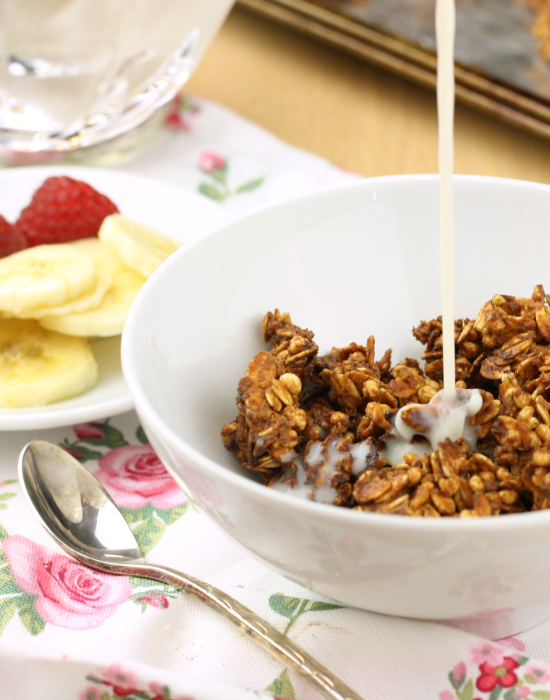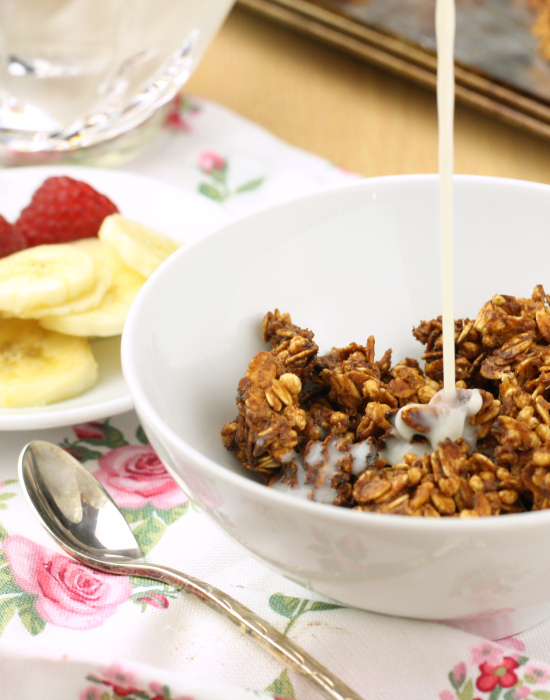 Celebratory action shot!
I've also been trying to demonstrate a healthy amount of self-control in the hallowed aisles of Trader Joe's, the site of many an impulse buy. Sound familiar? Of course not. Me neither! I have no idea how that puffed millet got into my pantry.
This granola recipe is perfect for using up all the products of those, er, creative purchases. There's a ton of room for imagination here, as you know this champion granola will turn out fantastic every time!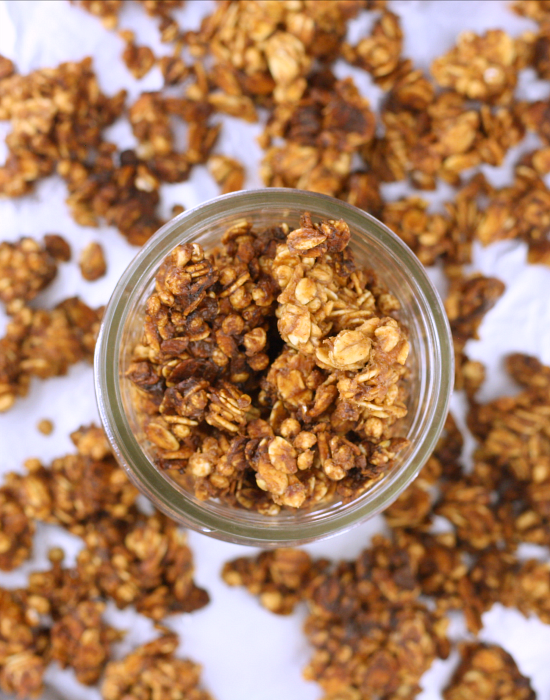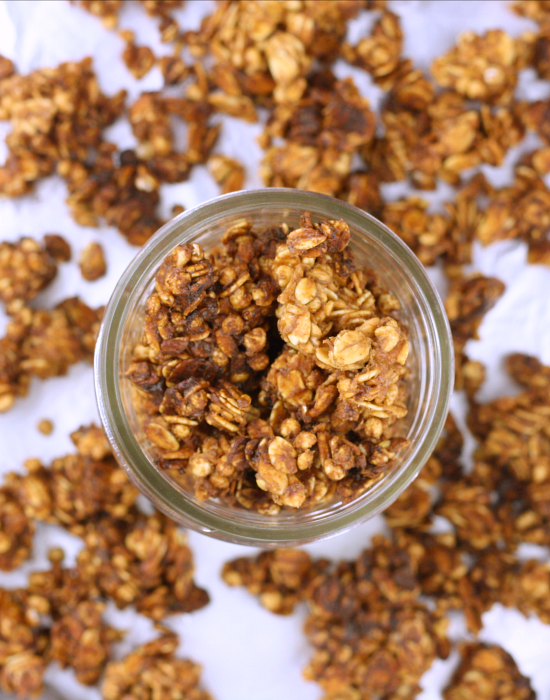 As for workouts, I've been pulling my weight. (Tee hee.)
I am very guilty of exercising in pajamas, so let me take a moment to choreograph an interpretive dance of appreciation for Lorna Jane. I've had the pleasure of modeling their fantastic stuff before, but the fabulous folks over at LJ hit me up with some New Year's swag so I don't look like a hobo while trying to be fit.
My yoga class is especially grateful.
The shirt is soft and relaxed while accentuating your fabulous figure, and Lorna Jane's miracle pants are miraculously comfortable while working wonders for our legs. #ifyouknowwhatImean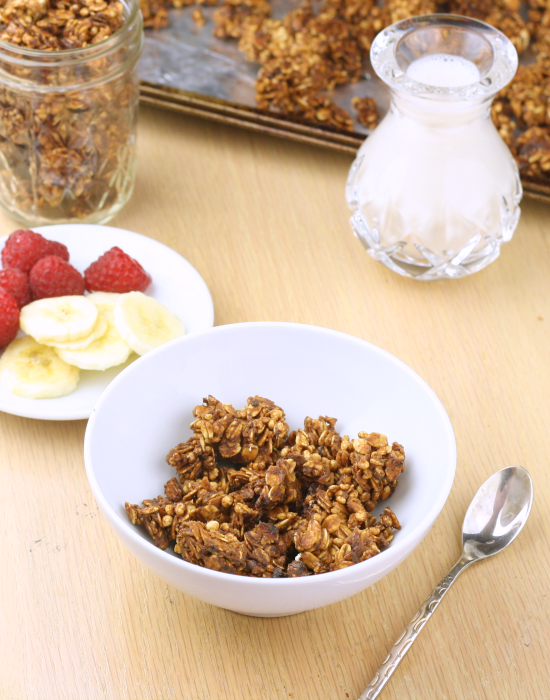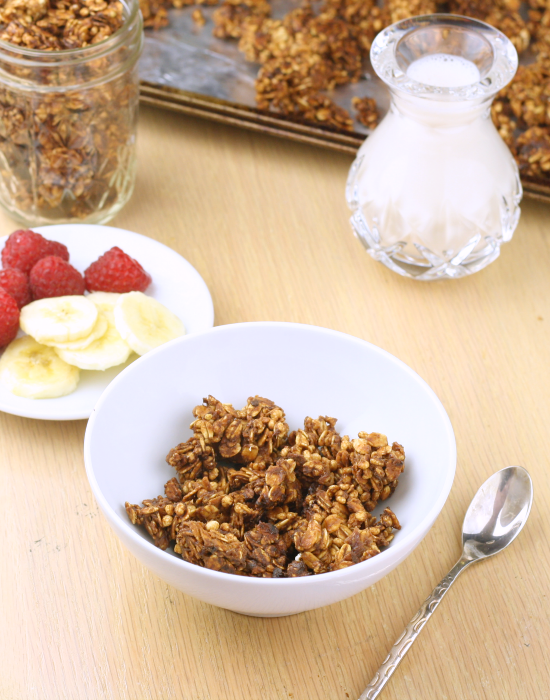 Anyway, I just thought I would share with you how much I adore this brand. In a day and age where soulless corporations rule, I am so happy to spread the love to this company that churns out quality stuff while legitimately caring about their customers.
I have been treated so well by everyone with whom I have communicated at Lorna Jane, their clothes are top-notch (and they come up with new styles all the time!), and they even have a free healthy food ebook. I'm kind of in love.
Alright. PSA over. Let's talk granola.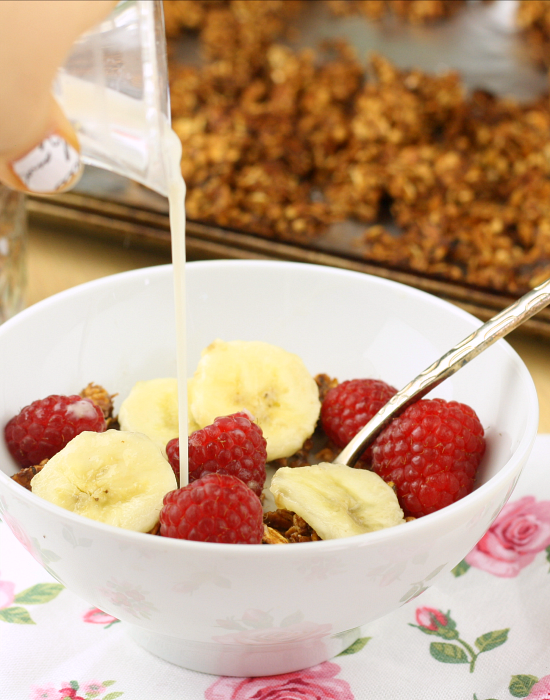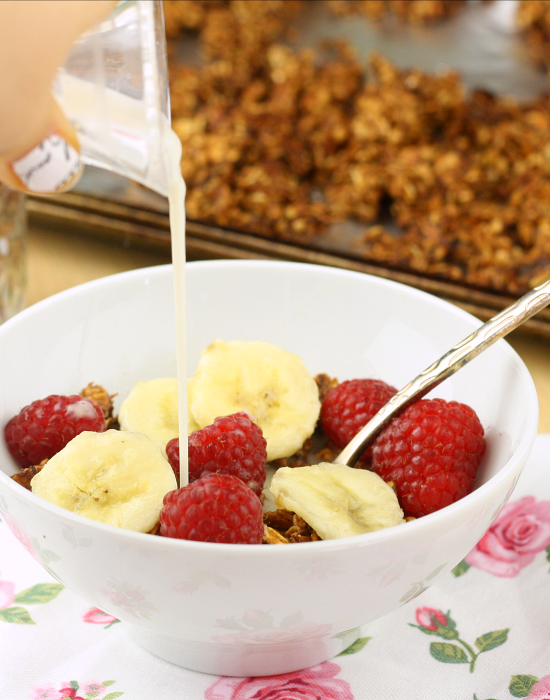 The beauty of this recipe is not only how drop dead delicious and rise n' shine healthy is it, but how much you can make it your own.
Start with peanut butter, almond butter (really any kind of nut butter), vegan butter, or good ol' Paula-Dean-verified butter.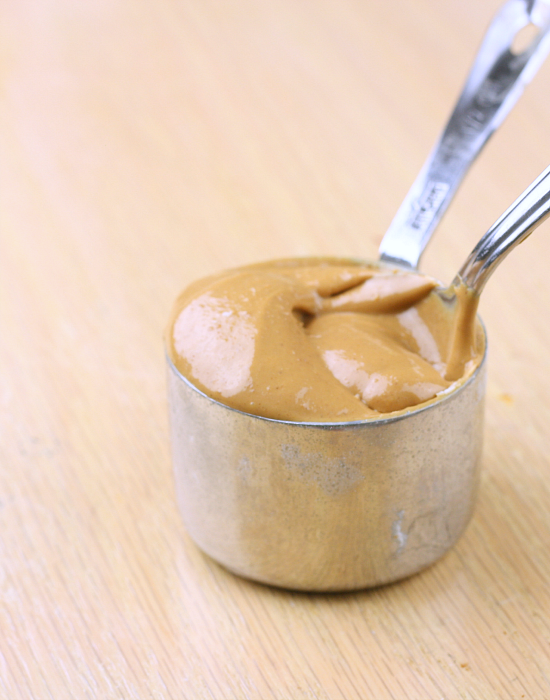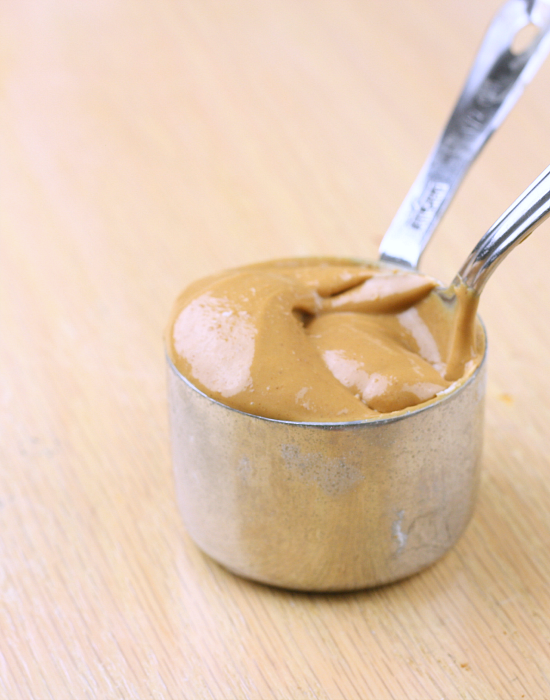 But you know my heart belongs to the peanut.
Next you're going to make this caramel-y base of happiness with either mashed banana, applesauce, oil, or even pumpkin! Then add in your sweetener and milk of choice along with some vanilla and salt, or any flavorings of your liking.
Now you can go crazy with the add-ins. Start with oats (or flaked coconut, for my grain free/low carb friends), and then add whatever extras your heart desires. I used that puffed millet I didn't buy on impulse.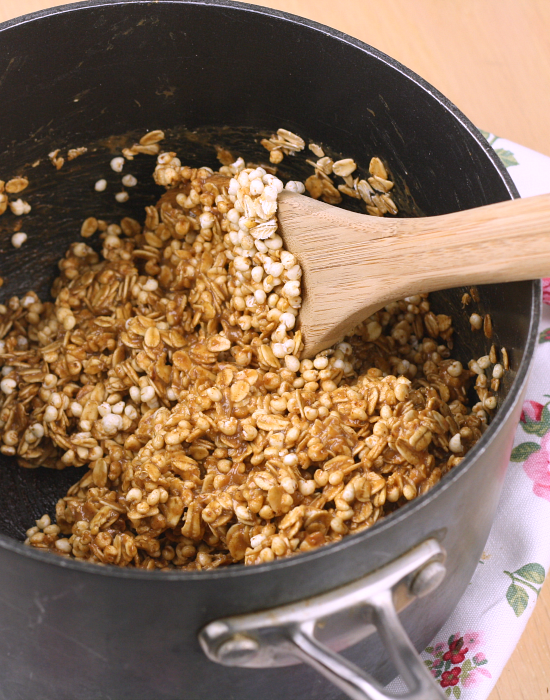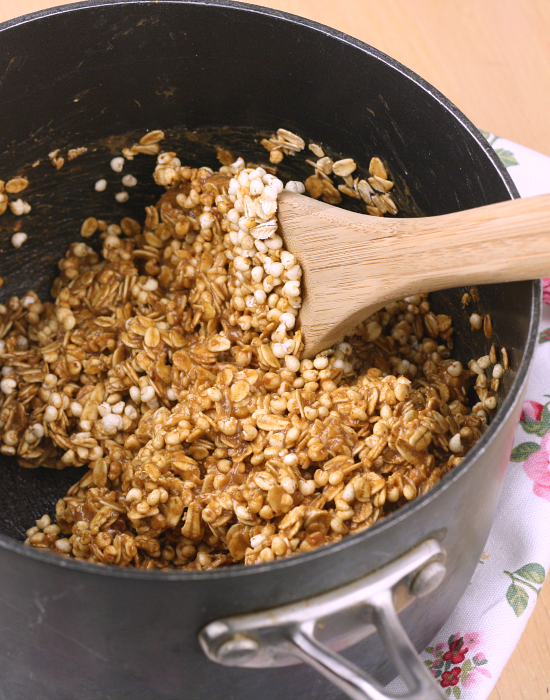 Spread it onto a sheet and poke it with a spoon. You can even choose the size of the granola clumps you want by breaking it up accordingly!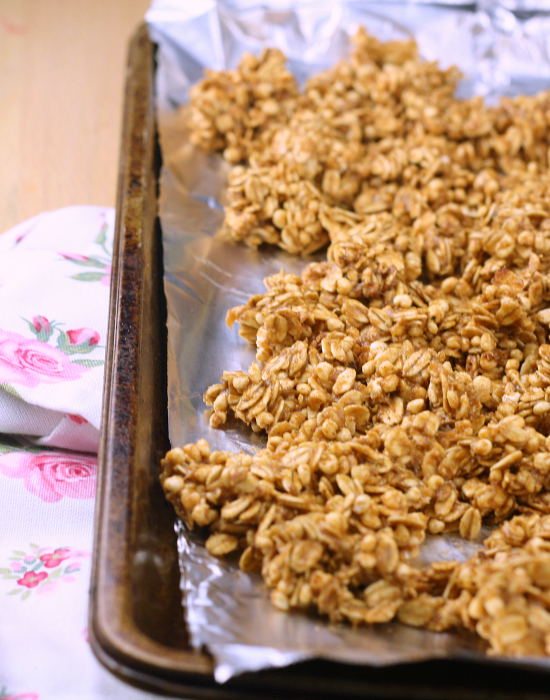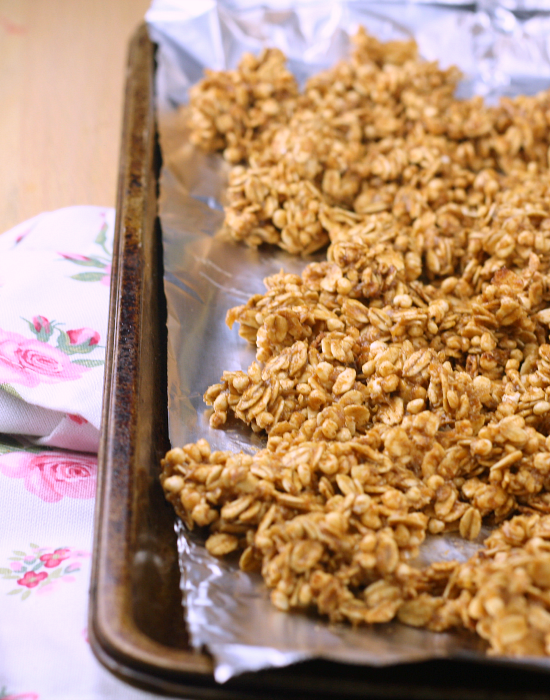 You are the master of your domain.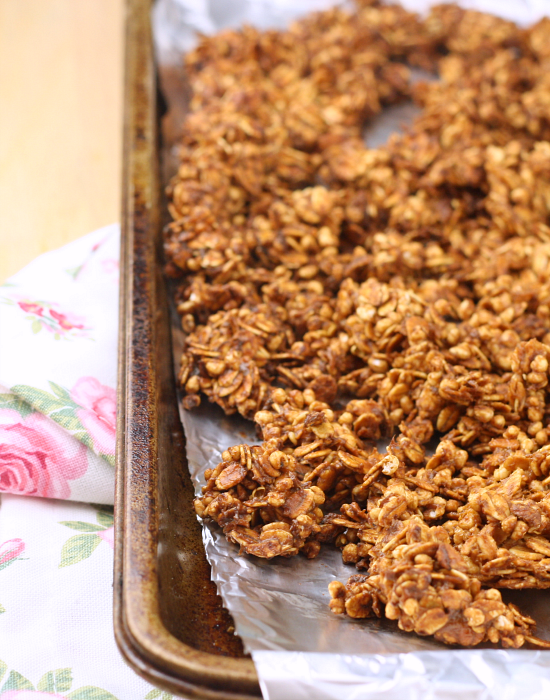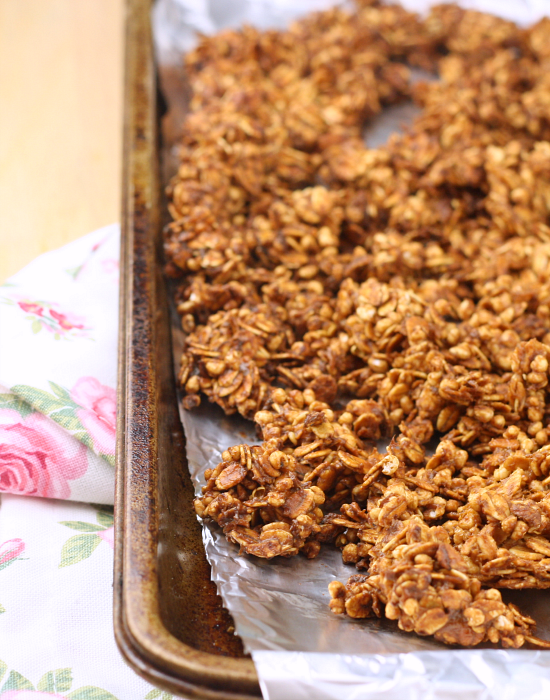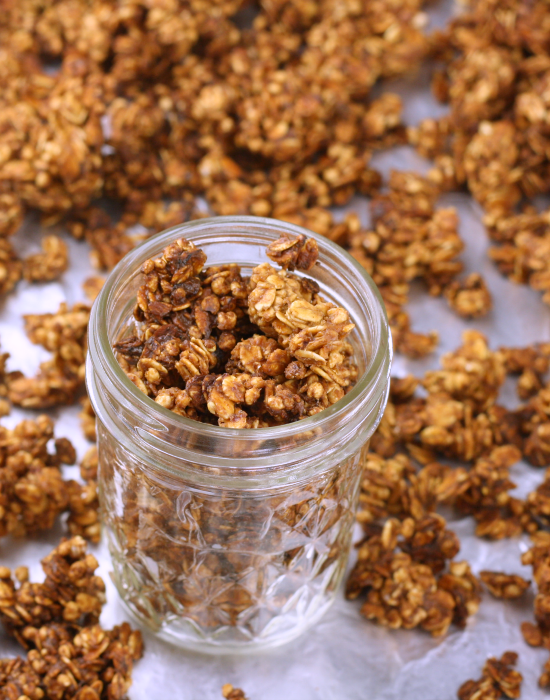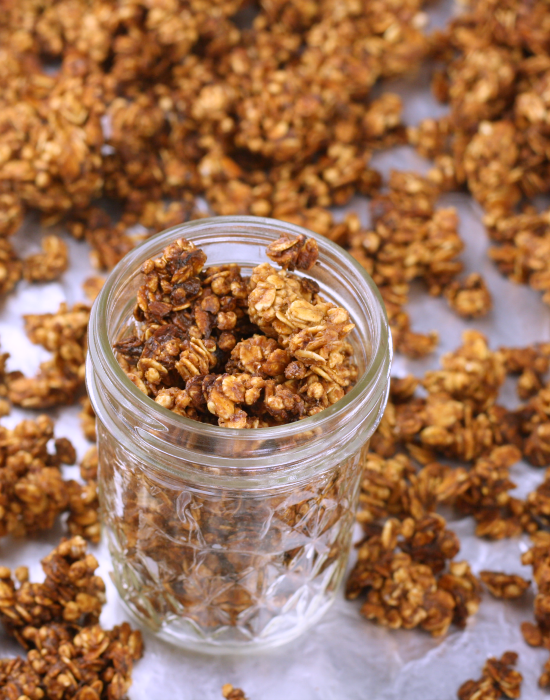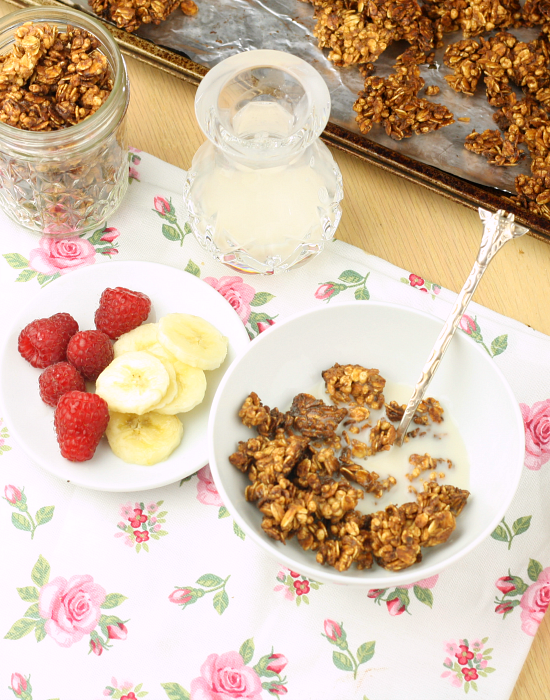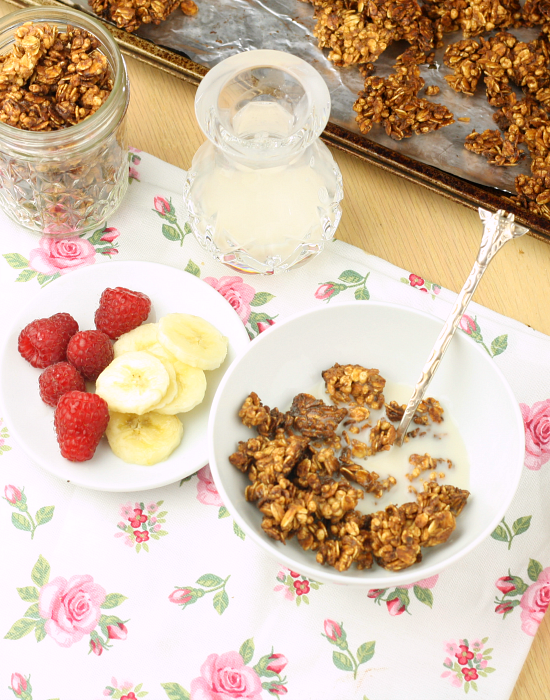 Inspired by the amazingly wonderful Averie.
Yield: 2 1/2 cups
The Perfect Granola Formula
5 minPrep Time:
30 minCook Time:
35 minTotal Time:
Ingredients
1/4 cup nut butter or butter
1/2 cup mashed banana, applesauce, pumpkin, or butter
1/2 cup sugar or erythritol
1/4 cup almond milk (or your milk of choice)
1 teaspoon vanilla extract
1/4 teaspoon salt
any additional spices, to taste
1 1/2 cups oats or flaked coconut
1 cup cereal, nuts, or other add-ins
Instructions
Preheat oven to 350 degrees Fahrenheit. Line a baking sheet with parchment paper and set aside.
Melt 1/2 cup mashed banana or butter in a large pot. Stir in 1/4 cup nut butter or butter and sugar or erythritol and cook until bubbling. Add in your milk of choice, vanilla extract, salt, and any spices you so desire. Stir in oats or flaked coconut and 1 cup add-ins until completely combined.
Spread the mixture onto the prepared baking sheet, and stir to break it up. If you like clumpy granola, leave larger clumps. Bake in the oven at 350 degrees Fahrenheit for 30 minutes or until golden, stirring every five minutes or so. Let cool before storing in jars. Devour.
Notes
Nutritional information calculated with Better n' Peanut Butter, mashed banana, erythritol, oats, and puffed millet.
7.8.1.2
314
https://www.foodiefiasco.com/perfect-granola-formula/
Nutrition
Calories:
81 calories cal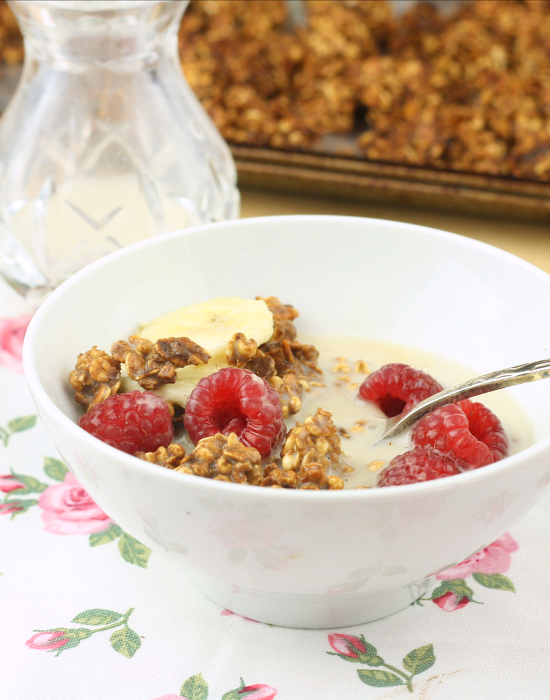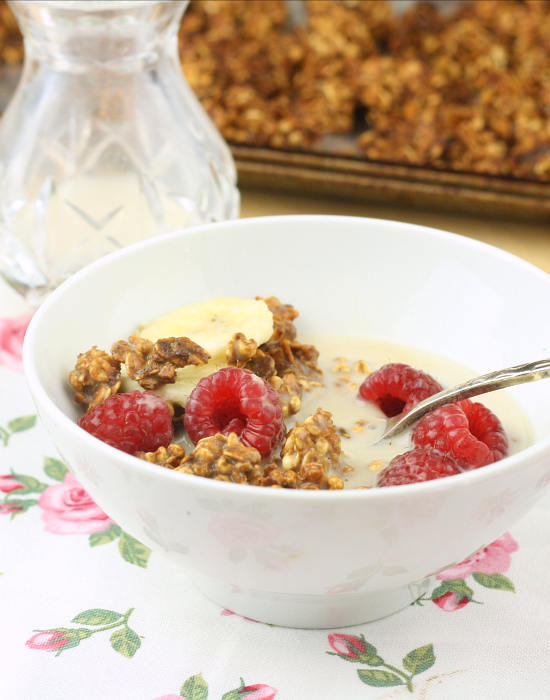 How are your new year's resolutions coming along?
I'm going to post more. And stop chewing gum.