This just seemed like the thing to do.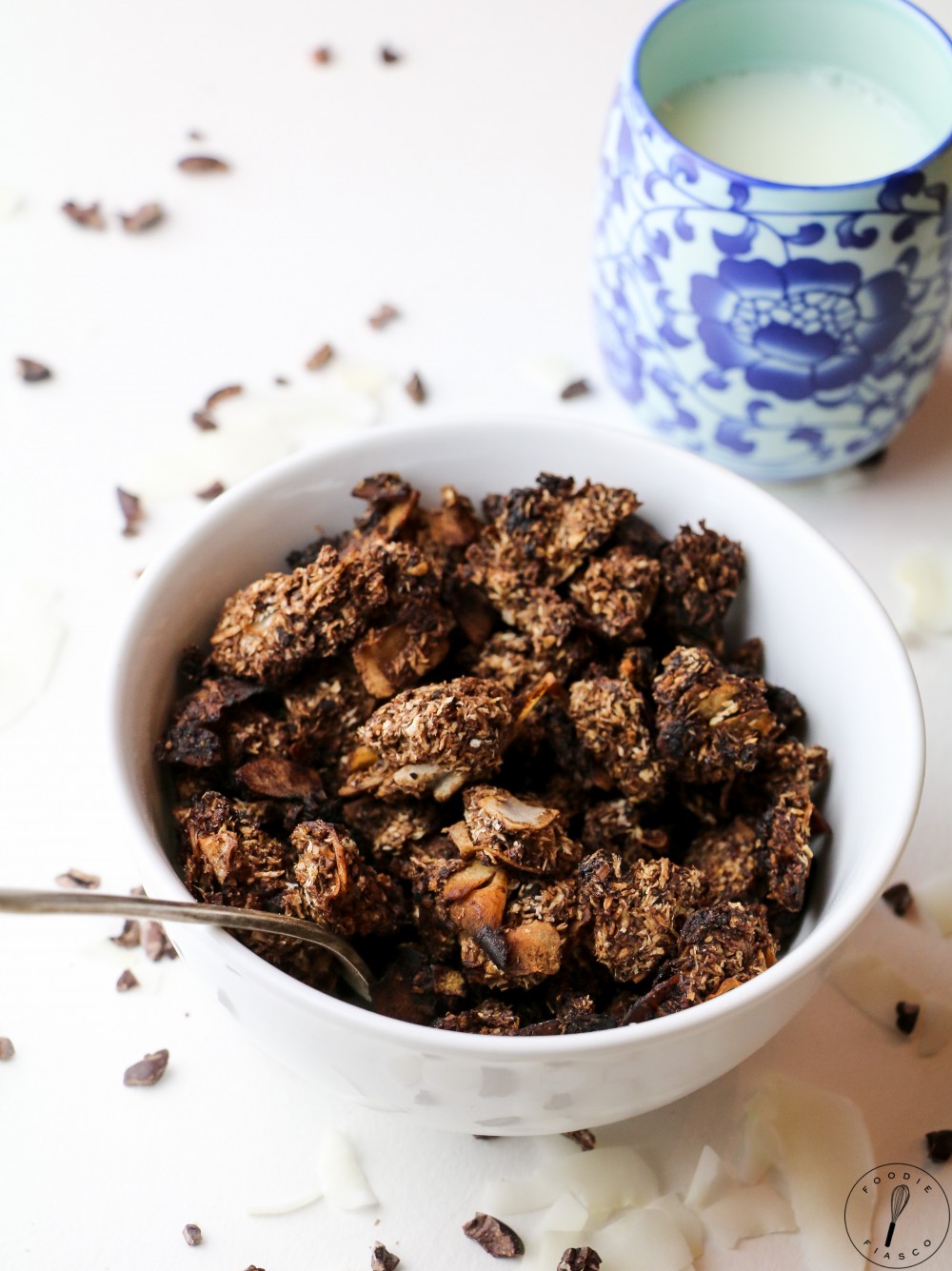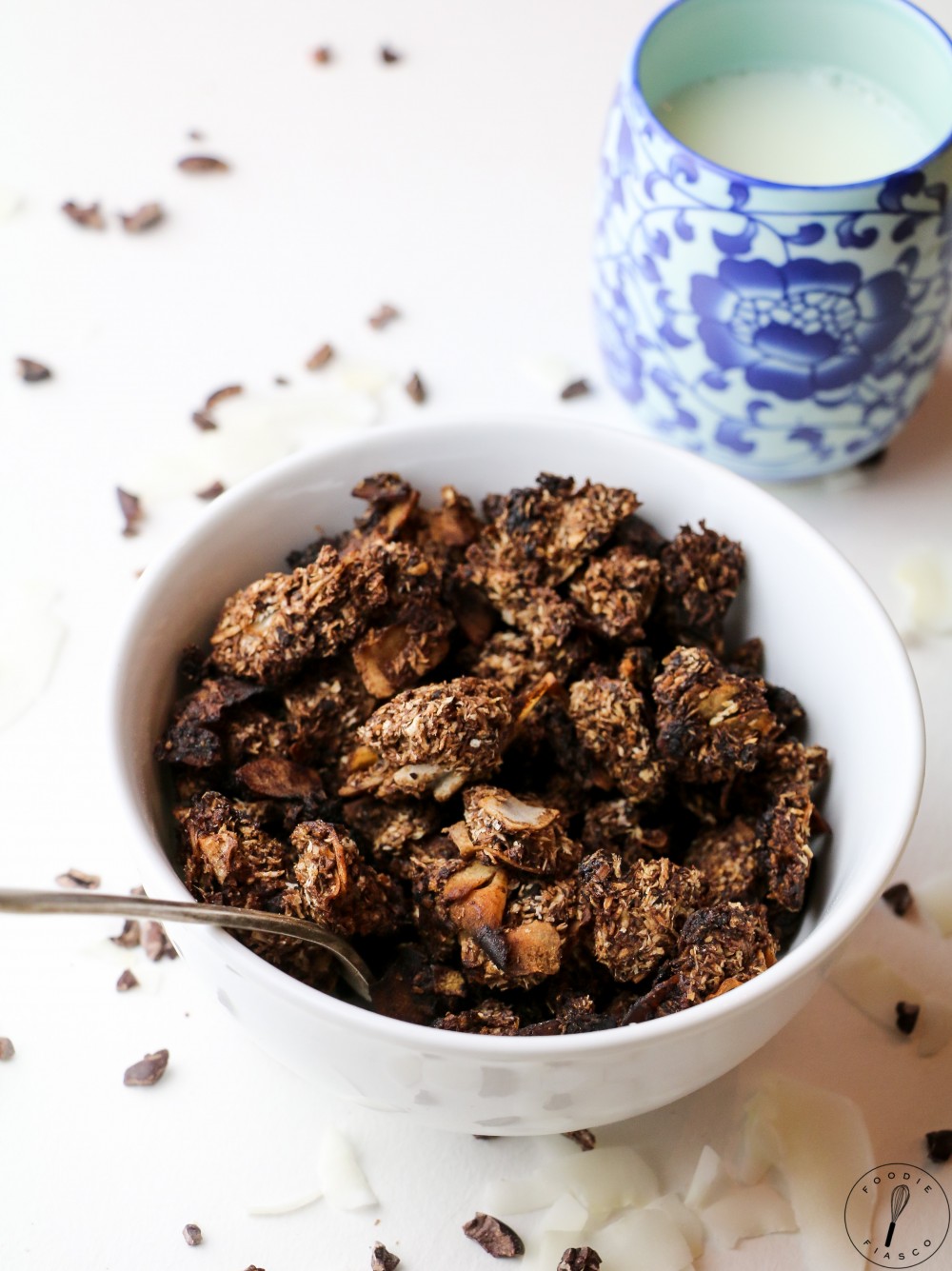 Using coconut instead of oats in my Samoa granola was something of a groundbreaking revelation for me. I was an unapologetic granola fiend for years until my breakfast time love and I had to part ways when I started eating low carb. That's why the Great Coconut Substitution of 2017 was such big news.
Plus I've never met a coconut I didn't like.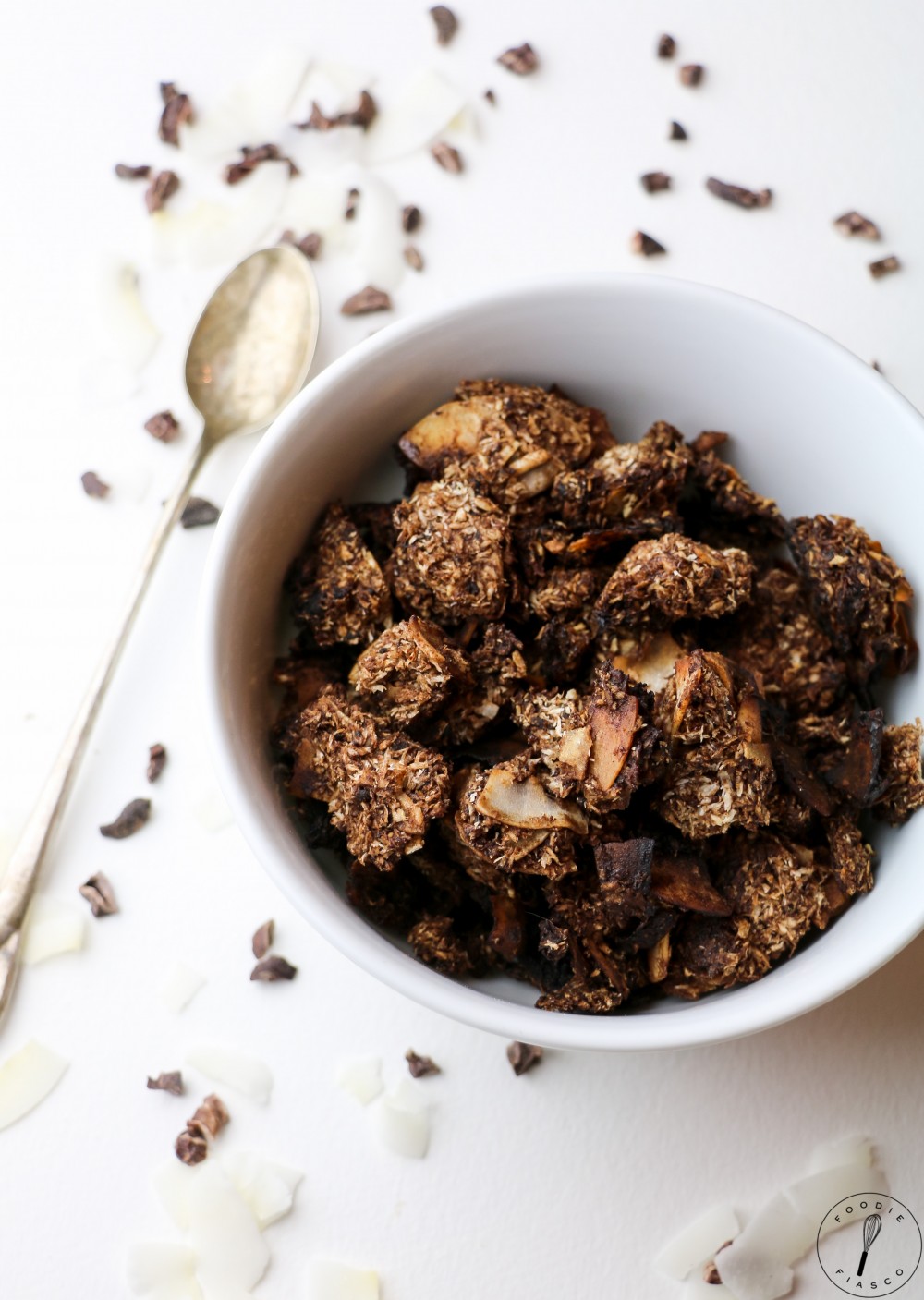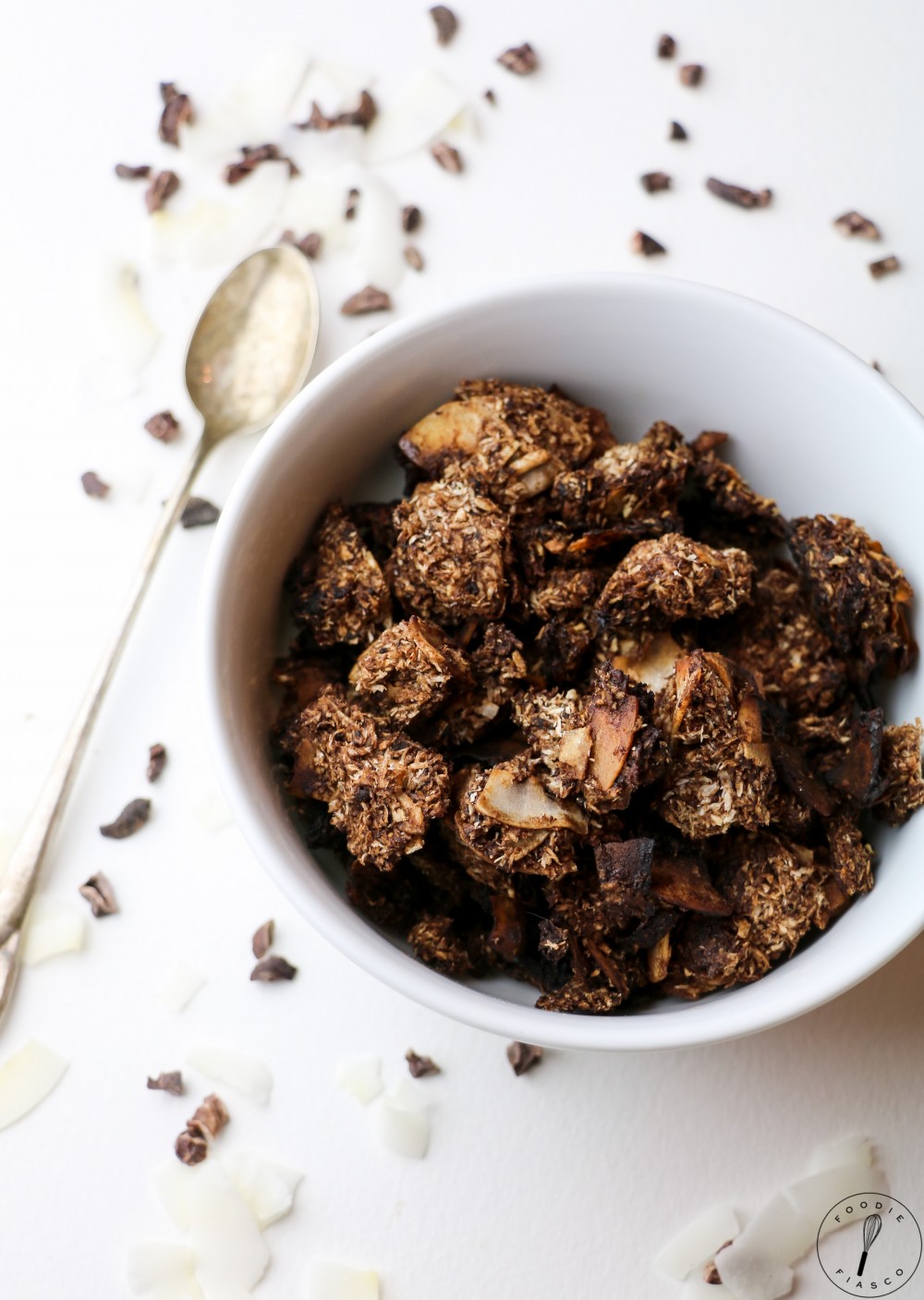 Obviously whenever I make a coconut-based anything I have to also make an almond joy version. It's an unspoken rule of coconut lovers: always have an almond joy stashed for a rainy day. Because you never know.
Unfortunately almond joy was another thing I left back in my chemical-laden food days, and frankly I don't miss all the unpronounceable ingredients. But I'd be lying if I said I haven't been itching for my coconut almond fix. So it makes sense that a lightbulb went off when I was making my samoa granola, a.k.a. a chocolate-laced plate of straight toasted coconutty goodness.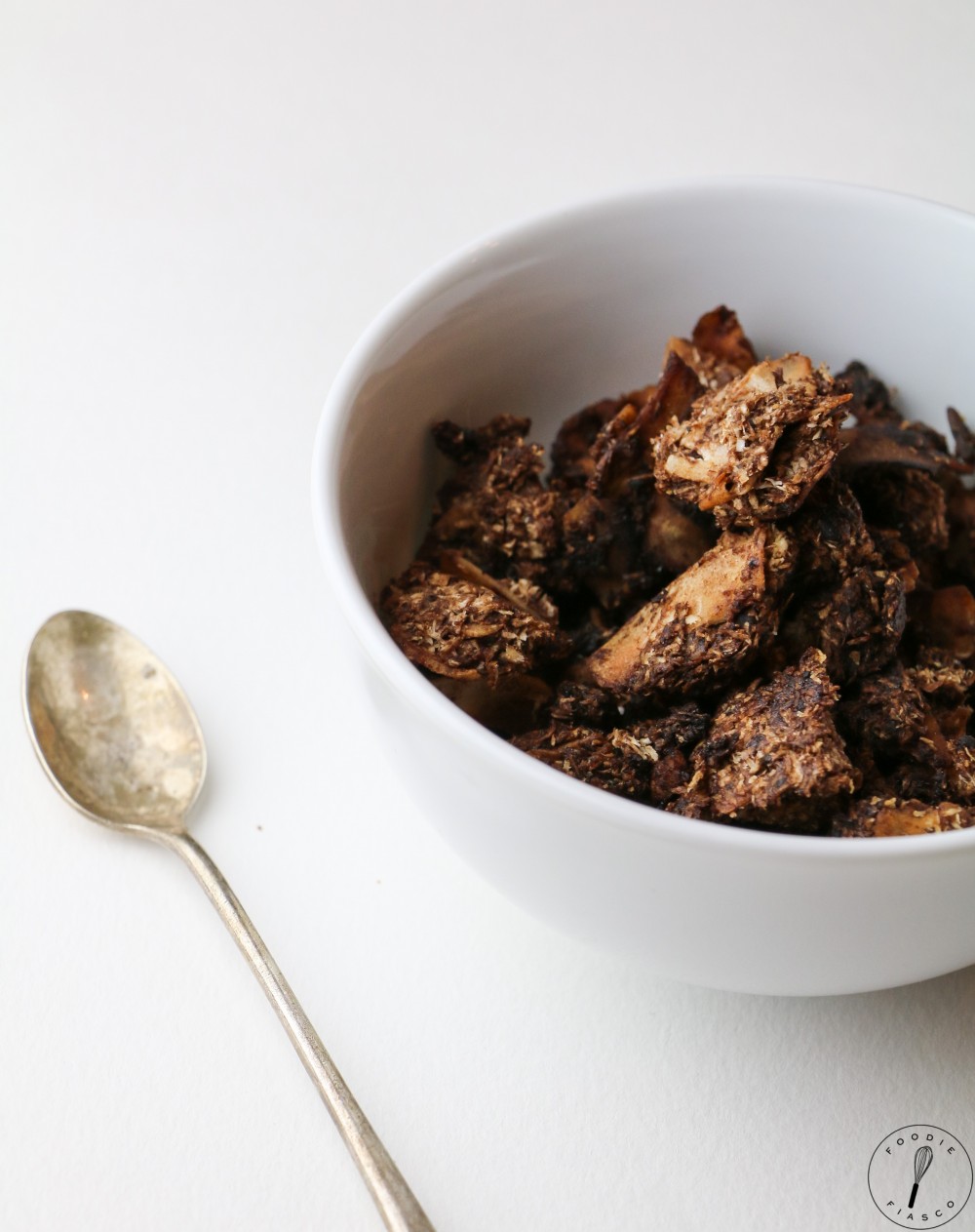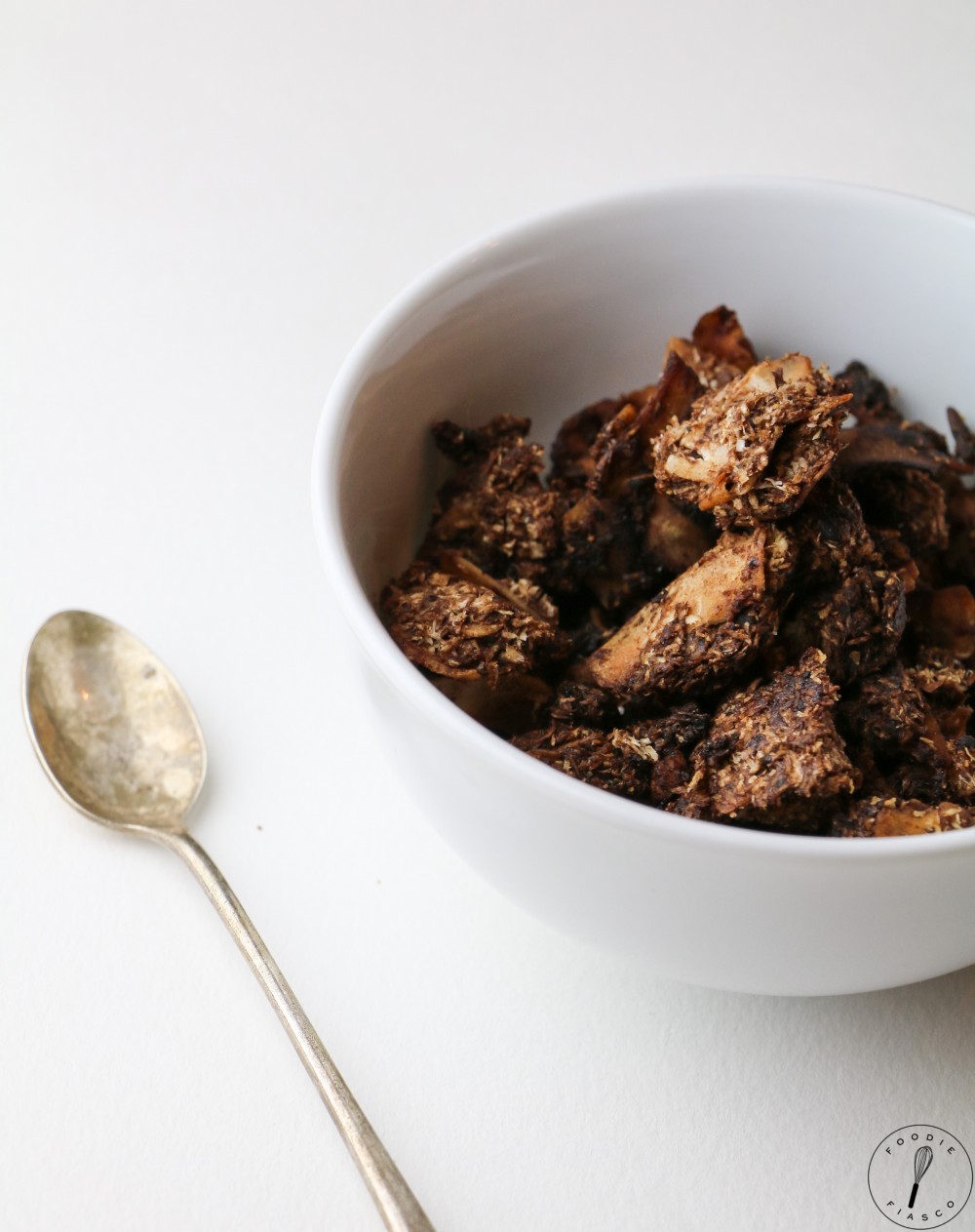 This granola is just almond joy in a bowl. You get the best of everything: the granola experience minus any oats getting in the way, adding lots of pesky carbs and detracting from the chocolate/coconut/almond main event.
I must confess that I've been in a pretty lazy mood lately kitchen-wise. I've had quite the hankering for almond joy flavored something, and my almond joy truffles are frankly pretty darn simple. But mixing together the filling, rolling it into individual bites, then dipping it in chocolate just isn't something I'm up for right now. It's been a long couple of weeks and sometimes a girl just wants some sweet you know?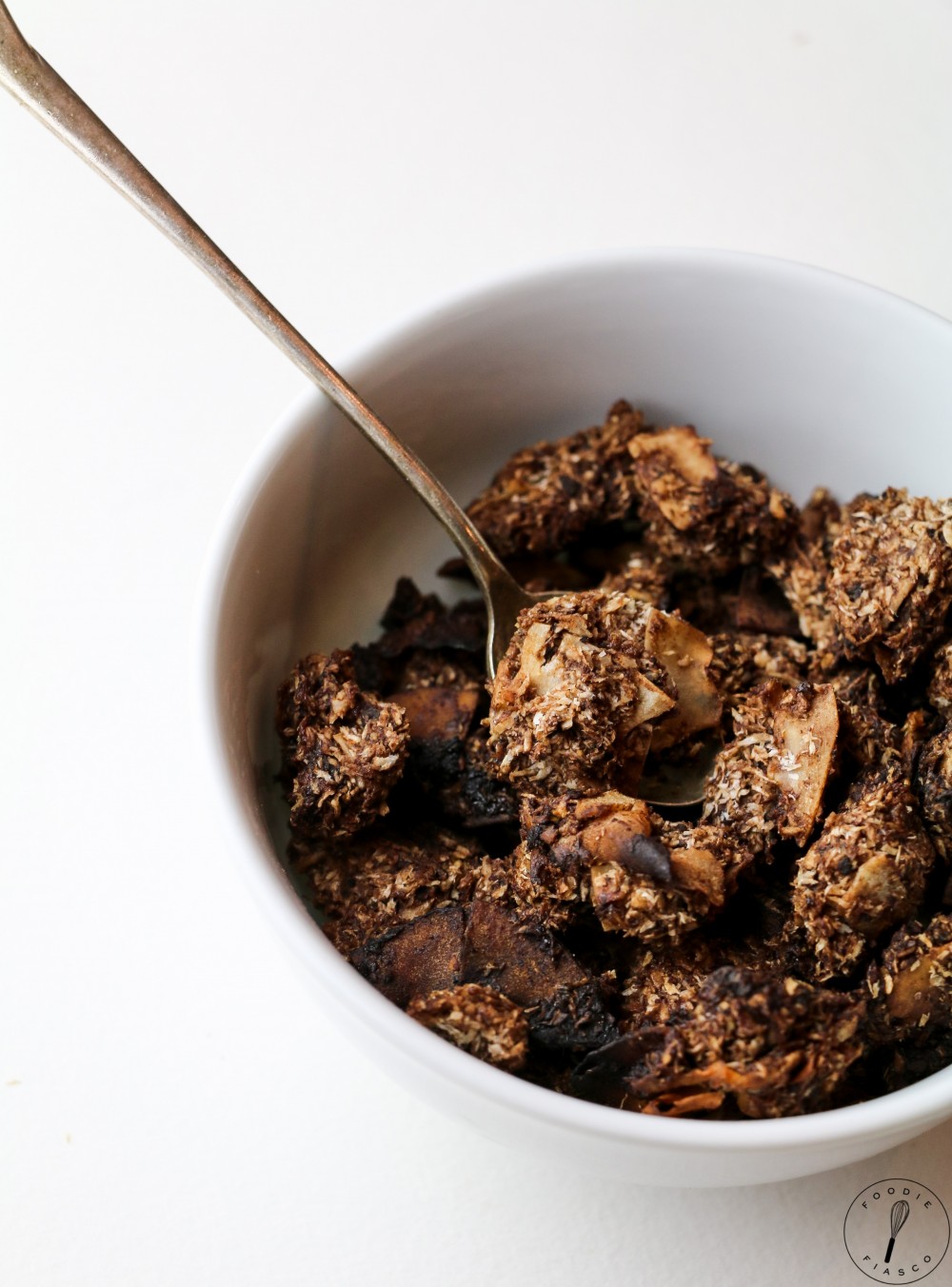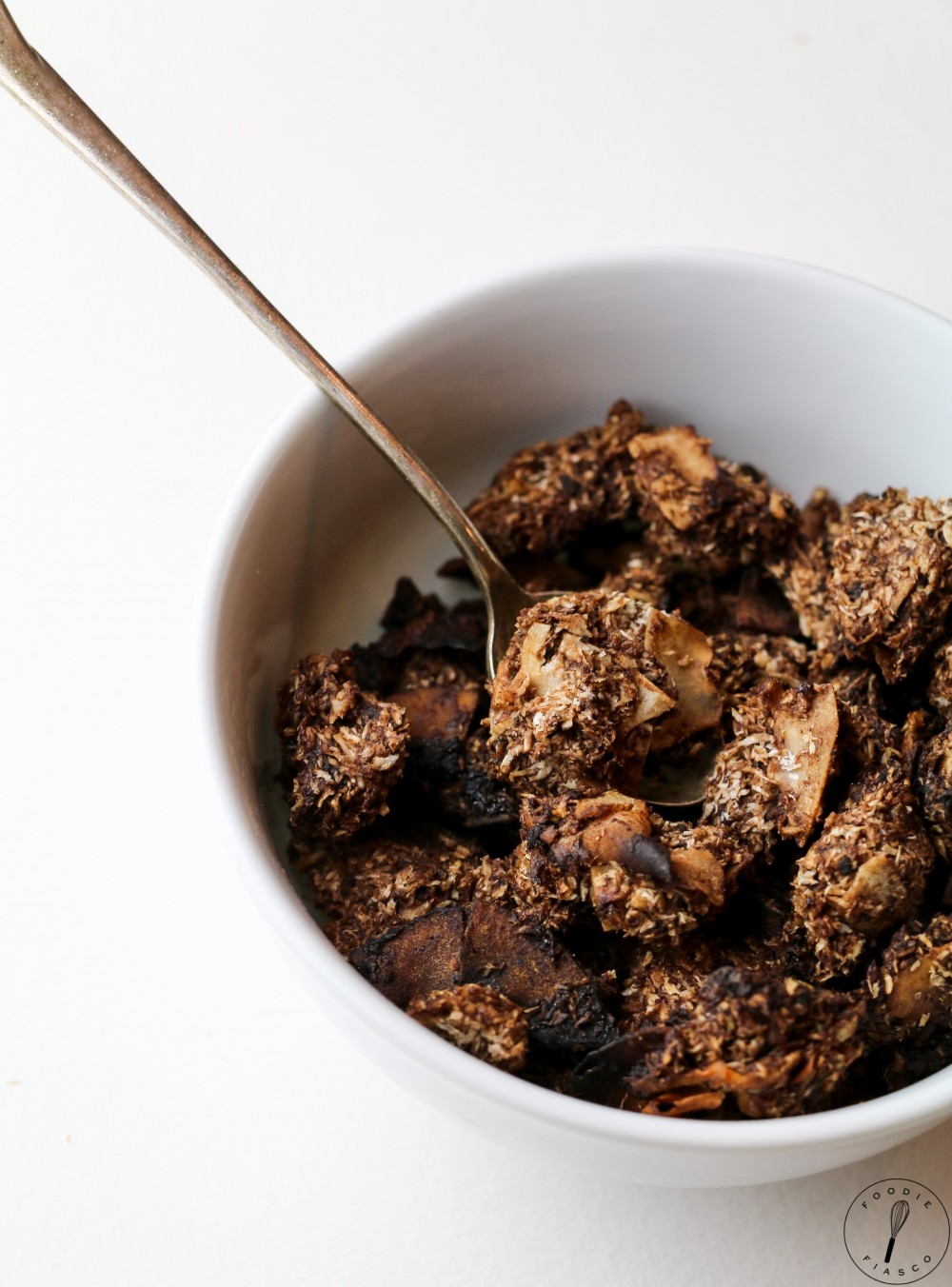 So what this means for you is that unfortunately you're stuck with a recipe that's really easy to make. All this chocolate toasted coconut goodness could be in your bowl in 15 minutes.
It's rough, I'm sorry. But thanks for taking one for the team.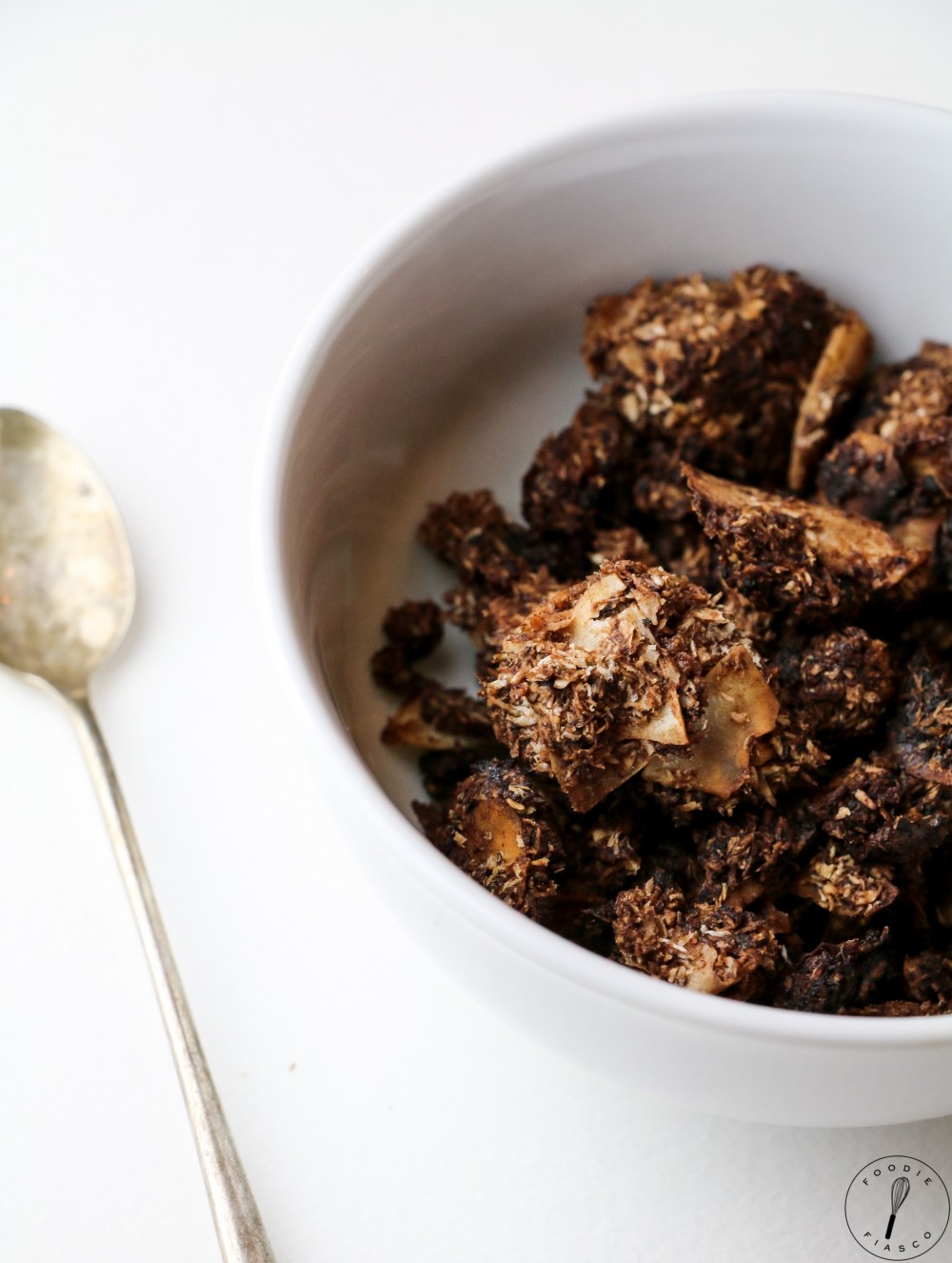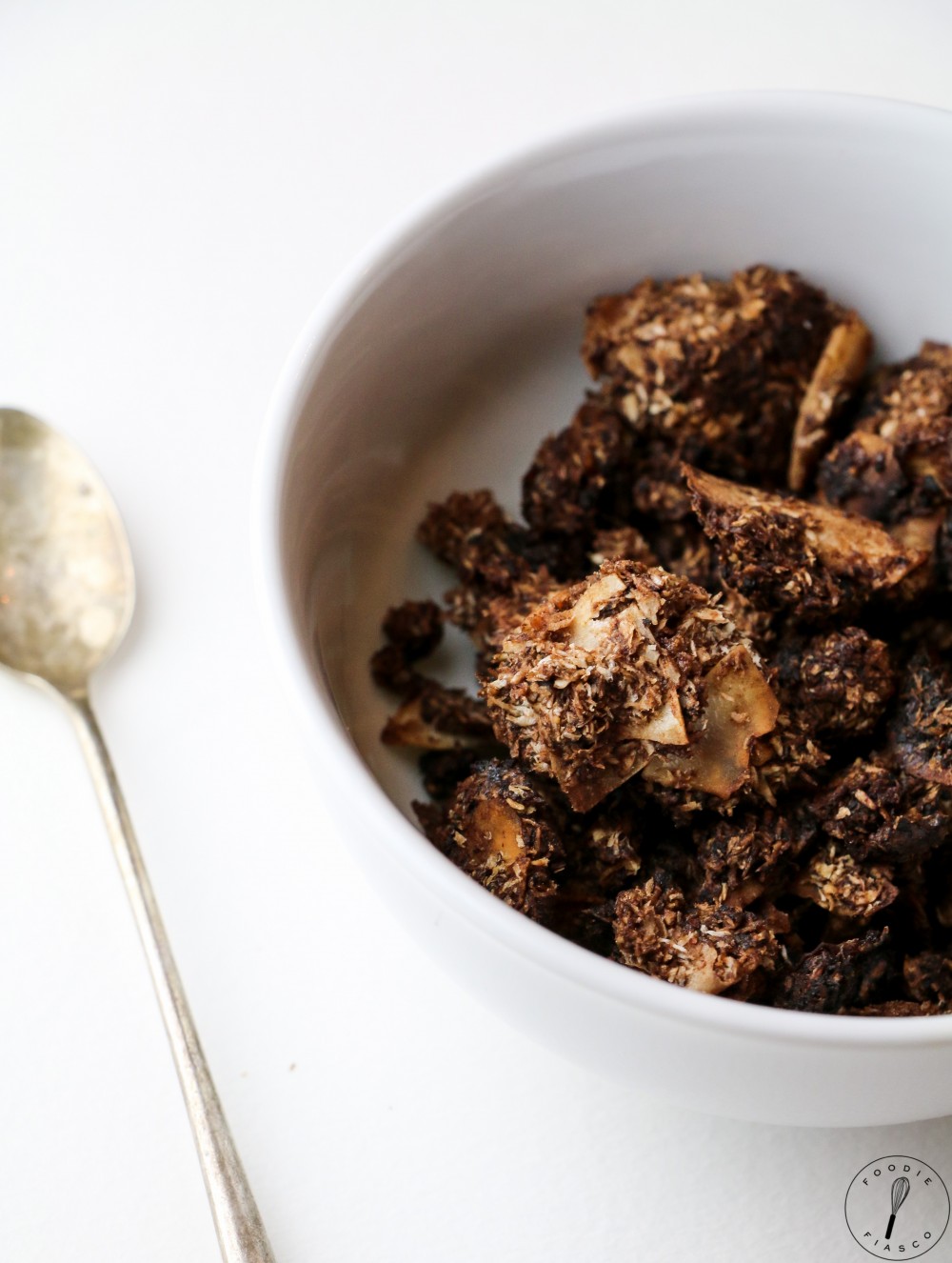 The process is absurdly simple. You caramelize the erythritol or sugar with a bit of almond milk, which simply entails whisking it together in a pot and letting it sit over heat for a few minutes. Then you whisk in creamy almond butter with rich cocoa powder. Stir in the coconut and watch the magic happen.
As if coconut didn't already have enough going for it, it also takes a very short time to cook. It gets all nice and toasted and perfectly crisp in under 10 minutes. This is wonderful in regard to saving time, but remember not to overcook it.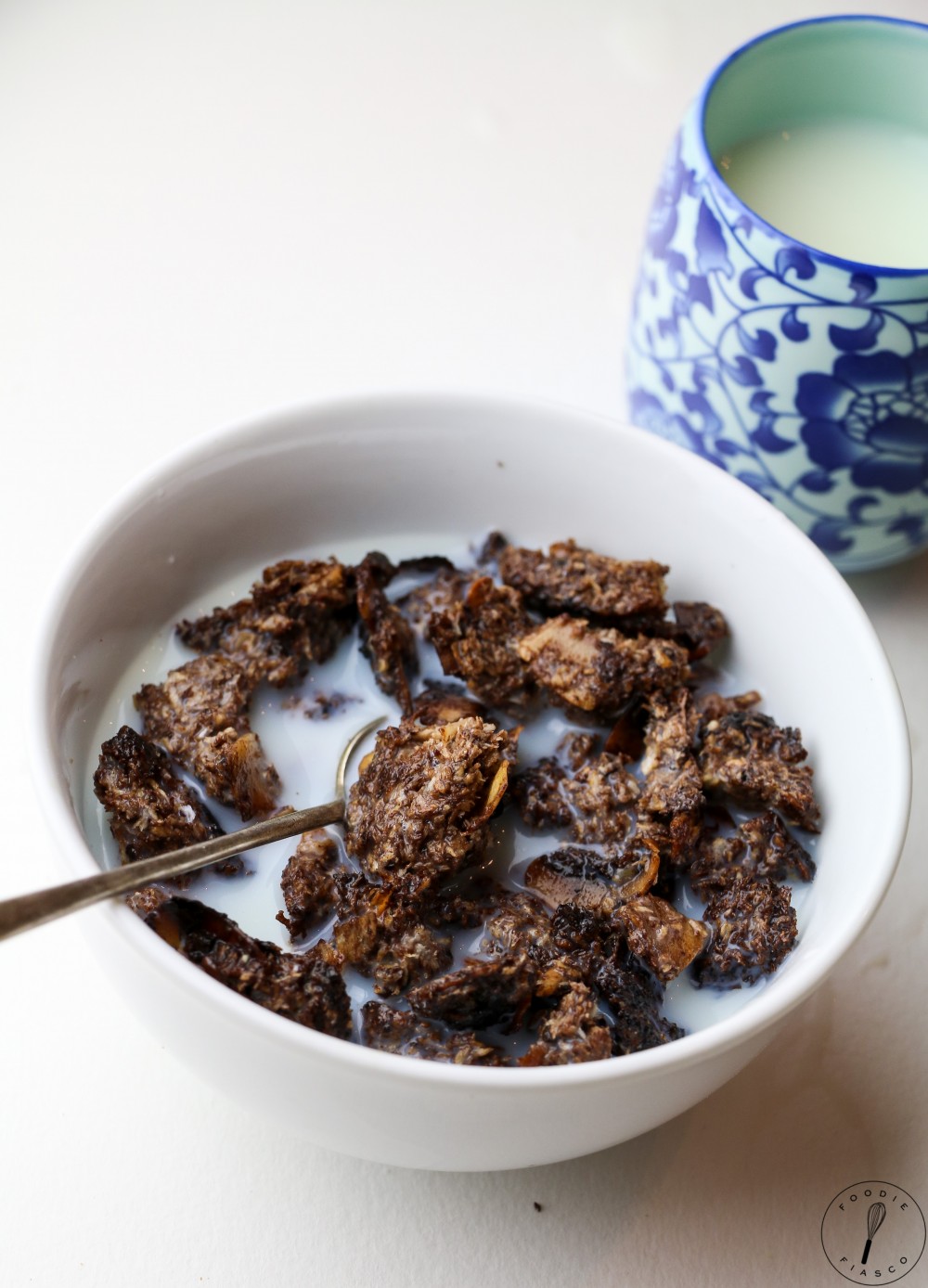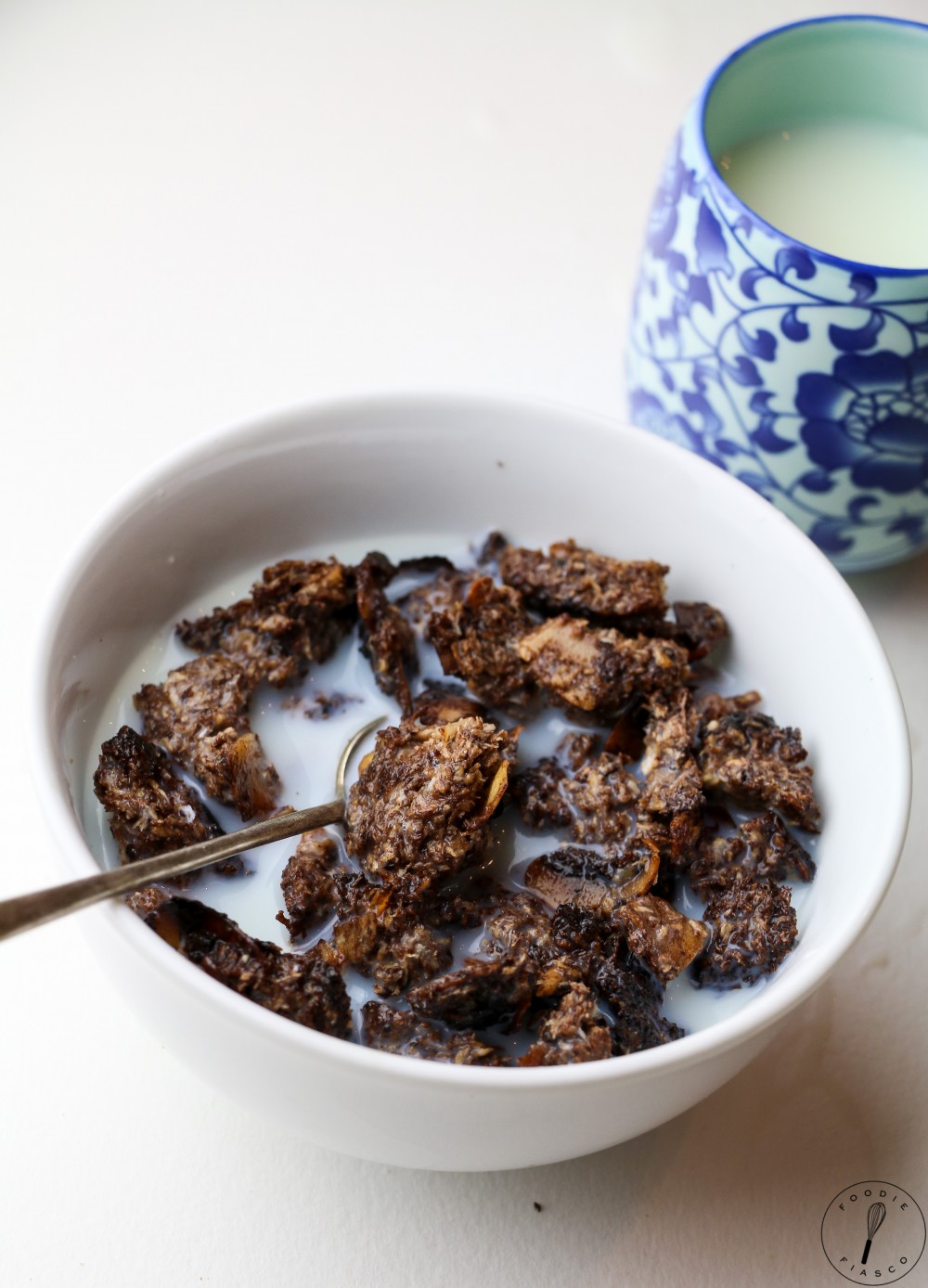 DO NOT burn it. Because I have. Several times. Crying over spilled granola may be warranted. I'll leave that up to you.
Of course I'll still eat it anyway because no chocolate coconut left behind, but I have complete confidence that you are able to follow my recipes better than I do.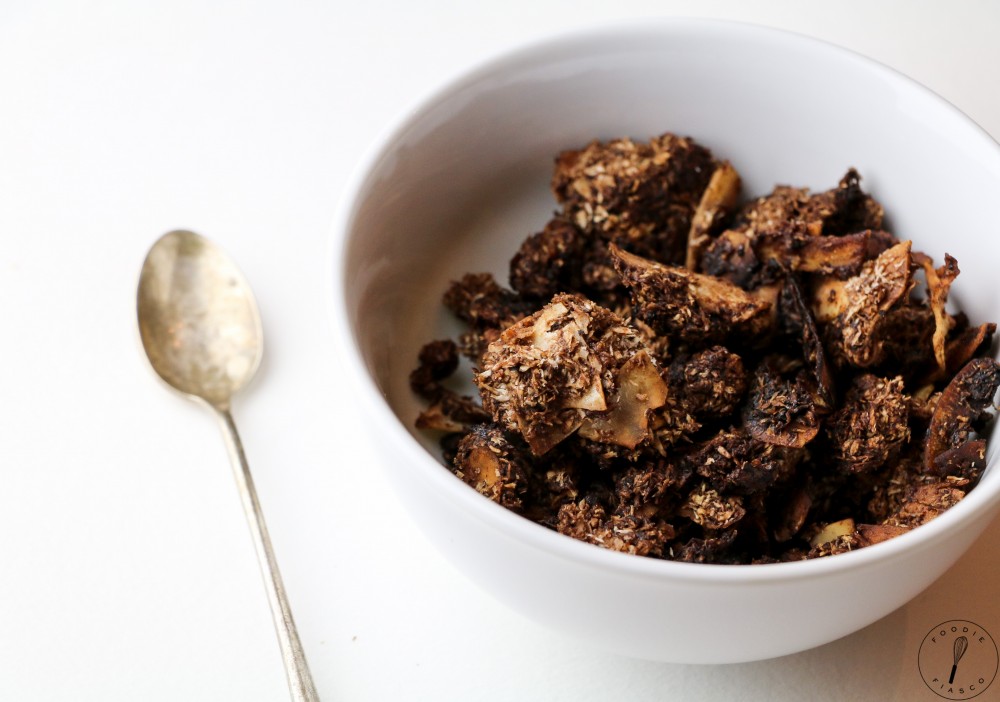 The charm of this recipe is how low carb it is, but if you primarily focus on calories and fat as opposed to carbs, then you may want to make some adjustments. There's a quarter cup of almond butter in this, which is perfect for low carb eaters because we tend to be unabashed fat lovers. But if calories are a concern, then you can omit the almond butter and add in a splash of almond extract instead to get that almondicious flavor. Disclaimer, I haven't tried it myself, but this is my suggestion in advance to anyone who asks how to lower the fat content. If you give this a whirl I'd love to hear how it goes!
Here's a picture of me pouring milk into a bowl of my new favorite granola.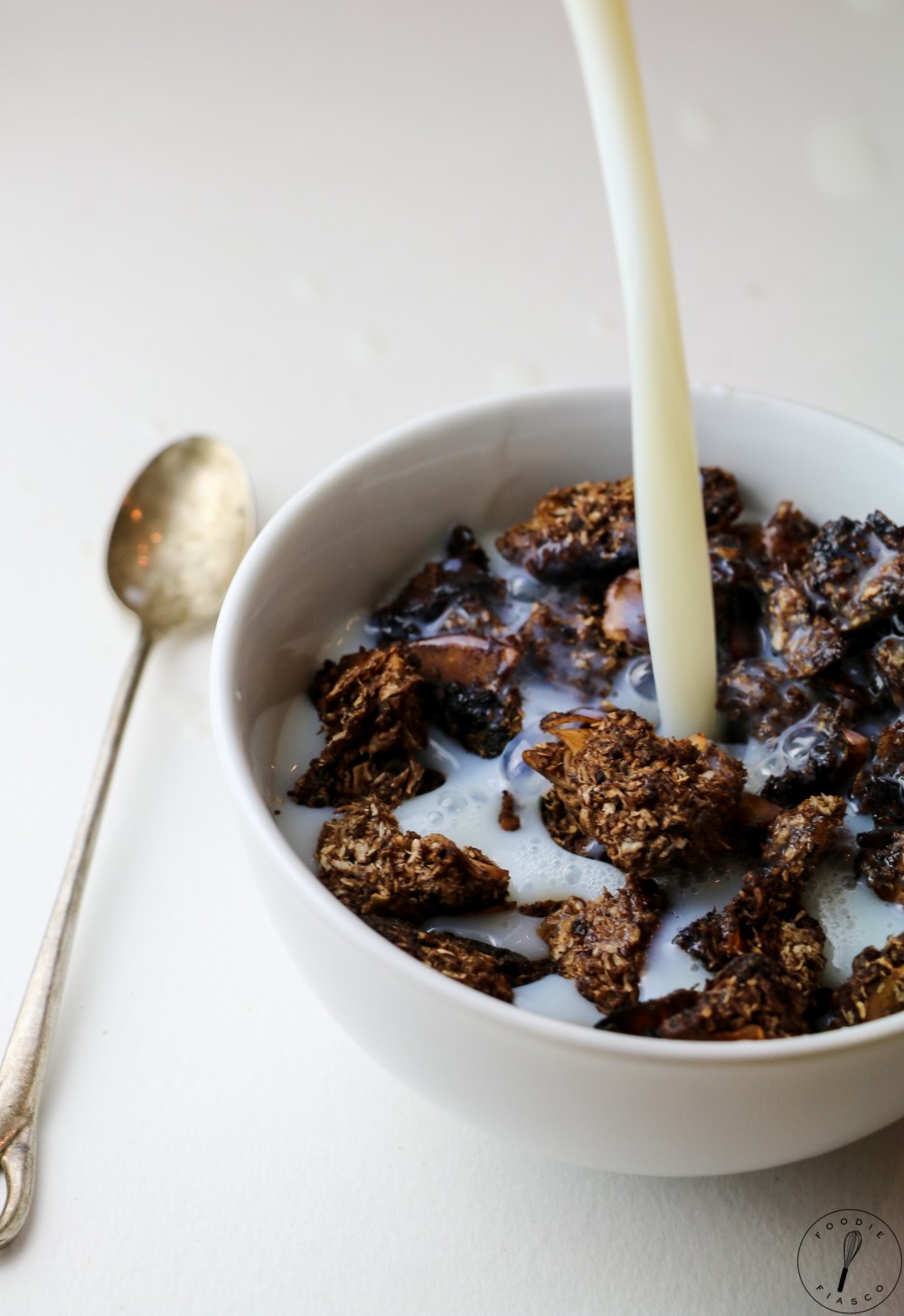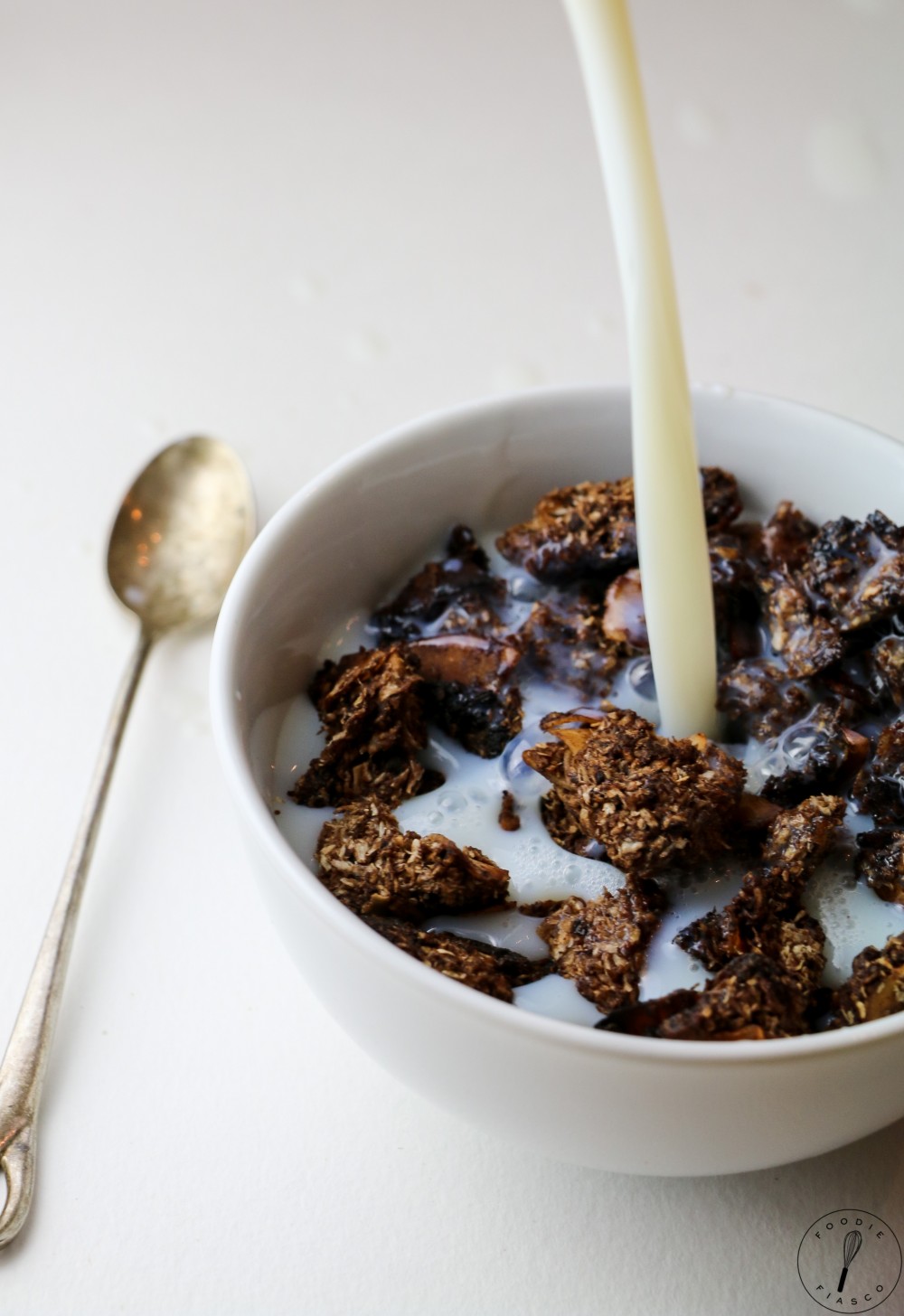 I could look at this all day. And considering how fabulous it tastes (especially at only 2g of net carbs per serving!) I could eat it all day.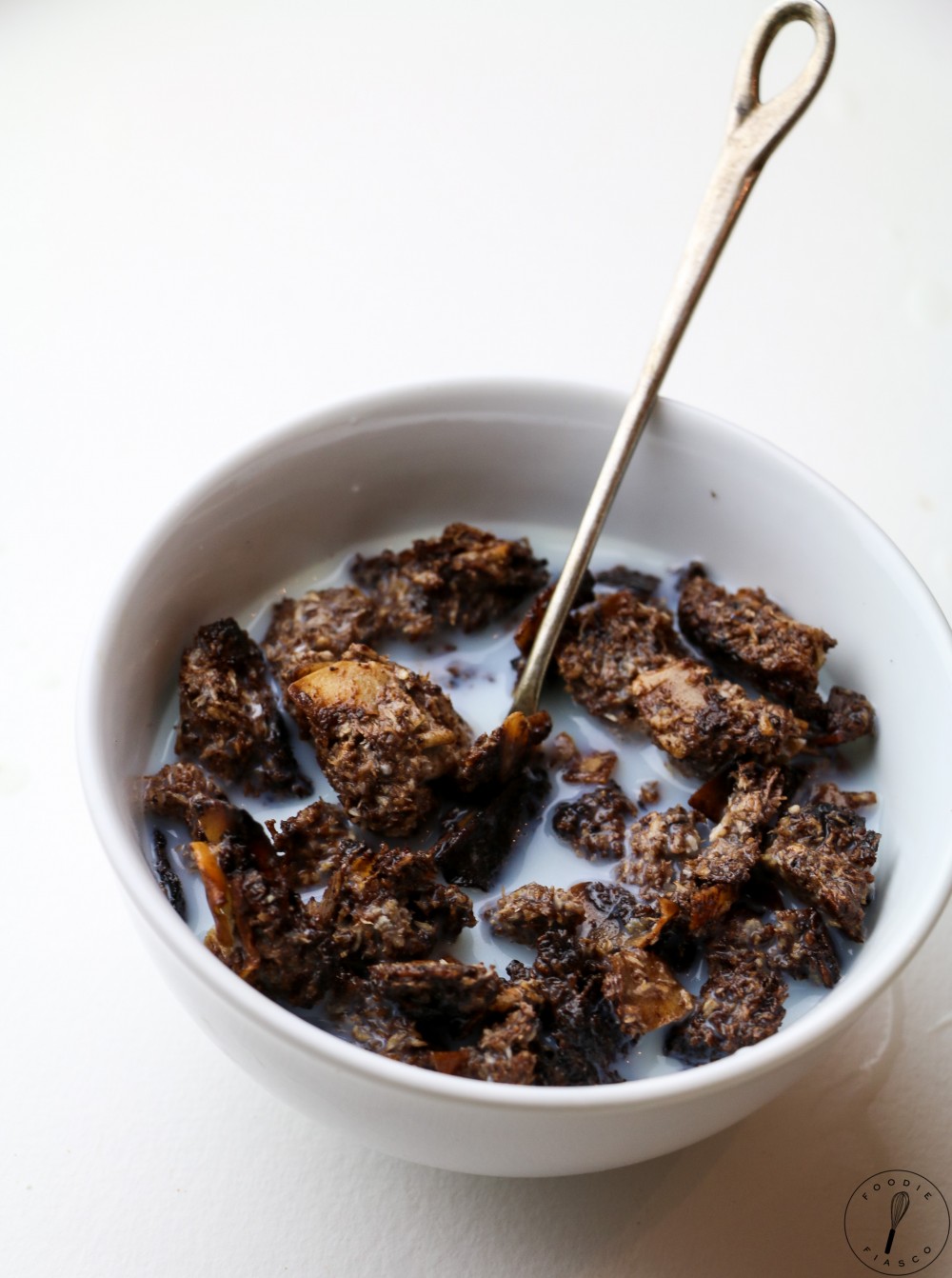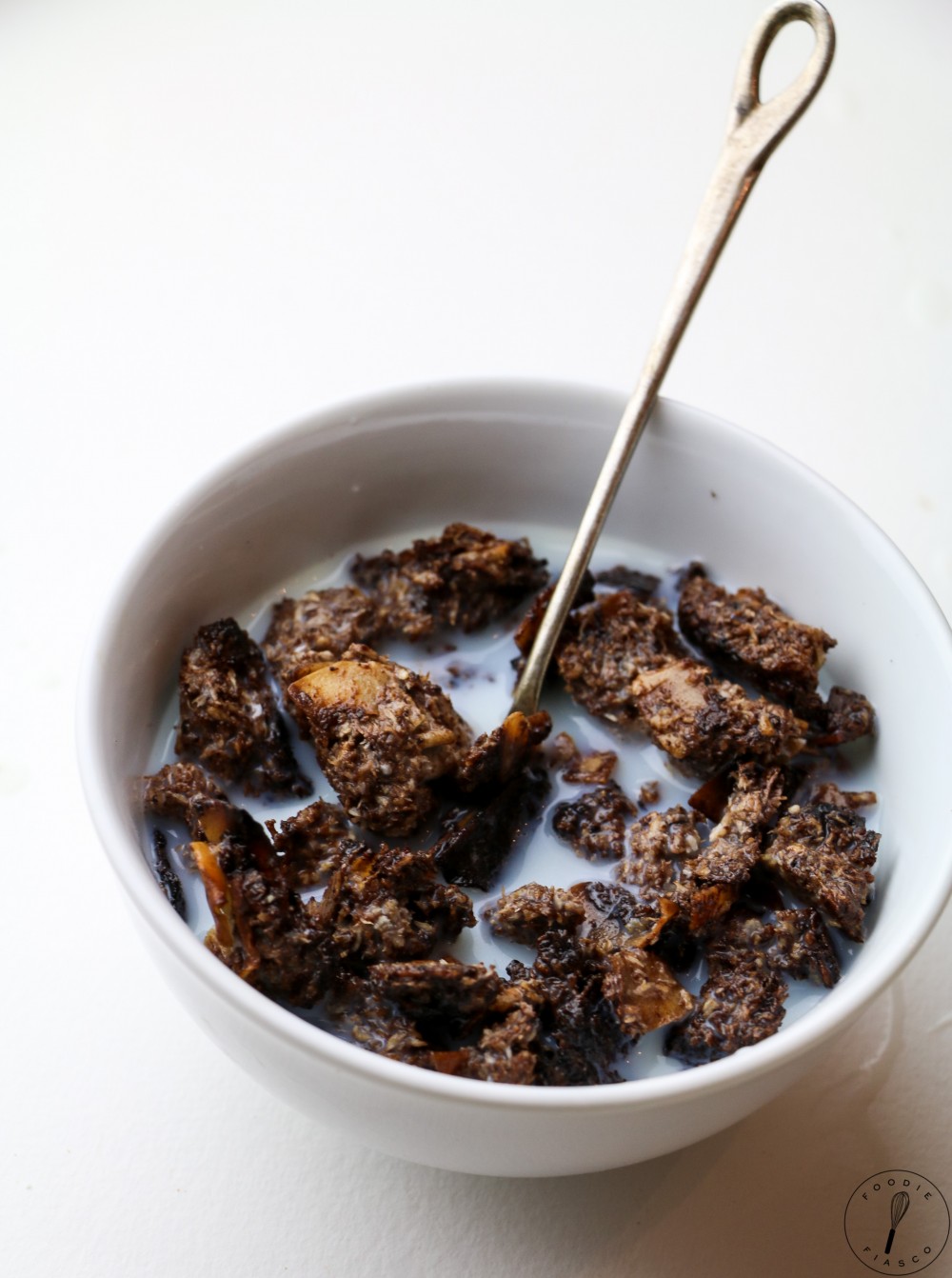 Because I want you to have your granola and eat it too.


Nutritional Breakdown
Calories
3 ounces coconut flakes (510) + 1/2 cup shredded coconut (124) +  2 tablespoons cocoa powder (20) + 1/2 cup almond milk (15) + 1/4 cup almond butter (360) + 1/2 cup erythritol (0) / 12 = 86 calories per (1/4 cup) serving
Net Carbs
3 ounces coconut flakes (6g) + 1/2 cup shredded coconut (4g) +  2 tablespoons cocoa powder (2g) + 1/2 cup almond milk (0g) + 1/4 cup almond butter (8g) + 1/2 cup erythritol (0g) / 12 = 2g net carbs per (1/4 cup) serving
Protein
3 ounces coconut flakes (3g) + 1/2 cup shredded coconut (2g) +  2 tablespoons cocoa powder (2g) + 1/2 cup almond milk (0g) + 1/4 cup almond butter (12g) + 1/2 cup erythritol (0g) / 12 = 2g protein per (1/4 cup) serving
Paleo Almond Joy Granola
Ingredients
½ cup erythritol or sugar
½ cup almond milk
2 tablespoons cocoa powder
¼ cup almond butter
3 ounces coconut flakes
½ cup shredded coconut
Instructions
Preheat oven to 350°F. Line a baking sheet with parchment paper or a silicone mat and set aside.
In a large saucepan, combine the erythritol (or sugar) and milk and stir until the erythritol has dissolved. Cook over medium heat, stirring occasionally, until the milk reaches a gentle boil. Add cocoa powder and almond butter and whisk until completely combined and uniform.
Remove from heat and stir in the coconut flakes and shredded coconut. Spread the coconut mixture onto the prepared baking sheet in an even layer. Bake in the oven at 350°F for 6 minutes, stir, and return to oven for another 5-7 minutes or so, until golden and a bit crispy (note that the granola will crisp up a lot more as it cools, especially if you use erythritol). Let cool and devour.
Nutrition Information
Serving size:
1/12 recipe
Calories:
86
Net Carbs:
2g
Protein:
2g
More favorite granolas: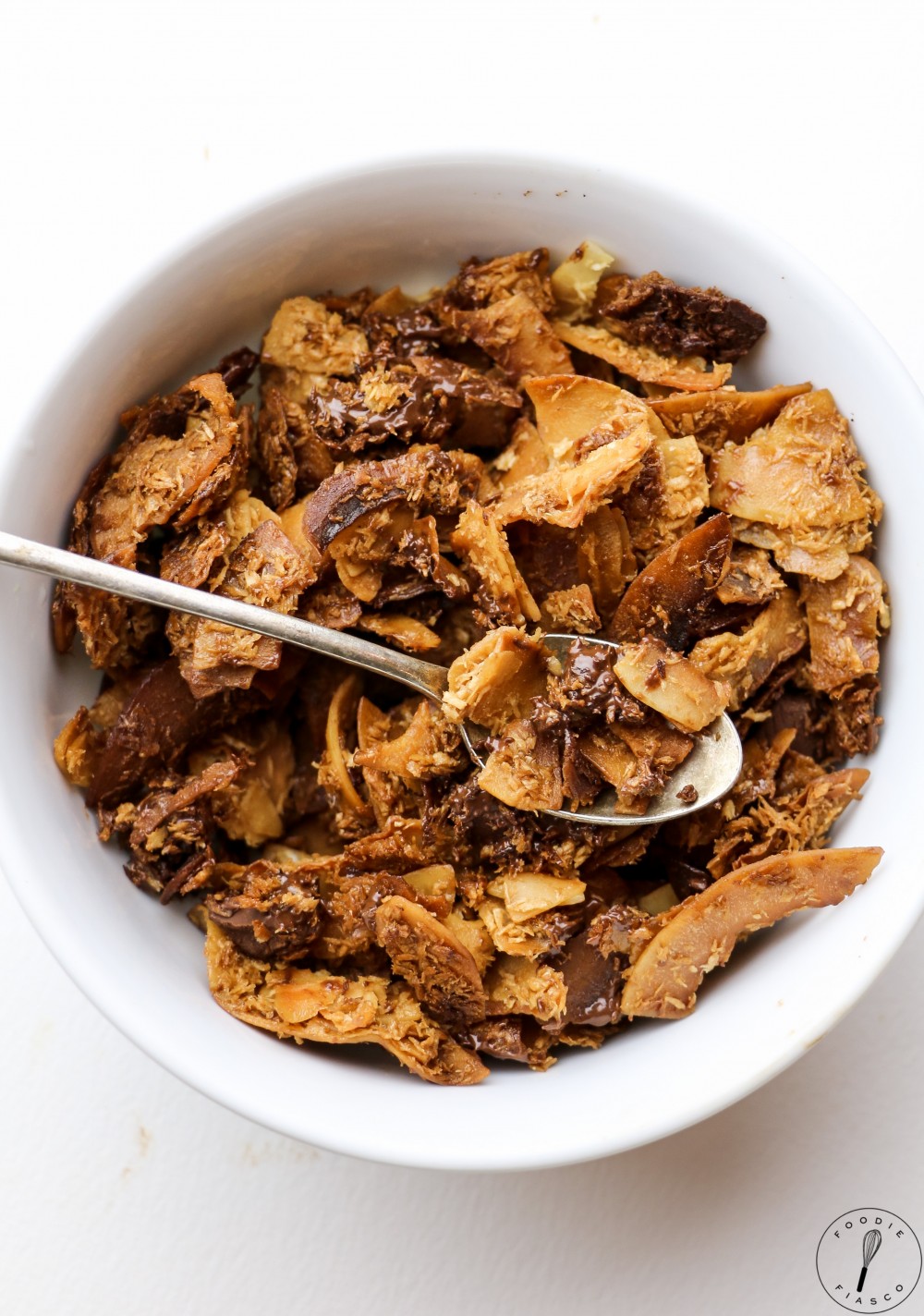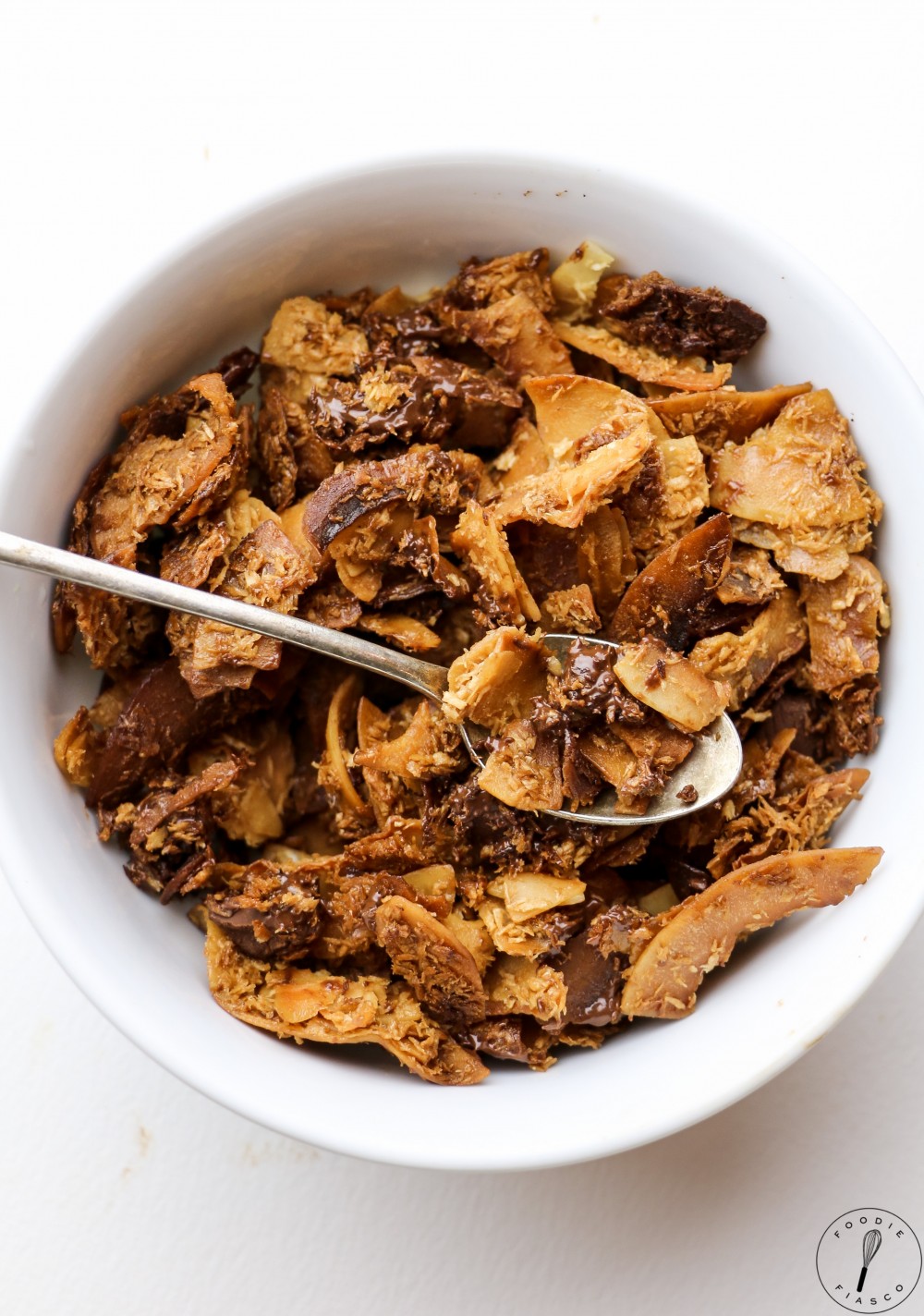 Low Carb Peanut Butter Banana Granola