It's all of your favorite things!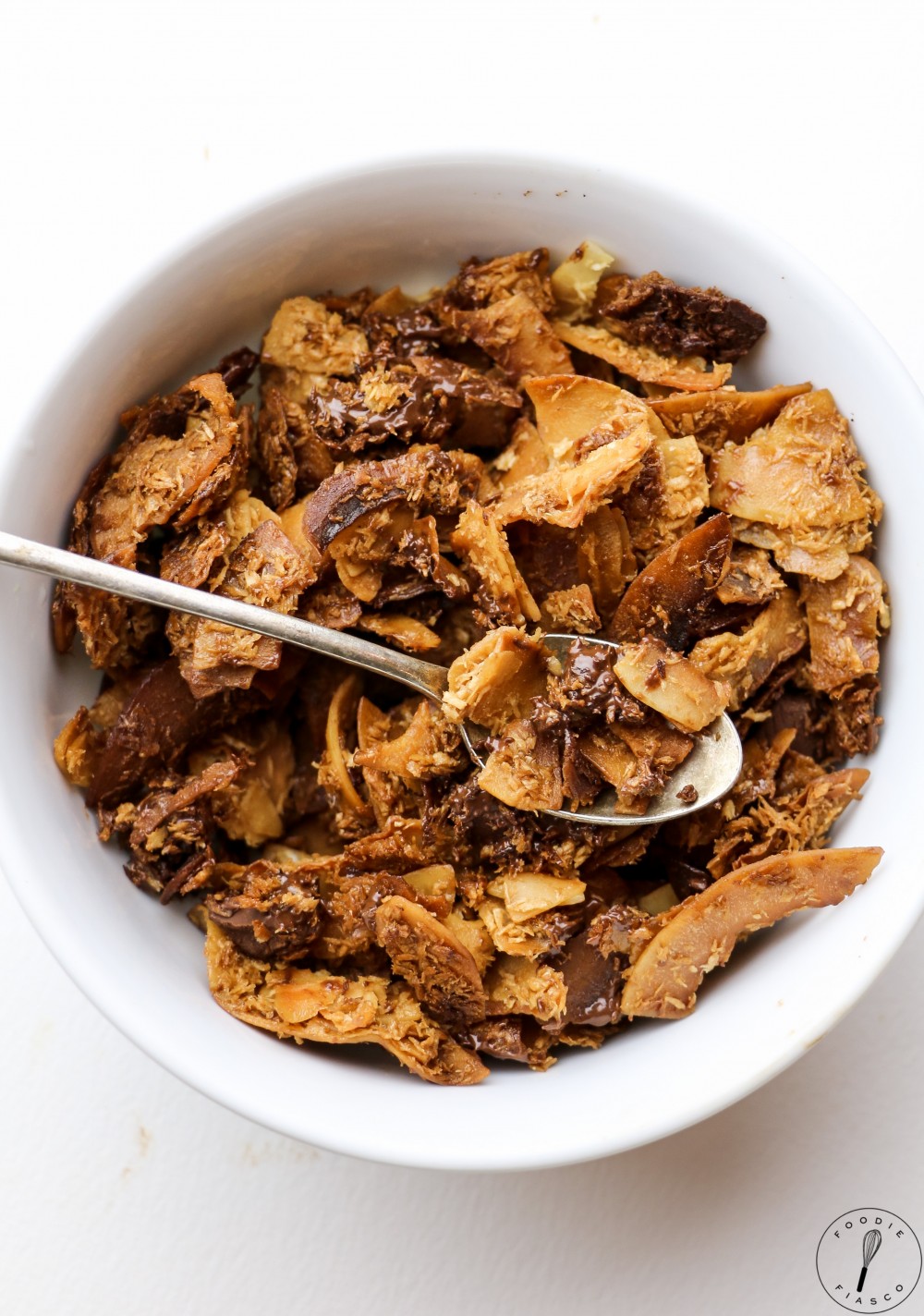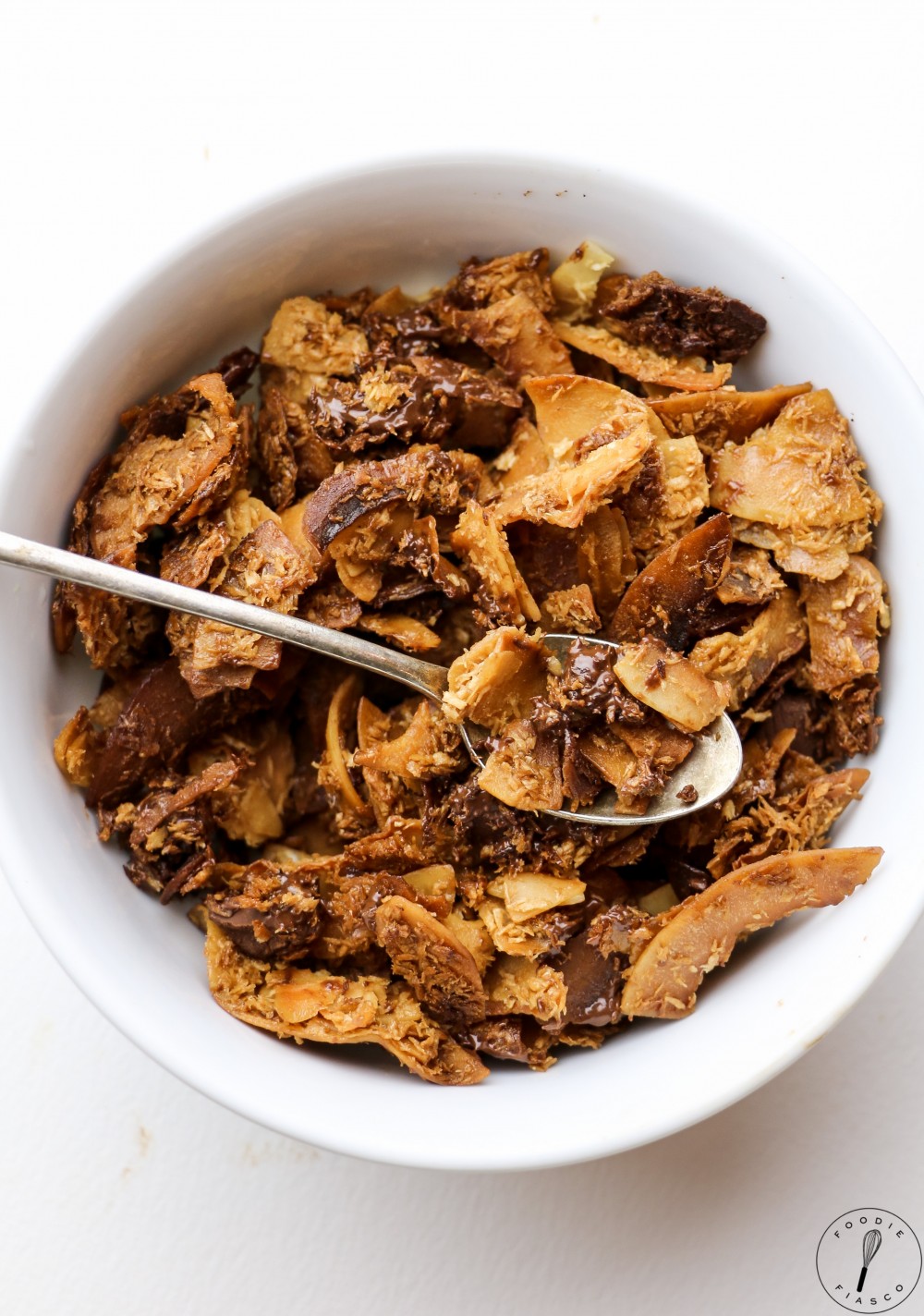 I don't want to overstep, but I believe that this granola may be the solution to one of the most epic dilemmas of our time. Bold claim, I know. But let me explain.
The phenomenon of one component of a food item being far superior to another component has wreaked havoc on many a beloved treat. Lucky Charms is a perfect example.
I don't know about you, but I am absolutely guilty of eating almost exclusively the marshmallows. And I have no regrets. A lifetime banishment from the clean plate club was 100% worth it.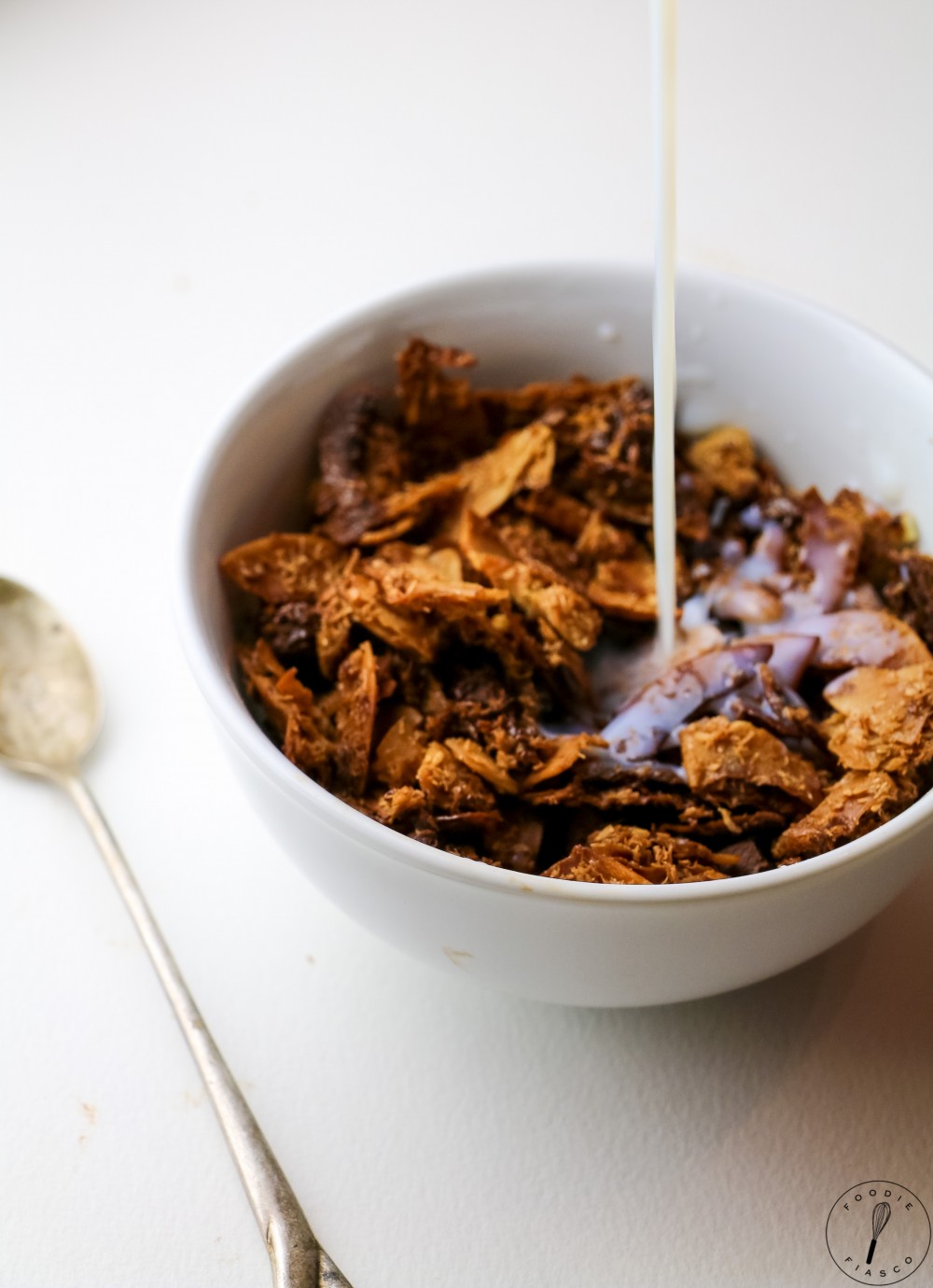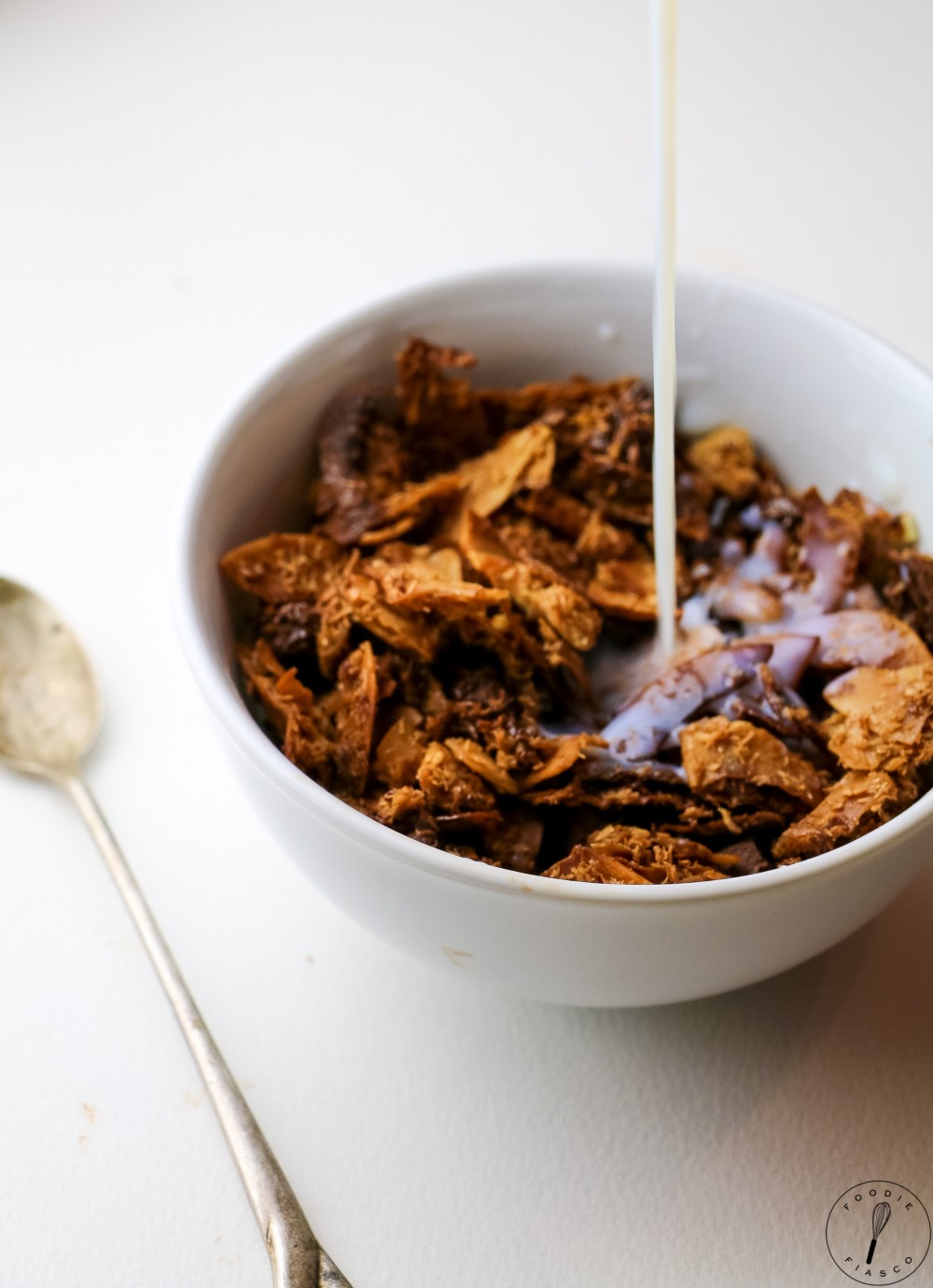 The Samoa is a popular favorite. We all love it. But, to be completely honest, none of us are there for the shortbread. If you want shortbread, you'll get a Trefoil.
What makes the Samoa a rock star is the stellar combination of caramel, toasted coconut, and chocolate. I've been toying around with the idea of deconstructing the Samoa sans shortbread so we could focus solely on that glorious flavor trifecta.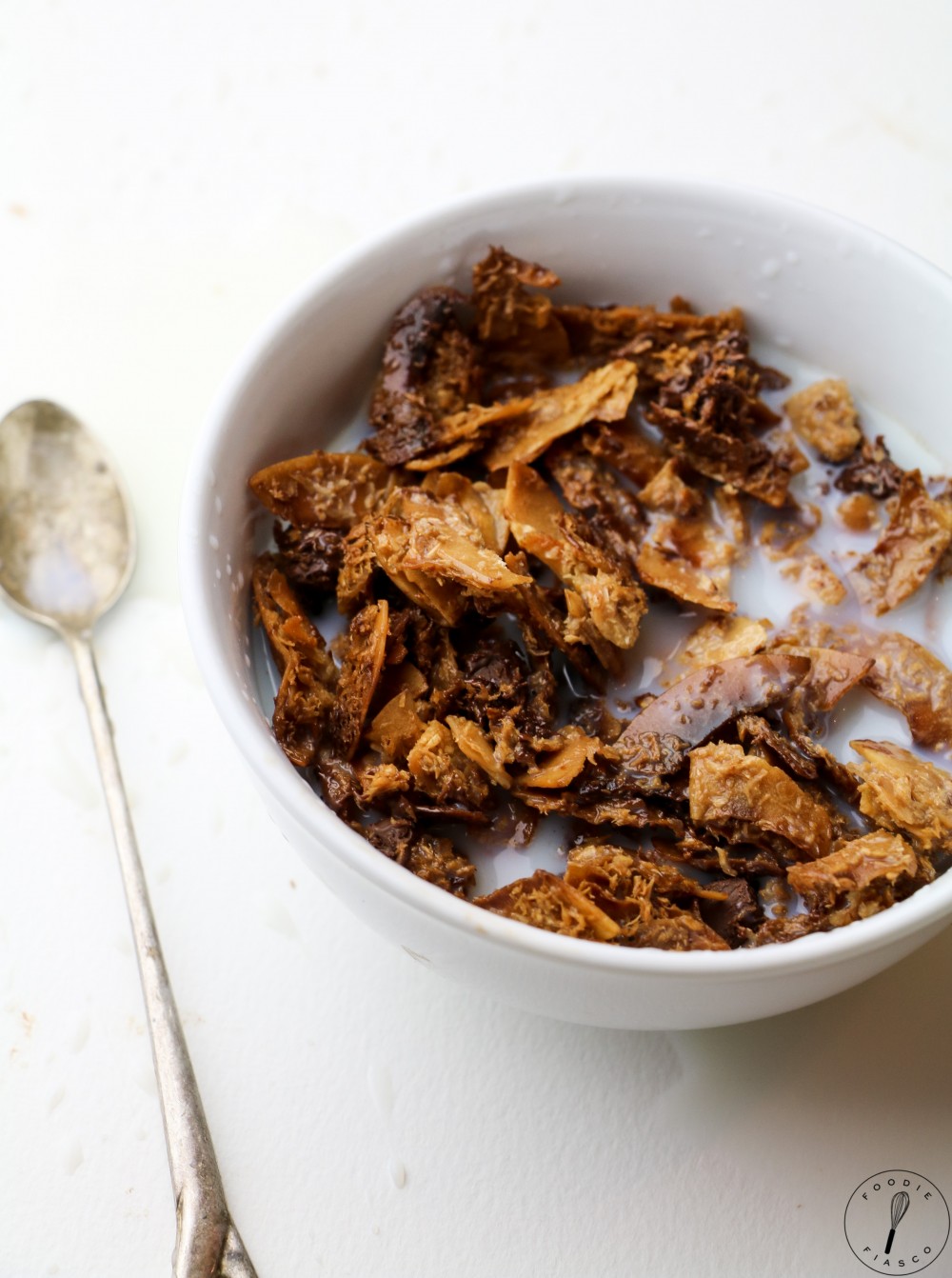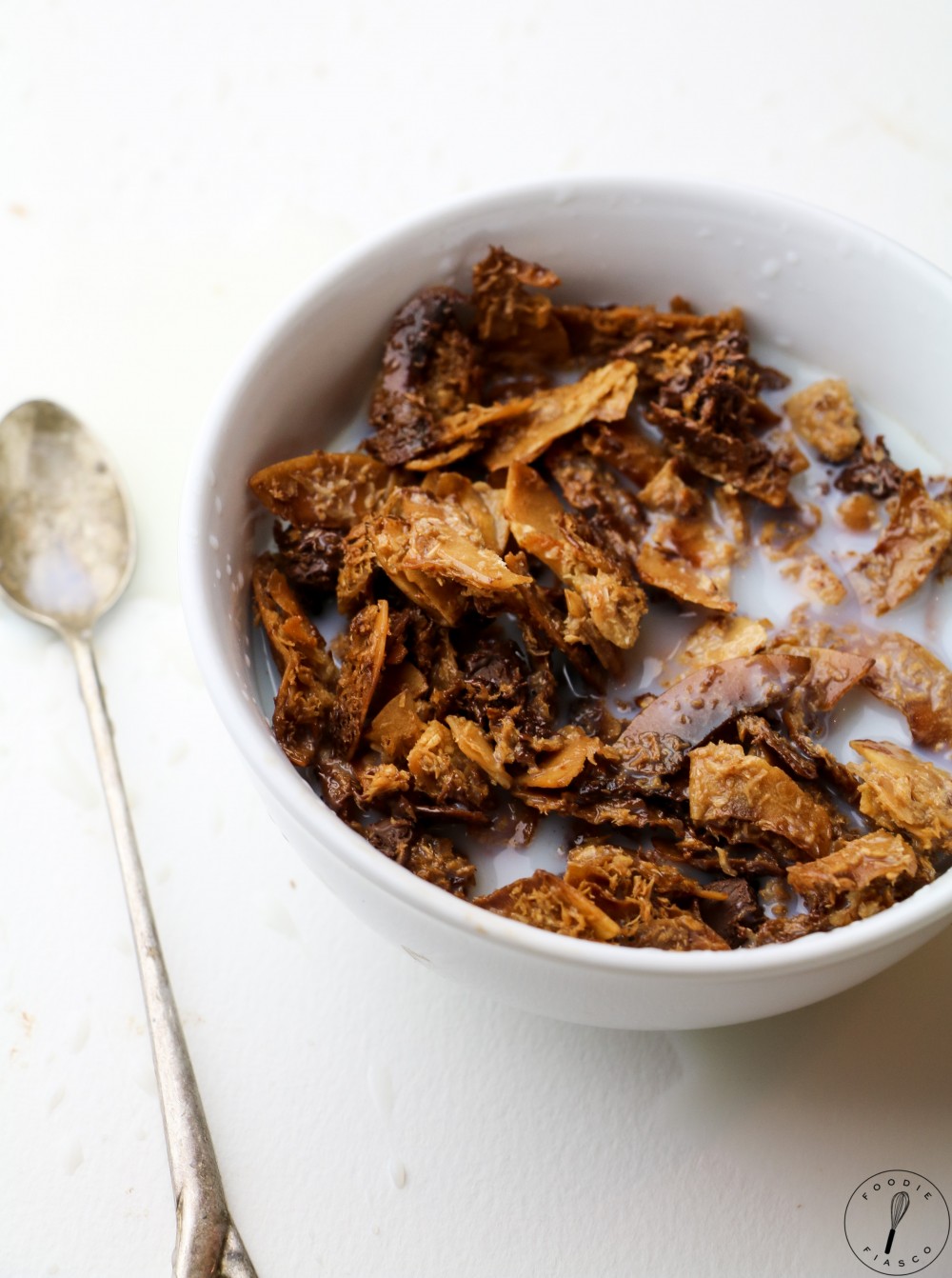 I settled on granola because I love granola. Which is a solid reason.
I also believe that an inspired granola can be a spectacular thing, fit to be cherished in your kitchen for years to come.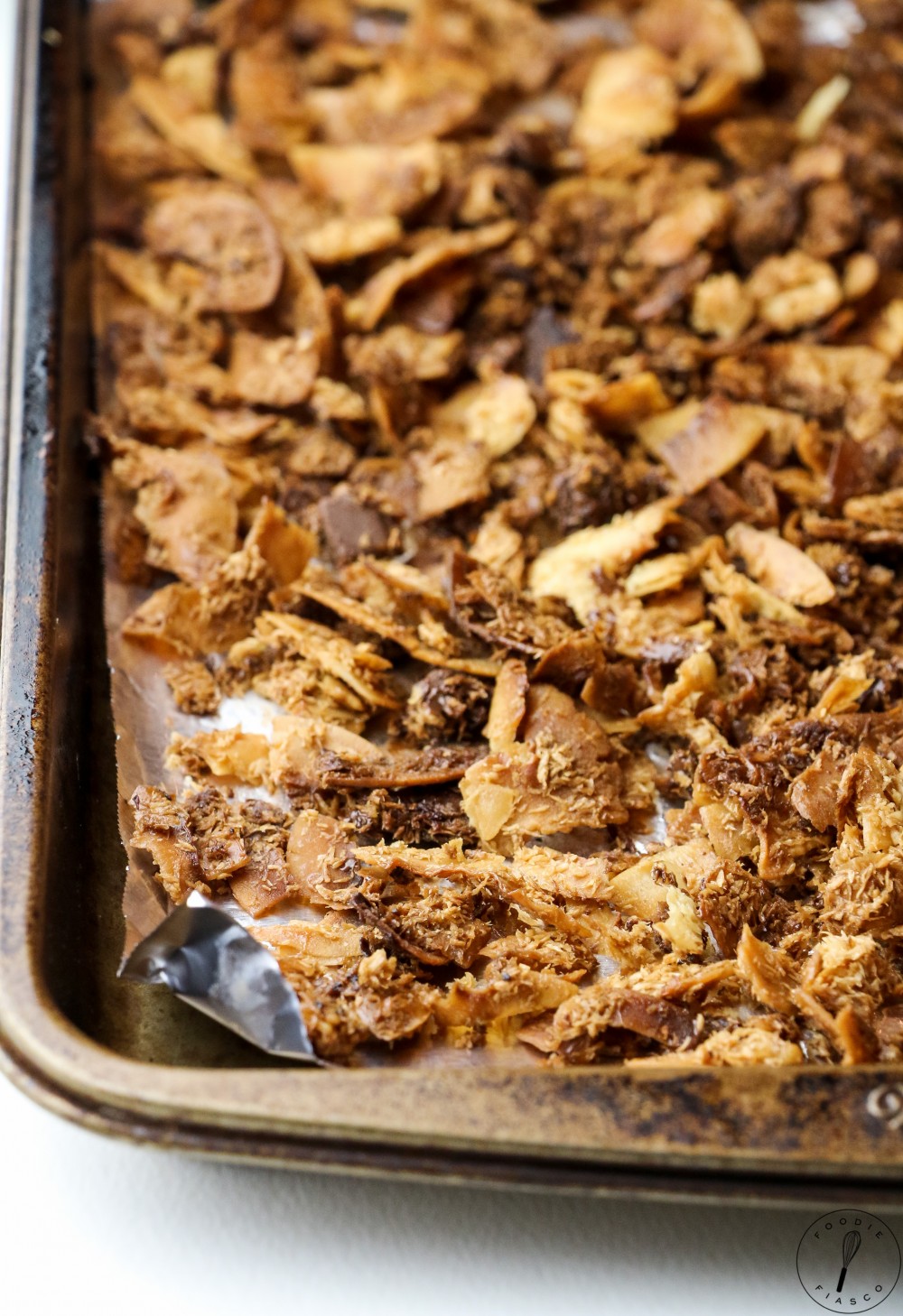 That said, the granola idea presented two issues:
1)  The Shortbread Problem is now re-incarnated into the Oat Problem. If I made a Samoa-flavored traditional granola, I have to admit that I would probably definitely end up picking around the oats. Not that oats don't have their time and place, but you're here for the headlining act.
2) Disclaimer: I would probably eat around the oats anyway. I'm a longtime low carber (as are a lot of you, dear readers), so oats aren't exactly in my regular rotation.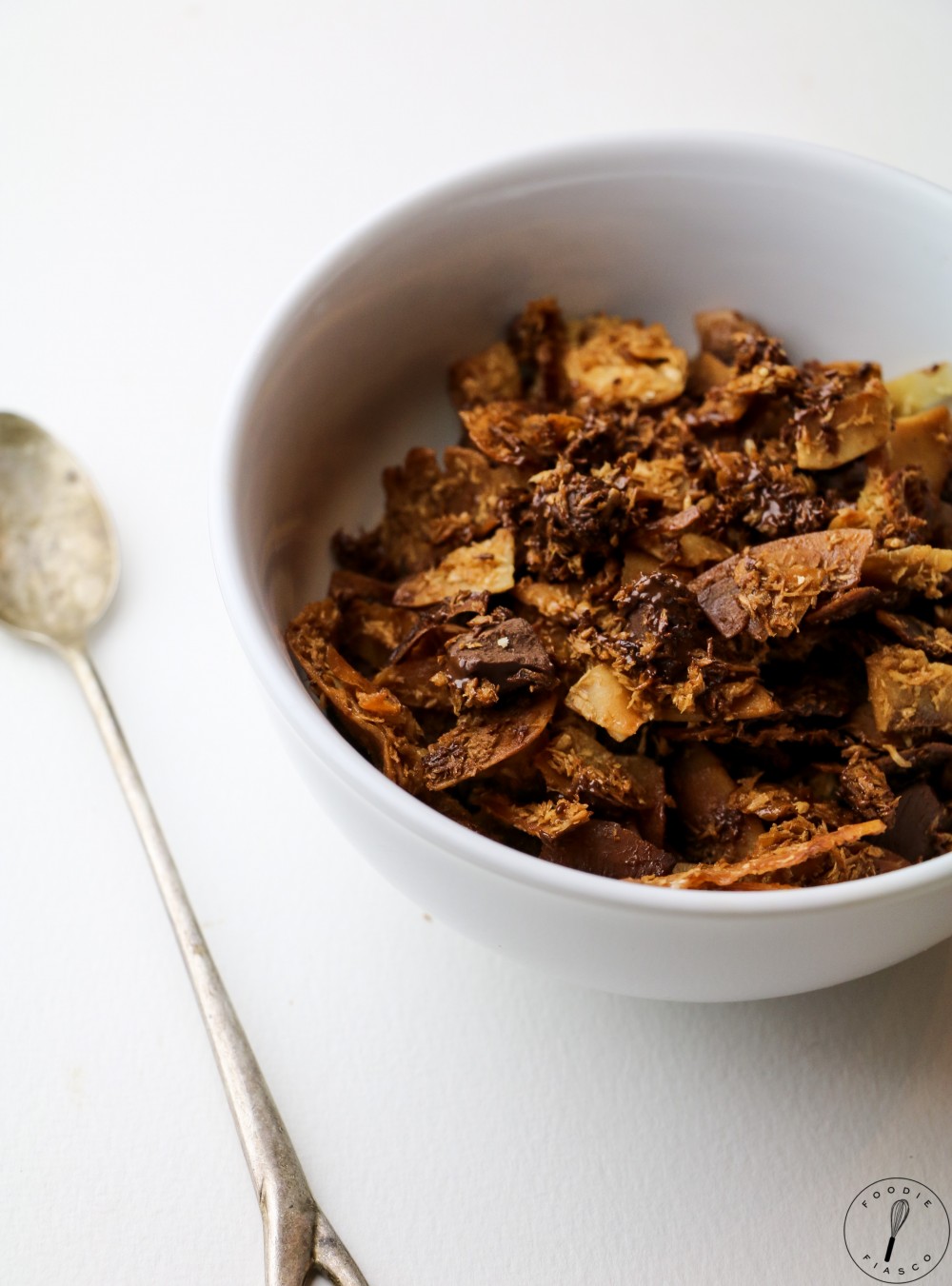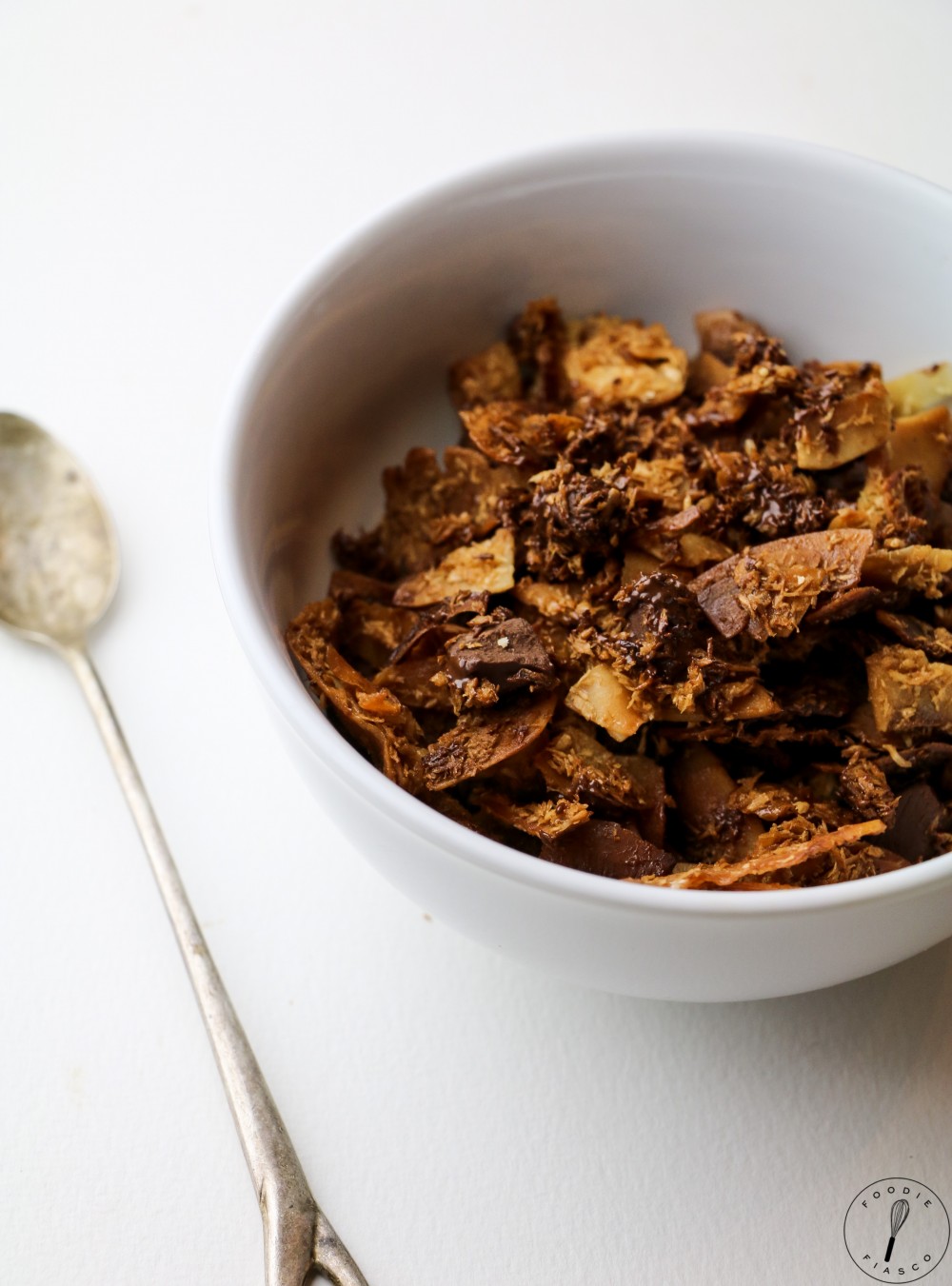 Solution! Why don't I just make granola with COCONUT instead of oats? Thus my master plan was born. I'll make a caramel, stir in coconut flakes, and bake so it gets all toasted and amazing. Then stir in hunks of chocolate and watch my dreams come true.
This way you get a collection of solely your favorite things… and all of it just so happens to be low carb. Because I want you to have it all.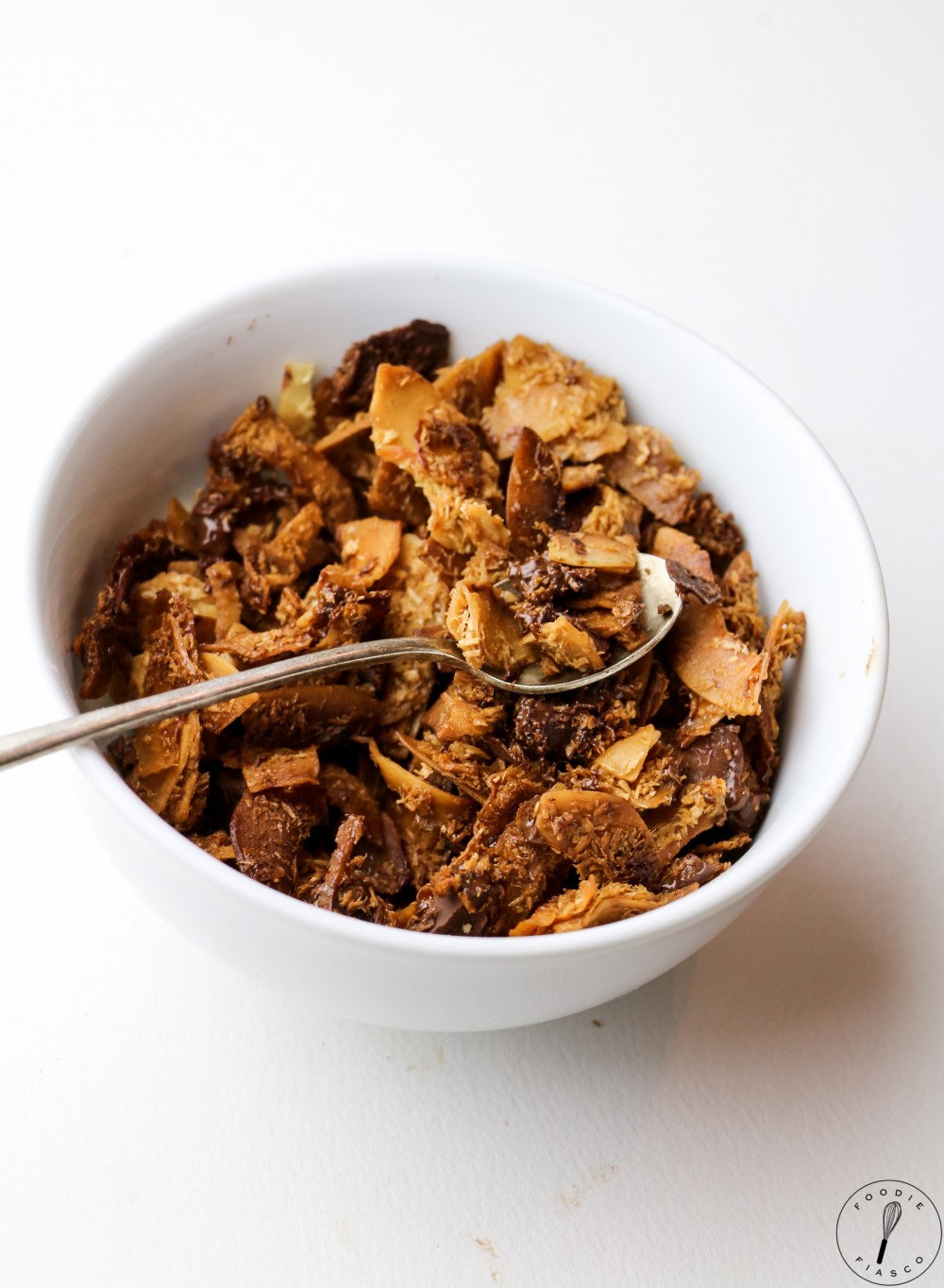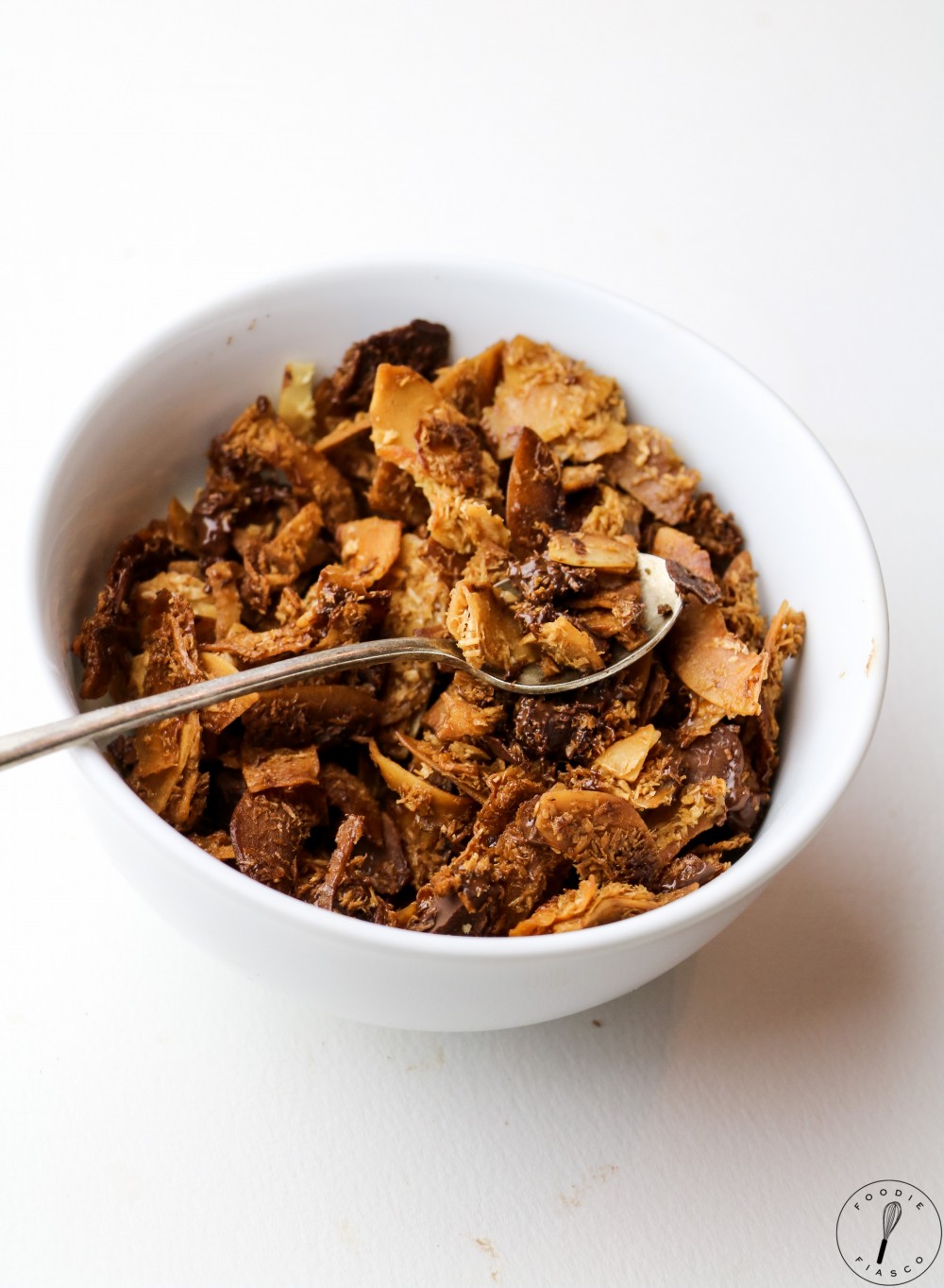 I also believe that having a Samoa-style treat available year round is not too much to ask.
That being said, girl scout cookie season ended for me 3ish years ago when I transitioned to a low carb diet.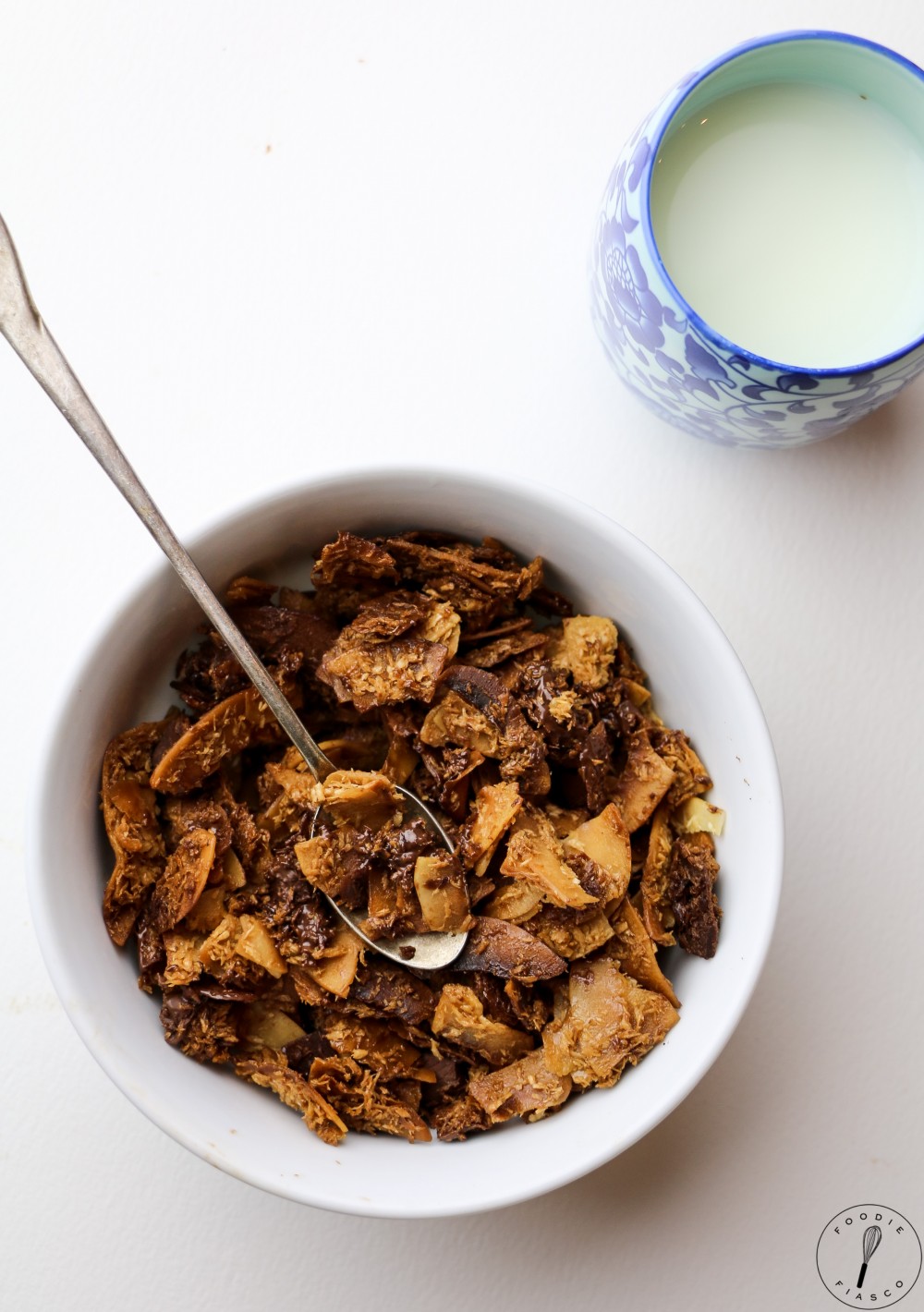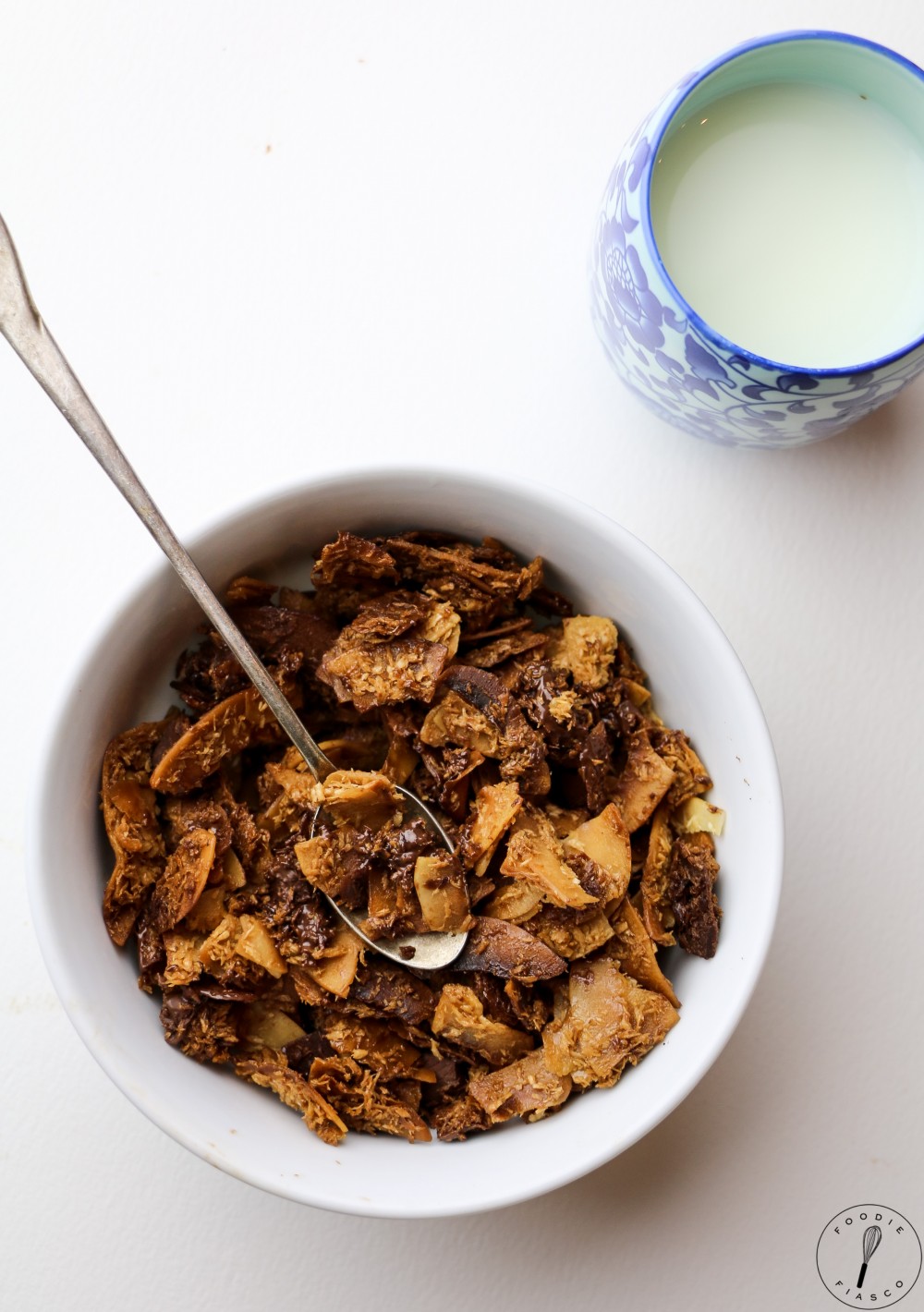 But this Scout drought has gone on for far too long. Notice how I enlisted rhyme to emphasize my point. This means business.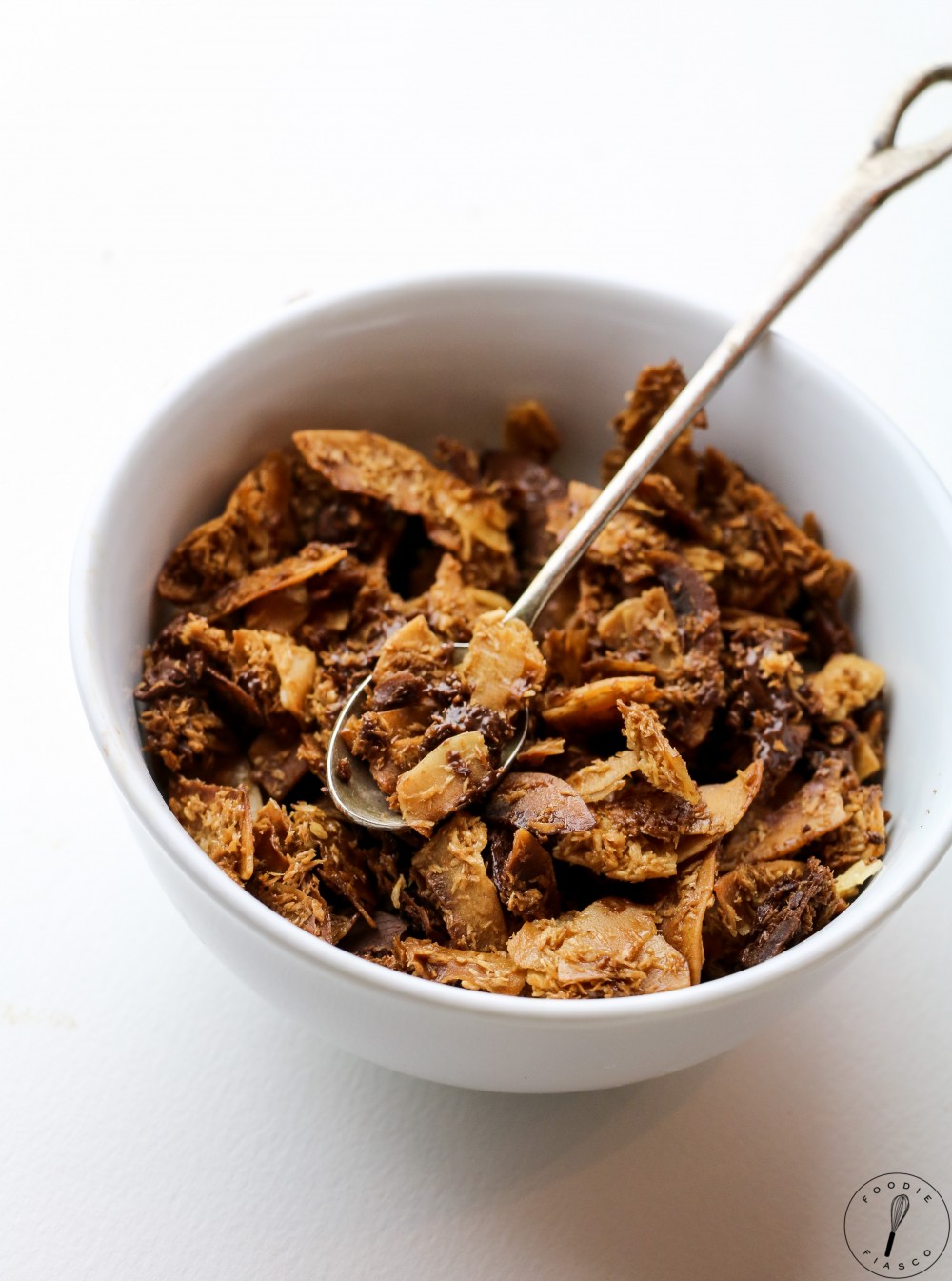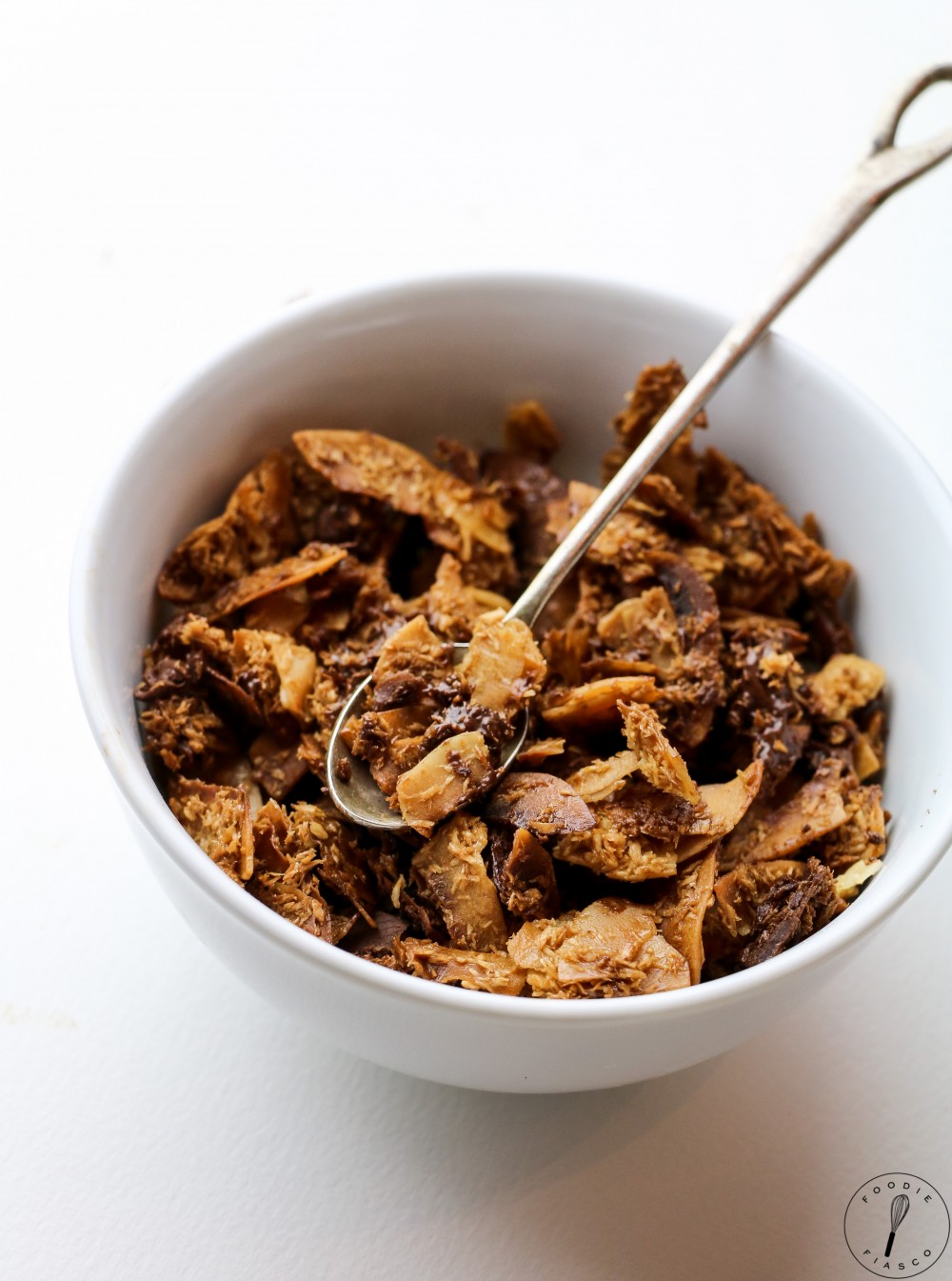 Nutritional Breakdown
Calories
3 ounces coconut flakes (516) + 1/2 cup shredded coconut (124) +  1/4 cup erythritol (0) + 1/2 cup almond milk (15) + 1 ounce sugar free dark chocolate (133) / 8 = 100 calories per (1/4 cup) serving
Net Carbs
3 ounces coconut flakes (6g) + 1/2 cup shredded coconut (4g) + 1/4 cup erythritol (0g) + 1/2 cup almond milk (0g) + 1 ounce sugar free dark chocolate (1g) / = 1g net carbs per (1/4 cup) serving
Protein
3 ounces coconut flakes (6g) + 1/2 cup shredded coconut (2g) + 1/4 cup erythritol (0g) + 1/2 cup almond milk (0g) + 1/2 cup erythritol (0g) + 1 ounce sugar free dark chocolate (1g) / = 1g protein per (1/4 cup) serving
Paleo Samoa Granola
Ingredients
¼ cup erythritol* or sugar
½ cup milk or creamer**
pinch of salt (optional)
3 ounces coconut flakes (about 1 cup)
½ cup shredded coconut (I used reduced fat shredded coconut)
1 ounce dark chocolate, chopped
Instructions
Preheat oven to 350°F. Line a baking sheet with parchment paper or a silicone mat and set aside.
In a large saucepan, combine the erythritol (or sugar) and milk (or creamer) and stir until the erythritol has dissolved. Cook over medium heat, stirring occasionally, until the milk reaches a gentle boil. Add a bit of salt if you want a salted caramel.
Remove from heat and stir in the coconut flakes and shredded coconut. Spread the coconut mixture onto the prepared baking sheet in an even layer. Bake in the oven at 350°F for 6 minutes, stir, and return to oven for another 5-7 minutes or so, until golden and a bit crispy (note that the granola will crisp up a lot more as it cools, especially if you use erythritol). Stir in the chocolate. Let cool and devour.
Notes
*Please note that this does have an "erythritol" taste. I cook with erythritol all the time and don't have a problem with the taste/aftertaste (and it shouldn't cause any GI issues in this amount), but I'd consider making this with sugar or another sweetener if I were giving it to someone else. I wanted to just give you that heads up. Yay knowledge!

**It's a little more of an authentic caramel if you use something higher fat, but I've also used milk and it turned out fine.
Nutrition Information
Serving size:
¼ cup (1/8 recipe)
Calories:
100
Net Carbs:
1g
Protein:
1g
More Girl Scout Cookie-inspired favorites: