Okay. I just had to make homemade healthy Tagalongs. I'm done with the Girl Scout cookies. Really.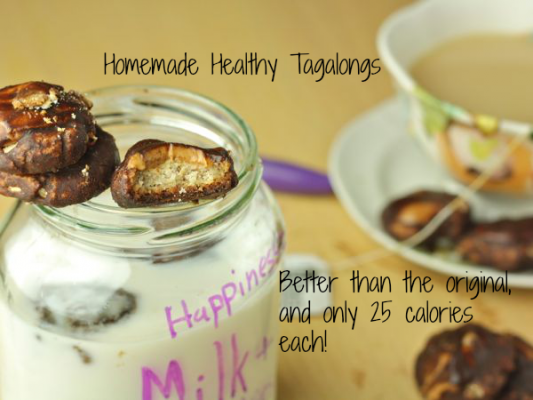 You do have to admit this has been fun though. Let's see… there are Samoas and Trefoils, and let us not forget the Thin Mints. I think I'll miss it just a little bit. There are cookies involved.
So if I hypothetically made cookies every day for the rest of my hyperglycemia-ridden existence, it would hypothetically be okay, right? I could hypothetically healthify all the Girl Scout cookies and all the hypothetical cookies beyond, and it would all be very hypothetically acceptable? Right? Hypothetically?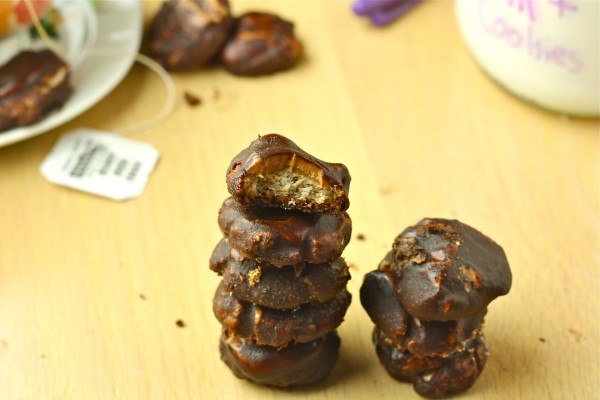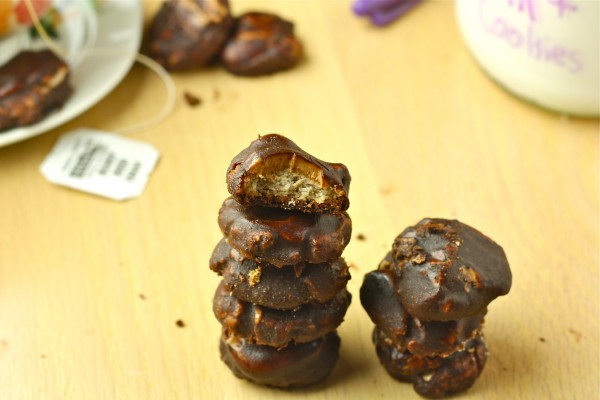 But now that we've reached the light at the end of that extremely confusing bunch of sentences, I can look back and say one thing. Now that I can hypothetically tell you that I have made every cookie ever, you better know that these Tagalongs are some of the best of the best. And I would know. I've made a lot of cookies, hypothetical and otherwise, in my day.
There's the slightly sweet crispness of the shortbread, the creamy, sheer wonderfulness of the peanut butter, and the chocolate coating. Oh that chocolate coating. I mean, these cookies just sound good, right?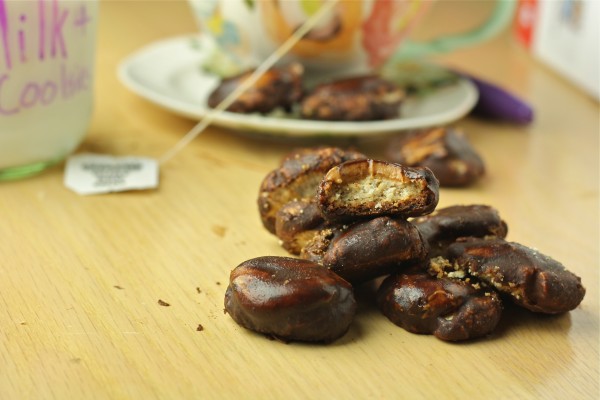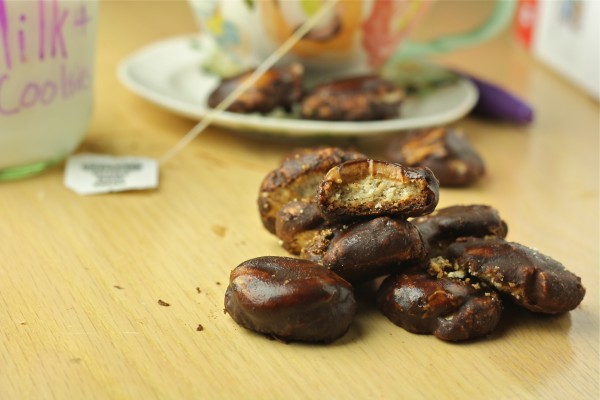 Wrong.
They're AMAZING.
Do not mistake this.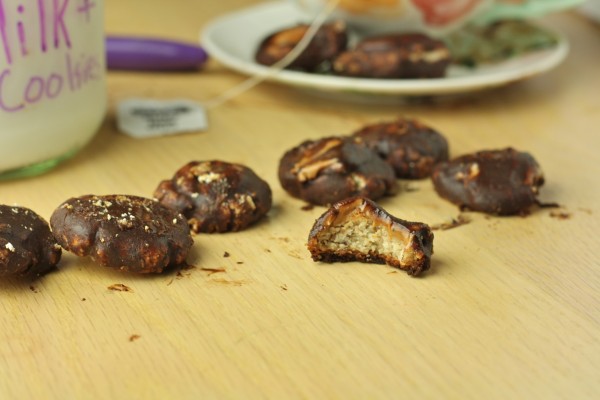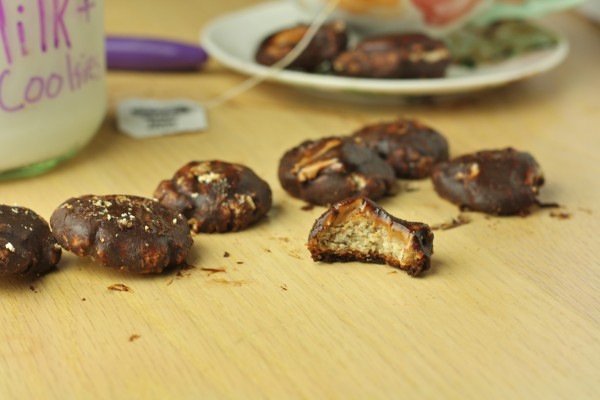 If you ever want extra credit in math, here's the formula: Cookie + peanut butter + chocolate = amazing to the 17th power. Disclaimer: My Algebra II teacher did not accept this in place of actual homework. Slack off at your own risk.
Guess whaaaaat? It keeps getting better. (I know, right?) You want to know the best part (okay, one of the best parts) about these cookies? They have your name written all over 'em. Although I (being the unabashedly biased mama I am) prefer to use a certain trefoil shortbread recipe as the base for these cookies, you can use any kind of cookie you want. At the end of the day, you're still slathering it in peanut butter and dunking it in chocolate. It's going to taste good.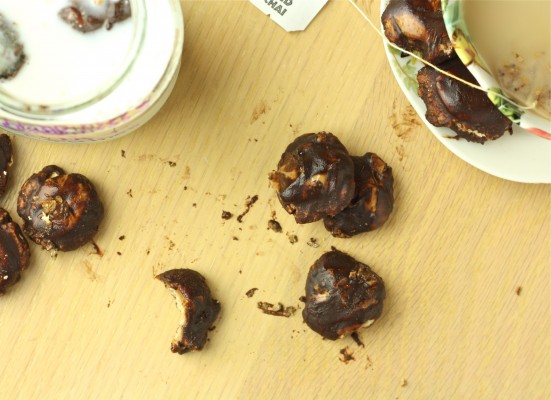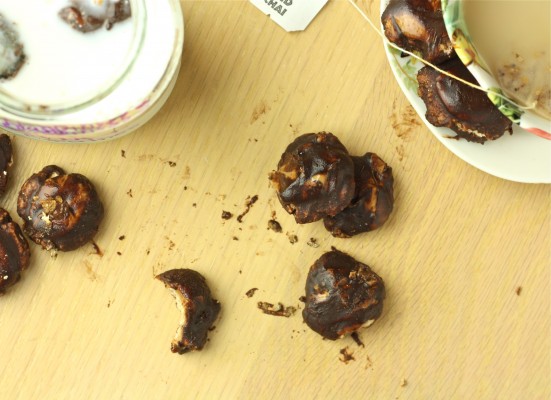 Chocolate chip? Absolutely. Peanut butter? Naturally. Cookies from the month old stash in your freezer? Um… sure. Not that I do that or anything. (I'm totally kidding. I do this with the long-frozen products of bake-fests all the time.)
And on that note, I will leave you happily munching on these homemade healthy Tagalongs while I accomplish some *cough* actual math homework.   I'll be back soon with details and something other cookies. Well okay, maybe just one cookie. Hypothetically.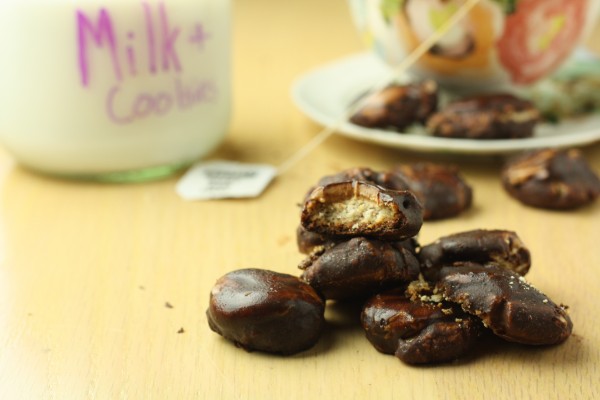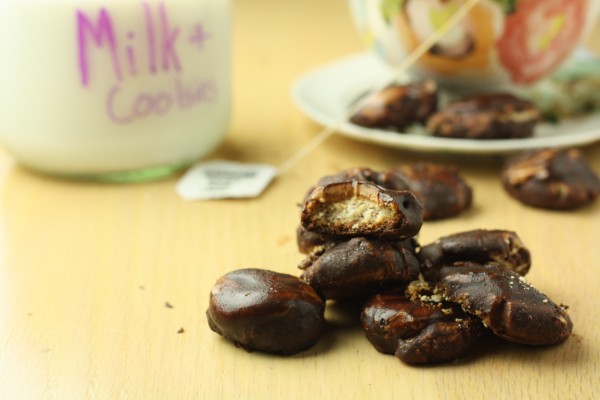 Dedicated with love to Catherine of Rabbit Food for My Bunny Teeth. Catherine, it was such a pleasure meeting you the other night. You're wonderful. I do hope we can stay in touch! I'll have my people call you're people. We'll do lunch.
Yield: 12 cookies
Homemade Healthy Tagalongs (Vegan/Low Carb/Paleo)
15 minPrep Time:
1 minCook Time:
16 minTotal Time:
Ingredients
Instructions
Spread ¼ teaspoon onto one of the cookies, place on plate, and repeat with the remaining cookies. Freeze until firm.
Meanwhile, in a small microwave-safe bowl, combine the chocolate chips and 2 Tablespoons of almond milk. Microwave for about a minute, stir, and microwave for another 15 seconds if too thin. Fetch the now-frozen cookies from the freezer. Using a fork, dip one of the cookies in the chocolate (working quickly as to not melt the peanut butter) and place it back on the plate. Repeat with the remaining cookies, and freeze once again until firm. Transfer to a zip lock bag and keep in the freezer for long term storage; they should last at least a month if stored this way.
Notes
For the base, feel free to use any kind of small cookie (about 1 inch in diameter) you like. Vegan if you want vegan, gluten free if you want gluten free, etc. I love using my World's Healthiest Chocolate Chip Cookies and my Homemade Healthy Trefoils.
For a paleo version, use paleo-friendly cookies and Homemade Healthy Chocolate (link above).
I imagine you can use an kind of nut butter you so desire.
7.8.1.2
221
https://www.foodiefiasco.com/homemade-healthy-tagalongs-veganlow-carbpaleo/
Nutrition
Another math note: eating half the batch in one sitting = eating half the box in one sitting. But way more acceptable, of course.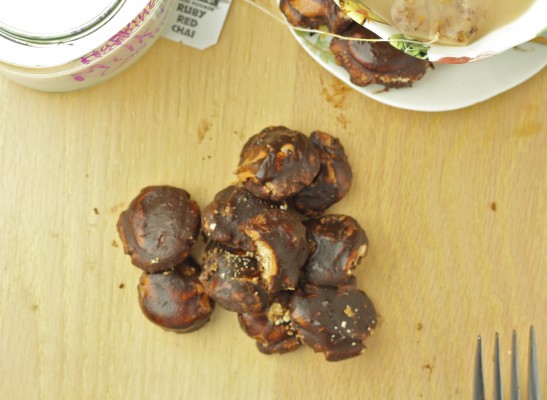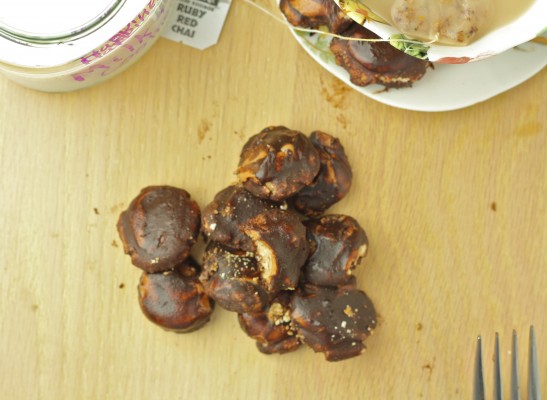 Other Healthy Girl Scout Cookies:
What's you favorite kind of cookie? EVER?
I know this is like a mother picking her favorite child. I get it. But if you were to choose one cookie  (okay maybe three cookies) to live on for the rest of your life (not nearly as bad as it sounds), what would it be? For me, I have to say these homemade healthy Tagalongs are way up there, but I love me some Samoas too. You have my permission to be indecisive.