My quest for the perfect pancake is officially over.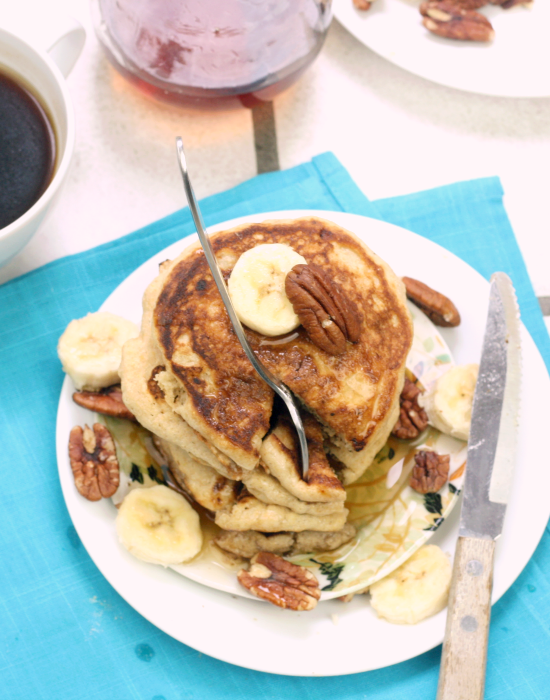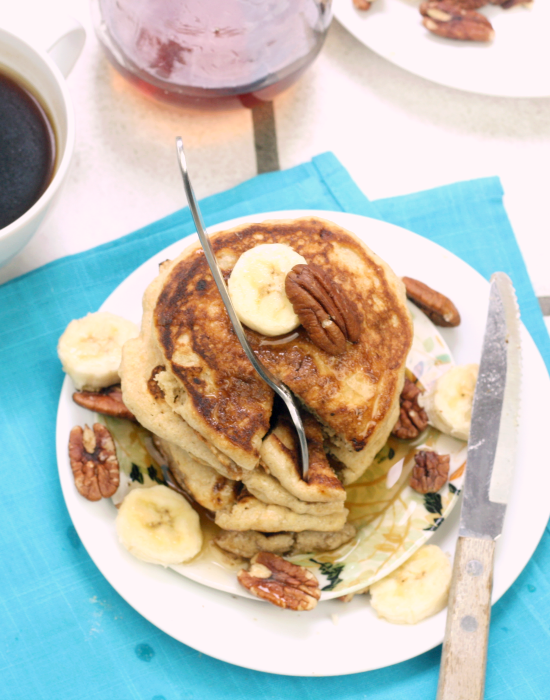 You know how I want everyone to be included, especially when it comes to food. We all need to eat. And after all, breakfast is the second most important meal of the day… right after dessert. #prioritiesstraight #stretchypantsforthewin
My shamelessly delicious pancake adventure has yielded the two best recipes I have and the last I'll ever need. First we've got a short stack that's hearty and uber healthy, gluten/grain free/paleo courtesy of our friend coconut flour.
But there's another side to that coin. Er, silver dollar.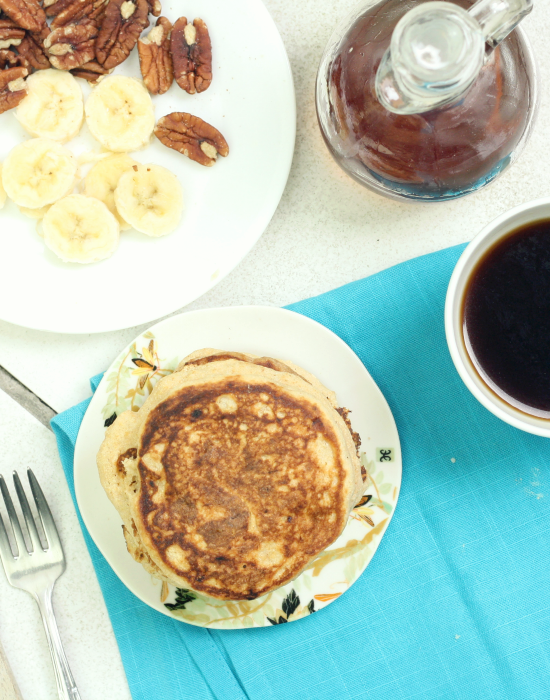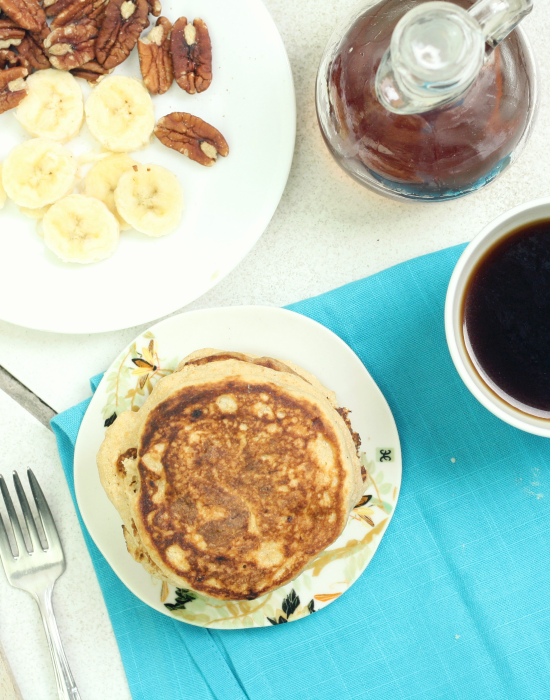 Sometimes you just need a pancake. We're talking real, down-home bisquick style flapjacks here.
I could eat those coconut flour pancakes every day from here till kingdom come, but now and then comes a morning that requires a pancake so classically magical it could make Paula Dean shed a butter-spiked tear of joy.
And this, my friends, is that pancake. (Haha like anyone could eat just one.)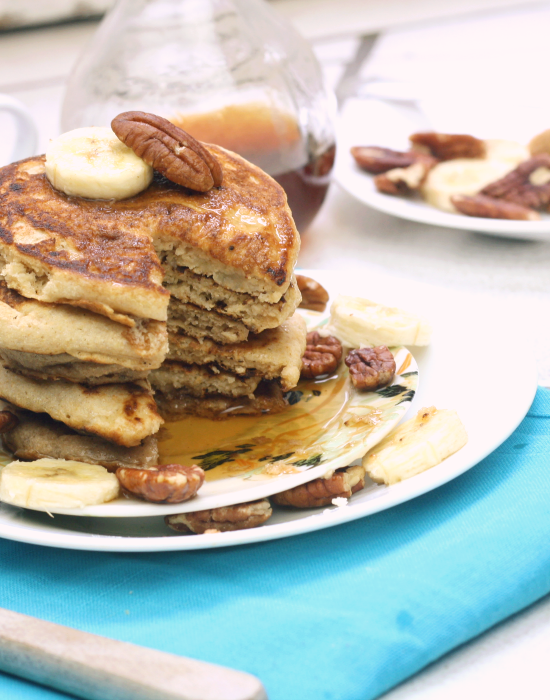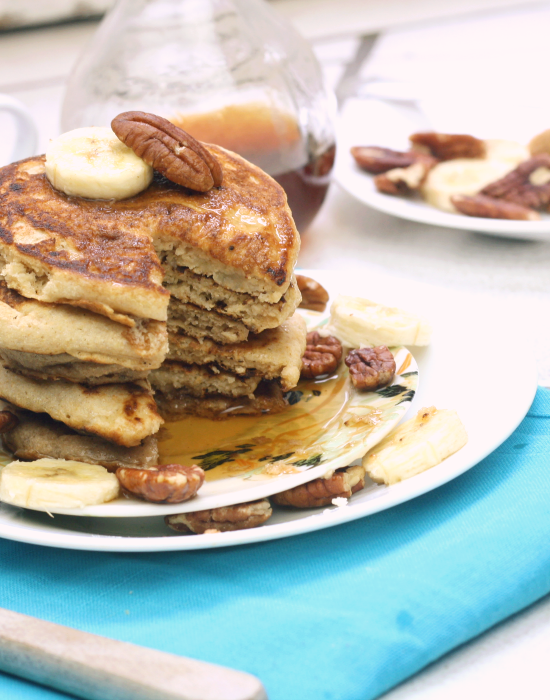 Says the girl who thinks maple syrup should be a food group.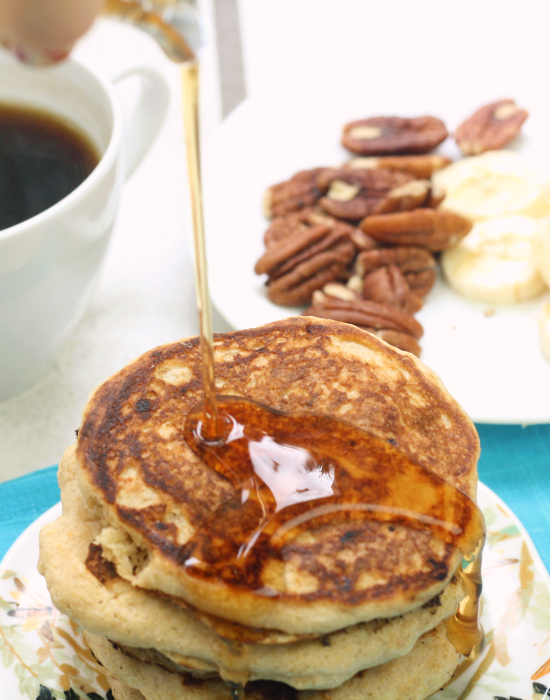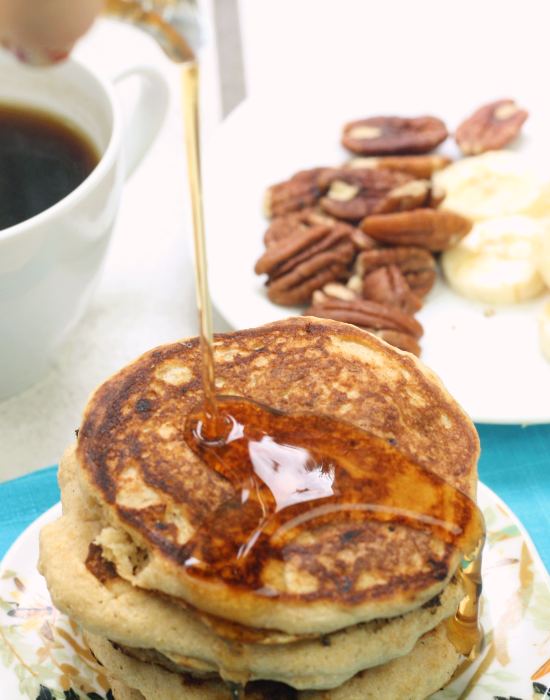 Stumble to the kitchen and whip up the batter so simple that being 79% unconscious will not hinder your efforts whatsoever. (Dear Mondays, you should be this forgiving. Take notes.)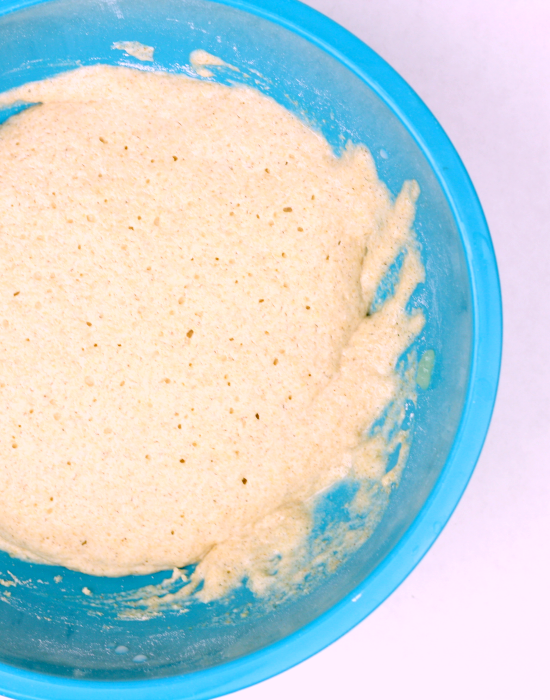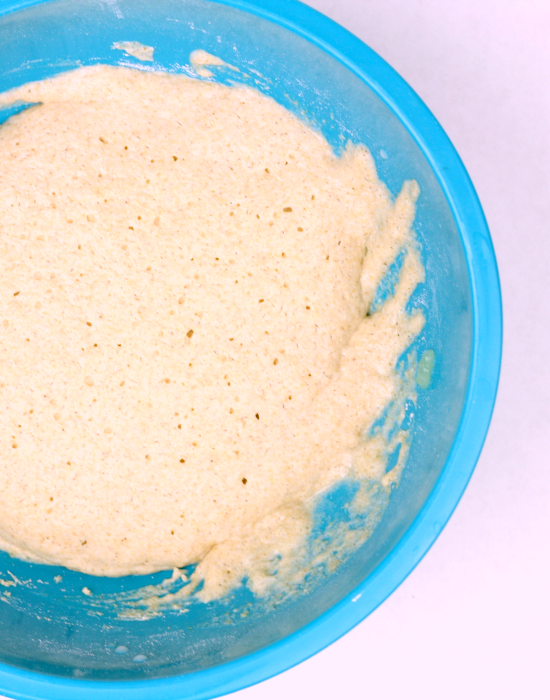 Pour the batter into your thoroughly heated pan, and behold the breakfast that practically made itself. But not really, because you really do deserve all the credit.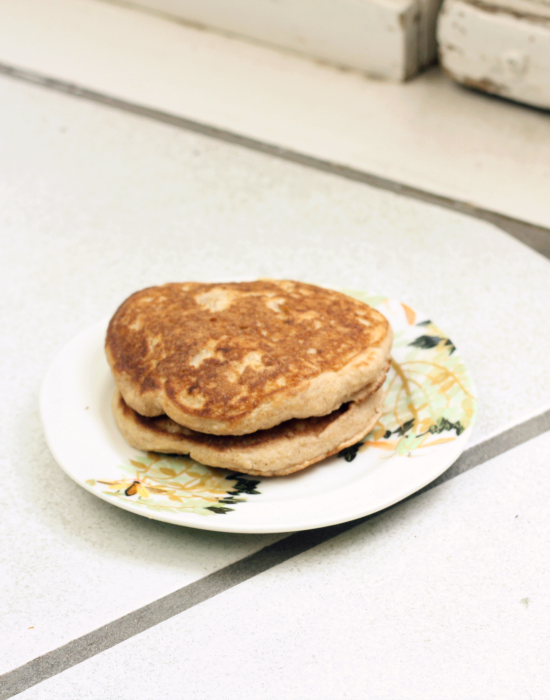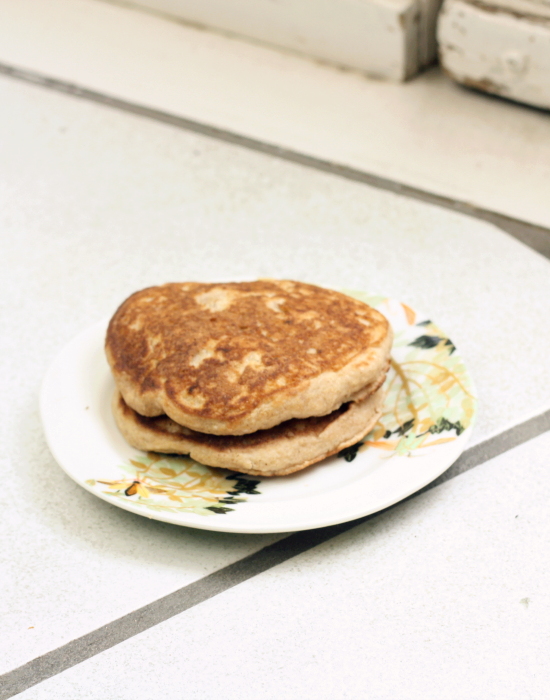 And the final step is to go way overboard with toppings.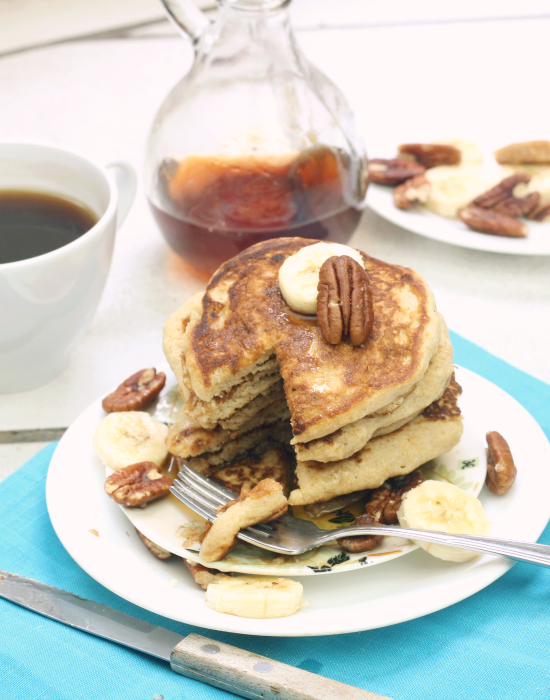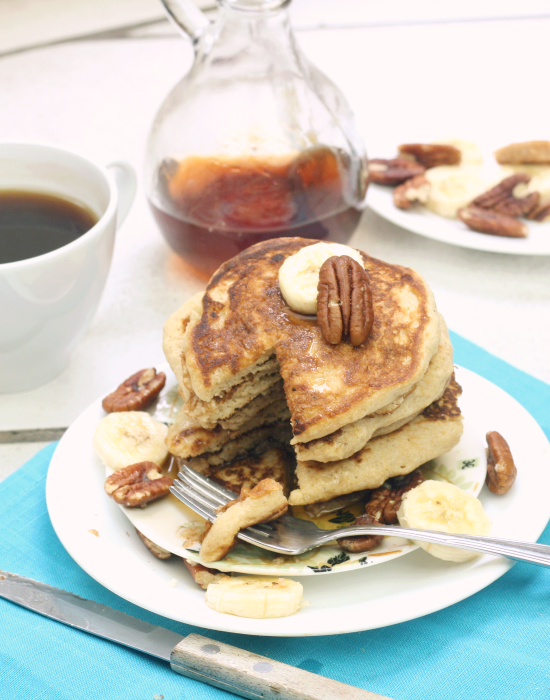 Perfect.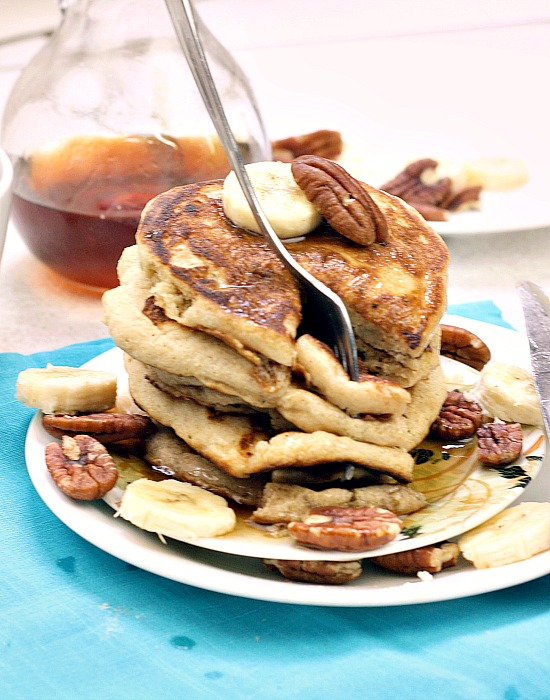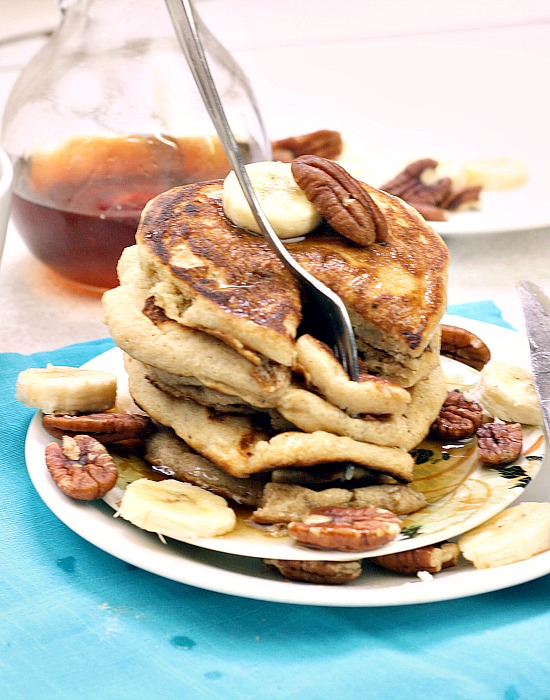 Yield: 1 stack of pancakes (for you!)
Serving Size: the whole darn recipe
The Perfect Whole Wheat Pancakes
Ingredients
1/4 cup white whole wheat flour
1/2 tablespoon baking powder
pinch salt
1/4 cup almond milk
1/2 tablespoon unsweetened applesauce
1/4 teaspoon vanilla extract
1/8 teaspoon ground cinnamon
1/8 teaspoon apple cider vinegar
sweetener, to taste (I use 1-2 packets of stevia, or 1 tablespoon sugar/erythritol.)
Instructions
In a medium bowl, combine all ingredients and stir until completely combined. Allow the batter to sit for a minute while the pan is heating up, and admire how beautifully it raises because of the baking powder.
Spray a skillet with cooking spray (or just add a bit of oil) and heat over medium heat. Once the pan is hot, pour the batter into the pan in 2 tablespoon rounds (or larger, depending on desired size) and cook until golden, about 2-3 minutes. Flip and cook for a few more minutes, then transfer to a plate. Indulge yourself with toppings and devour.
7.8.1.2
340
https://www.foodiefiasco.com/perfect-whole-wheat-pancakes/
Nutrition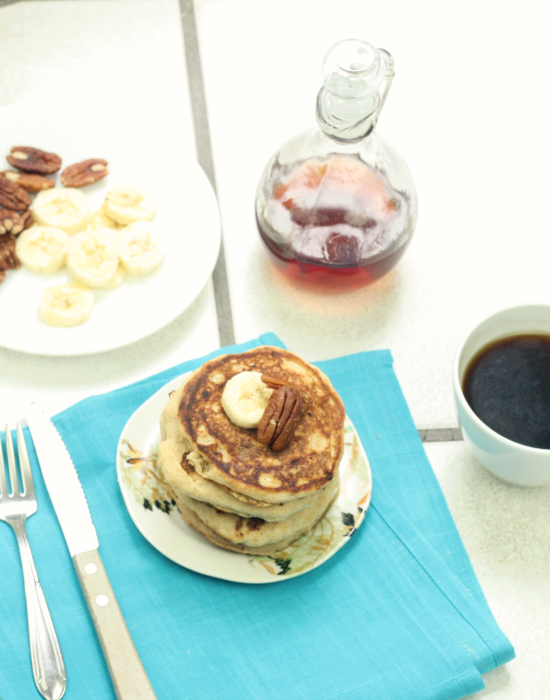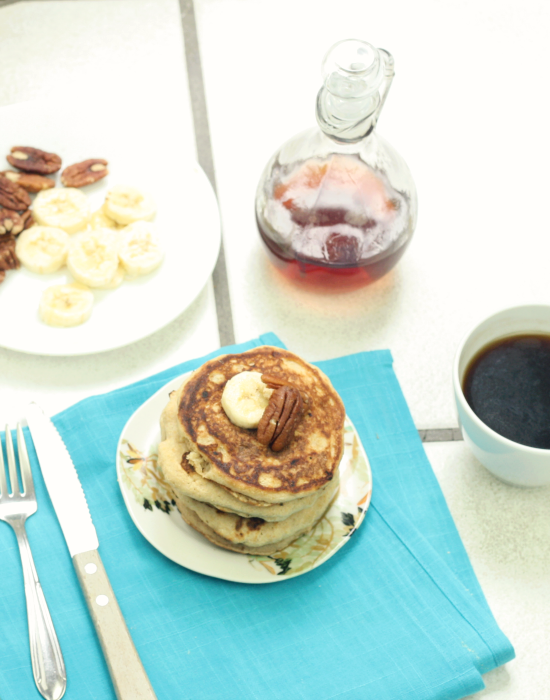 Do you eat breakfast?
I hope you do! It's such an important way to start your day off right. Whether you're a current breakfast eater or not, hopefully this pancakes will help you start some healthy habits. Happy hump day my friends!