Okay, so who's up for an amazing food contradiction?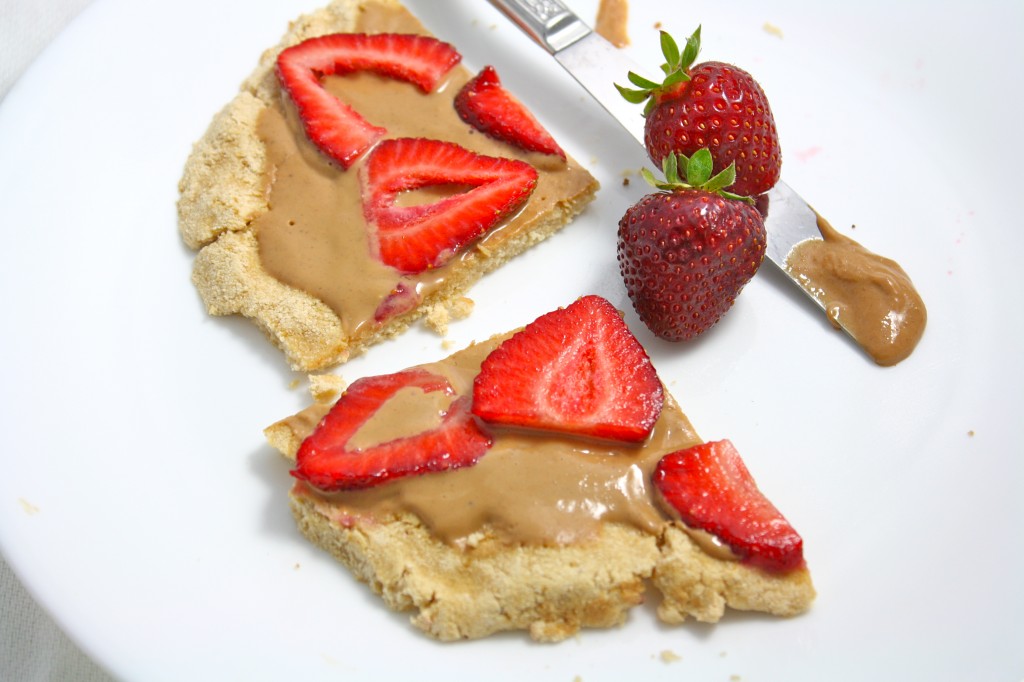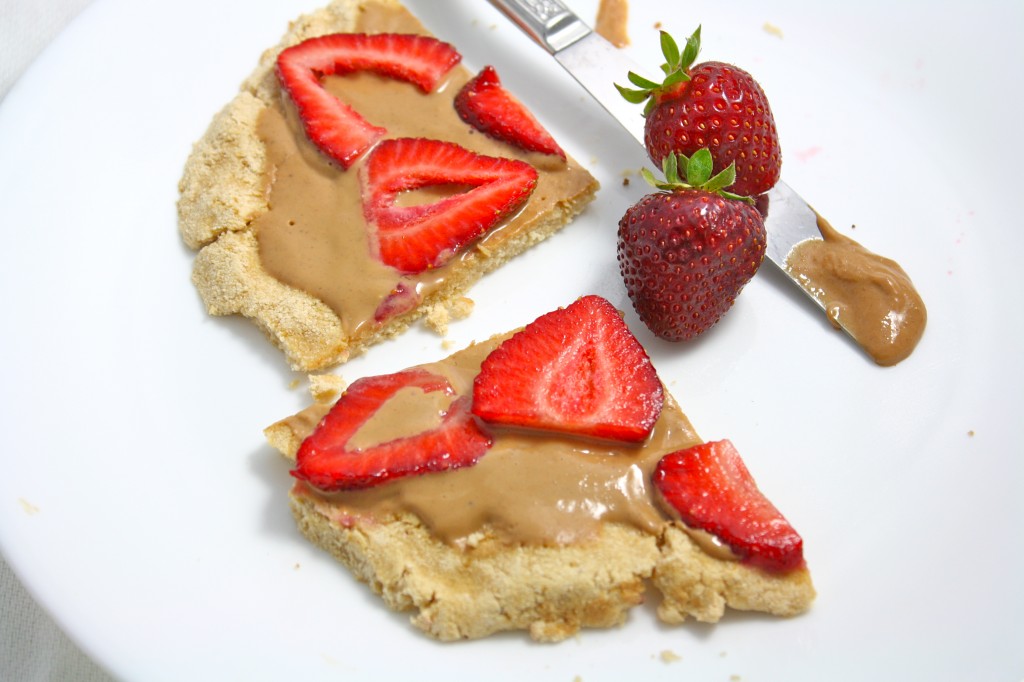 This is for you brave souls out there who just jumped out of your chairs and effectively knocked over your computer tables to proud shout "Me!!!!!" You rock, and I love you.
So just for you, I decided to take some of the greatest things in life and roll them into one extremely attractive food item. Pizza, dessert, healthfulness, and pb+j. You agree with me? Good. I always knew you were smart. You have your priorities straight, my friend.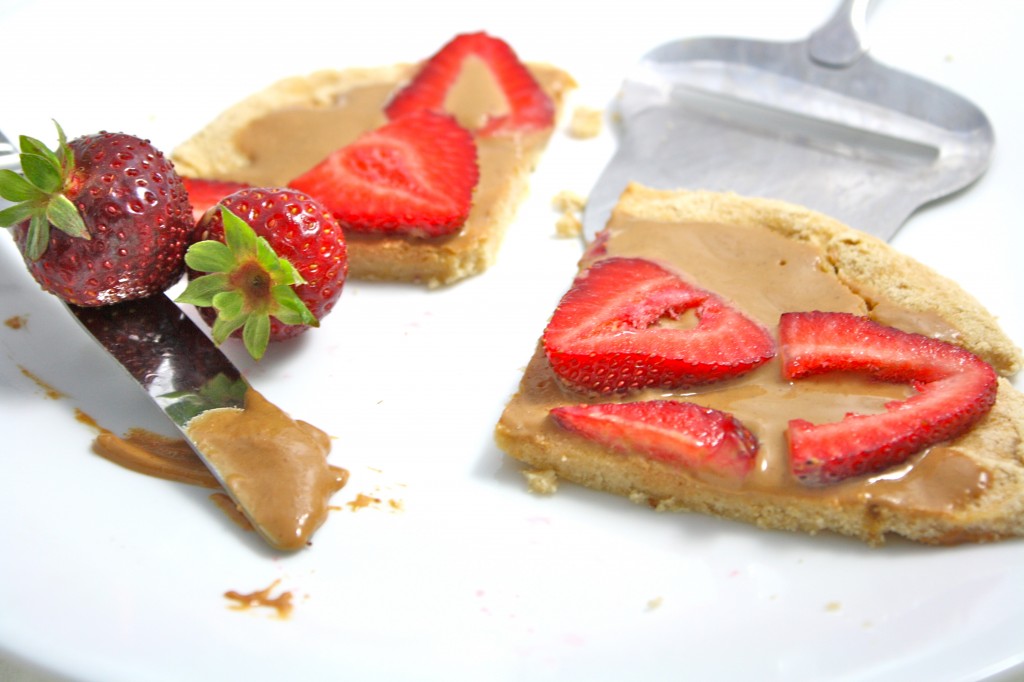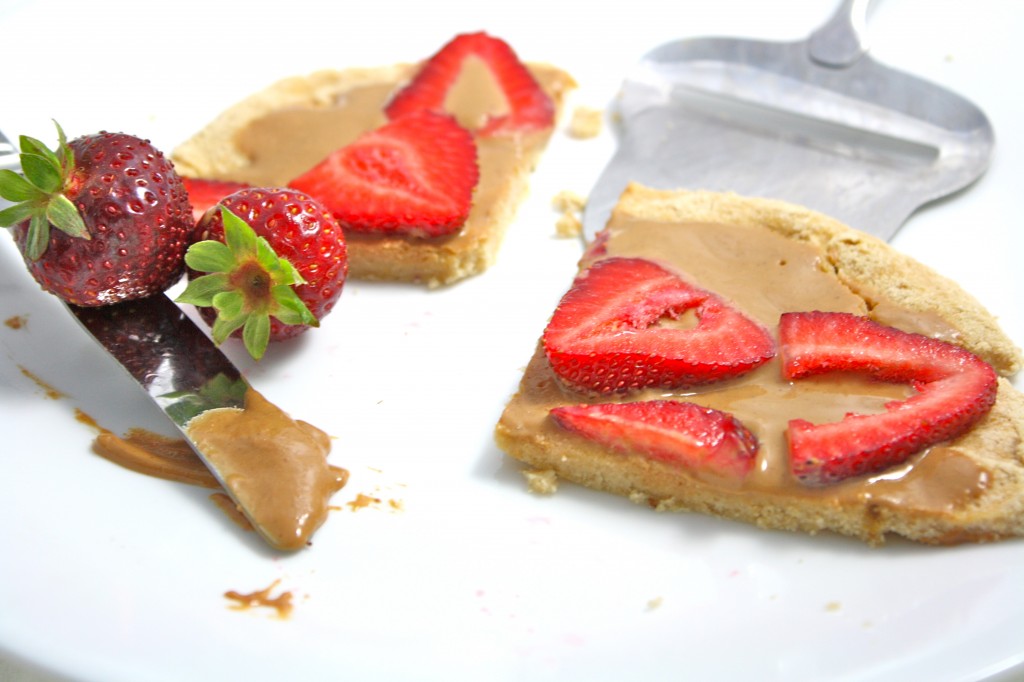 So once I decided on these three all important traits, I got myself to work. What could possibly live up my ridiculous demands to fulfill my dreams of all-encompassing deliciousness?
What magnificently brilliant person could inspire such a creation? Katie, of course. There I was, minding my own bloggy business, when I go to Katie's blog and see this display of beautiful genius. And then I knew.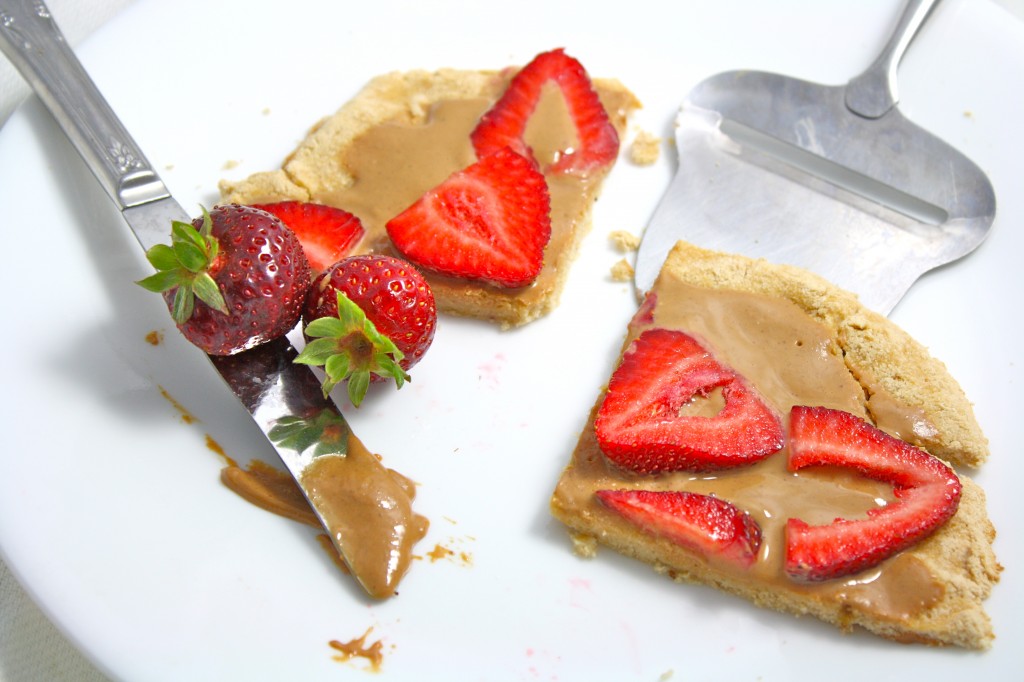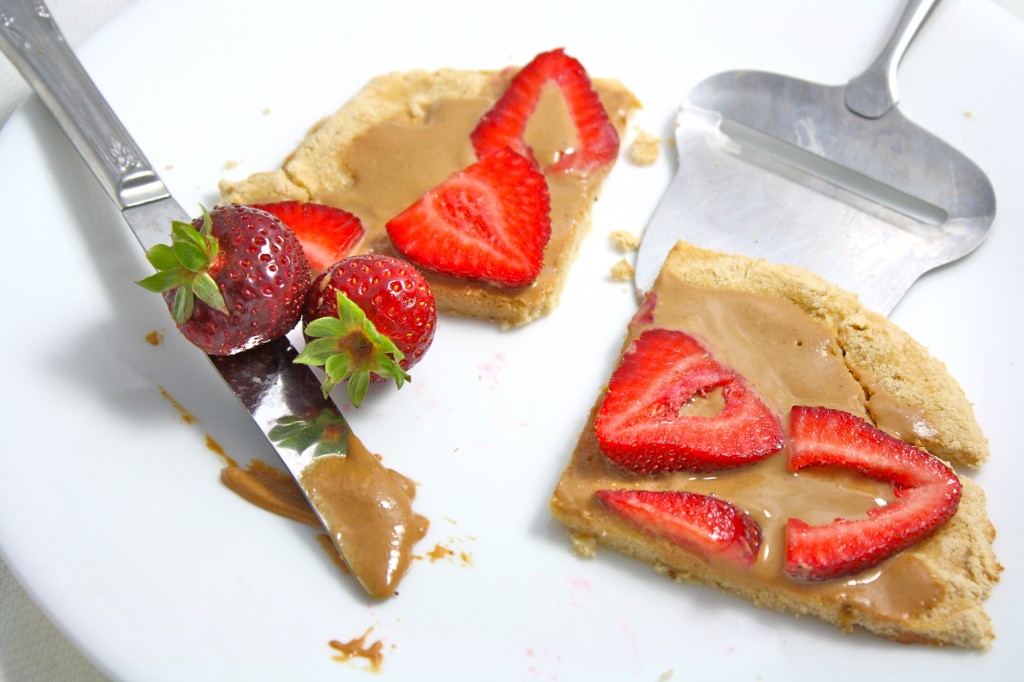 My dreams were fulfilled at last! With a major overhaul, I could make this recipe super-duper healthy and completely unique.
Picture this: pizza. Not obnoxiously greasy pizza, but a legit pizza. Now take that pizza and make it suitable for dessert, say, by topping it with peanut butter and jelly. What could possibly make this better?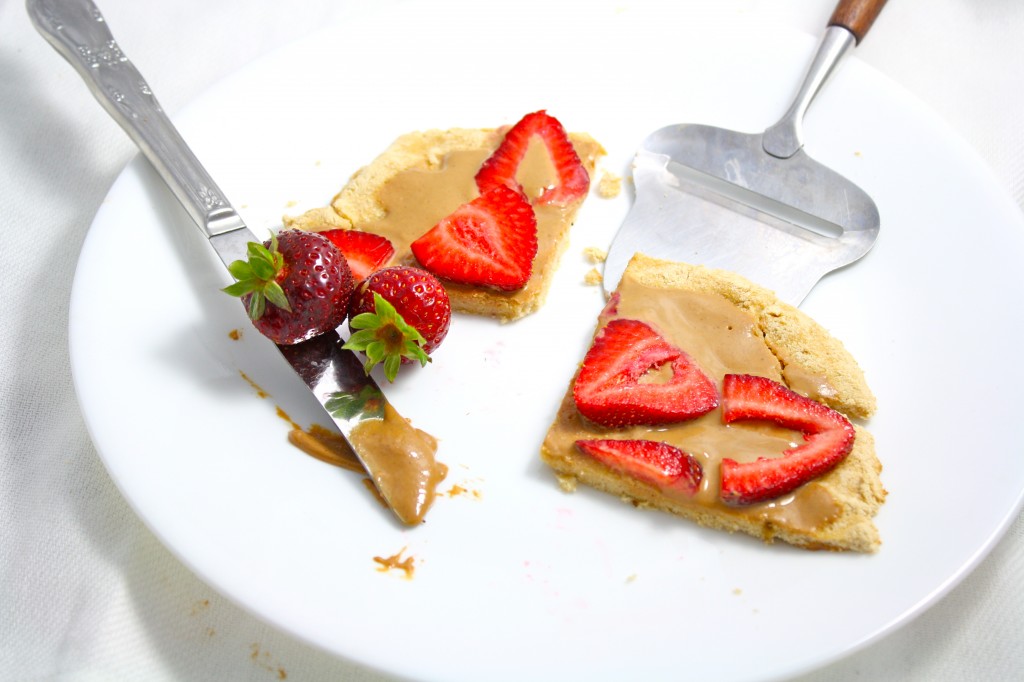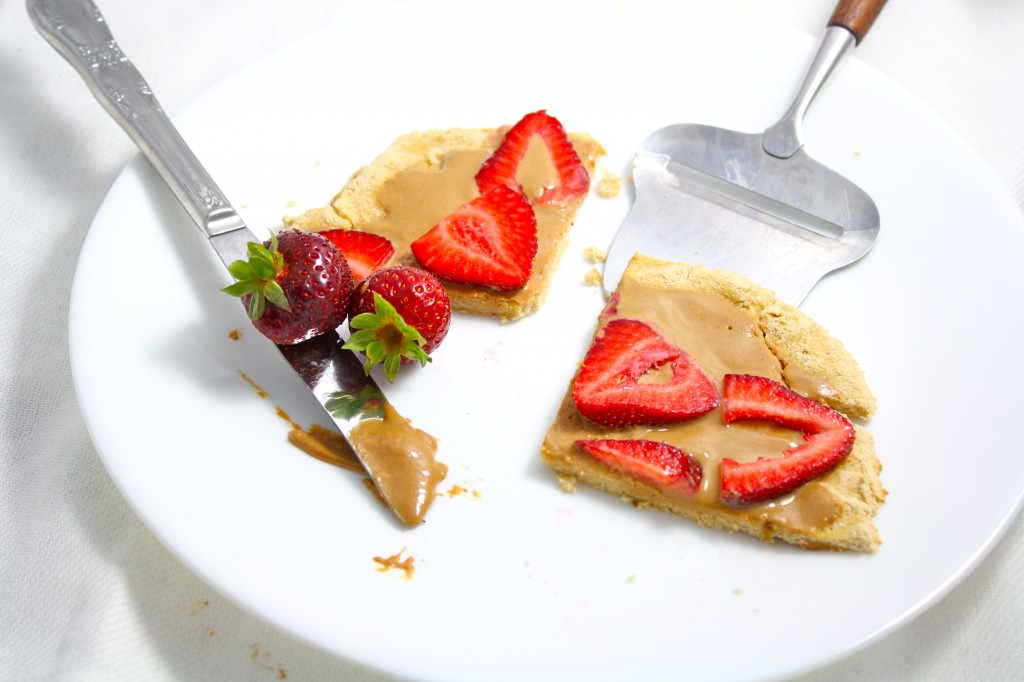 I took this beauty and I made her vegan, gluten free, grain free, low carb, sugar free, low fat, and only about 115 calories for the entire pizza. Toppings and all? Only 160 calories! 
Yes, you can eat an entire pizza for under 200 calories, toppings and all. Crazy? Yes. Unbelievable? Sure. Mouth-watering? Heck yeah! Should you make this?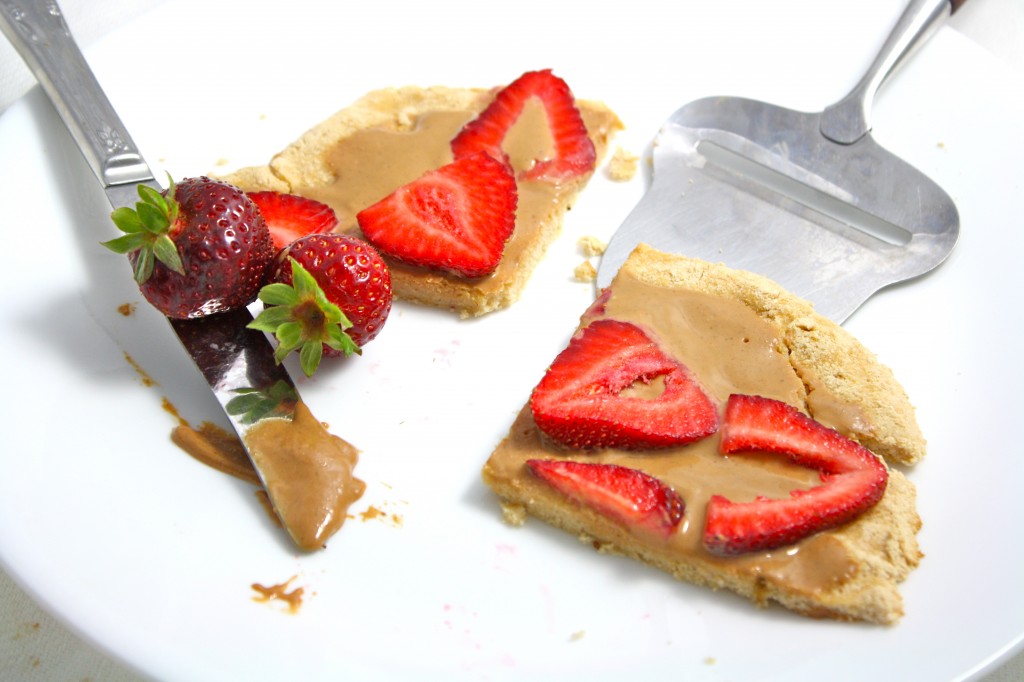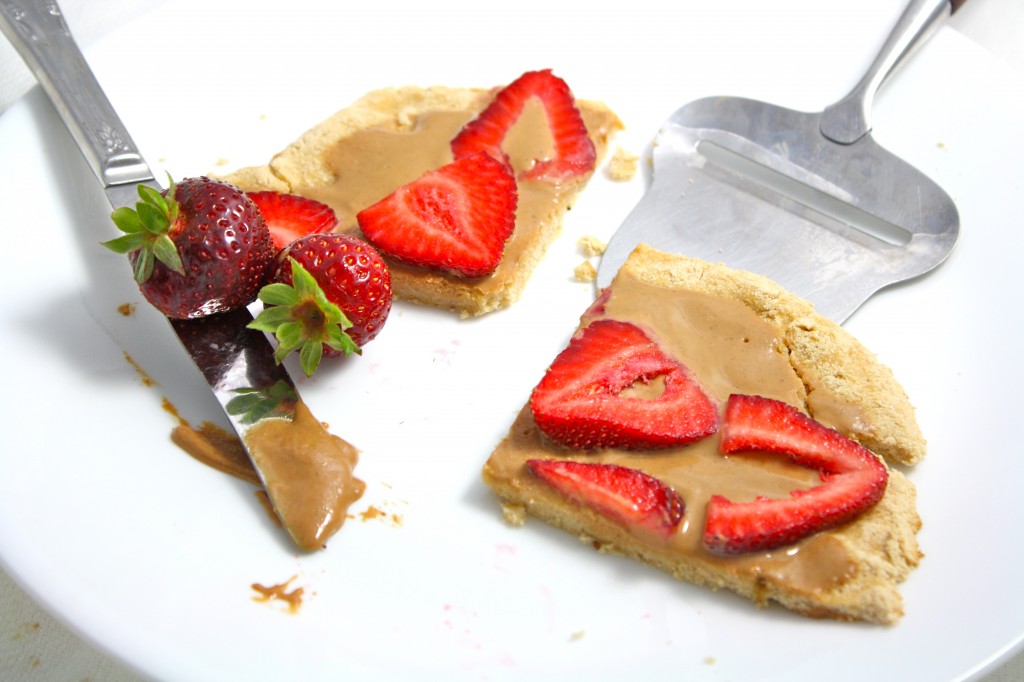 In a word? Yes. Now get on that.
Pb+J Dessert Pizza
Think of this as a giant cookie slathered with peanut butter and strawberries to capture the essence of jam. What's not to like? Feel free to play around with other "sauces" and toppings to create your own dessert pizza masterpiece.
Adapted from my World's Healthiest Cookie
Makes 1 pizza
Nutritional Info (without toppings)
(Calculated with applesauce)
Calories: ~120
Fat: 5 grams
Nutritional Info (with toppings)
(Calculated with applesauce and Better N Peanut Butter))
Serving size: 1 entire pizza
Calories: 163
Fat: 7 grams (healthy fats!)
Ingredients
For the pizza:
1/4 cup coconut flour
1/4 cup mashed banana or applesauce (I prefer banana. Personally, I think applesauce gives them too much of an apple-y taste. That's just me.)
1/8 teaspoon salt
1/2 teaspoon vanilla extract
1/4 teaspoon molasses
stevia or other sweetener, to taste (I used about 20 drops of stevia)
1/2 teaspoon baking powder
2 Tablespoon almond milk, or milk of choice
For the topping:
1 Tablespoon peanut butter (I used Better N' Peanut Butter for a lower fat option)
2 Tablespoon almond milk, or milk of choice
3 strawberries, sliced
Directions
Preheat oven to 350F.
In a small bowl, combine coconut flour, salt, and baking powder. Add applesauce, molasses, and vanilla extract and stir until thoroughly incorporated. Sweeten to taste (I used about 20 drops of stevia). Of the dough seems too dry, do not add more liquid. Instead, simply squish the dough together with your fingers.
Turn the dough out on a cookie sheet lined with parchment paper or a silicone mat, and squish it down with your fingers until you get a circle of uniform thickness about 6-8 inches in diameter. Make sure you don't make it too thin, or it will fall apart when baking. You could alternately place a piece of parchment over the dough and roll it out with a rolling pin, but I was feeling rustic. Now stick it in the oven and bake for 9-12 minutes, or until slightly golden and just starting to crack. Let cool well or it will fall apart.
While the pizza bakes, place the peanut butter and remaining 2 Tablespoon almond milk in a cup or small bowl, and nuke in the microwave for 45 seconds to a minutes. Take it out, stir, and let sit for a few minutes.
Assembly time! Spread your peanut butter mixture on the cooled pizza, and arrange the sliced strawberries all fancy like on top.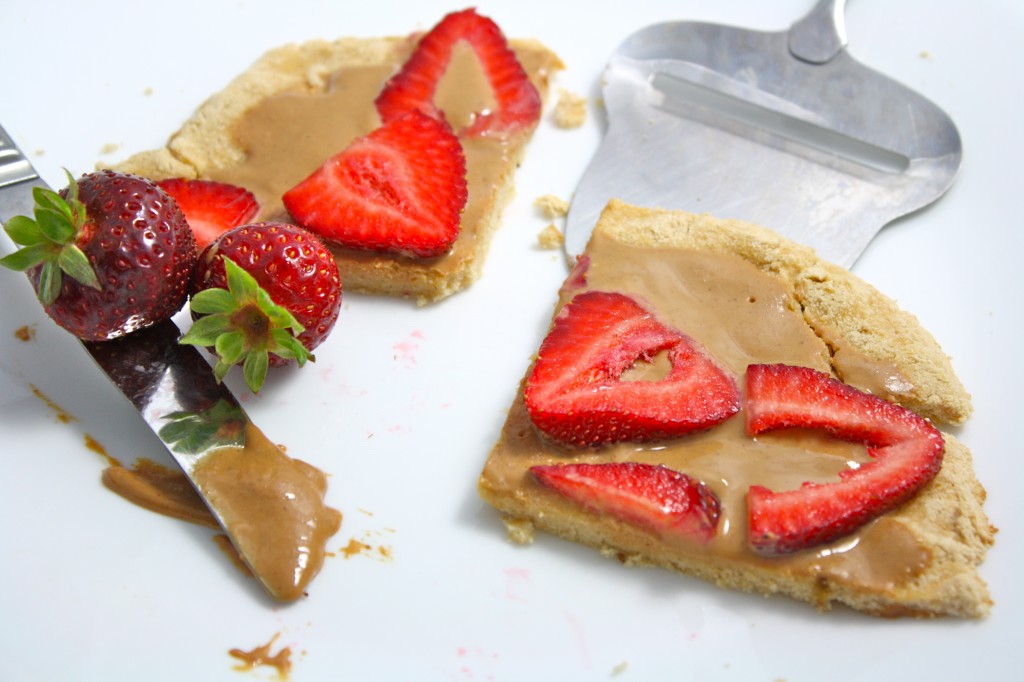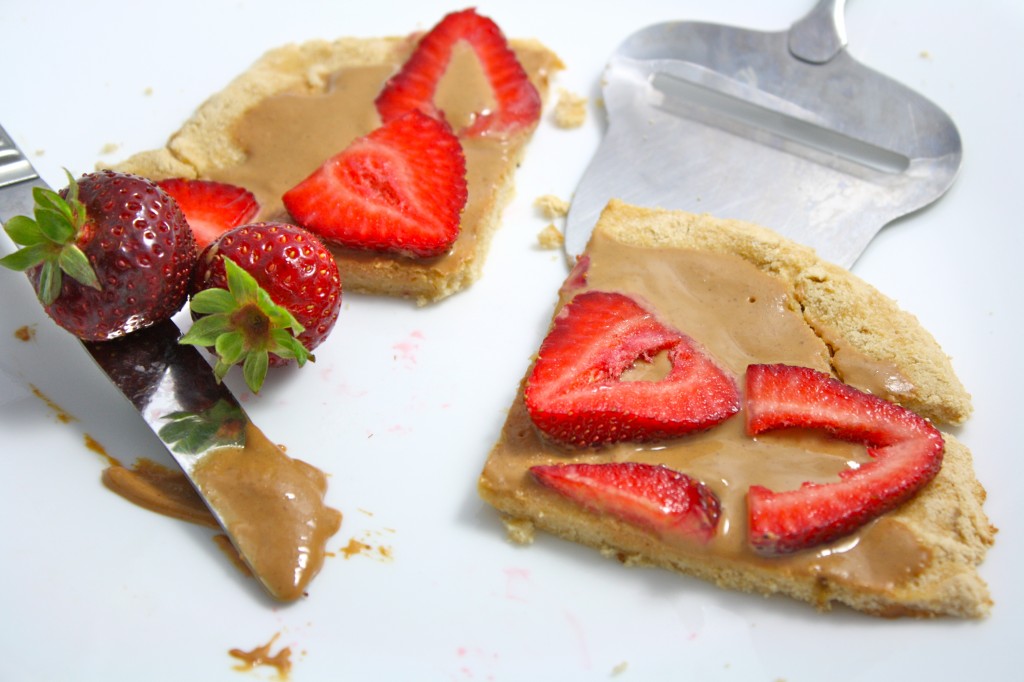 Pretty, healthy, easy, and scrumptious? Uh… yeah.
Enjoy!
-Kelly M.