I have a problem.
A big problem.
I need cookie dough. I need the stuff now. So what if its 7:30 in the morning? Who cares? I don't.
Sadly, there is little nutritional value in cookie dough, and there's that whole raw egg thing… anyway, I've been thinking. When can you eat traditional cookie dough?
If your vegan? No. If you're gluten free? No. If it's breakfast? No. If it's lunch? No. If it's dinner? No. There are too many no's! I want cookie dough now!
So my mission is this, I must make cookie dough more accesible. If I want to eat cookie dough for breakfast, I want to be able to.
Did I lose you?
Frozen Cookie Dough Goody Bites
You already get to eat cookie dough for breakfast, but in case you're really not sold yet, this only has five ingredients, requires no oven, and you only have to dirty a small bowl, a fork, a plate, and a measuring spoon set. Now you're sold, right?
Makes about 12 decent sized balls
Ingredients
1 banana
3T coconut flour
1t agave nectar
1/4 cup of chips of choice, mixed if you prefer (which I do)
Mash the banana really well. You can mash it with a fork, blend it with an immersion blender, grab your friends and stomp up and down on it, whatever you need to do to get it mashed. I just used the fork, but you know, whatever works for you. 😉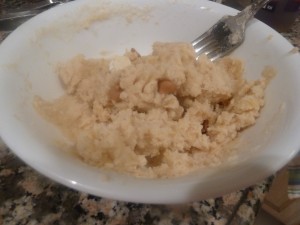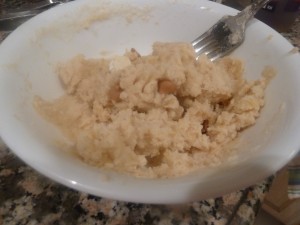 Mix all ingredients except chips together in a small bowl until well combined. Add chips and stir gently until incorperated.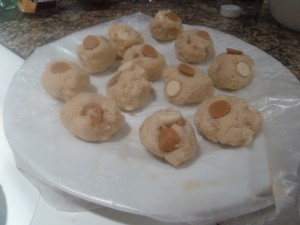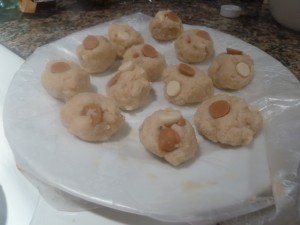 Drop "dough" by rounded teaspoonful onto a freezeproof plate lined with parchment paper. Take your teaspoonful and roll them into balls. If you want, stud them with more chips (which you do. I know you do.)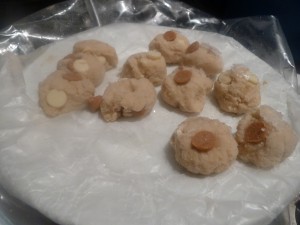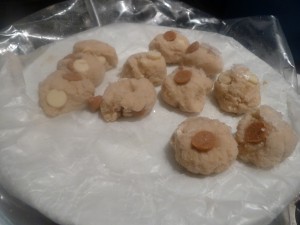 Freeze until firm.
Huh, there are a few missing. I wonder what happened to them? 😉
*Optional Chocolate Dipped Option*
Melt 1/2 cup chocolate chips by way if double boiler, or by microwaving them in 30 second intervals, stirring each time, until melted. Take out your dough balls before they are totally frozen so you can stick a toothpick in them for dipping. If you just want to leave them in the freezer for a while because you have ohter stuff to do (I get it,) then just stick toothpicks or plastic forks in the balls before freezing. Dip the balls in chocolate, stick it back on the parchment lined plate, and freeze again until firm. Yum.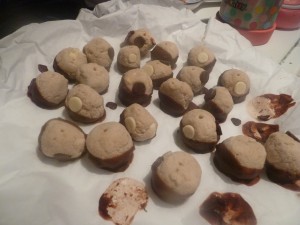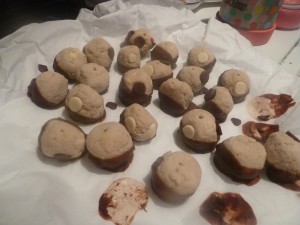 Seriously.
When I say optional,  I mean the recipe will work without the chocolate. BUT, the balls are about 8659% better with the chocolate (but who's counting?)
By the way, I have not forgot about the challenge. I know it is over, so I'll be getting a recap of the final days to ya soon along with a summary/conclusion. Cool?
Do YOU like to eat cookie dough? I'm not alone, am I? Please tell me!