Have you ever experienced dry and hard to swallow coconut scones? You won't with these healthy allergy-free, grain-free, and vegan apple cinnamon scones with only 110 calories per serving.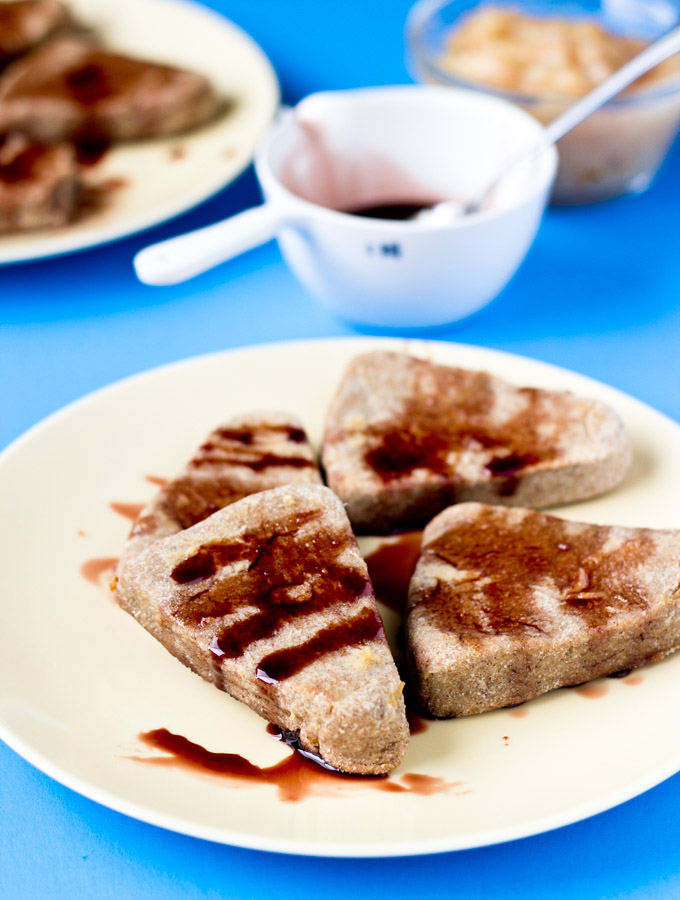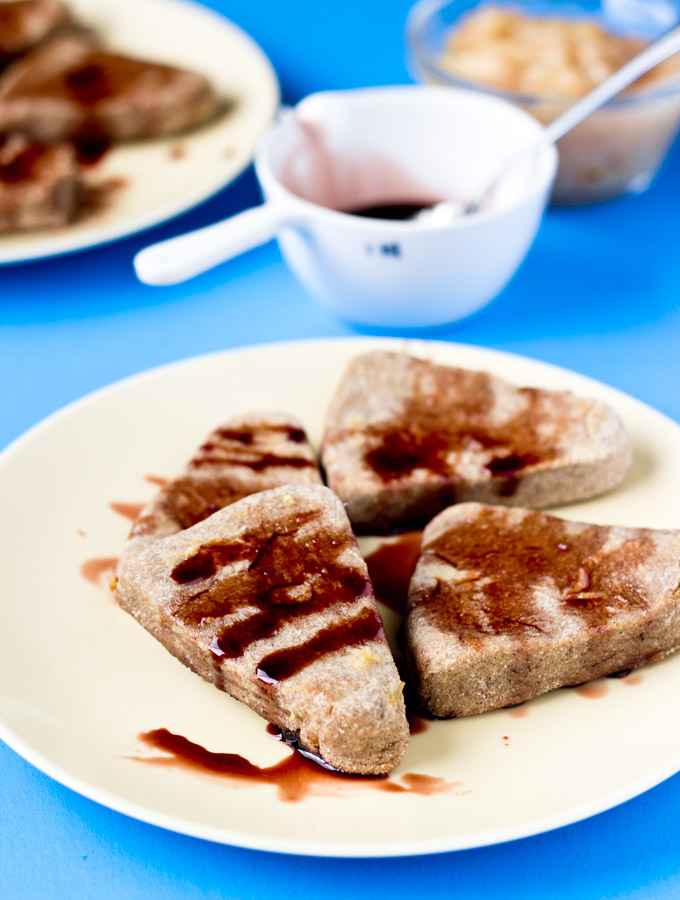 My laptop suddenly stopped working and needed to be sent in to be repaired. Living without a computer these days is similar to living like the cavemen. So far though, it's not been as bad as I first thought it would be. I spent more time skimming through old cook books and experimenting in my kitchen to develop recipes.
With this extra time, due to being computerless, I was able to make a batch of applesauce using the apples from an apple tree in our backyard. Although they don't look as pretty as the store-bought ones, they taste much better. They're sweet with a touch of tartness, just perfect for these moist, grain-free apple cinnamon scones.
If you type "grain-free coconut" as the keyword in your search engine, I believe you'll find many recipes using a large numbers of eggs with a small quantity of coconut flour. What if you are vegan or allergic to eggs? Don't worry, replacing the eggs with applesauce, banana, or avocado are all good choices.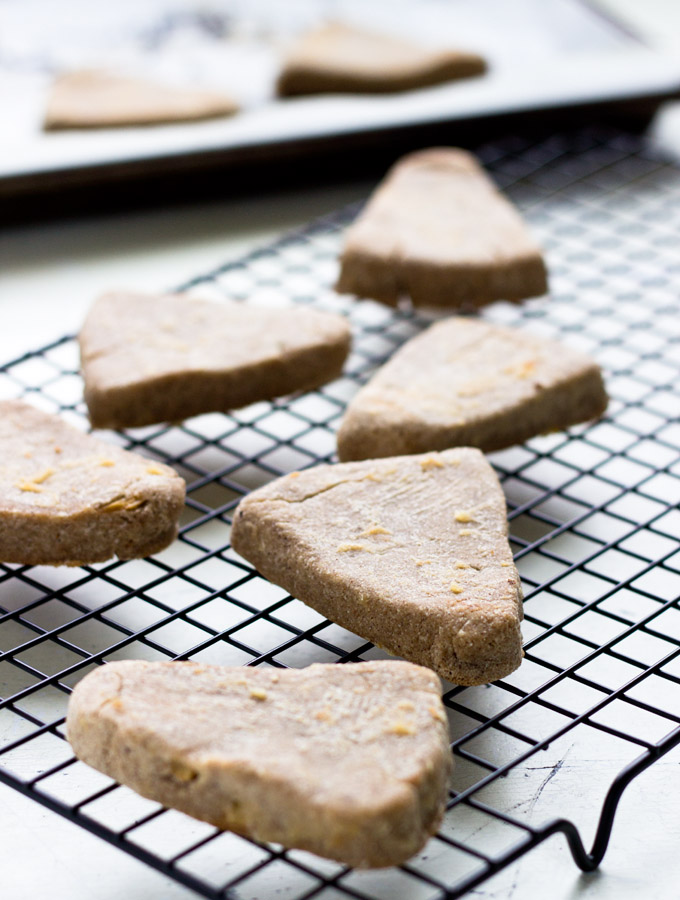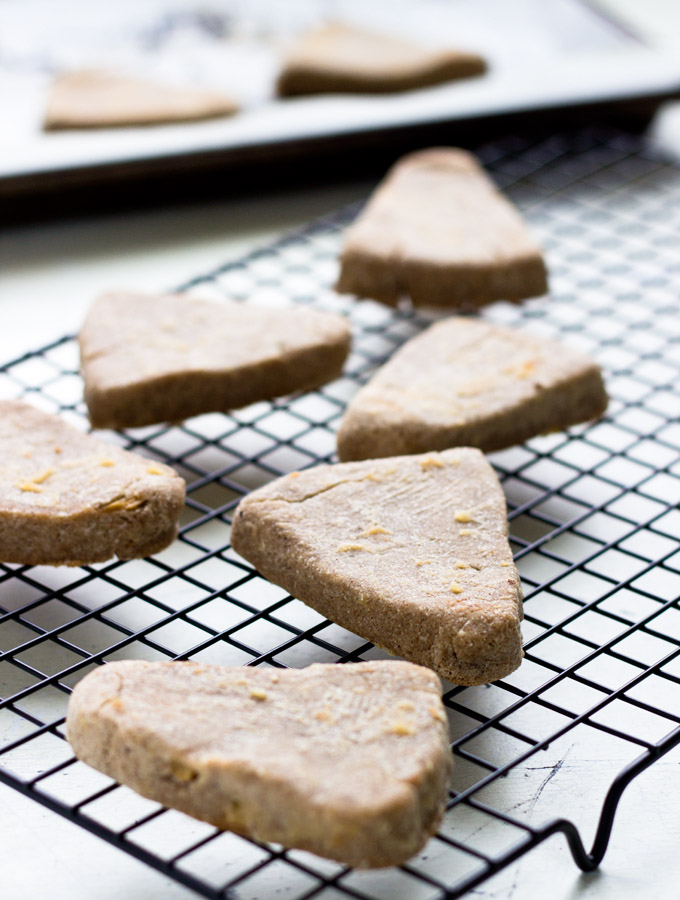 If you are new to baking with coconut flour, it can be tricky. Coconut flour is super absorbent like a sponge. If the dough is too dry, it can be unpleasant when consuming the finished baking product. It will absorb every bit of the moisture from your mouth and you'll probably want to drink a whole glass of water to finish a small scone. How do you compensate for that?
I mixed quinoa flour and tapioca starch with coconut flour and used that as the grain-free flour mix in this recipe. Quinoa flour (quinoa is a seed not a grain) and tapioca starch gave the texture a lift and made the scones slightly lighter. I also added some psyllium husk to help the dough hold together. It also adds extra moisture to the dough, and fiber as well.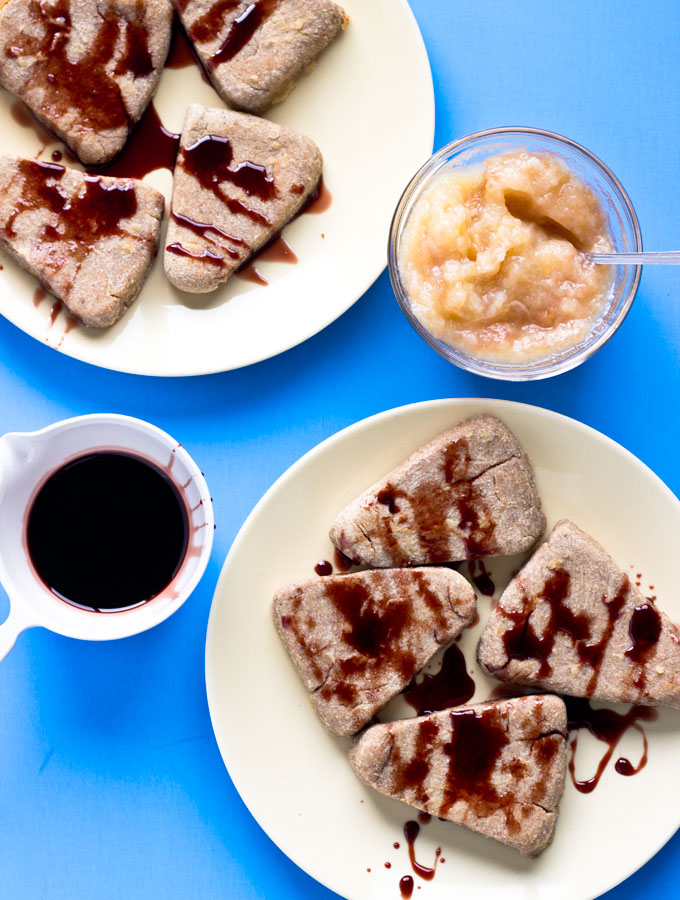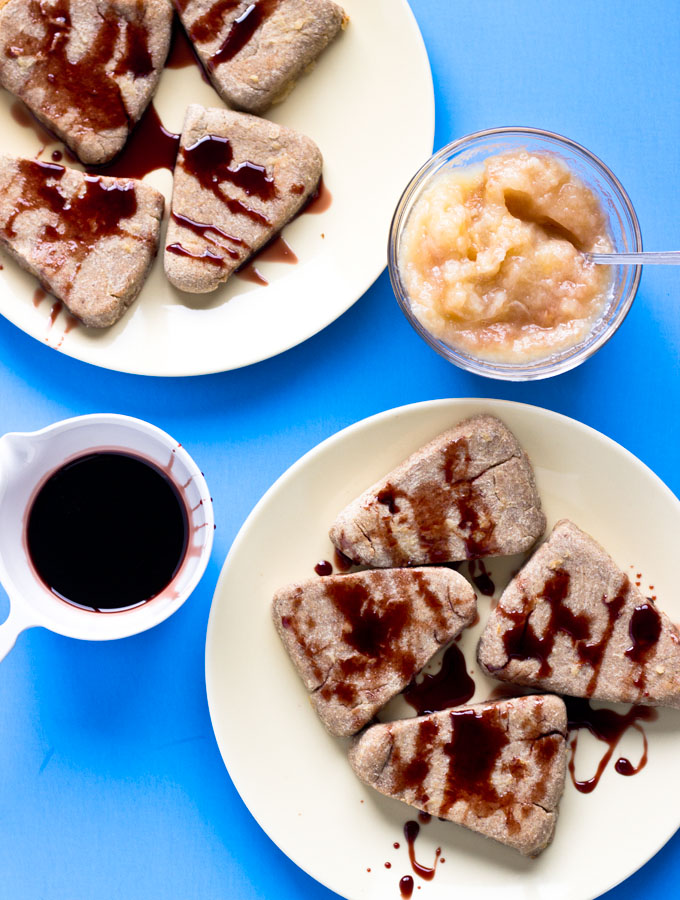 For your choice, you can spread your favorite jam on top. I happened to have some naturally sweetened grape syrup left over from when I made my fresh red grape cake, which gives it an enjoyable fruity taste. Let's start a healthy morning with these simple and tasty grain-free apple cinnamon scones.
Grain-Free Apple Cinnamon Scones
Tools: Measuring cups and spoons, kitchen scale, 2 mixing bowls, wooden rolling pin, 9 × 13-inch metal baking pan
Ingredients
Dry:
¾ cup (80 grams) organic coconut flour
¾ cup (68 grams) organic quinoa flour (see note)
¼ cup (26 grams) tapioca starch
1 teaspoon baking powder (aluminum free preferred)
¼ teaspoon baking soda
2 teaspoon psyllium husk powder
1-½ teaspoons cinnamon powder
¼ teaspoon nutmeg
¼ teaspoon pure stevia extract powder
Wet:
2 tablespoons coconut oil (soft but not liquid)
¾ cup unsweetened applesauce + 2 tablespoons for brushing
½ cup water
Instructions
Preheat oven to 350 °F. Line a metal baking pan with parchment paper.
In a large mixing bowl, add all dry ingredients and stir to combine. Save 2 tablespoons for dusting the working surface.
In a small mixing bowl, add all wet ingredients. Mix together with a whisk until all of the ingredients are incorporated.
Pour the mixture into the flour mix. Stir until well combined.
Dust a working surface with flour mix and roll the dough to form a smooth ball. Pat and roll with a rolling pin to form a 6 inch circle. Cut the circle into 8 wedges.
Place the wedges onto the prepared baking pan and bake for 22 minutes. Brush on extra applesauce or vegan butter if desired. Rotate the baking pan 180 degrees halfway through the baking. Let them cool on wired cooling rack for 5 minutes before serving.
Notes
If you don't have quinoa flour, you can roast whole quinoa in a skillet for a few minutes and then grind them into a fine flour in a food processor.
I drizzled some no sugar added grape syrup on top as showing in the photos. See link for the
homemade grape syrup
.
Nutrition value is calculated without grape syrup.
Nutrition Information
Serving size:
1 piece
Calories:
110