Hi hi. Because I love being the bearer of good news, let me remind you it's the end of the week and you now have (easy healthy pan) pizza.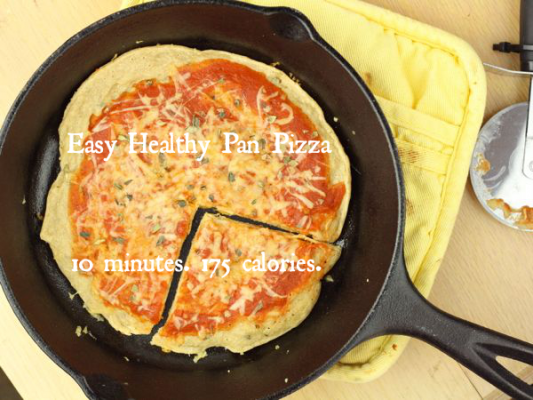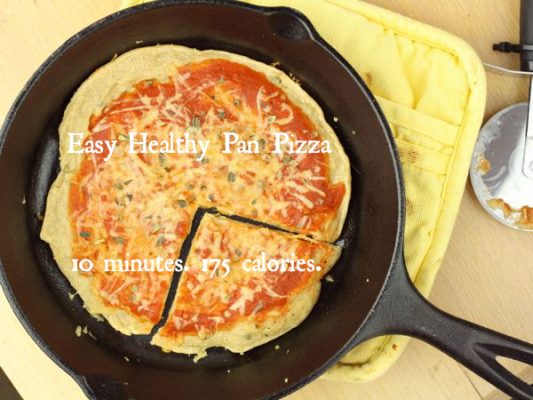 Let me bring you up to speed. Technology and I aren't getting along right now and it's pi(e) day today and I'm trying to celebrate with this ridiculously amazing easy healthy pan pizza (pie?) instead of getting off my behind and making a real pie or, heaven forbid, dealing with the number pi. I know. I'm trying.
Anyway, I have fairy tale for you. Once upon a time there was a teenage food blogger propagandist who was working on brilliant post for her beloved readers when a dragon came and invaded her ivory tower. This fearsome dragon is known as WordPress WSOD (White Screen of Death).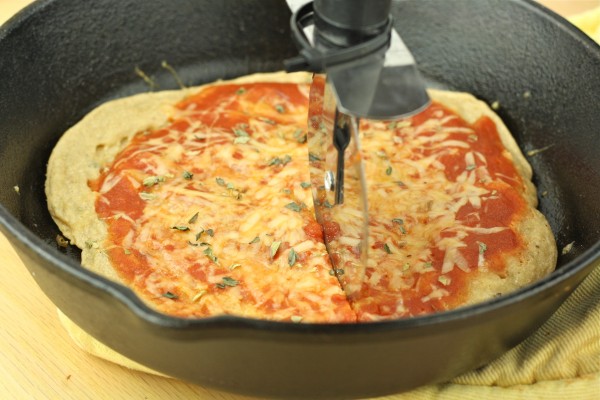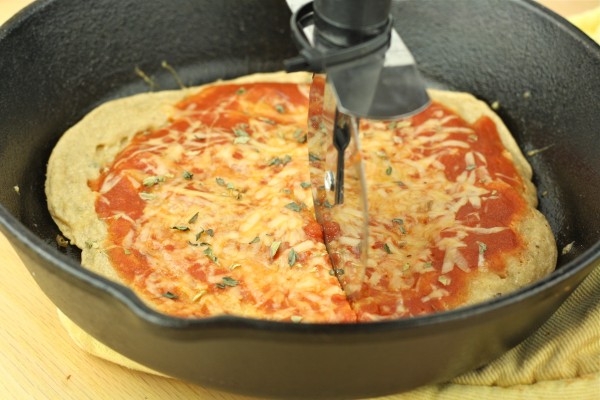 The big scary dragon huffed and puffed and blew our protagonist's server down until there was nothing but (you guessed it!) a white screen… of death. What is our heroine to do?
Naturally, she hops into her Live Chat pumpkin carriage pulled by her Google Chrome mice horsemen and goes to meet the team of Prince Charmings over at Bluehost Tech Support. Once the clock struck midnight, the dragon's white wall went down and the server went up, but alas, our heroine's blog header was left behind at the ball.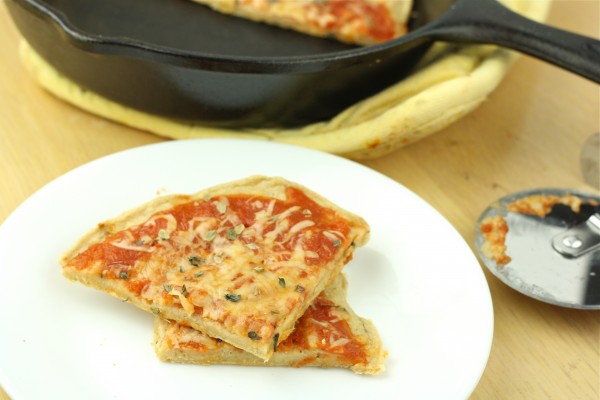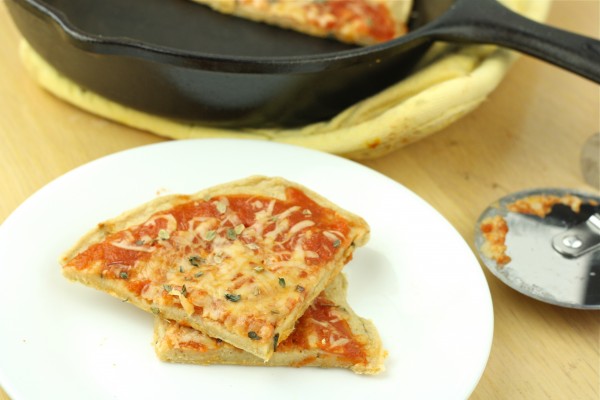 Our heroine is currently looking for the blog header shoe that fits, but meanwhile she's using a placeholder header (shoe equivalent: think the Uggs of the slipper world). And they all lived happily ever after dancing into the sunset with pizza. The end.
Just so we're clear, there is no better way to cope with stress than sleep, deep breathing, and pizza. It's a fact. I think there's a study and everything. (Side note: I'll bet you twenty dollars that study was run by teenagers trying to get free pizza. Just kidding. Make that a shiny nickel.)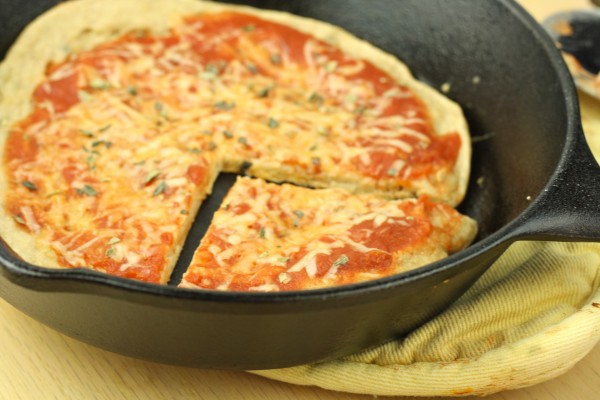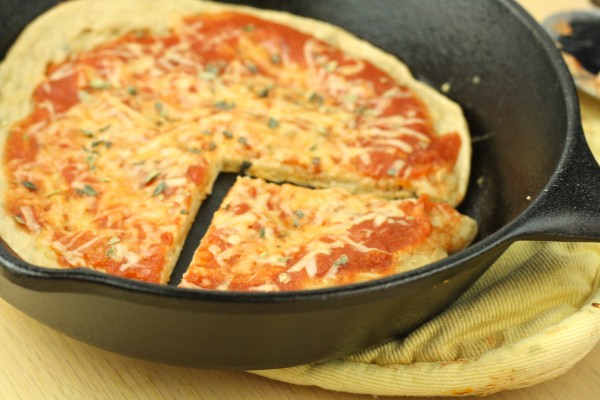 The problem with pizza is a) it's typically terrible for you and b) it's super finicky to make. Yeast? Rising? PATIENCE? Um, no. I want my pizza and I want it five minute ago, please and thank you.
So I whipped up this easy healthy pan pizza concoction that is a) 175 calories, vegan, gluten/grain free, paleo,  low carb and b) can be in your mouth in ten minutes. I like those stats.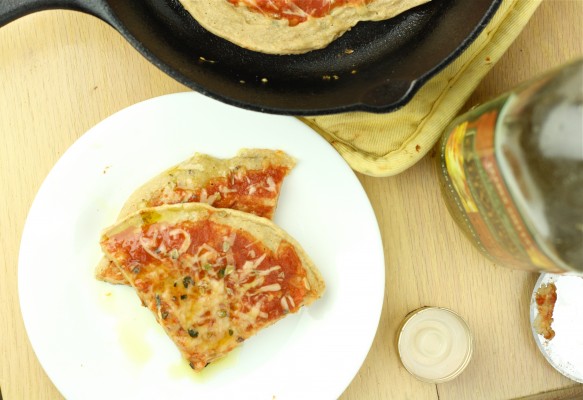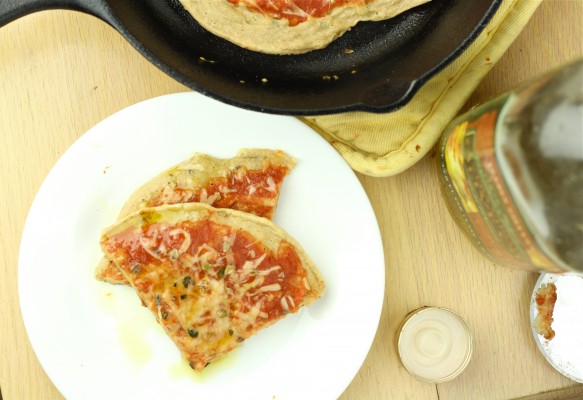 And the answer is yes, I did have too much fun with these photos. I should make pizza more often just so I can feel all fancy and whip out the EVOO.
Yes, this pizza is fancy. If I can get Prince Charming to love it, you will love it too. Just take my word for it and eat. the. pizza. I know. Life can be tough.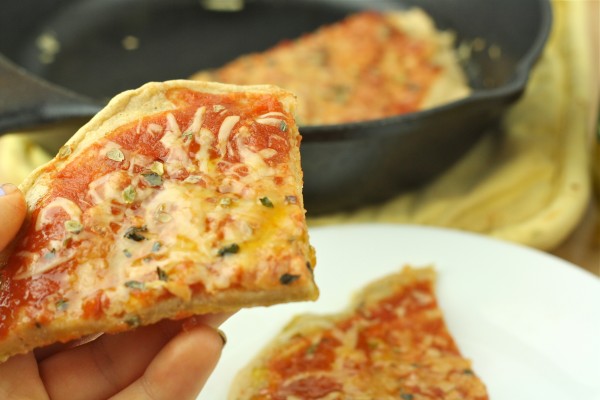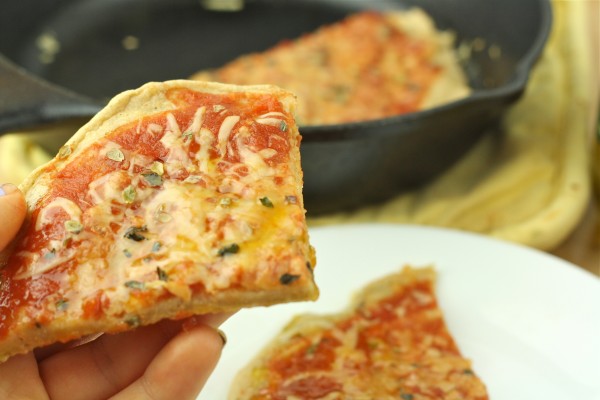 VIN (Very important note): The following recipe is not grain free/paleo/low carb, but click here for a version that is.
Yield: 1 personal pizza
Easy Healthy Pan Pizza (Vegan/Gluten Free/Paleo/Low Carb)
5 minPrep Time:
5 minCook Time:
10 minTotal Time:
Ingredients
¼ cup white whole wheat flour
1 egg white (For vegan version, please see note below.)
2 Tablespoons almond milk
½ teaspoon oregano
salt and pepper
2 Tablespoons tomato sauce
2 Tablespoons shredded cheese of choice (I use reduced fat. For a vegan version, either use some low fat vegan cheeze sauce or see note below.)
Instructions
Spray an 8-inch skillet with nonstick spray and set aside.
In a medium bowl, stir together all the ingredients until combined and uniform. Spread in evenly in the prepared skillet. Cook over medium heat for about two minutes, or until the bottom is firm and the top solidified. Spread the tomato sauce and sprinkle the cheese onto the cooking crust, and cook for about three more minutes, or until the cheese is mostly melted. You can cover and cook for a few more minutes or until the cheese is completely melted and slightly golden, and the bottom of the crust is browned. I, on the other land, like to stick the pan (uncovered) under the broiler and broil for a minute or too. Your call. Remove from heat, slice, and serve!
Notes
Feel free to use regular whole whet flour, or even all purpose in a pinch. I assume gluten free all purpose flour would work just fine.
Go crazy with the toppings! Just be sure not to add too many because the crust can't handle that much weight. On second thought, don't go crazy.
You can use any kind of cheese you want, vegan or otherwise (see link above).
To keep this recipe vegan, use an egg substitute, such as Ener-g, for the egg white.
7.8.1.2
222
https://www.foodiefiasco.com/easy-healthy-pan-pizza-vegangluten-freepaleolow-carb/
Nutrition
There's a reason I didn't make a full-sized pizza. Take a bite. You'll figure it out.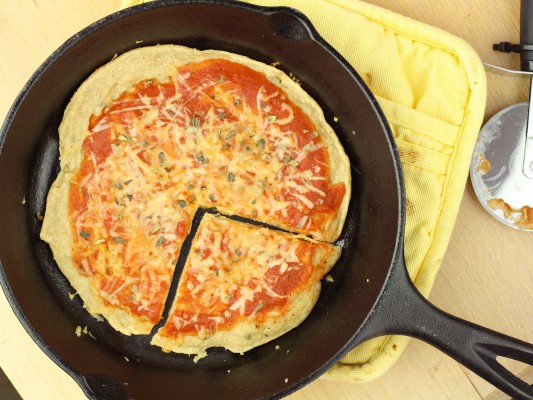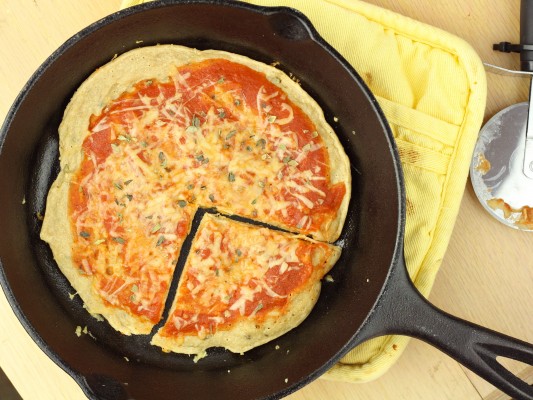 What are your favorite pizza topping?
Cheese. Cheese. CHEESE. Cheese on the crust. Cheese in the crust. Cheese on the cheese. I do like mushrooms, though. But I like cheese more.