Let's get back to basics!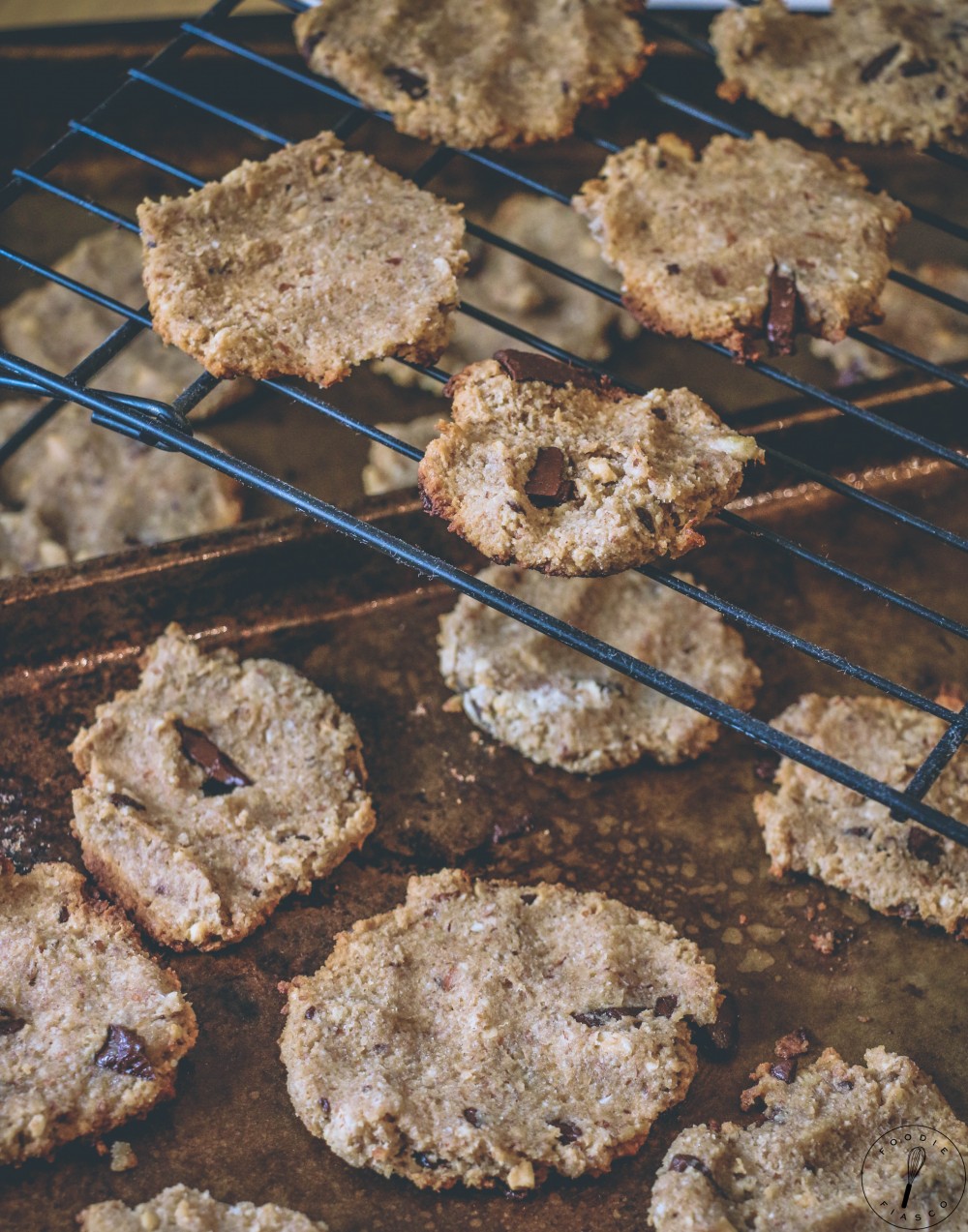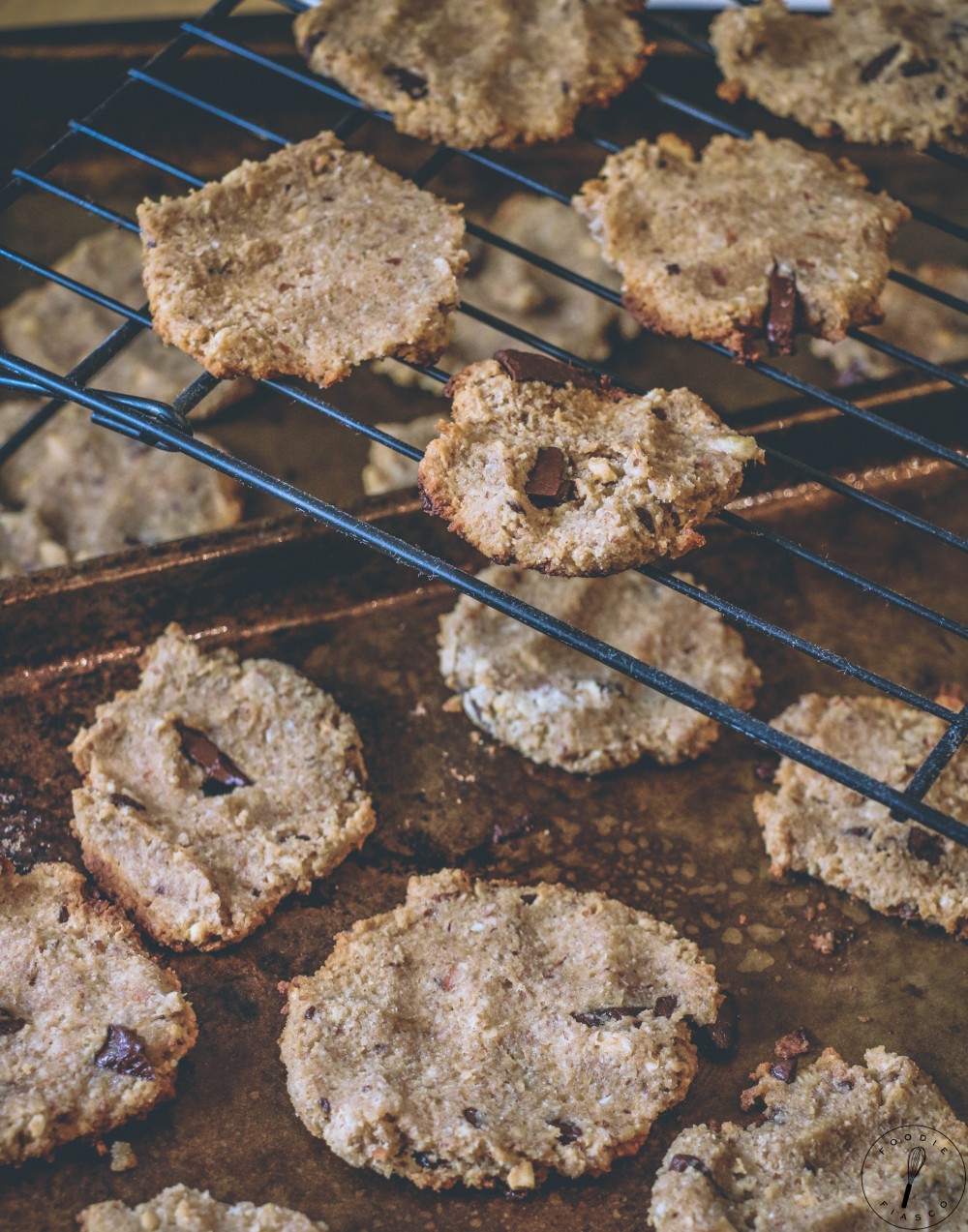 I like formulas. Admittedly more when they have to do with important things like granola or cookies, and less when they have to do with comparatively trivial things like, say, physics or calculus. Can you tell I took a gap year from college to work on my food blog?
It's because I have my priorities completely in order.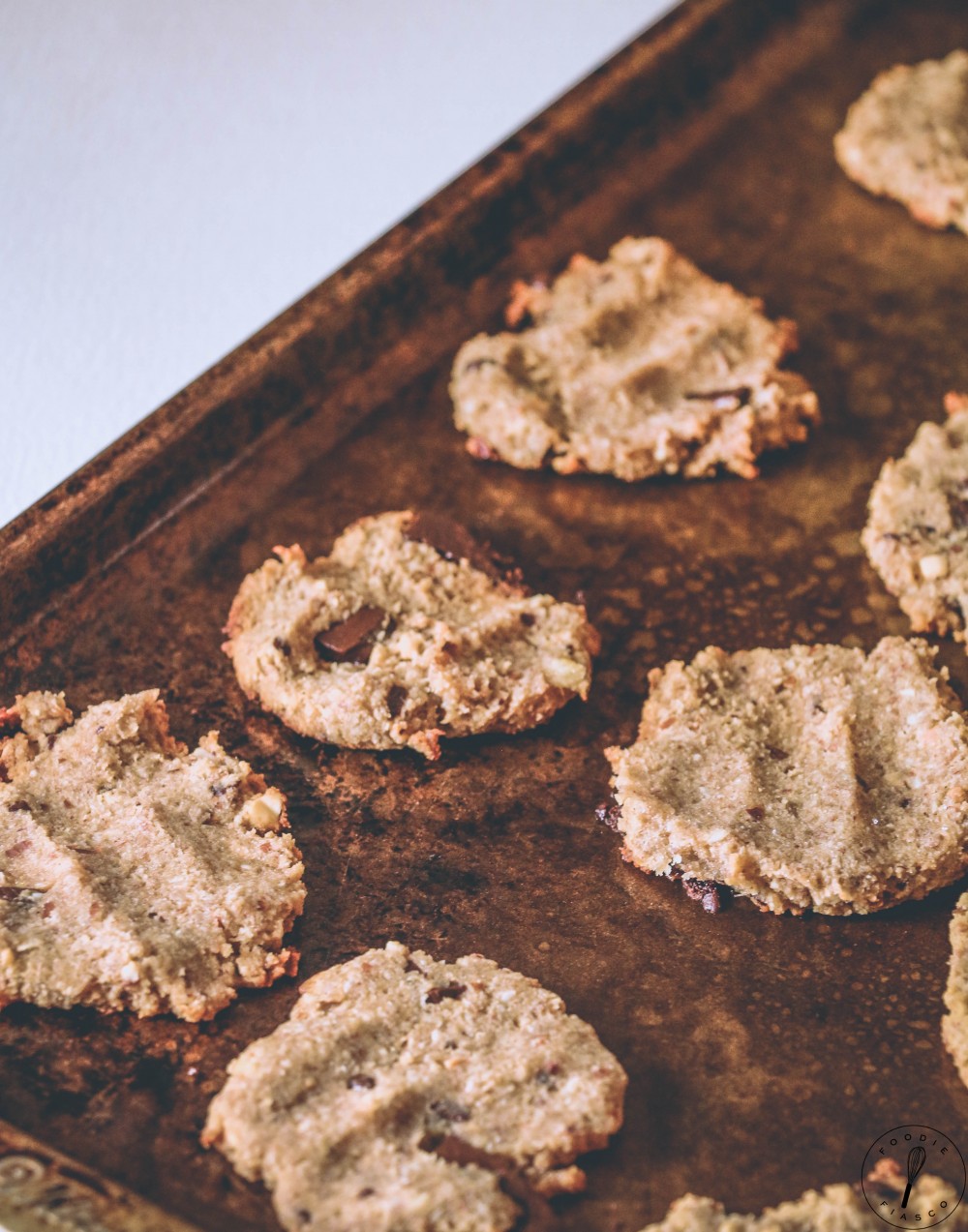 In terms of taste and texture, these cookies have all the delicious hallmarks of gourmet paleo cookies. If you've never had a classic paleo-type cookie (nut based, erythritol, the whole shebang), then you're in for a treat.
I really wanted to make my own version that was cheaper (gourmet health stores are expensive!), lower in carbs, and somewhat lower in fat while still maintaining the trademark nutty yumminess of traditional paleo style cookies.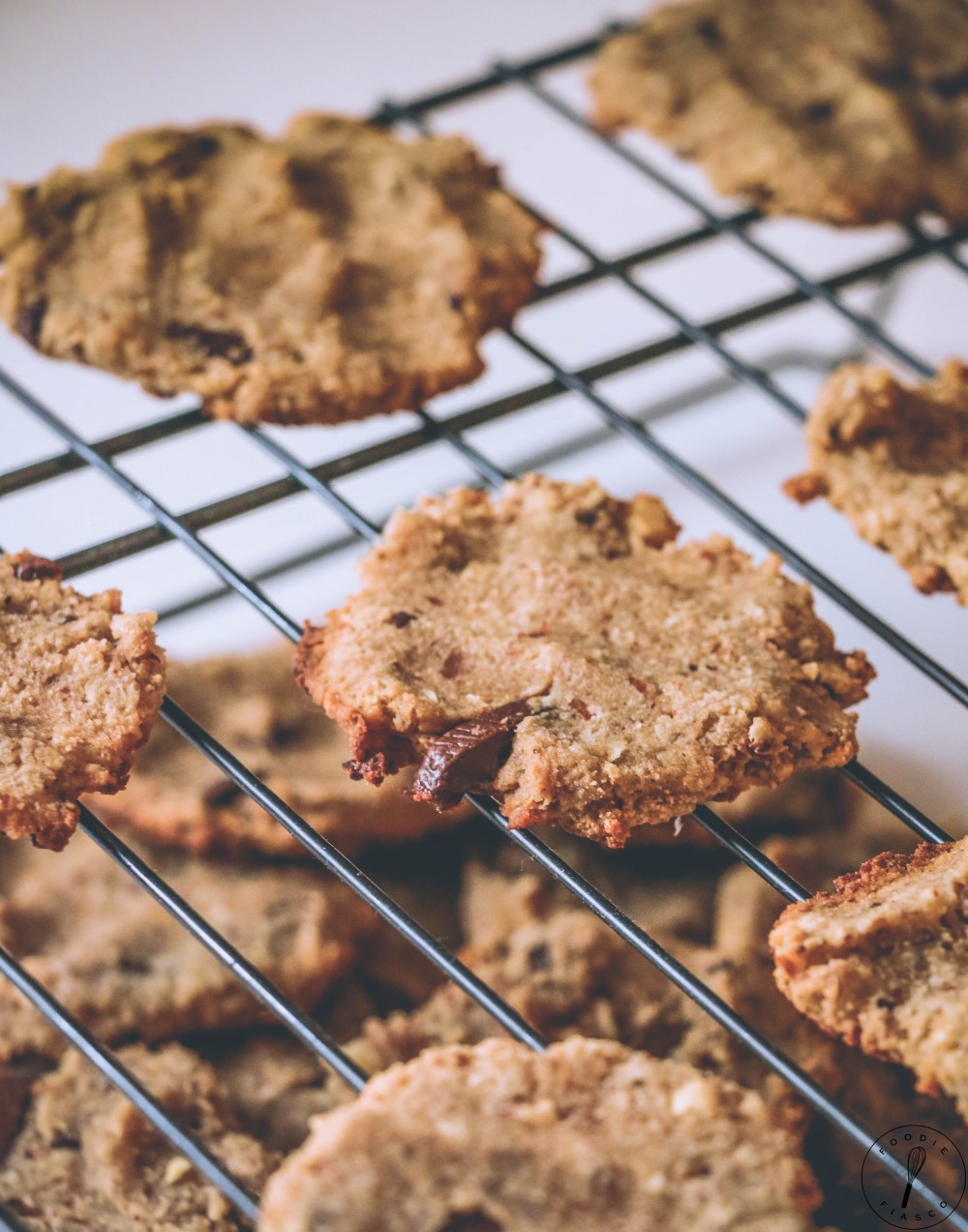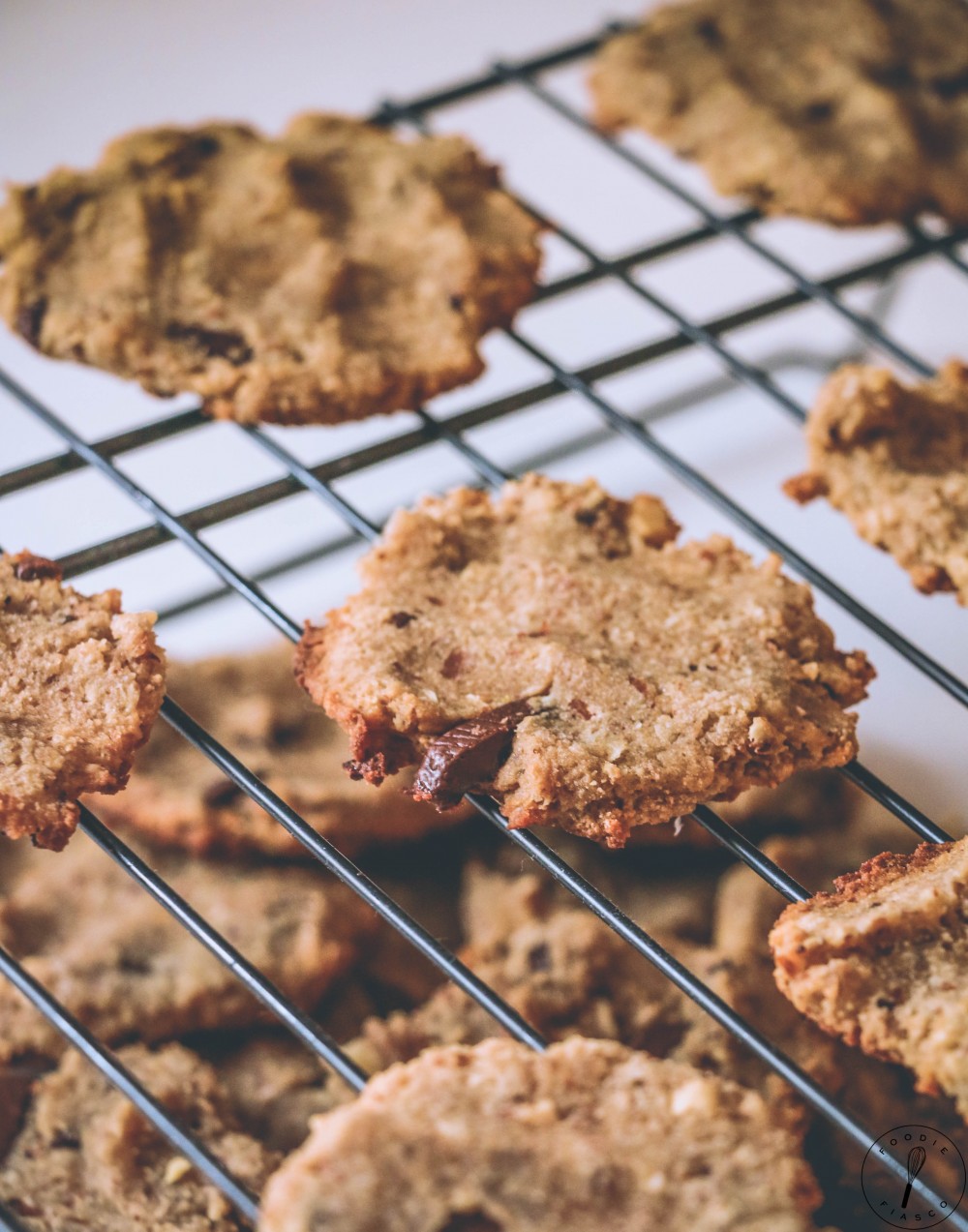 Flexible formulas like this are great to have in your back pocket, so that's the approach I took when creating this recipe. It's based on coconut flour and almond meal, the best grain free staples known to paleo kind, but from there you can customize the recipe with your nut butter and mix-ins of choice.
You also get to choose between mashed banana, applesauce, coconut oil, and melted butter to further control the flavor and fat content.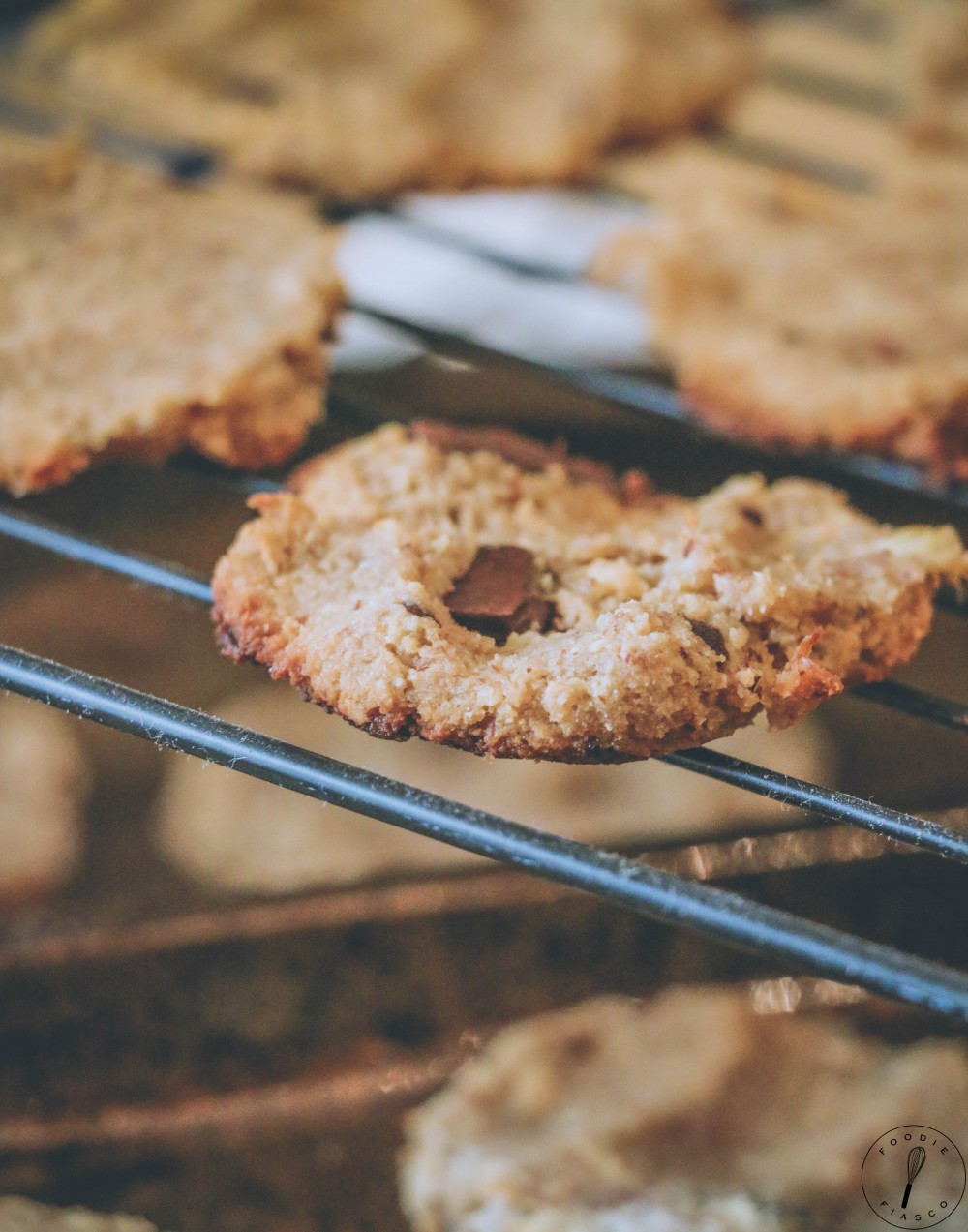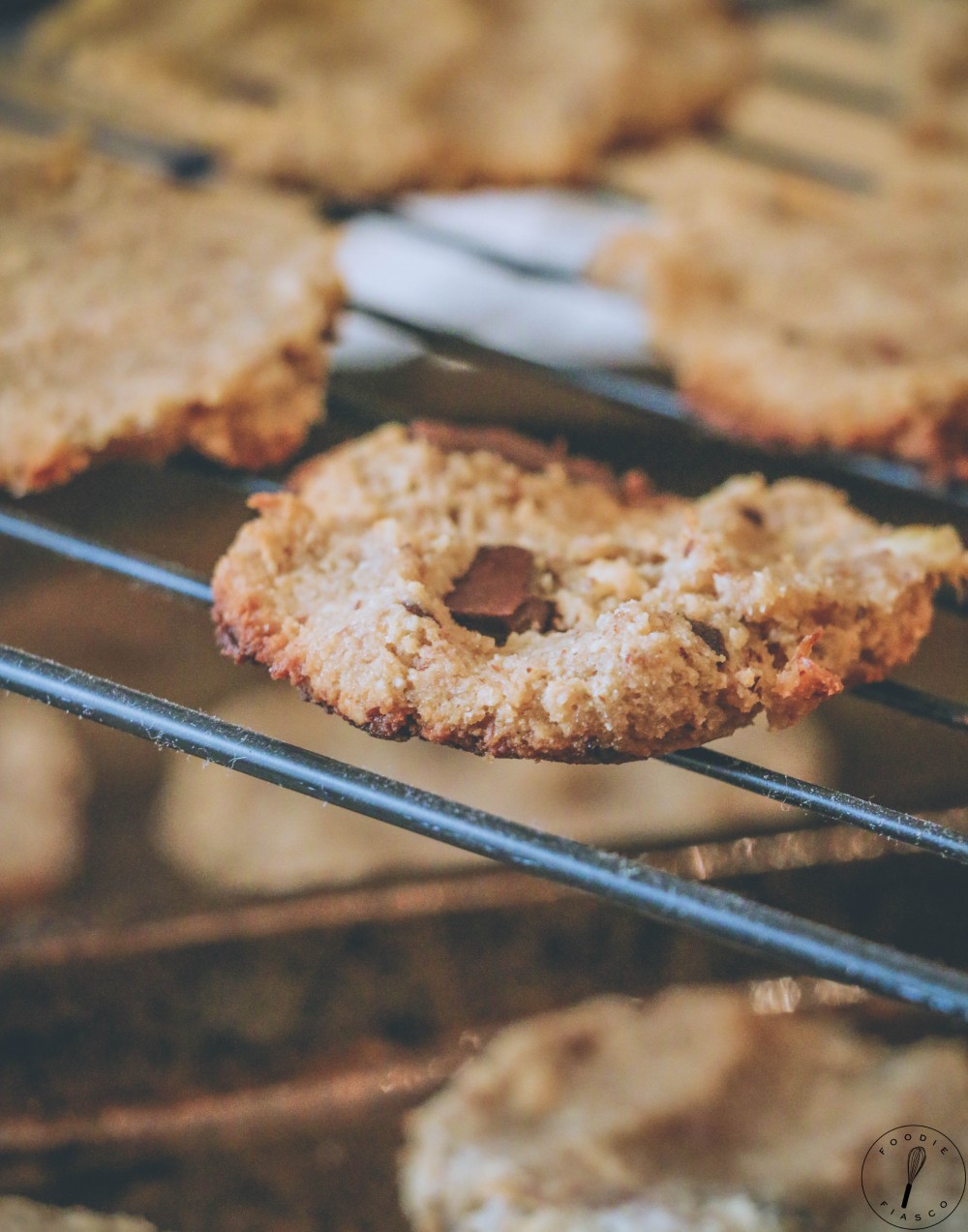 This is your time to think out of the box, so you could use ingredients like pumpkin puree or even olive oil! Feel free to get creative here. This cookie is your canvas.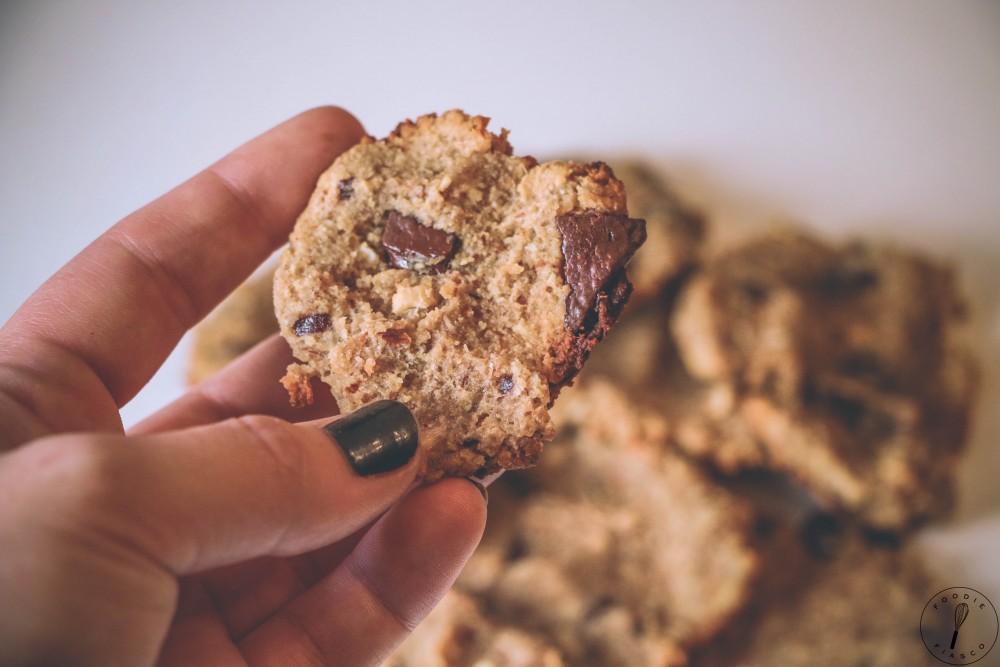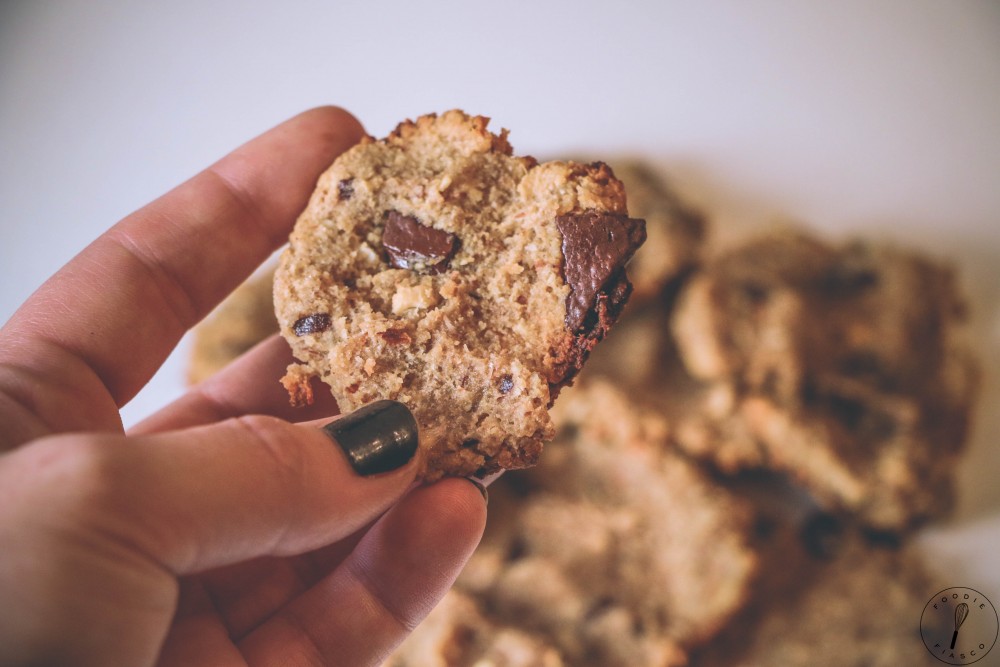 You also have my permission to go nuts with mix-ins, using things like nuts (tee hee), chocolate, dried fruit, additional spices, etc.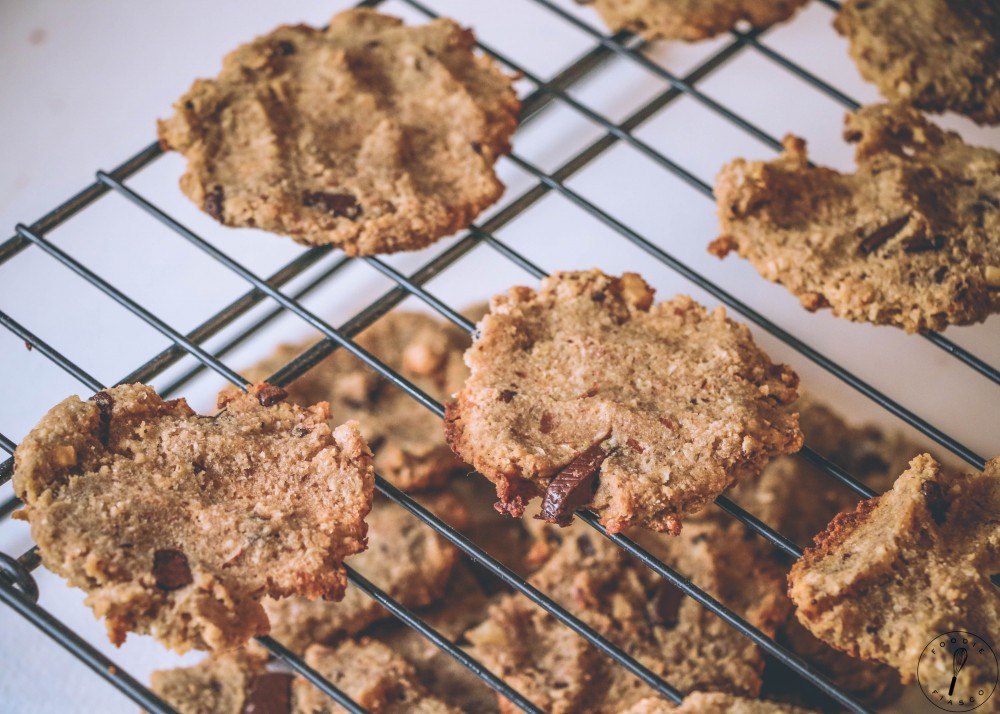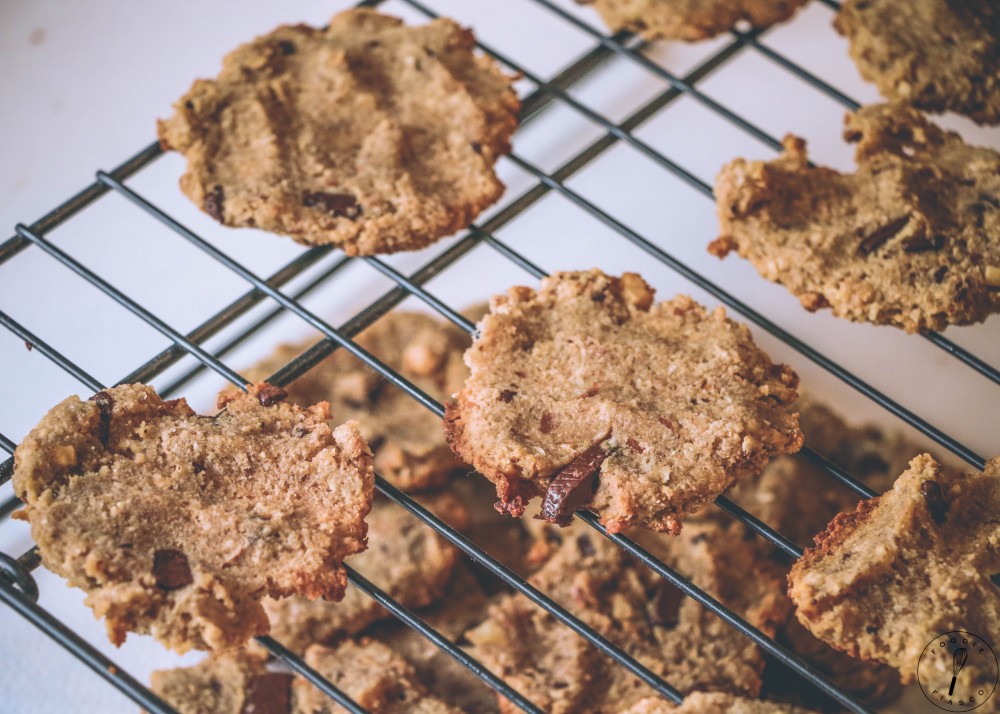 I opted for dark chocolate chunks because I'm obsessed. And I already put them in everything anyway, so why stop now? #ifitaintbrokedontfixit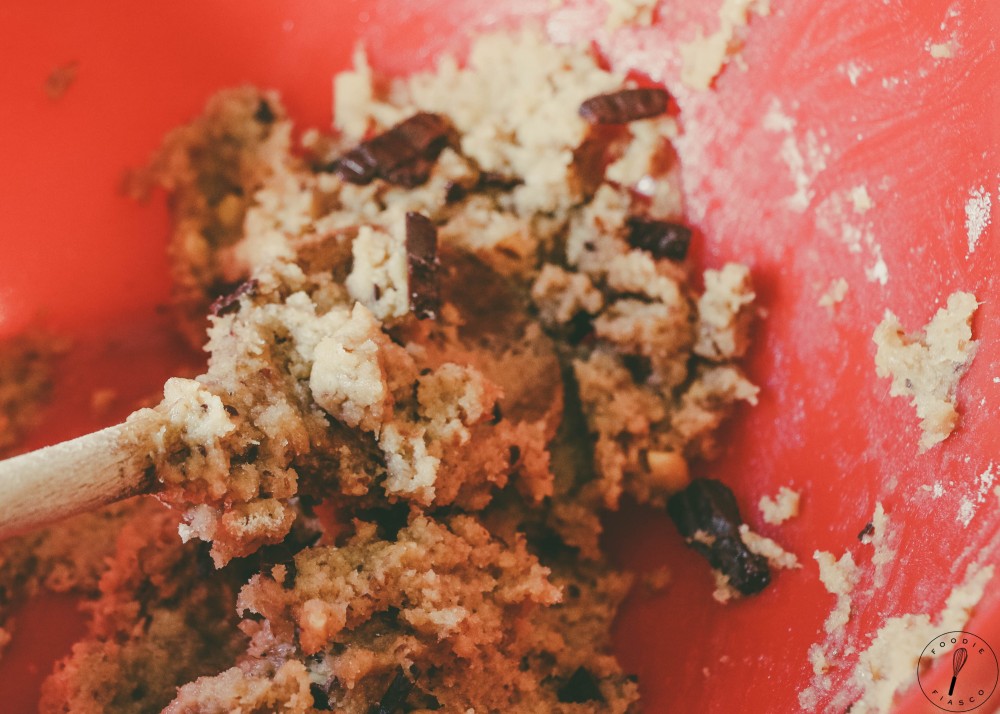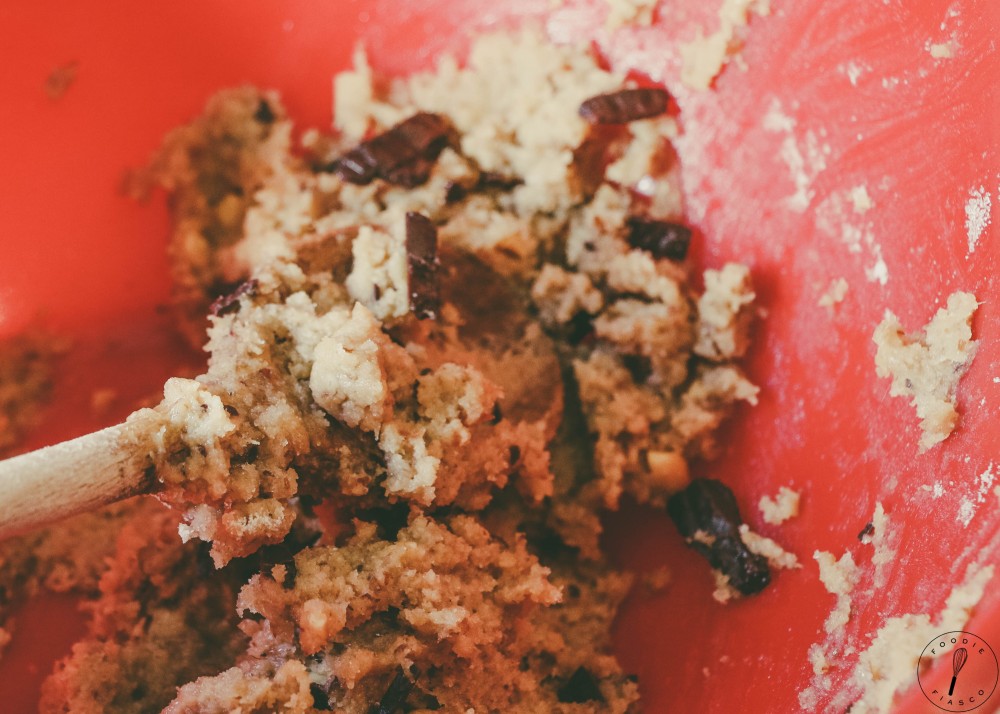 I hope this recipe makes it into your everyday arsenal! And please do let me know what ingredient combos you try. I always love inspiration, especially when it's cookie related.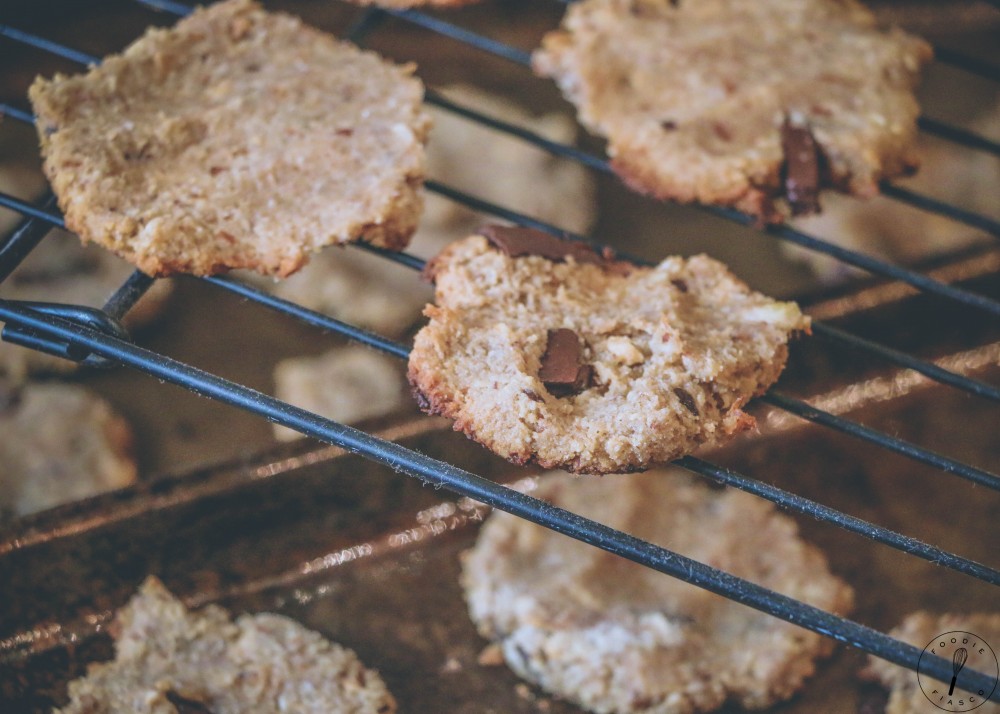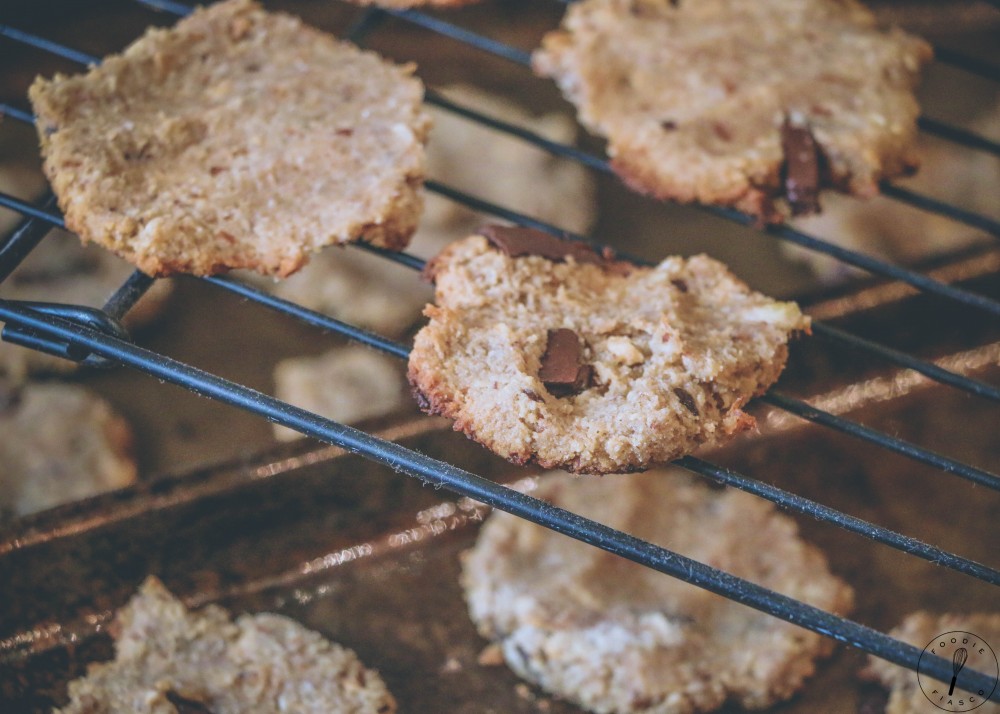 Nutritional Breakdown
Calories
1 cup peanut butter (1440) + 2/3 cup almond meal (373) + 1/2 cup coconut flour (160) + 2 egg whites (50) + 2/3 cup unsweetened applesauce (67) + 1/2 cup erythritol (0) / 42 = 50 calories per cookie
Net Carbs
1 cup peanut butter (32g) + 2/3 cup almond meal (3g) + 1/2 cup coconut flour (12g) + 2 egg whites (0g) + 2/3 cup unsweetened applesauce (17g) + 1/2 cup erythritol (0g) /  = 1.5g net carbs per cookie
Protein
1 cup peanut butter (64g) + 2/3 cup almond meal (13g) + 1/2 cup coconut flour (8g) + 2 egg whites (12g) + 2/3 cup unsweetened applesauce (0g) + 1/2 cup erythritol (0g) / = 2.3g protein per cookie
My Go-To Grain Free Cookie Formula
Ingredients
1 cup nut butter*
⅔ cup almond meal
½ cup coconut flour
2 egg whites*
2 teaspoons vanilla extract
⅔ cup mashed banana, applesauce, coconut oil, or melted butter
½ cup erythritol or sugar
almond milk, if needed
mix-ins of choice (chocolate, nuts, dried fruit, etc)
Instructions
Preheat oven to 350°F. Line a baking sheet with parchment paper or a silicone mat and set aside.
In a large bowl, combine the nut butter, almond meal, and coconut flour. Add in the egg whites or egg replacer, vanilla extract, mashed banana/applesauce/coconut oil/melted butter, and erythritol or sugar and stir until completely combined. If the dough is too crumbly, add in almond milk one tablespoon at a time until a cookie dough texture is achieved. Stir in any mix-ins.
Using a ½ tablespoon measure, scoop the dough into balls and place on the baking sheet two inches apart. Press down into cookie shapes. Bake in the oven at 350°F for about 12 minutes. Let cool on wire racks. Stored in a ziplock bag in the refrigerator, these cookies should last at least a week. Devour.
Notes
*Use your nut butter of choice, peanut butter, almond butter, cashew butter, etc. To keep paleo-friendly, don't use peanut butter.
*To make vegan friendly, use an egg replacer like Ener-g or flax eggs.
Nutrition Information
Serving size:
1 cookie
Calories:
50
Net Carbs:
1.5 grams
Protein:
2 grams
Other favorite cookies:
Chocolate Chip Olive Oil Cookies
Low Carb Peanut Butter Cookies