This recipe has made me into a morning person.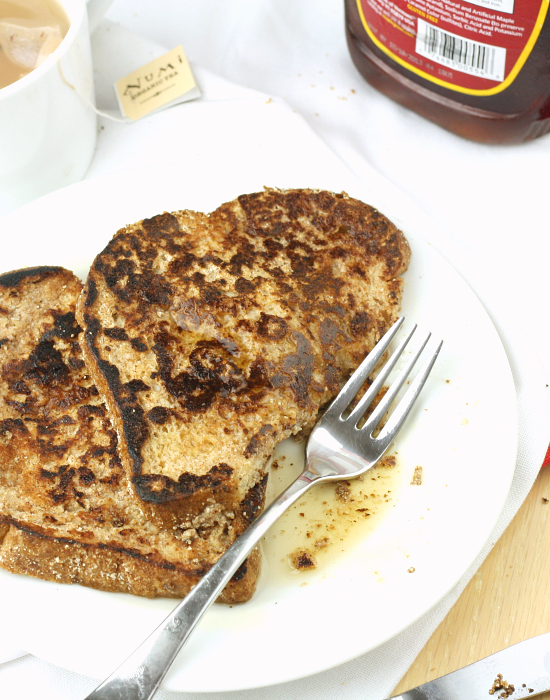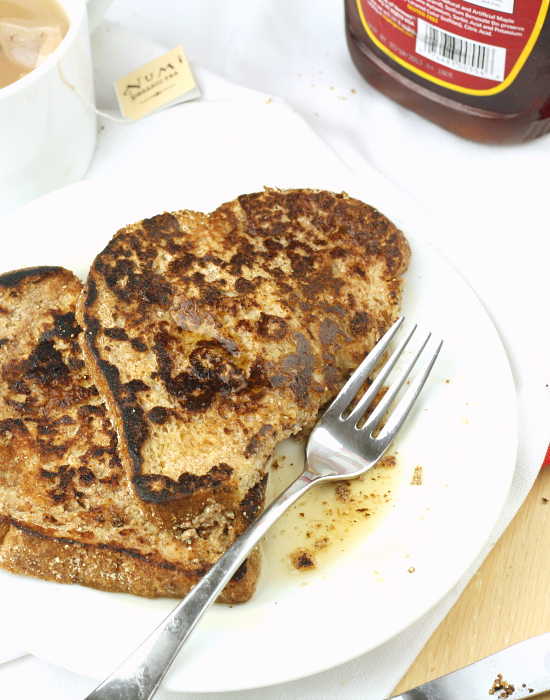 Seriously. Ask my mother. My third grade teacher. My dog who wants to be walked. Kelly does not do mornings, and heaven only knows what two plus two could equal before noon. So what is this miraculous breakfast that gets her up before the sun does?
Fluffy, golden, and smile inducing, this recipe is everything you love for only 90 calories a piece. My alarm clock is getting very dusty.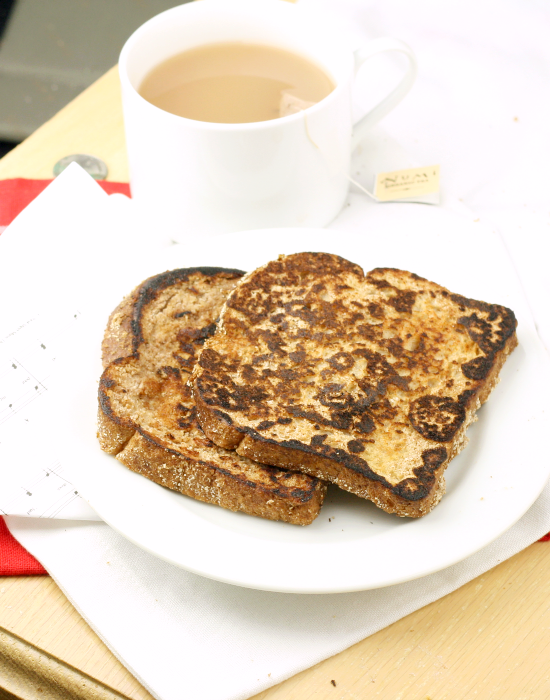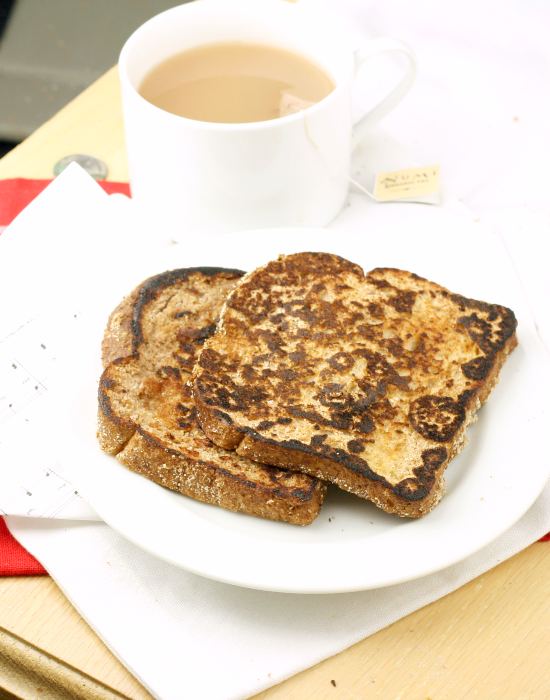 Plus it's so easy! If you can spare five minutes, you can have French toast.
I feel obligated to capitalize French. If I don't, I'm scared the F(f?)rench ninjas will somersault in here and whack me with baguettes. I want to avoid this. Not only is it frightening, it is just plain weird.
Allow me to make it up to you with syrup action shots.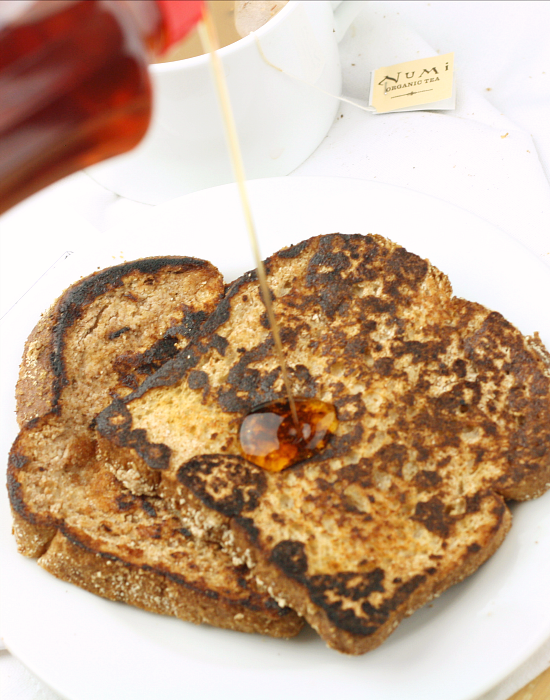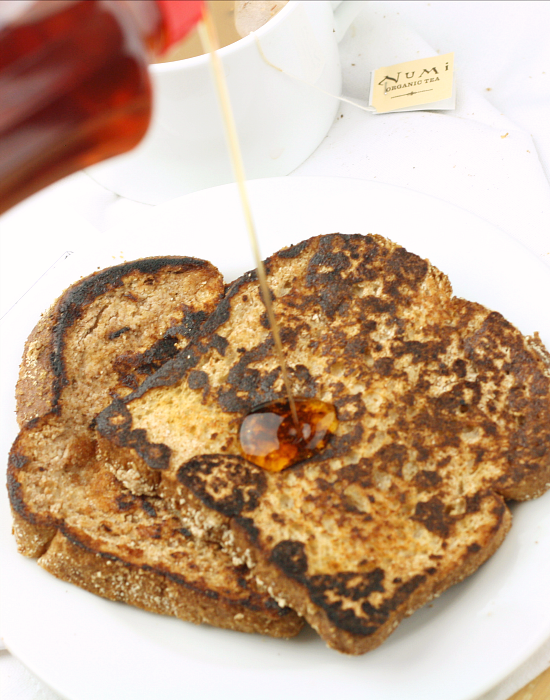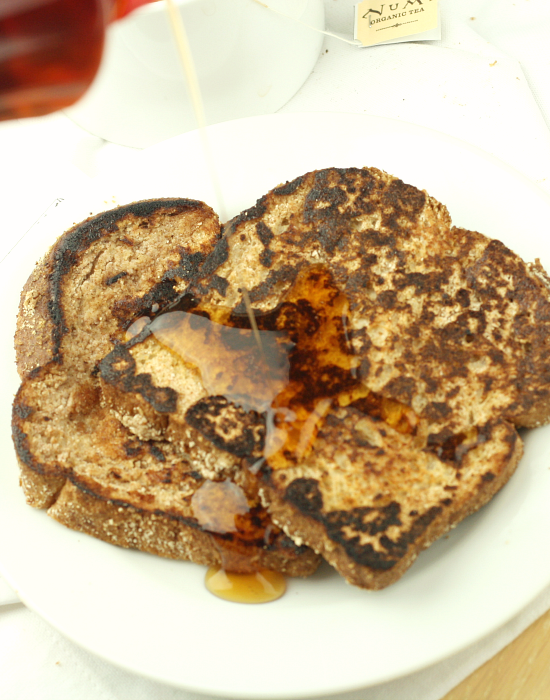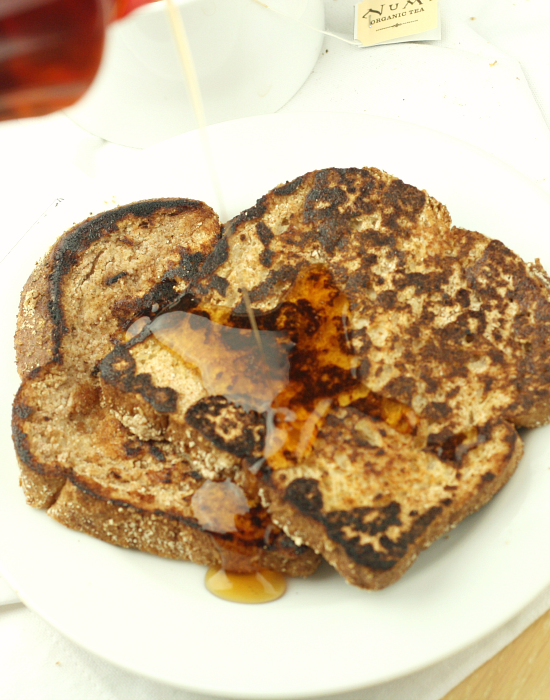 I've been searching for the perfect healthy French toast for years, and I'm officially done. I'd say this recipe is the one, but I'm actually giving you two. I whipped up a banana custard based one and a lower carb flour custard one and I loved both of them so darn much that I couldn't decide. Thanks to my indecision, you really can have it all.
You're welcome.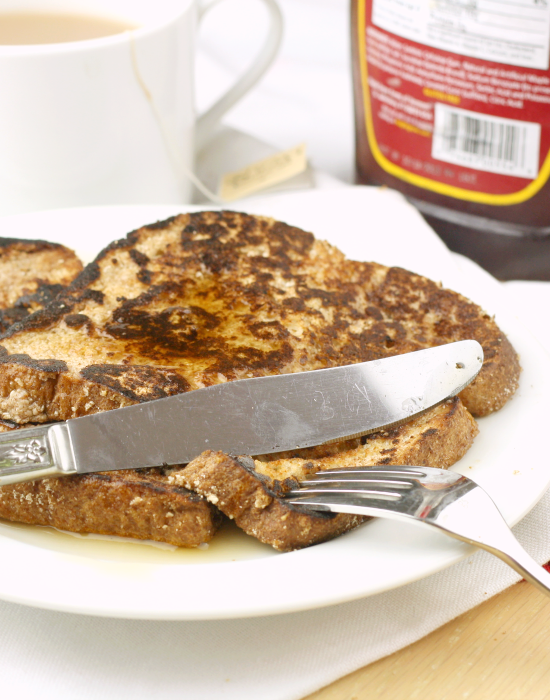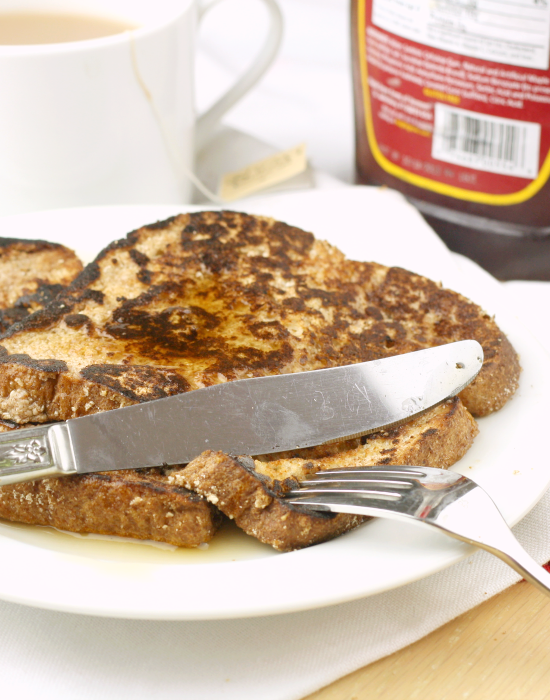 Step one: make your super simple vegan base while singing about how you live in a yellow submarine. (Another perk of having no one awake to judge you.)
Step two: dip your bread of choice into the base and flop it into the frying pan. Take care to revel in that glorious sizzle of the bread and the pan getting along.
Step three: drench in maple syrup and have that second cup of coffee. You've earned it.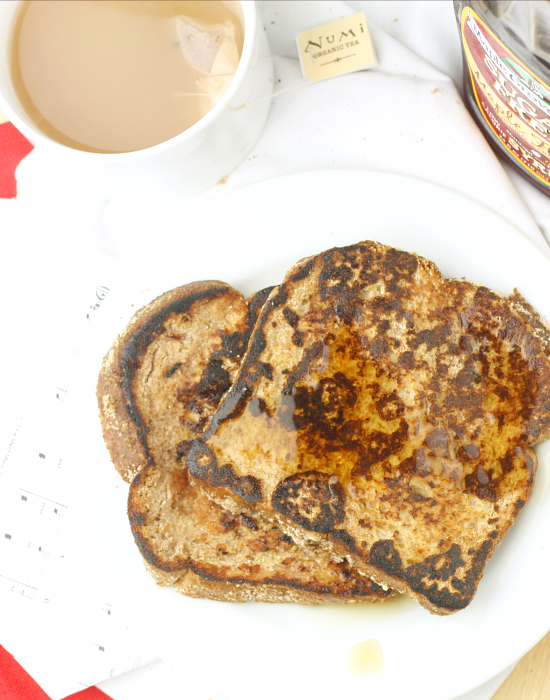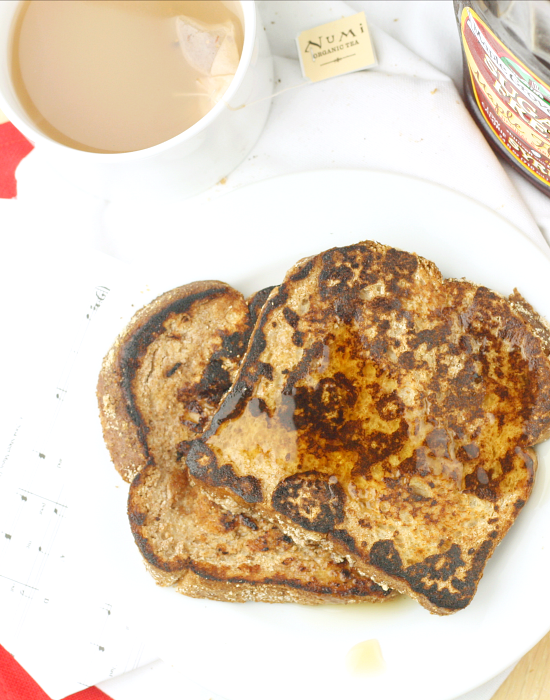 Wait, I'm getting up early and having tea with breakfast? Maybe I'm secretly an old lady. Now where did I leave my walker?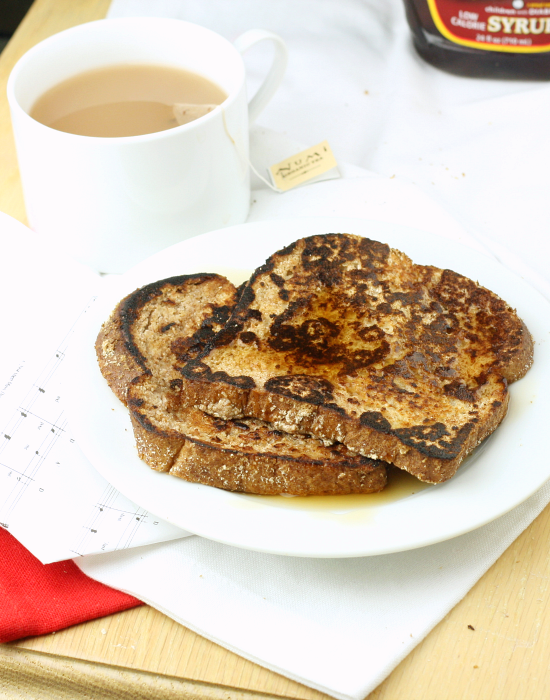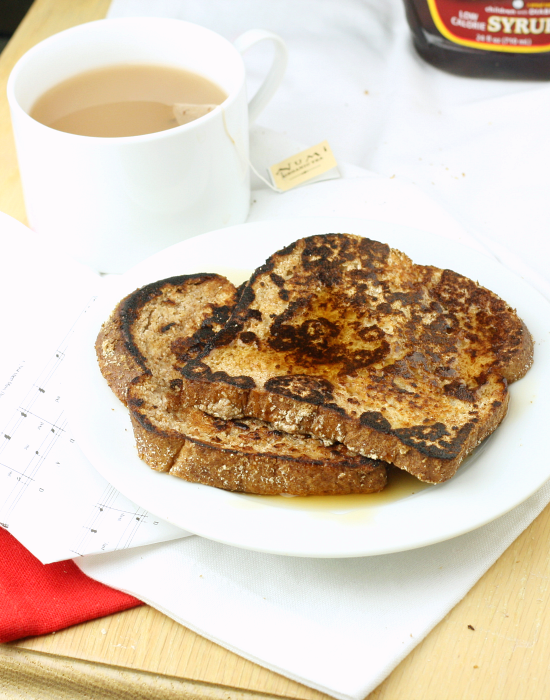 With my newfound pre-noon alertness, I had an epiphany. BANANA BREAD FRENCH TOAST. Or perhaps bacon peanut butter banana bread French toast. I hope all this comes with stretchy pants.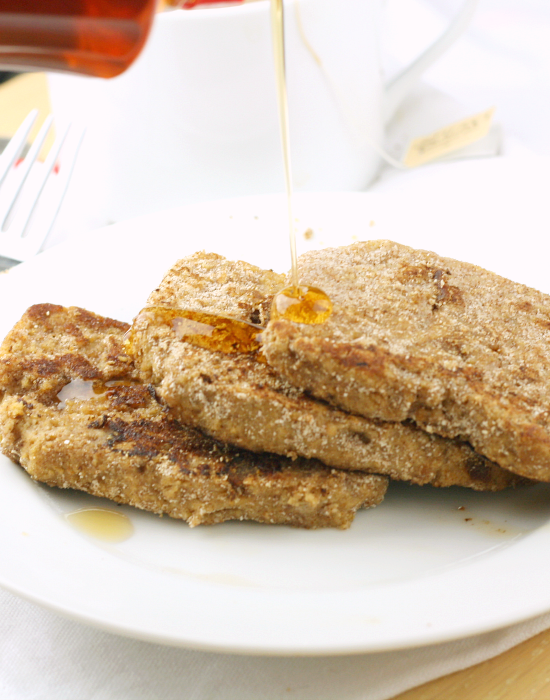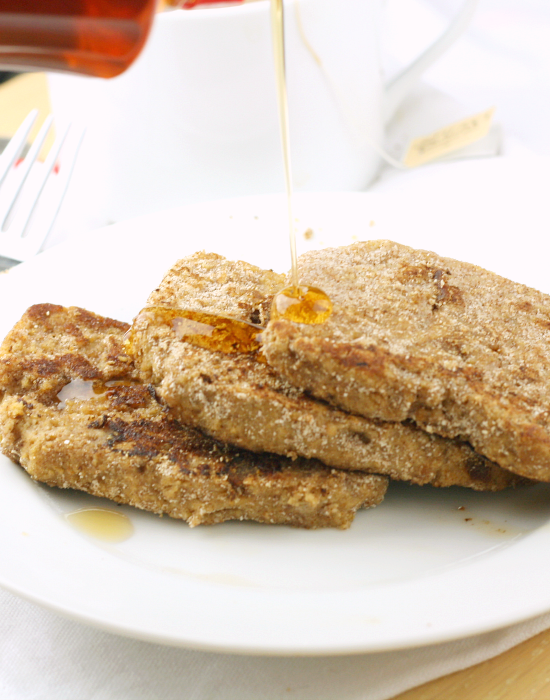 Oh what a beautiful morning.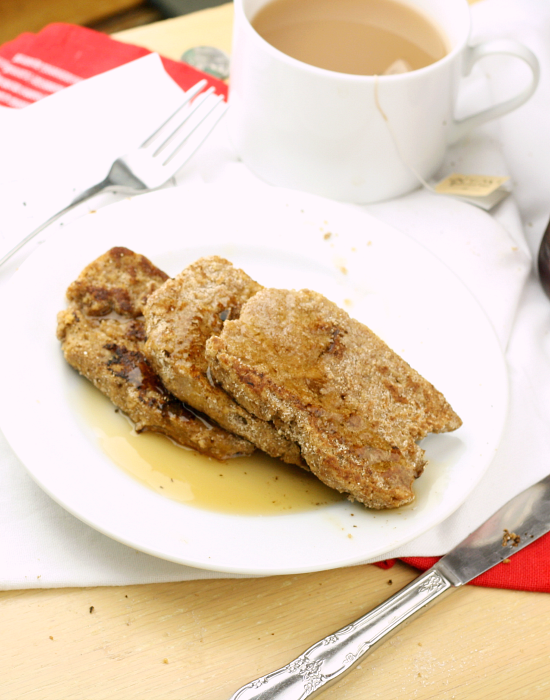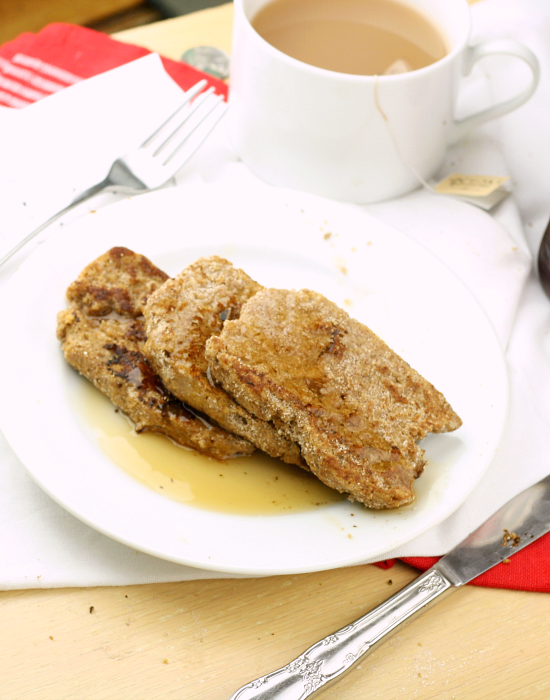 Please note: The following recipe contains banana and therefore is is NOT low carb, so please click for the recipe that is.
Yield: 6 slices
Healthy French Toast
5 minPrep Time:
10 minCook Time:
16 minTotal Time:
Ingredients
2 ripe bananas
3/4 cup almond milk
1 1/2 teaspoon cinnamon
1 teaspoon vanilla
additional sweetener, optional and to taste (stevia, sugar, etc.)
4-6 slices bread (You can use whatever fits your taste/dietary preferences,or simply what you happen to have on hand. I used a whole wheat 45 calorie bread.)
Instructions
In a blender, puree the bananas, almond milk, cinnamon, and vanilla until thick and smooth. Pour into a shallow bowl.
Heat a greased non-stick skillet over medium high heat. Coat both sides of one of the bread slices in the banana mixture and place in the hot skillet. Cook until golden and crispy, 2-3 minutes on each side. Repeat with the remaining bread slices or until you've used up the banana mixture. Serve with maple syrup for the breakfast of champions. Devour.
7.8.1.2
329
https://www.foodiefiasco.com/healthy-french-toast/
Nutrition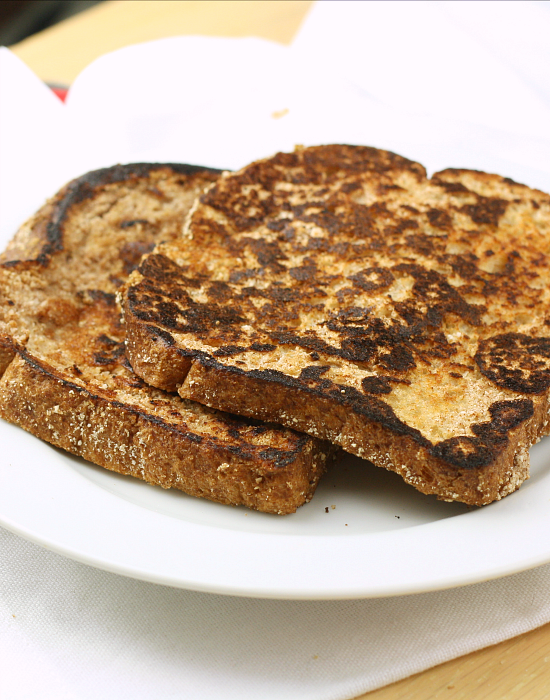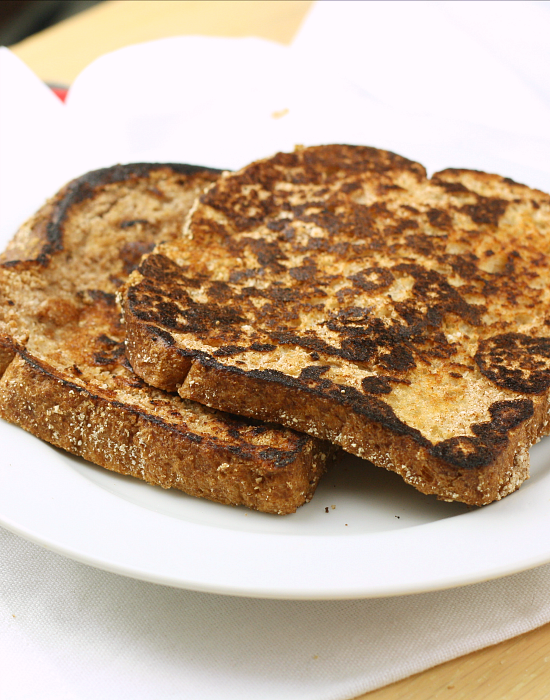 Are you a morning person?
I am too! (Well, now.)