Man I wish I was at HLS.
I know it couldn't have happend anyway necause of my mom's chemo, but still. A girl can dream. (Hey Brittany, can I room with you next year?)
So back here in boring blogger-less LA, I am working my oven. It is way too hot to have that thing on, but do I care? Not really. But most non bake-aholics would not put up with the heat, so I guess we're going to have to make something that will also put our sweet tooths at ease that is also temperature conscious. Oh the horror.
So for those of you who are not absolutly clinging to the idea of baking, through 9o degree weather or not, congragultate yourselves on your sanity and fire up your food processors. For those of you in my category, stick with me. That post is coming.
Okay, so you know those fresh nut butter grinders in the bulk section of Whole Foods? I am totally hooked on the honey roasted peanut butter there. It's cheap, it's convenient, and it could very well be the best nut butter I ever had. No joke.
The only problem is that I usually scarf down almost all of the honey roasted pb get via my fingers before I even get to pay for it. (It ain't pretty.) I don't want to, but I can't help myself. So at least when I make this pb at home, I can eat it by the sticky fingerful in the private of my own home without getting stared at by innocent passerby or getting yelled at by grocery man that I'm breaking some California code of health or something.
At least now I can look like a lunatic in private. (Which is so much better, right?)
Lick the Bowl Honey Roasted Peanut Butter
Inspired by Whole Foods
Ingredients
Honey Roasted Peanuts (I just used three 1.8 oz. individual packages. If I were you I would look at the ingredients to make sure there are no creepy preservatives.)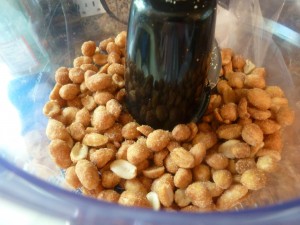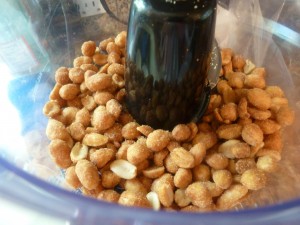 Put nuts into food processor and turn it on.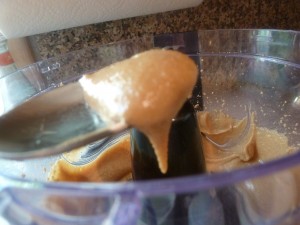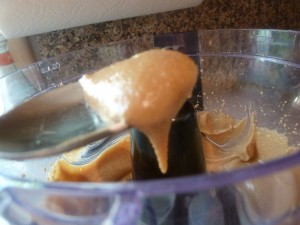 Wait until it's butterized and enjoy! Because this recipe is so painfully simple, I'm going to include another picture of the beauteous final product, just to help it sink in.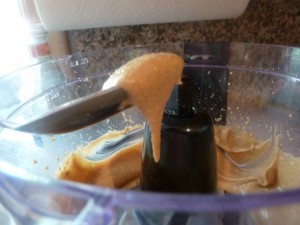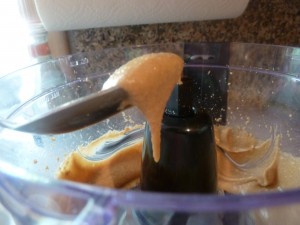 This came together so quickly. I didn't even have to scrape it down or anything. Nuts may very but this really is very simple.
Whic final product pic do you like better?
By the way, if you wanted to make this into PBU (courtesy of the mastermind of Heather) just add about 1/2 cup of unsweetened almond milk. Yum!
Enjoy!
-Kelly M.