Things are happening! Let's eat some hummus and talk about it.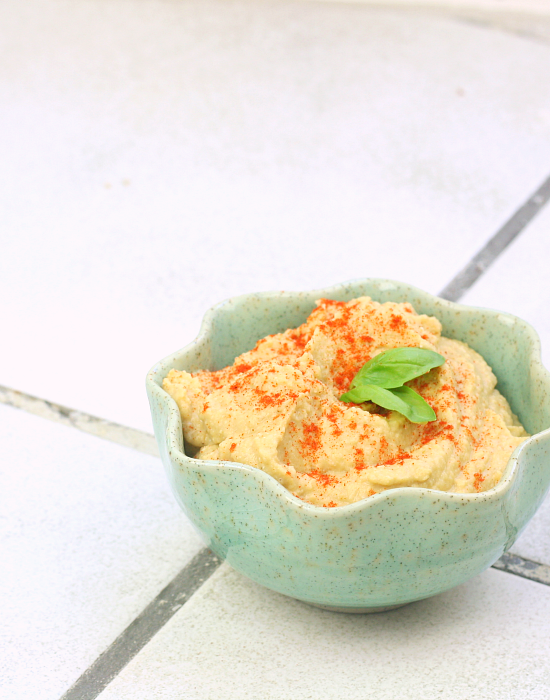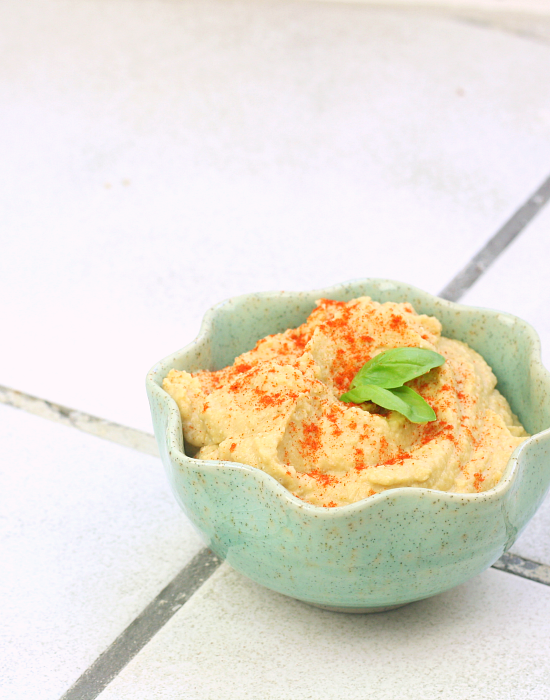 First off, this hummus is perfection. I know because I had 9 fabulous taste testers who said so. (NINE. And there are 19 chefs total in the Foodie Fiasco Test Kitchen because I'm the luckiest person alive.)
Considering my standard for hummus was set in the Middle East (i.e. the literal Mecca for hummus), this recipe needed to be pretty darn spectacular. Tasting all the incredible hummus of Israel made me think there was no way I could recreate this at home, especially not healthfully.
Challenge accepted.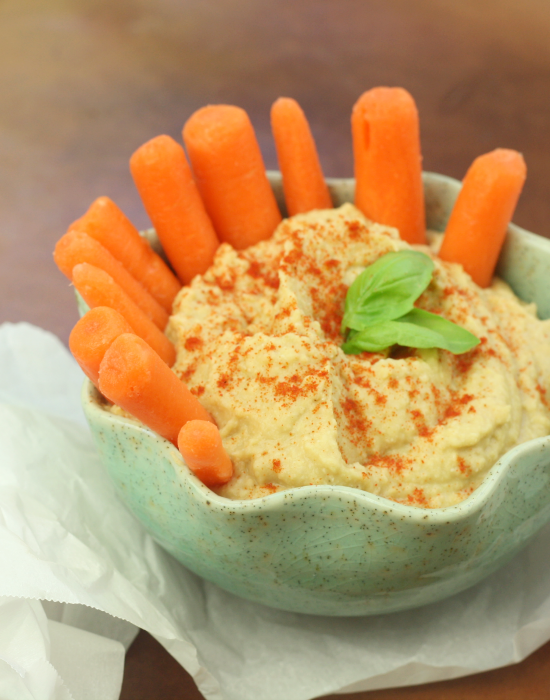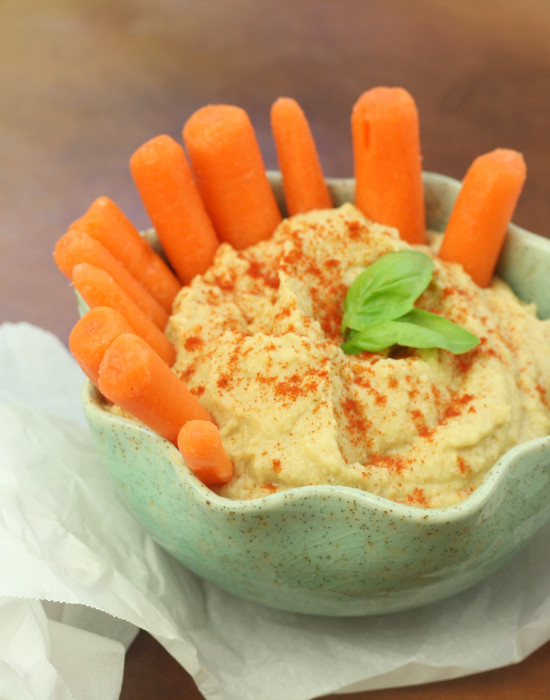 If you're anything like me and have -7% self-control when it comes to hummus, any recipe I make needs to be low calorie and completely skinny jean friendly.
Thanks to the creaminess of chickpea and the perfect flavor balance of roasted sesame seeds, fresh lemon juice, and good sea salt, I present to you the last hummus recipe you will ever need. It's only 20 calories a tablespoon and it'll do your Middle Eastern friends proud.
Challenge = victory.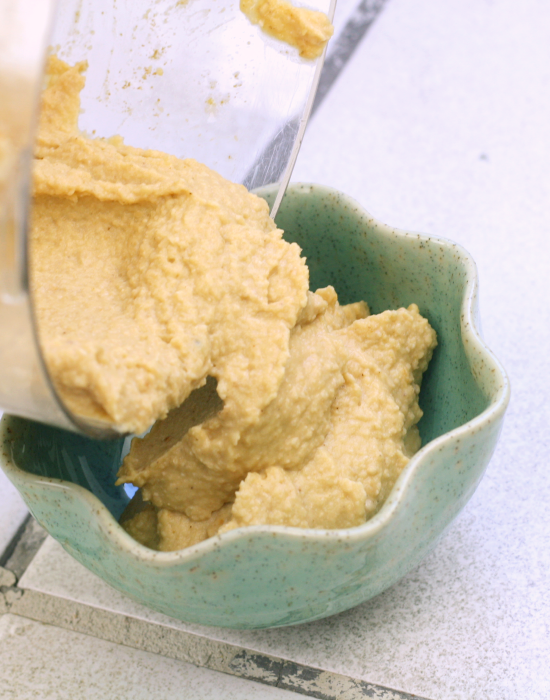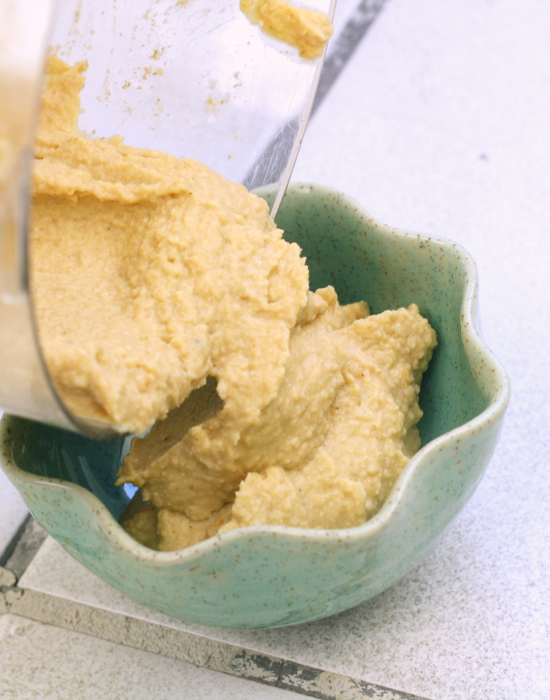 So I'm shifting my priorities. I have to. I have to work harder on this site because I love you guys, I have to focus more so I can sleep sometimes, and I have to do better. Here's what's going on in this neck of the woods:
I made hummus. It rocked. You should make it now.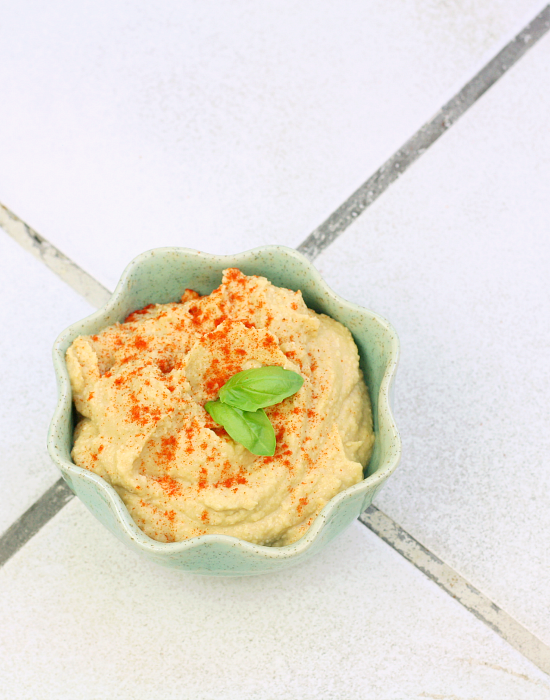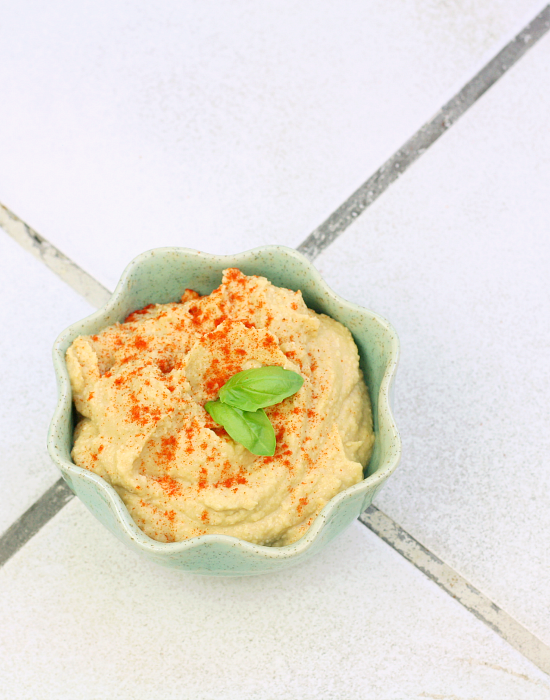 I am taking 4 honors/AP classes at the eighth most difficult high school in the country. (Thanks for the ranking Washington Post. We all feel so much better about ourselves now.)
I work most of the time, sleep none of the time, procrastinate some of the time, and drink coffee all of the time.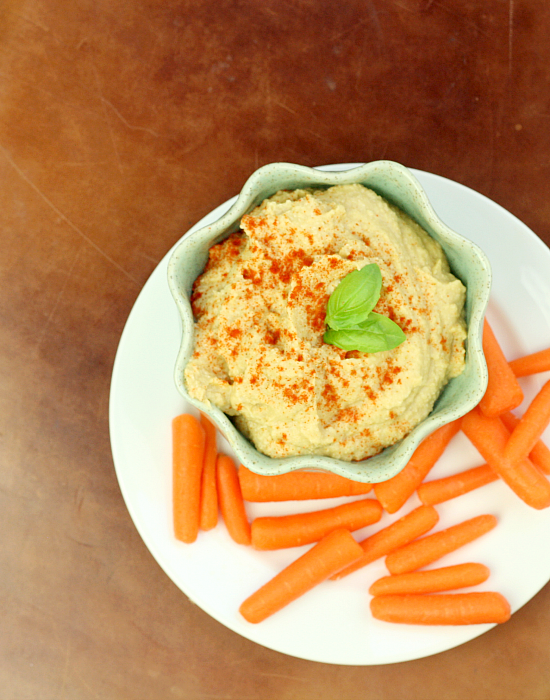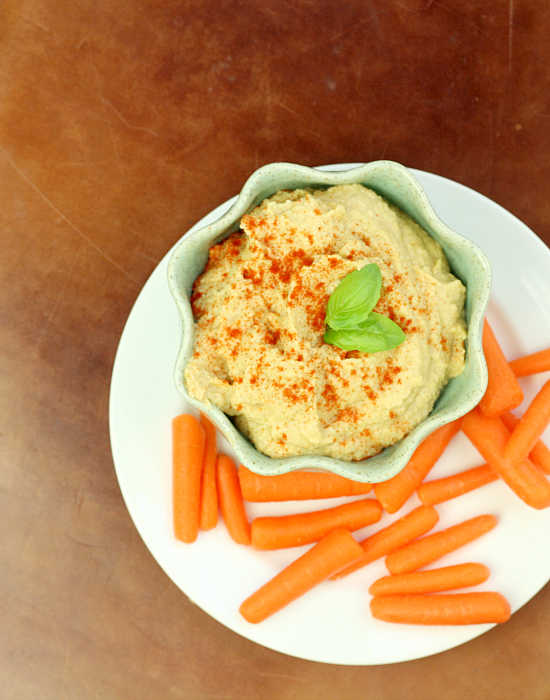 The website is still broken. I hired a fabulous designer who doesn't actually develop websites, so I decided I could do it myself. Bad. Wrong. Very wrong. After over a month and a half of hours of effort in vain, I need to hire yet another person to do it.
If you need a good laugh, look no further than my hilarious incompetence in programming. I'll literally not do anything, and stuff just starts breaking. My entire email account managed to delete itself, the comment section decided to just not come to party on a few posts, multiple plugins are like having seizures and breaking things, and the bottom of the website decided to show up on the side of the website because why the heck not.
And then the high school junior hired someone else to handle it. Because Lord knows she has no idea what's going on.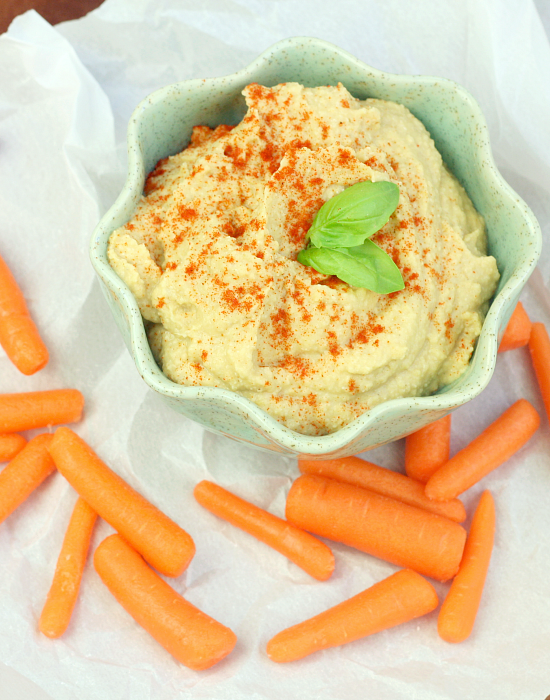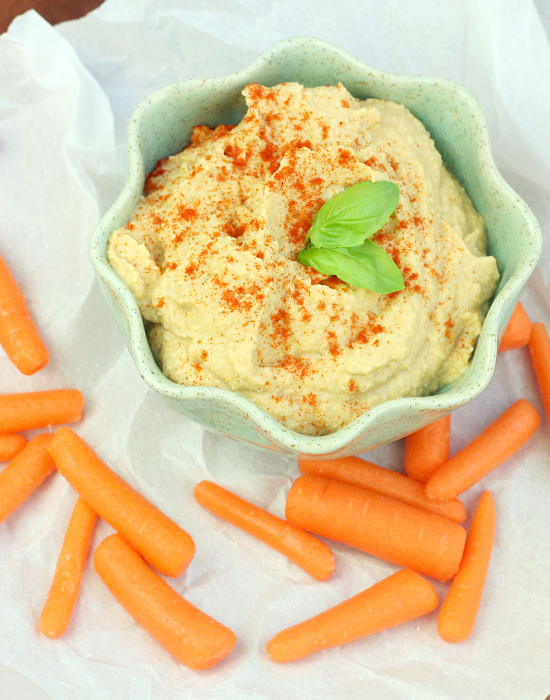 I also auditioned for a professional poetry troupe on a whim… and made it. I'm a poet and I didn't know it! Roses are red, violets are blue, and I'm psyched about all of it. Unfortunately, now this is hours more of rehearsal per week that I already didn't have time for. Plus they'll kick me out when they see how many sentences I've ended with prepositions.
I had my first real relationship, full of sweet nothings. I had my first real breakup, full of nothing sweet.
I also have to let myself grow up. I have to let myself be a child who does taxes and an adult who goes trick or treating with her friends (we also go to the mall way too much). I'm like 17 stereotypes rolled into one and I love it.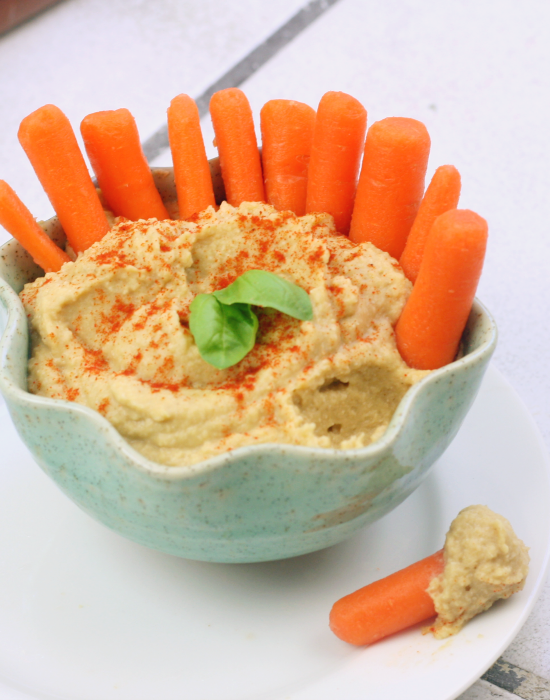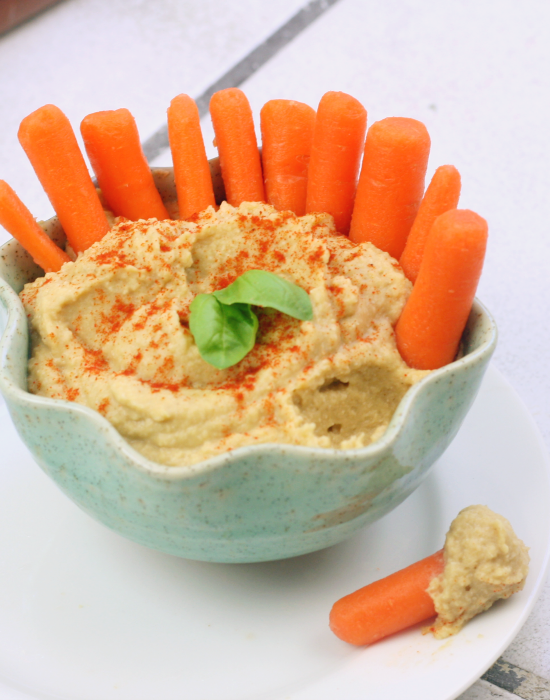 In the midst of all this growing up and taking flight and whatever, I have to focus on what's truly important. I have to decide what's truly important.
And I choose this.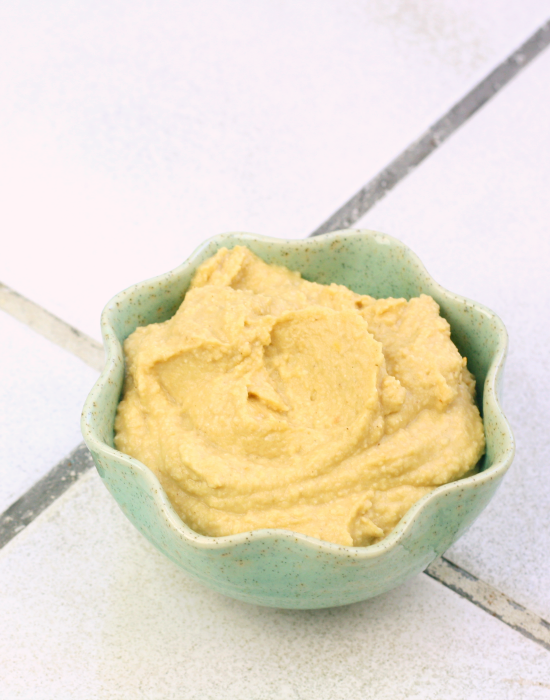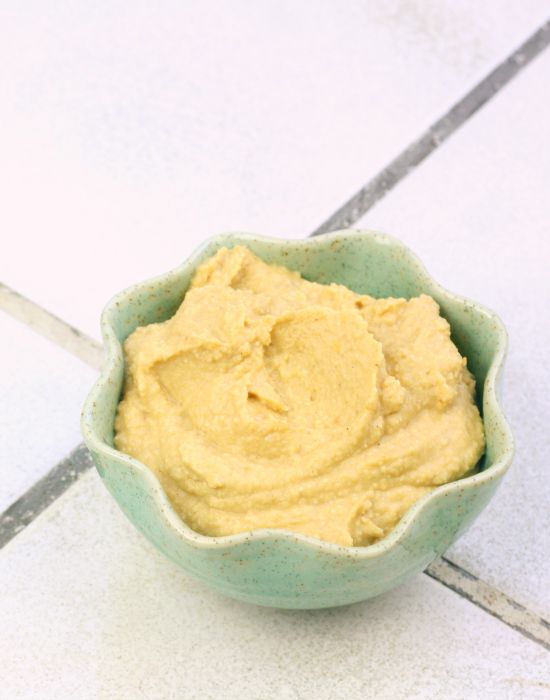 Obviously I'm still going to school, but I choose to focus on this website.
I choose to focus on this job, because it's never been a job to me.
I choose to focus on you, because the fact that you're reading this today has changed my life.
Foodie Fiasco reached its 6 millionth person a few days ago. SIX MILLLION PEOPLE. That's a lot. And I want to share this message, this dream, this low calorie hummus with as many more people as possible.
Please make this hummus, share it with people you love, and know you're making a little adult-in-training's dream come true.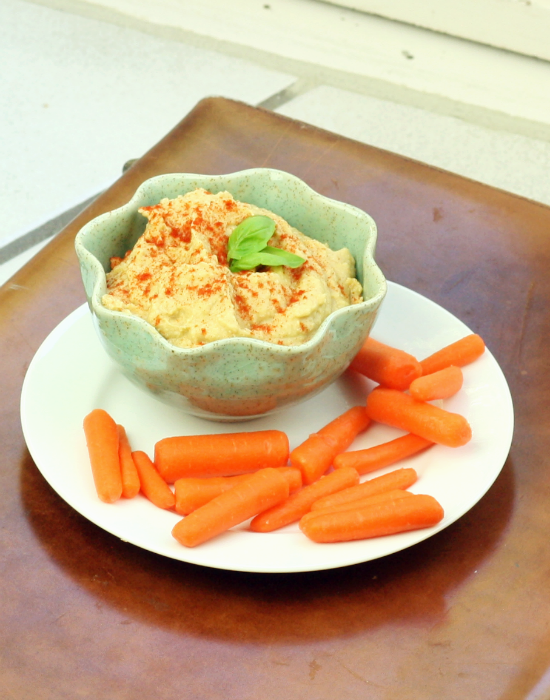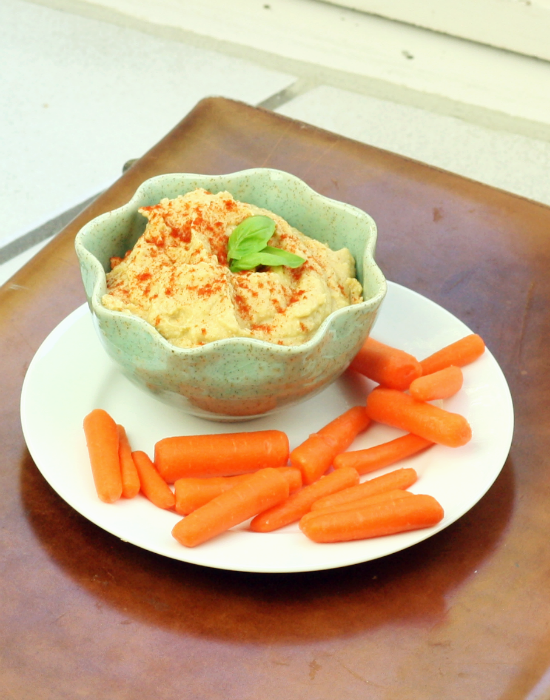 Thank you so much to Chefs Malena, Bri, Katie, Haley, Jessica, Katie, Margaret, Claire, and Cynthia for testing this recipe!  Guys, there people rock. Here are some of their notes:
"I made two batches (whole sesame seeds, no tahini): one with the full amount of sesame seeds, and one with half the amount of sesame seeds. Both were amazingly flavorful, but the one with half the amount of sesame seeds had a bit less kick (obviously) and didn't pair too well with really flavorful snacks. I tried it on a sandwich with spinach–delicious. Carrots–kinda lost some of the taste. Whole wheat pita chips–delicious. Celery–delicious. I think if you have readers really trying to cut back on fat, half the amount of sesame seeds will definitely do the trick and still taste GREAT. I also added a few whole sesame seeds on top before eating and it still held up a great flavor." -Katie
"I love garlic hummus so I added in 1/2 tbsp of garlic powder. I wanted to experiment with not adding any sesame seeds or tahini paste to make the fat content lower. Instead of using sesame/ tahini I added in 1 medium sauteed onion, 3 tbsp of plain fat free greek yogurt, 2 tbsp mustard, 1 tbsp dry basil and 1/2 tbsp dry dill. The mustard and the greek yogurt binded the chickpeas together and created a creamy effect. The additional herbs really brought out a lot of flavour in the hummus." -Jessica
"LOVED IT! I have already made it 3 times and will probably be making it again soon!" -Haley
"Used half the sesame seeds and some lemon zest because it was there. And the result was less dry of a hummus." -Katie
"Instead of 2 tablespoon of tahini or the 1/4 cup sesame seed options I used 1 tablespoon of tahini and 1 of 1 tablespoon sesame seeds. I also didn't have any fresh lemons so I used 2 tablespoons of bottled lemon juice. I also had run out of milk that morning so I used water instead and it didn't seem to make a difference at all. The final product was awesome! I had it on a wholemeal roll with avocado, baby spinach and grated carrot and ended up going back for more! It was creamy, smooth and tasted like the store-bought products." -Bri
"I thought it was fabulous! It was SUPER garlic-y which was the opposite of a problem for me since I adore garlic, but others might not, so you may want to say 1-2 cloves rather than a firm 2. But overall the texture was amazing and the flavor was heavenly!"- Malena


Healthy Oil Free Hummus
Ingredients
1 (15 ounce) can chickpeas or 1¾ cup of fresh cooked chickpeas
2 cloves garlic
2 tablespoons almond milk
juice of half a lemon
2 tablespoons tahini (sesame seed paste) OR ¼ cup sesame seeds
salt + pepper, to taste
Instructions
If using canned chickpeas, drain, rinse, and set them aside.
Add the garlic cloves to the bowl of a food processor and pulse until finely minced. Add in chickpeas and pulse until the chickpeas are finely chopped.
Add in the almond milk, lemon juice, and tahini and process until the hummus is creamy and completely smooth. Salt and pepper to taste. Top with a sprinkle of paprika and maybe even a splash of good olive oil, serve with your favorite crudites, and devour.
Nutrition Information
Serving size:
1 tablespoon
Calories:
20
Fat:
0.9 grams
Net Carbs:
2 grams
Fiber:
1 gram
Protein:
1.1 grams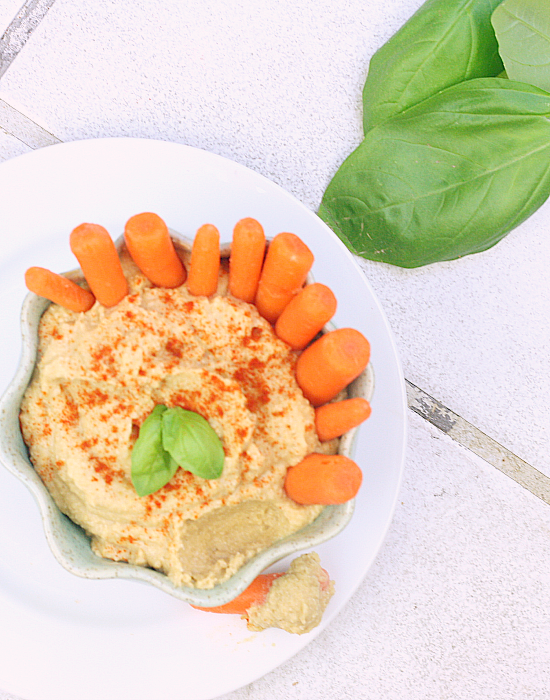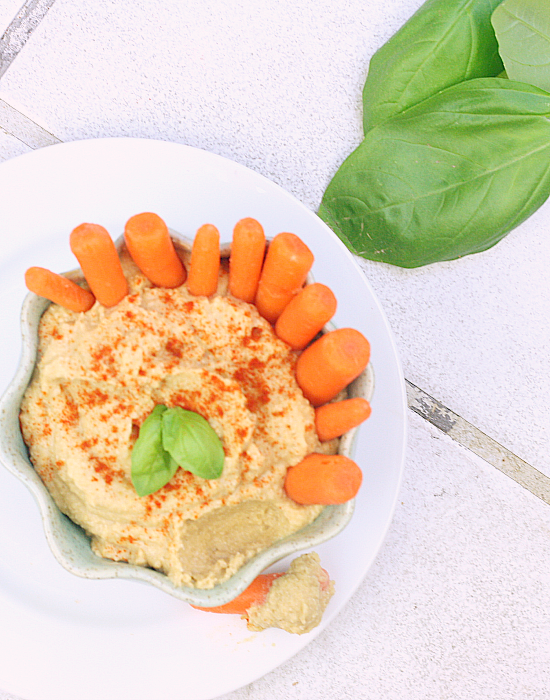 How do you like to serve your hummus?
I love mine with carrots. I'm literally turning orange. (Um, no complaints there. I'm the color of sunshine!)