(The following is an AIM debate between my dear friend Christine and myself.)
Kelly: I never considered myself to be an indecisive person.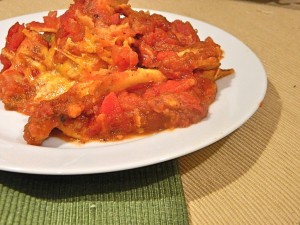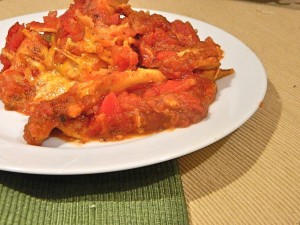 Christine: Kelly, you kind of are. You made my mom wander around the food court for two hours to find a place you'd want to eat. And then you went back to the first place.
Kelly: I did not.
Christine: Well it happened. I'm not crazy.
Kelly: Well, if you're not crazy, then I'm not indecisive.
Christine: Kelly you are indecisive! You take three and a half years to decide what to wear. "Should I wear this, Christine? Or how about this? No, maybe this? I should wear this! Oh wait no I shouldn't. But I probably shoul-"
Kelly: I have no idea what you're talking about. You must be thinking of someone else.
Christine: Then you're really indecisive and have an even worse memory.
Kelly: No, I can't be both. You have to pick one. You need to be decisive like me.
Christine: Sure.
Kelly: Right.
Christine: 'Kay.
Kelly: Fine.
Christine: Good.
Kelly: Whatever.
Christine: These pointless one word responses are making me hungry.
Kelly: Really? I think they're entertaining.
Christine: What are you making for dinner?
Kelly: Mexican lasagna. I couldn't decide between Mexican or Italian. All I know is it's hard to photograph.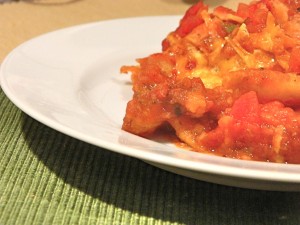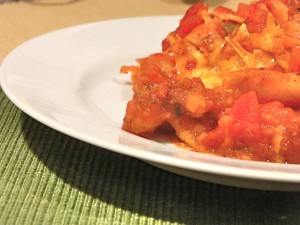 Christine: Ha! I told you. You can't make a decision!
Kelly: Now that's not fair. One time. ONE.
Christine: It's completely fair.
Kelly: That would never hold up in a court of law.
Christine: Kelly, you wouldn't be able to decide what court to go to. You can't decide on lasagna for crying out loud.
Kelly: Sure.
Christine: Right.
Kelly: 'Kay.
Christine: Fine.
Kelly: Good.
Christine: Whatever.
Kelly: But I'm keeping the lasagna for myself.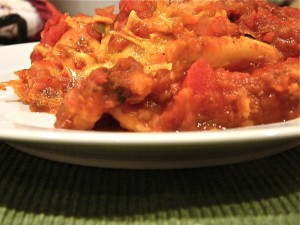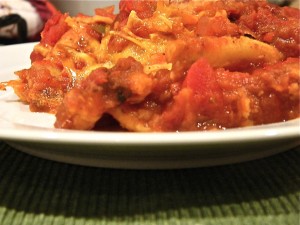 Mexican Lasagna for Indecisive People (Vegan option, Gluten free, Low fat, Low Calorie)
You can be the most decisive person in the world (Christine) and still love this lasagna. It's cheesy comfort for the soul.  And on the off-chance you can't decide between Mexican or Italian, I feel your pain. Just take this recipe and thank me later. 
Serves 4
Ingredients
6 corn tortillas
1 14.5 ounce dice tomatoes (fire roasted prefered)
1 14.5 ounce can of low fat/ fat free vegetarian refried beans
1c. Mexican or cheddar cheese, shredded (vegan, if you prefer)
1.5c. salsa
1/2T chili powder
Directions
Preheat oven to 350F
In a medium bowl, mix beans, diced tomatoes, and chili powder. In a 2 quart casserole dish sprayed with nonstick spray, spoon 1/3 of bean mixture into the bottom. Don't worry, it doesn't have to cover it up completely.
Now layer:
2 tortillas
1/3 bean mixture
1/2c. salsa
1/4c. cheese
2 tortillas
remaining of bean mixture
1/2c. salsa
1/4c. cheese
2 tortillas
remaining of salsa (1 cup)
1/2c. cheese
Bake in the oven at 350F for 30 minutes, or until cheese is bubbly.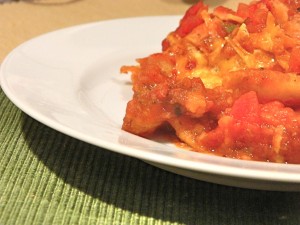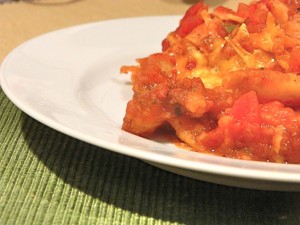 Indecision tastes amazing.
Enjoy!
-Kelly M.
P.S. My subscribe by email option if finally up! Would you subscribe for me? Please? My birthday's in two days! Can it be like a birthday present? Thanks. 😉