If I could choose one food to live on, this would be it.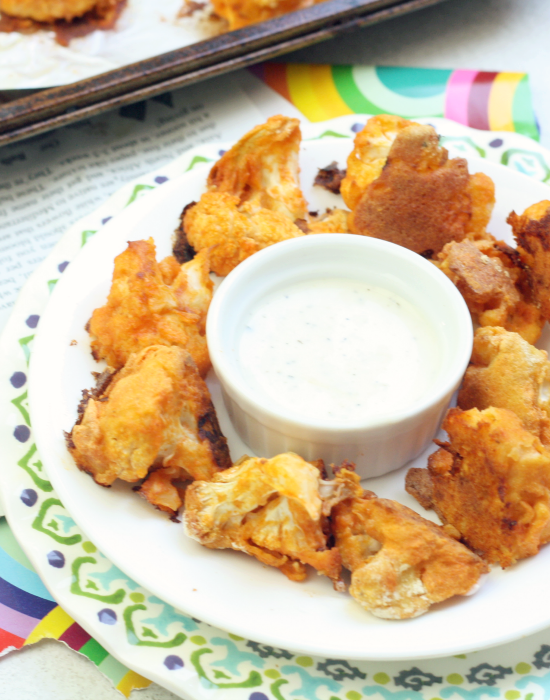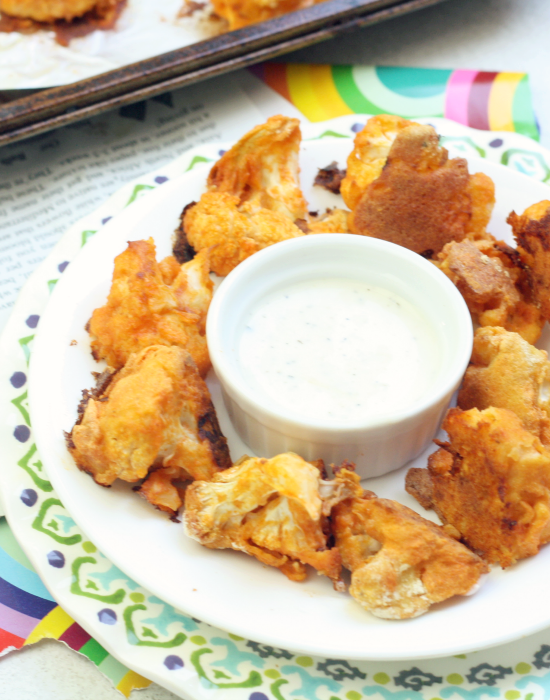 I was stupefied by how much these tasted like actual buffalo wings. And considering that my (adorable) chubby childhood self would readily live on boneless buffalo wings, I'd consider myself an expert on the subject.
My expert opinion? This recipe rocks of all the socks in the house.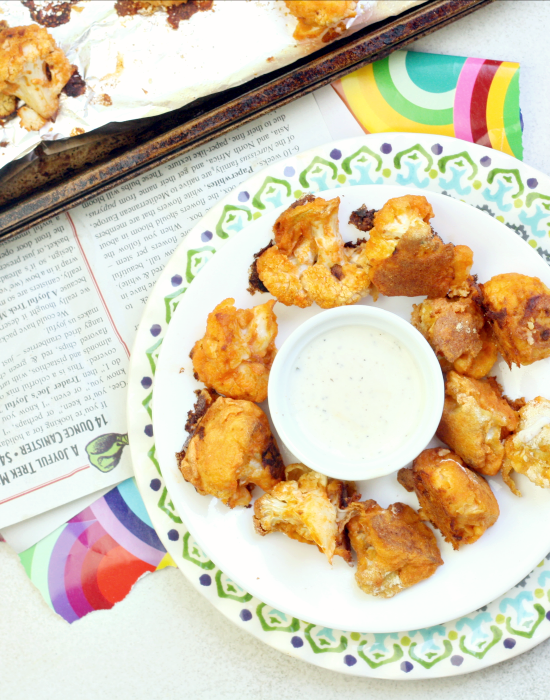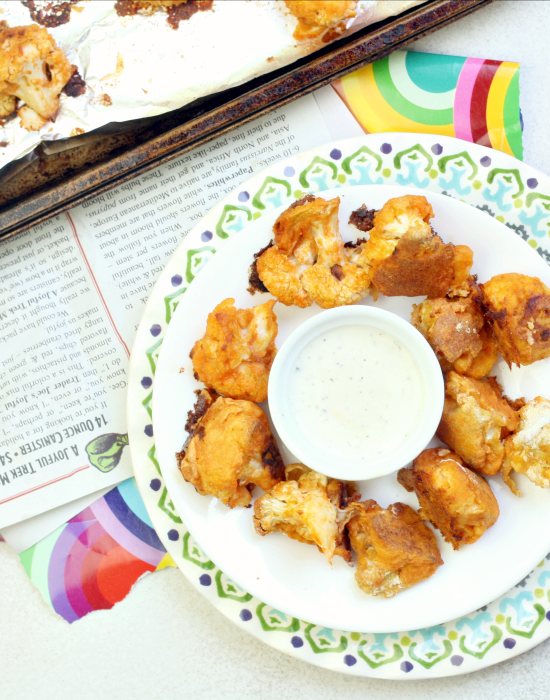 This is a fun (read: delicious) subject to be an expert in. I should totally teach a class.
What makes these cauliflower buffalo wings so special is they are completely gluten/grain free and vegan, while being the most delicious and filling 90 calories you'll ever eat.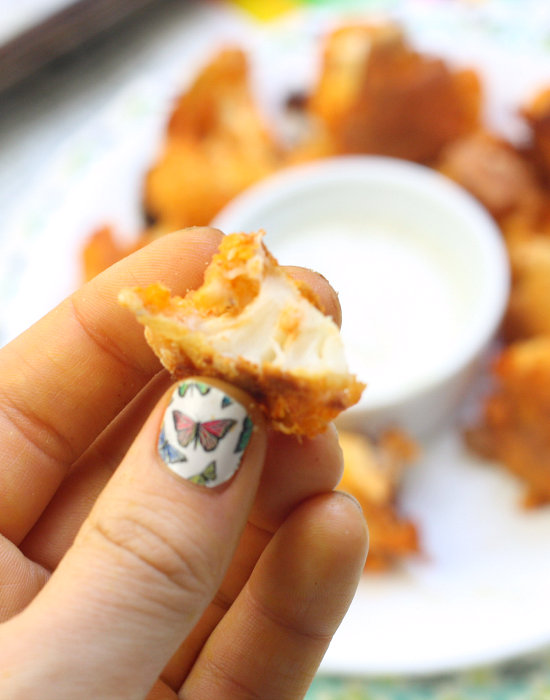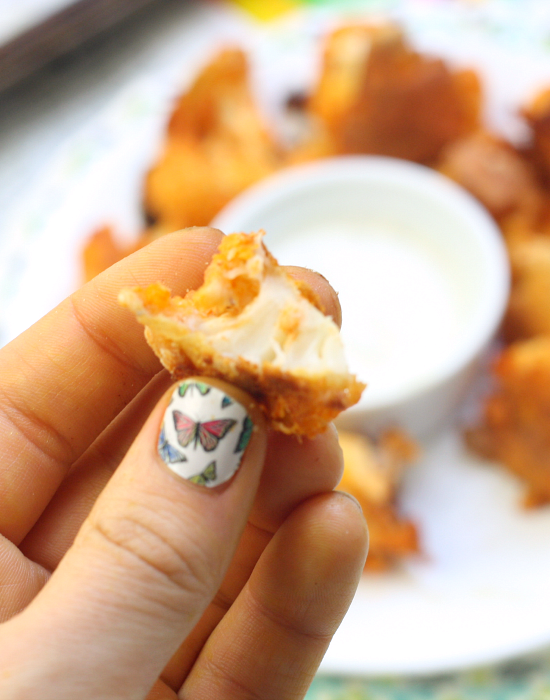 And they have that irresistible buffalo flavor coming out of the wazoo.  I'm kind of a buffalo fangirl. AAH. It's infused in the coating AND the sauce!! Okay I'm done.
As far as the procurement buffalo sauce goes, I used the least expensive one I could find at Whole Foods. (Which is not saying much.) You can also use regular ol' hot sauce if you can really handle the heat.
Plus, you can choose whatever flour your heart desires! My favorites here are chickpea flour and white whole wheat.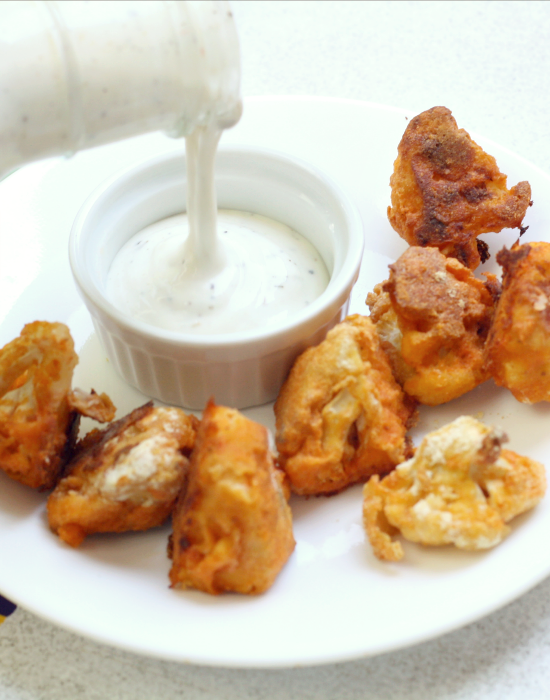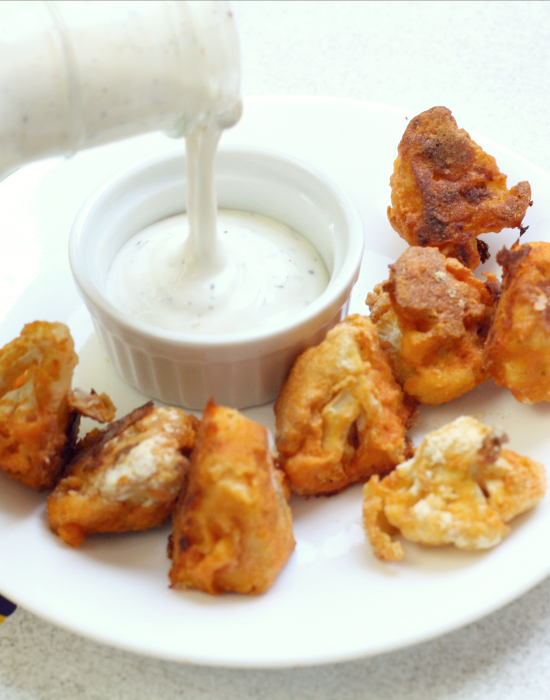 P.S. I've been loving on this ranch dressing from my friend Joe the Trader. It's low fat but certainly not vegan and it tastes like childhood sunshine. (My childhood consisted of a lot of ranch. To accompany my wings, of course.)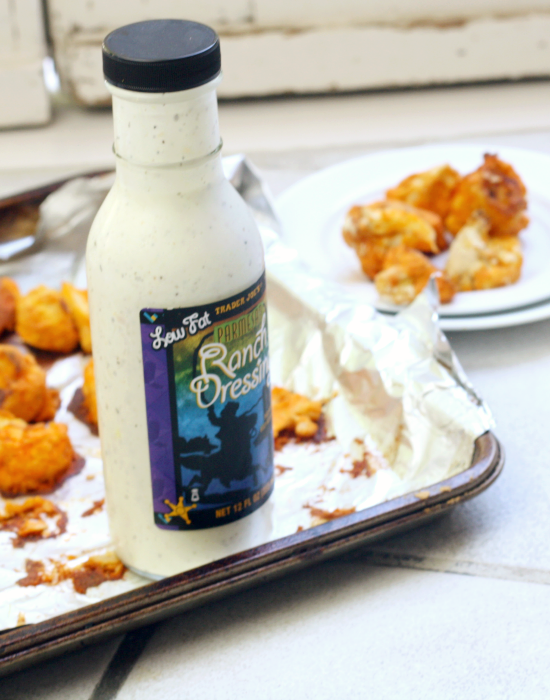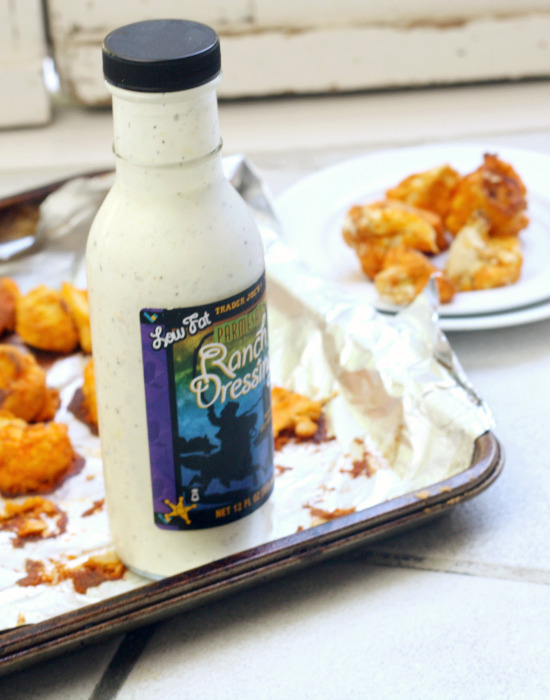 Set up your production line. We've got cauliflower florets (the "meat"), milk flavored with buffalo sauce (the "glue"), and seasoned flour (the "glorious crispy coating").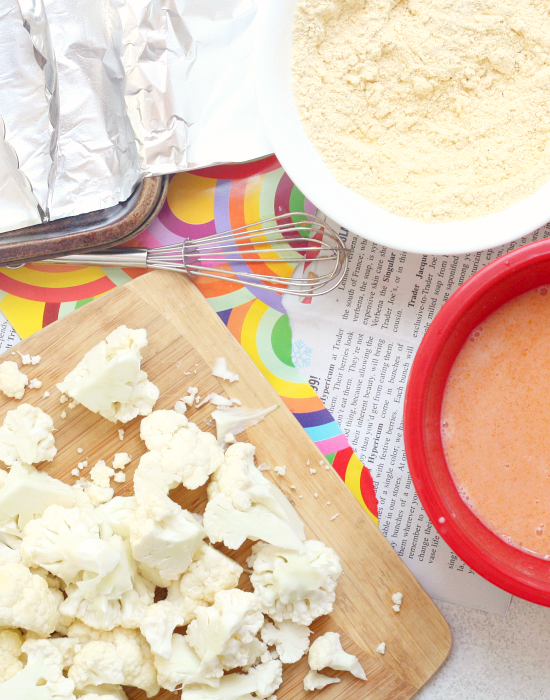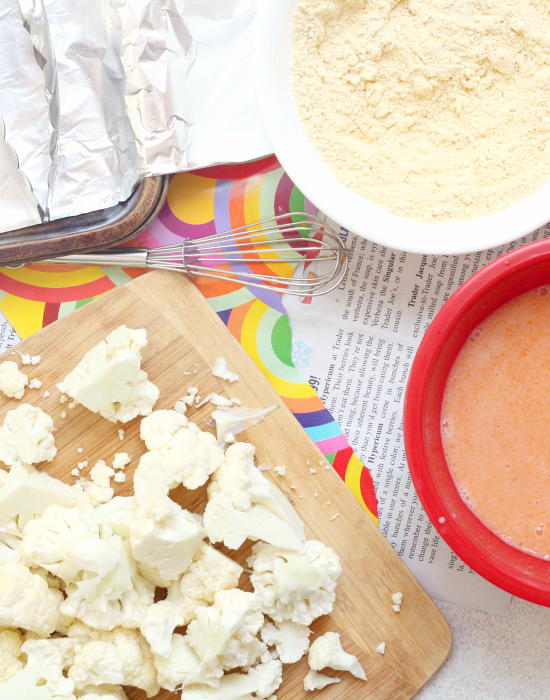 It may seem a bit tedious to coat all the cauliflower, but fear not! It's deceptively simple.  Just rock out to some Michael Jackson and you'll be done long before you bust into the Thriller dance.
No judgement.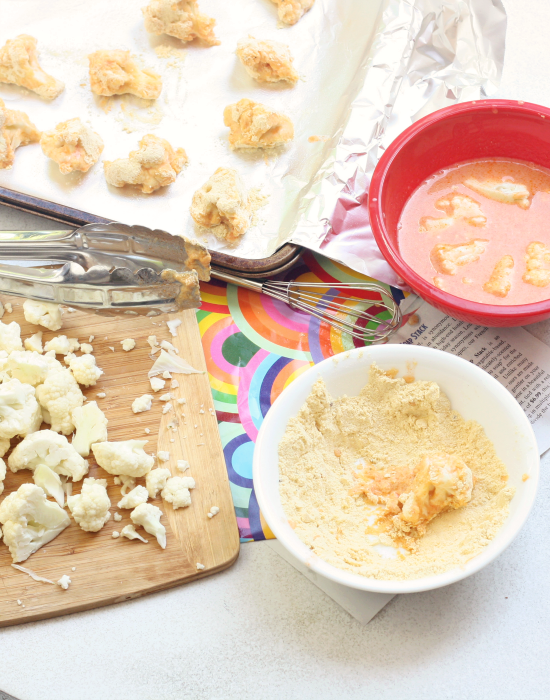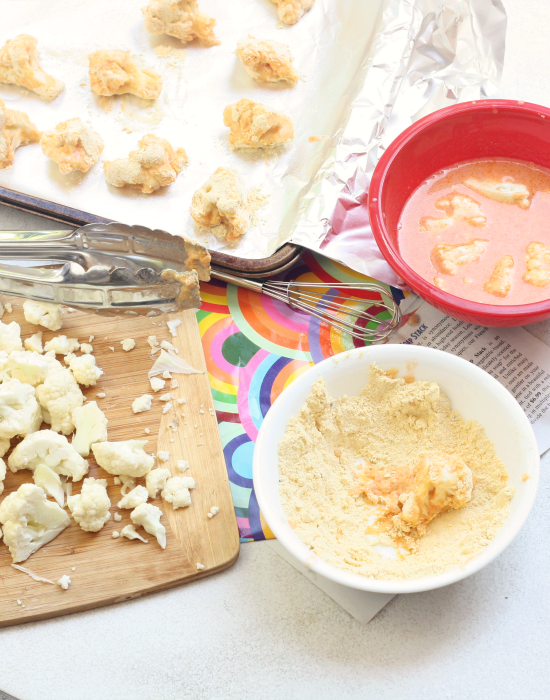 BOOM. Done.
See? That was easy.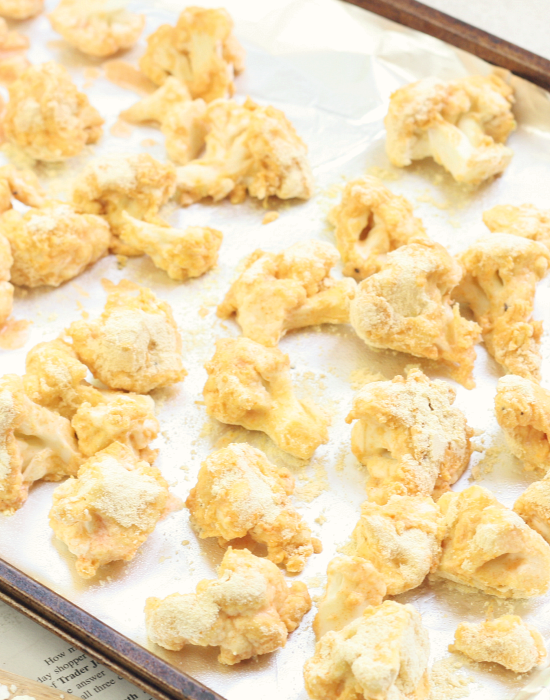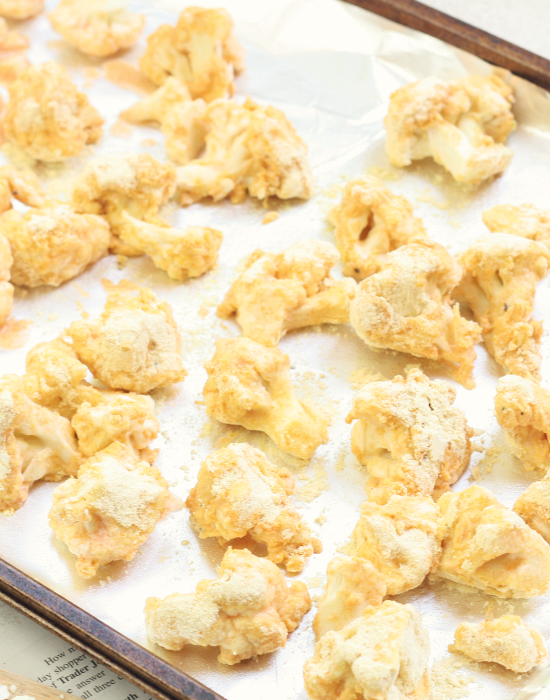 Bake for a few minutes and coat again in sauce to ensure maximum buffalo-y goodness. Enjoy the fabulous appetizers without rowdy bar-going sports fanatics cramping your style and ear drums.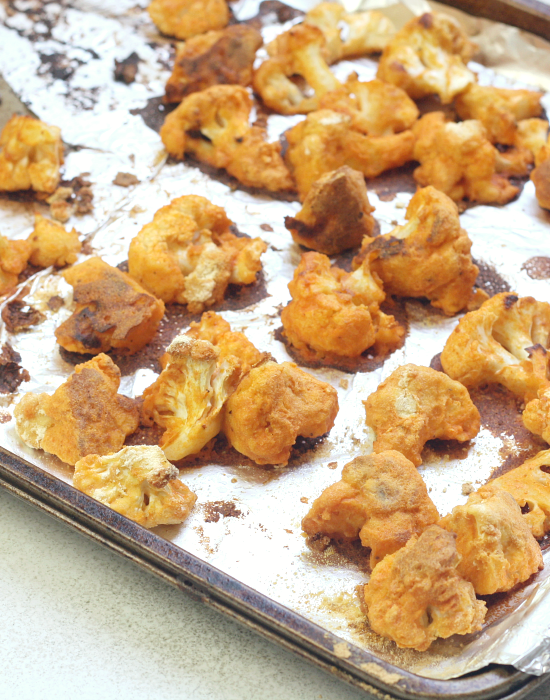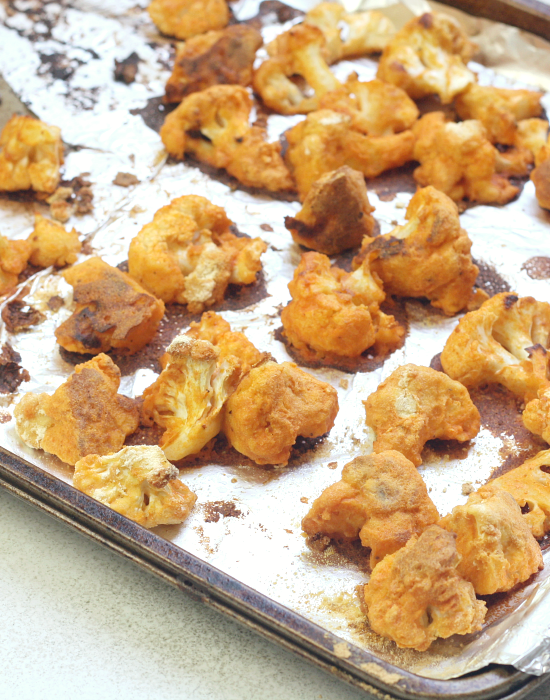 Clap along if you feel app-y!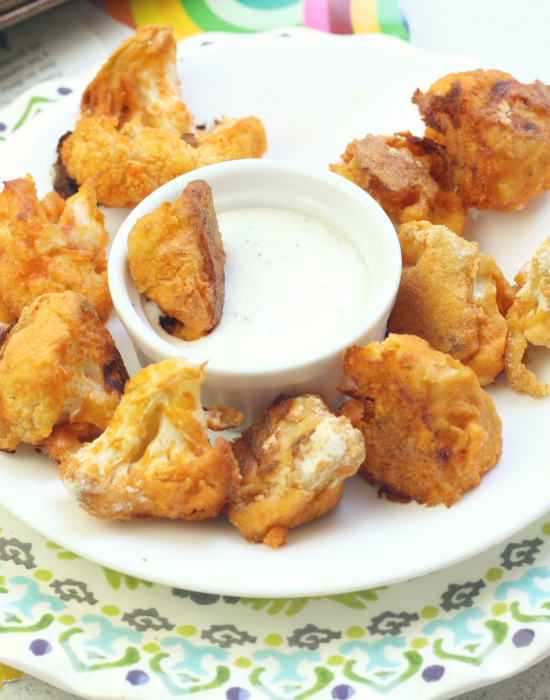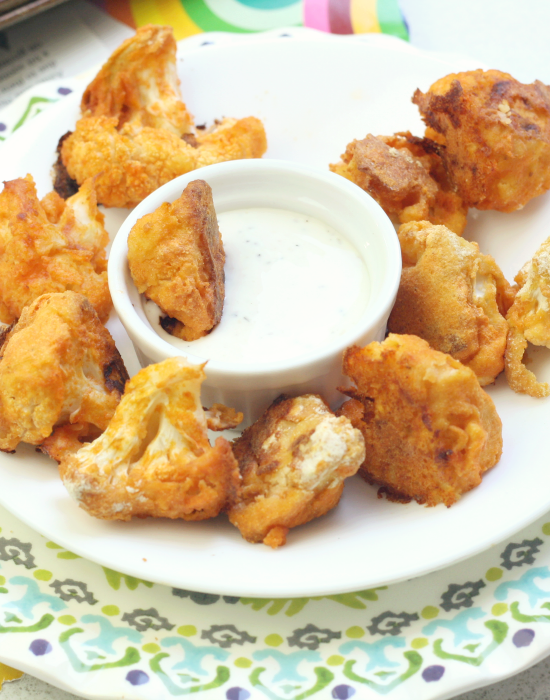 Yield: 4 servings
Cauliflower Buffalo Wings
25 minPrep Time:
15 minCook Time:
40 minTotal Time:
Ingredients
1 small/medium head cauliflower, cut into bite sized pieces
1/2 cup flour of choice (I love chickpea flour in this recipe!)
1/4 teaspoon dried garlic
salt + pepper
3/4 cup almond milk, divided
3 tablespoons buffalo wing sauce, divided
Instructions
Preheat oven to 450 degrees Fahrenheit. Line a large baking sheet with aluminum foil, grease the foil, and set aside.
Combine flour, galic, salt, and pepper in a shallow book. In a separate bowl, whisk together 1/2 cup almond milk and 1 tablespoon buffalo wing sauce. Dunk cauliflower in the sauce mixture, then coat in flour mixture. Spread in an even layer on the prepared baking sheet. Bake at 450 for 10 minutes, turn the cauliflower over with a spatula, then bake for another 5 minutes.
Meanwhile, combine 1/4 cup almond milk with 2 tablespoons wing sauce. Coat the cooked cauliflower in the sauce and bake for another 10-15 minutes until crispy. Serve with your favorite dipping sauce and devour.
Notes
Nutritional information calculated with whole wheat flour.
7.8.1.2
334
https://www.foodiefiasco.com/cauliflower-buffalo-wings/
Nutrition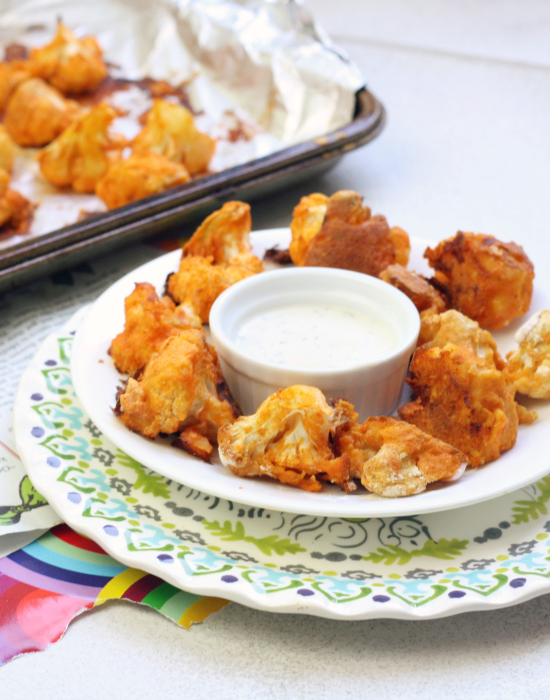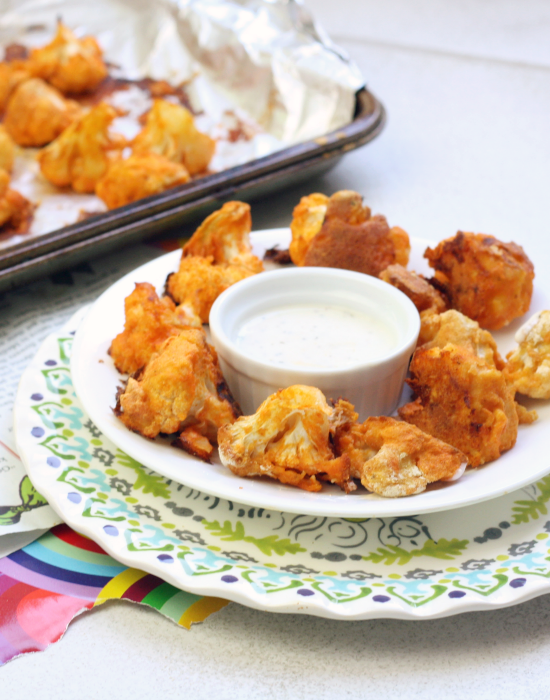 Are you a buffalo wing person?
If you are, get ready to fall in love with these. If you're not, well heck, I think you'll still fall head over heels. I'll come bring your leftovers.