I don't know how many slices of this I ate. I stopped counting after three.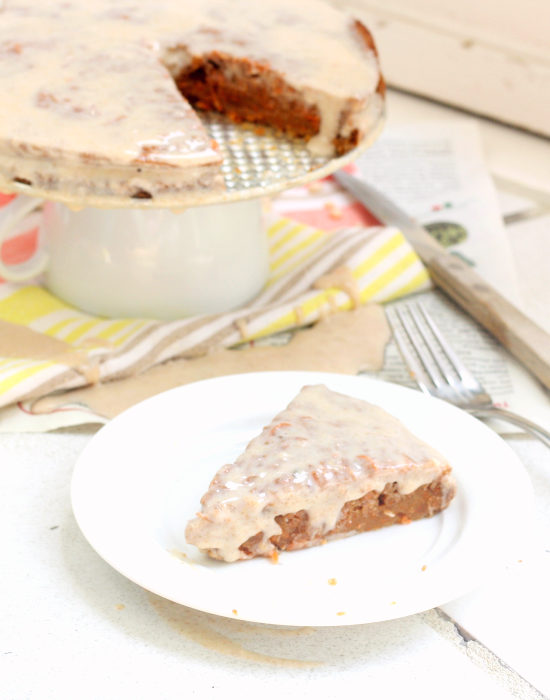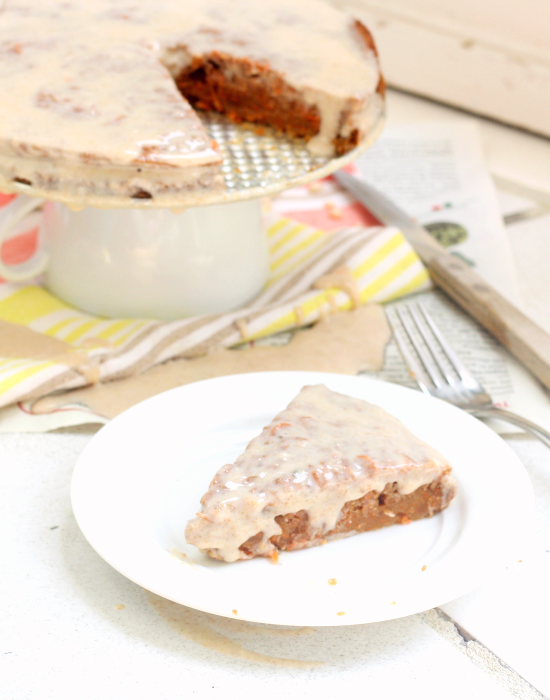 There's something to be said for a cake that counts as a vegetable. I always knew cake was the base of the nutritional pyramid, and living the dream is admittedly sweet. Perfectly sweet, actually, with a hint of cinnamon.
I hope you had a lovely spring break, or at least took a well-deserved pace slowing to smell the roses of this beautiful season. I took the opportunity to laugh with friends, dirty a lot of dishes in the kitchen, spend lazy afternoons on the terrace with my yoga mat and fruits (or veggies) of my kitchen labor.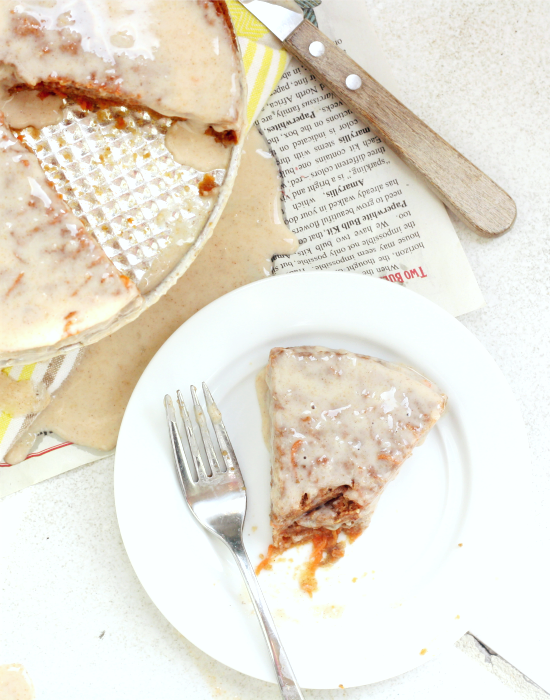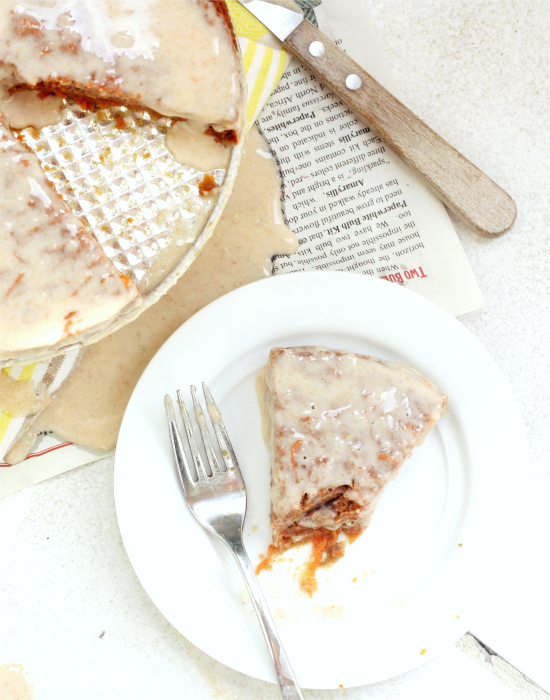 But it's good to be back in a routine. The end of a break is bittersweet, much like the chocolate I didn't give up for Lent. Oops. *conspicuously steps away and distracts friends with cake*
Shred the carrots in your Magimix, who has at this point become a full-fledged member of your family.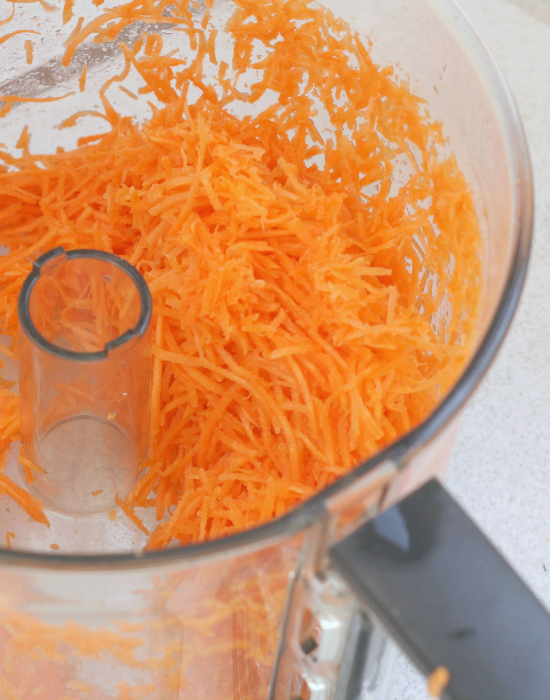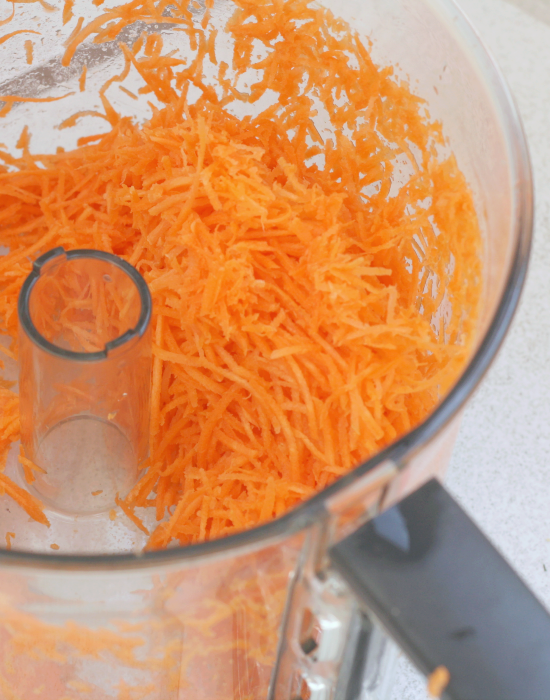 Set aside some of the batter, as it's going to be the secret ingredient on our frosting. Fold the carrots into the rest of your batter.
Feel free to add walnuts for texture and authenticity, but I'm just not a nutty gal. More taste testing and spoon licking occurred on my part than I would care to admit.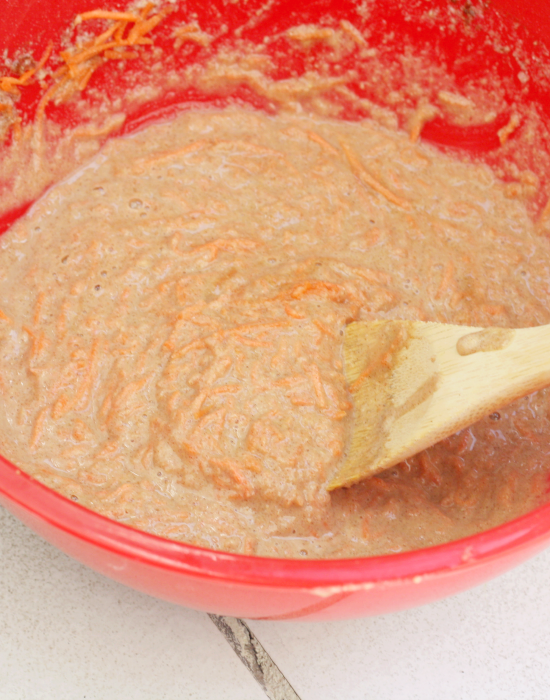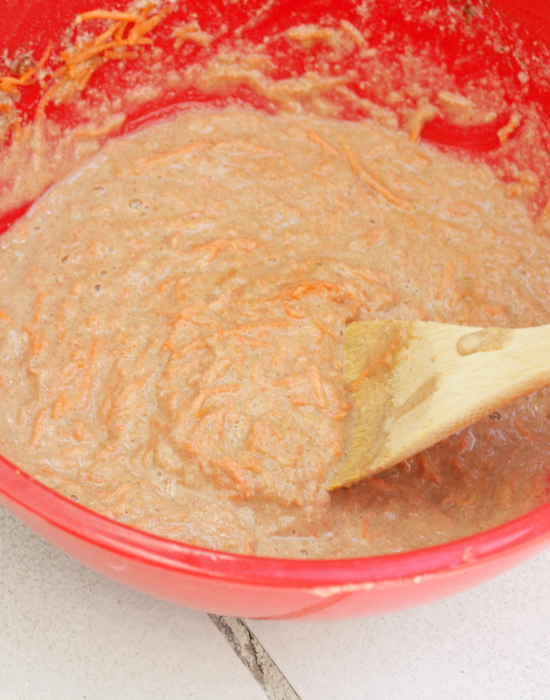 Bake the cake for one of the longest thirty minute intervals of your life. I'm sorry about that. Allow me to offer Netflix and a promise of cake to pass the time.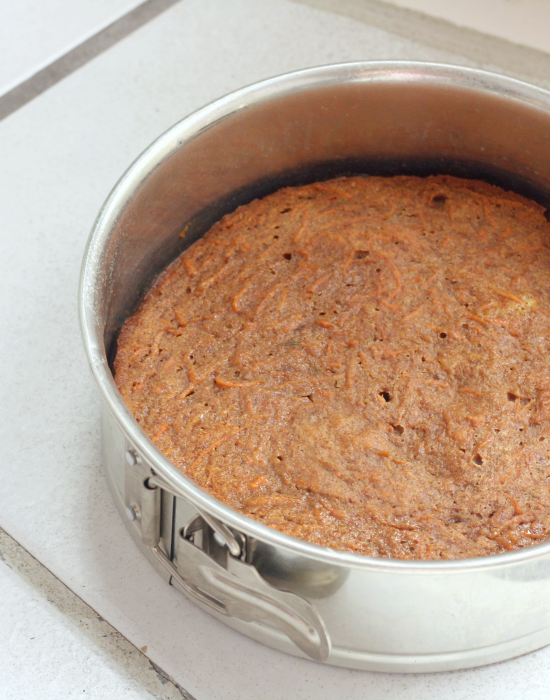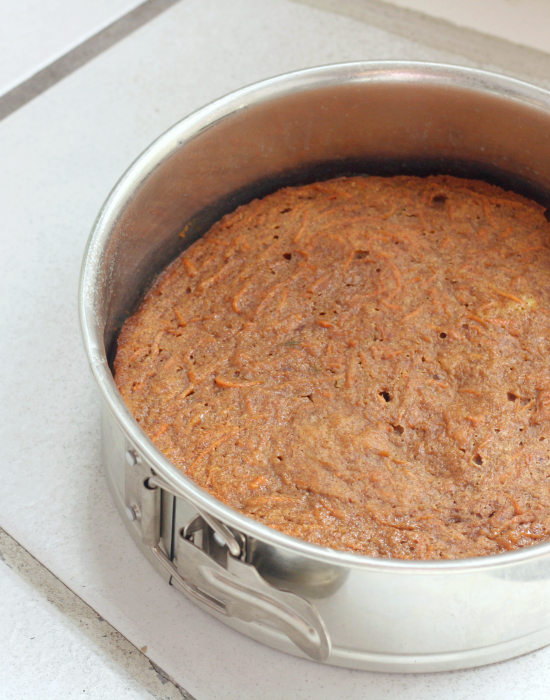 Get lost in the universe of Mad Men and have this beauty greet you at the end of the tunnel/episode.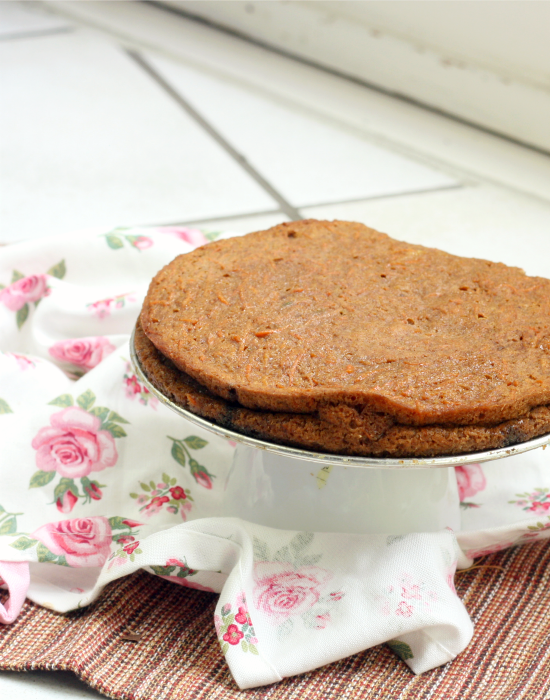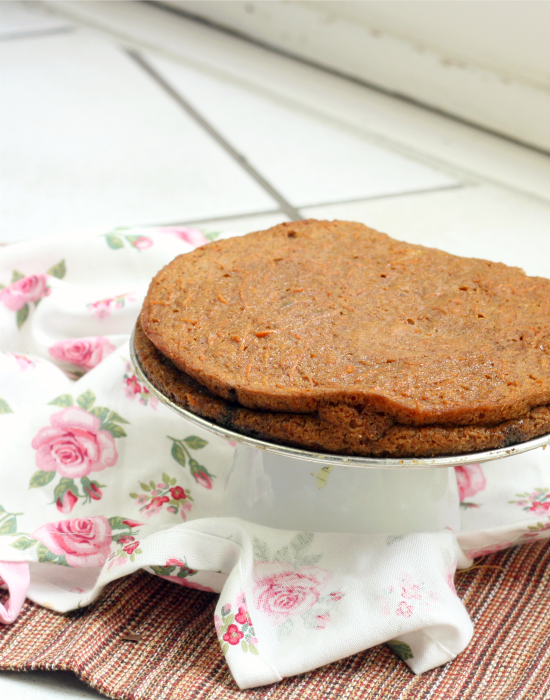 Make sure to effectively get frosting everywhere while attempting action shots.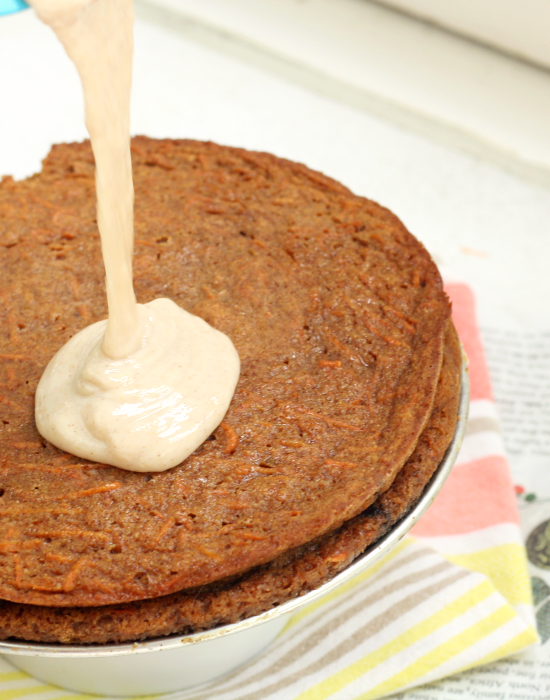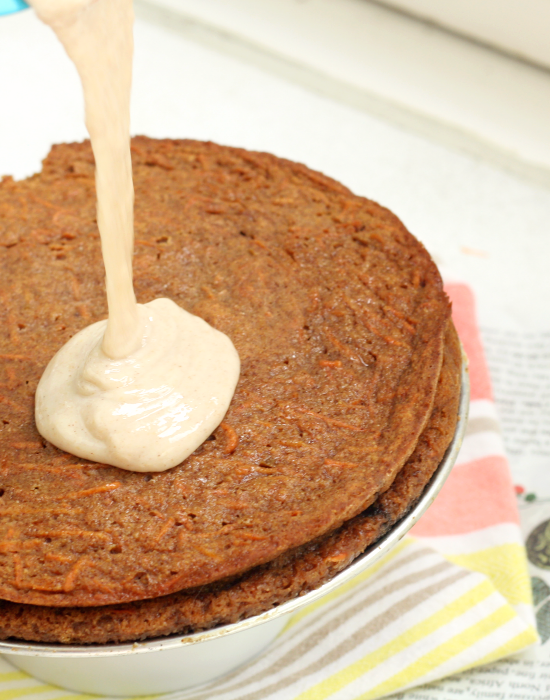 I would have been more annoyed by having to clean everything up if this cake didn't taste so darn good.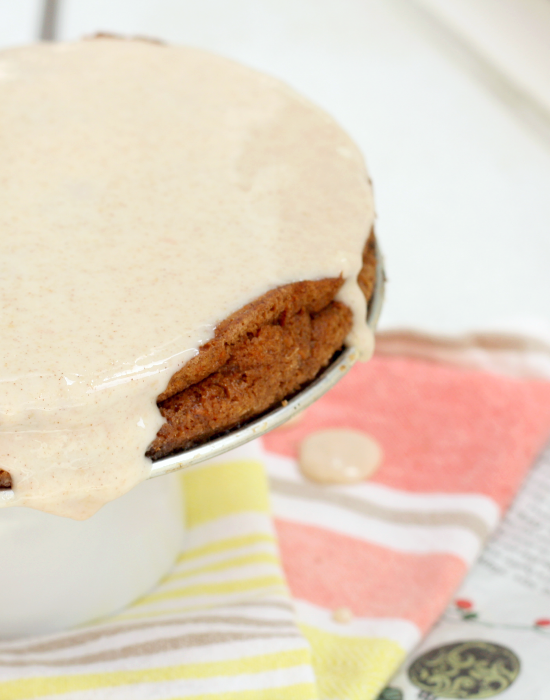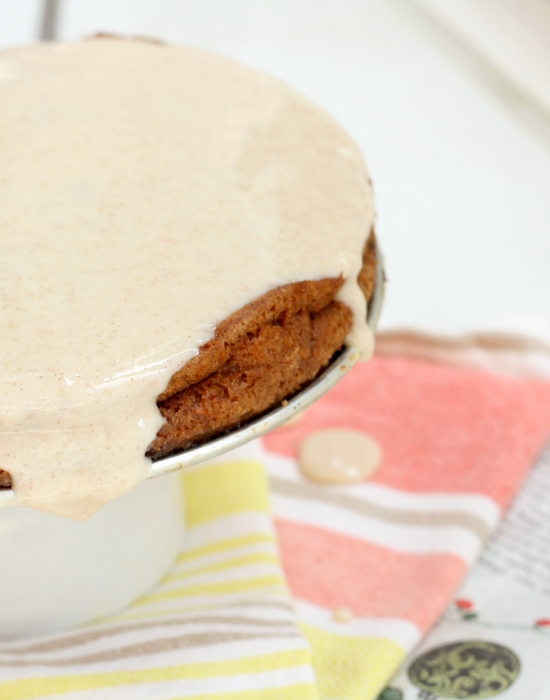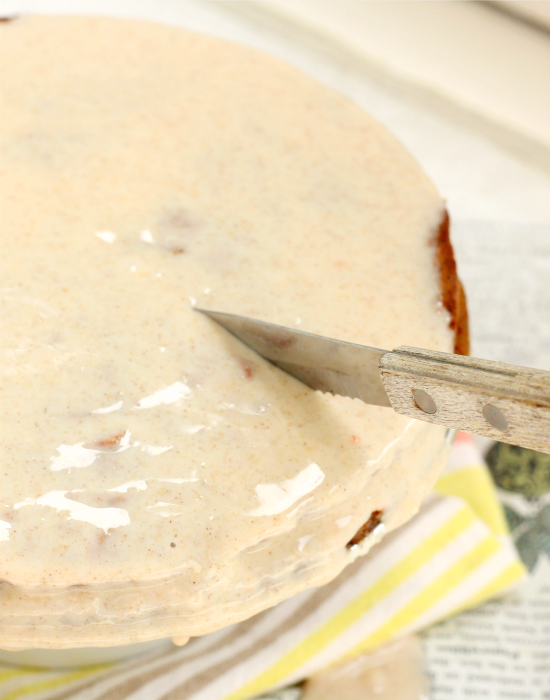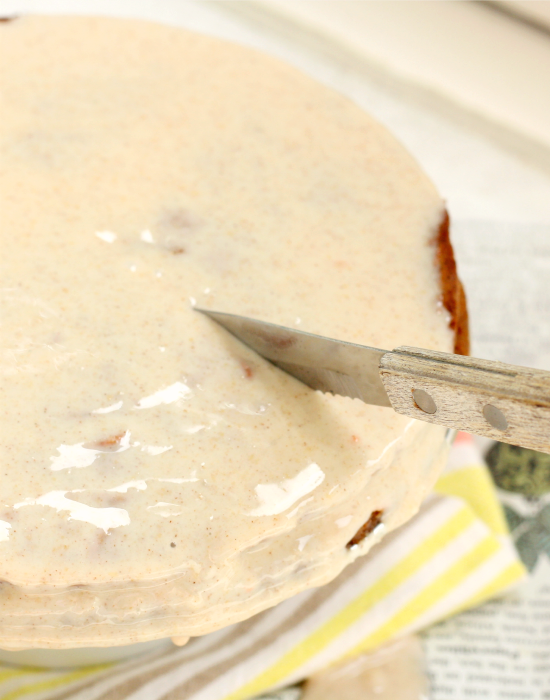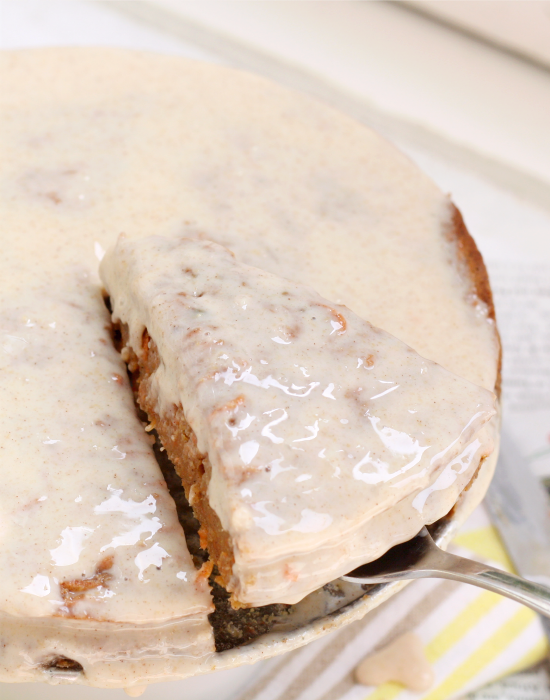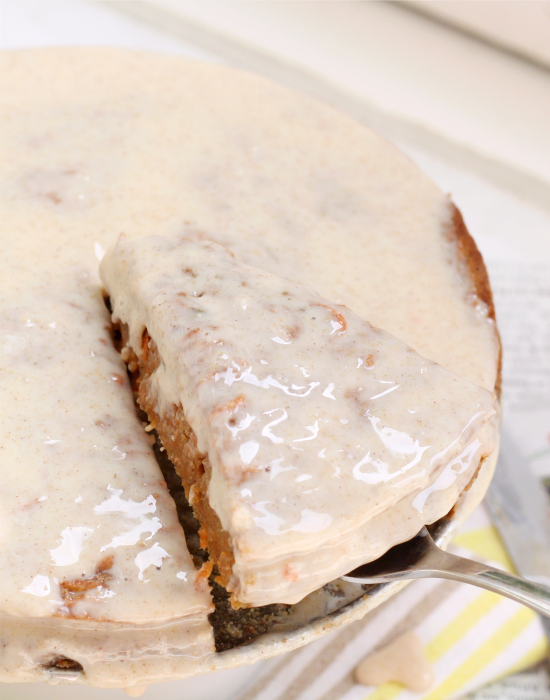 Yield: 8 servings

Healthy Carrot Cake

10 minPrep Time:

35 minCook Time:

45 minTotal Time:

Ingredients
1 1/4 cups white whole wheat flour OR 3/4 cup almond meal plus 3/4 cup coconut flour
3/4 cup erythritol or sugar
1 tsp baking soda
1/2 tsp salt
1 teaspoon cinnamon
1 cup almond milk
1/3 cup applesauce
1 tsp distilled white or apple cider vinegar
2 teaspoons vanilla extract
2 cups shredded carrots
1 (6 ounce) container nonfat Greek yogurt (use vegan yogurt for a vegan version)
1/2 cup powdered sugar or erythritol
Instructions
Preheat oven to 350°F. Grease an 8-inch cake pan and set aside.
In a large bowl, combine the flour, erythritol or sugar, baking soda, salt, and cinnamon. Add in the almond milk, applesauce, and vinegar until the batter is uniform and no pockets of flour remain. Take care not to over stir. Scoop 1/2 cup of the batter into another bowl and set aside. Stir the vanilla extract into the main bowl of batter. Fold in the shredded carrots.
Pour the batter into the prepared cake pan. Bake in the oven at 350°F for about 30-35 minutes, or until a toothpick inserted into the center comes out clean. Allow to cool before frosting.
Meanwhile, add the yogurt and powdered sugar or erythritol to the reserved 1/2 cup batter and stir until completely combined. Pour the glaze over the cooled cake and devour.
Notes

Nutritional information calculated with white whole wheat flour and erythritol.

7.8.1.2

335

https://www.foodiefiasco.com/healthy-carrot-cake/

Nutrition

Calories: 90 cal

Fat: 0 grams g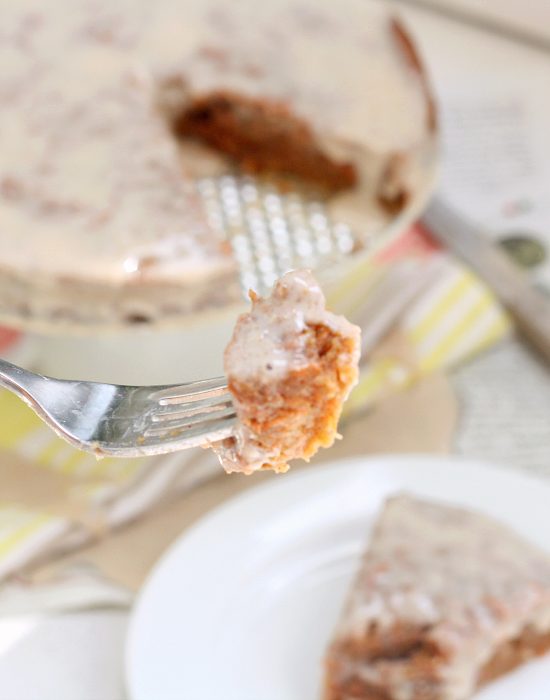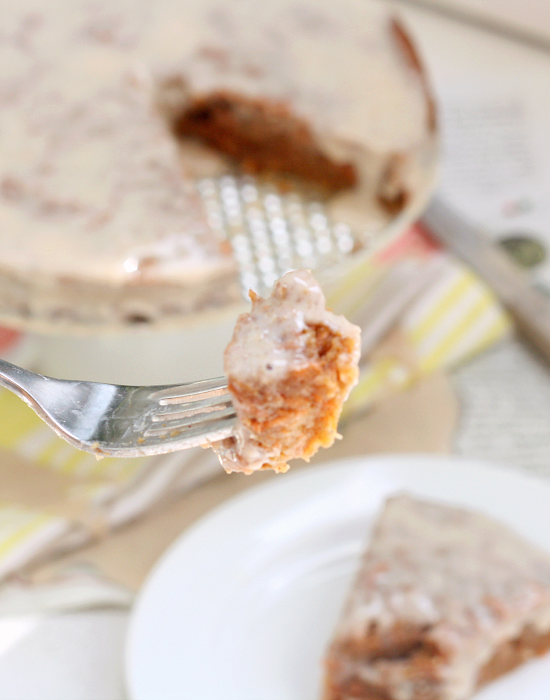 Did you do anything for spring break?
Globetrotting? Staycation? Even if you didn't have a break per se, I hope you had a restful few weeks.