And now I dream of soup. Clearly I have my priorities straight.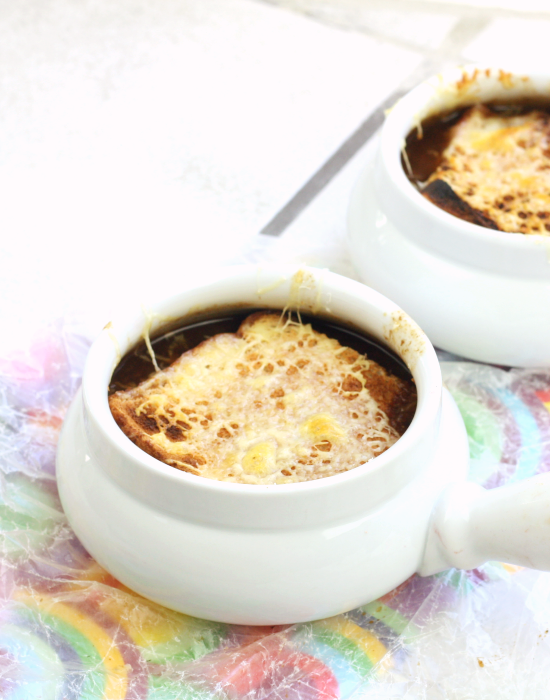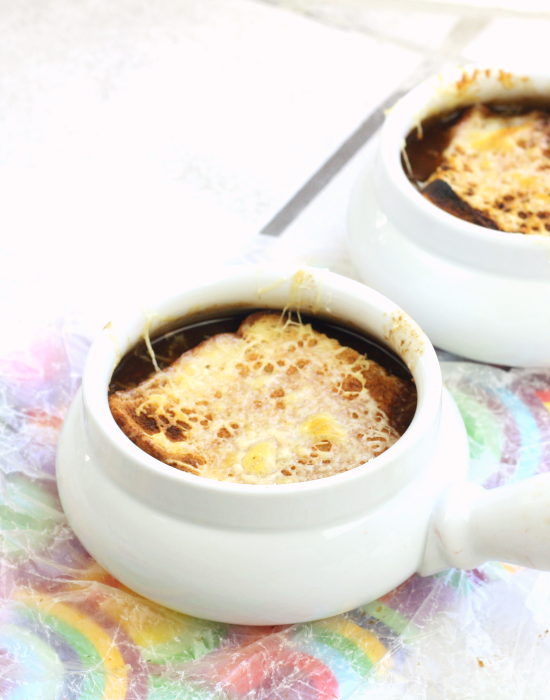 This onion soup is so worth busting out the breath mints. It's blanketed in bubbly cheese and crusty bread and filled to the brim with magical caramelized onions. It tastes like winning the lottery, only creamier.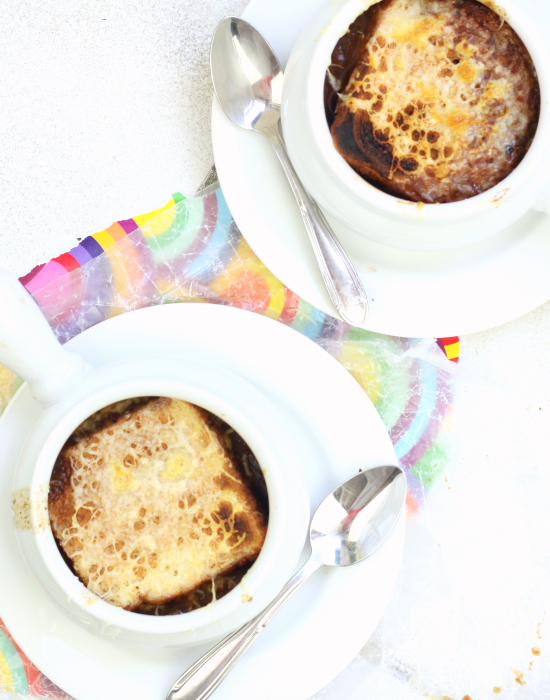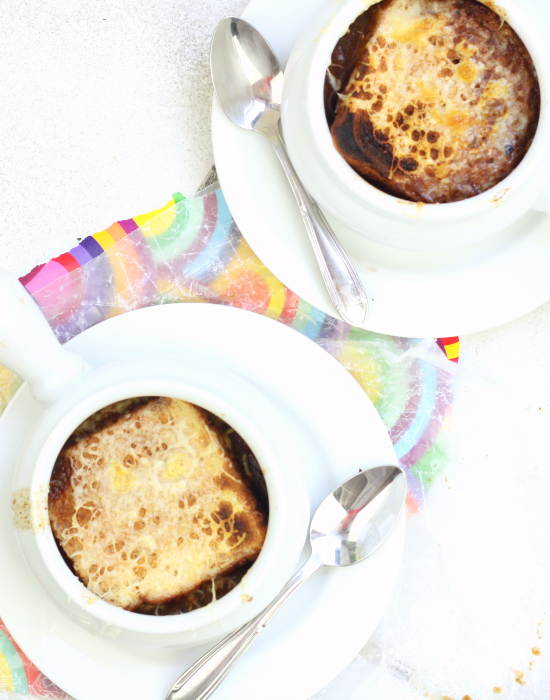 I finally made a blogging resources page. Well that only took a few years. I love you all so much, and it's a pleasure to be able to share what I've learned from building Foodie Fiasco to over 800,000 page views (!?!?!) a month.  (No Mom, I can't believe it's happening either.)
So please do check it out. I spill all the programs that power Foodie Fiasco and have been invaluable in making it what it is today. I feel so lucky, and truly hope I can help you in your blogging endeavours.
But if you're here to talk about the copious amounts of coffee and soup and coffee that bring us through the night, then you're in the right place. Mmm. Soup. And coffee.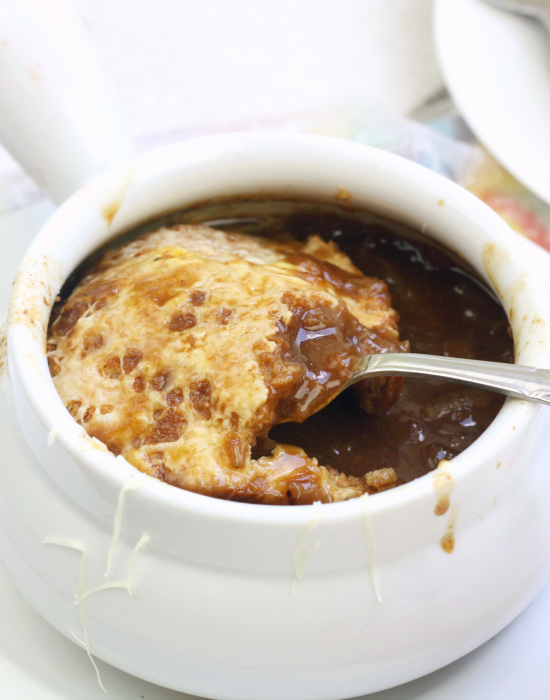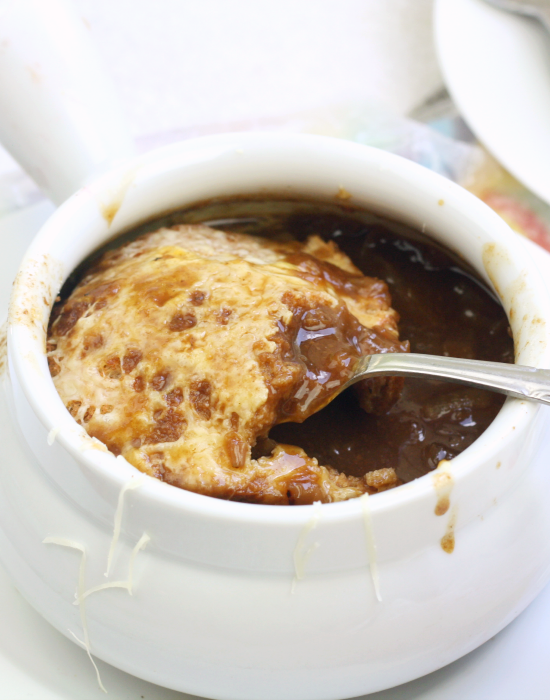 Let's begin, shall we? Roll up thy sleeves and channel Julia Child. (Congrats. You are now six feet tall and can walk on water. )
Golden, caramelized onions. Worth their weight in actual gold.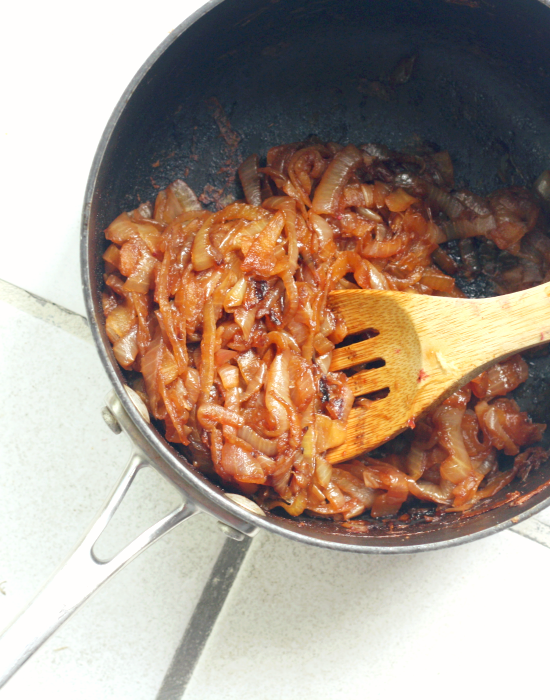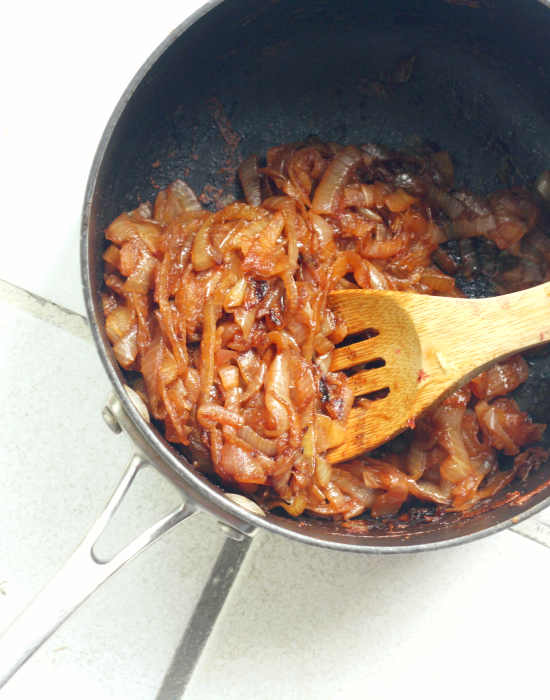 It's amazing what a little broth and a lot of time can do to a soup. Just an hour of letting the ingredients simmer and mingle creates a world of fairy dust in our bowls.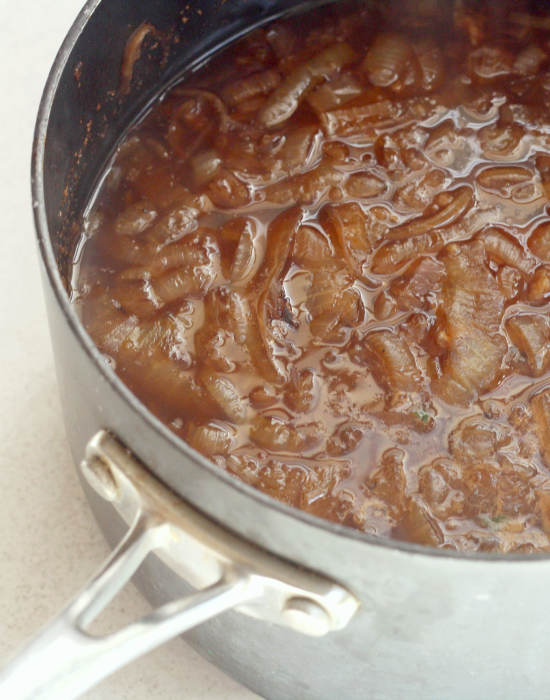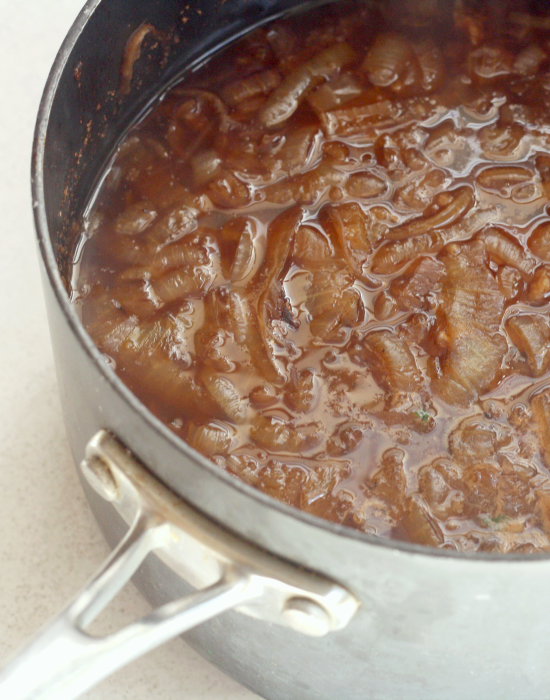 Muster all the strength you possibly can to not eat the soup straight out of the pot… like I did. Oops.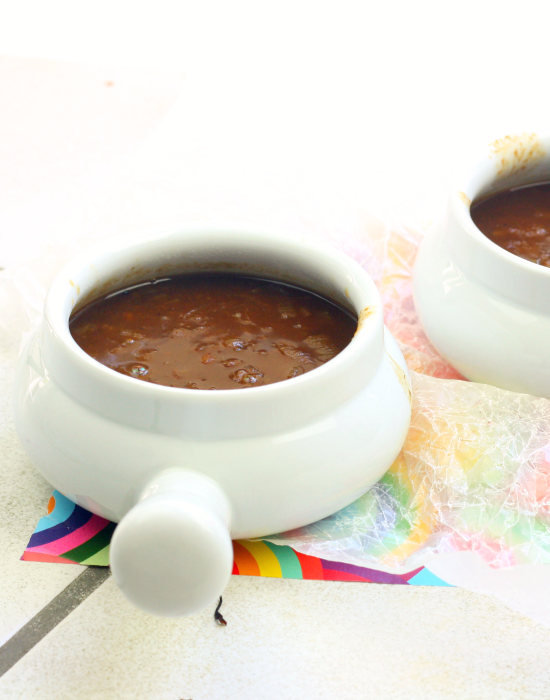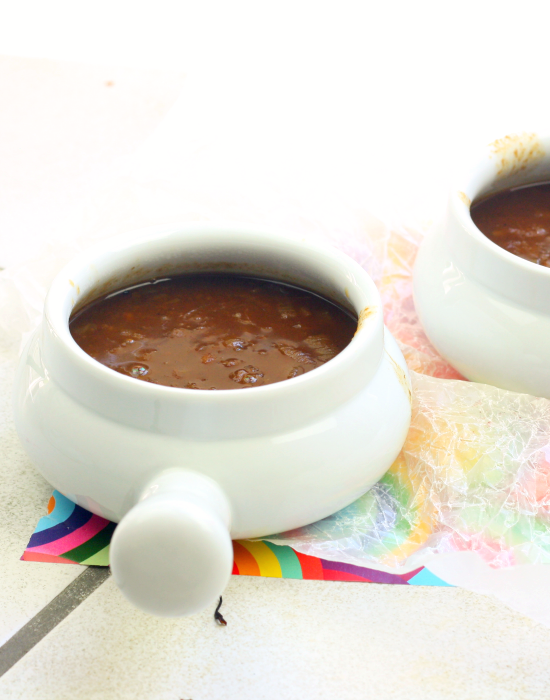 But we have to save a little room for the cheese blizzard!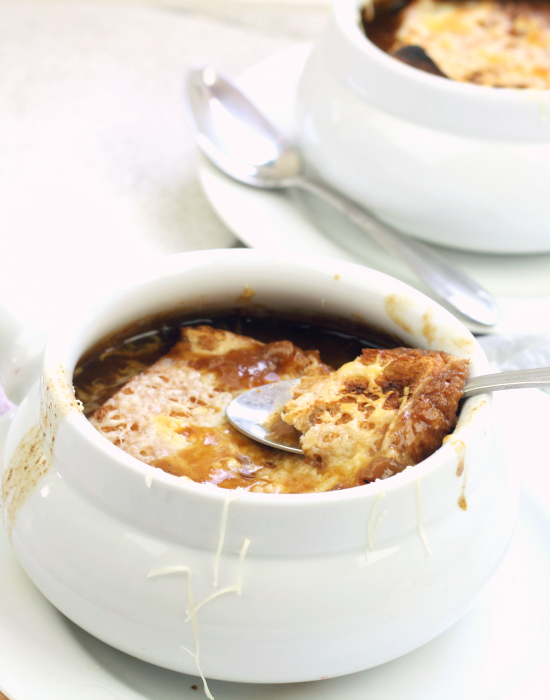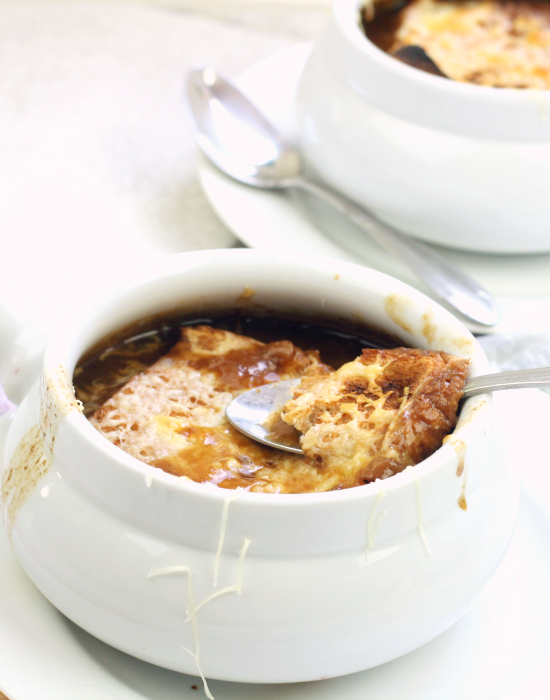 I do enjoy cheese.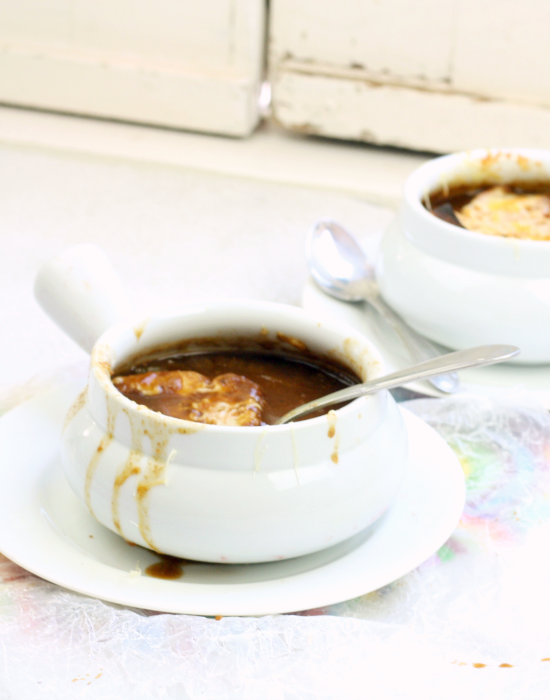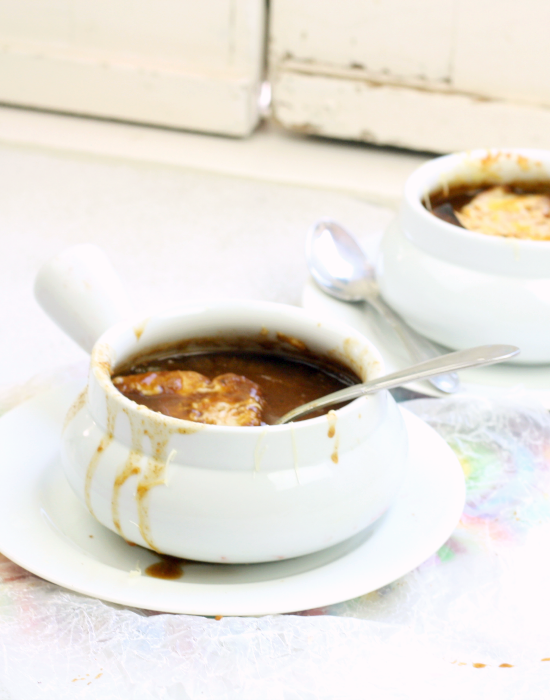 Adapted with the utmost respect and love from Julia Child and Smitten Kitchen
Yield: 6 servings
French Onion Soup
15 minPrep Time:
1 hr, 15 Cook Time:
1 hr, 30 Total Time:
Ingredients
For soup:

1 1/2 pounds (about 5 cups) thinly sliced yellow onions
1 teaspoon salt
1/4 teaspoon sugar or erythritol (optional: helps the onions to brown)
3 tablespoons white whole wheat flour or almond flour
8 cups vegetable broth (I love mushroom stock in this!)
1/2 cup red wine
salt + pepper, to taste

For gratinee (optional):

6 slices bread
3/4 cup grated cheese (I love Swiss. Feel free to use vegan cheese for a vegan version!)
Instructions
Grease the largest saucepan or Dutch oven you own and turn the heat on to low. Add in the sliced onions and let them steep for about 15 minutes. Don't worry, you don't have to hang around for this. After 15 minutes of cooking the onions on low, slightly raise the heat to medium low and stir in the salt and sugar. Cook the onions for 30 to 40 minutes more until they are deeply golden and caramelized. This flavor base is what makes the soup so spectacular.
Stir the minced garlic into the fully caramelized onions and cook for 1 minute. Sprinkle with flour and cook for about 3 minutes, stirring constantly. Add in all the wine, then the broth a little at a time, stirring between introductions. Salt and pepper to taste. Bring the soup to a boil then reduce to a simmer. Simmer partially covered for 30-40 minutes.

For the optional gratinee (but I really think you should do it):

Preheat oven to 325°F. Line a large baking sheet with foil. Arrange six ovenproof soup bowls on the prepared baking sheet and divide the soup among them. Float the toasted bread on top (trimming the edges if necessary), and top each bowl with 2 tablespoons of cheese. You can definitely use more cheese if you're feeling decadent. Bake in the oven at 325°F for 20 minutes, then preheat the broiler. Finish under the broiler for 1-2 minutes more, or until the cheese is golden and gorgeous. Prepare to impress the heck out of your guests and devour.
Notes
If making the topping, please use whatever bread and cheese that suits your taste/dietary preferences.
Nutritional information calculated without the optional gratinee.
7.8.1.2
336
https://www.foodiefiasco.com/french-onion-soup/
Nutrition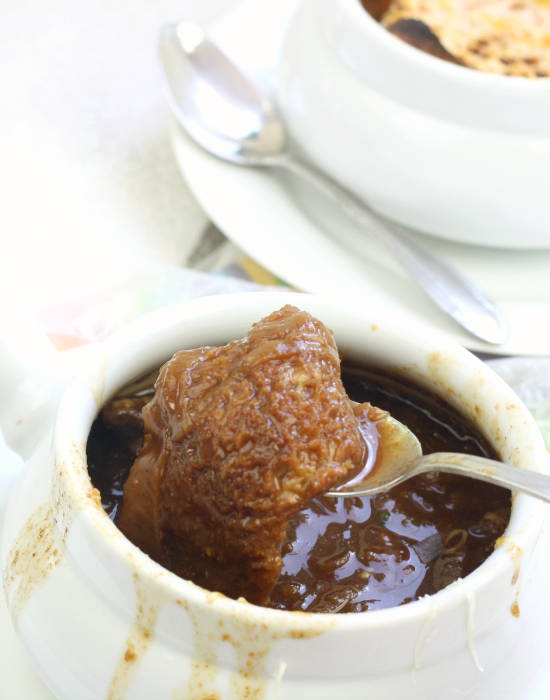 Do you blog? If so, what can I do to help you along?
I love the blogging community so much, and I want to do what I can to give back. Perhaps I'll start with a pot of French onion soup.