These blondies are like sunshine.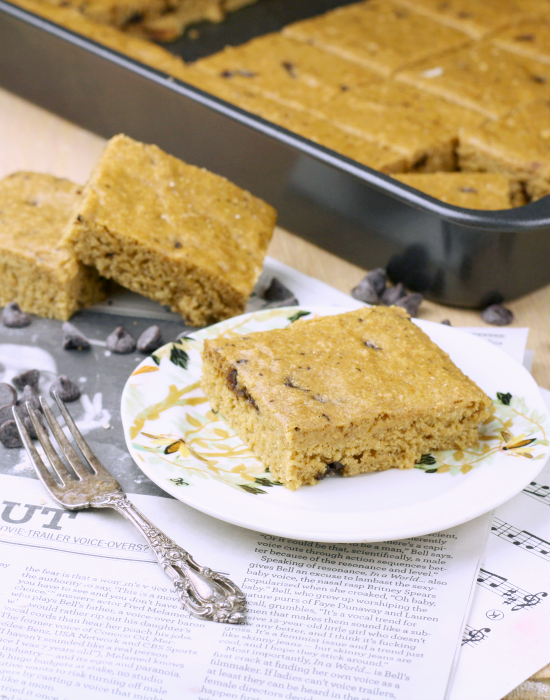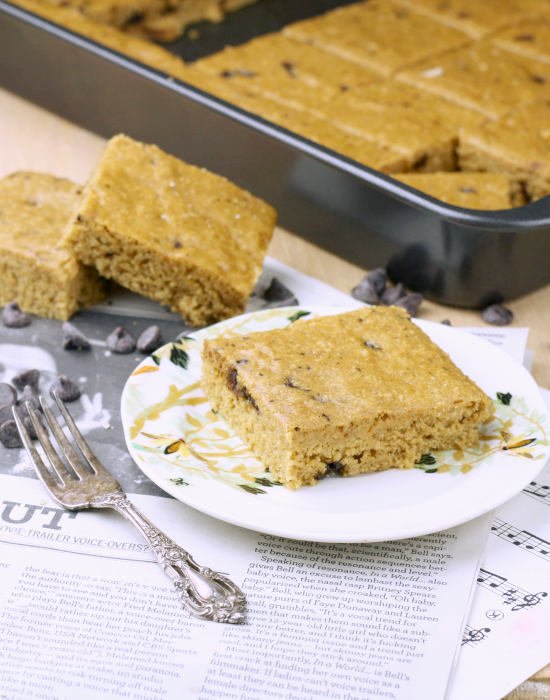 I speak truth. There I was, in the second world war on math and chemistry problems. Crawling through the trench of papers and fully convinced that I was the next casualty of final exams, I saw a beacon of light.
Even through the blurry, out of focus studying machines that used to be my eyes, I knew it was too beautiful to be scratch paper. Too full of hope. It was a draft of my life's masterpiece. Too delicious.
It was my blondie recipe.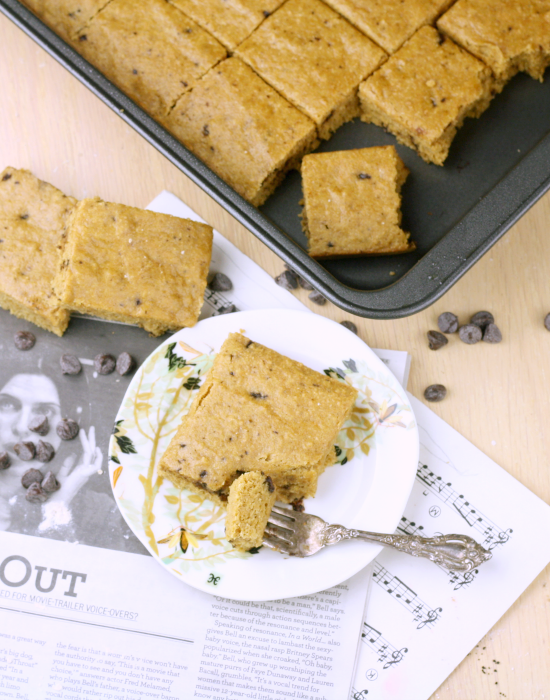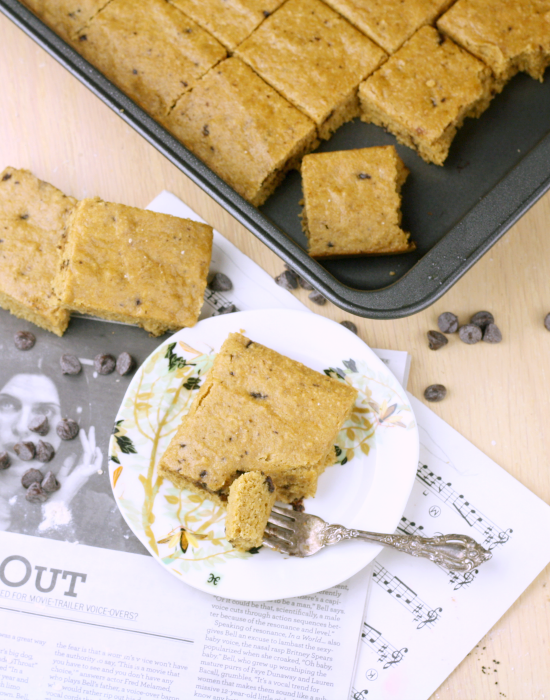 I flung my books away and flew (okay, walked) to the lair that is my kitchen. The recipe was so easy that even my overloaded brain couldn't screw it up. (It's okay brain, I still love you.) A brief power nap later, and this edible sunshine was ready to be basked in. (No sunscreen necessary.)
My hands ever so slightly quivering, I staked off a healthy (read: huge) piece from the corner. The aroma of brown sugar, the blondie warm in my hands with still-melty chocolate, I took my first bite.
Oh.
my
gosh.
Perfection. Euphoria. Heaven. Bliss.
I know everything will be okay.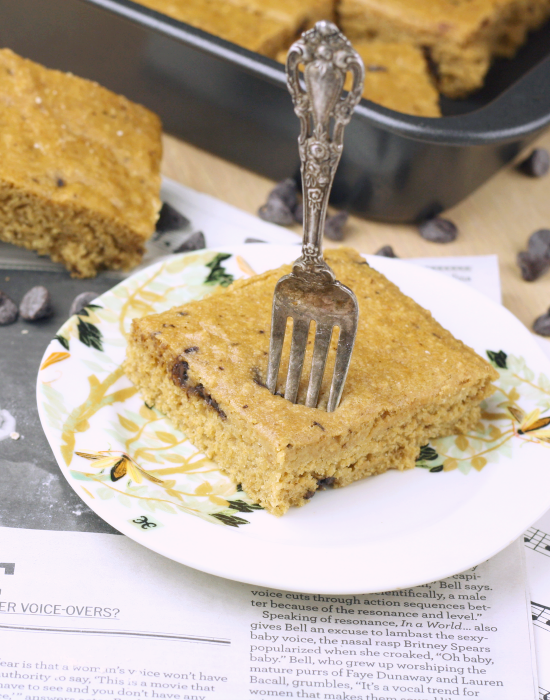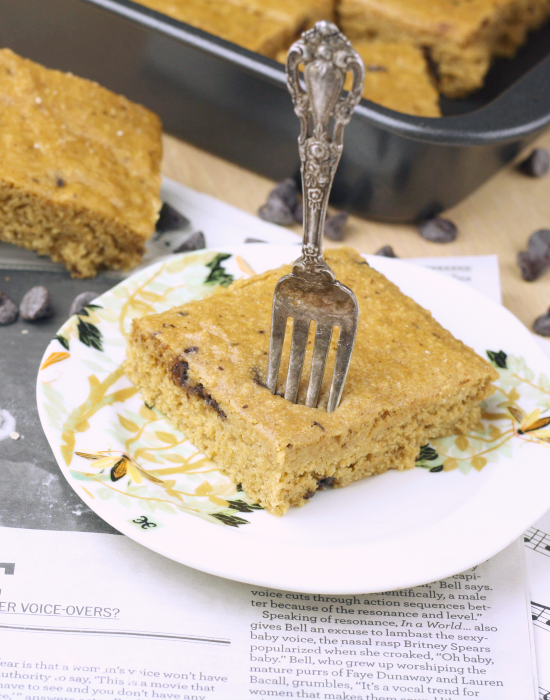 I want to apologize. I know I haven't been posting nearly enough, but I've spent the past few months trying to find the right balance between school, looking out after my momma, giggling with friends, sleeping (not enough), and of course, blogging with you lovely people. I"m not quite there, but I'm so much closer. And I have hope!
There are big things in store for Foodie Fiasco and friends (that's you)! The editorial calendar is stacked for summer, so bust out your forks and stretchy pants. Or skinny jeans. It really could go either way.
Prepare thyself.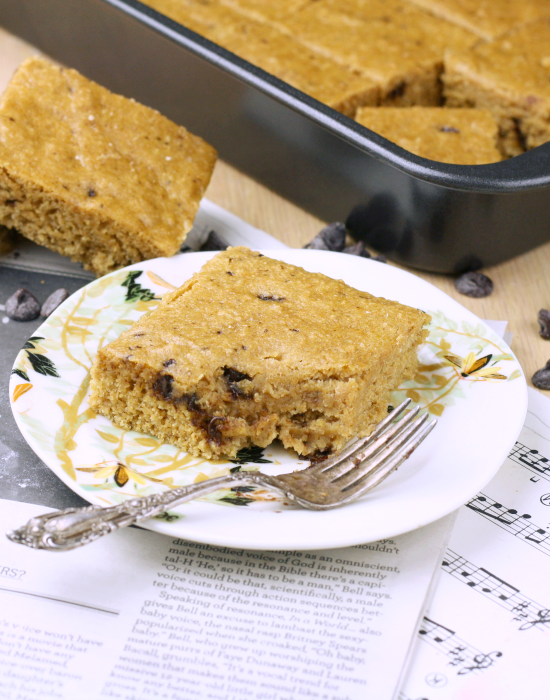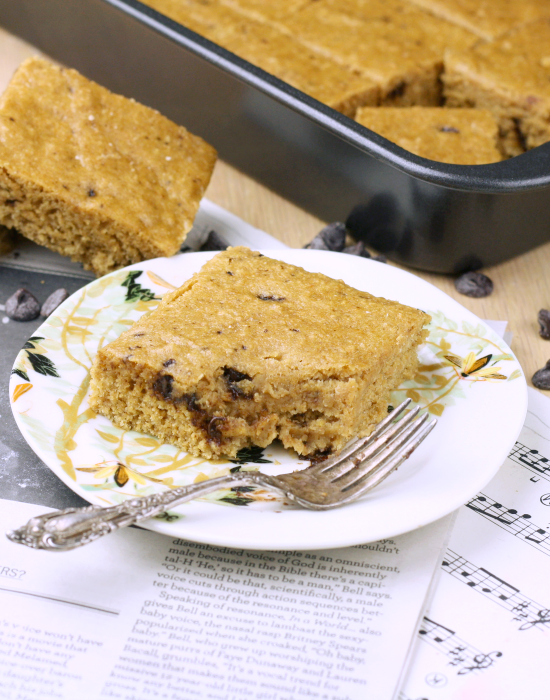 These lovelies fit PERFECTLY in a 9×13 pan. One of my pet peeves is when a bar recipe is too short or too tall in the directed pan, but not these. My pet has remained effectively unpeeved.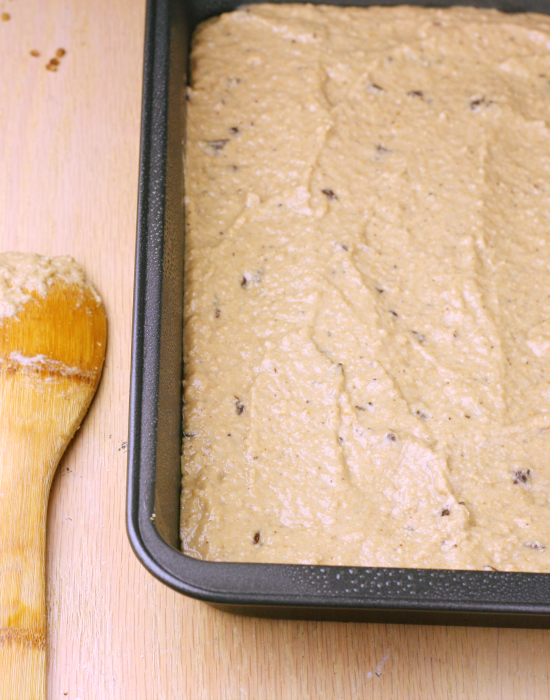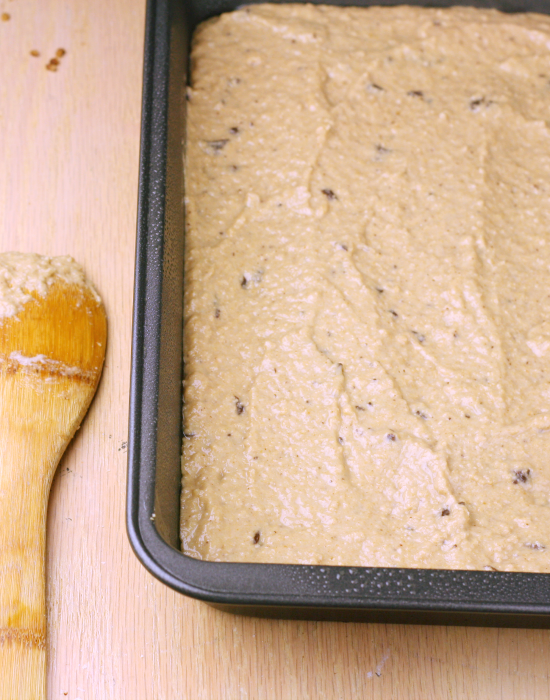 After this picture I face planted into the pan.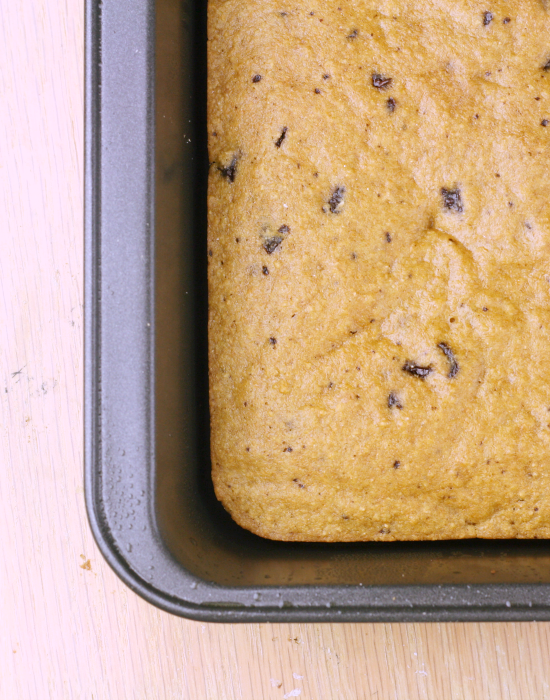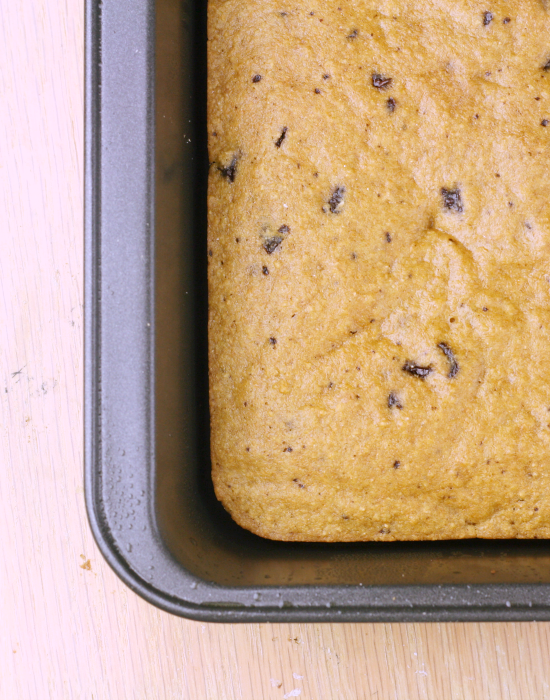 Oh no. There's definitely not a piece missing there. You must be seeing things. Excuse me while I distract you with blondies.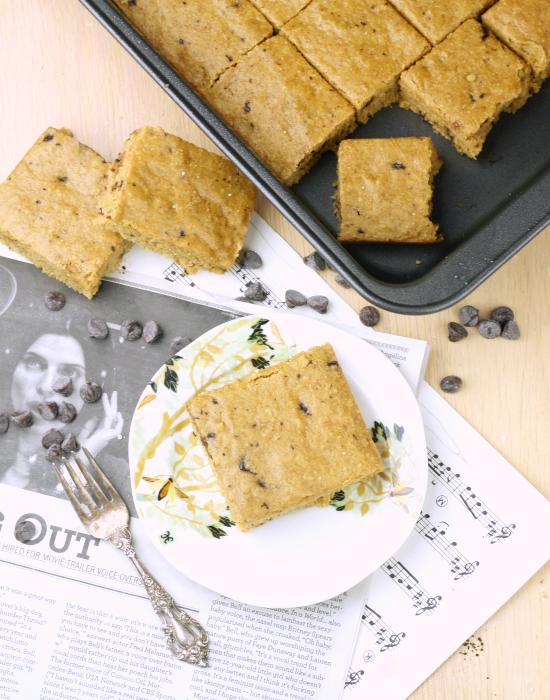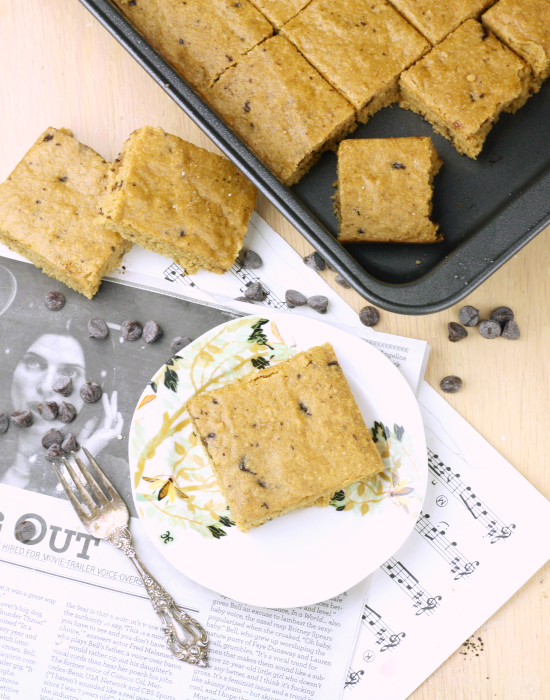 Oooooooh blondies. Chocolate.
*licks fingers and walks towards kitchen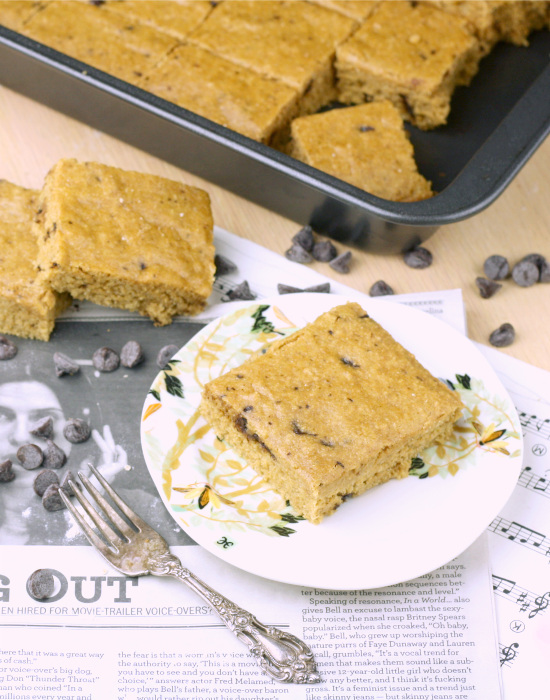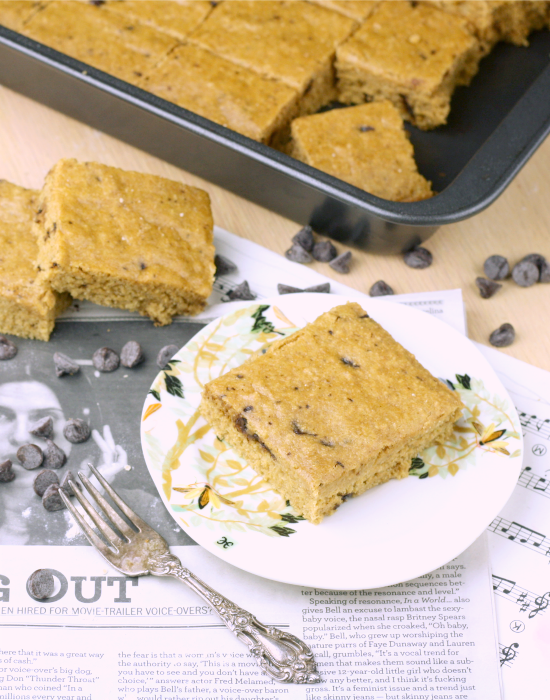 Please note: The following recipe is NOT gluten or grain free, so please click for the recipe that is
Yield: 24 delicious bars
Perfect Healthy Blondies
10 minPrep Time:
20 minCook Time:
30 minTotal Time:
Ingredients
2 cups white whole wheat flour
3/4 teaspoon salt
1/4 teaspoon baking soda
1 1/2 cups erythritol plus 2 teapoons molasses OR brown sugar
5 tablespoons melted butter or Earth Balance
3 eggs or 1 1/2 tablespoons Ener-g egg replacer mixed with 6 tablespoons water
1 tablespoon vanilla extract
1 1/2 teaspoon apple cider vinegar
2 tablespoons unsweetened applesauce
1/3 cup chocolate chip
Instructions
Preheat oven to 350°F. Grease a 9x13 baking dish and set aside.
Add the flour, salt, baking soda, and the brown sugar or erythritol plus molasses into the bowl of stand mixer. Alternately, you can add the ingredients to a large mixing bowl and stir by hand. Using the paddle attachment, stir the dry ingredients on low speed. Add in the melted butter or Earth Balance, eggs or egg replacer, vanilla extract, apple cider vinegar, and unsweetened applesauce and continue to stir until combined but not overworked. Stir in the chocolate.
Press the cookie dough into the prepared baking dish. Bake in the oven at 350°F for about 20 minutes. Let cool completely before cutting into squares. Stored in a ziplock bag in the refrigerator, these cookies should last at least a week. But there's no way they'll last that long. Devour.
Notes
Nutritional information calculated with erythritol, Earth Balance, and Ener-g egg replacer.
7.8.1.2
345
https://www.foodiefiasco.com/perfect-healthy-blondies/
Nutrition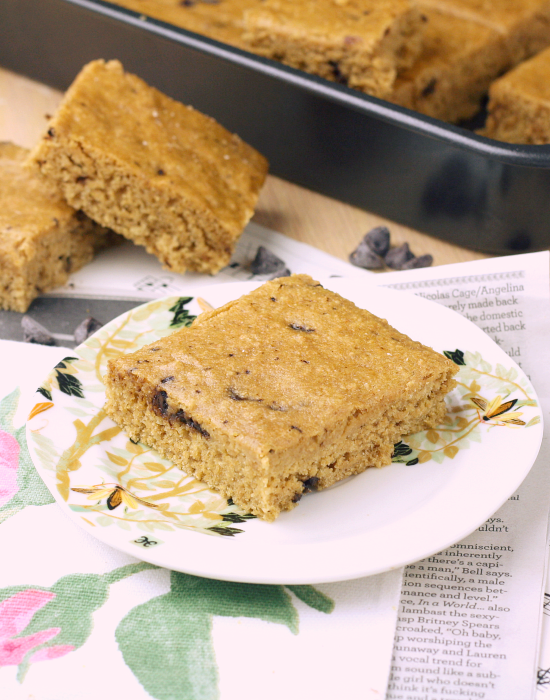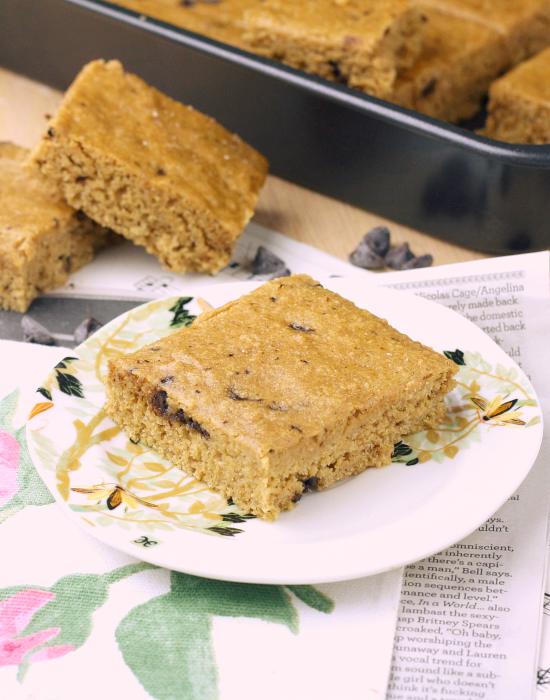 Summer plans?
I'm thinking a kitchen marathon with good food and good friends. Oh, and I'm going to Israel.