This is a sponsored post written by me on behalf of Fresh & Easy. Thank you for your support!
Congrats! Your life just got better.
Did you know you can create miracles in the kitchen? It's true.

As someone who wants to eat healthy amidst an 80 hour work week, I've been picked up some life-saving kitchen hacks that save time and nutritional integrity and sanity. But it's just so easy to fall into the processed food trap when you don't have any time!
I once ate four protein bars in one day. FOUR. That's bad. Don't do that. And so I knew it was time for a change.
Tacos are one of my all time favorite weeknight meals because they're easily made healthy and they take like 2 minutes to make. Unfortunately, after my protein bar incident, I knew I had to cut out processed food from my diet. I wanted to make my own taco shells, but frying them is actually quite difficult, not to mention crazy bad for you.
Solution! If you bake tortillas upside down in oven, they turn into taco shells!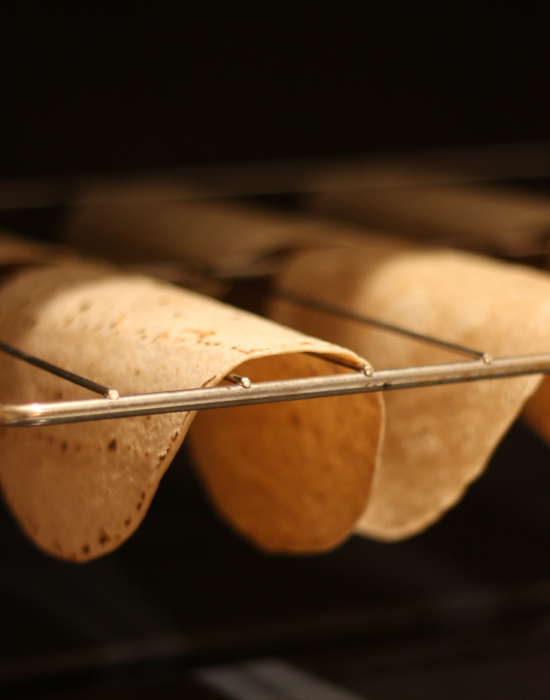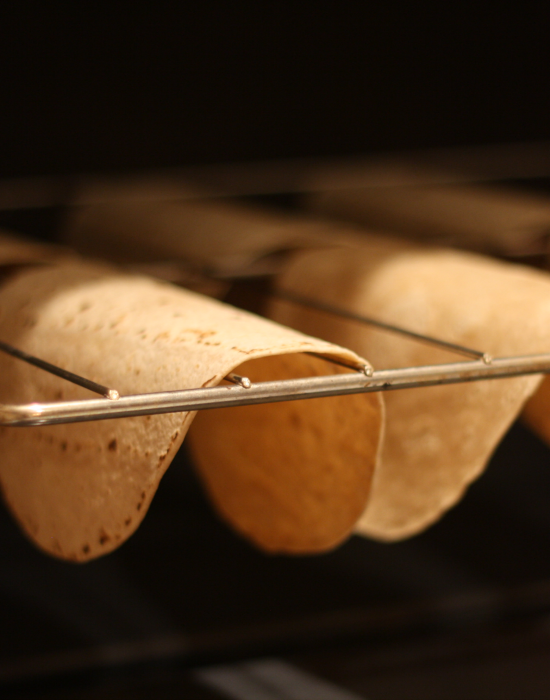 WHAT. It's wizardry, that's what. Life = saved.
Speaking of life-saving wizardry, let's talk about my new favorite place. Have you ever been to a Fresh & Easy? Meet your new soul mate. That place is the ultimate kitchen hack.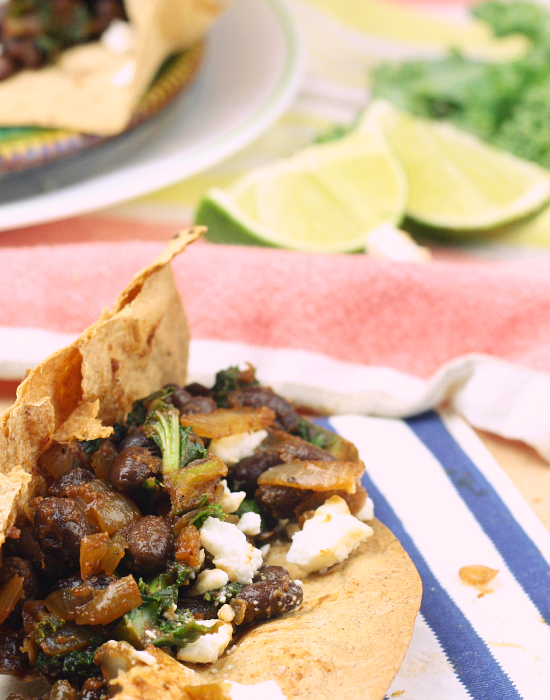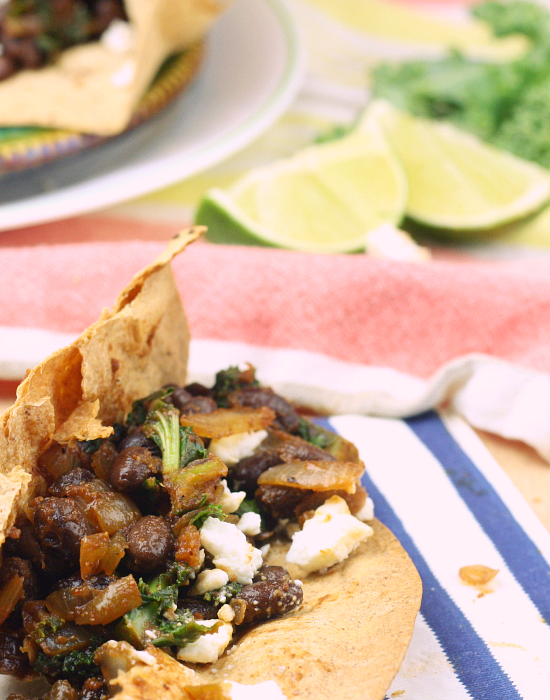 It's basically a dream come true, complete with a fabulous selection of products that are both healthy and crazy affordable. And that's saying something. I'm a student. I can't afford anything.
But there's more! Within that fabulous product selection, Fresh & Easy has some insanely delicious, healthy prepared foods that are perfect for the busy, money-smart eater in all of us.
Everyone needs to shop here. Consider this a public service announcement.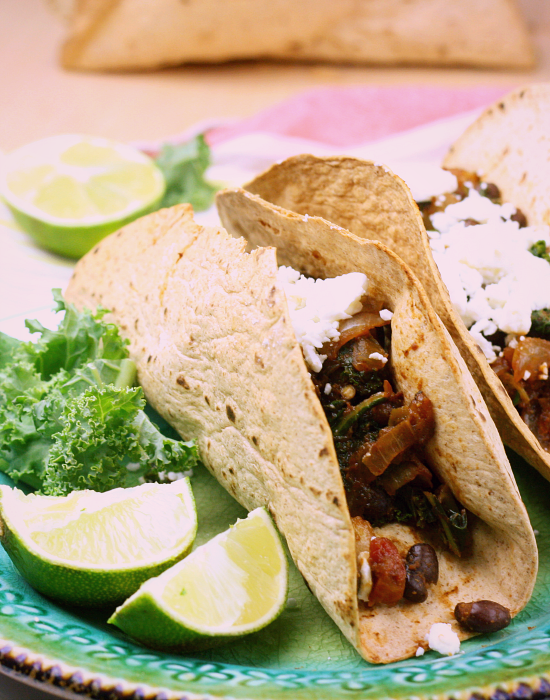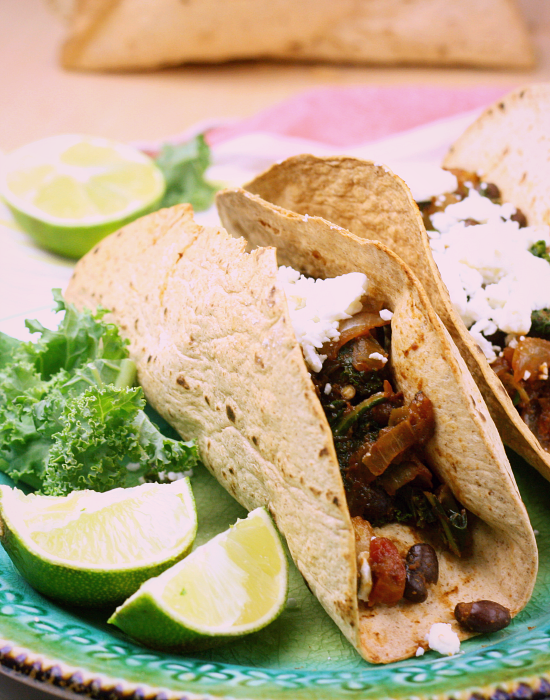 And guess what? It gets better.
The lovely folks over at Fresh & Easy are hosting this fantastic giveaway. Each week, TWO lucky eaters will win a $150 Fresh & Easy gift card. Over 11 weeks, that's 22 winners in total! Plus, the grand prize in a $300 Visa gift card. Nobody pinch me.
To enter, all you need to do is follow Fresh & Easy's Hacks of Life board on Pinterest, and re-pin one of their images. Easy peasy! (I'd follow the board anyway. It's seriously my new favorite.)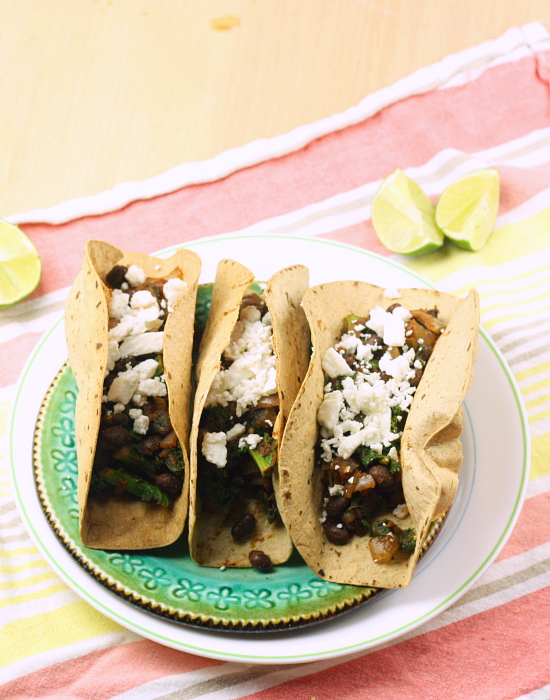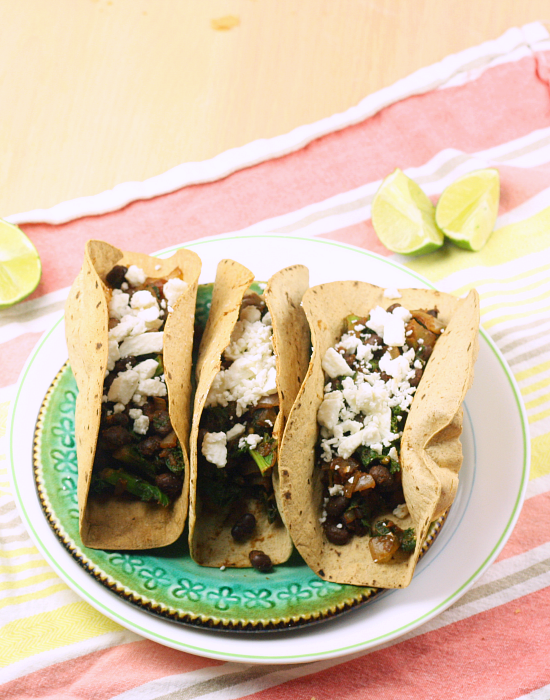 Speaking of favorites, this salsa is about to be yours. It was magical in these tacos, but it would also be perfect on chips… or off a spoon.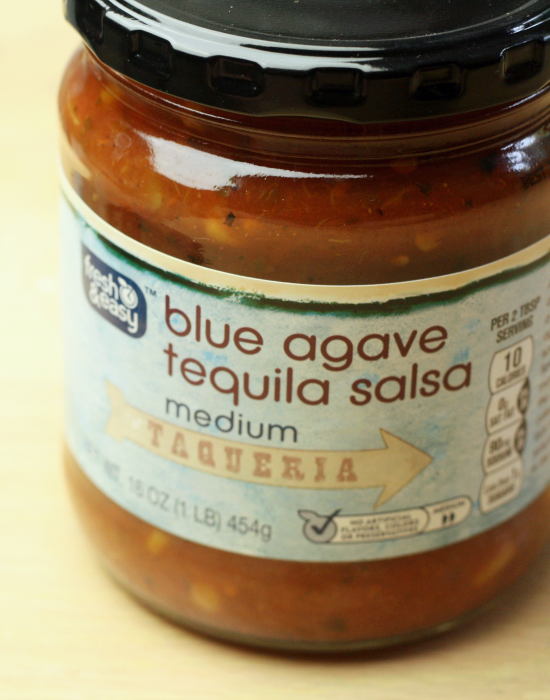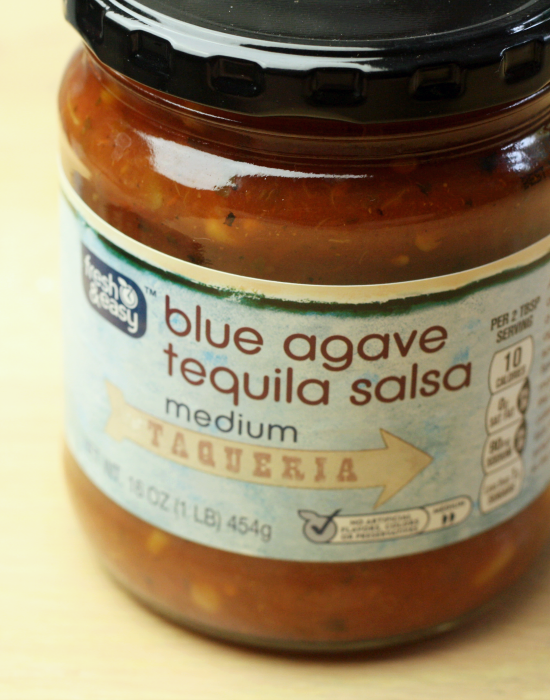 I was so impressed with the Fresh & Easy store! The staff is super helpful, they have a great selection of crazy affordable but still healthy foods, and all their Fresh & Easy brand products rock.
Now let's talk taco. You can fill your crunchy miracles with whatever fix-ins your heart desires, but I whipped up a beautiful black bean, kale, and feta concoction. This is definitely going into regular rotation.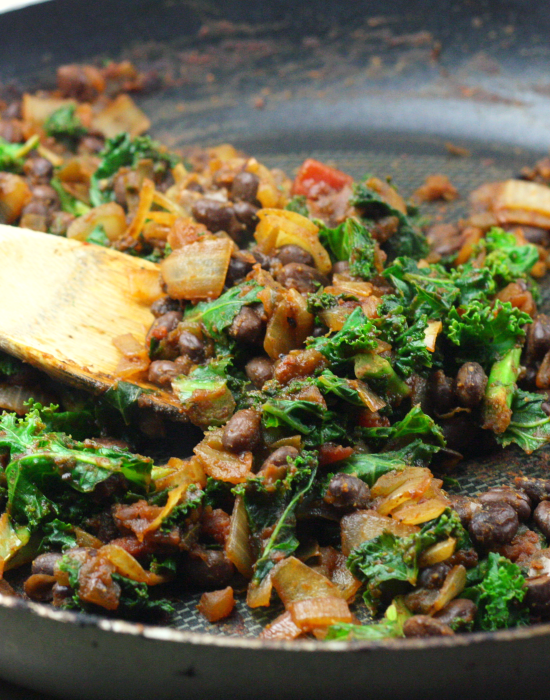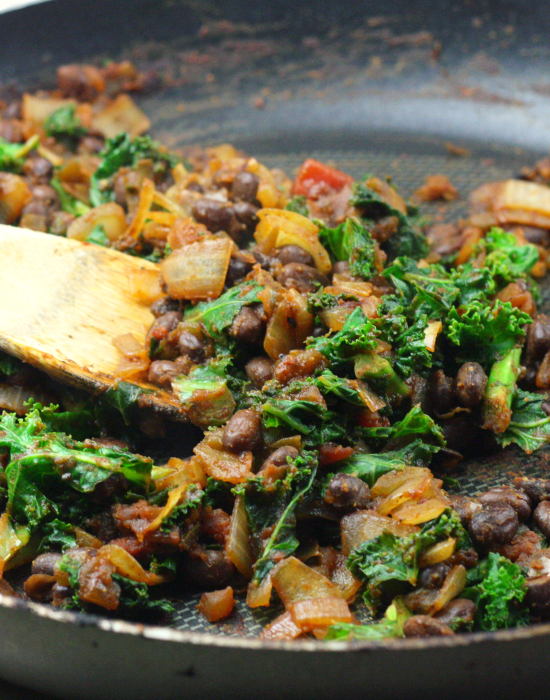 Ladies and gentleman, prepare your tortillas. You're about to turn this…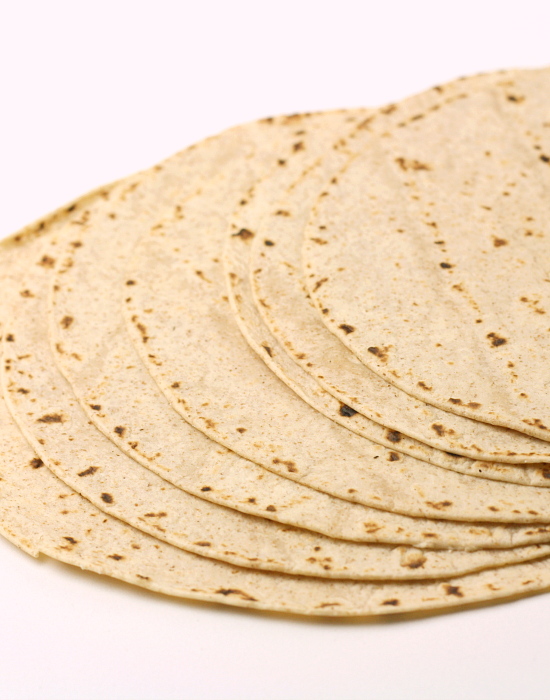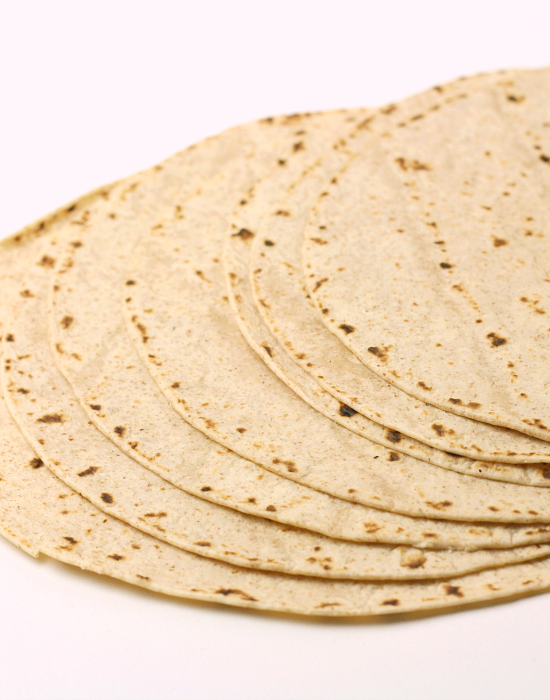 …into this.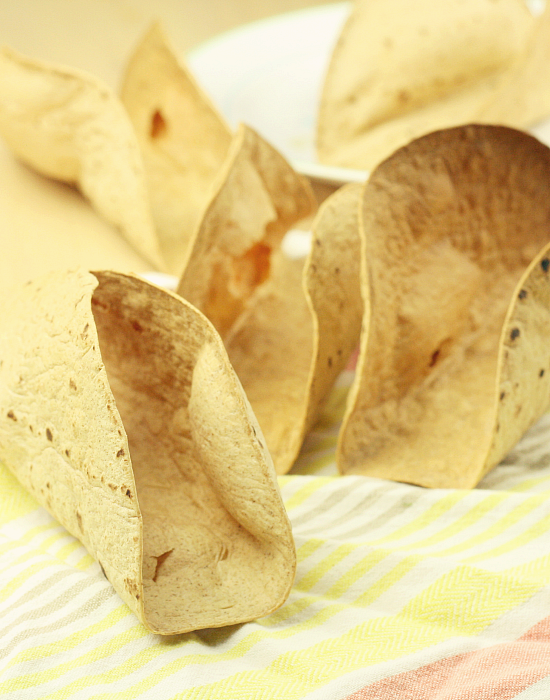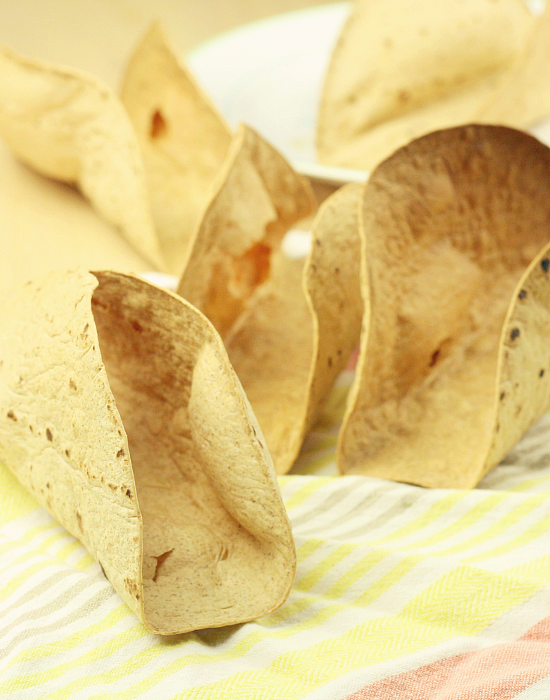 A kitchen hack, a delicious miracle. Same thing.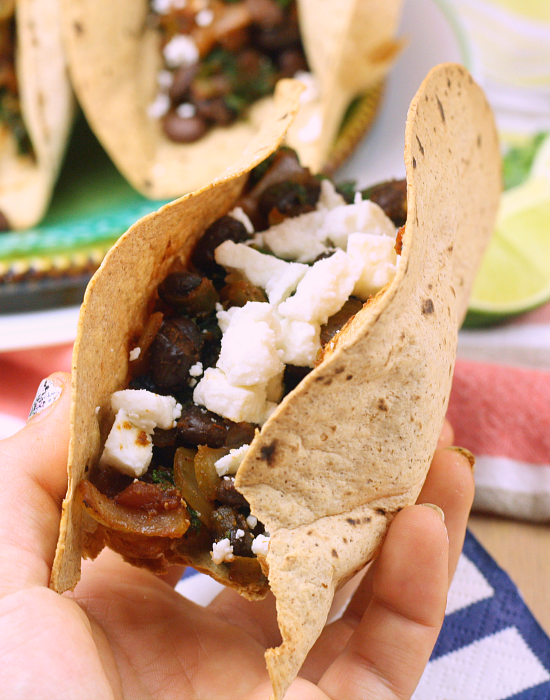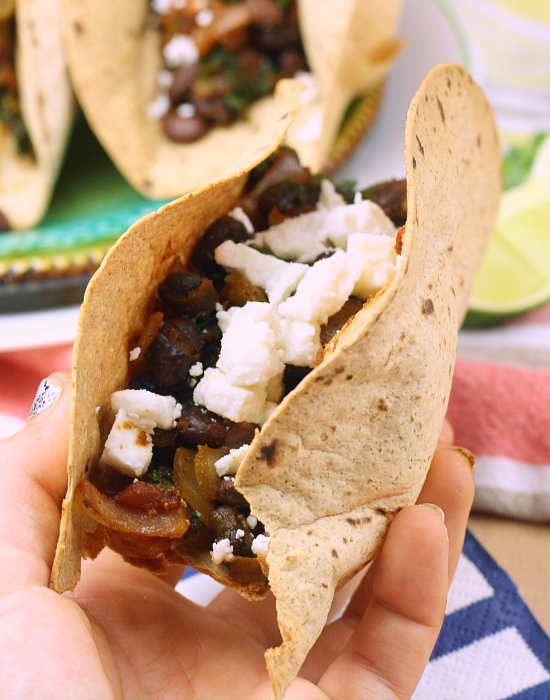 Nutritional information (for tacos shells):
Serving size: 1 shell Calories: 50 Fat: 2 grams Net Carbs: 3 grams Fiber: 7 grams Protein: 5 grams
Nutritional information (for tacos shells with filling):
Serving size: 1 filled taco Calories: 100 Fat: 2 grams Net Carbs: 9 grams Fiber: 9 grams Protein: 10 grams
Baked Taco Shells
Yields: 6 taco shells
Total time: 15 minutes
Ingredients
6 tortillas (I used 8" tortillas for bigger tacos, but you can use 6" for a more standard size.)
Directions
Wrap the six tortillas in a barely damp cloth or paper towel, and place on a microwave-safe plate. Microwave for 30 seconds.
Lay the tortillas on a clean surface and lightly coat both sides with cooking spray. Alternately, you can lightly brush both sides with olive or canola oil if you don't like using cooking spray.
Carefully drape the tortillas over two bars of the oven rack. Turn on the oven to 375°F, and bake until crispy, about 7-10 minutes. Carefully remove the taco shells from the oven (don't burn yourself!), and let cool for a few minutes. Fill with your favorite fix-ins and devour.
Black Bean, Kale, and Feta Tacos
Yields: 6 tacos
Total time: 20 minutes
Ingredients
1 medium onion, diced
1 teaspoon chili powder
1 teaspoon cumin
salt + pepper
1 cup black beans (rinse them first if using canned)
1/2 cup salsa
2 cups finely chopped kale
6 baked taco shells (see recipe above)
1/2 cup feta
Directions
Heat a large skillet coated with cooking spray or oil over medium high heat. Add in the diced onion and cook, stirring occasionally, until slightly golden, about 3-5 minutes. Stir in the chili powder, cumin, salt, and pepper and cook for another minute. Add in the black beans and salsa and cook, stirring often, until the mixture starts to bubble, another 3-5 minutes. Add in the kale and cook for another five minutes, until wilted and no longer tough. Add any final salt and pepper to taste. Evenly distribute the mixture into the taco shells, and top with the feta. Devour.
Recipe notes:
To keep the recipe low carb/paleo, use low carb tortillas. If you don't eat beans, you can substitute the black beans with ground meat, tempeh, or even mushrooms!
To keep vegan, use your vegan cheese of choice in place of the feta.
Nutritional information calculated with low carb tortillas and fat free feta.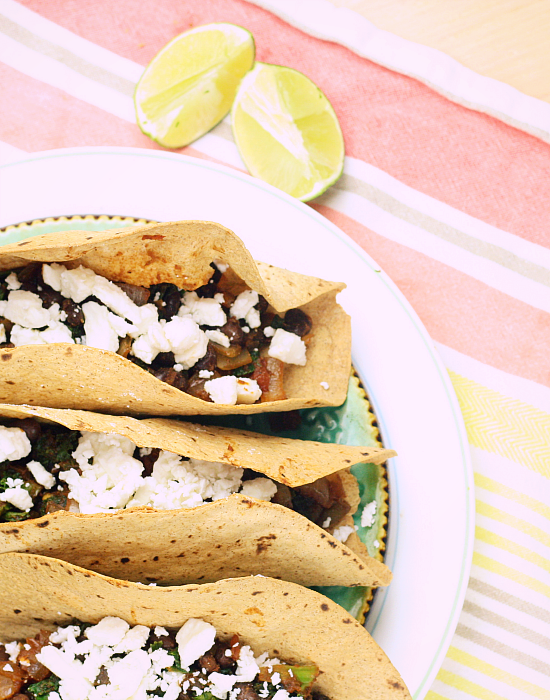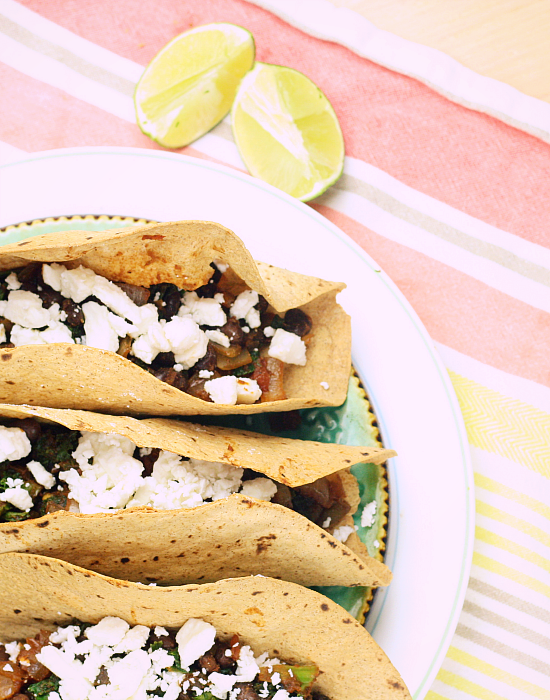 Do you have a favorite kitchen hack that makes your life easier? Let me know in the comments!
And do make sure to check out the Hacks of Life Pinterest board. Seriously. Do it. You won't be sorry. Lots of love!
Again, this is a sponsored post written by me on behalf of Fresh & Easy. Thank you for helping me keep the lights on around here.


<!– End Onespot script —>