It's pumpkin time. Get excited.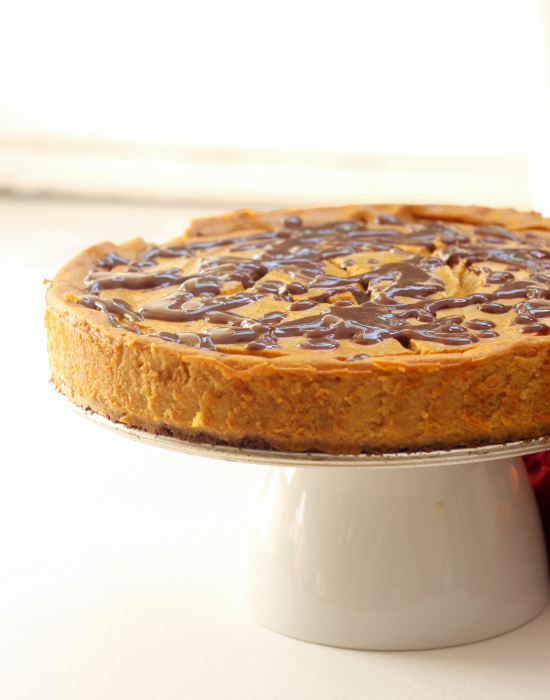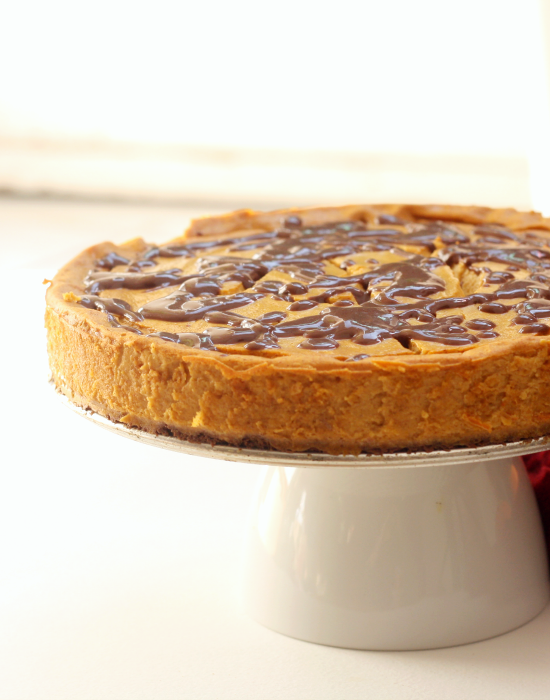 In the midst of pumpkin palooza, it's safe to say this cheesecake is the holy grail. It's 75 calories a slice, easy to make, and I can't even begin to describe how delicious it is. It's actually insane.
I was so excited to make this, eat a piece (or two, in the name of taste testing of course), and then bring it to school to impress the heck out of everyone. That did not happen. Between my momma and me, we ate the whole thing in two days. I guess I'll just have to make another one "to share".
Oh darn.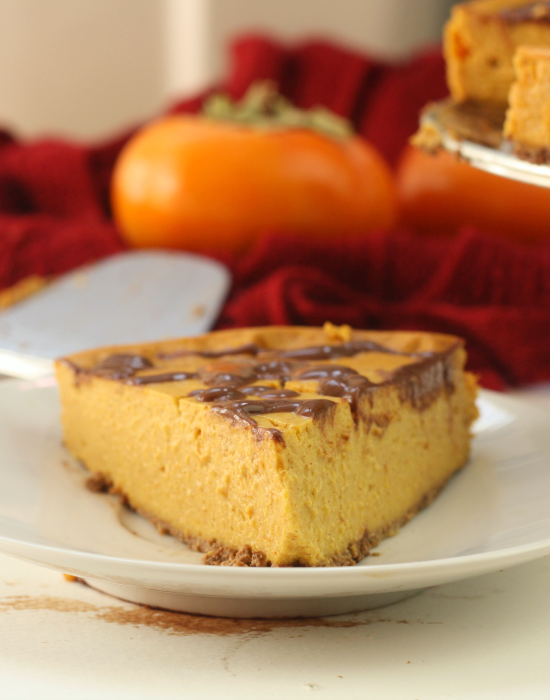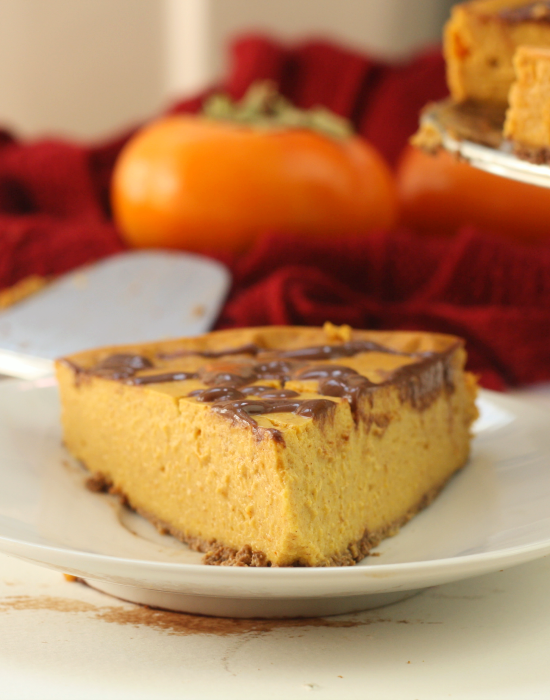 I'm extremely proud of this recipe. I'm less extremely proud of the self-control I exhibited around it.
I could not. stop. eating. I gave up on any sort of restraint after the third slice. Luckily this decadent pumpkin cheesecake really does have only 75 calories a slice (ITS WIZARDRY I TELL YOU) and 7 grams of protein. Plus, it's actually tastier than any sugar/fat laden pumpkin cheesecake I've eaten in restaurants. I kid you not.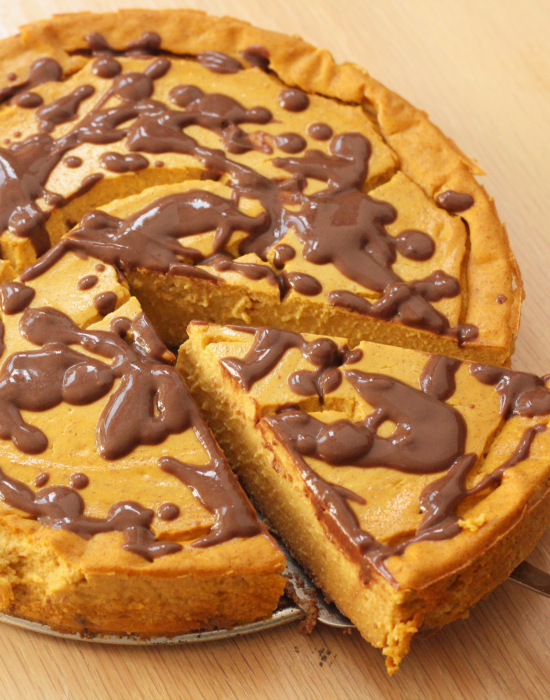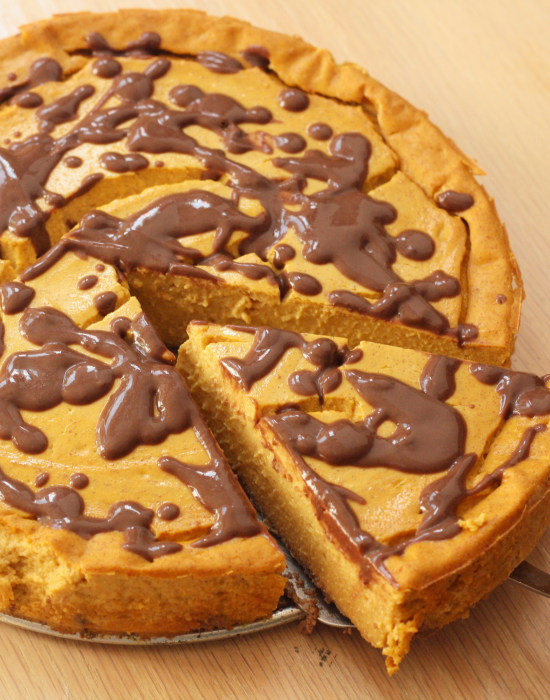 So here's the deal. I used fat free yogurt in this recipe which is usually a HUGE no no in baked recipes. I know. I'm baking bad.
The issue with using fat free dairy products in baking is that it produces a cheesecake that has cracks on the top. Behold exhibit A: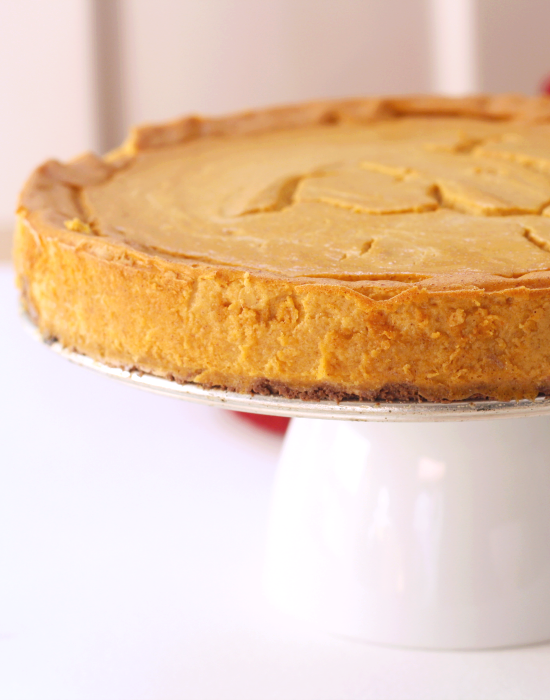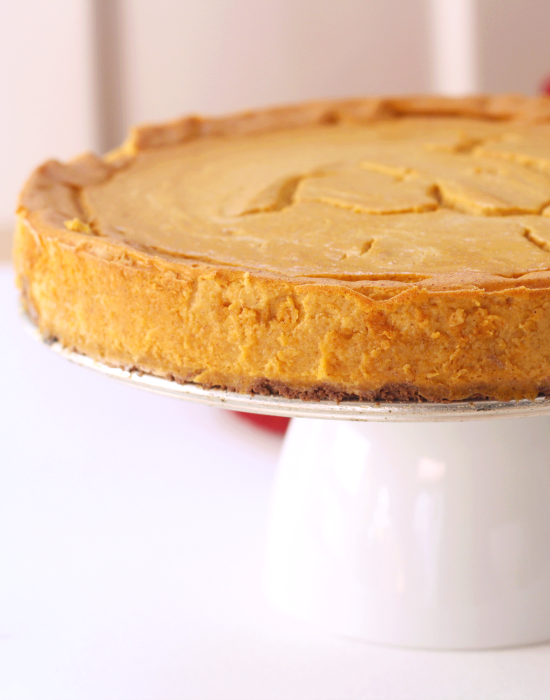 Eh, It's still pretty darn pretty.
But how to fix a cracked cheesecake? Drizzle chocolate on top! (That's actually how you fix everything.)
Cracks, be gone! This way you get a creamy cheesecake covered in chocolate with no fat and no visible cracks. It's basically perfection you can eat.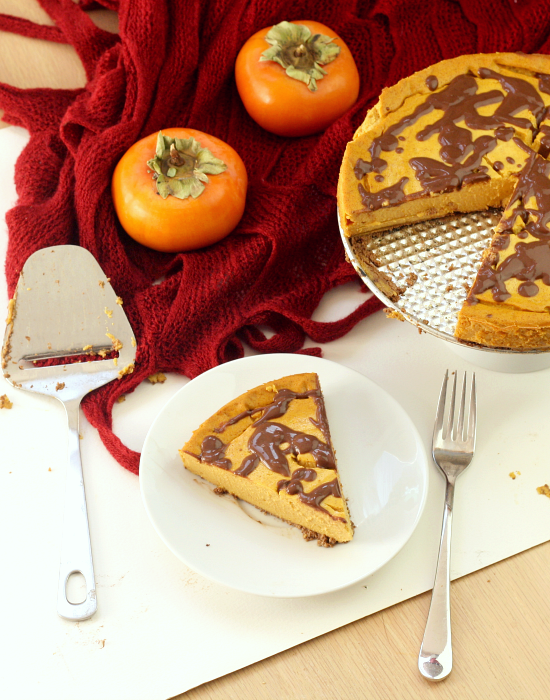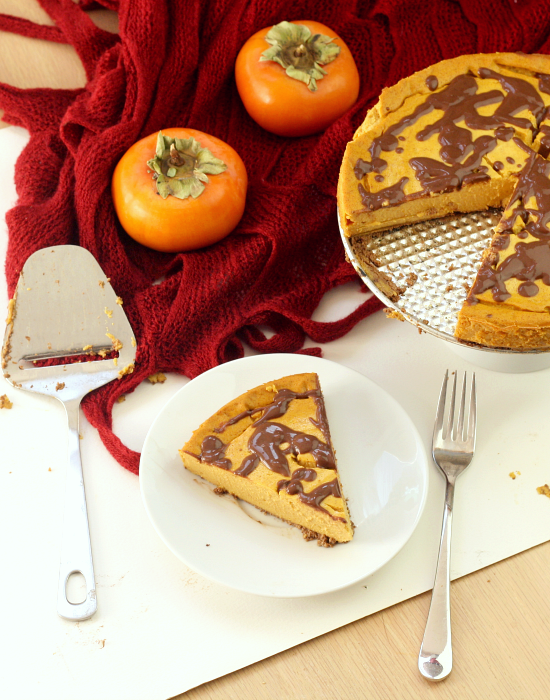 This crust is a little miracle. It serves as a fabulous base for the cheesecake, but it has only 150 calories total and comes together in about 27 seconds flat.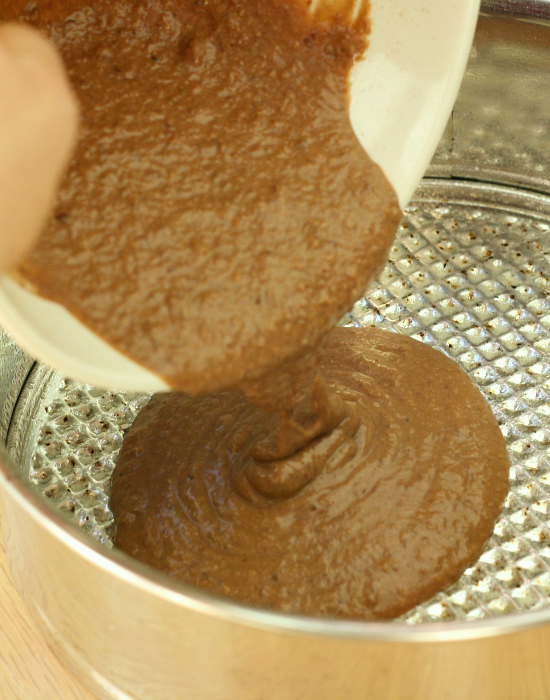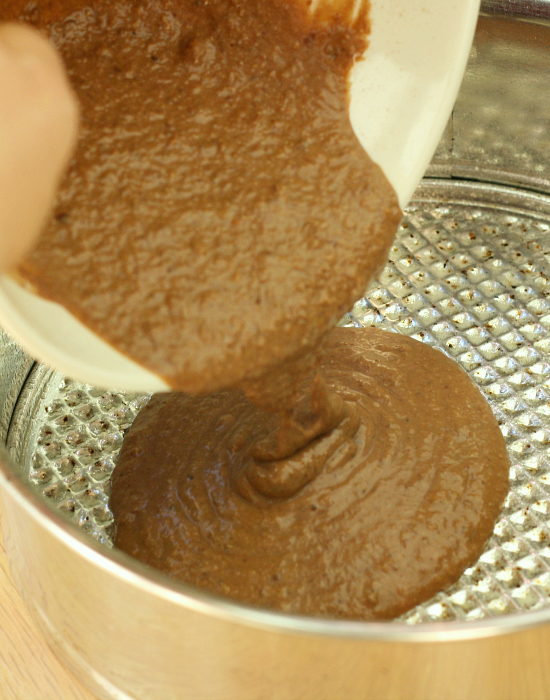 And I decided to bring some chocolate and pumpkin to the crust party because really why not.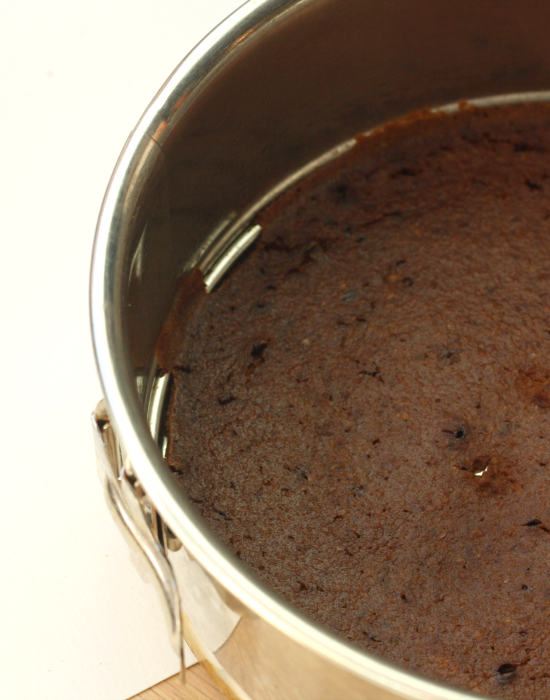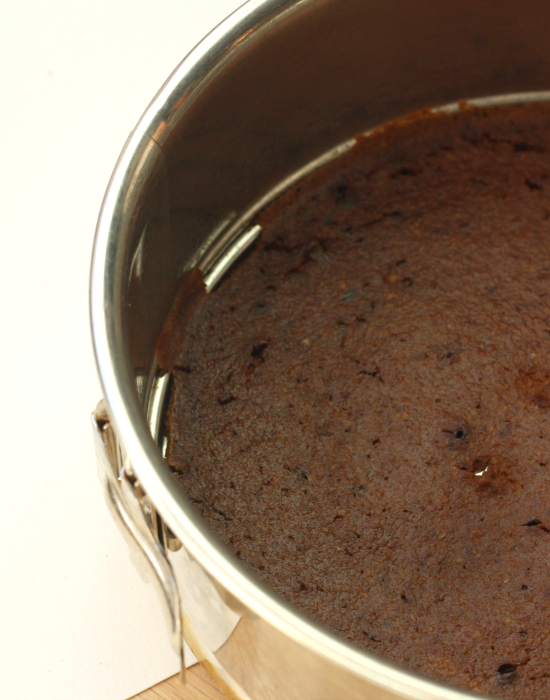 Fill it up with the creamiest dreamiest pumpkin filling you can imagine.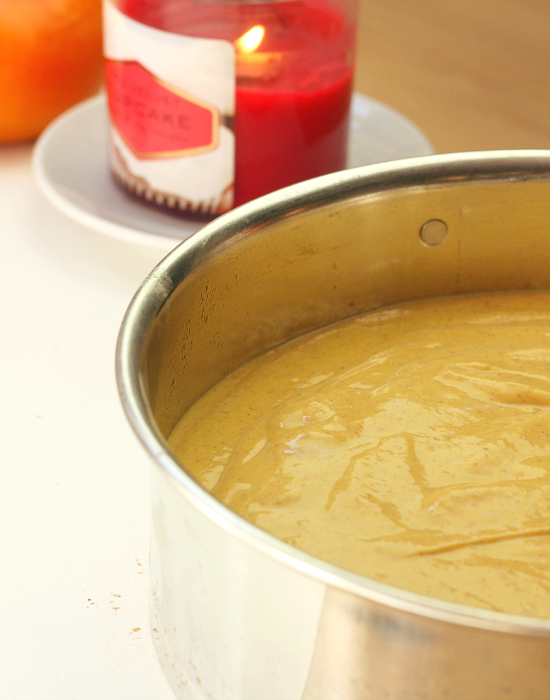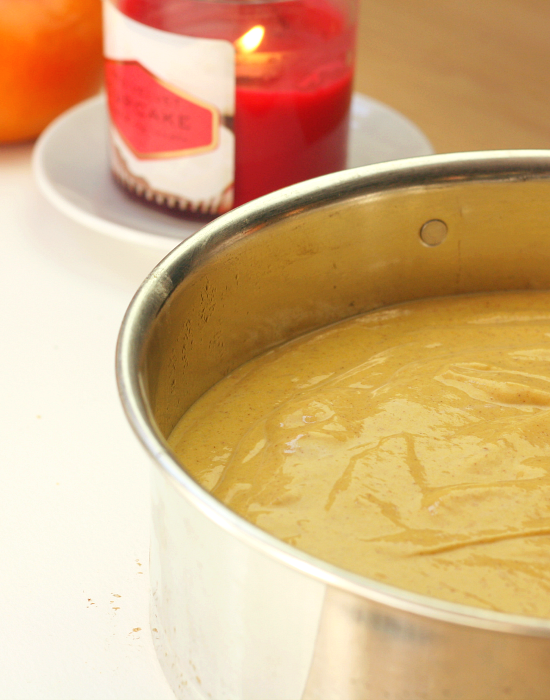 Now what could make this even better? Chocolate. Because chocolate makes everything better.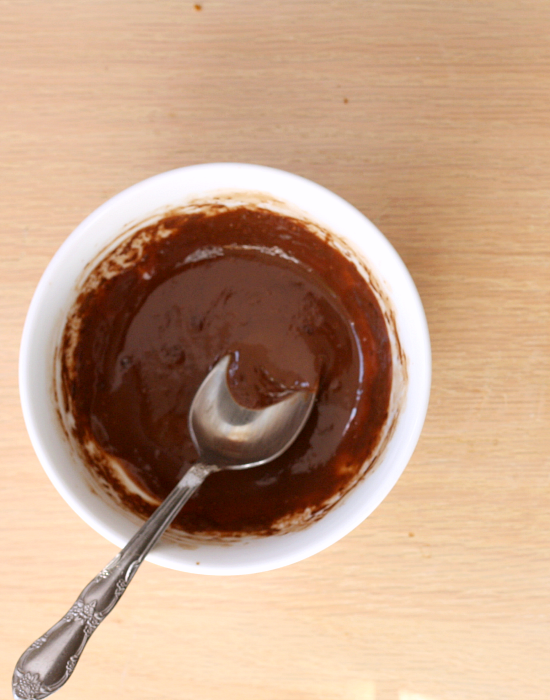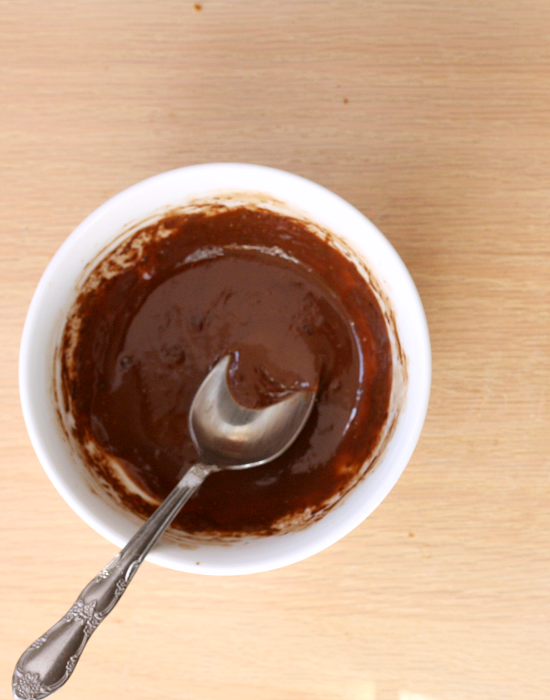 As if it weren't already perfect.
Healthy Pumpkin Cheesecake
Ingredients
For crust:
¼ cup almond meal or white whole wheat flour
1 tablespoon unsweetened cocoa powder
1 tablespoon pure pumpkin puree
2 tablespoon sugar or erythritol OR 2 packets stevia
¼ teaspoon vanilla extract
pinch salt
For filling:
3-4 tablespoons almond milk
2 cups 0% Greek yogurt
1 (15 ounce) can pure pumpkin puree (remaining from the tablespoon used in the crust)
½ cup sugar or erythritol OR 8 packets stevia
2 eggs OR 1 tablespoon Ener-g egg replacer mixed with ¼ cup water
2 teaspoon vanilla extract
1 tablespoon corn or tapioca starch
⅛ teaspoon salt
½ teaspoon cinnamon
For chocolate drizzle:
½ ounce dark chocolate, chopped
2 tablespoons almond milk
Instructions
For crust:
Preheat oven to 350ºF. Grease an 8-inch springform pan and set aside.
In a medium bowl, combine all the ingredients for the crust except the almond milk and stir until completely incorporated. Stir in the almond milk one tablespoon at a time until the consistency of the mixture resembles cake batter. Pour into the prepared springform pan and bake in the oven at 350ºF for 15-18 minutes, until firm and slightly golden. Set aside and let cool.
For filling:
Meanwhile, combine all the ingredients for the filling in a food processor and process until smooth. Pour into the prepared crust and bake in the oven at 350ºF for 50-60 minutes. The cake will be a little jiggly in the middle, but should definitely have a "done" look to it. Let it chill in the fridge for at least 2-3 hours. After the cake has chilled, make sure to run a knife completely around the edge before releasing the springform.
For drizzle:
In a small microwave-safe bowl, combine the dark chocolate and almond milk. Microwave for a minutes and 30 seconds, stir, and continue to microwave in 15 second intervals until thickened. Drizzle artfully over the chilled cake. Cut into slices and devour.
Notes
For a vegan version, use vegan-friendly yogurt.

Nutritional information calculated with almond meal, erythritol, and Simply Lite dark chocolate.
Nutrition Information
Serving size:
1 slice
Calories:
75
Fat:
2.3 grams
Net Carbs:
3.5 grams
Protein:
7 grams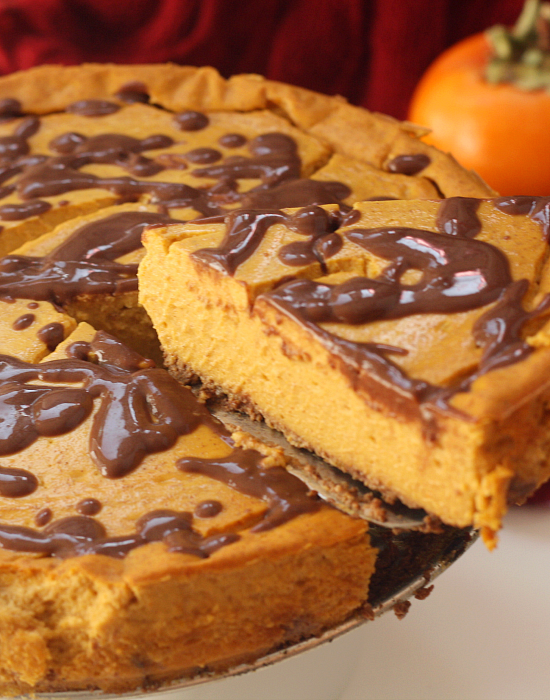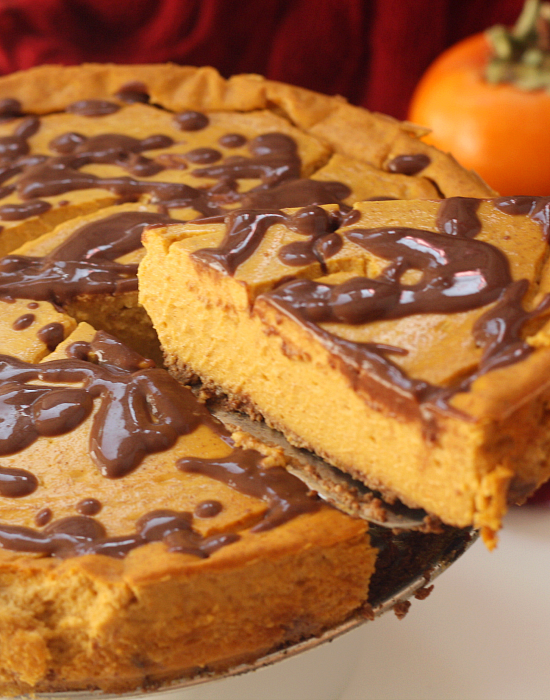 What's your favorite way to eat pumpkin?
Spoiler alert: pumpkin bread with cream cheese swirl and pumpkin cookies may or may not be coming your way. Stay tuned!