Mmm.
Nilla wafers.
This conjures up images of childhood summers by pool with friends, or more recently, watching the Neely's make banana pudding on the Food Network.
Wait, do I have a banana pudding recipe on here? No? I need to fix that!
Sorry, I'm getting off the track. My mind is filled with Nilla wafer-y-ness. But these are not exactly like the wafers you new and loved as a kid. I get it, really I do.
The originals are filled partially (or totally) hydrogenated mystery ingredients, and frankly, this is not what we want going through our systems, is it? I didn't. So for years I went without my beloved wafers, trying to forget they existed. So when thoughts about making a banana pudding recipe floated into my mind, I realized I shouldn't live without wafers any longer.
These are not exact replicas, but listen to me very carefully, okay>
These. Are. Better.
Much better.
They are buttery with a fabulous vanilla flavor and lovely hints of almond.
You see, when you actually use real ingredients like real vanilla. You can actually use the whole word. Hear that Nabiso? Say the big word with me. Vanilla. 'Kay?
By the way, I am doing my very first guest post over at The Healthy Apron. It is such a fabulous blog run by my new friend Erin. She is so kind, brilliant, talented and beautiful and I am so honored to have to opportunity to do a guest post. You rock, Erin! And if you are here because of my guest post, welcome aboard!
(Much) Better Than the Box Nilla Wafers
Adapted from Amanda of Serious Eats
Ingredients
1/2c (1 stick) unsalted butter
1/4t salt
3/4c. sugar
1 vanilla bean, seeds only (I omitted, but it was missed)
1 large egg white
1.5t vanilla extract
1T milk of choice
1 1/3c. all-purpose flour
3/4t. baking powder
powdered sugar, for rolling
Preheat oven to 350 degrees F.
"With an electric mixer, cream butter, salt, sugar and vanilla seeds until light."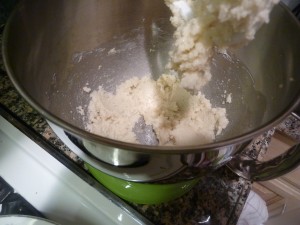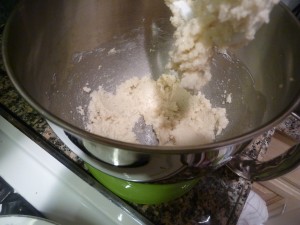 "Beat in egg white until well incorporated, scraping sides and bottom of mixing bowl to insure that all white has been incorporated."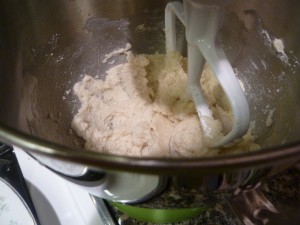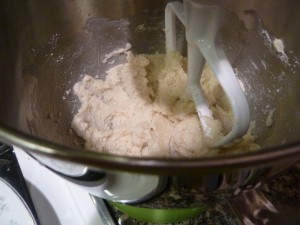 "Beat in extract and milk until well incorporated."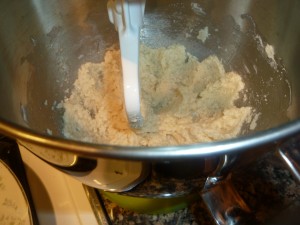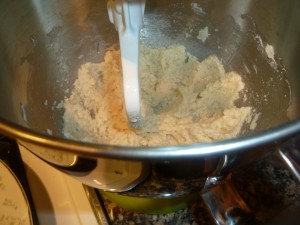 "Whisk together flour and baking powder…"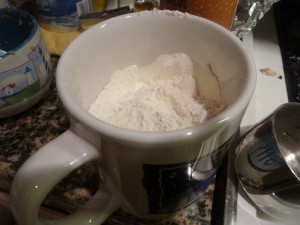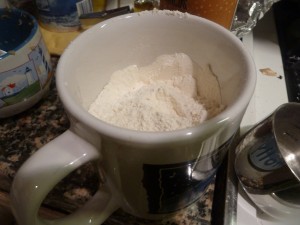 "and add to butter mixture. Mix just to incorporate, scraping down sides and bottom of mixing bowl to insure that all flour has been incorporated."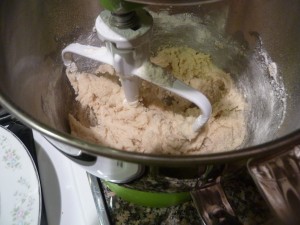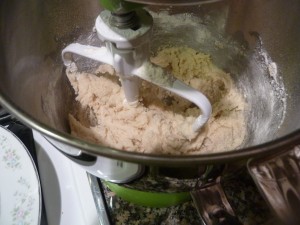 Place powdered sugar into a small bowl. Scoop out dough by rounded teaspoonful, roll into a ball, roll into powdered sugar, and squish down onto nonstick foil-lined baking sheet using your index and middle finger. (Did that sentence have enough directions in it for you?)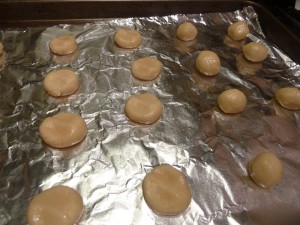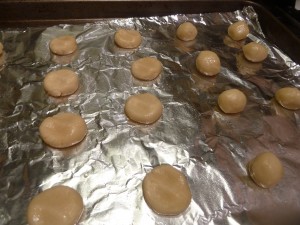 (The ones on the left have been squished down and the ones on the right have not.)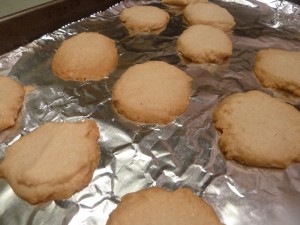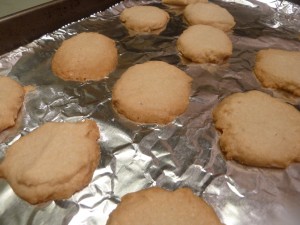 These are my rustic batch. The ones using the method I just told you, it will look like a cleaner circle cookie. I would've photographed it, but my camera died mid-baking. 🙁
Bake in the oven at 350 degrees Fahrenheit for approximately 15 minutes. Let cool and devour.
So there you go!
Have a great Friday! (or Thursday evening for the late birds!)
Enjoy!
-Kelly M.
P.S. Some of the directions are quoted because I copied and pasted them straight from the original recipe . 😉