I didn't think it could be done.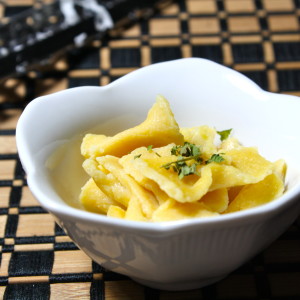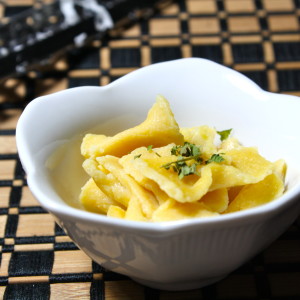 I didn't think a decent, let alone delicious, low carb pasta existed.
I didn't think that a homemade pasta even my cheap and lazy frugal and time effective self could make.
I didn't think I could get away without dishing out copious amounts of dough for a pasta maker. (Pun intended)
I didn't think I could make any kind of homemade pasta in under an hour.
I didn't think any low carb pasta would contain ingredients I could pronounce.
I didn't even dream grain free pasta could ever make me cry tears over tastebud-induced joy while dancing around the kitchen in a super dorky happy dance.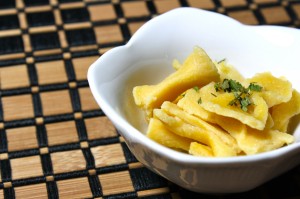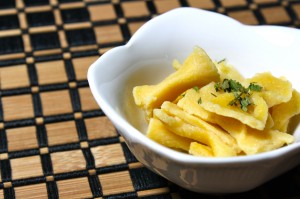 Hmmm…I should be wrong more often.
Easy Grain Free Pasta
Okay, so I'm working an a vegan version, but this is what I have so far. I tried this with an egg white and it did not work. There is a fabulous nutty flavor here, not really chickpea-y at all. I just love it! 
I bet you could make a big batch and then freeze the leftovers for those busy weeknights. If you try that, let me know how it goes! Thanks!
From grain-free-gluten-free.com
Total Time: About 30 minutes
Serves 2
Ingredients
3/4 cup plus 1 tablespoon chickpea flour
1 egg
Note: Feel free to double or triple this recipe as needed. Just use one egg for every 100g of flour (or 3/4 cup plus 1 tablespoon, as above).
Directions
Put the chickpea flour into a bowl and make well in it. Add egg and stir until combined. If the dough is too dry, add a small amount of water. If it is too wet, incorporate small amounts of water. For reference, you dough should be firm and smooth, like below.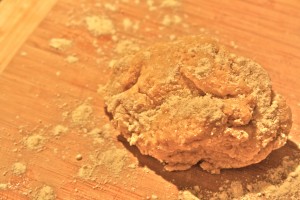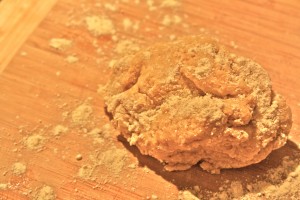 Once the dough is of the right consistency, knead the dough for a bit. Feel free to take out your aggressions during this process. Remember, you can knead all week and the gluten will never develop. Yay for gluten free flours!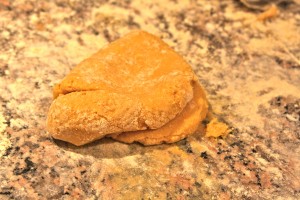 Now roll the dough out very thinly on a nonstick surface. I used a silicone mat, but I bet parchment paper would work. This dough wanted to fall apart and stick to everything, so I really needed the mat. Fair warning.  Try to make sure it is of pretty even thickness but, unless you're using a pasta maker, it probably isn't going to be perfect. That's okay.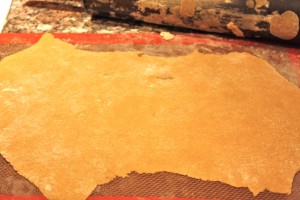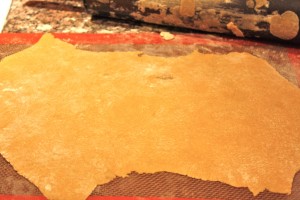 So now you can use a pizza cutter of sharp knife to slice the dough into noodles of your desired thickness, but I made bow ties.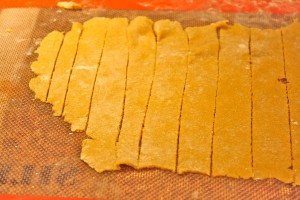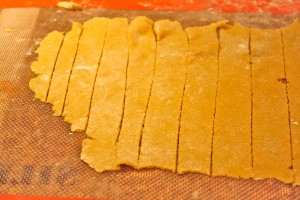 Just cut into squares, and pinch the center. Easy peasy!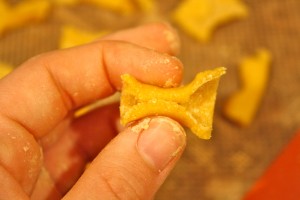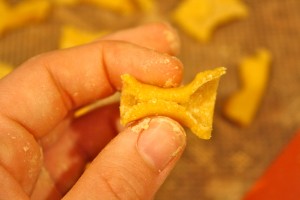 Once the pasta is all rolled, cut, and shaped, plunge it into very very very very very well salted boiling water. There is not salt in the dough, so YOU MUST SALT THE WATER. 
I'M SERIOUS. SALT THE WATER!!!!!!!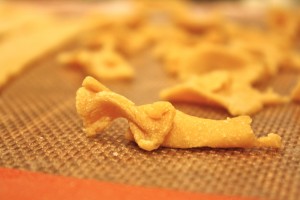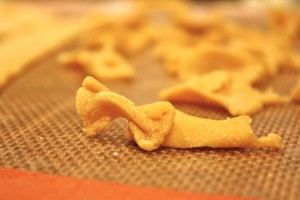 Try to make sure they're not touching each other, and cook for 2-3 minutes, or until al dente.
Eat them all standing up as finger food.
Toss with your favorite sauce and/or veggies, or just enjoy them plain, and eat up!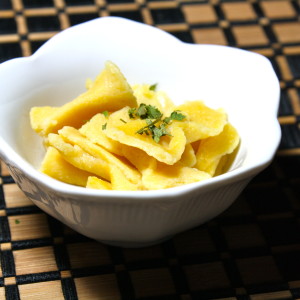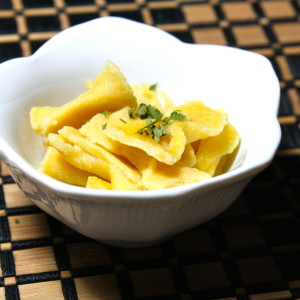 Being wrong can be really delicious…
Enjoy!
-Kelly M.
The winner of the giveaway is… Meg from Cooking. In. College.! Just send me an email at [email protected] with your shipping info and we'll get you your stuff!
Thank you so much to everyone who participated! I love you all.