The following post is sponsored by Fitfluential LLC on behalf of Soldier of Steel™. As always, all opinions and attempts of humor are completely my own. 
Ever find yourself trying to do it all? Good. Glad to know I'm not by myself.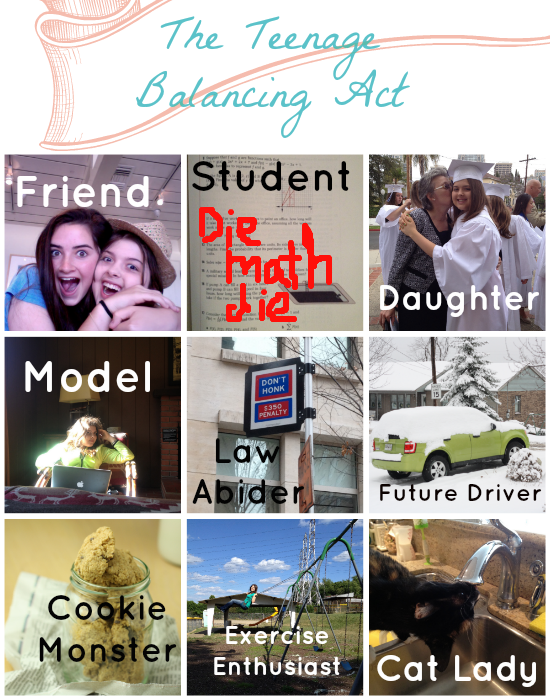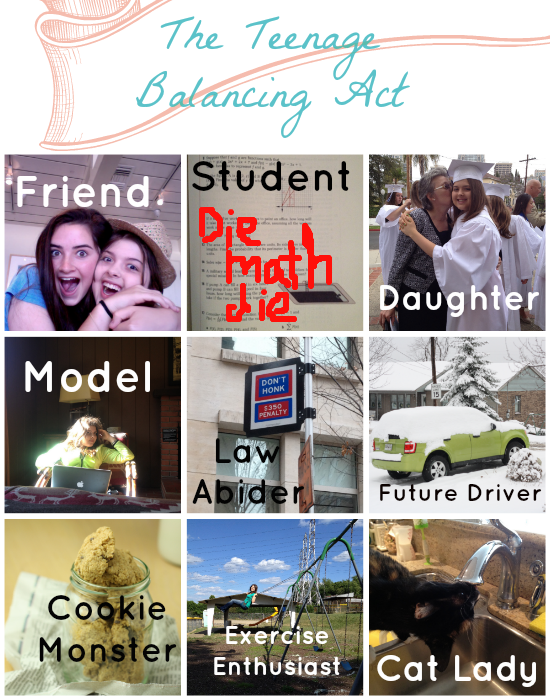 Truth be told, I often try to do everything… usually at the same time. I think an excellent reality TV show premise would be my constant attempt to balance that legally mandated education thing and the subsequent homework, the food blog I love so dearly, my (attempt at a) social life, endless rehearsals, sleeping/appropriately high dose of caffeine, and the never-ending fight against becoming a large, flabby, marshmallow-like blob, which may occur if I am not careful.
(Although these biscuits and cookies and bread and cake and pizza and fudge are very figure friendly, and rather easy on the taste buds if I do say so myself.)
Careful entails avoiding typical teenage food (think full fat versions of the aforementioned foods) and actually exercising once in a while. Although I do look rather fabulous in workout garb, sometimes my well-intentioned exercise regimen does not entail such fashionable measures. Or, in a sleep/caffeine shortage, actual exercise.
While I'm sure this system is working wonders on the flabby sections I totally don't have (nod your head), please allow me to share a better way with you. Believe me, I know you're trying to do everything too, and your skinny jeans do not want that marshmallow blob to pay you a visit.
Being the niece of a marine and an avid Top Gun fan has instilled a special admiration and respect in me for the National Guard. So when I was given an opportunity by Soldier of Steel™ to salute them publicly while doing something productive for the people of steel in all of us, I naturally jumped at the chance.
While I do happen to think that Wonder Woman beats Superman with a stick when it comes to general coolness, that might just be my lack of Y chromosome talking. I wouldn't mind being whooped (?) into shape Superman style.
I'm going to be honest: I was skeptical. As a self-professed Sadie Nardini yogi, I didn't want to stray from my mat. However, I am so glad I did! Switching up your workout routine is so important, and folks, Soldier of Steel™ is the way to do it. (And I still could use my yoga mat!)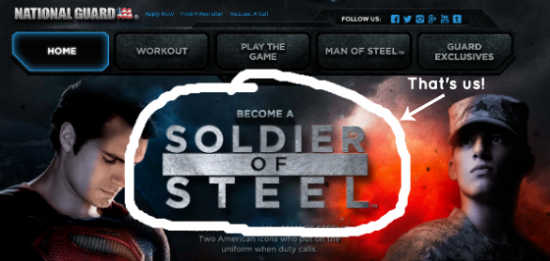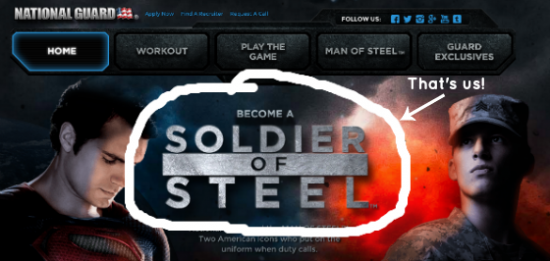 Welcome aboard! Allow me to give you a tour.
We're going to start by clicking on the workout tab.


Glad you made it! The foyer should look something like this: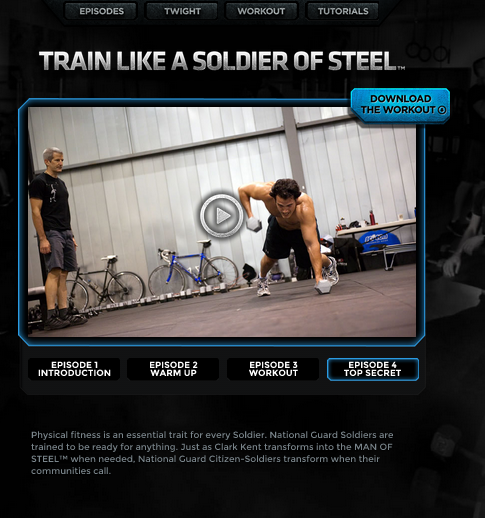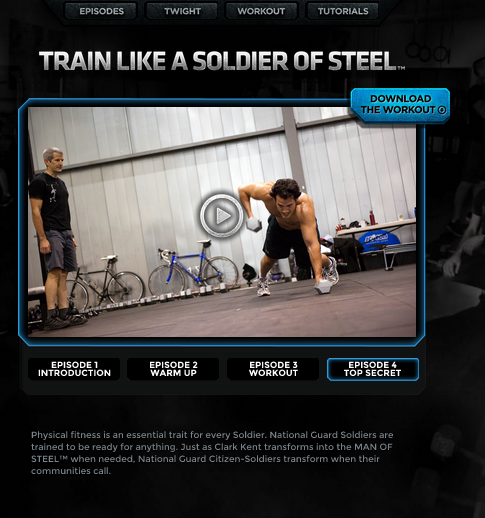 Scroll down a bit and you get to know the wonderful and obviously super qualified Mark Twight, who is the developer of this workout program and trainer of the Man of Steel™ himself!. Once you are reassured about the good hands you are in and the adrenaline rush that comes with the rebellion that is ending a clause with a preposition, let's start this thing!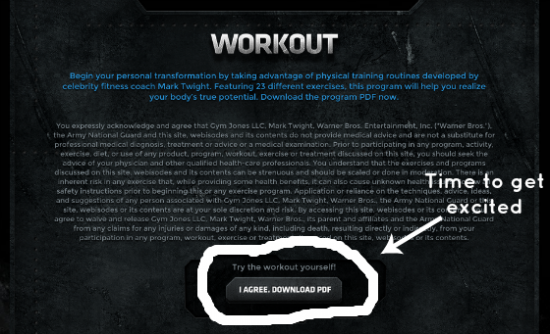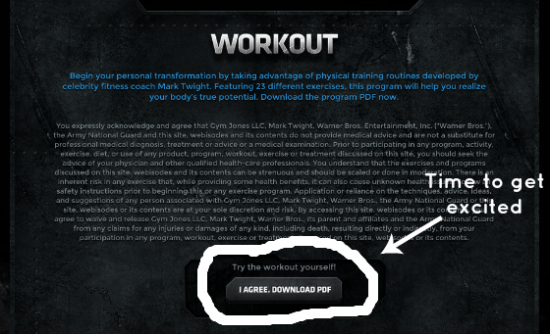 It's like a bikini season treasure trove in there! Here you will find an uber special one month training schedule, 23 different exercise tutorials, and fitness training webisodes.
In preparation of the often ominous bikini season (how is it already late June??), you can ask Mr. Mark Twight himself any question you so desire at #TwightTakeover. The shindig is taking place tomorrow, June 20, from 3-4pm EST, at the @NationalGuard twitter handle. I hope to you cool cats there!
And with that, I'm signing off for today! I will be heading to the east coast for my cousin's high school graduation tomorrow (wow I feel old), but I should still be in touch if you want to drop me a line. I hope you enjoyed this info! It was pleasure writing it. I love sharing with you all! Please let me know if any of you give it a go.