Someone please take these away from me.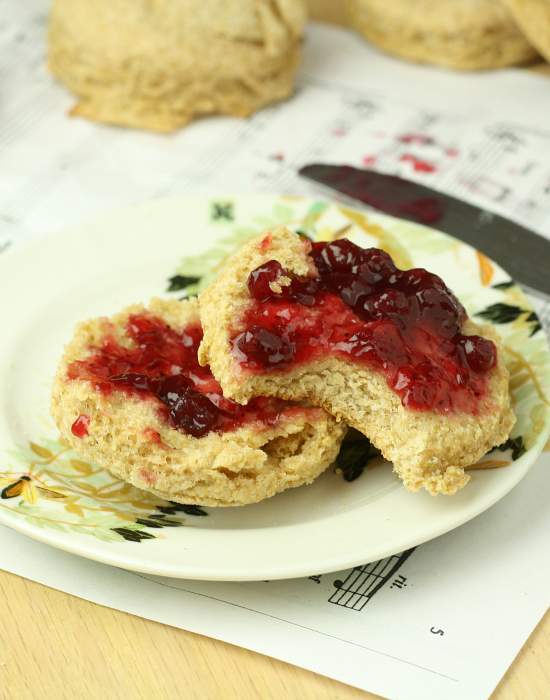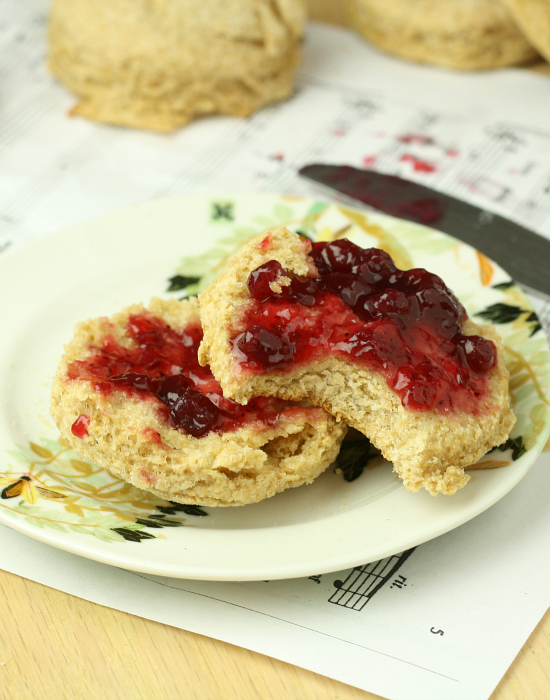 Actually, please don't. I would like to eat them all.
*proceeds to kitchen*
*eats superbly delicious biscuit*
*debates finishing off bag…*
Nope. Bad. Intervention time.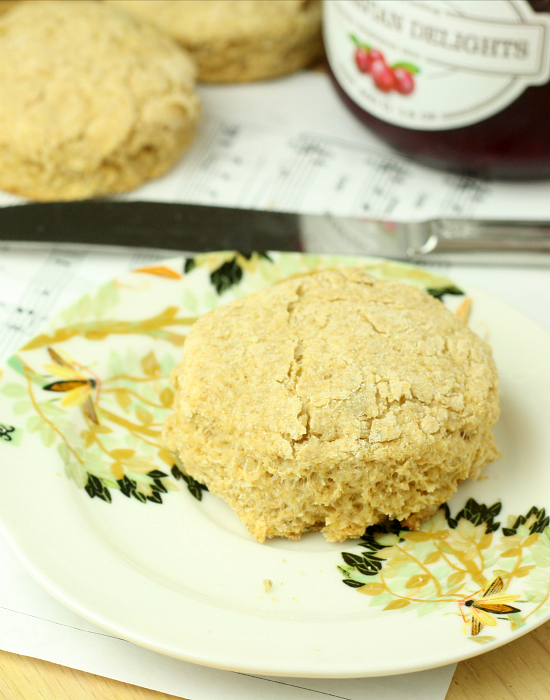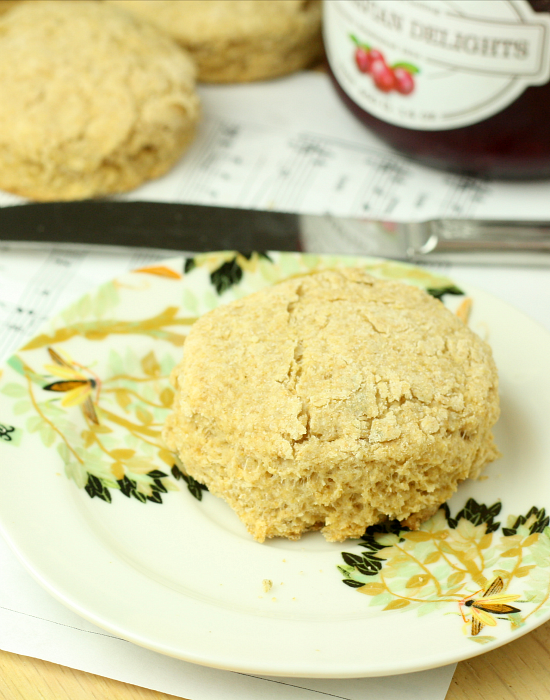 For your benefit, I have taken the liberty of personally testing to see if one can live on solely biscuits for days on end. Rest assured, one can. As long as one has much more than one pair of stretchy pants at her disposal.
I'm kidding.
It's a consequence of my undeniably charming sense of humor and ability to make biscuits healthy enough so the Biscuit Diet (coming soon to the fad section of a small circulation gossip magazine near you!) does actually not require stretchy pants.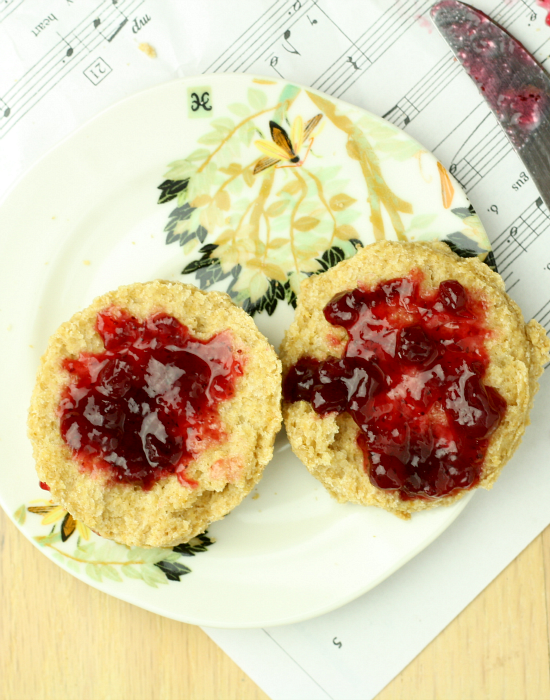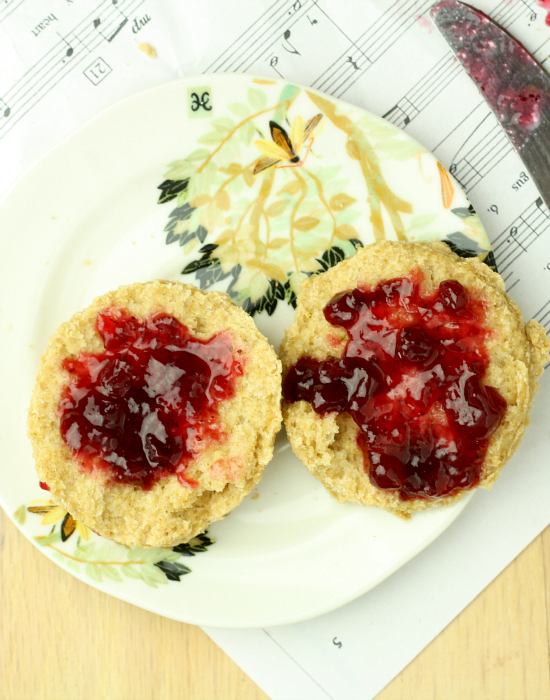 Feel free to laugh. Or chuckle hardily.
#wowtoughcrowdheywhatupwiththatairlinefood?
I'd settle for a heartfelt giggle.
#crickets
Alrighty then! Moving along.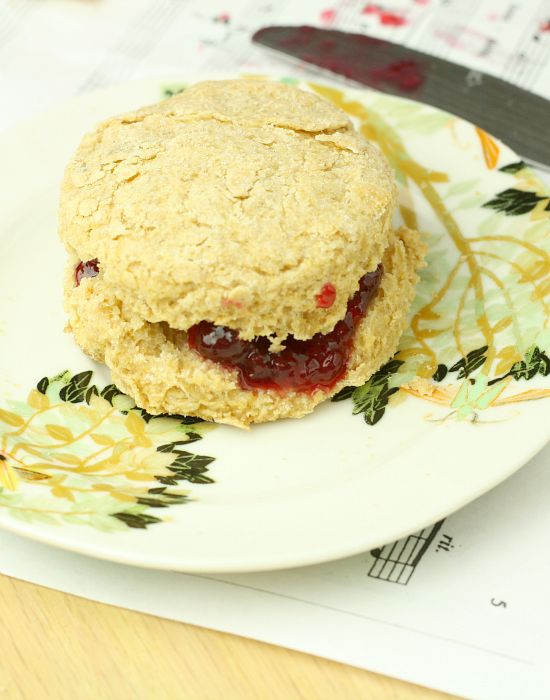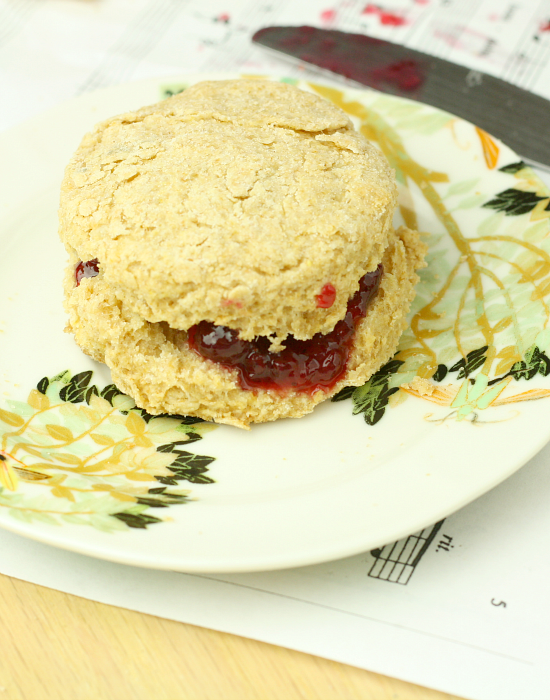 I don't want to toot my own horn or anything, but I'm pretty darn proud of these biscuits. They're so buttery and flaky, balanced by a slight sweetness and a wonderful classic flavor. (Toot toot!)
I cannot. stot. eating. It's bad.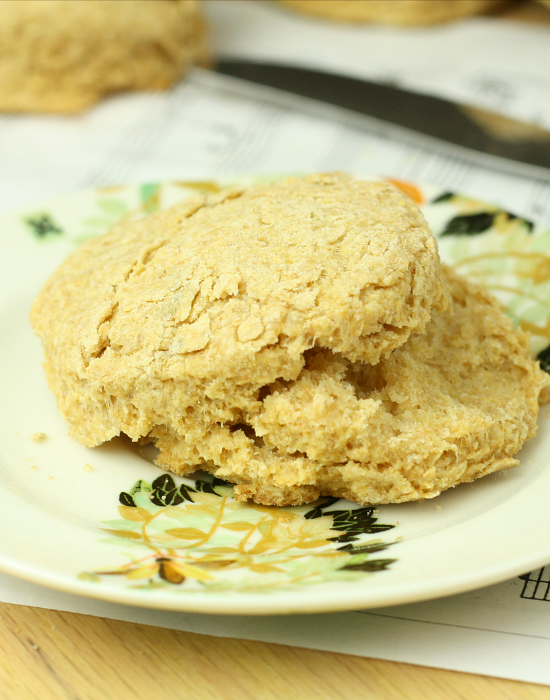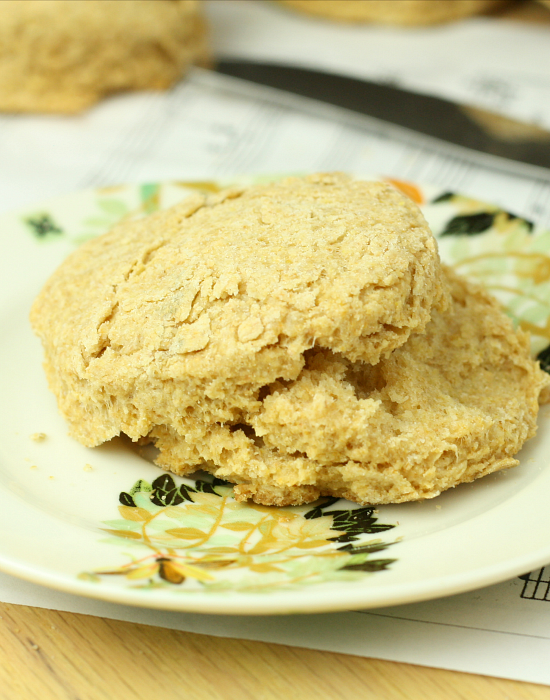 Just don't ever stop. They taste too good.
But it's okay, right? They're only 80 calories! And whole wheat! Isn't whole wheat supposed to make you fly or walk on water or something? Yes it does. So you can eat all the biscuits you want. See? My logic is undeniable. Unless you try to reason with it. Let's get started so I can stop you before you try to process this nonsense. Love you too.
Get your flour and baking powder and all that jazz and mix it all up. Then you'll whip out your Earth Balance. Mmm. Butter-like substance. (And it's whipped! And I said whip out! See, it's so funny! Never mind.) Using your pastry cutter, you're going to cut in the butter so it looks like coarse meal. Have no idea what that looks like? I've got you covered.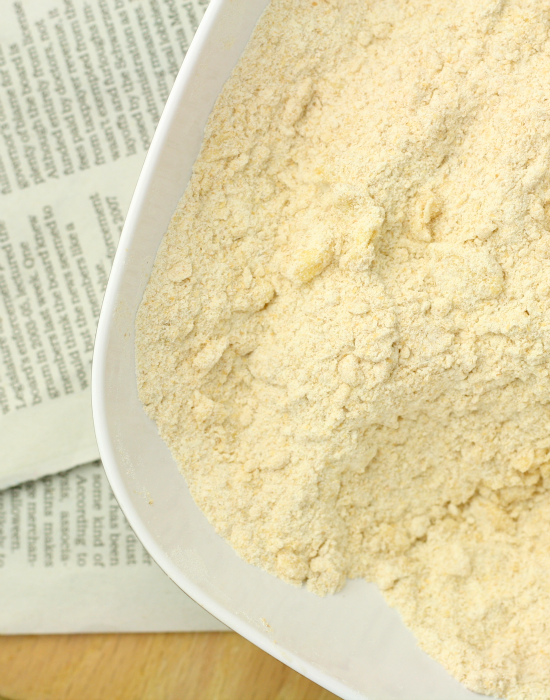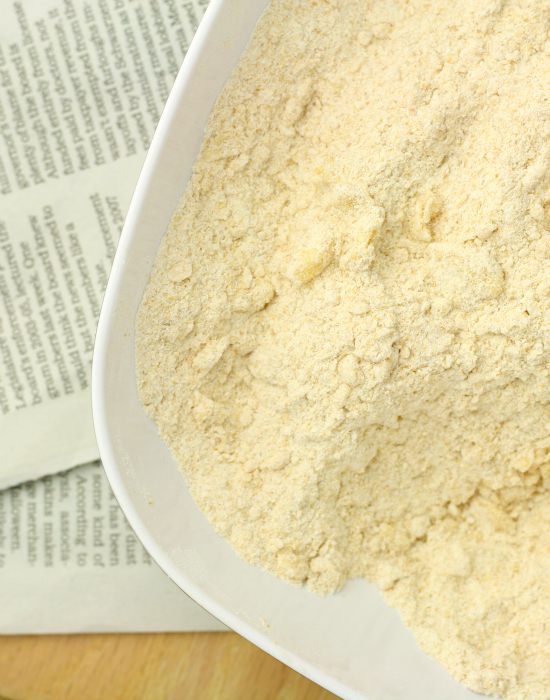 Don't have a pastry cutter? Tsk, tsk.
It's okay. I don't have one either.  This is nothing a fork or a trip to Target can't fix. I used a fork in this case, but I'm not one to turn down a trip to Target. (Just don't ask me to buy what I went there for. Sure I need a new coat rack! But then I'll need some coats to put on it. I'll totally use heavy winter coats all the time in LA. Maybe I should get hangers too. What did I come here for? Heck. Good thing I brought a credit card!)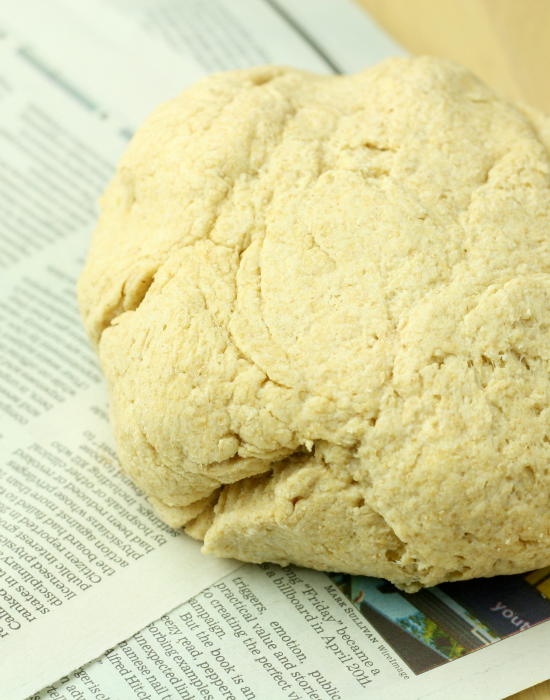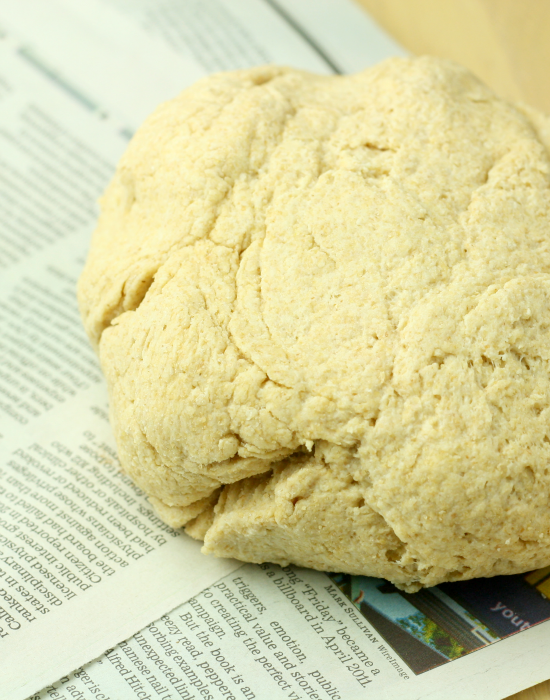 Let your coarse meal chill out for a few minutes. Then add in your sweetener and wet ingredients and give your dough a hug because she kneads one. Hugs can do wonders. She's like a whole new ball of dough!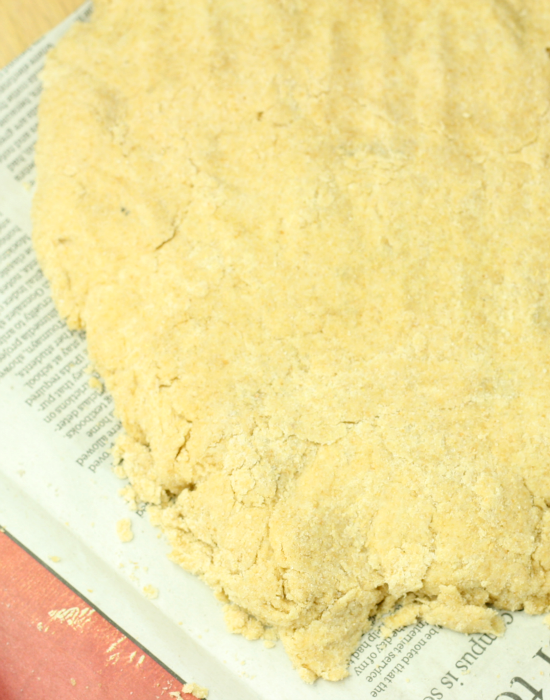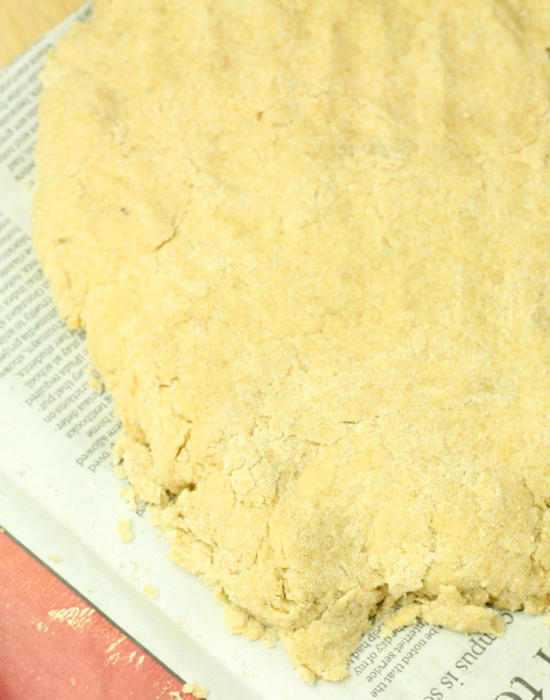 If you're feeling official, you can use a real rolling pin to flatten the dough. I happened to use my hands because I'm cool like that.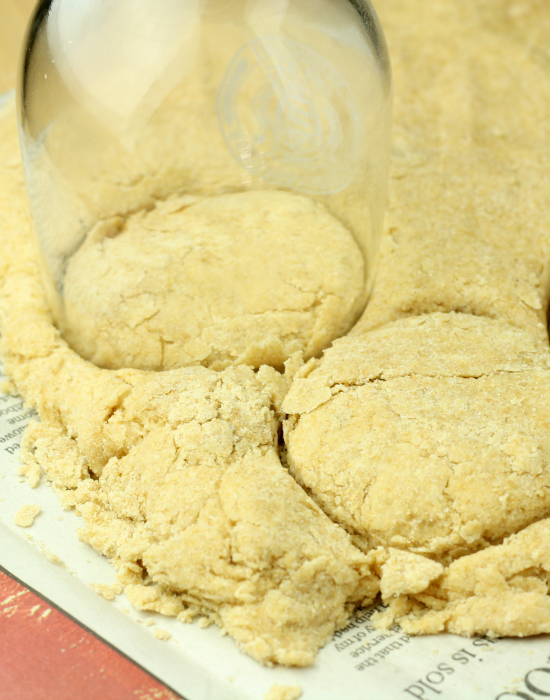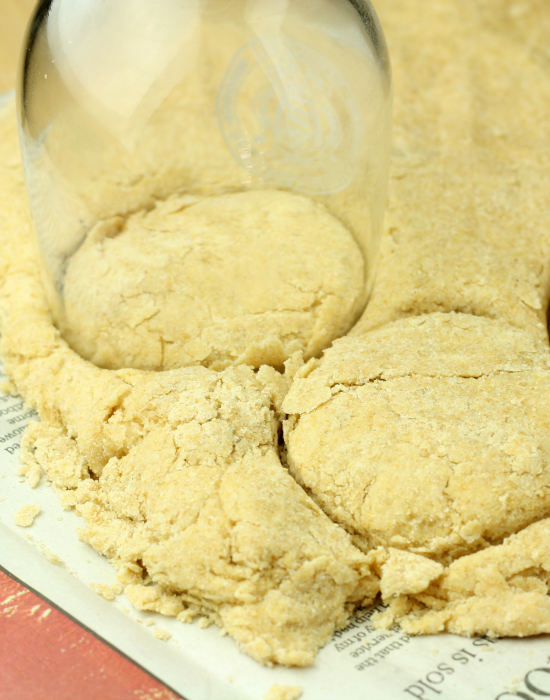 This part is especially cool, if I do say so myself. Unless you are in possession of a 1 3/4 inch biscuit cutter (shoot! I forgot to get one at Target. Guess I'll have to go back.), embrace your resourceful side and use some circle shaped object. This narrow rimmed wine glass worked splendidly.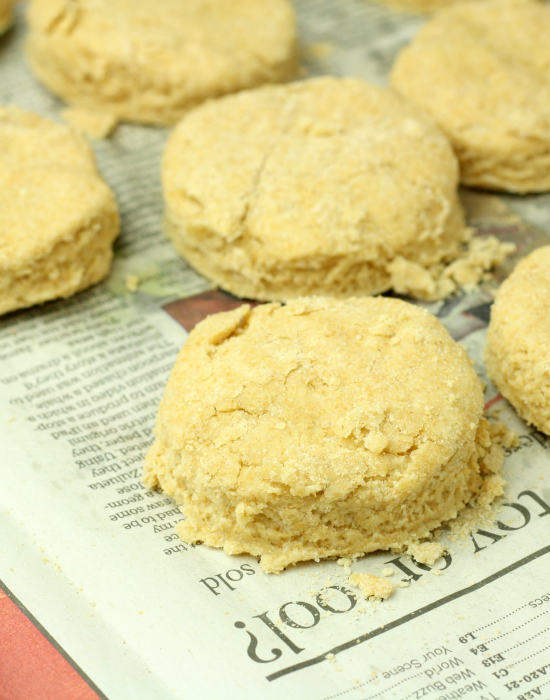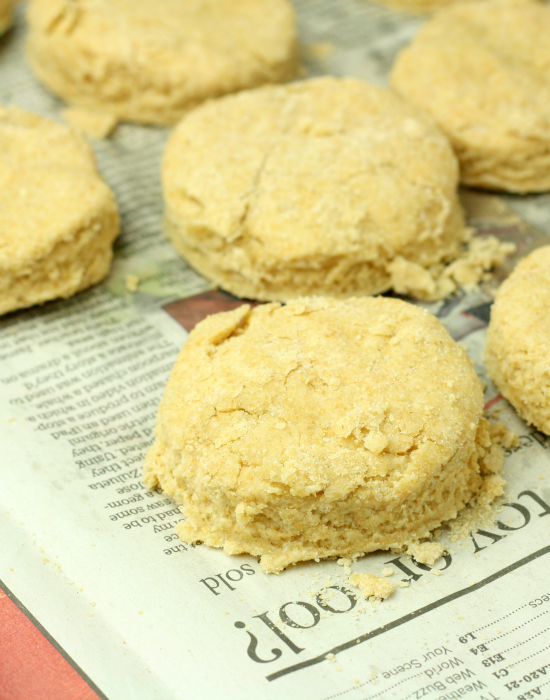 Behold your handiwork. You're so multi-talented!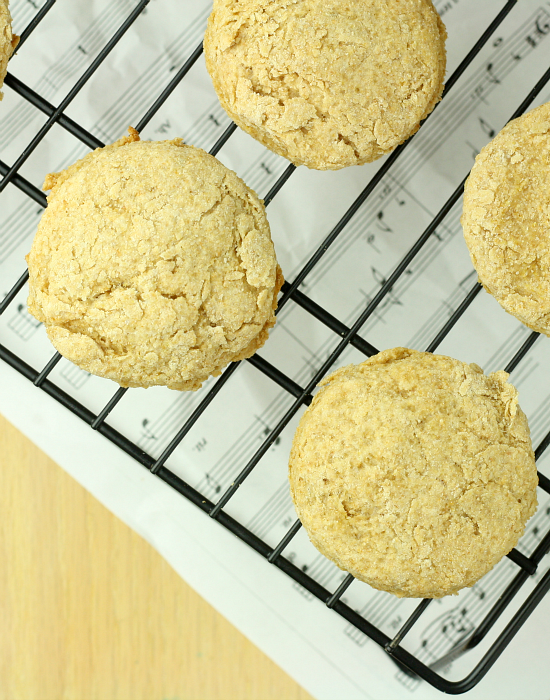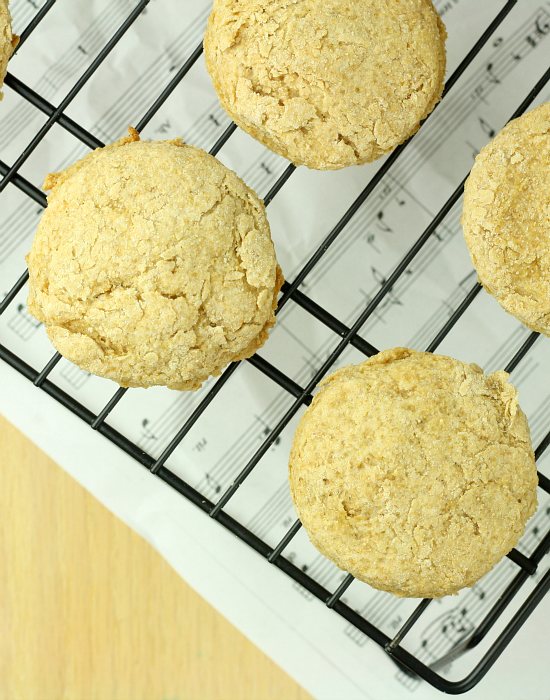 Note: This recipe is NOT gluten free or paleo. Please click for a coconut flour version that is.
Yield: 15 biscuits
Healthy Easy Biscuits
20 minPrep Time:
15 minCook Time:
35 minTotal Time:
Ingredients
2 cup white whole wheat flour
2 1/2 teaspoons baking powder
1/2 teaspoon salt
5 tablespoons Earth Balance or butter, cut into small pieces
3/4 cup unsweetened almond milk
1 teaspoon apple cider vinegar
3 tablespoons cane sugar or erythritol
Instructions
Preheat oven to 400 Fahrenheit. Line a baking sheet with parchment paper or a silicone mat and set aside.
In a large mixing bowl, combine the flour, baking powder, and salt. Using a pastry blender, cut the butter into the flour mixture until it resembles coarse meal, being careful not to touch the mixture with your hands. Don't have a pastry cutter? No worries. I don't have one either. Just use a fork to cut in to butter and everything will still be a-okay. Chill for ten minutes.
After the ten minutes, fetch the bowl from the fridge and add in the unsweetened almond milk, apple cider vinegar, and cane sugar or erythritol and stir until combined, making sure not to overwork the dough. If the dough is too dry to incorporate all the flour, add in one more tablespoon of almond milk. Turn out the dough on a clean, lightly floured surface and knead 4 times. Again, make sure not to overwork the dough.
Using a rolling pin (or your hands if you're feeling all rustic like), roll out the dough to 3/4 inch thickness. Using a 1 3/4 inch biscuit cutter or other round circle (I used a wine glass) to cut the dough into 15 dough rounds. Place the dough rounds 1 inch apart on the prepared baking sheet and bake in the oven at 400 Fahrenheit for 12 minutes, or until golden. Let cool on wire wrack for 2 minutes and serve warm with whatever toppings you so desire. Or simply devour.
Notes
Nutritional information calculated with whipped Earth Balance and erythritol.
7.8.1.2
273
https://www.foodiefiasco.com/healthy-easy-biscuits/
Nutrition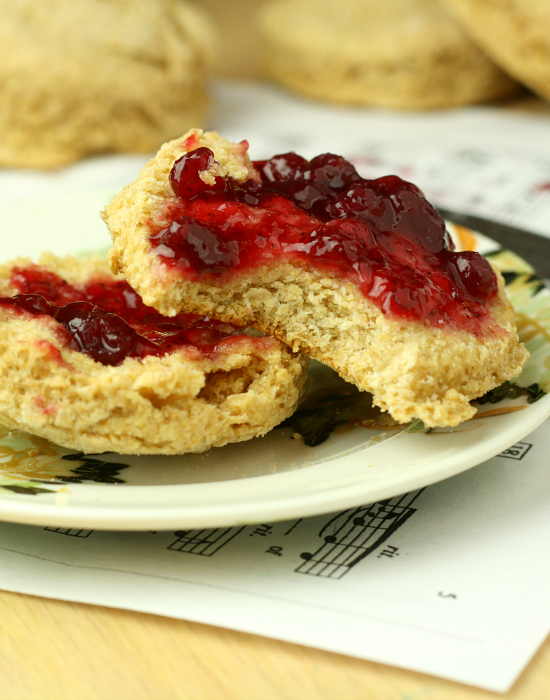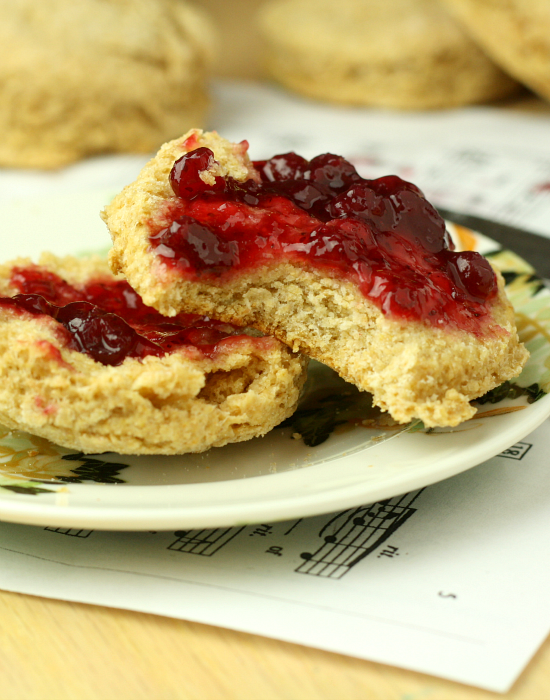 What's your favorite way to eat biscuits?
Seriously. I have a whole bag full of them (well, not so full anymore) and want an excuse to eat them all. To try out your ideas, of course.