I want to start this post by thanking you.
I'm sorry I haven't posted in a couple of days, but I wanted to say how moved my mom and I were by your beautiful comments on my last post. This certainly has been a difficult time in both of our lives, but it's wonderful and supportive people like you that make it easier. Thank you.
But actions speak louder than words, right?
I can say thank you over and over again for the entirety of this post, but that would unproffesional.
And as you know, we're all about professionalism here.
I'm so professional I spelled unproffesional wrong.
Cuz' that's how I roll.
So to stick to my undying professionalism, I must tell you about donuts.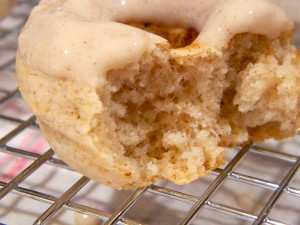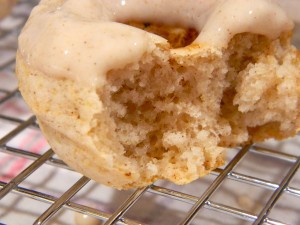 Because everyone know that donuts= professionalism,.
But I really came to say thank you.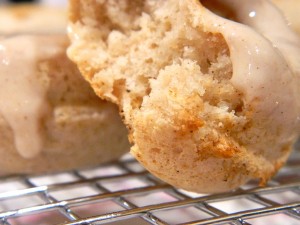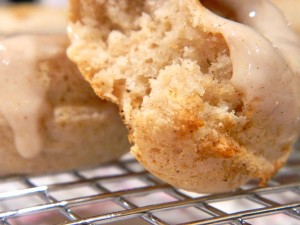 And I brought donuts.
Nutrition Face Off
Calories: 200
Fat: 12g.
vs.
My Glazed Donuts:
Calories: 60
Fat: 0g.
Copycat Makeover: Krispy Krem Glazed Donuts (Vegan, Low Cal, Fat Free)
Okay, I didn't really know what to glaze these with as I had never liked the idea of those super sugary icings. Half cup of sugar for a teaspoon of liquid? Gross.
I had a little bit of leftover batter, and really, who doesn't like to eat cake batter? So I decided to glaze the donuts with the leftover cake batter. Cake batter glazed donuts? Amazing.
Makes about 12 mini or six regular-sized donuts
Adapted from Averie, Katie, and my last recipe
Ingredients
1c. all purpose flour
1/3c. sugar
1 1/2t baking powder
1/4t salt
1 1/2t ener-g egg replacer
1/4t cinnamon
1/2t vanilla
2/3c. almond milk
1/2t apple cider vinegar
Preheat your donut maker or your oven to 350F.
Mix together flour, sugar, baking powder, salt, egg replacer, and cinnamon. Add vanilla, almond milk, and apple cider vinegar and stir to combine.
Scoop into your donut maker and cook for about 5 minutes, into a donut pan in the oven at 350F for 8-11 minutes or until a toothpick comes out clean. Make sure you have a significant amount of batter leftover to glaze with.
After they've mostly cooled on a wire rack, dip the donuts in the leftover batter.
I guess of you really wanted to, you could do this in a muffin pan and bake for 15 minutes. But if you don't have a donut maker/pan, get one.
Today.
Oh, and my apologies to the Krispy Kreme people.
Enjoy!
-Kelly M.