Hello!
You like the new theme? I do!
Have you been annoyed by how much I've been changing the style of the blog around lately? I thought it would be a good idea to design my own theme, or at least customize it. But granted I have no idea how to do that, I think I'm going to stick to this theme. I love the color scheme, and the bird is too cute! 😉
So for today, I had the same oats I had yesterday, except with some leftover dipping chocolate swirled in. It was positivly luscious. Why did I have leftover melting chocolate? Read on…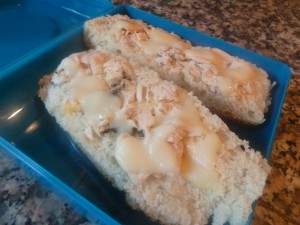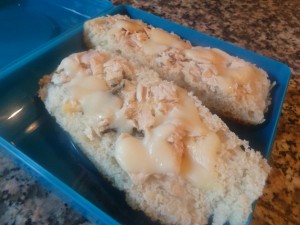 For lunch, I had an open face tuna melt which I made by taking two small-ish slices of ciabatta, topping them with about half a medium can of tuna, sliced some cheese on top, slathered the bottoms with Earth Balance, popped them in a skillet, covered, and cooked on medium high heat until the cheese melted. I also had a banana and some multi grain Cheerios. It may not sound or look like much, but it was delish and filling, too!
By the by, the banana from yesterday didn't count because I didn't actually get to eat it. I foraged what I could for yesterday, and that was that.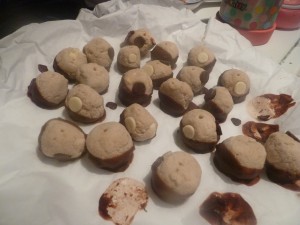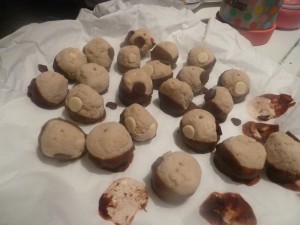 I also brought some (un)baked goodies for my fellow campers. (Hence the leftover melting chocolate.) The recipes coming soon. Any guesses?
Have you ever designed your own blog theme? Really?!? I'm not shocked, just impressed. (Can you tell me how you did it?)