Maggie, I love you.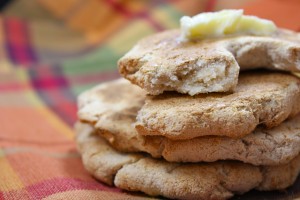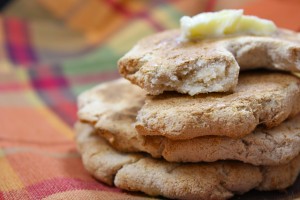 I just had to say it. Why? Keep reading, and I'll tell you. I've got a lot to say in this post, so make sure you're comfy.
Okay, so I'm going to be straight forward here.
I gained weight. A lot of it. About 10 pounds in three weeks… How is that even possible?
And no, I haven't been stuffing my face or hanging around in bed all day, every day. I haven't been as active since my running ordeal, but I still walked and ran somewhat regularly. I though eating 1400-1500 calories a day was perfectly reasonable. I guess not.
So obviously, I was annoyed. I didn't panic and have a meltdown like I did last time, but I did want to know where I was going wrong.
So my dietician, Deborah, who I am convinced can walk on water, suggested I try lowering my carb intake. Being a vegetarian, my carb intake is probably a bit higher than normal, and I was eating enough protein.
Not wanting to be difficult (I would never do that!), I went along with it: 1200 calories a day, 4 servings of grains, 45g protein, 40g fat, as many veggies as I want (that could be dangerous) and 3 servings of fruit.
Eating fewer carbs was a big challenge at first, but it has been almost a week, and I'm adjusting nicely. I'm eating way more protein, and you know what?
I FEEL BETTER.
So I'm not sure I want to eat minimal grains for the rest of my life, but I'd rather be a low carber than a celiac. If my feeling lousy is just a result of too many carbs and not a food intolerance, I would be much happier.
So…Maggie. She's got this awesome yoga page, and, on a whim, I decided to try this program from this person. I'm on day five only, but the verdict is I absolutely love it. I can't believe I haven't tried yoga before.
Maggie, you have changed my life. Thank you so much.
I am still doing that couch to 5K, and I like it. It's hard, but I like it. Would you like me to do a whole review?!?
As if that isn't enough, to make up for my previous inherent lack of exercise, I am also going the Bob Greene Total Body Makeover (BGTBM), but only three days a week.
So yeah, I'm going yoga everyday, running and BGTBM three days a week, just not on the same day. 
Does that seem like too much? I don't know, but I feel better.
So about those bagels… they're amazing.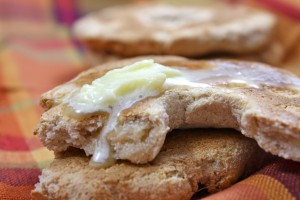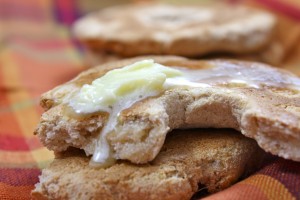 I made them out of carb-deprived desperation, and I am in love with them.
Yes, I am in love with a bagel.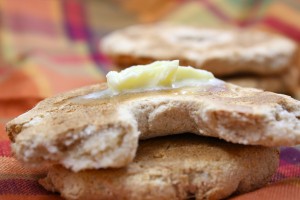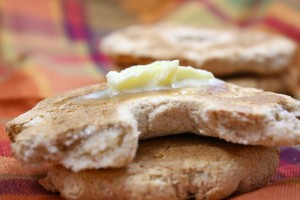 But these are way than regular bagels. No fussy yeast, rising, kneading, poaching (?), or even grains! They're completely vegan, gluten, and fuss free.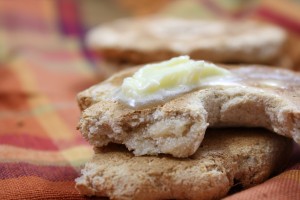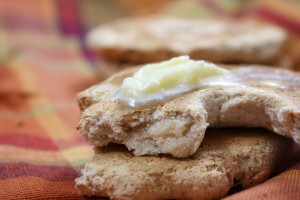 Going low carb doesn't seem so bad…
Nutritional Comparison
Serving: 1 bagel
Calories: 310
Carbs: 62g
vs.
My Easy Grain Free
Serving: 1 bagel
Calories: 60
Carbs: 4.8g
20 Minutes Grain Free Garlic Bagels
My favorite way to eat these is cut in half, toasted, and slathered with Earth Balance, jam, or peanut butter. They honestly taste just like the bagels you know and love, except without the hours of prep time and the extra inches on your waist.
Adapted from Sugar Free Low Carb Recipes
Ingredients
3T egg replacer mixed with 12T water, or 6 eggs (I'm going to have to try this with egg whites and report back)
1/3c. applesauce (feel free to sub some or all with oil)
1/2c. coconut flour
1/2t baking powder
1/2t salt
1T minced garlic
2t xantham or guar gum (you can leave this out, but the bagels will be grainier)
Directions
Preheat oven to 400F.
Mix together egg replacer or egg, applesauce, minced garlic, and salt. Add in coconut flour, baking powder, and xantham or guar gum. Te batter will be dry, but don't worry.
Divide dough into 5 portions (feel free to make more or less, depending on how much and what size you want them). Roll one potion into a ball, flatten into a uniform disc, and use you fingers to gently form a hole. Pinch any cracks that may form closed, and carefully transfer to a greased baking sheet. Repeat with the rest of the dough.
Update: Make sure you line the baking sheet with parchment paper or a silicone mat to prevent sticking. Thanks, Kristin, for pointing this out!
Bake your donuts in the oven at 400F for 15 minutes. Let cool, cut in half, slather with topping of choice or make a sandwich, and eat!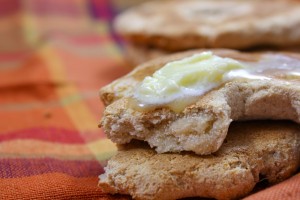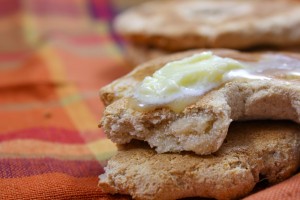 Carbs, who?
Enjoy!
-Kelly M.
Would you like me to do a full review of couch to 5K? Thank for your input!