It's like childhood in a cookie!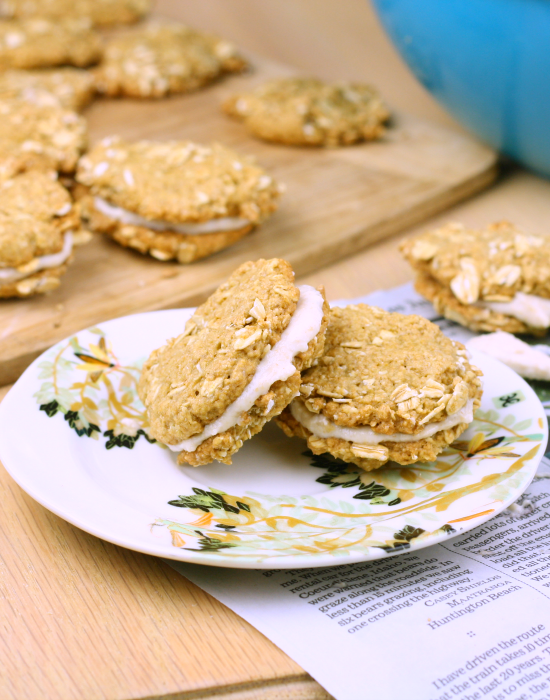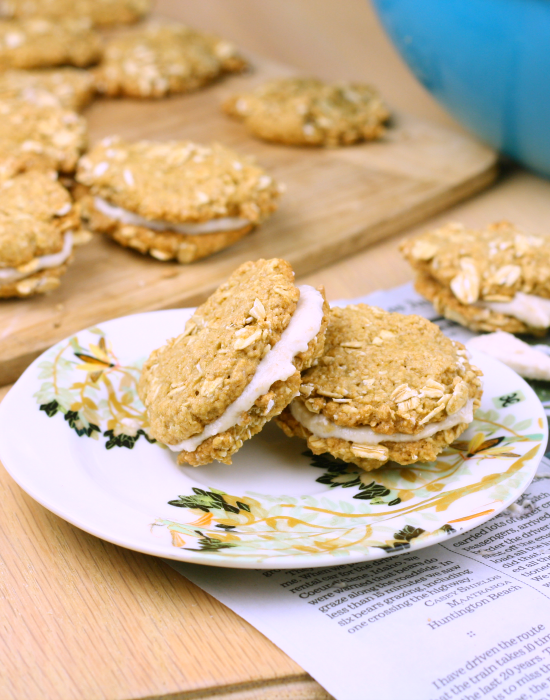 You know, minus the ensuing hyperglycemic fit. And the tight pants. I wonder just how little our friend Little Debbie really is?
Heck with the mainstream fat and chemical laden oatmeal creme pies! These babies are soft, wonderfully flavored, 50 calories each, and practically perfect in every way.
This also happens to be the last oatmeal cookie recipe you'll ever need! (We're so productive.) I brought these to school sans filling and people were fighting over them near the end of the batch. It's nice to feel loved.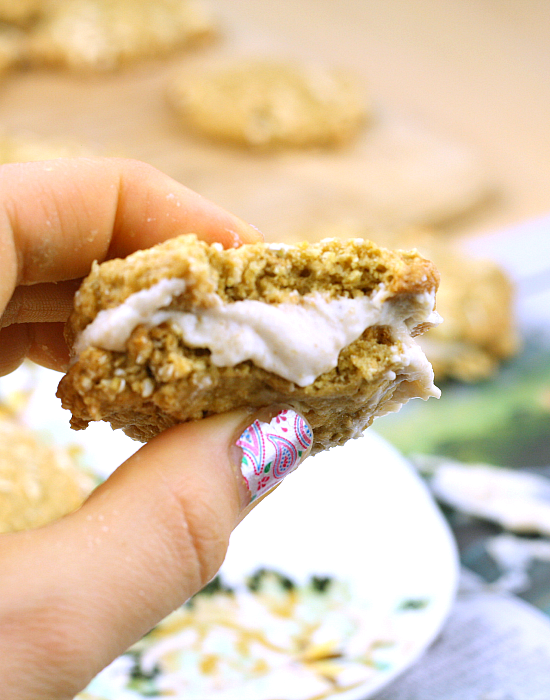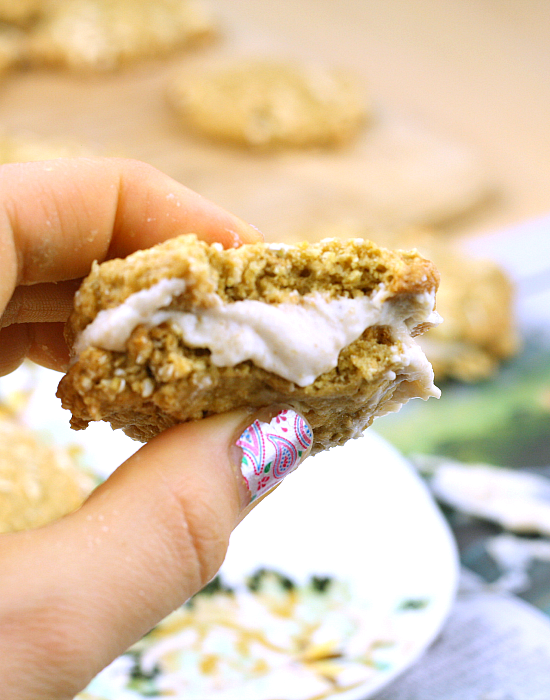 While we're talking about things we love, I found this fabulous hidden gem of a website! Of course, do you know what my first inclination was when I discovered my buried treasure? Share it with my friends. I'd be the worst pirate ever.
As a blogger, teenage girl, and wearer of clothing, I love online shopping. It's true. Modnique is the crown jewel of the cyber splurge crown.
They have all these amazing goodies from the poshest of the posh (we're talking Prada, Gucci, Cartier, and Rolex here my friends) for ridiculous sales (almost always above 40% off retail price, even up to 90%!).
But the best deal I've seen? $99 iPad mini.
We live in a beautiful world.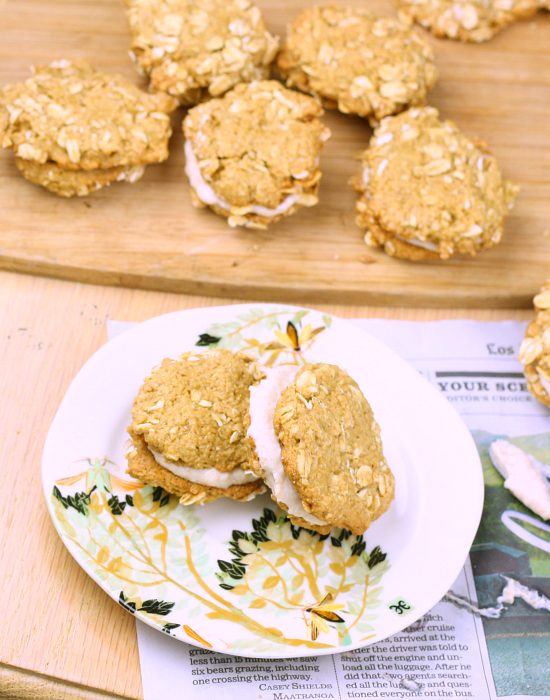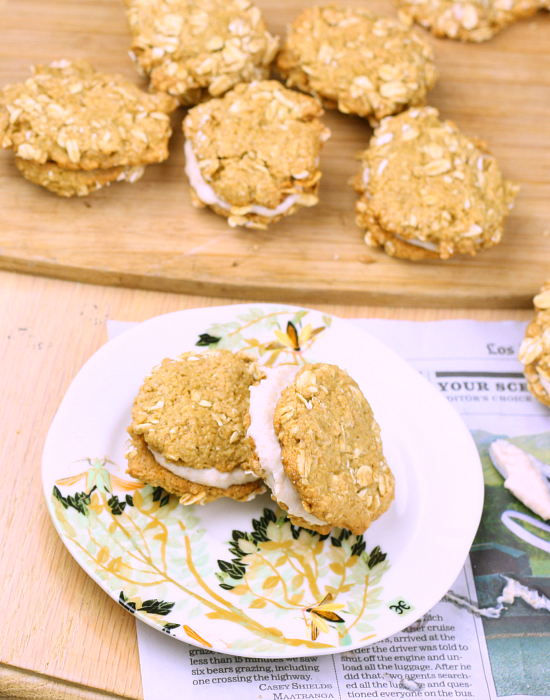 Modnique is also running this holiday special called 20 Days of Deals. At 6am PST every day for 20 days (my math teacher would approve), they release these fanastic deals on stuff. Some the highlights thus far have been a $70 Cartier scarf, $80 Ray Bans, and of course that iPad. I'm a little bit in love.
Anyway, I just thought I would share. Sometimes I do things other than eat.
Speaking of eating, let's make cookies!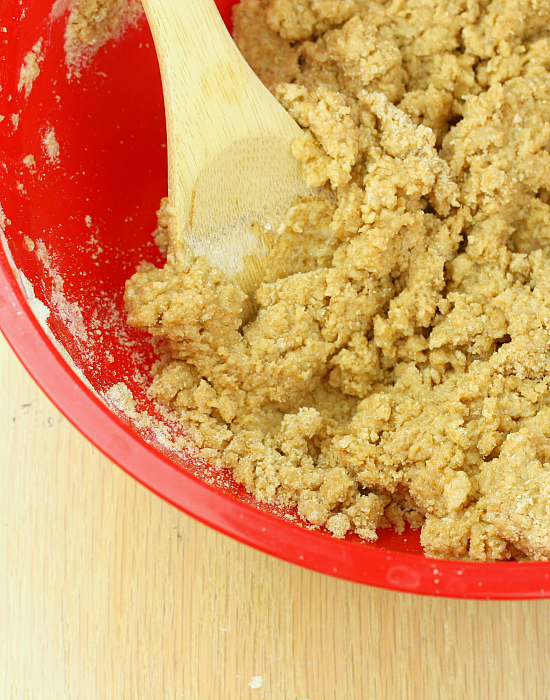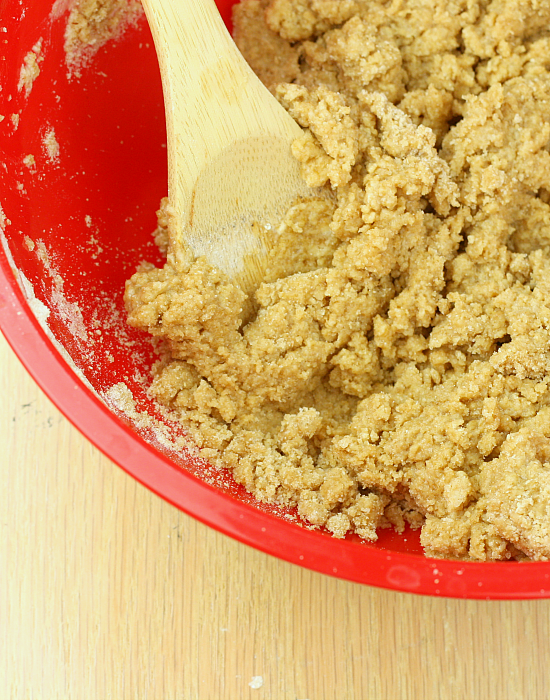 Sample a cookie. Then you'll have an odd number, so naturally you will need to have two.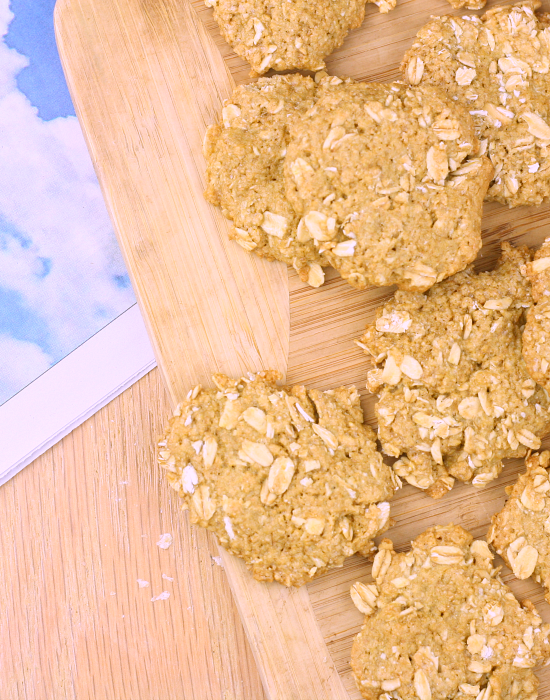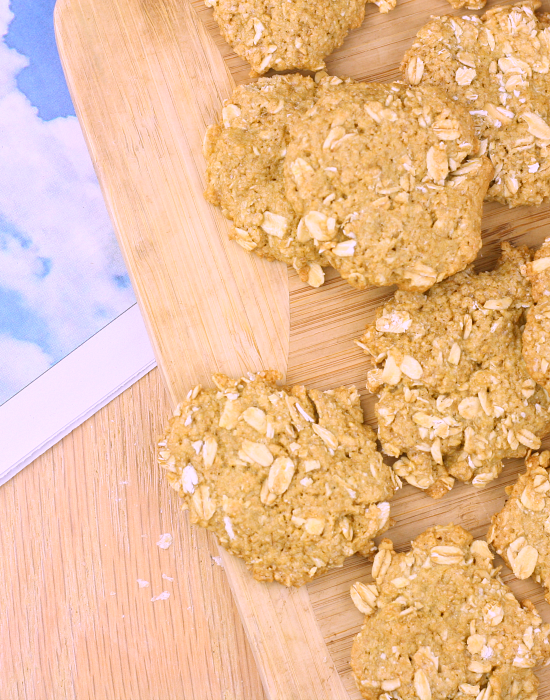 The secret to a luscious and easy filling is to save a bit of the cookie dough and mix it with creamy Greek yogurt. So simple and no extra calories! Win.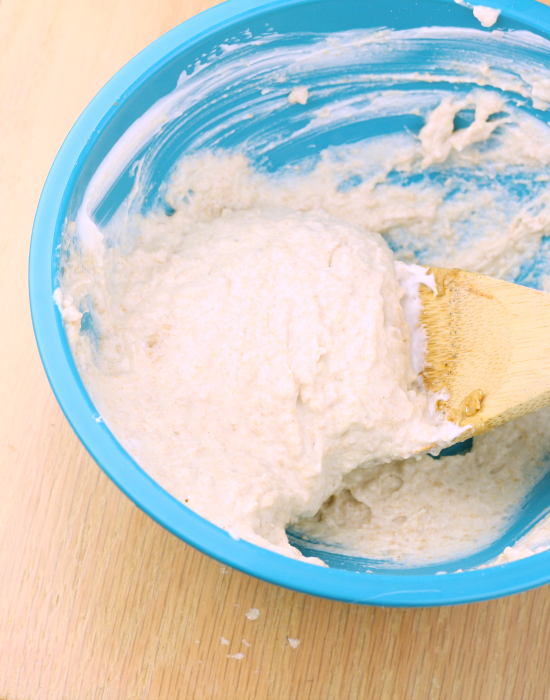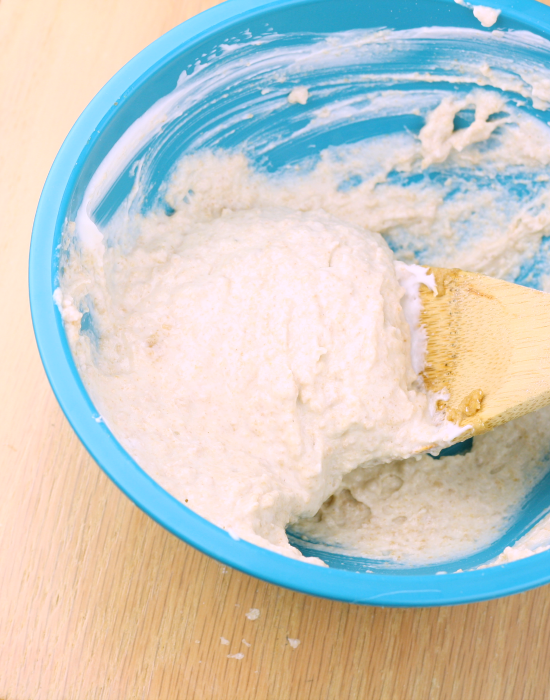 Spread the filling over the cookies. It may take a few minutes to finish up all the sandwich cookies, so feel free to rock out to some Abba while you work.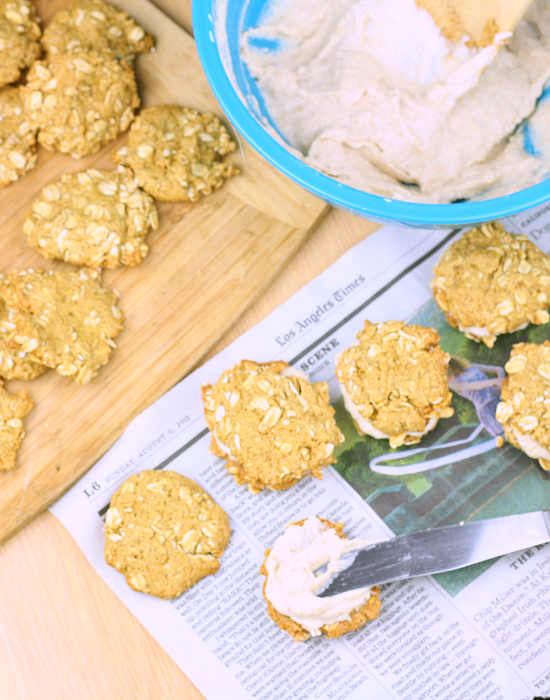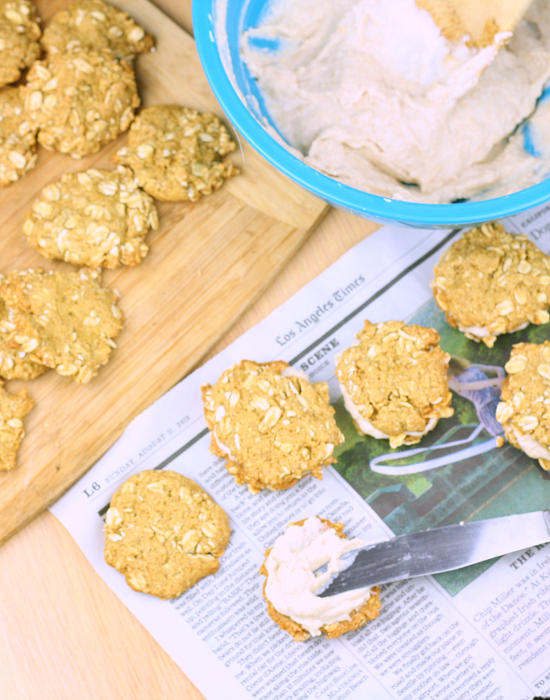 Sandwich the cookies and eat!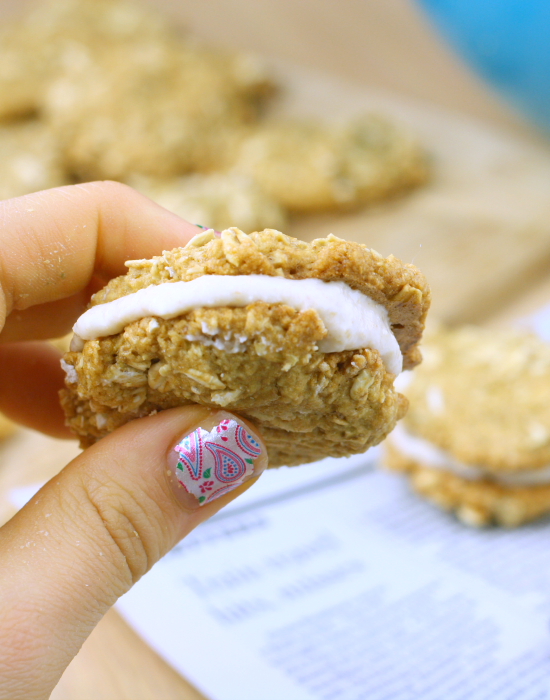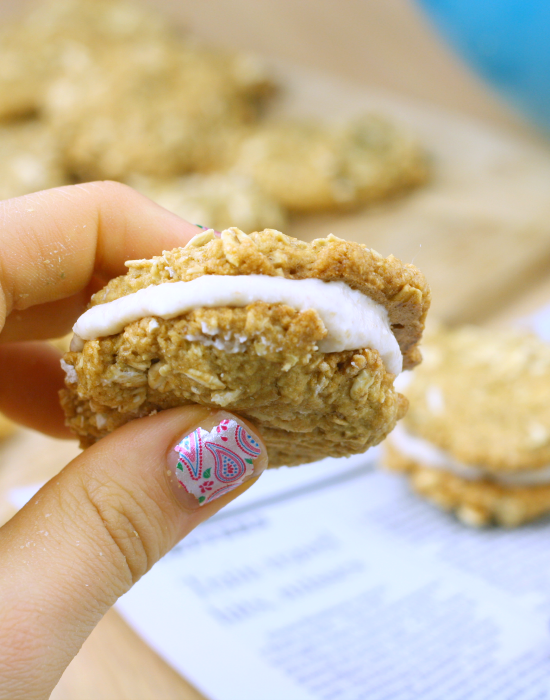 Yield: 30 sandwich cookies
Copycat Oatmeal Creme Pies
20 minPrep Time:
10 minCook Time:
30 minTotal Time:
Ingredients
1 1/2 cup white whole wheat flour OR 1 3/4 cup almond meal plus 1/4 cup coconut flour
1/2 teaspoon salt
1 teaspoon baking soda
1/2 cup granulated sugar or erythritol
3/4 cup brown sugar OR 3/4 cup erythritol plus 1 teaspoon of molasses
1/4 cup melted butter or Earth Balance (melted then measured)
2 teaspoons vanilla extract
2 eggs or 1 Tablespoon egg replacer plus ¼ cup water
1/4 cup unsweetened almond milk
1 1/2 cups instant oats, divided (see note below for low carb options)
6 ounces nonfat Greek yogurt (see note below for vegan version)
Instructions
Preheat oven to 350°F. Line a baking sheet with parchment paper or a silicone mat and set aside.
Place 1/2 cup of the instant oats into the bowl of a food processor, and process until the oats are ground.
Add the ground oats, flour, salt, baking soda, cane sugar or erythritol, and the brown sugar or erythritol plus molasses into the bowl of stand mixer. Alternately, you can add the ingredients to a large mixing bowl and stir by hand. Nothing a little elbow grease can't solve! Using the paddle attachment, stir the dry ingredients on low speed. Add in the melted butter or Earth Balance, vanilla extract, eggs or egg replacer, and unsweetened almond milk and continue to stir until combined. Scoop out 1/2 cup up the cookie dough into a bowl and set aside. Stir the remaining 1 cup instant oats into the main cookie dough.
Using a 1/2 tablespoons measure, scoop the dough into balls and place on the baking sheet two inches apart. Gently press down into cookie shapes. Bake in the oven at 350°F for about 12 minutes. Let cool on wire racks.
Meanwhile, add the yogurt into the bowl with the reserved cookie dough and stir until completely combined. Chill until ready to use.
To assemble, spread the frosting mixture onto a cookie and place another cookie on top to form a sandwich, pressing lightly to adhere. Repeat with remaining cookies. These are best served the day they are made because of the frosting, but I also like to stash these in the freezer and enjoy frozen to make them last as long as possible. Devour.
Notes
For a vegan version, just use vegan-friendly yogurt.
For my stricter low carb friends, I have a feeling unsweetened coconut would be a great substitute for the oats here.
Nutritional information calculated with white whole wheat flour and erythritol.
7.8.1.2
303
https://www.foodiefiasco.com/copycat-oatmeal-creme-pies/
Nutrition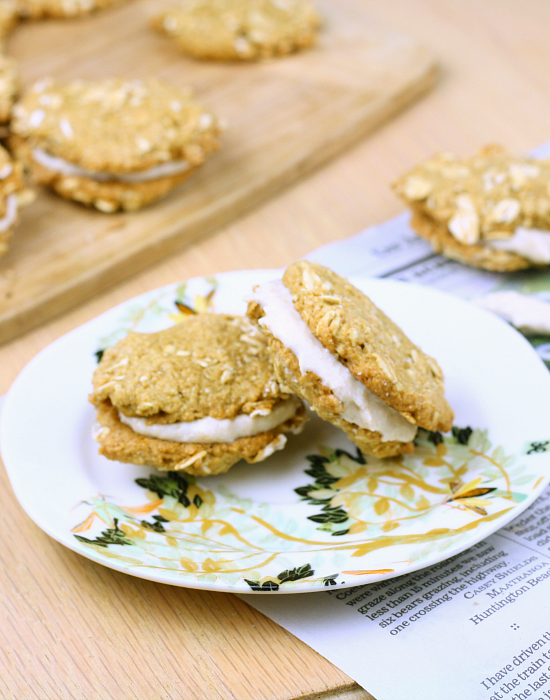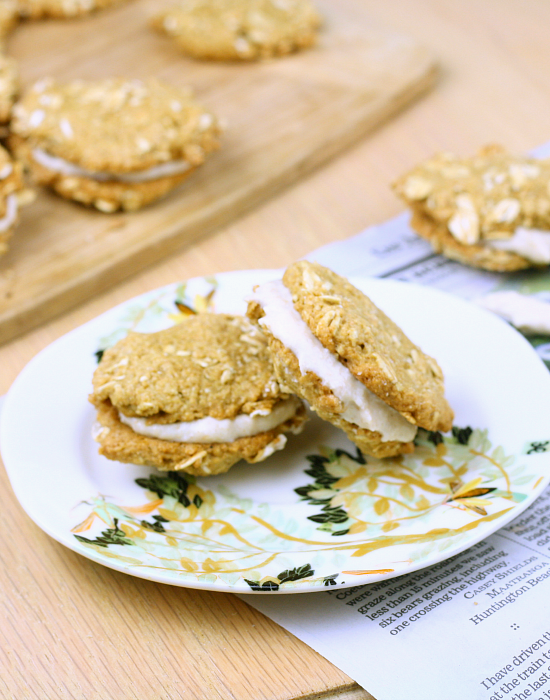 Did you eat Little Debbie treats as a kid?
I actually didn't! I don't believe I ate one until hearing a rave review from a fellow non-kid (okay, teenager, I know I'm still a whipper snapper.)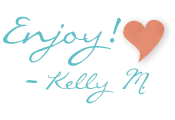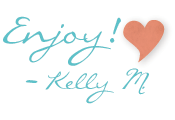 Disclaimer: I love Modnique, and feel so honored that they provided me with a gift code. As always, all opinions are completely and utterly my own.