I have suffered a loss.
I was on a cruise ship in Russia last year traveling with my mom and grandma, and it was one of the best times of my life. My grandma bought me that ring in a museum in Russia, and I have worn it consistently since. Sleeping, eating, showering, swimming…whatever. I did it in that ring. I love that ring.
When I lost the weight, that ring became far too big. So big that it kept falling off and I'd have to wear it on my thumb.
It was way to big and was missing stones, but I didn't take it to a jeweler to get it resized or fixed. I just didn't seem to have the time.
So I went to Whole Foods today with two friends on mine, and I went to the bathroom. I sit down, and suddenly hear a clink.
What?
Where's my ring?
In the toilet.
My ring was in the toilet.
Literally.
So I stand up immediately and decide what to do. I see it in there, and ponder getting someone with a plunger or (ew) trying to fish it out myself.
And then I see it.
The toilet is an automatic one, and I see it. My ring; flushing down the drain and into the sewer.
My heart sinks.
I cried. I cried for a long time.
My friends were there for me, but I still wanted that ring. So as I stood, hysterical, outside the bathroom at Whole Foods, a lady comes up to me and asks me why I'm crying. I tell her briefly, and she tells me that God doesn't want me to be so attached to a ring or to be sad. She gave me a hug and said she'd pray for me.
While she was at it, I figured I would ask her to pray for my mom. She told me she herself was a survivor, and then she pulled down her shirt and showed me her boob.
I had a weird day.
A day that needs comfort food.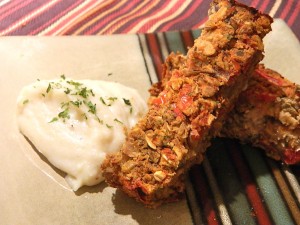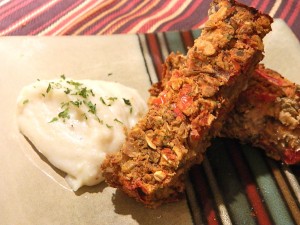 A day that needs serious comfort food. Meatloaf.
I don't eat meat, but I got lentils. I'll deal with that.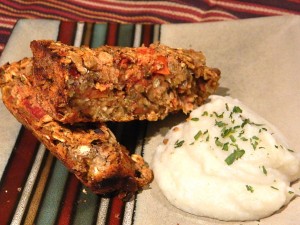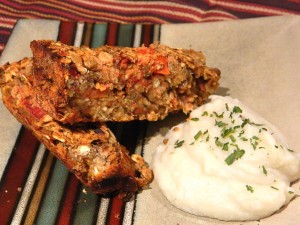 I miss you, ring. I want meatloaf now.
The Ultimate Comfort Food (Especially When You Need It): Lentil Loaf (Vegan, Gluten Free, Low Calorie)
Some days you just need meatloaf. I'm having one of those days. I think this would most certainly be a worse day with my newly beloved lentil loaf. Even if you're having a good day, you should still make this. And if you're just having an okay day, you should still make this anyway. Get the point? Cool.
Serves 4
Adapted from One Green Planet
Ingredients
2c. water
2/3c. green lentils
2T flax + 4T water
1 medium onion, chopped
1t olive oil
1c. rolled oats (use gluten-free if you so desire)
1c. canned diced tomatoes
1t garlic powder
1t dried parsley
1t dried basil
1/2t salt
1/4t pepper
1/4c.BBQ sauce + 2T ketchup for topping, optional (I omitted)
Directions
Boil water. Once boiling, add lentils and let simmer for 20-30 min or until all the liquid is absorbed. Mash them up a bit, and transfer to a mixing bowl.
Mix flaxseed and water and let sit for 15 minutes.
In a skillet, heat olive oil. Add onion and saute until translucent, about 5 minutes. Remove from heat and mix the onion in with the lentils along the oats. Add flax mixtures, tomatoes, garlic, parsley, basil, salt, and pepper and stir to combine.
Spray an 8X4 in. loaf pan with nonstick spray and spoon in lentil mixtures. Smooth the top and top with ketchup and BBQ sauce if you want.
Bake at 350F for 45 minutes, until firm and golden. Let for about 10 minutes in the pan, and then run a knife around the edge to get it out.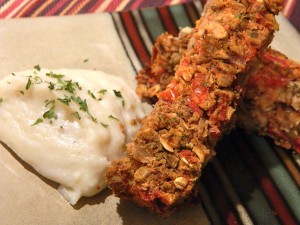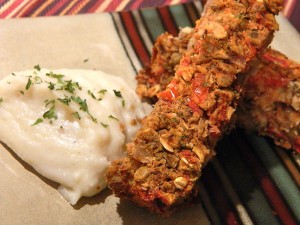 Feel free to drown your sorrows, happiness, or simple okay-ness in this loaf. It's cool like that.
P.S. I served the loaf alongside potatoes for lazy time restricted people.