I know what I'm thankful for this year!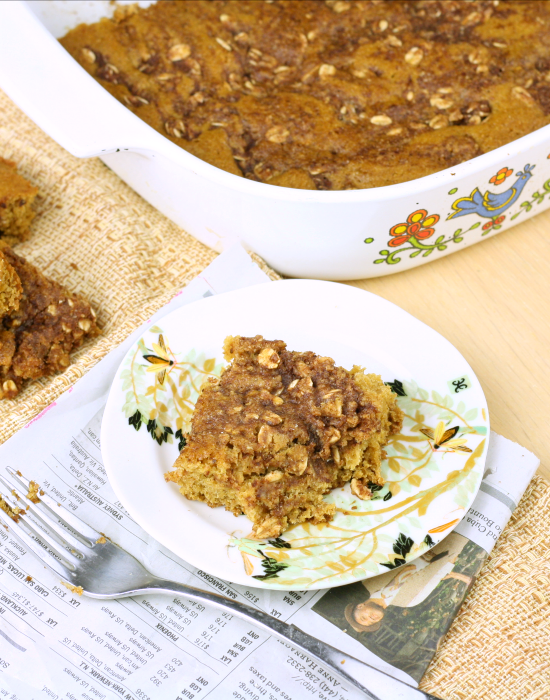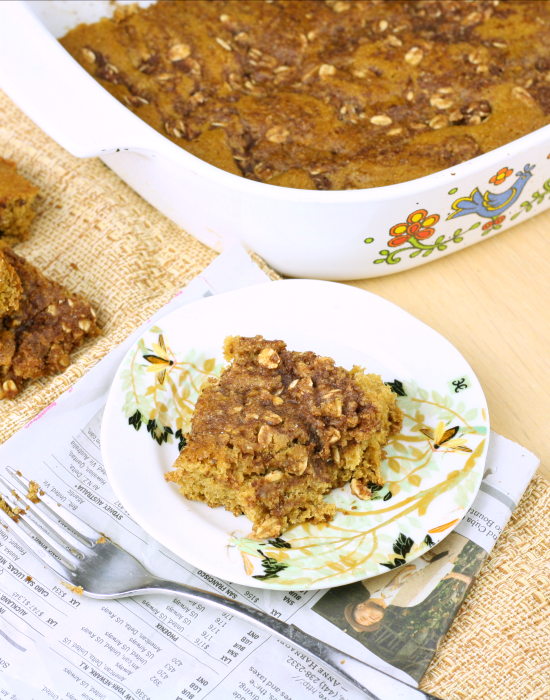 For starters, I'm thankful that the list of things I have to be grateful for is much too long to put here. I couldn't begin to scratch the surface.
I thank the Good Lord every day, but especially on Thanksgiving, for giving me the best mom in the whole wide world. I have no idea why I am so lucky. She has held me and hugged me and loved me unconditionally since the day I was born.
She has always told me I can do anything. Even join the track team, which was a very bad idea on my part. And even though I turned out to be a wheezing heap moving glacially along the track, she has always believed in me. I'm sure she has her reasons.
And I probably up threw up on her as an infant, but she kept me anyway. Now, who could ask for better?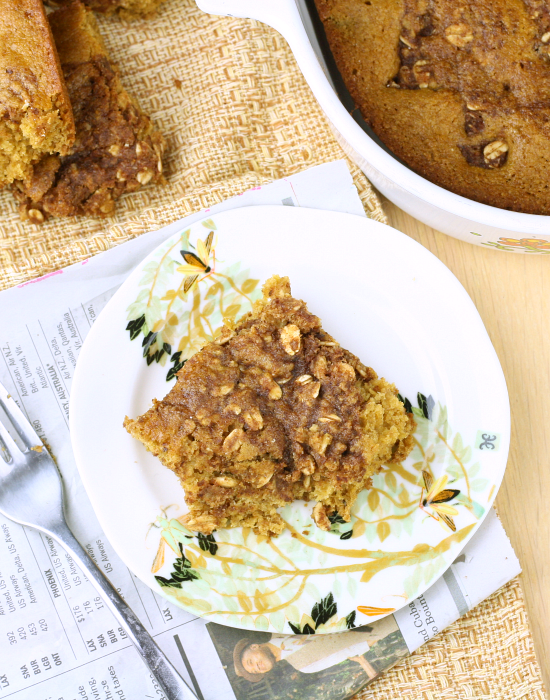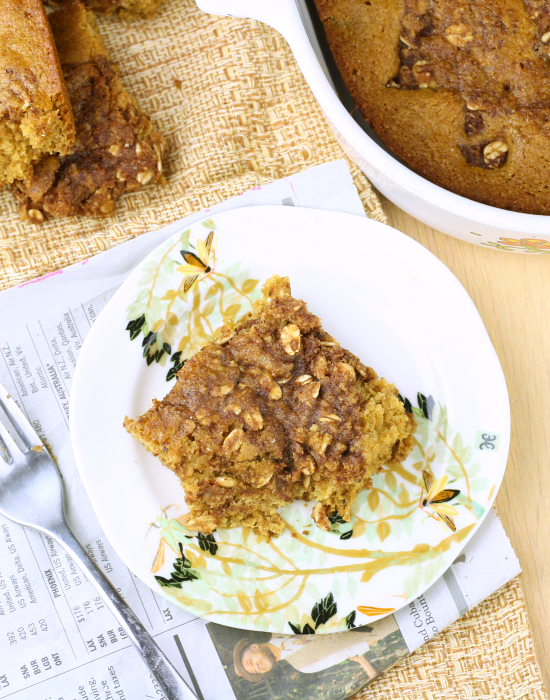 No one, that's who.
I am grateful for my friends. Like, unspeakably grateful. If you know me in offline life and are reading this please know I love you ardently. My friends touch my life, help me laugh, and, on rare occasion as needed, let my cry in their laps. (Some names that spring to mind are Foamy, the Duckling Queen of Acting, the Boy, Favorite Friend of the Sweet Morning, Mamma Duck, Flower, Accident Prone and Lovely, Squashie, Christi, Fro Yo, Arispect and Altoid. Let's pretend this is an exhibition of my hypothetically fabulous nicknaming skills.)  You guys rock.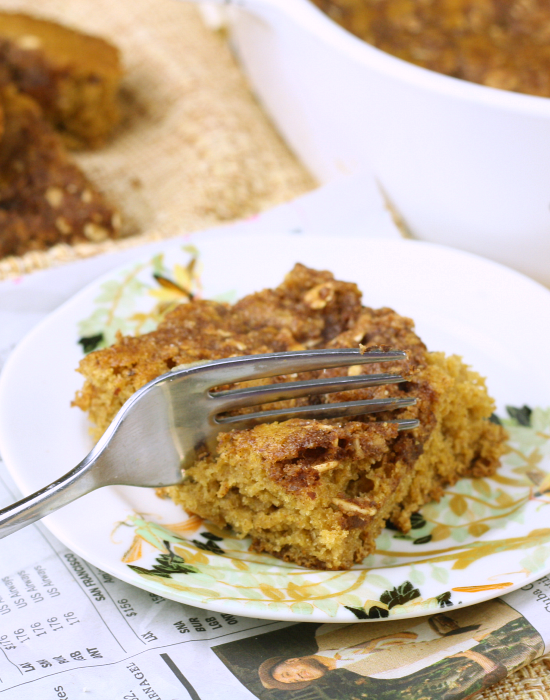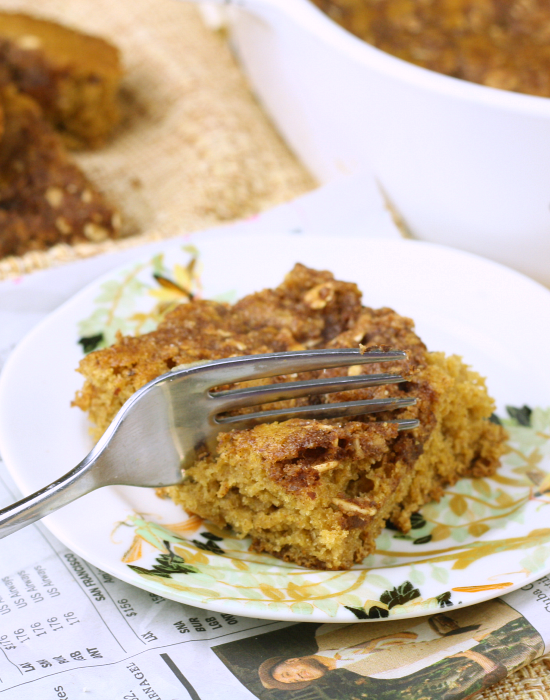 And you, my dear dear internet friend. I am eternally grateful to you for gracing my corner of the world and I with your amazing presence. You make me smile everyday. I love you and thank you from the very bottom of my heart. I hope we can be friends for years and years to come.
So let's think of this as gratitude cake.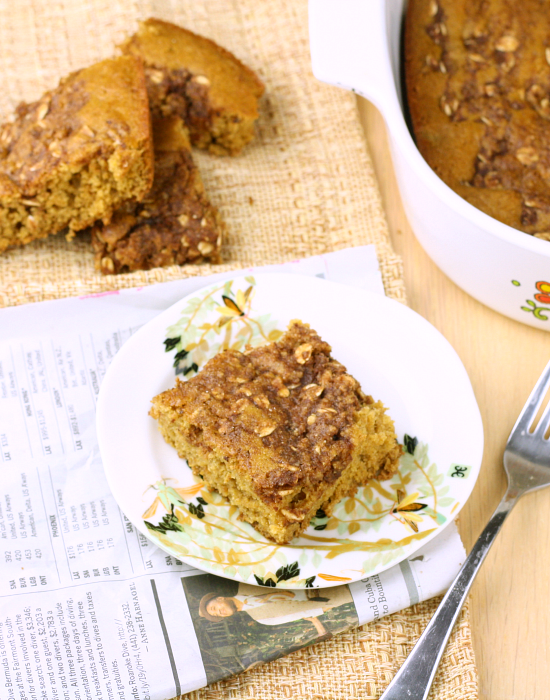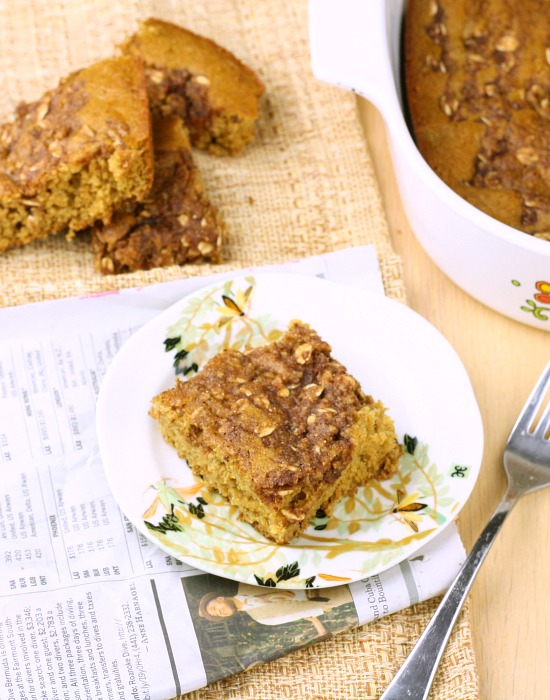 I know how popular you are, so you probably have a boatload of people at your house being enchanted by your marvelous hosting and storytelling skills after the Thanksgiving feast. But they probably want to eat something. Hmm. You need something easy and delicious, and breakfast dessert is the most important meal of the day…
Lightbulb! Cake!! Duh. Cake solves everything.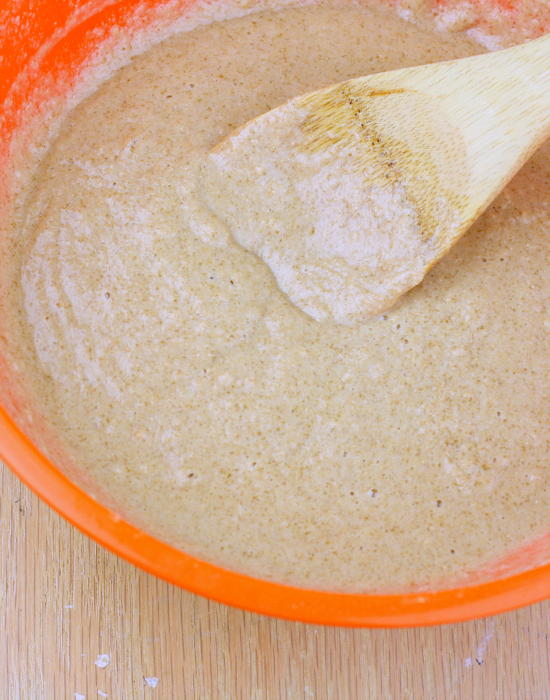 After you've whipped up your 27 second cake batter while your guests ooh and aah, all you have to do is make the magical streusel topping. And you do it in the same bowl! Saving dishes? Impressive.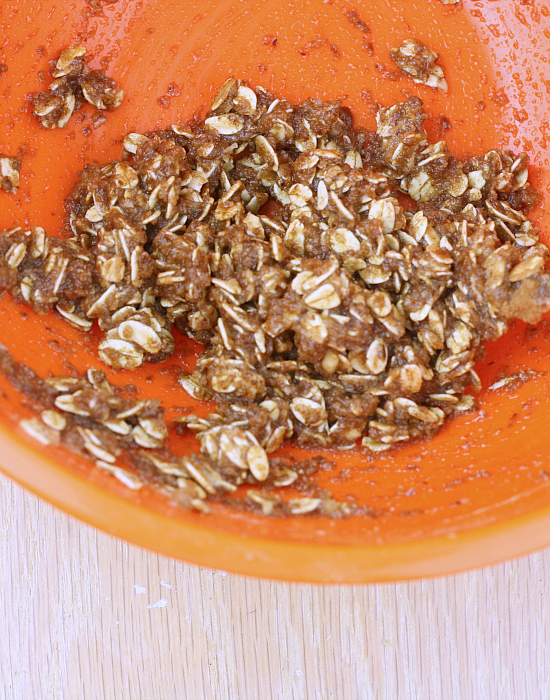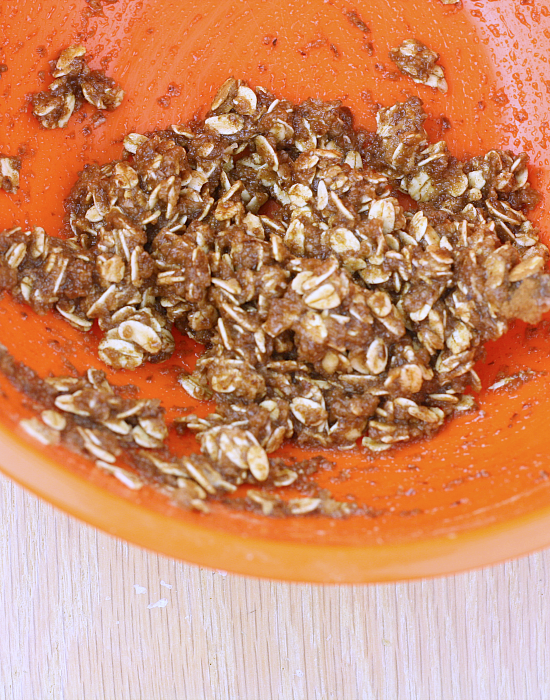 Now just swirl together your masterpiece.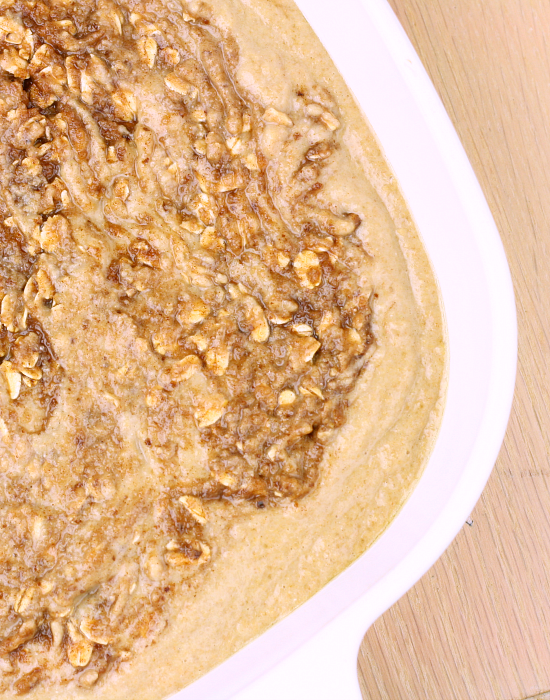 And voila! Wait, who took that piece in the corner?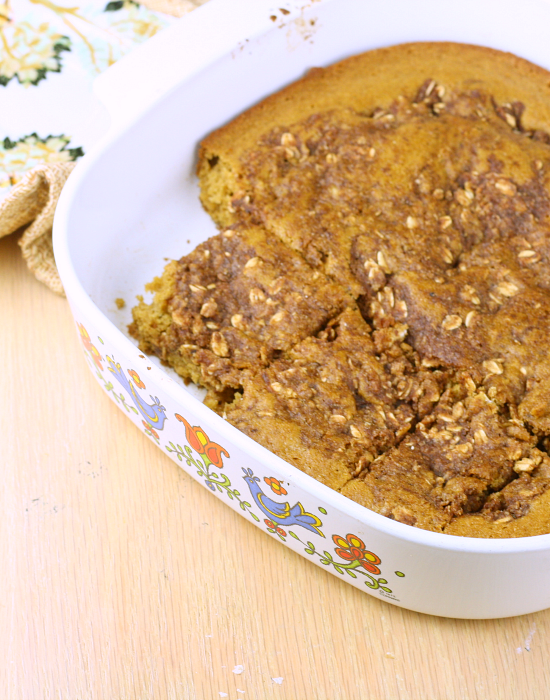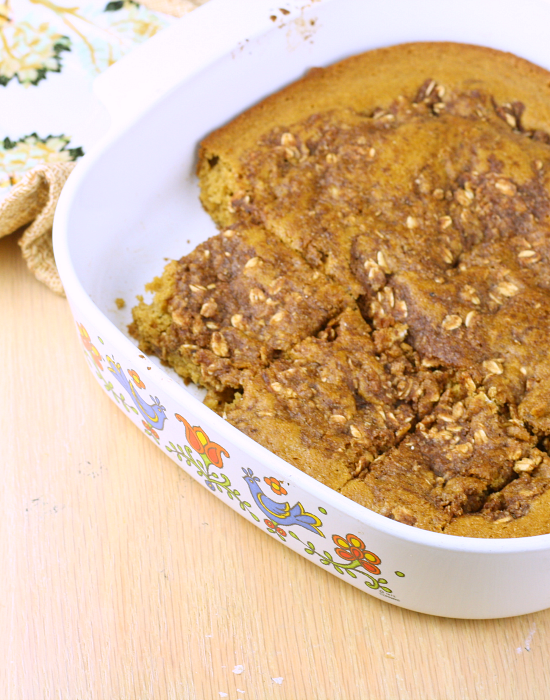 This coffee cake isn't going to last long.
Yield: 9 slices
Healthy Coffee Cake
10 minPrep Time:
30 minCook Time:
40 minTotal Time:
Ingredients
For cake:

1 1/4 cups white whole wheat flour OR 3/4 cup almond meal plus 3/4 cup coconut flour
1/3 cup erythritol OR sugar
1/3 cup brown sugar OR erythritol plus 1/2 teaspoon molasses
1 tsp baking soda
1/2 tsp salt
1 cup almond milk
1 tablespoon vanilla extract
1/3 cup unsweetened applesauce
1 tsp distilled white or apple cider vinegar

For streusel topping:

1/4 cup oats (or unsweetened shredded coconut, for a grain free option)
2 tablespoons almond meal
2 tablespoons brown sugar OR erythritol plus 1/4 teaspoon molasses
1 teaspoon cinnamon
2 tablespoons unsweetened applesauce
Instructions
Preheat oven to 350°F. Grease an 8 inch baking dish and set aside.
In a large bowl, combine the flour, erythritol or sugar, baking soda, and salt. Add in the almond milk, vanilla extract, applesauce, and vinegar until the batter is uniform and no pockets of flour remain. Take care not to over stir. Pour the batter into the prepared baking dish and set aside.
In the same bowl (we don't like dirtying extra dishes here), combine all the ingredients for the streusel topping and stir until completely incorporated, Sprinkle over the cake batter and gentry swirl using a knife.
Bake in the oven at 350°F for about 25-30 minutes, or until a toothpick inserted into the center comes out clean. Let cool and devour.
Notes
Nutritional information calculated with white whole wheat flour and erythritol.
7.8.1.2
306
https://www.foodiefiasco.com/healthy-coffee-cake/
Nutrition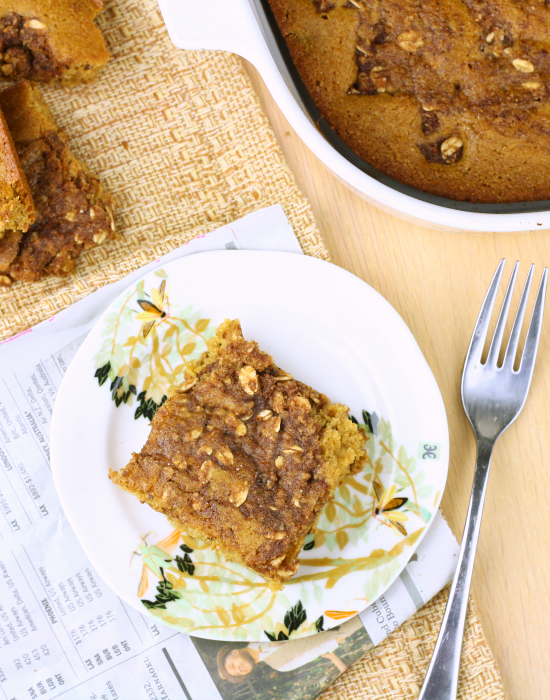 For my fellow Americans, how was your Thanksgiving? 
I hope your day was filled with happiness, gratitude, and pie! And for my international friends, I hope you had a wonderful Thursday.