Prepare to fall in love with a vegetable.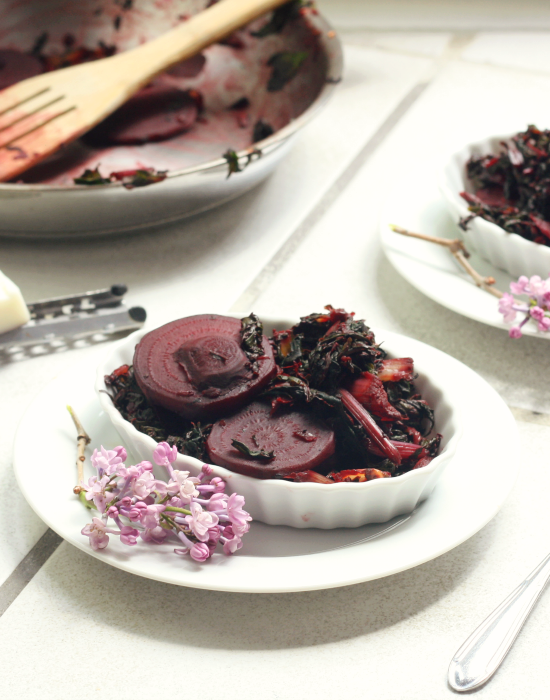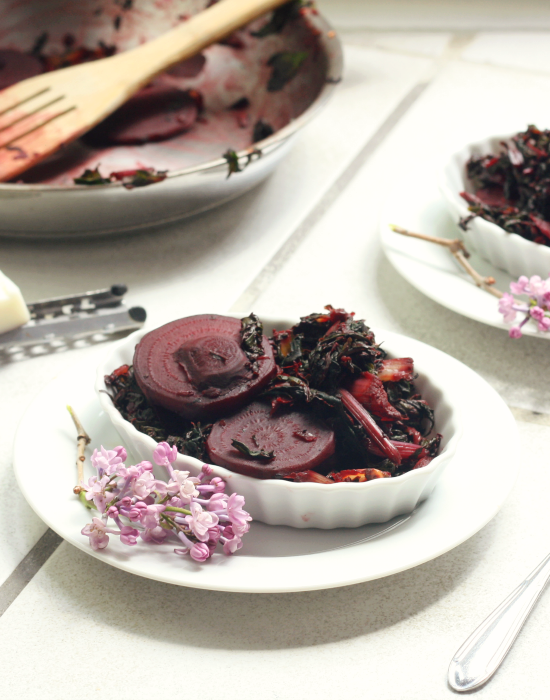 Here me out.
This recipe has converted me to a state of pious beet bliss. Gone are the slimy canned beets of yesteryear! When prepared well, these bright red beauties are a work of art. Beets are an absolute favorite, and not just because they're one of the few veggies left the government isn't calling a fruit. (Tomatoes are a vegetable, pizza is not. Get it right FDA.)
The day where vegetable eating being was a chore is now a mere, distantly unpleasant memory. These beets are the perfect balance of sweet, salty, and caramelized, plus they're tender roasted and ever so slightly crispy around the edges. Yumzo.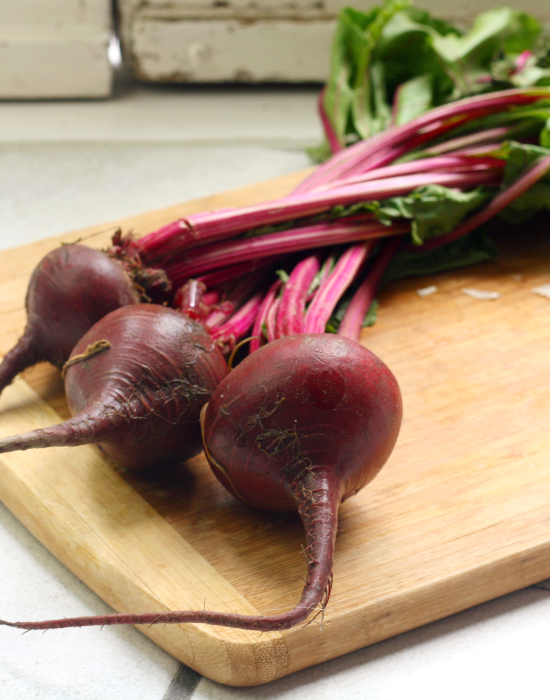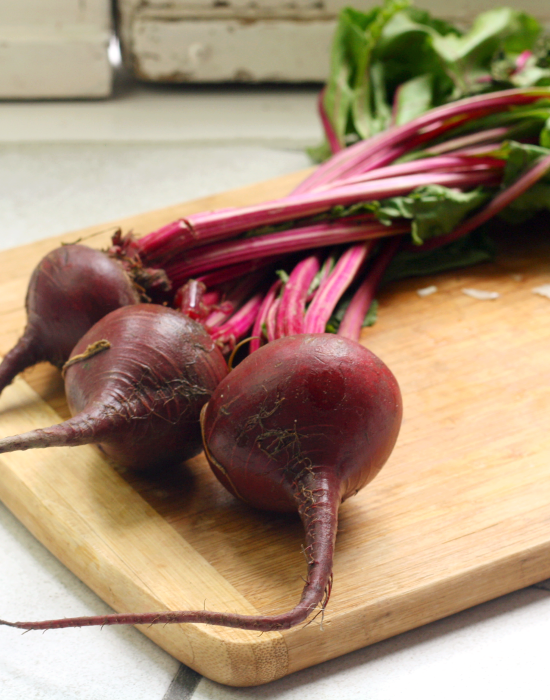 Thanks to recipes like this, we can prance around in all the yellow polka dot bikinis we want. (Okay I probably wouldn't do much prancing anyway, but to each her own.)
Start with those beautiful beets you fell in love with at the farmer's market. Roast and glaze the beets with a bit of red wine, then add the beet greens and some chard for texture.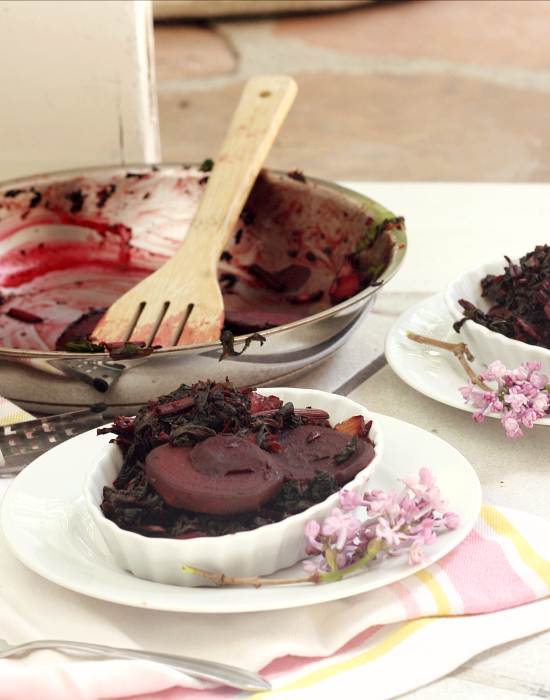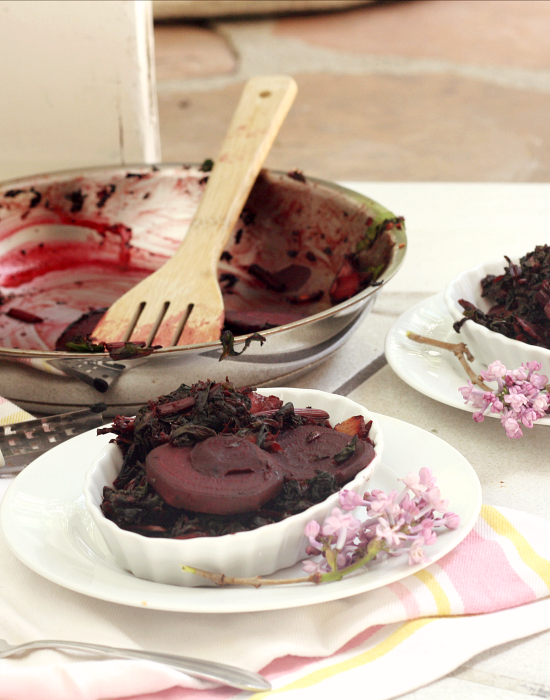 Sprinkle on a demure amount of cheese for the pictures, then grate the whole block after the camera is off. I have no shame.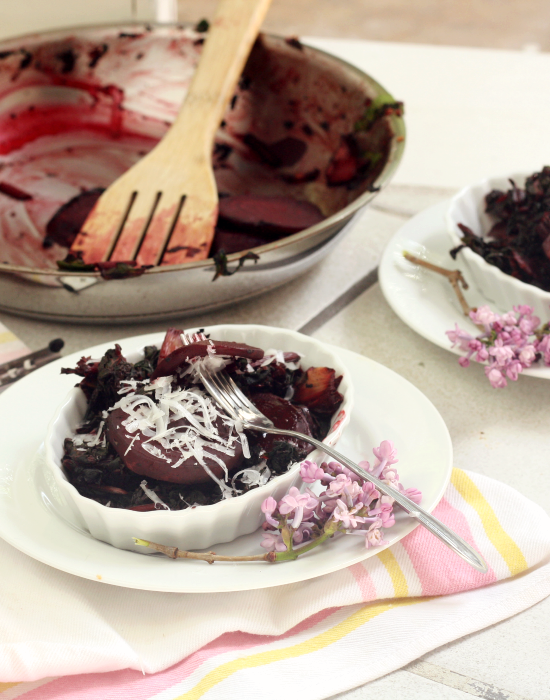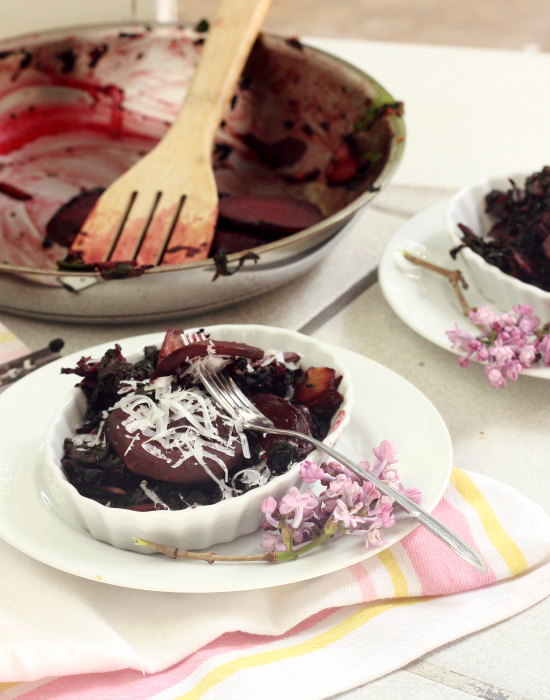 Remember, vegetables cancel out any indulgences for the day.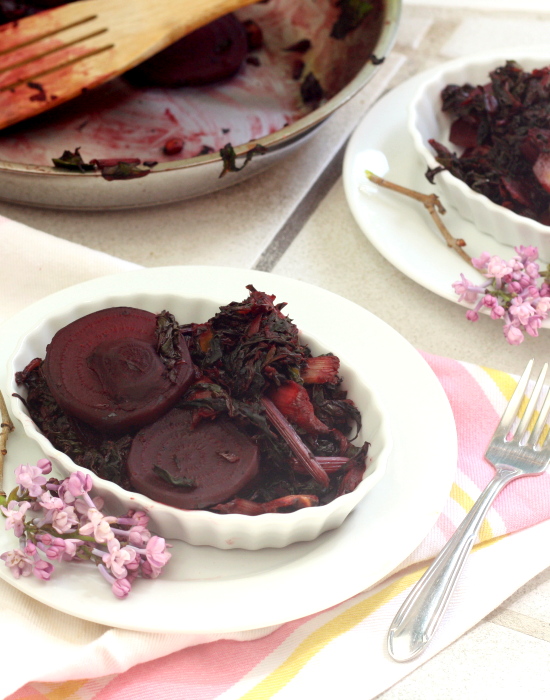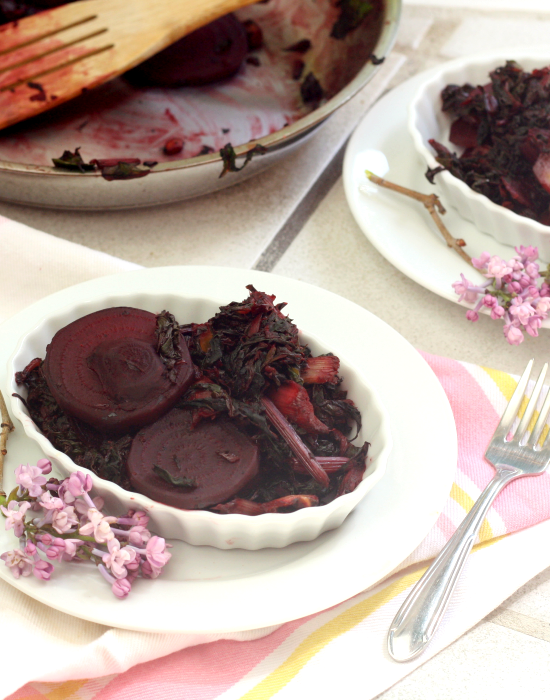 Or at least that's what my stretchy pants told me.
adapted with love from Food 52
Yield: 4 servings
French Peasant Beets
10 minPrep Time:
25 minCook Time:
35 minTotal Time:
Ingredients
4-6 beets (with greens)
1 bunch Swiss chard
1 shallot, minced
salt + freshly ground pepper
2 tablespoons white wine
2 tablespoons veggie broth
you favorite cheese, to serve
Instructions
Scrub and peel the beets. Remove the greens and coarsely chop. place the greens in a large bowl and set aside. Slice beets into 1/4 inch thick rounds.
Remove the stems from the swiss chard. Coarsely chop the chard and place in the bowl with the beet greens,
Add some oil or cooking spray to a large skillet. Add in the shallots and sautee over medium high heat until slightly golden, about 3 minutes. Add beet rounds to the shallots. Crack some pepper and a dash of salt over the beets. Reduce heat to medium low and sautee beets, turning over so they cook evenly. Cook for about 15 minutes, or until the beets are begnning to glaze and become tender, Add in the greens and chard. Cook for about 5 minutes,stirring often, then add wine and cover. Cook until greens are wilted, adding broth if necessary. Cook until the liquid is mostly absorbed into greens. Add additional salt and pepper to taste. Transfer the beets to a beautiful shallow bowl for serving. Garnish with a generous amount of cheese, crack some fresh pepper over the dish, and devour.
7.8.1.2
341
https://www.foodiefiasco.com/french-peasant-beets/
Nutrition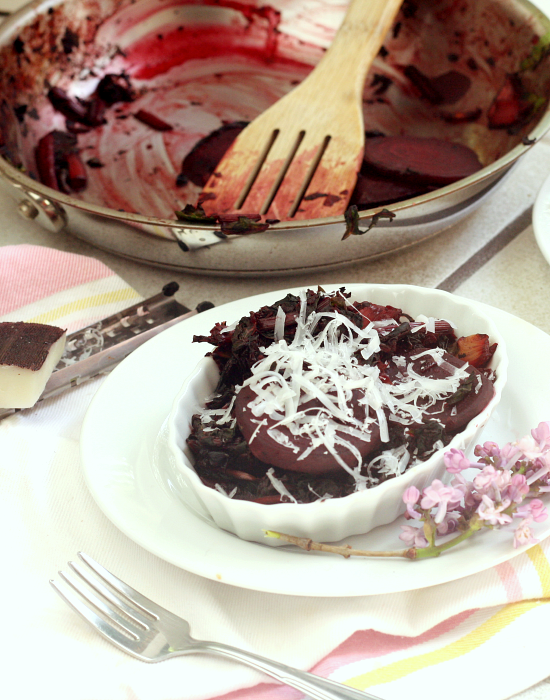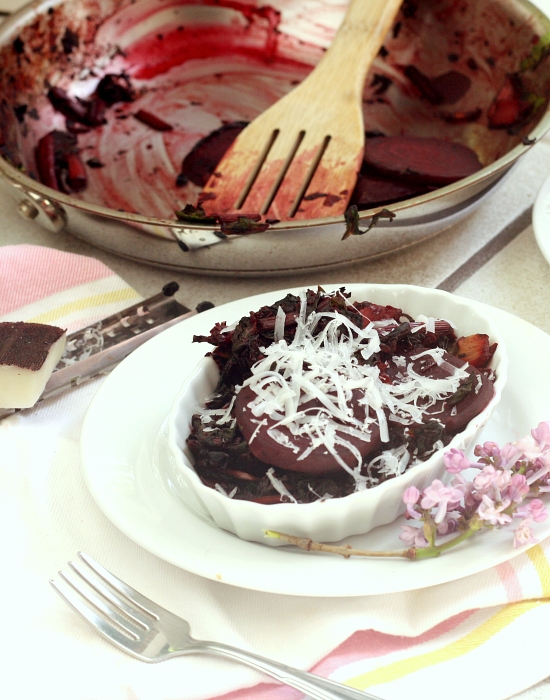 What's your favorite way to eat beets?
I have a feeling this will become a regular in your house.